Want to know what the best selling Easter story books for kids are? As a former teacher I have the inside scoop on kid's all time favorite Easter stories for all ages from preschool to elementary kids.

If you're putting together a fun Easter basket for your kiddos, some wonderful Easter picture books can be a great non candy or chocolate alternative or addition. It's way better than chocolate because an Easter book is something they can take out every year and enjoy!

I love celebrating the holidays with a new holiday themed book. We've got quite an extensive list actually! That's because books are always a perfect gift to give or receive. My little guy never complains about a new book!

It's one of his most favorite things.

The best part is you can do all your shopping in one place. All of these awesome Easter books for kids are available on Amazon!

So even if you've waited to the very last minute, you can get the pretty quick with a Prime Membership.

Just click the title or picture to check out prices!


Disclaimer: as an Amazon Associate I earn from qualifying purchases. This comes at no extra cost to you.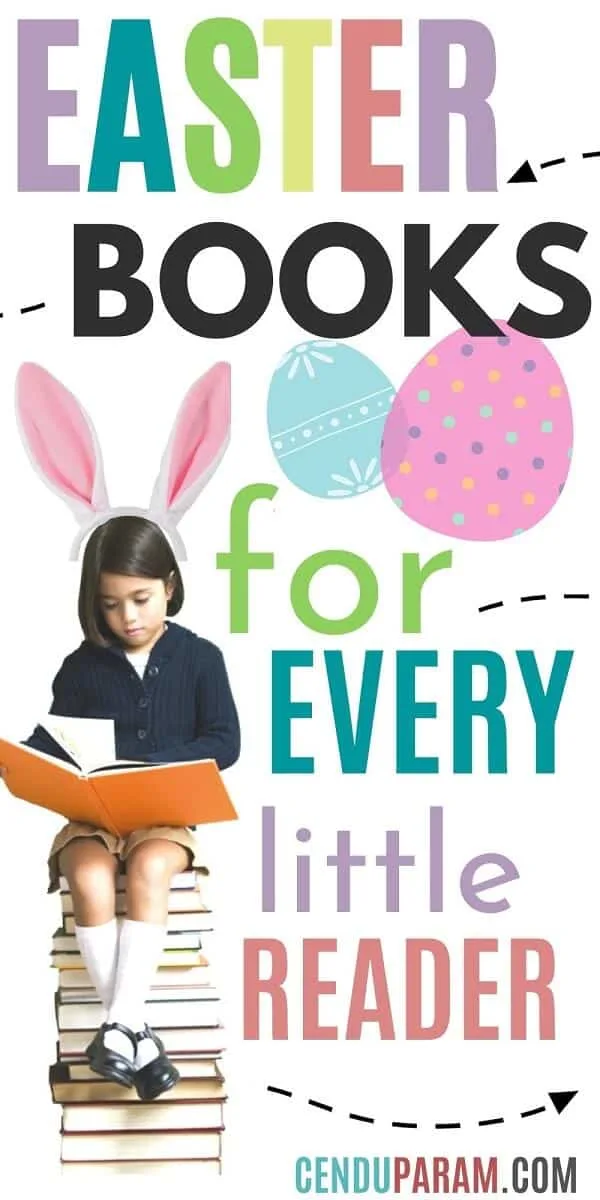 Easter Books For Toddlers, Preschoolers and Kindergarten


Let's start off with our littlest readers. Here are my favorite Easter books for toddlers, preschooler and kindergartners alike. These are simple sweet stories that often have simple rhyming text that's easy for little one's to follow along with.

They have bright and colorful illustrations that always seem to capture their attention.

They are pretty much all board books because as you know, the tinier the hands, the sturdier the book you need.

Plus board books help young readers flip through the pages independently and work on those motor skills.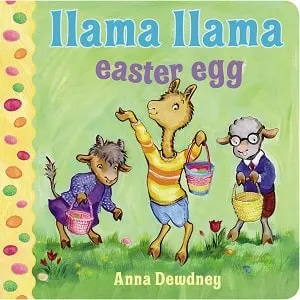 My kids were always big fans of the Llama Llama series so we have pretty much every holiday version in the series.

The text is simple and easy so my preschoolers can often "read" it themselves after a few read alouds together because the short rhyming is easy to remember.

Take your time to look through the pictures and have your child look for the different things they mention like the different colored eggs.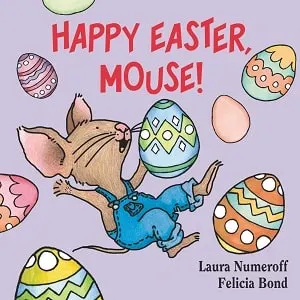 This book is also part of a series (If You Give a Mouse a Cookie) and has lots of holiday editions like this Easter one. This cute board book follows mouse on an Easter hunt and talks about different colors.

This is another great one to do little scavenger hunts on the page. Try to find the egg that mouse mentions and count how many of each color there are.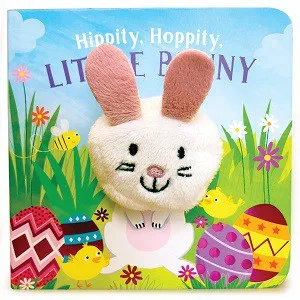 You're toddler will absolutely LOVE this best selling Easter book for kids! It's super cute, interactive and fun!

They absolutely love the finger puppet element.

The story is simple and cute with rhyming that's easy to follow along with. Such a great way to combine tactile and verbal learning!

It's such a great addition to an Easter basket for young children. I find that even babies love this one! A great gift for all the littles.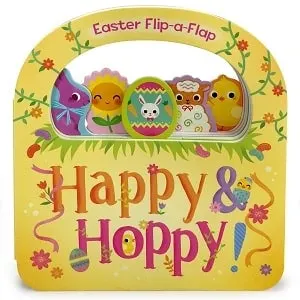 I find that interactive books that allow toddlers to manipulate the pages in some way are always a favorite. It's engaging and fun!

This adorable book has bright beautiful illustrations and features lift the flap style tabs that ask your toddler to search, match, count and compare.

It's a fantastic book that holds their attention. Did you notice the little carrying handle on the top. My toddler loved that. He would carry it around and even takes it with him when we head out sometimes.

From the reviews I was reading before buying, I found it was grandparent approved. It seems like this is the one a lot of grandparents are adding to their Easter basket gifts.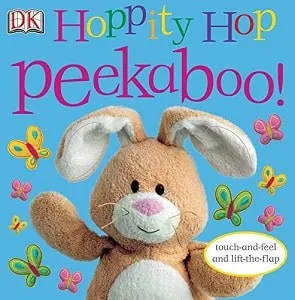 This is another one that is totally toddler approved because it's an interactive lift-the-flap style book but it also has touch and feel pages! Double bonus!

My little guy LOVES touch and feel books. It's a great way to work on their vocabulary for how things feel through sensory play.

He was also OBSESSED with the fact that there were pictures of other babies. It was super cute watching him look through this book and get all excited.



RELATED POST: BEST BABY BOARD BOOKS YOU NEED TO HAVE FOR


Best Easter Books For Elementary Students and Kids


Now, lets look at the best Easter books for school aged kids. We'll start with lower elementary kids from about kindergarten to grade 5.

These books are great for read alouds with your elementary school aged children. They're a great way to start talking about Easter or a lead in for an Easter craft or activity like a scavenger hunt.

Most are ideal for young children and there's a few near the end that feature beginner chapter books that are perfect for slightly older kids or for reading aloud to younger kids.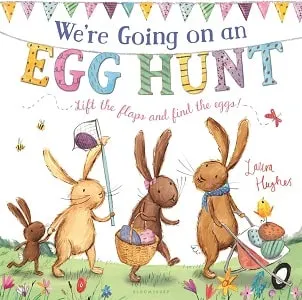 This book is probably best for preschool to lower elementary age kids. This is a perfect book for celebrating springtime and Easter that features lift-the-flap pages that toddlers and young children LOVE.

You join a family of bunnies on their annual Easter egg scavenger hunt. The book has a lot of rhyming and can be sung to the tune of "We're going on a bear hunt".

So they'll eventually be 'reading' it all by themselves. That's one of the things my kindergartens loved best about this book.

There's lots of opportunities for counting, searching and singing together. It's been a hit with the little ones every Easter.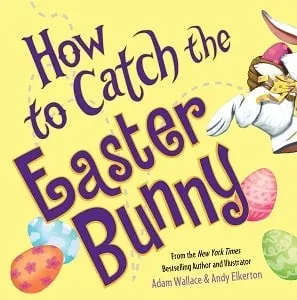 This one is a classroom favorite!

It's actually part of a series that has tons of other similar books like:

♡ How To Catch A Leprechaun

♡ How To Catch The Tooth Fairy

♡ How To Catch A Monster

♡ How To Catch A Dragon

♡ How To Catch a Mermaid

We started off with How to Catch a Leprechaun and it was so well loved by my students that I decided we had to have the Easter one.

It's a whimsical and fun read about all the traps that kids set to catch the elusive Easter bunny. The illustrations are bright and beautiful. The story is sweet, simple and funny. My kiddos were giggling all the way through.

They particularly LOVED the part where the Easter bunny refers to his chicks as his PEEPS! LOL!

As an after reading activity, we all had to come up with our own unique plans to catch the bunny.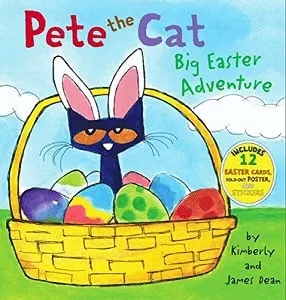 The Pete the Cat series is another classroom favorite among my grade 1s and 2s.

In this one, Pete wakes up Easter morning to discover that the Easter bunny is in need of some help. We read this book together in preparation for our Easter egg scavenger hunt.

I LOVE the artwork in the Pete the Cat series, they're always so bright, colorful and eye catching. It comes with some fun additions like a poster and stickers that little ones will adore.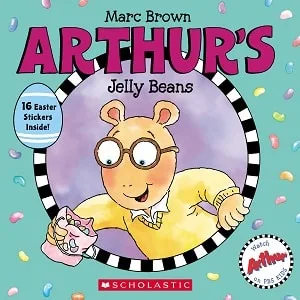 I grew up reading Arthur books so this series (and pretty much anything by Marc Brown) will always hold a special place in my heart. I think we own practically every holiday themed Arthur book at this point.

In this one, Muffy is hosting a spring fling party with lots of Easter games like the bunny hop and egg race. Arthur is always the SLOWEST one. But there might be one race where slow and steady is the way to go.

What my kiddos loved even more than the story was cute stickers.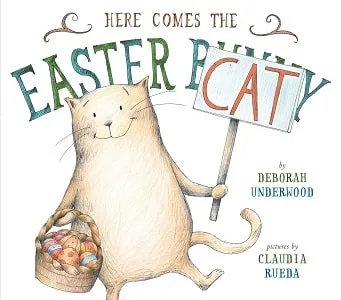 The Easter Cat is seriously cute! This book is so funny and engaging. It's no surprise that the little ones LOVE it!

Why should the Easter Bunny get all the love? That's what Cat would like to know. So he decides to take over: He dons his sparkly suit, jumps on his Harley, and roars off into the night. But it turns out delivering Easter eggs is hard work
This is such a great book for teaching reading comprehension strategies. The narrator asks several questions to the reader throughout the book to activate prior knowledge and make connections while reading.

They also have some pages without text that are perfect for think alouds and teaching children to use the contextual clues in the pictures to make inferences and guesses.

It's such an entertaining read that they don't even realize they're learning! Score! LOL!

The Here Comes Cat book is actually part of a series. I highly recommend checking out some of the others in the series as well.

Our class had to purchase several more after reading this one.

♡ Here Comes Teacher Cat

♡ Here Comes Tooth Fairy Cat

♡ Here Comes Santa Cat

♡ Here Comes Valentine Cat



RELATED POST: The BEST Valentine's Books & Stories For Kids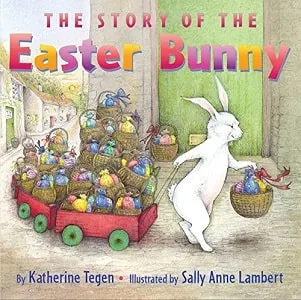 Everybody's heard of the Easter bunny but not everybody knows his story. Where exactly did the Easter bunny come from?

Find out the TRUE story of the Easter bunny with this adorable book!

When we read this one in class, I love doing a pre-reading activity where they kids all make predictions on the origins of the Easter bunny.

It's a wonderful little story and the author tells it so beautifully with vivid imaginary and simple but engaging text that's not too long or short.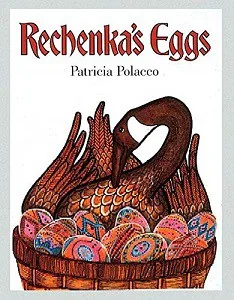 Now, here's an Easter book you probably don't see everyday. I love introducing my kiddos to traditions around the world.

This book was based around the Russian tradition of painting eggs.

My childhood friend's Ukrainian mother hand painted eggs in the Ukrainian style every Easter with her girls and it was always so captivating to watch.

It's the most intricate and beautiful patterns I've ever seen and the book replicates these gorgeous designs. I knew the kids would just love this book!

This book is oh so sweet and has a meaningful lesson about friendship and caring. The illustrations are so unique and beautiful, take a look!


The Country Bunny and the Little Gold Shoes by DuBose Heyward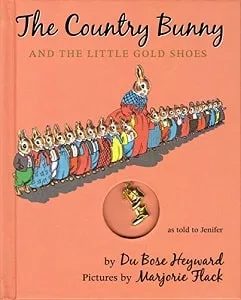 You can't talk Easter books without looking at the classics! I'm sure many of you remember this traditional Easter book from your childhood. It was always one of my favorites growing up.

It's even got quite a feminist feel about it. It's about a bunny who wishes to become one of the 5 Easter bunnies but she grows up and has 21 children she feels like it'll never happen.

It's beautifully written and has lovely illustrations. The story itself is wonderful and has so many talking points for after reading.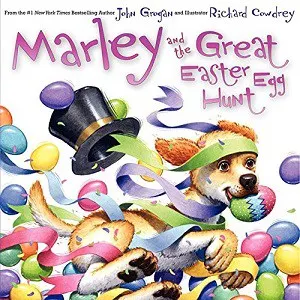 Every dog lover will adore this cute Easter story about a family and their adorable but mischievous Labrador Retriever Marley.

In this one, he's trying to help his little humans collect Easter eggs but somebody else gets to each one that he spots so he decides to take matters into his own hands.

It has a meaningful message as well. It teaches children that winning isn't EVERYTHING and the importance of teamwork and perseverance.

I love the whole Marley and Me series. They are so sweet and funny. Definitely worth checking out.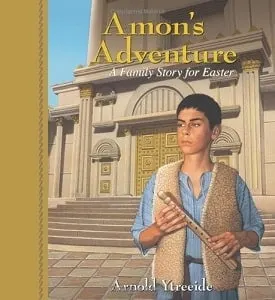 This is definitely one for the older kids and such a great read that really helps prepare the whole family's hearts and minds for Easter. It's full of historical and cultural elements.

It's a story of Amon and his father as they learn about responsibilities and sacrifice. It's more of a religious text and has questions for thought and reflection at the end of each chapter. This would be perfect to think aloud and talk through as a family.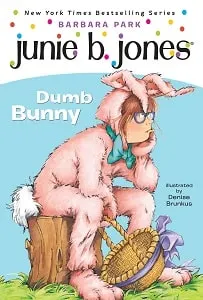 Who doesn't love Junie B Jones? The spunky First grader that tells it like it is.

Personally, the Junie B Jones series was one of those magical books that really sparked my love of reading because they were hilarious.

There's good reason this series has been going strong for over 25 years! Kids LOVE Junie B.

It's an Easter egg-stravaganza! Lucille is having an Easter egg hunt at her rich expensive mansion! And guess what? The winner gets a play date to swim in Lucille's heated indoor swimming pool! Only, here is the problem. How did Junie B. get stuck wearing a big dumb bunny suit? And how can she possibly find eggs when she keeps tripping over her huge big rabbit feet? Being a dumb bunny is definitely not as easy as it looks
An Easter-Themed Interactive and Family Friendly Question Game for Boys, Girls, Kids and Teens

This was a classroom favorite with my kiddos because it's funny and engaging. It has some silly, hilarious and thought provoking questions that gets EVERYONE engaged.

I've had games start with 3 or 4 kids and before you know it, the whole class gets involved. It's contagious! I think it would be perfect for anybody 6+

It's a great addition to any family game night, especially for Easter. It's something hilarious and fun for the whole family to do together.

It's perfect for some screen free fun!

It makes a great addition to any Easter basket. This one is a must! You'll thank me later 🙂

If you're looking for more things to do together as a family this Easter, check out my list of ultimate Easter activities for the whole family.


RELATED POST: The Best Christmas Books For Kids


Amazon Prime Book Box


If you and your little one LOVE reading together, you might want to look into our new fav service: Amazon's new Prime Book Box.

It's like a subscription book service that sends you either 2 hardcover books or 4 board books a month for just 19.99 that's like 40% off buying them individually!

You can even customize it to the age of your little one! I love that ALL the books you get will be hardcovers.

How awesome is that?!

Plus you can try out your first month for just $16.99 and cancel if you aren't happy.
MORE EASTER RELATED POSTS

Fun Things To Do At Home With Kids For Easter
Cute Easter Coloring Pages PDF Fun and Free
Cute Easter Basket Coloring Pages For Kids
Easter Themed Word Search Activity Printable For Kids
Fun Easter I SPY Printable Worksheet PDF
Free Easter Worksheets Printables For Kids
Free Easter Scavenger Hunt Clues Indoor
Preschool Easter Scavenger Hunt Hide and seek
Christian Easter Activity Sheets Printable
Easter Handprint Craft Art Ideas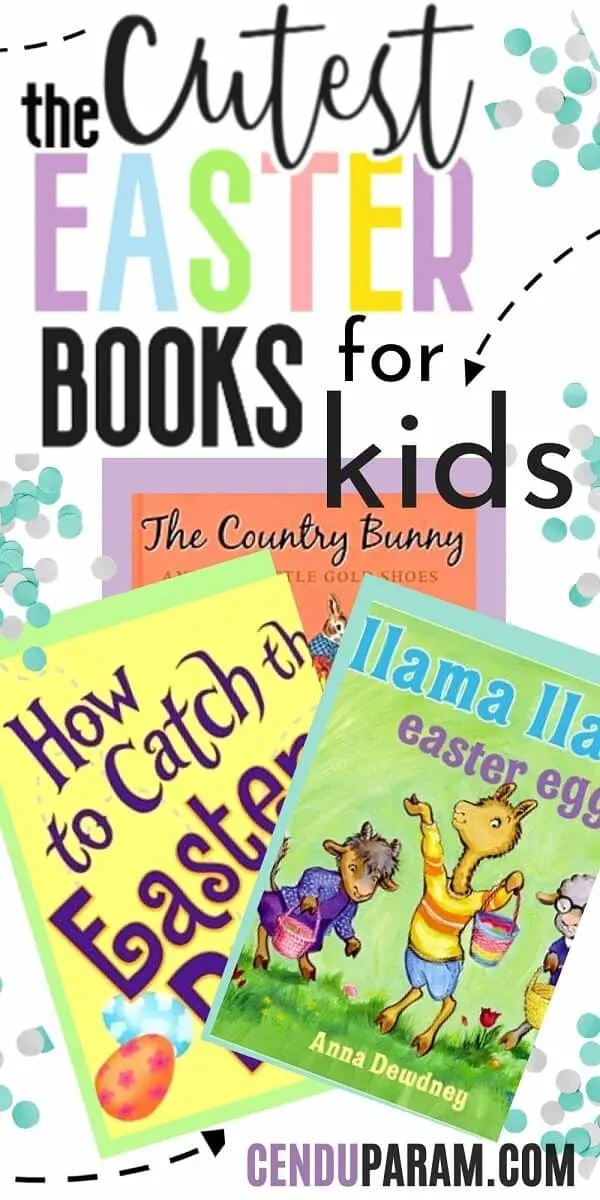 Easter Story Books Kids Love


Books make such a wonderful addition to any holiday. They spark the imagination and get children excited about learning.

I hope you found a few new Easter books that would make a great addition to you child's Easter basket. They're a great candy alternative that kids will appreciate and treasure for years to come.

I'd love to hear what your little one's favorite Easter picture book is. Did it make our list?


Leave me a comment below 🙂