Easter Treasure Hunt Hide and Seek Game
Looking for some fun ways to celebrate Easter with the kids? How about a fun game of Easter scavenger hunt, but with a little twist?
With this version, there's no need to worry about chocolate eggs you hid but never found (and then the invasion of ants and other little friends who stop by for a sweet treat).
This fun Easter scavenger hunt with picture cards to hide is perfect to play at home or in the classroom. Plus there are multiple ways to play so it's an activity that will keep the kids entertained for more than a few minutes.
If your kiddo does end up finishing too quickly, fear not, I've got a bunch of FREE Easter games and printables I'll link at the end of this post to buy you a few more minutes.
This cute Easter Scavenger hunt is more of a treasure hunt or hide-and-seek type of game.
Your kids will be busy running around your house (or classroom) in search of 16 adorable Easter bunnies and friends with colorful Easter eggs.
The Easter bunny has rounded up all his closest friends to help him out this Easter. They're all dressed up in their bunny suits and helping the Easter bunny hide his eggs.
The first one to find all of them is the winner!
This style of scavenger hunt is perfect for kids of all ages because even if you can't read clues yet, you can still play and have tons of fun.
So whether you have preschoolers, kindergarteners, or elementary-age kids, this is a game they can all play together.
Each player will get an Easter bunny checklist with all the friends you have to find. Simply check them off as you find them and the first one to find them all wins.
Each card features a unique Easter bunny friend, along with their name and a fun Easter-themed message or pun.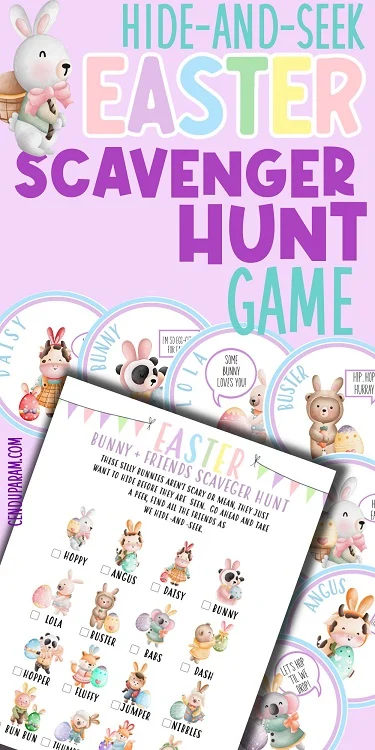 This post contains affiliate links, so we may earn a small commission when you make a purchase through links on our site at no additional cost to you. You can read more about it on the disclosure and disclaimer page.
How To Print Your Easter Scavenger Hunt Game
If you grab my Easter Scavenger Hunt Game Bundle you'll see that it includes:
An Easter Scavenger Hunt Checklist (one copy needs to be printed for each player)

1 Page PDF with game instructions for all the different versions of the games

8 pages of printable Easter friends cards for you to hide ( 2 Easter friend cards per page)
Once you purchase, you'll be given a link to download all the files included in the game. Download them all to your computer then you can print as many as you need.
When you click on the file, it should instantly open as a PDF which you can print right away.
However, if your file doesn't open automatically when you click it, that could mean that you don't have a PDF reader installed on your computer (this is pretty rare these days but it happens).
Don't worry, you can get a FREE PDF Reader from Adobe.
The files are all formatted to print on standard letter size 8.5 x 11′ paper.
If you're hoping to play it every year or want it to last more than one game, I would suggest printing on thicker sturdier cardstock paper. You can even laminate them if you like (that's what I usually do for the classroom).
If you don't feel like buying special paper for one project, another option is sending the files to your local printers (like Staples) who offer cardstock paper and even lamination too.
An inexpensive way to make them sturdier and create a fun DIY project with the kids is to have them cut out their bunny cards and glue them to construction paper or bristol board from the dollar store.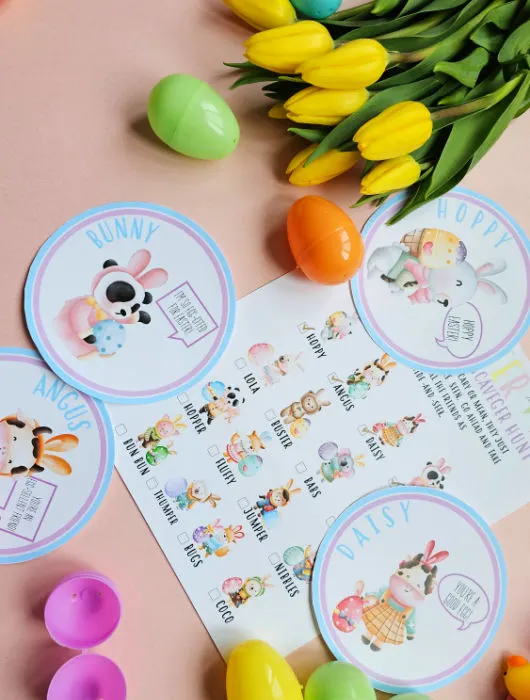 How to Play Easter Scavenger Hunt Hide and Seek Game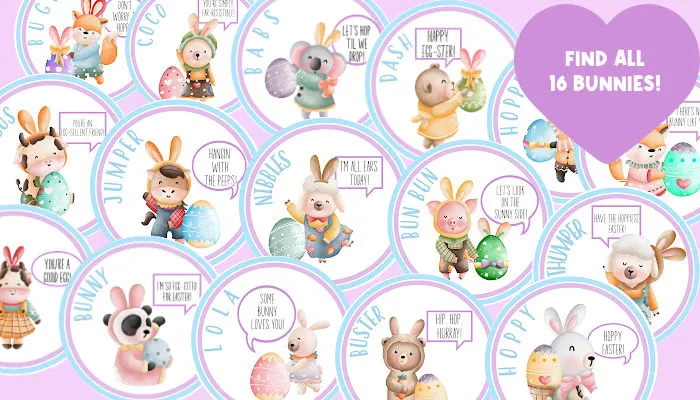 Let's go over a couple of different ways you can use this bundle for tons of fun.
Each player can play on their own or you can group your kiddos into teams of 2 or 3 (but make sure each child still has their own bunny checklist).
This can work as a fun social activity where the kids work collaboratively or you can make it more of a competition. Games like this encourage visual discrimination, memory skills, and cognitive skills.
You can DIY your own game set or grab my done-for-you Easter Scavenger Hunt Game with Pictures to Hide.
Easy Easter Scavenger Hunt Game 1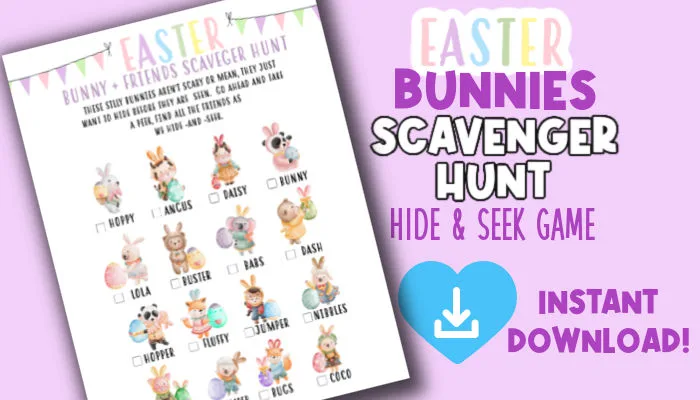 First, you'll want to make sure each player has a copy of the Easter bunny checklist so they can mark off their progress as they play.
Each checklist includes a picture of the Easter bunny + egg they're looking for along with the bunny's name and a square space to check off the bunny they've found.

Print out your Easter bunny cards and cut them out.

Hide your Easter bunny cards around the house (indoor or outdoors is up to you). Try to find some fun and creative spots to hide like in the cookie jar, under sofa cushions, or on a window sill.

Now it's time to set your hunters free to find all the Easter bunnies hiding around the house. Have players check off each bunny as they find them (but make sure to let them know they aren't to move the bunnies).

The first player to find all 16 bunnies is the winner!
Easter Scavenger Hunt with Pictures to Hide Game 2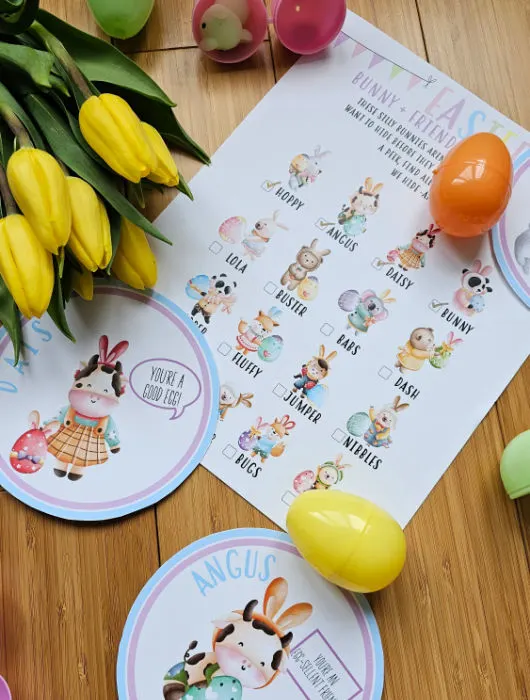 In this version, the kids will have to collect all 16 monster circles first to win.
Print out a set of 16 bunny cards for each player and cut them out.

Hide all the bunny circles around your home/classroom.

Print out an Easter bunny checklist game sheet for each player.

All the players will look for the hidden bunnies and collect 1 of each bunny and check them off their list. (If you like, as a pre-game activity, you can have each player decorate a brown paper bag with their names and Easter decorations so they can use the bags to store the bunnies they have found.

The first player to collect all 16 bunnies is the winner!
Easter Bunnies Memory Match Game 3
The last game is a simple but fun memory-matching game using the bunny circles. It's perfect to play on your own or with a friend.
If you're playing with more than 2 friends you can always print out 4 sets of bunny cards to make the game last longer.
Print out at least 2 sets of the bunny circle cards and cut them out.

Make sure the cards are all mixed up and then place them face down in however many rows you like ( I usually do 4 x 8).

Take turns trying to match the bunny pictures by turning 2 cards at a time.

Whoever has the most matching pairs at the end of the game is the winner!
Easter Scavenger Hunt Prizes
Whether you want to include a grand prize or mini prizes for all players is up to you. The game itself is fun on its own but who doesn't love the allure of a grand prize at the end?
Maybe you'll have a giant Easter basket filled with goodies or one giant Easter egg filled with little treats.
Here are some fun ideas for Easter Scavenger Hunt Prizes:
Easter Themed Mochi Squishy Toys – these are so cute, fun and inexpensive (so its perfect for classroom prizes too) if you're doing this at home, you can get the jumbo slow-rising ones!
This set of assorted Easter Party Favors
Pre-filled Easter Baskets are available too
And of course, you can always add an array of sweet chocolate Easter treats if you like.

More Easter Printable Activities and Games for Kids
This Easter Scavenger Hunt Bundle is one of my few paid printables but I do have a whole bunch of FREE Easter printable activities and games for kids as well.
Take a peek at some of these posts and print your favorite Easter activities for your little ones.
Easter Coloring Pages PDF FREE Printables for Kids
Easter Basket Coloring Pages FREE Printables
Easter Word Search Puzzles FREE Printables
FREE Easter Word Scramble Activity For Kids
Easter I SPY Game Printable PDF
Easter Printable Activities for Kids
Easter Scavenger Hunt with Clues FREE
Easter Handprint and Footprint Crafts For Littles
Fun Easter Activities To Do with Kids
The BEST Easter Books For Kids
Christian Easter Activity Placemats Printable PDF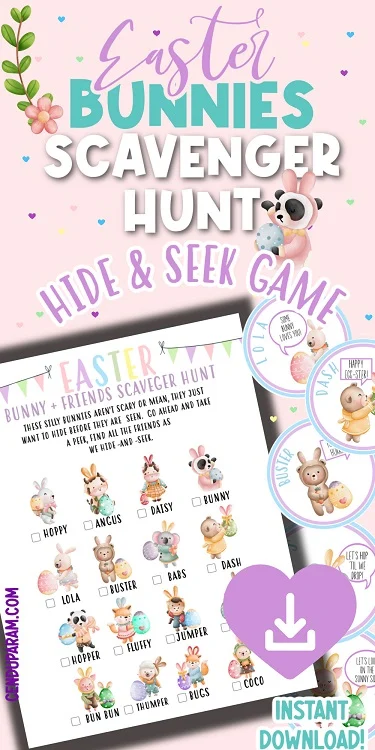 Wrapping up Easter Scavenger Hunt Printable Game for Kids
Whether you're hosting an Easter party in the classroom or at home, this easy and fun Easter Scavenger Hunt Game is the perfect activity to keep your little partygoers entertained and having a blast.
It's a great activity you can do with friends or on your own. Your little one will have so much fun trying to find all the hidden Easter eggs and friends.
You get the bonus of a mess-free activity with little to no prep or cleanup involved. Win-win! So even if you're scrambling to find something fun to do last minute, all you really need for this one is a printer, some paper, and scissors.
If you're in search of more activities be sure to check out some of the posts listed above with all those fun FREEBIES!
Hoppy Easter friends!