Looking for some fun Easter activities to share with the kids? Why not try this cute Easter word search printable puzzle? It's the perfect way to keep kids busy, entertained and screen-free, whether at home or in the classroom.

Personally, I put these Easter printables along with a few others out for our class Easter party and the kids always love to see who can finish the fastest.

It's a fun and easy way to practice language and vocabulary words for Easter! Use them at home, in the classroom or even in Sunday school at church.

They also make a great little add-on for Easter basket fillers! I have quite a few different ones you could turn into an Easter activity book.

You'll notice there are 2 different Easter word search printables to choose from.

One is the easy Easter word search which has the large print font and is perfect for our younger kids as the words are either horizontal left to right or vertical from top to bottom.

The other one has a smaller print as well as more Easter words that go in many different directions and is the harder more difficult one to share with your older children.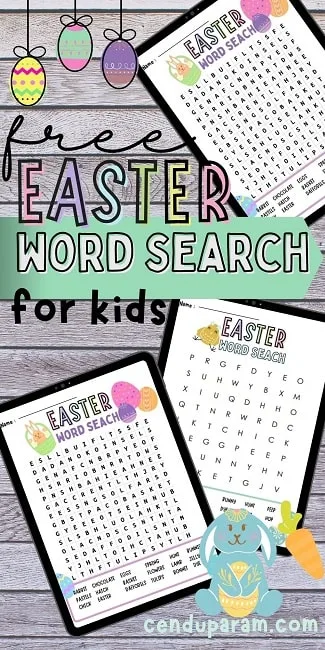 BENEFITS OF WORD SEARCH PUZZLES FOR KIDS
Sometimes it feels like you're just piling on busy work for the kids (and yes, you need that sometimes), but word search activities aren't just busy work for the sake of busy work, they have some wonderful benefits for a child's learning as well.

LANGUAGE, SPELLING & VOCABULARY

Word search activities are a great way to practice language and vocabulary in a more active and fun way. Your child will work on Easter-related terms and reinforce spelling as well while increasing their vocabulary.

It teaches them to look at words as a whole and increase recognition of sight words, as well as word patterns. Their minds begin to quickly spot words because they don't realize they're actually taking in language rules and pattern recognition that help them quickly decipher the words (for instance how the letter 'u' always follows a 'q'). These are great skills to foster for our emerging readers.

EASY EASTER WORD SEARCH WORKSHEET PRINTABLE

First up, we have the easy Easter word search for early elementary aged kid. This easy word search features 10 Easter themed words in large font to make it easier for our little kids. This is the Easter word search I usually use for my first grade and second grade classroom.

You won't find any diagonal words in this one, it's pretty simple and straightforward. All the words are either horizontal or vertical.

The horizontal words are all left to right (so nothing is backward) and all the vertical words go from top to bottom making it easy peasy for younger children.

To use this Easter word search, simply click the download pdf button and the worksheet will open in another window.

From there, you can hit the printer icon in the right corner.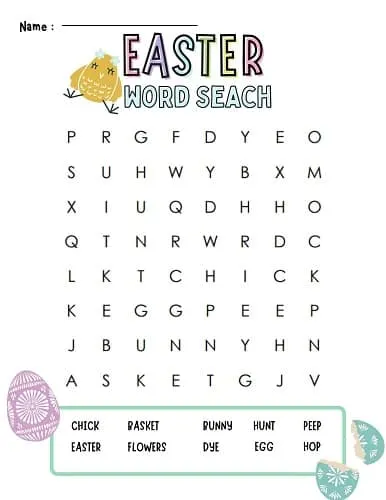 DIFFICULT EASTER WORD SEARCH PDF

Next, we have the hard Easter word search for older elementary students. I'll usually use this word search with students from grade 3 and beyond.

This Easter word search has 18 Easter words for kids to find and they're hidden in more creative ways than the last one.

Kids will have to look in all directions, forwards/backwards, up an down as well as diagonally to find all the Easter related words like chicks, bunnies, baskets and bonnets.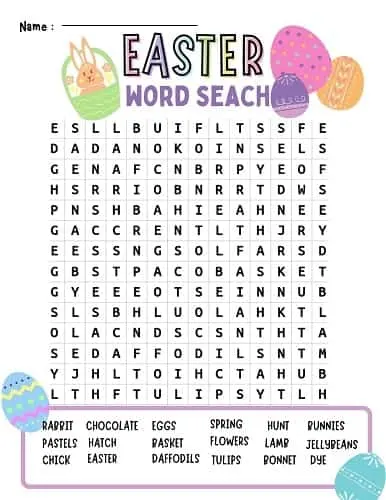 MORE EASTER PRINTABLES + ACTIVITIES

FREE Easter I SPY Printable Game For Kids
Easter Coloring Pages Free Printables For Kids
Easter Basket Coloring Pages FREE
Easter Scavenger Hunt Riddles For Around
Easter Word Scramble Printable PDF
Christian Easter Worksheets Printable
Cute Easter Handprint Craft Ideas
Easter Scavenger Hunt with Printable Picture Cards to Hide
What To Do For Easter When You're Stuck At Home
The Best Books About Easter For Kids Of All Ages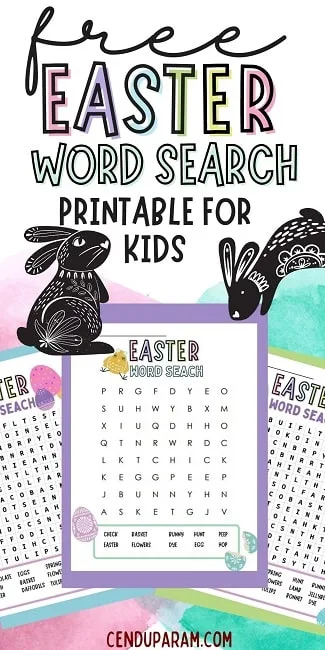 WRAPPING UP EASTER WORD SEARCH ACTIVITY FOR KIDS




I hope you enjoyed these fun and free Easter word search pdf printables. Enjoy these and other screen free activities this Easter to keep the kids busy over spring break.

Make sure to check out the other free Easter printable activities listed above.

They would be perfect to do at home, in the classroom or even in Sunday school at church.