UPDATED March 27, 2023


It's almost time for Easter! You might be wondering how to celebrate Easter with you kids (even if you're stuck at home) this year and make it memorable for them.

Spring has sprung!

The flowers are blooming, the birds are chirping and there's a whole host of new furry friends hatching over at the local farm.

There's so many fun Easter themed ideas for children of all ages. So whether you're stuck at home or just venturing out into the neighborhood, there's still plenty of ways to celebrate!

Here's my list of my favorite Easter fun shenanigans for the kids.


Disclaimer: as an Amazon Associate I earn from qualifying purchases. This comes at no extra cost to you.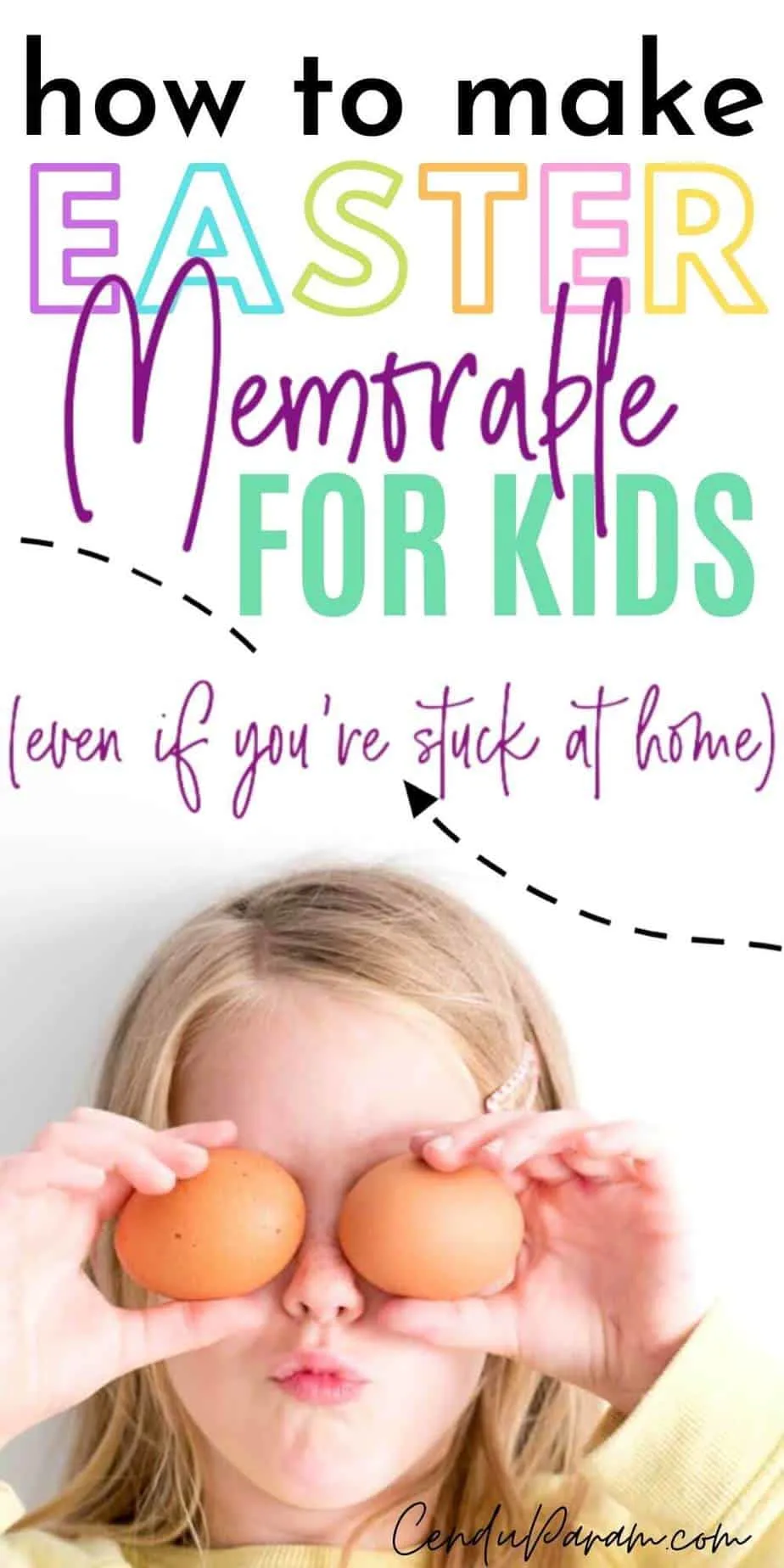 Easter Egg Hunt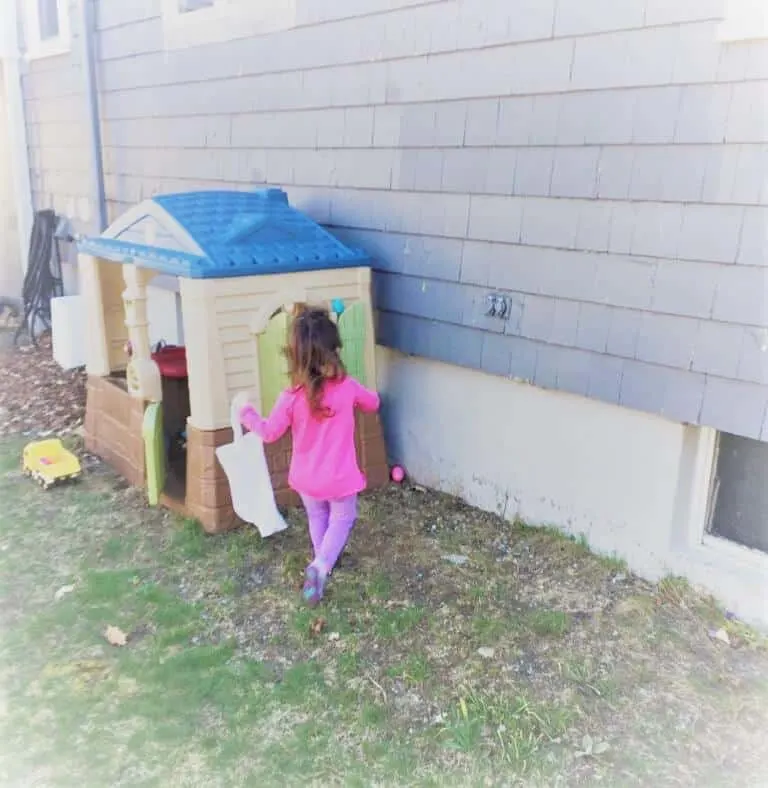 There are some things you don't mess with, and the classic Easter egg hunt is one of them. There is so much excitement surrounding this age-old tradition.

What kid doesn't want to wake up Easter morning and track down chocolate eggs, bunnys and other delicious treats. You can either hide them around the house or in the backyard.

Or let the kids try out a virtual Easter egg hunt online!
If you have older kiddos, they might enjoy an Easter scavenger hunt instead.
You can use my free Easter scavenger hunt clues to set up a fun hun at home!

PRO TIP :

make sure you make a list for yourself of all the places you've hidden the treasure so you don't miss any and end up attracting bugs in case you're doing an Easter egg hunt inside the house this year.

My little guy is only 2 1/2 so I'm not sure if he's really going to grasp the concept just yet but I may hide a few in obvious places just to see what happens.

This is a great opportunity for some fun candid pictures as well so make sure you've got the camera handy.

ITEMS FOR YOUR HUNT

To make sure you're Easter egg hunt is going to be EPIC, make sure you grab some great treats and prizes. It doesn't always have to be all about the chocolate. There's great non candy gifts too like books, games, toys, some new Easter outfits, or even some art supplies.

♡ Colorful Design Plastic Easter Eggs – love all the cute designs!
♡ Colorful Foil Wrapped Mini Chocolate Eggs
♡ Inflatable Easter Ring Toss Game
♡ Gratitude Journal– Easter is a perfect time to introduce a gratitude journal – especially with everything going on in the world right now, it's a great idea to turn your kids focus to the good things in their life.

Easter Scavenger Hunt Hide and Seek Game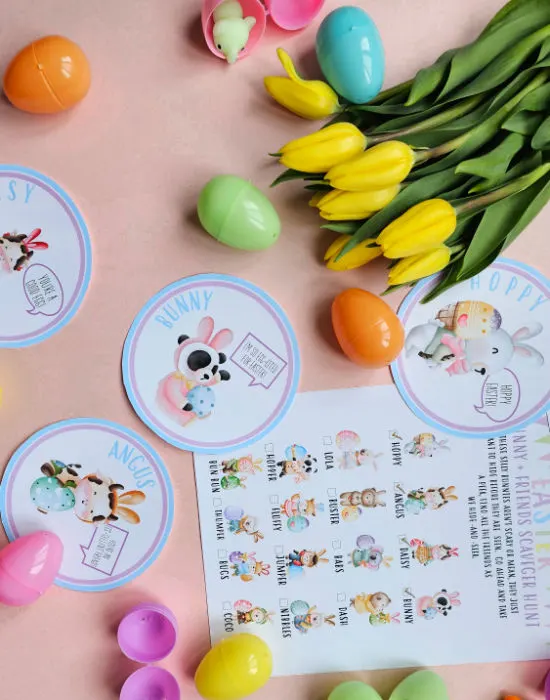 If you have little kids and don't really want them eating all that chocolate (or maybe you just don't want the bugs to find the ones you've all forgotten about).
You might love this fun Easter Scavenger Hunt with picture cards to hide.
This is perfect for the littlest kids because you don't even need to know how to read to do this one.
It comes with a checklist of the Easter bunny and some little animal Easter friends and individual cards to cut out and hide.
Your little one's job is to find all the Easter friends on the list.
It's a fun and easy twist on a classic Easter scavenger hunt that everyone can play.
Easter Fun At Your Local Farm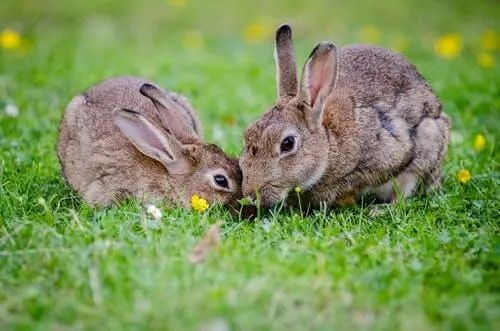 If you've got any farms near by, Easter is a great time for a visit to the farm with the kids. A lot of farms have their own Easter egg hunt, cute new baby animals (like bunnys)some even offer Easter crafts.

We're planning to take our little guy over to the Springridge Farm Easter Festival which features an Easter egg hunt, wagon rides, face painting, the singing chicken show, Easter crafts, baby animals and even an appearance by the Easter bunny.

If you can't get out to visit the farm, you can bring a little bit of the farm experience to your house instead.

You could take a virtual farm tour via videos like these:
Perfect for the younger kids
Dutch Hallow Farm
For Older Kiddos
Will-O-Crest Farm

Learn a bit about life on the farm and farm animals with some great books. These are some great options if you're homeschooling right now.
National Geographic Kids On the Farm Sticker Activity Book
Or if you've got younger preschoolers and toddlers opt for farm books featuring their favorite furry friends.
Eric Carl Around the Farm Animal Sounds Book
Easter Themed Crafts for Kids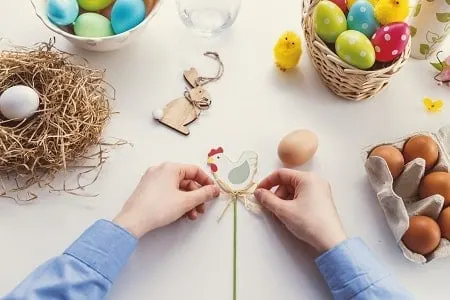 One thing I always loved, regardless of what holiday it was, was making themed crafts at school which I would later take home, lose, and then cry about.

When I'm looking to get crafty I usually just head over to Pinterst and find some fun Easter craft inspiration.

Or make some Easter treats together, like my blogging buddy Erin's Easter Bunny Cupcakes.

With toddlers, you'll have to opt for simple crafts or even some Easter-themed sensory activities like Lorena and Lennox over at Bilingual Beginnings.
Easter Handprint and Footprint Crafts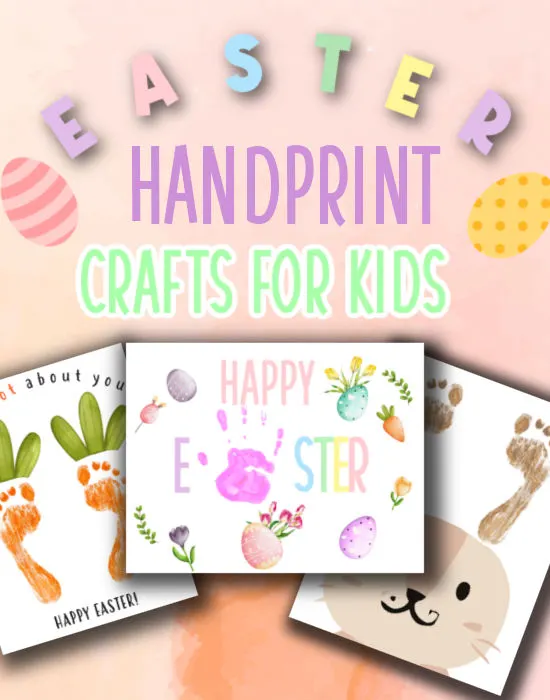 With little ones, it can be difficult to do Easter crafts with too much going on. That's why I love doing handprint and footprint crafts with little kids.
It's a fun and engaging sensory activity that also creates super cute keepsakes that you can share with family and friends.
I've made this Easter handprint footprint templates to make it even easier! It includes 10 different templates to create lots of cute and unique crafts with littles.
You can check out some of the completed Easter handprint crafts to see what they look like.
Christ-Centered Easter Activities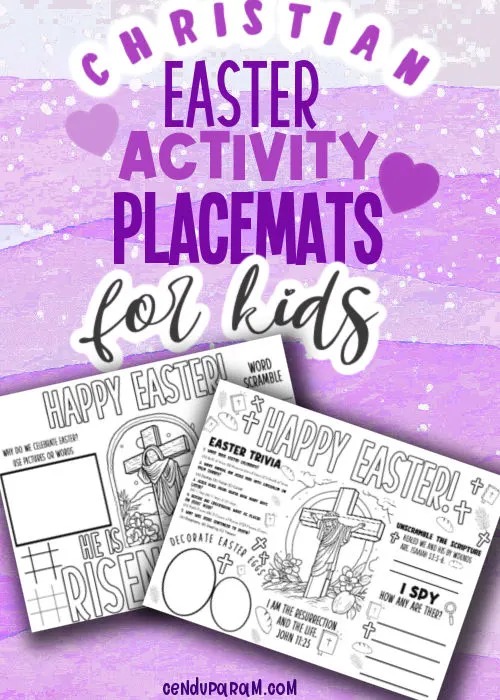 Maybe you're focusing on a more Christ-centered Easter and teaching your little one about what the true meaning of Easter is and why we celebrate it.
You might love my Christian Easter Activity Sheet Bundle!
It has 2 Christian Easter activity placemats in 2 sizes plus a whole host of free bonus activities including: Christian Easter coloring pages, an Easter Bible Trivia Game, a Christian Easter word search, and a Christian Easter word scramble activity.
It's such a fun and engaging way to open the dialogue about what Easter means with your kiddos.
You can check out a more detailed breakdown of what's included in the Christian Activity Sheets here.
Free Easter Printable Activities For Families


I've also created a bunch of free printable activities for Easter!

You can download and print out these fun worksheets to do together as a family. It makes for a fun indoor Easter activity that's screen free and you can even hang up your artwork as decoration when you're finished! It's such a great way to spend time together and play some friendly games (sometimes they do get a little competitive but it's all in good fun)

Free Easter Coloring Pages For Kids
Easter I SPY Printable Activity Worksheet
Easter Word Search Printable Puzzle PDF
Easter Printable Activities PDF
Easter Word Scramble Worksheet For Kids
Easter Scavenger Hunt Printable List
Cute Easter Basket Coloring Pages PDF
Dying Easter Eggs or Painting Eggs


This is another classic for Easter. I think it's a must, at least once. I really enjoyed making pretty colorful eggs as a kid. My mom wasn't having it though, it can get messy so plan ahead, lots of newspaper to catch spills and have some super absorbent some paper towels on hand.

I only ever did this at school but I would love to try it with my son when he's a bit older.

One thing I remember doing was decorating the egg (very carefully) with crayons first, and then dying them.

You can even make cool patterns by simply wrapping your egg with some twine so when it's removed, it'll leave a pattern.

You can buy an egg dying kit to make the process easier and have everything you need on hand.

If you aren't a fan of the mess, check out this spinning Egg decorator kit thing.

You can see this Eggmazing egg decorator in action here- this thing is way less messy than traditional egg dying.

Or if you're trying this with really young children and don't think they're ready for all this mess (and maybe you aren't either- no judement-me too! ) – then do what we're doing over here and decorating plastic eggs with stickers instead.


Spring Reading List: Easter-Themed Books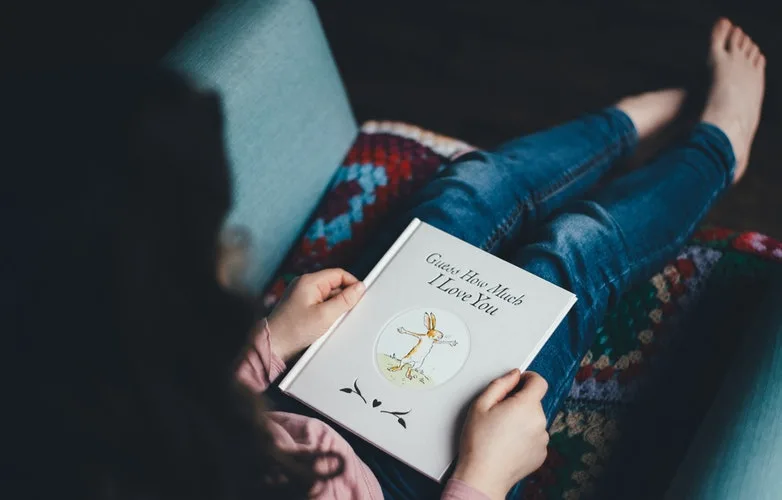 If you're looking for a less messy alternative, you can't go wrong with books.
There are so many wonderful Easter books to help you celebrate with the kids. Plus books make a great addition to any Easter basket.
I have a list of wonderful Easter books for kids that my classroom kiddies always loved that you can check out.
I'm a sucker for classics so I love The Tale Of Peter Rabbit and The Velvatine Rabbit.
These one's aren't exactly Easter but close enough. Are you a fan of the Bernstein Bears? I used to love those as a kid.
They've also got a bunch of Easter themed books like The Bernstain Bears and The Easter Story.
Easter Baskets


Another memorable idea for Easter with the kids is to make them custom Easter baskets filled with all kinds of treats. These can be yummy edible snacks and treats like Cadbury Mini Eggs and giant chocolate bunny.

Or if you prefer to stay away from the sugar high that's sure to ensue, opt for toys, books, arts and craft type things.

I'd love to include play things like Easter eggs with playdoh, crayons, paint, side walk chalk, bubbles and of course a cuddly little plush bunny like this one that's are ethically made and each purchase provides 10 meals for a child in need.

Easter is a great time to teach the kids about the importance of gratitude and giving back. This would be a perfect intro and then you could brainstorm more ideas and ways to help together.

Baby O and I also has some awesome DIY Easter basket ideas you can check out.


Easter Egg Scavenger Hunt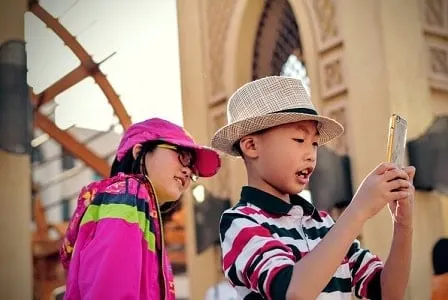 Who doesn't love a scavenger hunt? If you're kids are on the older side and feel a little too old for the traditional Easter egg hunt, maybe opt for a scavenger hunt instead.

You can grab a bunch of the plastic colorful Easter Eggs and fill each one with maybe just 1 chocolate and a clue leading to the next egg. Each clue would eventual lead to the big prize, the hidden treasure!

This could be anything: movie gift certificates, gift cards, or even a golden ticket for 1 wish. Head over to Dresses and Dinosaurs for some more Easter activities and even a free downloadable scavenger hunt list.

What if you're stuck at home?!

We can still do a scavenger hunt but it's gonna look a little different. You can have the kids hunt for answers to questions and riddles.

Each egg can contain a question about Easter or whatever you want. You can have them search the internet or books for the correct answer.

Upon completing a correct answer, provide them with a clue to where the next egg with another mystery, question or riddle is located until you eventually lead them to their prize!

How fun!

Go On an Easter Community Hunt

If you're stuck at home right now, you might have heard of this 'Bear Hunt' phenomenon that's taking over the internet and helping us banish feelings of isolation.

It's basically whole communities (even nations) coming together and creating a fun little game for kids. This one is based on the song 'we're going on a bear hunt'.

Neighbors are joining the fun by putting a bear or other stuffed animal on the window sill so children passing by can check it off their scavenger hunt lists.

This would be a great tradition to continue into Easter!

Neighbors could put Easter themed items like stuffed bunnies, chicks, lambs and other Easter items like colorful eggs on the window sill for children to check off an Easter scavenger hunt outdoors.

Attend The Easter Parade


Check out your local happenings for kid friendly Easter activities in your area. You might be surprised at all the FREE stuff you find. If you live in Toronto, there's often an annual Beaches Easter Parade.

They are also hosting an Easter Egg hunt over at the Kew Gardens. They even have VIP guests like Peppa Pig, Sunshine and Broccoli, and the Easter bunny in attendance.

Can't head out this year? I got you!

Why not do a virtual Easter parade at Disney land instead! Then have your own Easter parade and dance party at home with the family and all your stuffed animals.

You could even put the kids and some of those stuffies in a wagon and take them out for an Easter parade walk around the neighborhood.


Live Steam Easter Service

If you typically attend church for Easter service, you may not be able to do that at the moment. Luckily, there are tons of places you can live stream and watch together as a family. Christian world media offers all kinds of services virtually at the moment so definitely worth checking out if you don't want to miss this tradition!

Or you can always do your own at home with kids with a cute youtube video tailored just for them!
How To Stay Connected With Family This Easter
Easter is a typical time to get together with loved ones and celebrate but if that isn't possible face-to-face right now, there are still plenty of other ways to connect.

You can facetime with friends and family or maybe even host a Facebook watch party to view your favorite Easter movie!

How about making and sending out special Easter cards to all your family?

How about Zoom? It's traditionally used in businesses for conference calls but what the heck?! You and your family could all sign up and have an Easter conference call together to catch up and maybe even share a virtual brunch.


Easter Brunch Eggstravaganza



Maybe standing around in crowded areas isn't your thing.

Why not start your Easter celebration off with an Easter brunch featuring your favorite themed dishes like a quiche, french toast, eggs benny or a slice of delicious carrot cake for dessert.

Get in my belly! Yuuuum!

Or maybe you don't feel like slaving over a hot oven, head on out for a nice family brunch at your favourite restaurant.

A lot of restaurants even include special Easter surprises for kids.

Or order in!


Watch Your Favorite Easter Movies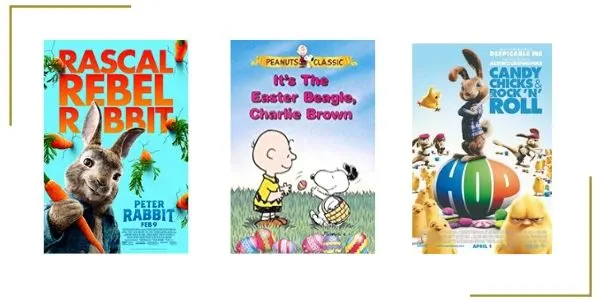 If you're more of a homebody, gather everybody together, get some snacks together and watch your favourite Easter movies as a family.

One of my favorite family friendly movies for Easter is Hop. If you haven't seen it, it's a must watch! It's about the Easter bunny's son and how he wants to be a rock star instead of following in his dad's footsteps.

If you want to introduce your kids to cult classics I'd suggest an all time favorite like It's the Easter Beagle, Charlie Brown.

If you're looking for something more recent, check out the modern remake Peter Rabbit.

Fun Ways To Celebrate Easter With Kids (When You're Stuck at Home)



The holidays are all about making memories with your kids.

Find some fun, spend time together and make memories you'll look back on. Don't forget to take lots of pictures too!

So, what are you planning to do for Easter?

Got any more ideas for us?

I know it can be awful when you're forced to stay in but hopefully you found a few fun things to keep the kids busy and make memories this Easter!