FREE PRINTABLE EASTER WORD SCRAMBLES
If you're looking for some fun and FREE Easter printable activities and worksheets for kids, then you're in the right place. Try this awesome Easter word scramble with answers.

It's a fun way to work on language arts, vocabulary, and spelling so kids don't even feel like they're working. Word games are a wonderful way to get the kids excited about learning which is why we use them all the time in my classroom.

This cute Happy Easter word scramble is the perfect indoor Easter activity you can do at home, in the classroom, or even in Sunday school. Be sure to check out all the other fun and free Easter printables for kids listed at the bottom!


Disclaimer: as an Amazon Associate I earn from qualifying purchases. This comes at no extra cost to you.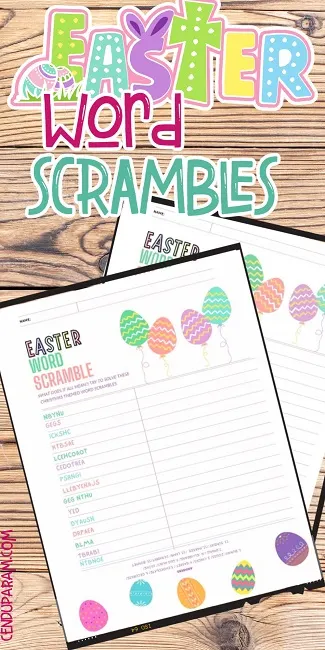 HOW TO PLAY EASTER WORD SCRAMBLE GAME

If you're playing at home, you can simply print out your word scramble sheet and let your child have fun figuring it out.

I like to print mine on cardstock and make laminated copies (with this handy little device) so we can use dry-erase markers and reuse them every year. You can also slip them into these dry-erase pockets to make reusable sheets.

I love keeping a set of reusable generic ones in our free time corner for students to use when they've completed other work and want something fun to do.

You can keep them in the car for when you're on the go to keep the kids busy at appointments or just when you're out and they're bored.




MAKE IT A COMPETITION
If you have more than one child or are using this in class or for a little Easter get-together, you can have them compete to make things a little more interesting.

I have them either try to beat the clock (we set a timer of X minutes and see how many people can get in that time).

Or they compete against each other to see who can unscramble all the words first.

EASTER EGG HUNT WORD SCRAMBLE

Another fun way to play is to write the word scrambles on small pieces of paper and then hide them in a plastic Easter egg and hide those around the house.

I have my kids work in teams of 2 or 3 to find as many eggs as they can and once the timer is up they can open up their eggs and compete with the other groups to try to solve them as fast as they can.

If you want the game to go longer, I make a rule that you can't open another egg until you've solved the current one. Otherwise, you have to give up that egg to move on to another.


EASTER WORD SCRAMBLE FREE PRINTABLE WITH ANSWERS

This cute Easter word scramble is a great way for kids to practice skills like word recognition, using contextual clues, spelling, and vocabulary, plus its tons of fun!

In case they get stuck, there's also an answer key at the bottom that's printed upside down.

To access the pdf just click the download button below, it will open in another window where you can click the printer icon to print the page.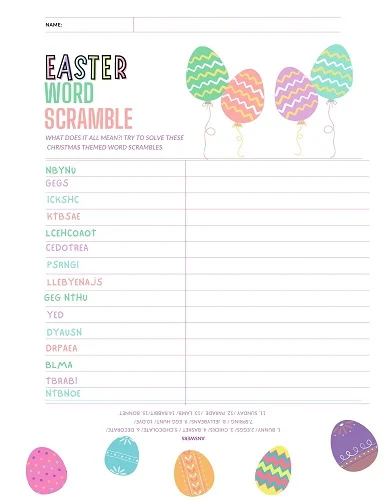 MORE EASTER ACTIVITIES POSTS



Easter I SPY Worksheet Printable For Kids
Easter Egg Coloring Pages For Kids Free Printables
Easter Basket Coloring Pages PDF
Easter Word Search Free Printable Activity
Easter Scavenger Hunt Free Printable For Kids + Toddlers
Must Have Easter Books Kids LOVE!
Easter Activities To Do with Kids
Free Printable Easter Worksheets For Kids
Fun Easter Handprint and Footprint Art for Kids
Fun Christian Easter Activity Placemats Printables for Kids
Cute Easter Hide-and-Seek Scavenger Hunt for Little Kids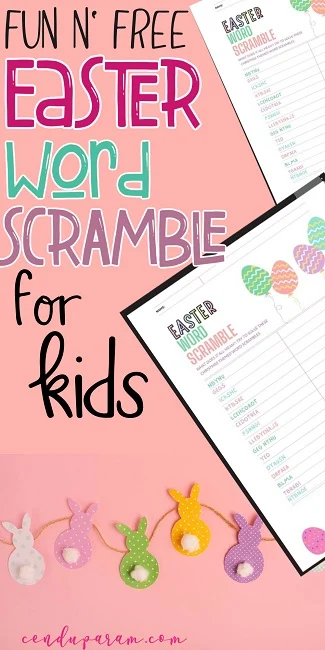 WRAPPING UP HAPPY EASTER WORD SCRAMBLE



I hope you enjoy working with your little one to unscramble all the Easter-related words. Once you finish this one, don't forget to check out all the other fun Easter printable games, activities, and puzzles.

Don't see something you're looking for? Leave me a suggestion below and I'll see what I can do.

If you loved it (or even kinda liked it) please share!

Happy Easter!