Cute Easter Basket Coloring Pages PDF FREE for Kids
Easter is just around the corner! Are you looking for some fun and FREE Easter activities to do with kids? One of the most beloved Easter traditions is the Easter basket, filled with all sorts of goodies like candy, toys, and eggs.
To add some extra fun to your Easter celebration, why not try your hand at coloring your very own Easter basket coloring page?
I personally love coloring activities because it's great for kids of all ages. With little ones, you can work on fine motor skills, and color recognition, and if you're doing a color-by-number activity you can even work on number recognition.
For older kids and even adults, it provides a wonderful creative outlet that also allows you to de-stress and relax (all without using screens).
And with so many different Easter basket coloring pages right at your fingertips, you can choose the perfect design to suit your style and preferences. From cute and simple designs for kids to more intricate and detailed designs for older children and adults, there's something for everyone to enjoy.
I've also got more FREE Easter printable activities (including more FREE printable coloring pages for Easter) that I'll link near the near the end of the post so stick around.
This post is mainly Easter basket coloring pages filled with easter eggs, bunnies, and of course some spring flowers.
Please note that these files are provided to you for non-commercial use so that basically just means you can't re-sell them or use them on your own websites or distribute them online as your own.
You're free to use them at home, as activities for Easter parties you might be hosting, or in the classroom (personal use is perfectly fine)!

How to Print Your Cute Easter Basket Coloring Sheets
Printing your cute Easter coloring pages and accessing your digital files is easy peasy!
You don't even need to sign up with your email or anything. Just simply click the text under each image that says download pdf and you'll have access to your free file instantly.
When you click the text, it should open in a new tab or window and you should see a download symbol near the top of the page (in the right corner).
Just click on that symbol to download the digital files to your computer.
You also have the option to just print the file without downloading by clicking the printer symbol in the top right corner.
If your file doesn't open automatically, it likely means you don't have a PDF reader installed on your computer and you'll need that to access your files.
Don't worry, there's an easy fix, and it's free.
Just head over to Adobe Reader download and install the program and you should be all set.

Let's hop in and check out those free printable Easter coloring pages now!
Easter Bunny Basket Coloring Pages
These first few are Easter bunny coloring pages. Each Easter basket includes a cute little rabbit because what says Easter like adorable, fluffy little bunnies!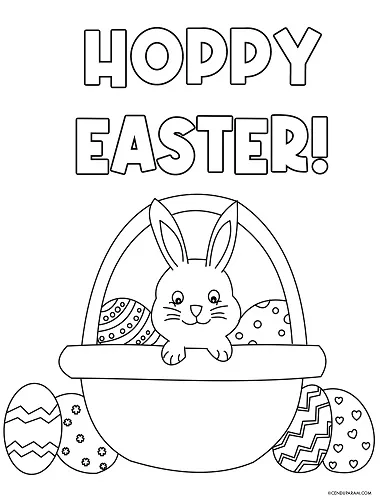 Cute Easter Bunny in Basket Fun Coloring Page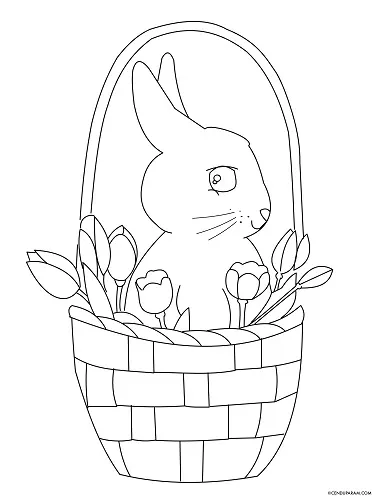 Cute Rabbit in Easter Basket with Tulips Coloring Page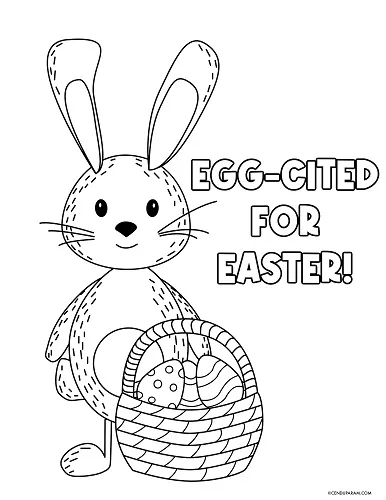 Cute Easter Bunny Holding Basket Free Coloring Page
Chicks in Easter Basket Coloring Pages
We're continuing with this theme of cute creatures in Easter baskets. Unfortunately, there's only one in this category, I'll have to make a note to add some more.
Here's a cute little chick in an Easter basket.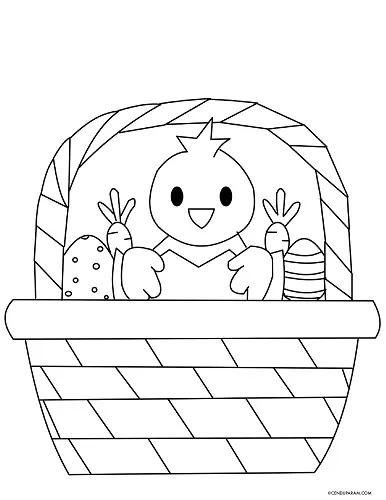 Baby Chick in Easter Basket Coloring Page
Easter Egg Basket Coloring Pages
Up next, we've got easter egg coloring pages or baskets filled with Easter eggs with fun designs. These are kind of the classic Easter baskets you think of when you think of Easter.

Cute Easter Egg Basket Coloring Pages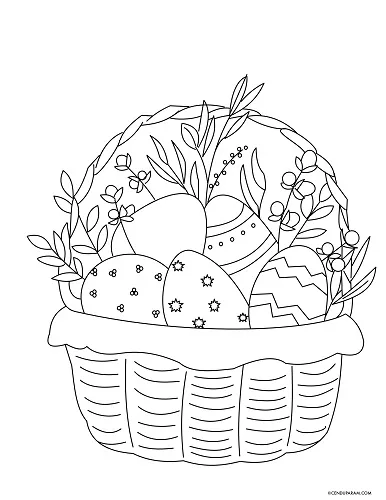 Easter Basket Filled with Easter Eggs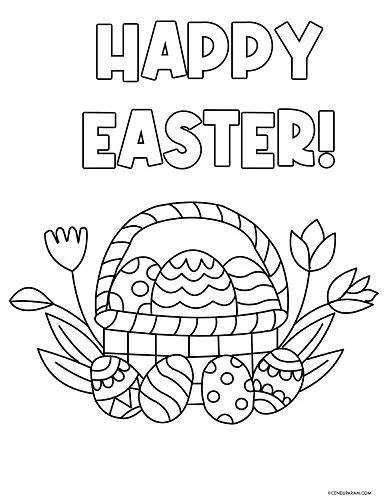 Easter Eggs and Flowers Easter Basket Coloring Page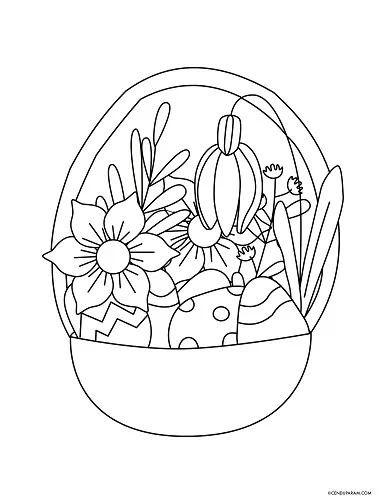 Easter Basket Coloring Pages Printable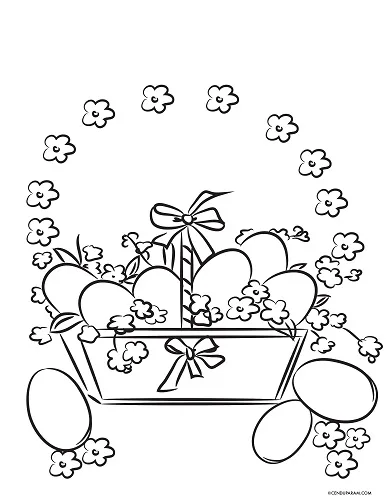 Simple Easter Basket Coloring Page (design your own eggs)
Empty Easter Basket Coloring Pages
If you want to design your own Easter basket and fill it with whatever you might like, I've included this empty easter basket coloring page for just that purpose.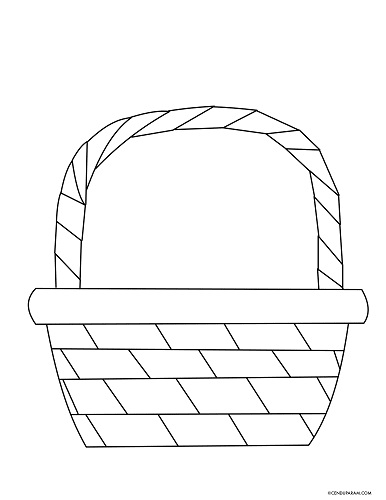 Empty Easter Basket coloring pages printable
More Easter Crafts and Printable Activities FREE
If you're looking for more fun coloring pages, don't worry I've got tons of them! Check out some free Easter coloring sheets, blank Easter egg templates, and other printable activities and Easter pages below!
Fun Easter Coloring Pages FREE Printable PDF
FREE Easter I SPY PDF Printable Games
Easter Word Search Puzzles Printable PDF
Fun Easter Word Scramble Worksheet FREE
Fun Easter Scavenger Hunt with Picture Cards to Hide
FREE Printable Easter Scavenger Hunt Clues
Cute Easter Handprint Craft Templates For Little Ones
FREE Printable Easter Activities For Kids
Fun Easter Crafts and Activities To Do with Kids
The BEST Easter Books for Kids
Christian Easter Activity Pages For Kids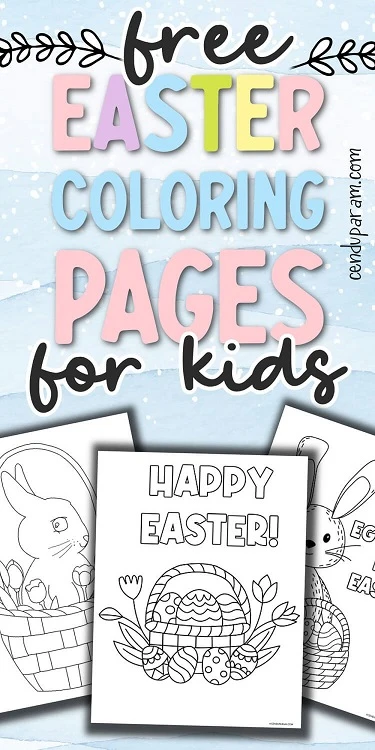 Wrapping Up Easter Basket Downloads
I hope you enjoyed these FREE printable Easter basket coloring sheets! It's a great way to keep the kids busy and entertained without a screen.
They're perfect to use in the classroom, at home, or even for church.
I hope you liked all the different patterns and designs!
If you're looking for more Easter activities be sure to check out the posts listed above! They're so much fun for kids of all ages and are almost all free pdf files.