Printable Christian Easter Activity Sheets for Kids
Looking for some fun Easter activities to keep kids busy at the table during Easter brunch or dinner? Or maybe for the Easter Sunday service or Sunday school? You'll love these Christ-centred Easter activity placemats.
These Christian Easter Activity Placemats are the perfect way to entertain little ones while also talking to them about the true meaning of Easter.
Easter mornings can be a little overwhelming with all the preparations and things to do for Easter breakfast or brunch, that's why I love having some activities ready to keep little ones entertained while I work my magic in the kitchen.
The best thing about these Christian Easter activity sheets is that they require very little prep or materials, so even if you're trying to put something together last minute, you'll be just fine!
These are great because they have a little bit of everything included like coloring activities, word search, Christian Easter trivia, and more!
How to Print Your Christian Easter Activity Sheets
Printing your cute Christian Easter Activity Bundle and accessing your digital files is easy peasy!
When you click the link you'll be taken to a checkout page and upon purchase, you get instant access to your files.
A link is provided to give you access to the folder containing all the PDF files in your bundle.
Just click each pdf file and click the download symbol in the top right corner to download them to your computer.
Then simply open your files and print!
If your file doesn't open automatically, it likely means you don't have a PDF reader installed on your computer and you'll need that to access your files.
Don't worry, there's an easy fix, and it's free.
Just head over to Adobe Reader download and install the program and you should be all set.
So all you'll really need is a printer, some printing paper, and some pencils, crayons, and markers.
That's probably the easiest prep in your Easter to-do list.

What's Included in the Christian Easter Activity Bundle?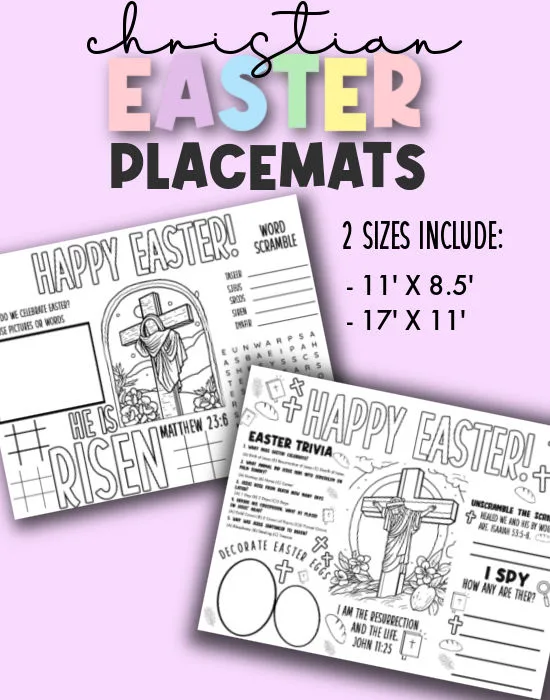 Next, let's go over what exactly is included in the Christian Easter activity bundle, shall we?
The main focus of the bundle is the activity place mats but I've also included some extra free bonuses because I'm always trying to over-deliver!
I want my people to feel like they got a steal of a deal, because who doesn't love a good bargain?!
This bundle includes 2 different Christian activity placemats and there are 2 size options to choose from.
You can print a standard US letter size 8.5 x 11 sheet at home or if you're feeling a little extra and want your kids to have something that looks like a real placemat, you can print the 11 x 17 size!
If you're doing the larger size, I find it easiest to send it to a print shop like Walmart, Staples, Walgreens or office depot and I love choosing the cardstock option for a thicker, sturdier finish.
These activities are perfect for little ones!
I also love Easter handprint crafts or this fun Easter Hide-and-Seek Scavenger hunt for little ones.
What Activities Are On the Christian Easter Activity Pages?
There are 2 activity pages and they both include different activities on each.
They both feature Christian Easter coloring pictures along with Easter and resurrection-related scripture passages.
One of them has the line we think of most often when we think of Easter: He is risen. Mattew 23:6 (let's call this activity sheet 1).
The second sheet has the scripture: I am the resurrection and the life. John 11:25 (let's call this activity sheet 2).
Activity sheet 1 includes the following activities:
Christian Easter coloring activity
Tic-Tac-Toe Games
Easter Word Search
Easter Word Scramble
Why do we celebrate Easter
Activity sheet 2 includes the following activities:
Christian Easter Coloring Picture
Easter I SPY Game
Unscramble the Scripture
Decorate the Easter Eggs
Christian Easter Trivia
What's Included In the Bonuses?
As a thank you for supporting my small business and purchasing the Christian Easter Activity Sheets, I've included some fun extra bonus activities to give you even more bang for your buck!
You'll get these 10 beautiful Christian Easter Coloring Pages you see below: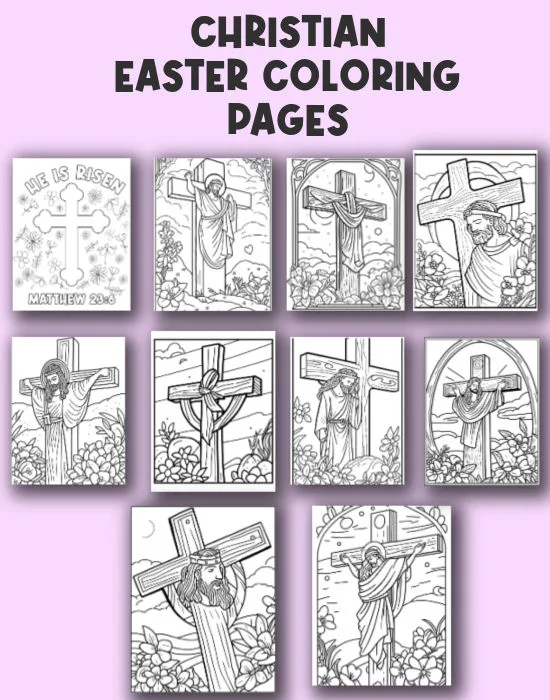 I've also added a fun Bible Easter Trivia printable!
It has 2 options (the questions are the same on both though). You can either print the multiple choice option or you can print the one with a blank line for written answers.
Depending on your kiddo's age, you can choose which you feel would be a better fit.
It also includes the answer key.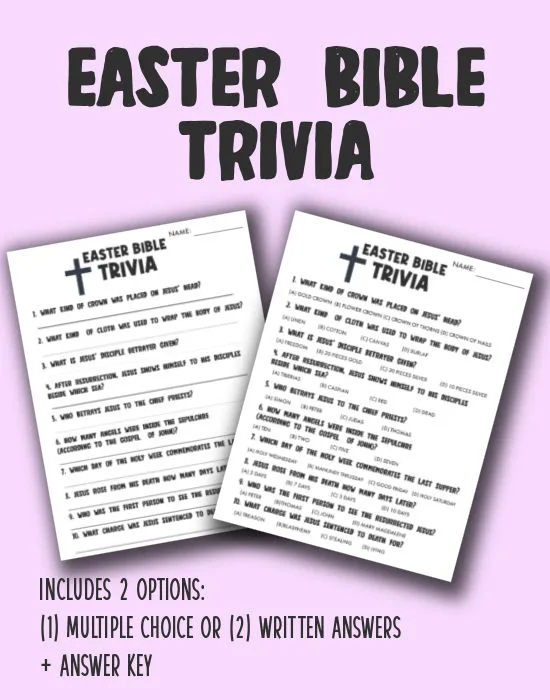 We're not done yet!
I've also added this Christian Easter word scramble activity along with an answer key of course.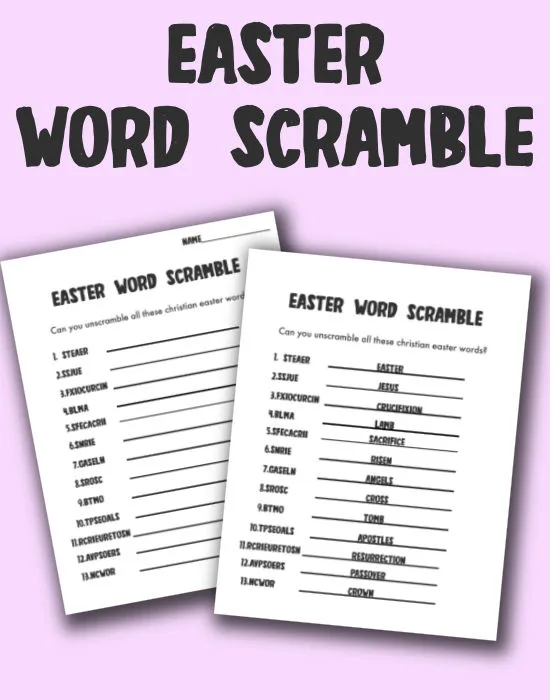 And last but not least, I've also included a Christian Easter word search puzzle along with the answer key!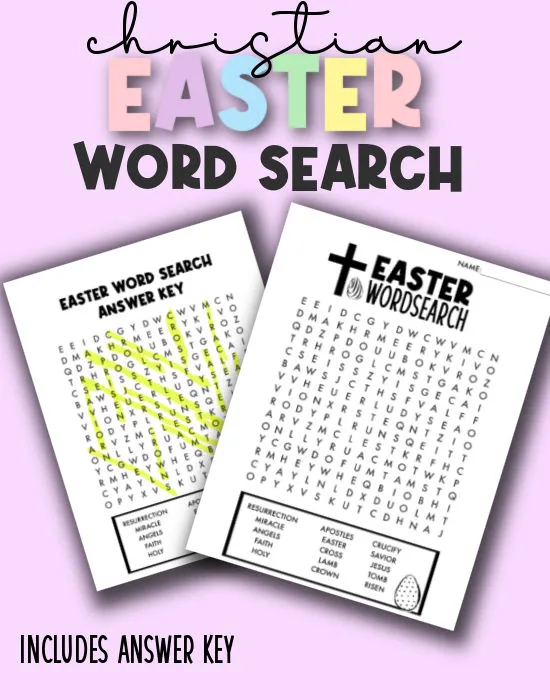 There you have it, a complete Christian Easter Activity Bundle filled with fun and engaging printables for kids. The great thing is there's a mix of activities for different ages so if you have more than one kiddo, you don't need to look for multiple products.
If you've got one kiddo, it's a bundle you can buy once and use over the next few Easters!
Either way, win win!
More Easter Printables for Kids
If you're looking for more Easter activities for kids (these ones aren't Christ-centered) and even some FREEBIES check out some of the awesome activities listed below!
Easter Basket Coloring Pages For Kids Printable PDF FREE
Easter Coloring Pages PDF FREE Printables
Preschool Easter Scavenger Hunt Hide-and-Seek Game
FREE Printable Easter Scavenger Hunt Clues for Kids
FREE Printable Easter I SPY Game Printable
FREE Easter Word Scramble Printable PDF
Fun Easter Worksheets For Kids Printable
Easter Handprint and Footprint Crafts For Littles
Fun and FREE Easter Worksheets Printables for Kids
Fun Easter Activities To Do with Kids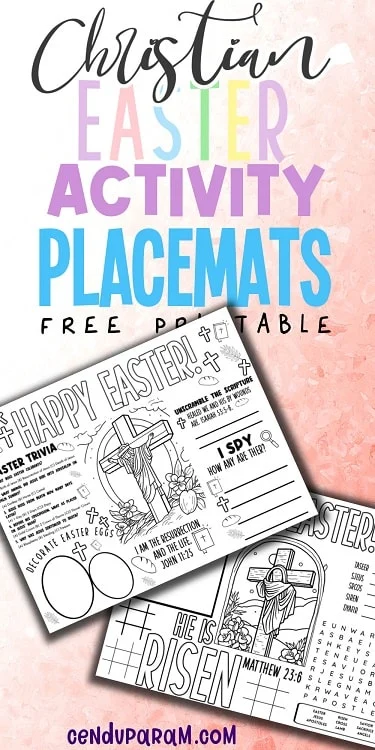 Wrapping Up Easter Christian Activity Placemats
I hope this post gave you some fun ideas for a Christ-centered Easter with kids! These Christian Easter activity placemats are a perfect way to begin a talk about the true meaning of Easter.
I tried to give you great value for your purchase and added a bunch of wonderful extra activities to keep your little ones engaged and busy while you prepare for a wonderful Easter at home!
If you're looking for some FREE Easter activities be sure to check out some of the posts listed above.
Thank you so much for visiting!
Happy Easter!