EASTER COLORING BOOK PRINTABLE
Hopping into Easter and wondering how to entertain the kids at home? Try these fun and free printable Easter coloring page pdf that are ready to print and use. Print out all the full page Easter coloring sheets and make your own Easter coloring book.
It's a fun-filled activity to keep the kids busy and they can even use the finished artwork as decoration to hang around the house (that's what we usually do in our classroom). You'll find all your Easter themed favorites like cute Easter bunnies, Easter eggs with fun designs, spring blooms and so much more!
Lets hop right in and check out some super cute Easter coloring pages for kids.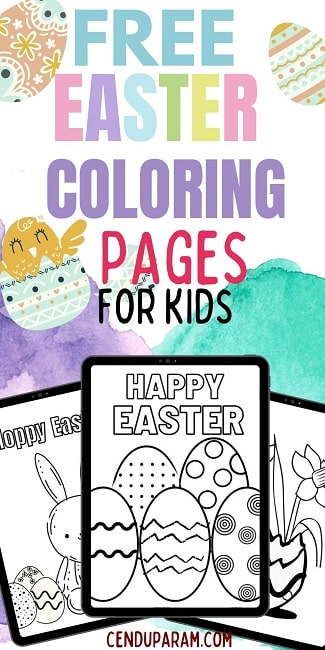 EASTER BUNNY COLORING PAGES




First up, we have this cute Easter bunny coloring page with a cute bunny, some decorated eggs, and a punny 'hoppy Easter' title.

It's sweet and simple and perfect for toddlers and preschoolers as well as early elementary.

These are the Easter coloring worksheets I typically use for kindergarten.
The next is a similar cute cartoon Easter bunny with the phrase ' Hip Hop Hurray for Easter!'

Get your little friends coloring then hang up their artwork around the house to make things a little more festive at home!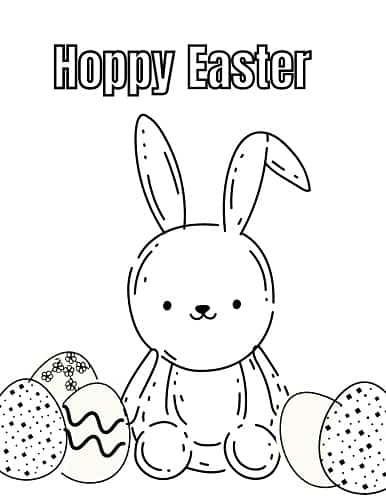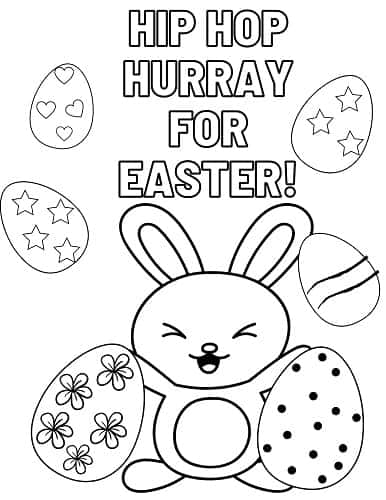 EASTER RABBIT COLORING PAGE PDF
The next coloring page features what I'd call Easter rabbits. This image has rabbits that look a little more life-like and less cartoony cute.

I think this coloring page would be great for the older kids who love to color, probably the elementary students.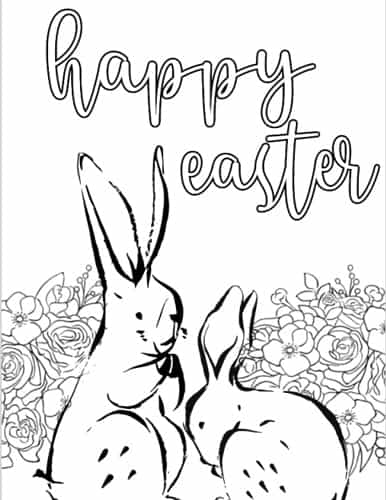 EASTER EGG COLORING PAGE PDF



You can't have Easter without some colorful and intricate Easter eggs. Here you'll find fun Easter egg coloring pages with simple and cute designs.

Enjoy coloring them any way you like!

I'll also include some blank Easter egg templates later on in case your little Picasso's want to create their own masterpiece.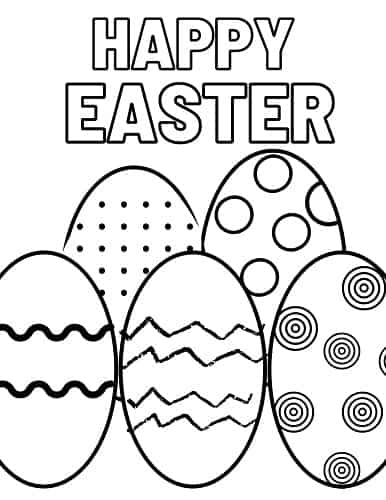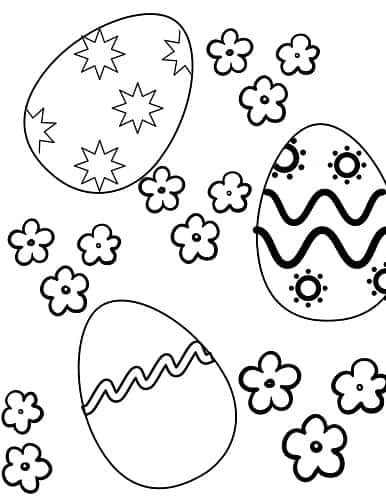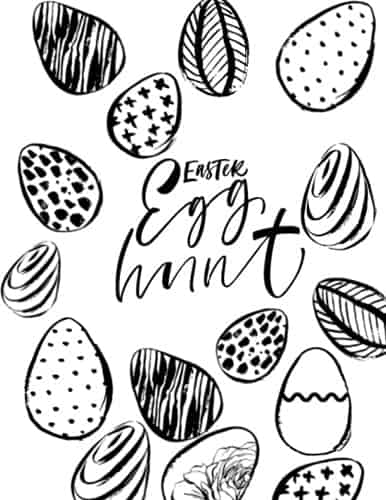 EASTER BASKET COLORING PAGE

Another Easter-themed classic is baskets filled with all things related to Easter. Sometimes it's an Easter bunny with his basket filled with treats for little girls and boys.

Others may feature a basket of Easter eggs and maybe even spring blooms and cute furry creatures like chicks and bunnies.

I've only got one Easter basket coloring page for you at the moment but I'll add more soon.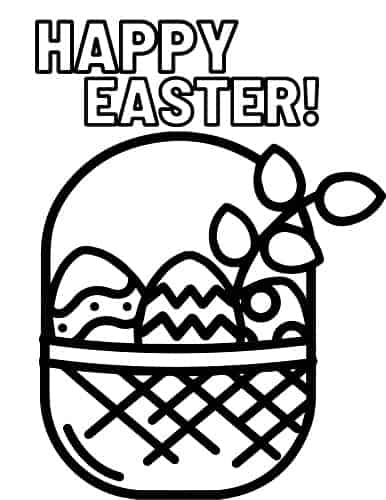 EASTER FLOWERS COLORING PAGE

Flowers and the season of spring are very a part of Easter celebrations. After all, Easter is a celebration of hope, renewal, and rebirth so flowers are the perfect symbol.

These cute Easter flower coloring pages are a great way to add some beautiful Easter art to your home and keep the kids busy at the same time.

They are the perfect free Easter coloring craft for kids of all ages!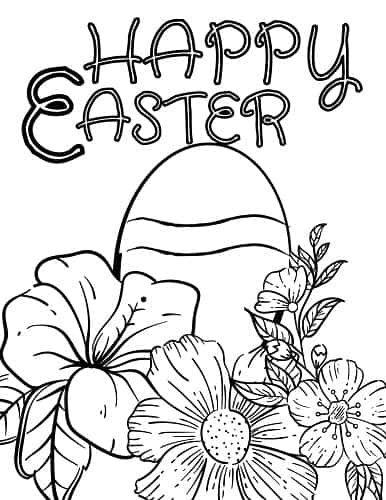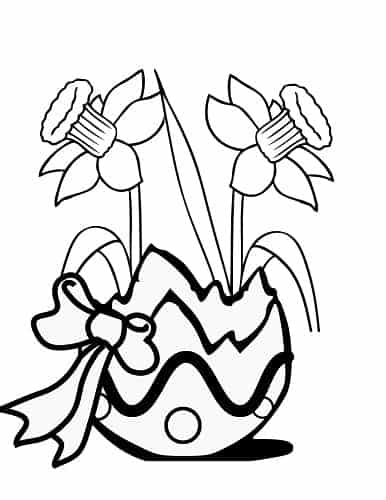 EASTER CHICKS COLORING PAGE

Lastly, let's celebrate Easter with birth and new beginnings. What better way to celebrate than with these cute Easter chicks coloring pages featuring sweet furry little friends who go 'cheap cheap' or 'peep peep'.

My class loves the 'Happy Easter Peeps!' coloring pages because who doesn't love a good pun?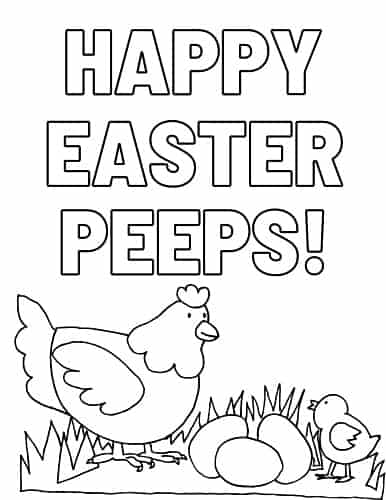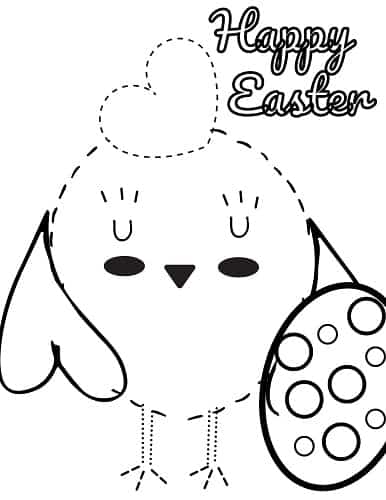 BLANK EASTER COLORING PAGES

If your kids love to draw, design, and get creative, they'll love creating their own Easter egg patterns with these free blank Easter coloring pages or templates.

You can choose between the large Easter egg coloring page or the smaller one with multiple eggs.

Whatever you like!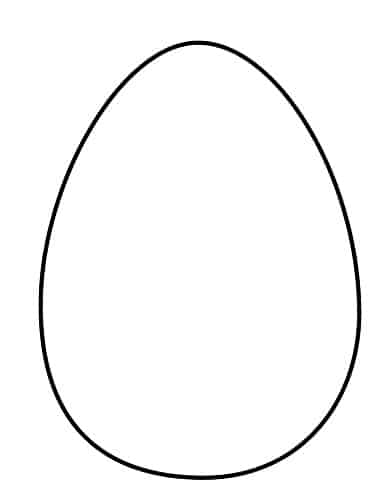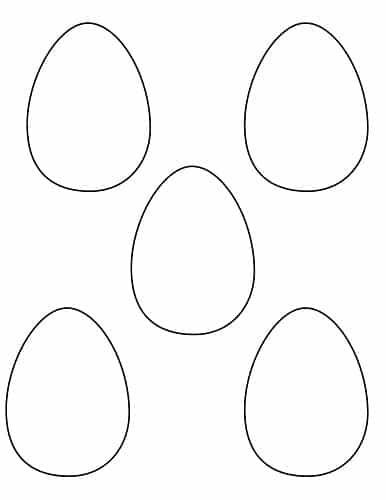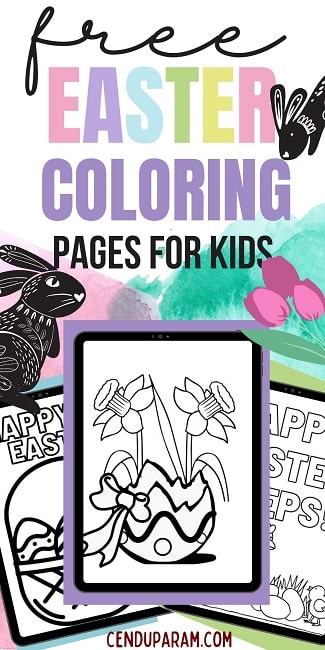 MORE EASTER RELATED POSTS

Fun Things To Do For Easter With Kids
The BEST Easter Story Books For Kids of All Ages
Easy Easter Word Search Free Printable For Kids
Free Easter I SPY Game Printable Activity For Kids
Easter Scavenger Hunt For Toddlers + Clues For Older Kids
Fun Easter Word Scramble For Kids
WRAPPING UP FREE EASTER COLORING SHEETS

That brings our free Easter coloring pages to an end. I hope you and your family enjoy these free coloring pages and share them with your loved ones.

Coloring pages are a fun and sweet way to share the holiday cheer. You can even print them out and create a cute Easter coloring book to add to a special Easter basket surprise!