Unique Baby Shower Gifts No One Thinks Of
Looking for some unique baby shower gifts for the mom to be? She'll definitely appreciate it because it'll be one less duplicate item to exchange. Usually, at a baby shower, you end up getting multiples of the same baby items (even when you do register), and personally, I hate to return or exchange them since it's a special gift picked out for baby but there's only so many onesies a newborn can wear.

This list of baby shower gifts that no one thinks of is the perfect way to find a present that's truly unique and special.

These items are the kind of things I didn't realize I needed as a new mom until the moment came, so these baby shower gifts are ones you won't find on a baby shower registry. That's why she'll love you even more for getting her something she didn't even realize she wanted yet.

I'm sure you'll find the perfect baby shower gift even for the mom who has everything!
Disclaimer: This post contains affiliate links. As an Amazon Associate, I earn from qualifying purchases but this comes at no additional cost to you.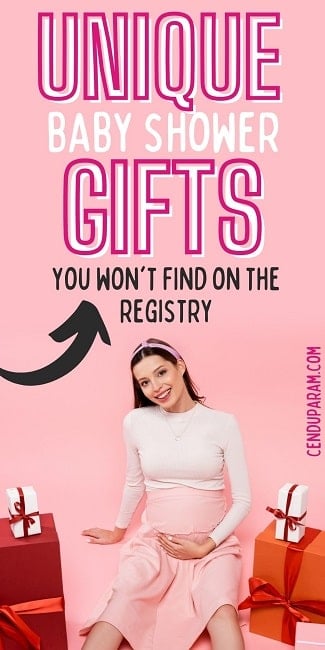 WHAT IS A UNIQUE BABY GIFT?


I've broken this list of unique baby shower gifts into 2 parts. The first part will cover unique baby gift ideas, as in gifts that are just for the new baby. Then we'll take a look at some gifts that are just for mom.

Here's a lot of the non-baby registry gift ideas that are unusual or uncommon. These are the things I ended up buying myself because I didn't even think to add them to the registry. Most of them are pretty unconventional baby shower gifts but I promise they'll be much appreciated.


1. CUTE MILESTONE BABY BLANKET

This super cute baby milestones blanket is a perfect unique baby shower gift. The mom to be will love taking monthly baby photos on this. It features a cute caption too, 'love you to the moon and back'.

Check out this mama's actual product photo using the blanket with her little cutie. She says she loves how this one is actually on the thicker side and feels like a blanket. Some are just like thin sheets.

This is such a sweet and sentimental keepsake gift she can even use with future babies.
More Cute Themes To Choose From
Baby Bear Woodland Themed Milestone Blanket
Angel Wings Baby Milestones Blankie
2. BABY KEEPSAKE BOX


How about this sweet baby keepsake memory box with a teeny tiny little compartment for each of the baby's firsts like first locks, first tooth, hospital keepsakes, and more! It's definitely an uncommon baby shower gift you don't see much.

If you want to see what it looks like in person, check out this happy momma's photos and review! If mom-to-be isn't the scrapbooking type (let's face it, you need a lot of time, effort, and creativity) this is a perfect solution that's super sweet and low maintenance.
3. ELECTRIC BABY NAIL FILE


One of the scariest tasks when it comes to taking care of a newborn is trying to cut itty bitty fingernails with a traditional nail cutter. You could easily nick one of those teeny tiny fingers! So I figured, I just won't cut his nails, how bad can it be?

Turns out, pretty bad. He had scratches all over his face by day 3 so we tried socks (which he hated).

When I was finally at my wit's end, I heard another mommy influencer talking about the Zoli but it was a little on the pricey side so I found this one called Cherish Electric Baby Nail file that's actually cheaper and has better reviews! Score! This is a practical and useful baby shower gift she probably doesn't even realize she needs yet.

This is definitely one of my favorite baby purchases and I still use it today (3 years later!).

4. NEWBORN PHOTOGRAPHY SESSION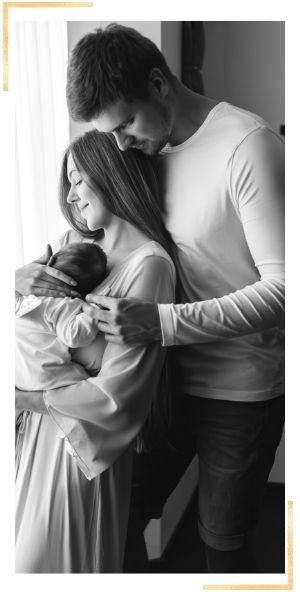 Something special, unique and lasting to gift for a shower is a photography session with a local newborn or family photographer. It's such a unique gift that mom to be will really appreciate.

The new mama will love you forever for giving her precious photos that will last a lifetime and maybe even a few new family portraits to proudly hang up around the house.

If not, a great quality DSLR camera would also be a fantastic gift for capturing all of baby's firsts.

Personally, I love the Sony A6000 Mirrorless camera because it's super lightweight compared to other DSLRs so I actually take it out and about all the time.

I get it though, that can be expensive and out of budget so I've got another idea below that's along the same lines.

5. FUJIFILM INSTANT CAMERA KIT



So another fantastic option that's also inexpensive: a Fujifilm Polaroid Camera. The parents-to-be could use this along with the milestone baby blanket for some adorable keepsake photos of baby's first year.

Let's face it, we almost never actually get to printing any of those 542364 baby photos we took. With this cute option, the new parents can enjoy these keepsakes instantly and keep them for years to come.

You could also include this cute baby milestones baby photo banner that they can attach their monthly photos to and hang up in baby's room.

6. BABY FIRST YEAR FRAME + HAND AND FOOTPRINTS KEEPSAKE


Here's a unique and sentimental gift for baby that the parents can treasure for years to come.

Give the parents-to-be a reason to print out those monthly baby photos with this cute keepsake 1st year frame. I love that this frame also has a separate side for hand and footprints (it even includes the ink pad).

If you want to see how it looks in person, this mama was so happy with hers that she made a video, take a peek!
7. PERSONALIZED BABY BLANKET

Another thoughtful and uncommon gift for a baby shower is a blanket that isn't like all the others they're about to receive.

It's a traditional gift with a twist!

A personalized name blanket makes such a special keepsake. My sisters got one for my little guy just after he was born and we wrapped him in it ever since. It's become his go-to as a toddler – the quintessential security blanket.

So you may not know the baby's name yet when you're heading to the shower, so there's a few ways you can deal with this.

First, you could simply use baby's last name and personalize it that way, like Baby Smith. Or if the couple has one of those blended couple names ( you know, like Bennifer) you could use that as well (though this isn't really my favorite).

Or you could give them an IOU type of message saying there's a special name blanket waiting for baby once they decide on just the right name. Otherwise, you could simply wait till the baby is born and gift it then.

It's kind of slim pickings on amazon for this type of gift so I highly recommend checking out customized baby blankets on Etsy if you can. There's a much wider selection of styles and quality so there's sure to be at least one you looove!
8. WOODEN BABY BIRTH ANNOUNCEMENT SIGN


This charming and sweet wooden birth announcement sign makes a practical and useful shower gift. It's a wonderful keepsake for the new parents and also makes an awesome prop for those newborn photos. Personally, I would bring this to the hospital and use it for those first shots.

This gift is great since you don't need to know the baby's name ahead of time. They can simply write in all the details about baby when they're ready.

If you do happen to know baby's name already, one of these personalized wooden name signs would be a wonderful gift the parents-to-be can add to the baby's nursery.

Again, Etsy is probably the better choice for this, I found so many beautiful nursery name signs on there.
9. CUSTOMIZABLE BIRTH POSTER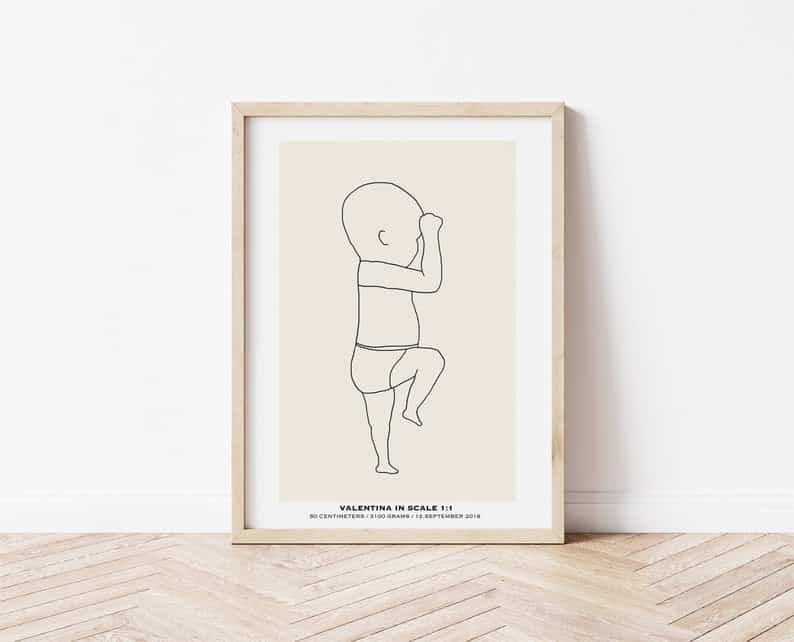 This beautiful and customizable birth poster (from Etsy) is a wonderful, unique and special keepsake gift for the parents to be.

This is actually a 1:1 scale drawing of the size of baby when they were first born. You'll have to obviously wait for baby to arrive if you choose this gift but it's well worth the wait.

I've got this beauty hanging in the nursery and it's still one of my favorite keepsake pieces. We quickly forget just how small they were so I love having this constant reminder.

You get to customize all the details of the baby's arrival including birth date (+ time of arrival), baby's length and weight, place of birth (if you want), and baby's name.

This one is actually an instant download so be sure to add a beautiful frame along with your gift.

10. BABY MILESTONES CHALKBOARD


This cute baby milestones chalkboard would also make a cool gift for new moms that's actually useful. The new mommy will love using this to take baby's monthly milestone photos.

It's a little more fun than typical photos since you can include all of the baby's favorite things and all the must-have baby updates in one shot.

Or a cute letter board would work too!

Plus, it's a gift that grows with baby. It's not something they'll just outgrow in a few months like the endless piles of clothes.
11. BABY FIRST AID + COLD/FLU KIT


If you're shopping for a first time mom, they probably haven't thought about a first aid kit for baby's first cold or flu, so they'll be grateful you did!

This Sick Day Prep Kit is a great start and has a lot of the basics you'll need. If you're going to DIY a sick day prep kit yourself, the one item you must have is the baby snotsucker (it's already included in the sick day prep kit)! That thing is magic!

If you decide to go with the Sick Day Prep Kit, I would also add a baby thermometer and baby tylenol as well because they'll definitely need one and it's not part of the kit.

12. BABY OXYGEN FOOT MONITOR


Here's another unconventional baby shower gift that nobody else will think of.

If you weren't aware, one of the leading causes of newborn deaths is SIDS (Sudden Infant Death Syndrome) which is related to a baby's breathing and oxygen levels.

Because of this, I was super paranoid and checked on my sleeping babe almost every 15 minutes to make sure he was breathing well. It's the last thing you need when you're already sleep-deprived.

Enter the Baby Oxygen Foot Monitor! It monitors the baby's breathing and oxygen levels throughout the night and sends you alerts on your phone when it detects oxygen levels dropping.

The original Owlet Smart Sock Monitor is pretty amazing too but on the pricey side so this one is a great priced alternative.
UNIQUE BABY SHOWER GIFTS FOR MOTHER TO BE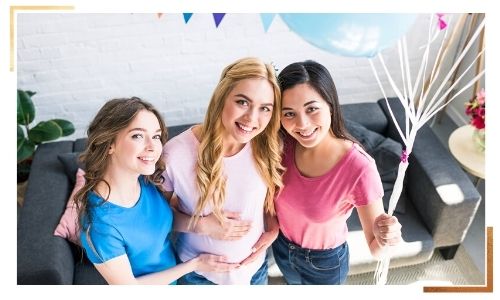 I know it's called a baby shower but that doesn't mean you can't treat the mom-to-be too! It's going to be all about baby very soon, so why not shine some special attention on mommy this time?

Here are some unique gifts for the mom-to-be that she'll totally love. Usually, moms don't really get anything that's just for them during the shower so right off the bat, that makes it unique already.

Take it one step further with one of these special gifts to make her day.
13. MOMMY AND ME MATCHING ROBE AND SWADDLE SET


One of thing I hated during my hospital stay were those awful ugly hospital gowns. They do not photograph well. When I was preparing my labor and delivery hospital delivery bag, I didn't even think about needing something cute for photos so of course I got stuck with the ugly hospital gown.

So do the new mama a favor, and gift her one of these gorgeous matching mommy and me robe + swaddle blanket sets. She probably doesn't even know how much she needs this but she'll thank you later.

I love that there are so many designs to choose from. If you really want to be extra with your gift, you can even add a pretty hospital gown (these double as nursing gowns after so win-win ) so she doesn't need to use the one from the hospital.

14. PREGNANCY PILLOW


As the new mama gets closer to popping, sleep is going to become a thing of the past. Maybe it's our body's way of preparing for no sleep once the baby arrives? Who knows?

The only thing that helped me during those sleepless nights was finally getting one of these huge pregnancy body pillows! It's a thoughtful gift she'll love and definitely thank you for later.
PRO TIP: Pregnancy pillows can be a little on the pricy side, so if you're on a budget I would also take a look at PregnancyPillows.com and use code cenzerelyyours50 to save $50!
15. BABY DIAPER BAG BACKPACK


This is a gift that the new mom probably doesn't know she needs (I certainly didn't). I went for the traditional diaper bag since Kate Spade started making them and that ended up being a huge mistake.

The regular diaper bags are bulky and heavy and babies have way too much stuff so it's not practical to carry that thing on one shoulder with a newborn in tow.

I ended up ditching that thing like the plague and carrying around a small tote bag with everything in there instead until one of my mom friends suggested a diaper bag backpack and that purchase changed everything!

It's way easier to manage and carry the backpack (it's super organized too with all the compartments you need) and dad doesn't mind carrying it either since it isn't so girly.

Now, they even have transformation diaper bag backpacks that turn into a foldable baby bed! How cool is that?! Perfect for travel.
16. FUNNY BABY SLEEPING WELCOME MATS


Technically, you're supposed to train a baby to sleep with the noise so you don't have to constantly tiptoe around, but try telling that to a sleep-deprived new mom.

Actually, don't tell her that. Get her this baby sleeping doormat or funny sign instead. The new parents will get a kick out of it and hopefully, visitors will have a heads up and avoid waking the baby.

If you're looking for a better quality one than the amazon one above, I would suggest also checking out these mats on Etsy.

You should also add these door latch covers because I was always terrified of waking the baby every time we tried to open or close a door.

17. BELLY CASTING KIT


If you want baby shower gifts that are different, I think this one is truly unique. It's not something I ever see on anybody's baby registry, probably because not a lot of people are aware of it.

Pregnancy is only a short 9 months (although it can feel like forever when you're actually pregnant) and once it's all over you miss that baby bump and often feel nostalgic. This belly casting kit lets you hold on to that precious memory just a little bit longer by preserving your bump.

Plus it's a sweet and fun activity that the parents-to-be can do together. Another one for the pregnancy bucket list, if you will.

See how it turns out in person, this couple painted their cast in gold and hung it up. It looks amazing!

18. ENGRAVED NAME NECKLACE


How beautiful is this engraved name necklace? Mom will absolutely love wearing these cute stackable pendent necklaces with baby's initial on it.

Again, you'll have to wait til baby is born (unless you know the parents to be are already set on a name), but it's a special gift she'll keep close to her heart.

It's fantastic because she can continue adding pendants as her family grows and think of the gifter when she does. I personally love how simple yet elegant this design is.

Especially when you have grabby little hands to deal with, it's better to keep jewellery minimal like this necklace. You can take a look at this customer's photo to see it in person.

19. POSTPARTUM SURVIVAL KIT


Since I don't want to scare you off with all the not so pretty details of what happens after you have a baby, I'll just say that a postpartum survival kit, is a must!

There's actually a bunch of things that the new mom needs to prepare before baby arrives. Personally, I had no idea that I needed half of the things on this diy postpartum care kit, so my hubby was having to run back and forth from the store a lot.

If you're shopping for a first time mom, she probably doesn't have a clue either. She'll be eternally grateful you picked her up this awesome kit filled with all her recovery must-haves. It even comes in a convenient little caddy you can just leave in the bathroom.

Or you can shop the items individually from the diy postpartum care kit checklist and bundle them up in a cute basket.

20. BREASTFEEDING COURSE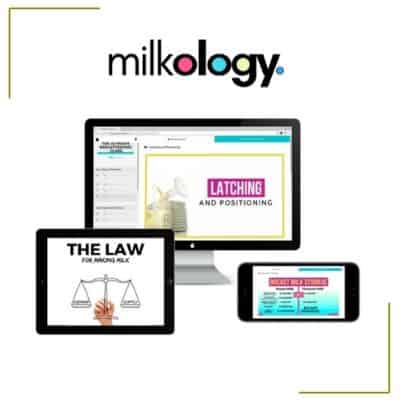 Sure, you could buy a new mom a top-of-the-line breastfeeding pillow but if they don't know how to properly breastfeed, it isn't going to help.
Because, as it turns out, it's more about positioning and technique rather than pillow size or fluff.

I thought breastfeeding was one of those things that just comes naturally when you have a baby. Oh boy, was I wrong!

Little man and I had so much trouble trying to figure it out and I ended up exclusively pumping instead (that was a nightmare).

I really wish I had taken this Ultimate Breastfeeding Course beforehand.
There's so much great information and helpful guides with videos to walk the new mom through the whole process and help troubleshoot all the common problems that arise.

You know it's legit because it's taught by Stacey Stewart, a certified lactation educator and mama of 3 who's been there and done that, then made a course about it.

So your mom friend won't have to be googling things about why baby won't latch when she should be sleeping (like I was frantically doing trying to figure out why it wasn't working).

Any new mama who plans on breastfeeding will really appreciate this gift way more than another baby onesie. It'll put them on the right track to succeeding with their breastfeeding journey. That's pretty much a priceless gift if you ask me.
If you still want to add that breastfeeding pillow along with the course, why not grab a FREE one? Just visit NursingPillows.com and use code cenzerelyyours50

21. MOM'S ONE LINE A DAY BABY JOURNAL


How about this totally doable One Line A Day Mommy Journal? Baby's first-year flys by way too quickly (although the beginning with those sleepless nights can feel endless) and you soon forget so many of the cute things they did.

This one line a day mommy journal is perfect for jotting down those little moments and memories you don't want to forget. It goes all the way up to 5 years.

What a special keepsake that mom can share with the baby when they're older. It's a gift that just keeps on giving.

22. GIFT CERTIFICATE FOR A DATE NIGHT

Once a newborn arrives date nights will quickly become a fading memory replaced by sleepless nights and crying (but don't worry it's not forever). So, help the parents-to-be enjoy their remaining care-free days with a night on the town.

You could gift them a movie theatre gift certificate for a movie night out, or maybe a gift certificate to their favorite dinner spot, or how about a couples spa day? Or a gift certificate for a stay at a luxury hotel would make a wonderful weekend getaway before the baby comes.

23. DIY SANITIZE BEFORE SNUGGLES STATION


You know what's awkward? Having to play teacher and tell your guests to remember to wash their hands or use some sanitizer before holding the baby.

Awkward, but necessary.

So, why not give the parents-to-be an easy peasy way to remind their visitors to sanitize before snuggles.

Create a little DIY hand washing tray that the parents can keep on the table for when guests come to see the baby. They don't even know they need one yet so they'll be super happy!

Don't forget to add a bottle or two of hand sanitizer and a cute sanitize before snuggles sign.

24. FROZEN MEALS OR MEAL SUBSCRIPTION SERVICES


If you really want to do the new parents a favor, gift them either frozen meals or one of those meal subscription services.

You can either make a few frozen meals yourself (like lasagna because who doesn't love lasagna) or buy some premade ones.

With a new baby at home, the parents aren't going to have much time for cooking or cleaning for at least the first couple of weeks. You can even add some disposable plates so they don't have to worry about dishes.

This is a unique baby shower gift that's truly helpful for new parents.

When a few friends came to visit the baby, they were so so thoughtful and grabbed us dinner, I'll remember that always because it was a serious lifesaver not to have to think about cooking.

Another idea is a healthy snack subscription box because if mama is going to be breastfeeding, you have to have healthy snacks on time and often to keep that milk supply up (or put together a basket of healthy snacks yourself).

25. MOM WINE GLASS + BABY MILESTONE WINE BOTTLE LABELS


I'm sure the expecting mom can't wait until the day she can have a glass of wine again. Let her celebrate her first glass with this super cute mommy wine glass.

She'll love you even more if you're actually bringing along some wine with that glass. Add these adorable baby milestone wine labels to each of the wine bottles so she's all stocked for every special event.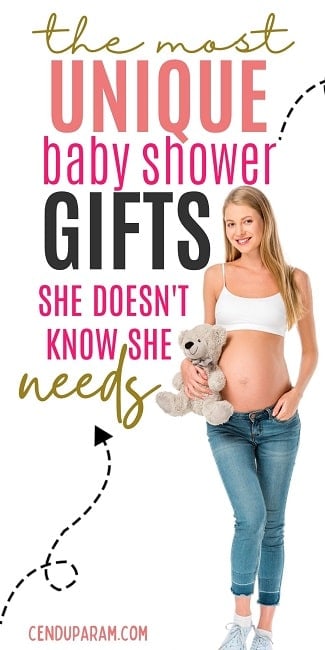 MORE PREGNANCY + GIFT GUIDE RELATED POSTS



Best Board Books To Gift A New Dad
Must Have Postpartum Outfits For Moms
How To Get Baby Freebies Worth $500 For New and Expecting Moms
The BEST Newborn Essentials Every New Parent Needs
WRAPPING UP BABY SHOWER GIFTS FOR THE MOM WHO HAS EVERYTHING

Whatever you decide to gift the new mom, I'm sure she'll love but with a unique baby shower gift, you can be certain she won't have to return it (because she didn't get 6 others just like it). These really are the baby shower gifts that no one thinks of but that a new mom could really use.

Even if you're a last-minute shopper, you'll be able to find one of these uncommon baby shower gifts from Amazon and have it shipped ASAP with prime shipping.

What were your favorite gift ideas? Do you have a great shower gift that isn't on the list?

Leave me a comment below 🙂