WHAT ARE THE BEST BABY ESSENTIALS FOR THE FIRST 3 MONTHS?


Does anybody else find the sheer volume of baby products overwhelming? There's so much stuff and trying to decide what you really need vs what's an extra can be tough. Is it really a newborn must-have or just fractionally makes my life easier? That's why this minimalist mama kept it, well, minimal. Here's what I think are baby essentials for the first 3 months of your newborn's life.

I don't know about you but I don't like clutter.

I really didn't want to buy every product on the market just in case I might need it. I'm much more of a minimalist when it comes to baby products or just products in general.

If it isn't something I'm using often then I don't see the point.

Here's my list of baby essentials for the first 3 months ( although I used many of them almost daily throughout the first 6 months or more). A lot of these products are still things I use today and also my go-to for baby shower gifts.

These aren't in any particular order, just all stuff I found super useful.

These would be awesome items to add to your baby registry!

I've found that I'm always shopping on Amazon these days because they have EVERYTHING and the prices are competitive plus free shipping! Score! If you aren't using them already, definitely try out their 30-Day Free Amazon Prime subscription!



Disclaimer: As an Amazon Associate I earn from qualifying purchases but this comes at no additional cost to you.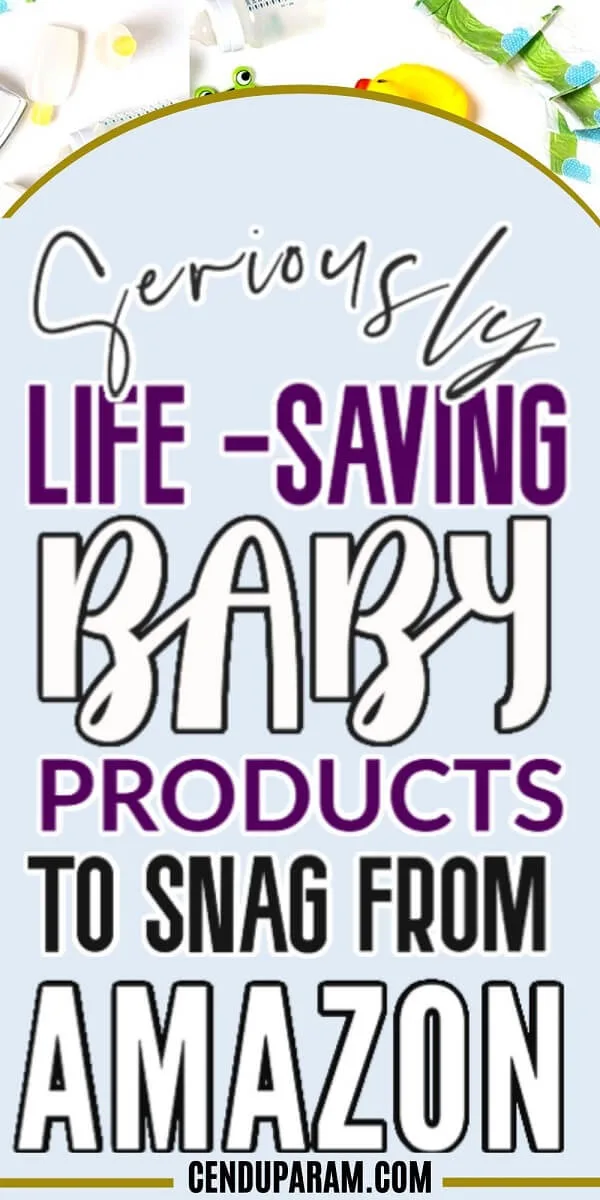 BABY ESSENTIALS FOR THE FIRST 3 MONTHS


Here they are, my list of the most essential things a newborn needs (and new moms too) to make life with a baby easier.

These are all my favorite newborn necessities that made adjusting to life with a newborn so much more manageable.

The best part is you can find everything on Amazon and I think pretty much everything on the list is Amazon Prime items so even if you're doing this really last minute, you won't have to wait too long.

If you're currently preggo, I highly suggest taking advantage of the Amazon Prime Baby Registry! They come with some great free gifts too.




This travel bassinet was one purchase that we used every day for at least the first 6 months of baby's life. I was hesitant at first because we also had a crib so I figured we wouldn't need a bassinet.

However, I had a c-section and I'm pretty short (about 4'11) and I found that trying to place baby in the crib was difficult and constantly pressed on my scar.

This bassinet was perfect!

It's low enough that I didn't struggle. It's small, compact yet very durable. I also like that it has a breathable mesh surrounding the outside.

I ended up room sharing with babe so this was the perfect way to have him sleeping right beside me, without having to actually have him in bed with us.

Since it was lightweight I could easily take it to different rooms as well.

I also loved the price point because it was under $100!

It comes with a travel bag and quickly and easily folds up. So whether you're traveling or just have limited space, this is an awesome buy.

I actually really wanted the Halo Bassinet because I had read great reviews about it's added features like the 360-degree swivel rotation, night lights, and vibration, and soothing sounds + lullabies.

It's like the Cadillac of bassinets but it comes with a Caddy price tag too at more than double what I spent.

So it's a great item to add to your baby registry (maybe you've got a really generous relative or two) for those who want to spoil baby.

Overall, I would say we were happy with our purchase and didn't have any complaints.


Apart from childbirth, cutting baby nails was the most terrifying thing ever! I avoided it like the plague and then he grew ginormous t-rex nails and started scratching his face and mine all time time.

I still wasn't confident so I put socks or gloves on his hands for a while but eventually, the time came and I decided to get this baby nail file kit but I was too scared to actually use the clipper and decided to try my luck with just the nail file to sand them down.

That works okay but takes forever and still kinda feels jagged.

I came across an electric nail file kit recommended by an influencer called the Zoli and it looked amazing!

Safe and easy to use and no cuts! This was exactly what I was looking for, except for the price tag. It was a little more than I wanted to spend.

I kept scouring the web for a similar product and I was so excited when I found this electric nail file kit on amazon for a great price! In fact, the ratings for this one were even better than the ratings for the Zoli!

It comes with many different levels of sanding, I started off with the gentlest one for newborn and now I'm using the next one up.

It's gets the job done super quick and it's not too noisy so I can normally do the little one's nails while he's sleeping.

I still use this even now because my little guy never sits still for too long so I always get nervous I might cut him with traditional clippers.


Breastfeeding or pumping mama's know that the struggle is real!

Every last drop of that oh so precious liquid gold counts.

I remember the time I had just finished pumping, placed my bottle down, and accidentally knocked it over! OMG! STOP! I'm not crying, you're crying!

So much work goes into making milk for your boo so why waste it?

When you breastfeed on one side, you probably notice that you have some leaking on the other side.

This product is perfect for catching the excess from the breast that isn't being used.

You simply squeeze and attach. The suction helps collect the milk that would otherwise be wasted.

It's so so easy to use, portable, very effective, easy to clean, and inexpensive.

This is one of my go-to baby shower gifts because it works so well! I always get positive feedback from happy mamas who are now Haakaa fans.

There's a reason this product rating is so high, it's because it WORKS!




Breastfeeding Pillow

If you find that your arm gets tired and it's difficult to hold baby in the right position for extended periods of time while breastfeeding, a breastfeeding pillow could be the answer.

Both the My Breast Friend Pillow and the Boppy are favorites of many moms.

Lots of moms love the Boppy because it's multipurpose. You can also use it for baby's tummy time or as a support when they're sitting or lounging.

I went with this FREE nursing pillow instead and you can also grab this one if you're interested.

Just use code cenzerelyyours50 at Nursing Pillow
Some other things you'll probably need as you start your breastfeeding journey:
Nipple Cream because ouch! That first week or two can be quite a pain (literally) (here's an organic option)

Breastfeeding cover for when you're out (I just use my muslin swaddle blankets)

Nursing Pads because you leak randomly and it isn't cute (if you want some free reusable ones just use code cenzerelyyours50 at BreastPads.com)

Electric Breast Pump was super helpful in helping me get my milk supply up and helping pump when my little guy was having latching issues which caused my milk supply to start drying up. Plus it's also great if you want your partner involved in feedings. I would do some pumping so my partner could do night feeds by bottle



Another baby essential I used every day (starting from the trip home from the hospital) was a car seat cover. This was one of the few things I didn't get from amazon.

It's baby's first line of defense against crazy weather and we live in Canada so I don't need to tell you how harsh our winters can be.

The car seat cover will help keep baby warm and dry from whatever weather you're dealing with and we know this is a must since infants are too little to regulate their own body temperatures.

I actually picked up my car seat cover for free from Canopy Couture

If you're interested in a FREE CAR SEAT COVER just use my code at checkout: cenzerelyyours50

This was the one item I considered my baby splurge because it was a bit on the pricier side but it was so worth it.

I wore baby daily for about the first 5 months.

It was so wonderful for bonding, he would fall asleep while I got things done around the house.

Even as he got older, I really hated dragging the stroller around so I often opted for the baby k'tan most days.

It was so nice to be able to go for walks while wearing him, he would take in the sights and sounds and just turn his face into me when he felt tired or overwhelmed.

I think it's so worth getting one just to free up your hands.

There are cheaper ones you can try but I really liked the Baby K'Tan because of how easy it is to use.

Some of the others I looked up need a lot of wrapping to get it right like the moby wrap. That was the biggest complaint I kept reading with this one. Some parents thought it was fairly easy to figure out and others said it was overly complicated.

This one is pre-done so you just slip it on and insert baby. Easy peasy!

It comes with a little belt type thing for extra support so you don't feel like you need to keep one hand on baby (just in case).

It evenly distributes baby's weight as well so it doesn't leave you with back pain like some of the others I've tried. |

What's really cool is that it grows with baby because you can position baby different ways as they get older and want to see more.

In the newborn stage, you can place baby facing you but when they get older they can face out and take in the sights while you explore. My little guy absolutely LOVED to do this.

I eventually picked up another baby carrier that has straps and buckles so my hubby could get in on the babywearing too. This one was surprisingly good for being so inexpensive. We were very pleasantly surprised!

That's the only downside to the Baby K'tan, the XS size that I wear for my tiny almost 5-foot self, would definitely not work for my 6-foot tall hubby.



Bathing your little one for the first time can be another nerve-racking challenge. I know it definitely was for me.

I was wondering how I would support his head and bathe him at the same time, I figured I would make this a tag-team sport and have my husband help out.

Eventually, I found this genius little tub!

It has this cute little adjustable sling insert that cradles baby to make bathing easier. It grows with your little one and the sling can be taken out completely when they're older.

My little guy is 1 1/2 now but we still use this tub.

Sure, we could just use a regular tub at this point but why waste so much extra water.

It gives him enough room to sit comfortably and splash to his heart's content.



I actually forgot about getting a baby monitor but luckily we were gifted this one by my sweet sister-in-law.

Even if you're room sharing I suggest grabbing yourself a baby monitor for when baby is napping without you in the room.

It gives me such peace of mind to be able to push a button and check up on my baby.

This one is able to rotate so even when you're little one gets mobile you'll be able to move the camera and see what they're up to.

I liked that it had a large screen and also night vision to be able to see in the dark. I'm not super techy so I was happy there weren't any complicated installations involved. Just plug and play.

Take a look at this review on amazon if you want to see just how clear that camera is. Spoiler alert: it's crystal clear (both audio and picture quality)!



Nobody told me how impractical traditional diaper bags were so for my push present I asked my hubby for an over-priced super cute Kate Spade diaper bag.

It looks super stylish and fun but I found it too bulky, and impractical for daily use. The best part about that bag was actually the changing mat it came with. That's it.

I used that all the time but opted to leave the diaper bag at home and used those reusable cloth bags for a while LOL!

If you want your hands free, you'll have to sling it over one shoulder, and with the number of things that go in your diaper bag, having a bag that's also heavy doesn't help.

One of my mommy friends suggested switching to a backpack style diaper bag and it was the best decision ever!

It's so much easier and more comfortable to use. It's very well organized and even has an insulated zip pocket to keep milk warm. Genius!

Plus, with a backpack, my husband doesn't mind wearing it or carrying it too. He wasn't too keen on being seen with my floral super girly Kate Spade bag.

I love love love a company that stands behind its products! Although pretty much all the reviewers were raving about this product there was one mama who said she did love it but had a little issue. Check the review to see what the company did when they heard.



I absolutely love products that can grow with your baby!

I thought this newborn-to-toddler rocker was wonderful.

We received a few different rockers as baby shower gifts but decided to stick with this one because it transitions with your little one. It converts into a little rocking chair when baby becomes a toddler.

It also has a button that you can press that causes little vibrations that baby finds calming. We used this a lot and still do.

When I would cook, I would usually place my little one in here and he could watch while I did my thing.

Some of my mama friends said they even took it into the bathroom with them so they could shower in peace while taking a peek to see baby in the rocker.

They're so inexpensive and useful I should have just kept the extras we got because I ended up buying another one to keep at my parent's place.

Now, he loves to take his books over and use to as his reading chair.

It's too cute!


Baby Loungers


Your other option, if you aren't into the rocker, is the baby lounger. These things have been all the rage on insta!

I used the rocker above since it was gifted but I was initially looking into the DockATot and Bobby Infant Lounger because moms were going crazy for them.

These ones are specifically designed to keep your newborn snug as a bug and work well to calm baby while giving you a hands-free moment.

In the US they're advertised as both lounger and co-sleeping solution but in Canada they've actually banned a bunch of loungers (another reason I didn't end up getting one) because they aren't deemed safe for baby sleep.

I've actually got an entire post dedicated to baby loungers if you want to learn more.


Yes, I had heard that babies tend to drool but I wasn't aware of the sheer volume! OH MY GOODNESS!

How does one tiny person produce so much drool?!

The mind boggles.

My little guy could easily soak through an outfit in an hour or two and I was constantly having to change him.

Drool bibs are super helpful to catch all that excess spit and spit up too. It helps cut down on the laundry since you're just changing a bib instead of the entire outfit every single time.

The bandana style is cute and stylish as well as functional so why not accessory your tot at the same time.

If your little one has sensitive skin like mine, you may want to opt for the organic cotton bandana bibs.

My little guy would get eczema breakouts for any and all reasons so we try to buy organic when we can (especially for things touching or near his face as his cheeks were always getting inflamed).



This was another genius baby shower gift from an experienced mama. Initially, I was just trying to swaddle my boo in a swaddle blanket but he always managed to wriggle his way out.

When he would move his arms, he would startle himself awake and I'd spend the next few hours trying to calm him back down and get him to sleep.

When I tried the Halo swaddle sack for the first time, my little guy slept right through. It has the option to let their hands be free or keep them tucked away, so I kept them tucked nice and snug and he wasn't able to accidentally startle himself awake.

It comes in different fabrics too so I picked up a micro fleece one for the colder winter months. Speaking of colder months, if you've got a winter baby you may want to take a look at all the baby winter essentials you'll be needing to check out this baby winter essentials post.

In the first few months, whatever you can do to help mimic the environment of the womb will help make your baby's transition easier and help you sleep better as well.

There's one other must-have that I didn't mention here. That's our best board books for baby's first year. I think books are definitely an essential you need to invest in early on.

It's so important that it deserved it's own post so go on and take a look!

If you want to learn more of my baby sleep tips check out this super popular post.


MORE NEWBORN NECESSITIES RELATED POSTS
Unique Baby Shower Gifts You Won't Find on The Baby Registry
Everything You Need To Know About Swaddle Blankets Vs. Receiving Blankets
The BEST Baby Loungers Reviewed
The BEST Gifts For New Dads According To Dads
The Best Books About Dads To Gift A New Father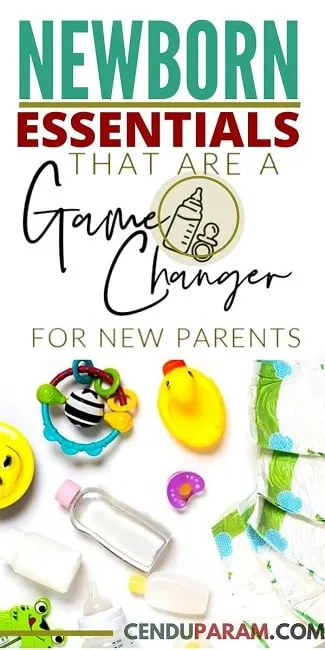 The BEST Newborn Newborn Essentials for New Moms


So there you have it! These are must-have items that made life with a newborn a lot easier for this first-time mom.

Most of these are products I still use with my son even now.

I think it's so important to try to find products that can grow with your baby.

Let's face it, baby products are expensive so choose things that you will actually need and can last you a while.

What were your favorite minimalist newborn essentials? I'd love to know!

Leave me a comment below 🙂


I think I'll share a post about things that you can do without next.