Where in the world do you put a baby when you want to get things done? On a baby lounger pillow of course!

Let's take a look at the best baby lounger pillows on the market so you can choose just the right one for your little one.

My infant lounger definitely made life with a newborn so much easier. They have their crib but my little guy never did like being in there that often.

Plus there's no way he's staying in there when he's awake. The baby lounging pillow is the perfect solution because it's lightweight and portable so you can easily bring it wherever you need and prop up baby in their lounge pillow and keep an eye on them while you get back to adulting.



Disclaimer: This post contains affiliate links which you can learn more about here.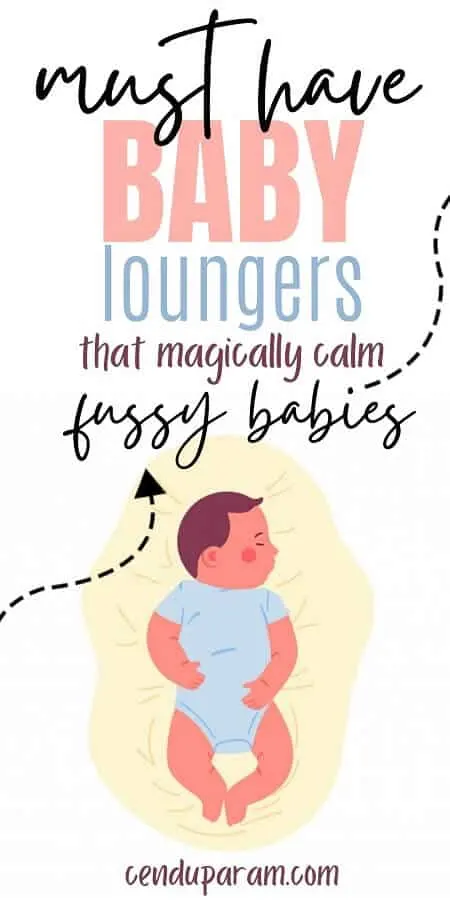 WHAT ARE BABY LOUNGERS USED FOR?
A baby lounger is basically like a soft yet sturdy baby lounge chair for your baby to rest on when they aren't in their crib or bassinet, kind of like a little portable nest for baby.

Unlike a crib or bed, you'll notice the lounger is grooved in the center (you won't have to worry about them rolling off) so baby sits a little more upright rather than flat so they get a little bit of a view.

You can just plop it down on any flat surface and nestle baby inside where they'll be comfy cozy.

Unlike baby bouncers, there's no harnesses or straps involved.
DO I NEED A BABY LOUNGER?

The main benefit of having a baby lounger is finally having TWO FREE HANDS again!

You can't just leave a newborn unattended and you obviously can't carry their crib into every room of the house. The baby lounger offers a practical and portable solution.

It gives mom a bit of a break to get things done around the house (because the dirty dishes, clothes, and work don't stop) while still keeping a watchful eye on baby without worrying about them rolling off.

I love that there's no complicated buckles or harnesses to fuss around with. It's simply meant to be a place where baby can sit back and relax.


THINGS TO CONSIDER WHEN BUYING A BABY LOUNGER PILLOW


When you're browsing for just the right baby lounger for your little one, consider these points to help you decide what is right for you and baby
.
AGE AND WEIGHT – consider the baby's age and weight before buying your lounger and think about whether you want something that grows with your little one. There are some that are specifically designed for the newborn stage while others have features like buckles and snaps to adjust the size as baby grows so take into consideration the dimensions of the product.


MATERIAL – check out what your baby lounger is made of. You'll want something that is breathable and doesn't trap heat. You want something that creates a comfortable microclimate for babies since they aren't able to regulate heat themselves yet.


EASE OF CARE – consider how easy it is to wash and care for. Does it have a removable cover? Can you buy extra covers? Is it machine washable or handwash only? Check out reviews to see how easy it was to put back together after washing. How was the zipper quality?


DESIGN AND SAFETY – notice that some of these have special design features for either added safety or comfort. Some are designed with a groove in the center that keeps baby from rolling out and also cuddles them which provides a calming sensation. See if there are any added features in safety and design.


PRICE – these things are a lifesaver but the can come at a hefty price so I've broken down this list into 3 categories of prices: those under $200, $100 and $50. You'll notice some obvious differences in quality and design throughout the different price categories.


━━━━━━━━━━━━━━━━ ★ ★★ ━━━━━━━━━━━━━━━━
RELATED POST: Newborn Must Haves That Are a Total Game Changer
BEST BABY LOUNGER PILLOWS 2020

We'll look at the best baby loungers at different price points and see what they have to offer. I'll tell you the good, the bad, the ugly, pretty much the whole shebang!

That way you can decide what's right for you and baby.

BEST BABY PILLOW LOUNGERS UNDER $200

Let's start off the most expensive stuff, the Cadillac of baby loungers. Most of these are priced so high because of the exceptional quality of materials used and unique design features.



The DockATot Delux is the one all the moms are raving about!

It's supposed to snuggle your little bug just like how they felt when they were in the womb so it's a big hit with babies. It's no wonder why they drifted off to sleep so quickly in this thing.

However, remember that it's meant to be a lounger so baby shouldn't be left to sleep in there.

This version is used for babies between the ages of 0 to 8 months and then they have larger sizes as baby gets bigger.

It's perfect for lounging about or tummy time.

THE GOOD
✔ Made of high-quality hypoallergenic material (100% cotton covers + Tube & Pad 100% polyester)
✔ Uses OEKO-TEX certified fabrics to ensure baby doesn't overheat
✔ Cover is removable + washable + you can buy additional covers
✔ Lightweight and portable so you can easily take it where you need
✔ The bottom buckle can be undone to allow the product to grow with baby
THE BAD
✘ It's expensive!
✘ Material isn't organic cotton
✘ Advertised as a co-sleeping solution

WHY IS THE DOCKATOT BANNED IN CANADA?

In case you didn't know, this product is actually banned in Canada! Yup, we can't get it anymore!

Know why?

It's because of the negative I mentioned above.

They advertise it as a co-sleeping solution but according to Health Canada, it's a safety risk for babies as it increases the chances of suffocation.

Babies should never be left unattended in a lounger or left to sleep there. Because of the padded edges, if they accidentally turn their face into the padding and can't free themselves, they could suffocate.

The same goes for co-sleeping. If you're asleep next to baby, they could easily suffocate and you would be none the wiser.

Although the company claims that the bed is 100% breathable, it hasn't been proven to lower the risk of SIDS so personally I would just use it as a lounger, not a sleep solution.

If you're looking for safer ways to co-sleep, you could try something like a 3 sided bassinet or bedside bassinet.

So DockaTots are the highest ticketed items.

Let's also check out some great DockATot alternatives that are a bit cheaper.
RELATED POST: Winter Newborn Must Haves You Actually NEED

The Snuggle Me Organic is a little less pricey (still expensive though) but just as awesome! It also designed to snuggle your little one and give them the calming sensation of being in the womb.

The unpadded center sling causes the sides to pull in and hug baby (kinda like a baby hammock), keeping them nice and snug and making it harder to roll out.

It's multifunctional and can be used for lounging, diaper changes, and tummy time too!

If you want to see it in action, check out this mama's review and photo from amazon!


THE GOOD
✔ Made from 100% organic cotton and made in the US
✔ Filled with polyester fiber fill for a fully machine washable lounger
✔ Lightweight and portable
✔ Cover is also removable + washable (you can buy extras as needed)
✔ Can be used from newborn to 9 months
✔ 100% money back guarantee within return period
THE BAD
✘ Cheaper than the DOCKATOT but still on the expensive side.
✘ Poses suffocation risk so should not be used unsupervised

If you're looking to save a bit of money, you could go with the Snuggle Me Bare which doesn't include the cover or travel bag.

RELATED POST: Swaddle Blankets Vs Receiving Blankets: What's the Difference?
This one is known for being a 'truly breathable lounger' as it's made out of premium 3D mesh. It also has a canopy that you can attach too in case you're letting your little one lounge outdoors and need to keep the sun out of their eyes (or just some harsh lighting).

Try it out for tummy time, supervised daytime naps, infant massages or even diaper changes.

They suggest it as a co-sleeping solution but as we know, the safest place for a baby is in a crib or sidecar bed. I would suggest doing your own research on safety before using it as a co-sleeping solution.

Wanna see it in person? This mama shared some side by side photos of her little babe in this lounger along with some of the other popular ones mentioned above.

This one looks huge!

Here's another mama who even fit her 2 YEAR OLD in there!

THE GOOD
✔ highly breathable, cushioned, multi-faceted fabrics known for their naturally ventilating properties
✔ spacer fabrics to create a breathable"microclimate" between highly permeable layers which prevents overheating
✔ Includes a removable canopy
✔ Lightweight and portable design + travel tote included
✔ Removable cover for easy washing
✔ Larger size that can grow with baby
THE BAD
✘ Still expensive but cheaper than both DockATot and Snuggle Me Organic
━━━━━━━━━━━━━━━━ ★ ★★ ━━━━━━━━━━━━━━━━
BEST BABY LOUNGERS UNDER $100
Now, let's check out some slightly less expensive baby lounger pillow options that come in at under $100. Let's pay attention to what exactly we're paying for.

What's the bigger price tag on the other ones all about?



The CuddleNest Mini seems to be the go-to dupe for parents who don't want to spend big bucks on baby loungers like the DockATot.

The inventors, American couple Amne and her husband Michael created this an award-winning resting station and lounger when they realized they couldn't find a safe, affordable, good quality lounger on the market.

The CuddleNest Mini is great for cuddling, playing, lounging, resting, quiet time, tummy time, and it's easy for travel.

If you want to see how it looks in person, check out this mama's review and photo on amazon.

THE GOOD
✔ Made of High-Quality, Ultra-Soft Breathable Cotton and Hypoallergenic Polyester
✔ Firm mattress pad Passes all Consumer Safety Baby Standards and Follows All Guidelines for Mattress Firmness Level for trusted safety
✔ Machine Washable + removable cover
✔ Features best-in-the-market mattress pad with hypoallergenic bumpers, allowing your baby to have a comfortable micro-climate
✔ Lightweight and portable + includes travel cover w/ handles
THE BAD
✘ Although they mention breathability, they don't mention the specific high-grade materials that are used by brands like Snuggle Me and CuddleCove so I'm unsure exactly what grade they use
✘ Doesn't have the same 'pull in' feature at the center of the lounger for that fitted feel so I would image a baby that is rolling shouldn't be left unattended as they may be able to roll off and/or may suffocate if they roll into the raised bumpers
✘ Although it does have removable cover, some parents reported it was difficult to take off and put back on after washing
The Mamibaby lounger is a much more affordable alternative for many parents. They do offer it as a co-sleeping solution but again I would do my own research on the safety of this.

I think it's much safer to use as a lounger, play mat for tummy time, or diaper changing station. It could possibly be used for daytime naps as long as baby is supervised.

Curious about how it looks in person? Check out this customer's photo and review.

THE GOOD
✔ Cotton cover + pearl cotton filling makes it hypoallergenic and breathable
✔ Removable cover allows for easy machine washing
✔ Lightweight and portable design includes handles for easy travel
✔ Much more affordable pricing
THE BAD
✘ Doesn't have the 'tuck-in' feature of the more expensive models making it easier for older babies to roll off
✘ Some parents said they found the zipper poor quality – the company has recently upgraded the quality in response and offered a free exchange for these customers
✘ They don't recommend washing the tubing because of the pearl cotton filling
✘ the company doesn't have it labeled as organic cotton but they have responded to a customer question by saying that it is indeed organic cotton so unsure whether it really is or not )

This Leachco Infant lounger pillow is a sling-style seat that provides customized support for baby based on weight. Its got adjustable tabs to create a more snug and secure surface for smaller infants. The sling center basically expands with the baby.

You'll notice its got deeply contoured sides to prevent baby from rolling off. This one can be adjusted as baby grows and offers a more upright seating position as they get older which can be really great for babies that suffer from reflux.

This customer posted a review comparing this one and the boppy, see how they look in person!
THE GOOD
✔ Has adjustable straps to allow it to grow with baby and eventually used like seat
✔ Upright position can help babies with reflux
✔ Cover is removable and machine washable
✔ Deeply contoured sides holds baby in snugly
✔ Inexpensive option
THE BAD
✘ Some parents complained it's a bit big so it takes up some floor space (something to keep in mind if you live in a cozy apartment and have limited space)
✘ Due to it's larger size not as easily transportable as the others but shouldn't be too bad as it only weighs a little under 3 lbs


The Cosydream perfectly adapts to your baby's body shape. It provides optimum head and back support, and raises the newborn's head and legs.

The Cosydream's patented design has been developed with a pediatrician to provide the highest quality and safety for baby.

One of the awesome features of this design is the cradled headrest that evenly distributes pressure around the head and neck (which prevents baby from developing flat-head syndrome).

THE GOOD
✔ Unique headrest design can prevent flat head syndrome
✔ Elevated leg rest to help with reflux and digestion
✔ Cocoon like design helps to cradle and calm baby
✔ Small and portable for easy travel
✔ Designed with a pediatrician and recommended by healthcare professionals
✔ Made of 100% polyester and machine washable


THE BAD

✘ Not really meant to grow with baby – use up to 3 months old
✘ Relatively pricey considering its only meant to be used for newborn stage
━━━━━━━━━━━━━━━━ ★ ★★ ━━━━━━━━━━━━━━━━
BEST BABY LOUNGERS UNDER $50


Last up, we've got the best parent-approved baby loungers that come in at under $50. There's quite a wide selection at this price point but the thing I noticed most here is the wide range in terms of quality.

If you're going with one of these make sure to do your research and even look into the reviews to see what problems people encountered.

This Boppy Newborn Lounger is an inexpensive award-winning favorite among parents. No wonder it was the most registered for product of 2019 from BabyList. It's one of the original loungers to hit the market (way back in 1989) so they've had lots of time to make it just right.

It has a recessed center that cradles your baby giving you a hands-free moment and can be used up until baby reaches 16lbs.

The slight incline is perfect for babies who suffer from reflux as well. It's kind of like a baby lounger seat.

If you want to see the real thing, you can see this little cutie chilling in his. He seems to love it!

THE GOOD
✔ The grooved center makes it perfect for smaller babies and newborns
✔ Lightweight and portable + carrying handle for easy transport
✔ Easy wipe clean fabric
✔ Slightly inclined seat is helpful for babies with reflux
THE BAD
✘ Not a product that will grow with baby, it's really meant for the newborn stage
✘ Doesn't have a removable cover so you have to wash the entire pillow
✘ Some parents reported poor quality (seems came undone within a few months)


The Nice Time Baby Lounger is the one that's recommended by Amazon as being a good quality well priced item. This one is made of 100% cotton and high quality 3D polymer material filler.

Much like the other lounges its meant to cradle baby and create a soothing sensation like they would feel in the womb.

This one also has a clasp at the bottom that can be undone to allow for more room as baby grows.

Wanna see it in person? This mama shared a few photos with her amazon review. Take a look.

THE GOOD
✔ Very inexpensive
✔ Lightweight and portable
✔ Machine wash or hand-wash entire pillow
✔ Adjustable claps on the bottom to grow with baby
THE BAD
✘ Doesn't offer additional covers to purchase
✘ Not much information on what it's made out of exactly (unsure if it's organic cotton and what the filler is exactly)
✘ Doesn't have the same grooved center like expensive models so easier for older babies to roll

ARE BABY LOUNGERS SAFE?

So, you might be wondering, are baby lounger safe?

There has been a lot of controversy around baby loungers and it's even banned in Canada (as we mentioned above).

In my opinion, baby loungers are completely safe when used as directed. They are meant to be a place for baby to comfortable sit back, relax and take in the world around them.

It's also a great place to practice tummy time or even fit in a quick diaper change.

It's a perfect way for mom or dad to have a quiet moment while baby rests. It snuggles them and keeps them feeling safe and warm, just like being held.

However, it should always be used under supervision.

Which brings us to our next frequently asked question.

WHAT IS THE BEST BABY LOUNGER FOR CO SLEEPING?

As I just mentioned, this product should only be used with close supervision. Which means, there is NO BABY LOUNGER that's safe for co-sleeping.

There really aren't any safe baby sleep loungers. Many parents do use them this way but you're taking a risk.

If you're asleep, you can't be monitoring baby. It's all too easy for baby to accidentally turn their face into the pillow bumper side and get stuck.

Baby loungers are only meant for lounging and possibly supervised daytime naps.

It isn't a safe co-sleeping solution since you won't be able to keep an eye on baby while you're sleeping too.



RELATED POST: How to Teach Baby To Sleep in the Crib + Baby Sleep Tips
WRAPPING UP THE BEST BABY PILLOW LOUNGERS OF 2020

I hope you found this guide on the best baby loungers helpful. By now, you should know what factors to consider when choosing a baby lounger pillow that's right for you and your little one.

Remember to consider the material (breathability), safety and design, ease of care, and price!

What did you think was the best one?

Personally, I love the Snuggle Me organic as the best choice for overall quality, safety, and design. It's on the expensive side but cheaper than the most expensive option (DockATot) and performs just as well.

I would love to hear your favorites and why!

Leave a comment below 🙂