Newborn Winter Essentials and Must Have Baby Gear To Keep Baby Warm
UPDATED NOVEMBER 19 2019
Is this your first winter with baby? I'm sure you want to be well prepared for it and have everything you need to protect your newborn in cold weather. However, there's just so much stuff out there when it comes to babies and I'm not one for hoarding. Here's my tried and true list of newborn winter necessities including baby winter wardrobe must haves and newborn essentials for winter that keep baby comfortable and happy.
I've got myself a little September baby so winter came pretty quickly where we are. Although I'm not a fan of cold weather, I do have a soft spot for winter fashion. In the frigid Canadian weather, that means bundling up in warm cozy fabrics and lots of hats, flannels and knits.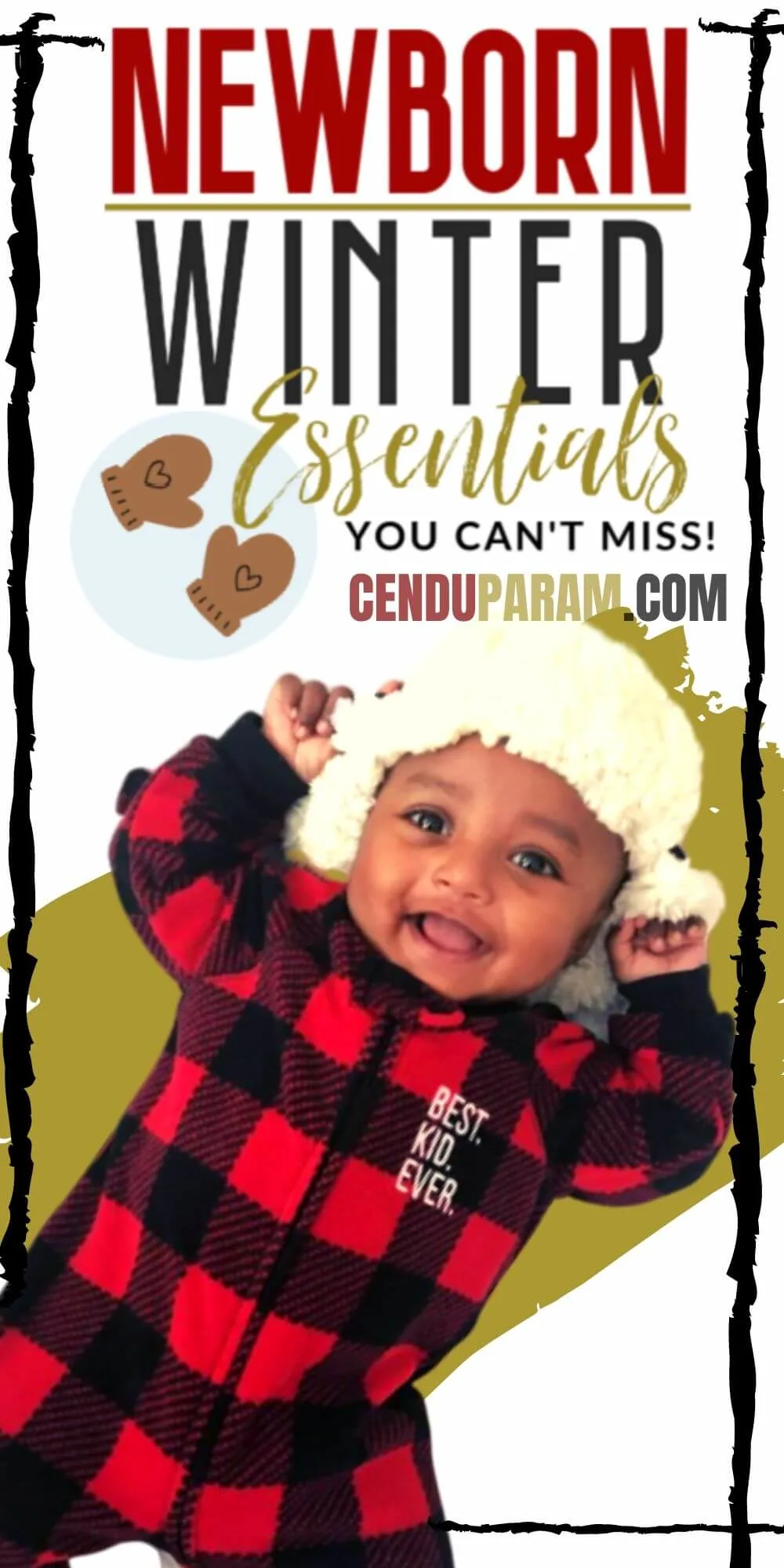 Disclaimer: As an Amazon Associate I earn from qualifying purchases but this comes at no additional cost to you.
Newborn Winter Wardrobe Must Haves
Sometimes when we play dress up, that's all it is, dress up. The clothes aren't really super functional for little people. Too many bells and whistles and buttons and zippers. When you're changing diapers 6 or 7 times a day, sometimes cute isn't always functional. So I would usually dress him up in something cute, take a couple pictures and then off with it.


Flannel Blanket Sleepers Are A Baby Winter Necessity
What I love about this outfit is that it's both cute and functional. My favorite outfits for functionality have to be sleepers/one piece outfits like this fleece sleeper. They're easy to put on and take off. They don't need to be pulled over baby's head like a onesie (this comes in super handy with poopy diaper blow outs!)
It's soft, warm and wraps your little one up like a blanket. My little one hates blankets for some reason so this outfit was perfect for colder winter nights and one of our newborn winter clothes must haves. I love the color of this one too. Black and red is such a classic plaid color scheme that always looks great.
PRO TIP: Whenever possible opt for sleepers with a zipper instead of buttons because who has time to fumble with those in the dark.
Baby Sleep Sacks & Wearable Blankets Are Essential For Winter With Baby


Most babies absolutely love a good swaddle to help them fall asleep (if you can't swaddle like a pro yet click the link for my newborn guide). My guy did love being swaddled but hated his arms being tucked away.
Somehow, his little arms always found their way out so we were looking for better options and found baby sleep sacks. So many parents swear by them for helping their newborns sleep better and longer. It allows you to have the option to bundle up the arms or leave them free. They come in different fabrics as well so we bought a few fleece ones and some cotton ones. We were so thankful for the fleece sleepers on those colder winter nights.
Long Sleeved Onesies Are a Winter Necessity For Babies
Just like us, layering is a good idea for baby too. This way, you can just add or remove a layer as needed to keep your little one comfortable. During the colder months, you'll want to opt for long sleeved onesies so there's less exposed skin for the baby to lose heat through. On less cold winter nights, I would often dress my newborn in a full sleeved onesie and then add wearable fleece blanket.
Baby Mittens For Baby's First Winter
Keeping your baby's hands warm during the winter months is a good idea, they tend to get cold fairly quickly. We used them even when we were at home because my little guy often had cold hands. We opted for cotton ones most of the time because we didn't want him to feel too hot, uncomfortable or itchy with thicker materials like wool. The mittens also came in handy for the scratching. My baby ALWAYS managed to scratch his face even if we cut his nails, until we started using mittens.
Don't Forget Baby Hats for Winter
What's an outfit without the perfect accessory? Winter and hats just go together. This adorable plaid trapper hat was the perfect compliment to his outfit. It's got a sort of faux wool on the inside and the plaid design on the outside with little ear flaps that can be pinned away if you don't need it. I picked this up on sale as well at Chapters Indigo for just $6.99. The trapper hat style is great for when we're out and about because it keeps his head and ears nice and toasty.
But, when we're just hanging out at home, we need an every day hat to keep that little head warm. We added a couple sets of cotton caps to our winter gear for baby. Babies tend to lose heat through their heads much easier than adults do. Hats and caps are said to help reduce this heat loss so why not?
Keep Baby Feet Warm with Infant Snow Booties & Socks
It looks like we've got your little one covered from head to toe. When we're heading out with baby I love to grab a pair of his knitted or fleece snow booties to keep those teeny tiny feet warm. At home though, we usually just opt for little baby socks (unless it's picture time, then out come the baby booties).
Baby's First Winter Must Have: Snow Suits
If you're planning to take your little one out into the world to take in all the sights, smells and sounds of winter, make sure to bundle them up well! You'll most definitely want to purchase a snowsuit because a) they'll look like a cute and chunky little Michelin man (who doesn't love that?!) and b) it'll keep them snug as a bug in a rug. I found that my little guy often fell asleep right away whenever he was wearing it.
Things to Consider When Buying Baby's Snowsuit
Keep sizing in mind, I found that sizes varied from brand to brand so it may be wise to purchase in person or at least try some in store before buying online and then having to return one that's way too big. The arms and legs will likely be too long but that's okay, it keeps their little hands and feet tucked away and warm (plus a little room to grow).
Consider a bunting bag for newborns. A one piece snowsuit is good for older babies and toddlers. And remember to get shopping early before all the good stuff is gone and you're paying more for stuff that's in season.
Additional Baby Cold Weather Gear You Need This Winter
So, we've covered baby's winter wardrobe, but there's actually a few more newborn and baby products that I'd consider newborn winter necessities for surviving winters with babies. These are products and items that either kept baby comfortable at home and away or helped to keep baby warm at night in winter or in a cold house.
Winter Car Seat Covers & Stroller Covers
If you'll be exploring outdoors this winter, make sure you're keeping baby safe and protected from the cold weather and harsh winds. A weatherproof cover will shield baby from the cold and still let you keep an eye on them. You could also use a blanket (I did that initially) but it becomes kind of annoying when it keeps flying off with the wind or gets wet if it's snowing.
Having a Humidifier in Baby's Room is Essential in Winter Time
You'll likely be blasting the heat all winter long to keep your home warm and cozy. However, what happens when we do this is that it pretty much sucks the moisture out and leaves the air feeling super dry. This isn't ideal for baby's breathing (especially if you have a sick baby struggling with mucus) or their sensitive skin (like my little eczema baby). Adding a humidifier to your baby's room will allow it to add the moisture back in so the air isn't feeling so harsh and dry. We have one humidifier dedicated to the baby nursery and an additional one for the living room since we all spend a lot of time there.
There are 2 main types: warm mist humidifiers (which warm the mist) and cool mist humidifiers which have cool or room temperature mist.
Each humidifier has their own benefits and you can click if you want to read more in more detail. The warm mist is recommended by doctors for infants and babies because it helps kill germs and bacteria in the air and the warm mist is great for loosening mucus in congested babies.
If you have an older baby or toddler who is able to reach high places, a cool mist might be better option in order to avoid scalding if they happen to touch it.
NoseFrida
This genius little device is essentially a baby snot sucker. When you're little one is sick and congested, this is a tool that actually works to help them breath again. I had one of those nose suction bulb things before but I could never get it to work right. This one is a breeze but sounds kind of gross. You are essentially sucking out the snot but don't worry because there's a barrier to prevent it from going into your mouth.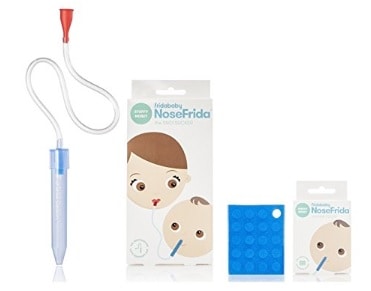 Baby Nasal Aspirator NoseFrida
Moisture Rich Baby Wash & Lotion or Oils
The winter weather can be extremely harsh and drying for baby's sensitive skin. In fact, just as winter hit, we were hit with our first baby dilemma. Nav started developing this really weird, super dry and scaly skin on his cheeks and legs. It turned out he had eczema and the winter just made the condition worse. Once we treated the situation, prevention was key. We used these products religiously to keep the eczema away all winter long. See what works best for your little one. Look for products rich in moisture or use an oil after baths to lock in moisture. For our little guy, nothing worked as well as the Attitude line of baby products which are hypoallergenic and plant based (and paraben free).
Swaddle Blankets
To help your little one feel warm and safe at night during the winter, I highly suggest you swaddle them to sleep. I loved the over-sized swaddle blankets the hospital used (approx. 30 x 40 inches) so I tried to find a similar size. I suggest getting them in a few different types of fabric like muslin, fleece and cotton. This way you can choose the thickness you need depending how cold it is that night. If you have a baby that hates swaddles, try the sleep sack instead. Below I've listed the swaddles used by the hospitals because I was looking all over for them after bringing my little guy home.
Surviving Winters With Baby
I hope you found some tips and tricks to help you survive your first winter with your newborn. Hopefully, some of these products will make your life easier and help your little one stay warm and happy. If you'r looking for more advice and hacks for newborn care for new parents, click the link to read all my favorite newborn and baby hacks I've picked up along the way. Another helpful guide is my newborn must-haves which is a quick list of 10 items I actually used ALL THE TIME! Do you have any tips, tricks or products you love for winter babies that I missed? Leave me a comment!