Updated September 11, 2019
Christmas is such a magical time of year for the whole family. Whether or not you're religious, Christmas brings out those values we all cherish like family, giving, and love. These things are universal which is why Christmas is so beloved.

Why not create memories that will last a lifetime with fun family Christmas traditions. Some of these are your traditional Christmas celebrations and a few are not because I come from an immigrant family where we didn't grow up with traditional Christmases so we made a lot of our own traditions. Try out these family Christmas traditions your kids will never forget!
Technically, this was my toddler's second Christmas. He was just 3 months old for his first Christmas and I was still trying to get my bearings then. We didn't really do anything that first Christmas. This time around he was 15 months old, running around the house, and full of energy and I couldn't wait to get started on our very own family holiday traditions.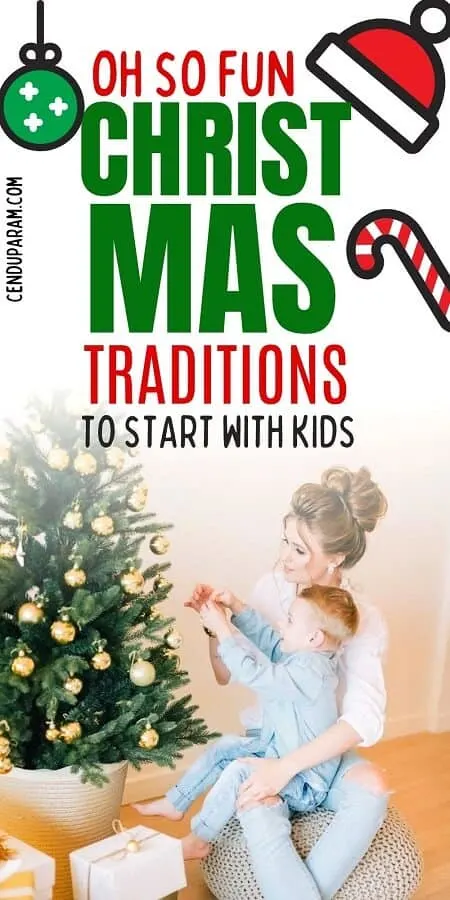 Disclaimer: As an Amazon Associate I earn from qualifying purchases but this comes at no additional cost to you.

CHRISTMAS TREE TRADITIONS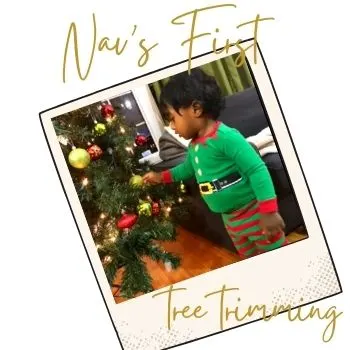 There are so many fun traditions that center around the Christmas tree. Most of my fondest memories of Christmas involve decorating the Christmas tree with my sisters. I was convinced Santa didn't come to our house on Christmas because we didn't have a tree (I assumed that's how he knew you celebrated) so I begged and pleaded with my parents.
I still remember the day my dad walked in the door with a plastic 7' foot tree. To my tiny little self, it was massive. It was beautiful. I was in awe. I rushed to tell my little sister as I threw my arms around her.
That night we watched one of those TV Christmas specials called Christopher the Christmas Tree. So of course, we named our tree Christopher and we spent the night decorating the tree until it was perfect. Looking back at old photos now, it looked awful but that's okay. Those are memories I'll never forget.

This year, my little guy and I got to decorate our Christmas tree together for the first time and it was wonderful. He was so excited to see all the lights and sparkly ornaments. He stood in awe of them but that eventually wore off and then he plucked the ornaments from the tree (I'm still calling this a win).

For next time, I'm going to be getting him his own felt tree that he can decorate and take off as many times as he likes.


FELT CHRISTMAS TREE FOR TODDLERS



So here's our first few simple Christmas tree traditions you can start with your family ASAP!

🎄 PICK A SPECIAL CHRISTMAS TREE TOGETHER AS A FAMILY
🎄 WATCH CHRISTOPHER THE CHRISTMAS TREE TOGETHER (they only have VHS now so we use this Youtube link instead)
🎄 NAME YOUR CHRISTMAS TREE WITH A NAMING CEREMONY (you could all write down names you love and put them in a Santa hat to draw the winner)
🎄 DECORATE YOUR TREE TOGETHER AS A FAMILY
🎄 ADD A NEW DIY CHRISTMAS ORNAMENT EVERY YEAR
🎄 HAVE AN OFFICIAL TREE LIGHTING CEREMONY

FUN HOLIDAY GIFT TRADITIONS TO START THIS YEAR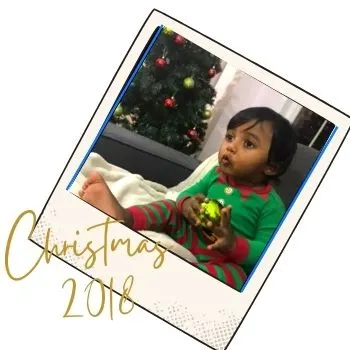 Unfortunately, Santa never came to our house no matter how good we were or how well we decorated our tree (or even when we left some milk and cookies out) but eventually, this wasn't such a big deal.

We had our tree and our memories, that was enough. I think by about 6 or 7 I had figured out Santa wasn't real but that didn't matter either. We had even written letters asking why he never came and he did write back! I kept those letters even though I knew he wasn't real. If you love writing letters to Santa with you kids, I've got the most beautiful letter to Santa templates you'll LOVE!
Our Christmas traditions were what I looked forward to every year. My sister and I would rustle up random things in the house and create make-shift presents for each other and wrap them in whatever we could find like newspapers, blankets, or home-made wrapping paper. I love the idea of creating something yourself for the people you love.
We've never been super big on gifts and we still aren't. We usually opt for a Secret-Santa style gift exchange instead where we each only buy 1 gift and you get the added fun of who gets whom?
I also love DIY gifts so we're big on holiday crafts. Try this ribbon star ornament or pipe cleaner snowflake ornament that is super easy for even the littlest crafters.
We all get together for a sleepover, put on our ugly Christmas sweaters, play some games, sing some songs, eat delicious food, take a family walk to look at the holiday lights around the neighborhood, then take turns guessing who got us and exchanging gifts.

Sometimes we do theme gift exchange games like white elephant or the 3 gift rule, just to mix things up.

Sometimes we add other qualifiers like only DIY gifts or only paper gifts/wood gifts/ leather etc, like they do for anniversaries.

🎁 MAKE A DIY GIFT OR CARD
🎁 HOST A SECRET SANTA GIFT EXCHANGE
🎁 HAVE AN UGLY CHRISTMAS SWEATER PARTY + TAKE PICS
🎁 MAKE YOUR OWN WRAPPING PAPER
🎁 WRITE A LETTER TO SANTA
🎁 COUNT DOWN TO CHRISTMAS WITH AN ADVENT CALENDAR
🎁 START THE ELF ON A SHELF TRADITION WITH KIDS
🎁 TAKE A WALK IN YOUR NEIGHBORHOOD TO LOOK AT HOLIDAY LIGHTS
🎁 WRAP 24 CHRISTMAS AND HOLIDAY THEMED BOOKS AND OPEN 1 EACH NIGHT LEADING UP TO CHRISTMAS TO READ AT BEDTIME (they don't need to be new books)
🎁 DECORATE A GINGERBREAD HOUSE OR HAVE A CONTEST

CHRISTMAS EVE TRADITIONS TO START WITH KIDS


What does your family do the night before Christmas? Are there some special ways you get the kids excited? We certainly tried to sway Santa's arrival growing up with whatever we learned in school.
We didn't bake much together when we were young but this is one of the things I love doing with my family now that we're older. I love the idea of baking cookies or other Christmas treats that you can give to family, friends, and Santa, of course.
With my little guy, we read The Night Before Christmas together, eat some of our yummy cookies, and leave some out for Santa.

Then we decorated and hung our stockings.
I like the idea of opening 1 present before Christmas so I wrapped some new Christmas themed PJs for my little guy to open.
Of course, we all put on our matching holiday pajamas and took some pictures. Then I like everyone to share something they are thankful for this Christmas.
I didn't share this time around but next year we will be sipping some hot cocoa together. I'd love to set up a little hot chocolate station with all the fixings for the perfect hot chocolate (don't forget the candy cane stir sticks!).



🎅 DECORATE AND HANG YOUR STOCKINGS
🎅 READ THE NIGHT BEFORE CHRISTMAS
🎅 DRINK SOME HOT CHOCOLATE (BY THE FIREPLACE IF YOU'VE GOT ONE)
🎅 OPEN JUST 1 PRESENT EACH
🎅 BAKE COOKIES FOR SANTA
🎅 SNAP SOME PICS IN YOUR MATCHING HOLIDAY PJS
🎅 MAKE CHRISTMAS INTERVIEW VIDEOS WHERE YOU SHARE SOMETHING YOU'RE THANKFUL FOR THIS CHRISTMAS
🎅 CATCH SANTA IN THE ACT – LEAVE OUT A TRAY OF FLOUR TO GET SANTA'S BOOT PRINT
🎅 WATCH YOUR FAVORITE CHRISTMAS MOVIE TOGETHER

MAKE GIVING BACK A TRADITION THIS HOLIDAY SEASON


Christmas is a time to reflect on all the things we're thankful for.
It's a time to think of those who are less fortunate than we are and a time to give back. I want to share this value of giving back with my son through volunteering and donations.
When he's a little older, I'd love to have him help me with volunteering at soup kitchens or the sick kid's hospital so he can bring some holiday cheer to others. We currently started a tradition of picking out a special toy to wrap and donate to the local salvation army as well.
I'd love to teach him more about selflessness and the importance of helping those who are less fortunate. This was our situation growing up and the one year we received a salvation army box filled with gifts made our entire Christmas.

I want to be able to give that to another family that needs it.

🎄 VOLUNTEER THIS HOLIDA SEASON
🎄 WRAP AND DONATE GIFTS FOR CHILDREN AND FAMILIES IN NEED
🎄 FIND GENTLY USED TOYS OR CLOTHES YOU CAN DONATE
🎄 MAKE A HOLIDAY DONATION TO THE SALVATION ARMY
🎄 PERFORM A RANDOM ACT OF KINDNESS

MORE FUN FAMILY CHRISTMAS TRADITIONS


Here's a few more fun traditions you can try that didn't quite fit into one of my other categories. Whatever you choose, the family is going to love! Don't be afraid to get creative!

🎁 TAKE A PICTURE WITH SANTA
🎁 GO ICE SKATING TOGETHER
🎁 TAKE A FAMILY SLEIGH RIDE
🎁 HAVE A CHRISTMAS MOVIE MARATHON NIGHT

MAKE HOLIDAY MEMORIES THAT LAST A LIFETIME


Nav's first Christmas wasn't filled with presents but we did make a lot of wonderful memories. We sang along to my favorite Disney Christmas sing-a-long songs (my sisters and I used to have a VHS tape, now I found it on YouTube), we decorated the tree and Nav spent the next month pulling ornaments off and hiding them.

At least on that first day of putting up the tree, Nav had that same look in his eyes that I did all those years ago.
The wonder wore off pretty fast and then curiosity took over (boys..sigh).

All in all, it was perfect.

What are some of your favorite traditions?

I'd love to hear your stories.

Leave me a comment 🙂

Happy Holidays Friends!