WHAT'S SANTA CLAUS' MAILING ADDRESS IN THE NORTH POLE?

Looking to write a letter to Santa? Well, you're going to need Santa Claus' real mailing address. But first, a little storytime.

As a child from an immigrant family, I was caught between two worlds. I was learning about the magic of Santa and Christmas at school but my parents weren't aware.

I so badly wanted Santa to come to our house too but he never did.

Eventually, as a class assignment, we wrote and sent a letter to Santa. I wasn't expecting much as he never ever came to our house.

But, one fine day the teacher arrived with a personalized response from Santa! I couldn't believe it! Santa actually wrote back! I treasured that letter for years because he explained that he knew I was a good little girl and the magic of Christmas is about more than presents.

Now, I'm the mom and I can't wait to share this sweet holiday tradition with my son.

Whether, you call him Santa Clause, St.Nick, Father Christmas or Kris Kringle, a letter coming back from the big man in red is HUGE when you're a kid.

Share this special Christmas tradition with your children and save the letters to show them later. To make things even easier, I've created some free letters to Santa templates that you can use.

You can find them at the bottom of this post. I also have some premium ones with added bonuses on my Etsy if you're interested!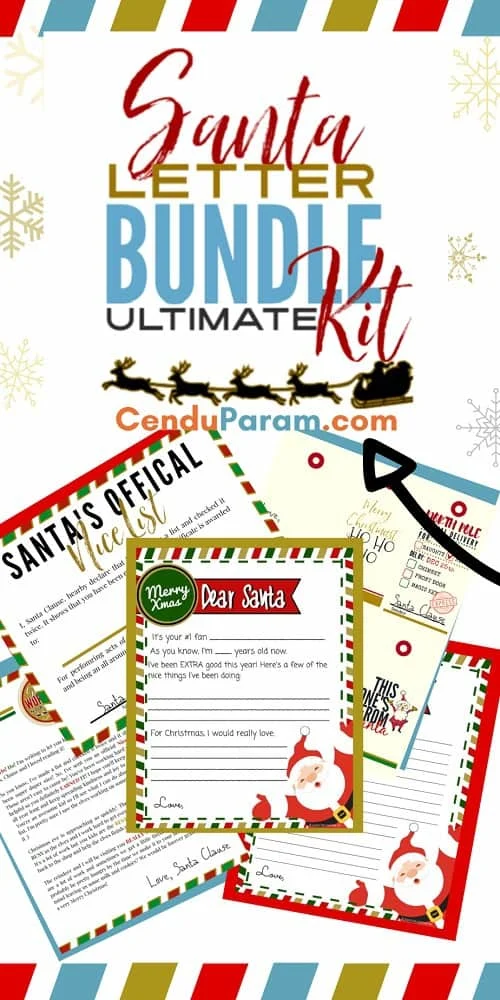 WHAT SHOULD YOU WRITE IN YOUR LETTER TO SANTA?

This is a great chance to practice writing (in general) and it's something that kids actually want to do instead of HAVE to do so take advantage of that. As a teacher, I did this activity a few times with my students and I always encourage them to go beyond just making lists of items they want for Christmas.

They have to write a REAL letter to Santa's address.

Usually, when we are writing a letter to someone, it's because we want to let them know what we've been up to and ask the reader some questions about themselves as well.

So, I encourage my students to brainstorm a list of questions they have about Santa or the North Pole and include a few in their letters.

Here's a few of the fun questions that my kids came up with for Santa:

ASK SANTA QUESTIONS ABOUT HIMSELF AND HIS FAMILY


🎄 How are you and Mrs. Clause?

🎄 How are the reindeer? What do they like to eat?

🎄 What are your favorite kinds of cookies?

🎄 How many elves work at your shop?

🎄 How did you get such a big belly?

🎄 How do you fly all over the world in just 1 night?

🎄 What do you want for Christmas?

🎄 Why do you have rosy cheeks?

🎄 How come you don't trim your beard?

🎄 How old are you?

🎄 How did you become magical?

🎄 Were you born with magic powers?

🎄 Do you have parents? Kids?

🎄 What do you, Mrs.Claus, the elves and reindeer do the rest of the year?

🎄 Did you ever go on vacation?

What is the address for Santa Claus?
If your kids are super curious about the answer to these or other questions about Santa and the North Pole, I've got an awesome Christmas book list with a ton of books that answer questions just like these.

RELATED POST: Easy Peasy Snowflake Tree Ornament for Kids
TELL SANTA ABOUT YOURSELF

I tell my students that although Santa knows who you are, it's always a good idea to let him know what you've been up to and how you're doing too. It gives children a chance to reflect on the year they've had.

Here, I like them to include things like:

Something new I learned this year

A big accomplishment or win

Something kind that you did

How do you help at home

A few of your favorite things

Tell Santa about your family and something fun you love doing with them



MAKE A CHRISTMAS GIFT WISH LIST FOR SANTA

Next, have students make a list of a few things they would like for Christmas. If I'm working with older students, I also ask them to write about why they want a particular present.

WHEN SHOULD YOU MAIL YOUR LETTER TO SANTA?

Make sure to get those letters to St.Nick as early as you can so he has plenty of time to write back. You'll likely have to check your own local Post Office for dates.

If you're in Canada, like myself, the cut-off is December 14th but I wouldn't recommend waiting that long.

The earlier, the better!

For those of you in the United States, USPS recommends getting those letters in no later than December 7th.


WHAT IS SANTA CLAUS' REAL MAILING ADDRESS

SANTA'S REAL MAILING ADDRESS IN CANADA

Again, you'll have to check your local post office for specifics. If you're in Canada, you'll be using the following address to send a letter to Santa in the North Pole via Canada Post:
Santa Claus
North Pole HOH OHO
Canada
SANTA'S REAL MAILING ADDRESS IN THE UNITED STATES

For those in the United States:
Santa Claus' actual mailing address in the North Pole (for the kids envelope) is

Santa Claus
123 Elf Road
North Pole
ALASKA 88888

Here's the address of Santa Claus you'll want to use on the grown up envelope:
NORTH POLE POSTMARK
POSTMASTER
4141 POSTMARK DR
ANCHORAGE AK 99530-9998

DOES A LETTER TO SANTA NEED A STAMP?

Surprisingly, a letter to Santa Clause in Canada (mailed from within Canada) and the USA (mailed from within in US) does NOT require postage, just make sure you include Santa Claus' real mailing address correctly.

Also, don't forget to include a return address as well.

HOW TO SEND SANTA AN EMAIL

Welcome to the digital age!

Santa has got his tech equipment sorted out and with a hand from Canada Post, he's now able to respond via e-mail as well.

It's super fun and very easy.

Just head over to email Santa and fill out the form!

You get an instant response with a video response or you can choose a letter that pops up on the screen like this: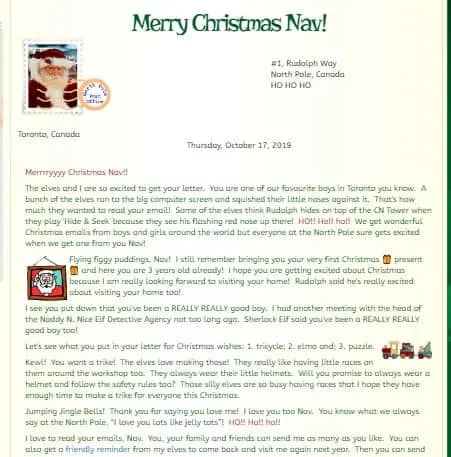 You can even create a personalized video response from Santa by visiting Portable North Pole and filling out the information required.

They have free and premium options available starting November 24th.

Another fun way for kids to keep in touch with what's happening down at the North Pole is through the ReindeerCam that has a live feed available.

RELATED POST: DIY Christmas Cards That Kids Can Make
WHO RESPONDS TO THE LETTERS FROM SANTA?

This also depends on what country you're writing from.

In Canada, it is generally the postal employees that are responding to letters addressed to Kris Kringle.

If you're writing from the United States, you can either have the postal employee and/or volunteers respond or you, the parent can choose to write your own customized letter and include it when you mail off your letter to Santa.

Your child will then receive your letter with a special stamp from the North Pole.

WRITE A LETTER TO SANTA TEMPLATES + BONUSES

So, some exciting news! I just recently launched my very first Etsy Printables Shop! Woo hoo! My very first product is a

LETTER TO SANTA KIT BUNDLE THAT INCLUDES:

🎄 2 LETTER TO SANTA TEMPLATES

🎄 1 LETTER FROM SANTA

🎄 1 NICE LIST CERTIFICATE

🎄 SANTA GIFT TAGS

🎄 1 page Santa Lunch Box Note Jokes

🎄 1 Santa Was Here Door Hanger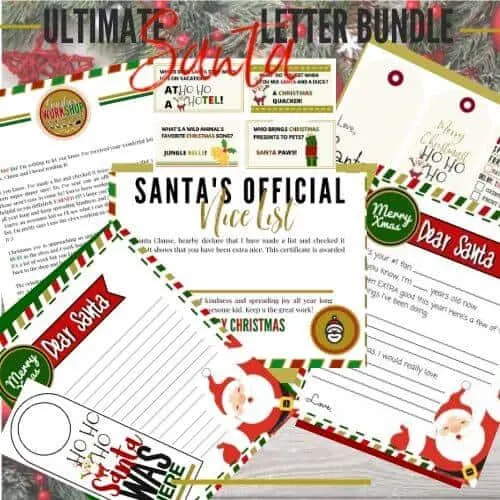 TO SHOP THIS OFFER VISIT THE CENZERELY PRINT SHOP BY CLICKING THE LINK!
If you're looking for some freebies as promised, just keep scrolling down for your free printables!

I hope you and your family enjoy many years with this super fun holiday tradition. It will make such a wonderful keepsake for years to come!

Don't forget to make a photocopy of the letters to keep for yourself.

Enjoy these free letter-to-Santa templates to get you started on your letter-writing adventure.

I'd love to hear about your experience with Santa letters.

Let me know what you think in the comments.

More Free Christmas Printables for Kids
Easy Christmas Snowman Coloring Pages For Kids
Printable Gingerbread Man Coloring Pages FREE
Free Dinosaur Christmas Coloring Pages
Cute Christmas Coloring Pages PDF