It's almost that special time of year where we feel merry and bright as we take in all the twinkly lights, first snowfalls and get ready for Santa's arrival. What better way to celebrate than with sweet short stories about Christmas before bedtime.
Here are my personal teacher picks for the best books about Christmas from preschool and beyond. Christmas time inspires us and reminds us about the true meaning of the season which is much more than presents, big fancy feasts, and spending exuberant amounts of money.

These short inspiring Christmas stories are perfect for getting your little ones in the holiday spirit. Many of these Christmas stories teach children about the morals and values that Christmas represents in a kid-friendly way that is relatable and fun!

Disclaimer: As an Amazon Associate I earn from qualifying purchases but this comes at no additional cost to you.


Funny Short Stories About Santa

Here are a few of our favorite books about Santa Clause and everything he represents to children. Although Santa never did visit my house (we are an immigrant family and my parents had no idea) my sisters and I always enjoyed the magic of Santa.
I think my most favorite thing about this season is the feeling that there is whimsy in the air and almost anything can happen.
It's the time where miracles do happen and magic is real.

How Santa Got His Job by Stephen Krensky
This is such a sweet and funny book that your kids will love!

It follows Santa's journey from when he was just a young lad looking for work. We follow him through all the careers he tries out and we learn just how he landed his dream job – as Santa Clause!
Perfect for Christmas but also to talk about different kinds of jobs that people have.

How to Catch Santa by Jean Reagan
This hilarious book is written in an instructional style for kids with every tip, trick, and hack to catch Santa in the act on Christmas Eve!

It's perfect for read alouds and super fun and imaginative for classroom use as well as for bedtime stories at home.

It reminded me of our Christmas traditions, one of them is catching a glimpse of the oh so elusive man in red by leaving a tray of flour by the fireplace to get the perfect boot print.

A World of Cookies for Santa by M.E Furman
This is such a great read for any age!

You get to follow old St.Nick as he travels the world and we see what kind of treats children from different countries leave for Santa.
In class, we also talk about the different holiday traditions we celebrate with our families.

It's a great way to talk to children about how we are the same and different and what this holiday is really about.

All children are loved by Santa.
What's super fun is that the author also includes recipes for a bunch of the cookies mentioned so this would be a fantastic after-reading activity.
What says Christmas like baking cookies for Mr.Clause?!

Things You Never Knew About Santa Clause by Giles Paley-Phillips
This story answers all those age-old questions we've been itching to know about Kris Kringle.
Like: where did he get that giant belly from? Why are his cheeks so rosy?
All of Santa's secrets revealed!
What kid wouldn't love to know? As a pre-reading activity, make a list with your children of all the questions they have about Santa and see how many you can answer with this book.

Then make up silly answers for any questions you have left!

The Year Without a Santa Clause by Phyllis McGinley
What would happen if Santa woke up one day and just decided he needed a break? What would happen to Christmas? Well, in this book, that's just what happens.
After 1000 years of hard work, Santa decides he's done and needs a vacation!

When Santa Lost His Ho! Ho! Ho! by Laura Rader
Little readers will love this story about how Santa lost his laugh and nothing the doctor prescribed (like watching funny movies, telling jokes) seems to be working to get it back.
What is Santa without his Ho! Ho! Ho!
It's silly and fun and not overly complex so young learners can read it on their own or with a little help.

Christmas Stories With Inspiring Morals For Kid

I love funny Christmas stories but I'm a sucker for those heartwarming stories and tear-jerkers too. You know the ones, the Christmas stories with a moral in them. The books that teach us about the true meaning of Christmas.
Stories that evoke feelings and emotions of family, togetherness, giving, and community.
These next few holiday stories are sure to pull on your heart strings and leave you with that warm cozy feeling.

The Carpenter's Gift by David Rubel

If you haven't read the Carpenter's Gift, do yourself a favor and pick it up ASAP. This is one of my favorite inspirational Christmas short stories!
The story is set during the Depression and follows the life of Henry, who is 8, and his father as they sell Christmas trees. They give a Christmas tree to construction workers building Rockefeller Center and celebrate together.
Through the kindness of the construction workers and neighbors, Henry gets his wish for a nice, warm home to replace his family's drafty shack.
He plants a pine cone from that first Rockefeller Center Tree. Then as an old man, Henry pays it forward and donates the enormous tree that has grown from that pine cone to become a Rockefeller Center Christmas tree.
After bringing joy to thousands as the Rockefeller Center tree, its wood will be used to build a home for another family in need.
I'm not crying! You're crying!


The Gift of the Magi by P.J. Lynch

This is a classic Christmas story about love. Who doesn't love love?
This sweet sweet story teaches us the power of love and that Christmas is so much more than gifts.
This husband and wife sacrifice things that are special to them in order to buy the other a special gift.
When they exchange gifts and realize what the other has done to buy that gift, they realize the true gift of Christmas is one that can't be bought and they have everything they need in each other.
Insert ugly cry face here.

The Berenstain Bears and the Joy of Giving by Jan & Mike Berenstain

If you find that your little one is a bit too young to grasp the two stories listed above, this could be the perfect book for them.
I also adored the Berenstain Bears series as a kid and this book doesn't disappoint.
Brother and Sister bear can't wait for Christmas day to arrive because they're eager to dive into their presents but during the Christmas Eve pageant, something magical happens and the children learn the true meaning of the season.

The Legend of the Christmas Tree by Rick Osborne

If you've ever wondered why we bring an evergreen tree inside and decorate it for Christmas?
Well, this book will answer that question. We follow the legend of the Christmas tree with the Johnson family and learn about gratitude and giving along the way.
The only thing to note though, this book does have some religious undertones so if you're looking for something non-denominational, this isn't it!

Classic Christmas Books Every Kid Needs To Read

A list of holiday and Christmas books isn't complete without the classics!
As much as I love the new stuff, it's the classics that we all go back to. These are the books that always come to mind when you think of Christmas. And it's for good reason too!
These books combine everything we love about the season: holiday magic and the spirit of giving, gratitude, and love.

The Night Before Christmas by Clement C. Moore
Is there any story that screams Christmas louder than this classic? Reading this quintessential holiday classic is my all-time favorite way to celebrate Christmas Eve with the kids.
It really gets you in the mood for Christmas magic with its whimsy and rhyming.
This is a MUST HAVE Christmas book for any little reader's collection. It'll be that one book you pull every single year and it stays a forever favorite among children young and old.

How the Grinch Stole Christmas by Dr. Seuss
Our Christmas is never complete without a trip to Who-Ville where they like Christmas -ALOT!
Except, of course, the grouchy old Grinch who lived alone and despised it.
No matter how cold it is outside, this story warms my heart every time when the Grinch's heart grows 3 sizes. This is one of those EPIC classics that sticks with you through childhood and then even into adulthood.

Plus there's so many fun Grinch themed crafts you can do afterward. Or you could always watch the movie and compare notes.

A Christmas Carol by Charles Dickens

You can't forget one of the oldest classics in the bunch. There's a reason there's like a million zillion versions of A Christmas Carol, it embodies the values of the holiday perfectly.
Every TV show ever has done a spinoff of this story for their Christmas special because the moral of the story resonates with viewers young and old. It's the perfect book to get your children away from the consumerism culture that often accompanies Christmas.
It teaches you what's really important and that's family and that it's never too late to change and do the right thing.

If you have very young children, you might want to opt for the Disney Mickey Mouse version of the story.


Rudolph the Red-Nosed Reindeer by Robert L. May

Another holiday favorite is Rudolph! How perfect is this story for little ones?
I love that this Christmas story has a wonderful moral to it. In this digital era of cyberbullying and mean kids, I think it's always wonderful to remind our little ones that what makes them different is actually what makes them really special.
Why fit in when you were made to stand out? Just like Rudolph 🙂

The Nutcracker by E.T.A Hoffman

Another favorite Christmas story is the ballet classic, The Nutcracker. I love the magic and enhancement that this story portrays. Christmas magic brings these toys to life while the children drift off to sleep.
I love that this is a board book and the illustrations are bright and beautifully detailed!
If you're planning to watch the movie, this is a great pre-movie book to get your little ones excited.

The Velveteen Rabbit by Margery Williams

So, I'm not sure if this counts as a Christmas book but it certainly is a classic and would make a wonderful gift for Christmas. This book moves me to tears EVERY SINGLE TIME.
It shows us the power and magic of love so I think it's totally Christmas appropriate.
This is one of those books that every child needs to have, almost a right of passage if you will.

Christmas Storybooks With Our Favorite Characters

Next up, here are a few Christmas books featuring some of our favorite beloved storybook Characters. I love a good book series and following along on their adventures.
These are great because the kids get to grow with the characters and build a bond since they follow them throughout many adventures.

Arthur's Christmas by Marc Brown

I've loved Arthur books ever since I was a child and now I'm passing that love onto my son.
I think I've read every book there is about this lovable aardvark and watched almost every episode on TV too!
In this book, Arthur is looking for the perfect gift for Santa but he's having trouble and looks to little sis D.W for help. If your kiddo is an Arthur fan, this one is a must-have.

Peppa's Christmas Wish by Scholastic

Although I will probably never understand its appeal, Peppa Pig seems to be a fan favorite among little ones.
If you've got a Peppa pig fan at home, they may love this book. This book has 2 stories as well as stickers! Score!
The first is about Peppa's special Christmas wish while the other is about building a snowman.

Mickey's Christmas Storybook Treasury by Disney Storybook Art Team

Are you a Disney family? If so, this might be a perfect, one-stop Christmas book. It takes a bunch of Christmas classics and gives it a Disney spin with all your favorite Disney friends like Mikey, Minnie, Pluto, and many more.
It's sure to be a hit with over 250 pages!

Finding Christmas by Robert Munsch

Our last book doesn't really have a favorite returning character but it's one of my very favorite authors.
Nobody's books make me laugh out loud like Robert Munsch's so I had to find someplace to fit this one.
In true Munsch fashion, our protagonist finds herself in a hilarious dilemma on Christmas eve. It's the perfect silly, funny, lighthearted Christmas story your kids will love.

Amazon Prime Book Box


If you and your little one LOVE reading together, you might want to look into our new fav service: Amazon's new Prime Book Box.
It's like a subscription book service that sends you either 2 hardcover books or 4 board books a month for just 19.99 that's like 40% off buying them individually!
You can even customize it to the age of your little one! I love that ALL the books you get will be hardcovers.
How awesome is that?!
Plus you can try out your first month for just $16.99 and cancel if you aren't happy.

Free Christmas Short Stories

Here are links to a few free Christmas short stories that you can read online or download and print.
Sometimes, it's just fun to listen to a story and let your imagination animate the story for you!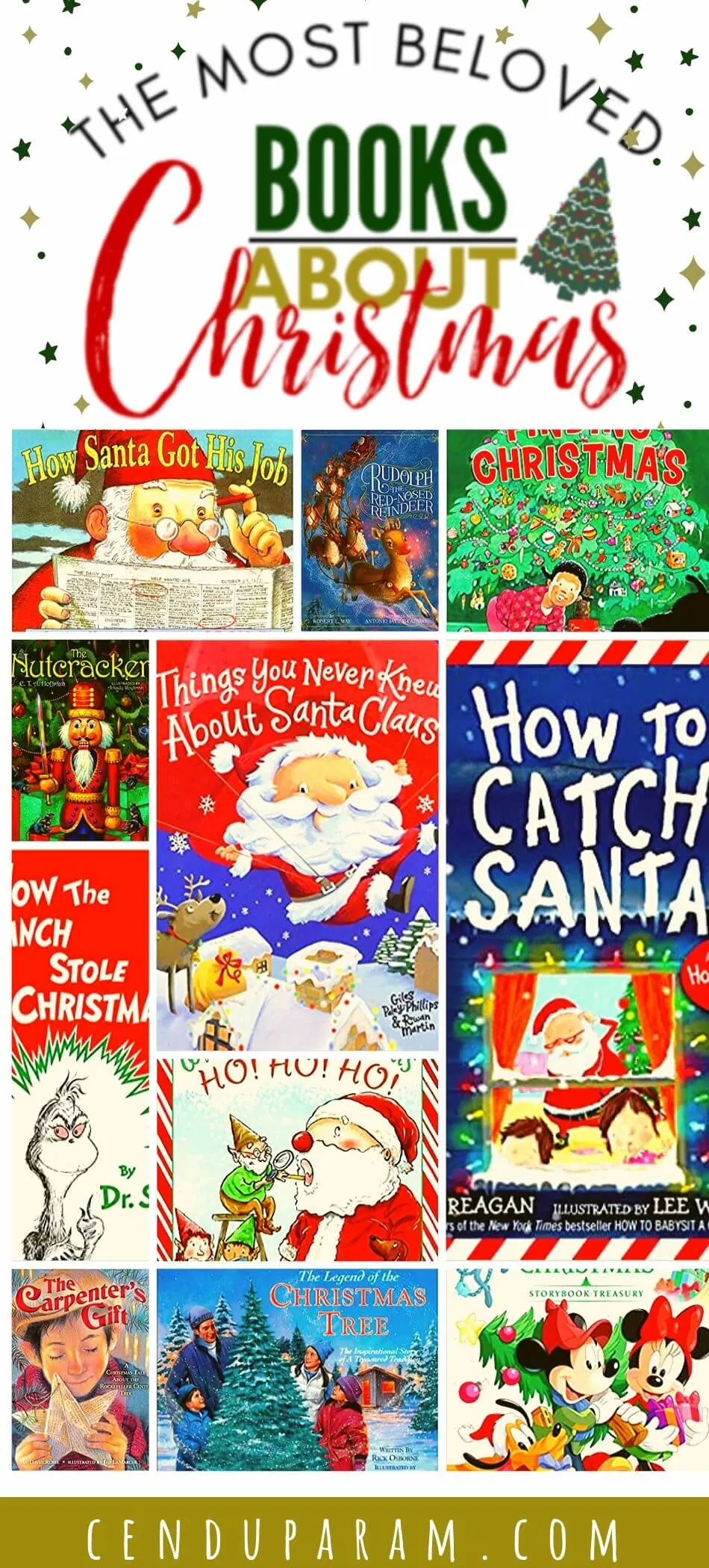 We love Christmas books!

The countdown of our favorite Christmas stories has come to an end. I hope you've found a few new ones to add to your collection.

I'd love to hear about your favorite Christmas storybooks as well.

Did they make the list? If not, what were they?

Leave me a comment below