Very Merry Christmas Dinosaur Coloring Pages FREE Printable
Are you on the hunt for dinosaur Christmas coloring pages? This post has a bunch of cute dino drawings to choose from.
I'm assuming you must have a little dinosaur fan at home like I do. My 5-year-old is absolutely obsessed with all things dinosaurs so I thought I would create some fun and festive holiday dinosaur coloring sheets for him and share them with you as well.
They are the perfect addition to any dinosaur unit.
Coloring activities are a great way to practice those fine motor skills and color recognition in a fun way while working on creativity and imagination too.
These Christmas coloring pages are the perfect activity to spruce up the house with some colorful art. Or create some cute Christmas cards to hand out to family and friends.
They're a great way to keep the kids busy while parents prep for holiday hosting. Or add them to your holiday party to give the kids some entertainment with a fun Christmas dinosaur coloring book (I've got a bunch of different posts on holiday coloring pages you can put together to make a fun coloring book for your kids, I'll list those later on).
Or even better make it a family affair and color together with a cup of hot chocolate and your favorite prehistoric pals.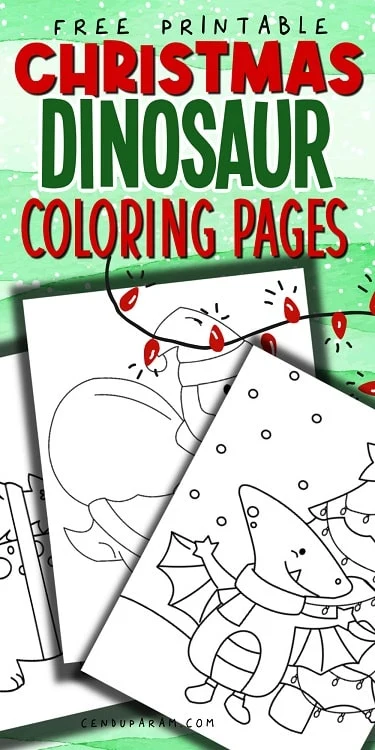 How To Print Your FREE Printable Dinosaur Coloring Pages
Printing your cute dinosaur pictures is easy peasy. Just click on the words download pdf under each image. It should open in a new window or tab displaying the coloring page PDF file.
At the top of the page (right-hand corner), you should see a printer icon. Simply click the icon and your printer should pop up and allow you to print the coloring page.
You also have the option to download the coloring page digital file to your computer if you need to save it for later.
If the image doesn't open automatically in a new window, that could mean you don't have a PDF reader installed on your computer.
Don't worry, you can get adobe reader for FREE if you need it.
Please note that all these coloring pages are provided to you for free personal use (non-commercial use) which just means you can't redistribute them as your own product or re-sell them.
But feel free to share this page with family and friends so they can print their own and have some coloring fun.
If your kiddos love all things dinosaurs, why not spend some time learning cool dinosaur facts?
Cute Dinosaur Coloring Pages
These cute dinosaur coloring sheets are perfect for all ages from preschool kids to older kids and even adults because who doesn't love coloring?
I've tried to include some pictures with thicker lines and simpler images for our younger kids and some images with more detail for older kids so take your pick.
Whatever your favorite species of dinosaur, I'm sure you'll find something to love.
Now let's check out some fun prehistoric friends in cute Christmas gear.
The next two images are dino friends with Christmas presents. Don't they look festive?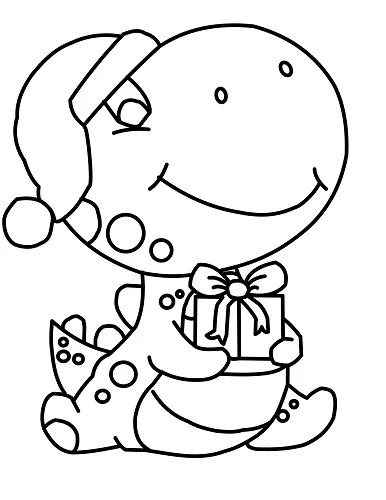 Cute Christmas Dinosaur Coloring Page Printable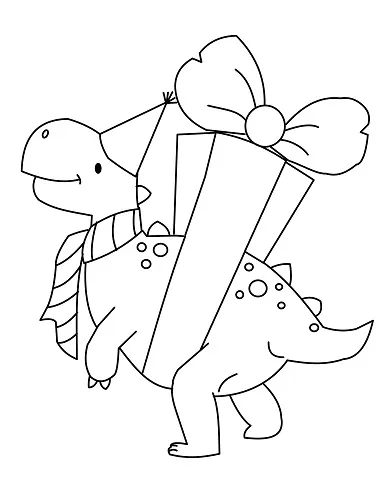 Cute Christmas Dinosaur Present Coloring Page
Dinosaur With Christmas Tree Coloring Page
The next few coloring pages feature a dinosaur with a Christmas tree. How cute is the brontosaurus carrying a tree on his back? Sometimes you just need to throw in a few of the herbivorous dinosaur friends to balance out all the fierce predators.
I also love the toothy pterodactyl enjoying a snowfall in front of a pretty Christmas tree.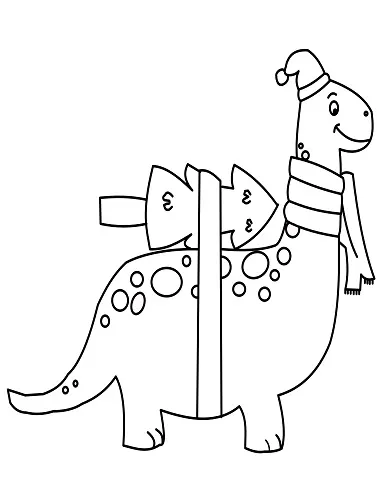 Cute Dinosaur Carrying Christmas Tree Coloring Page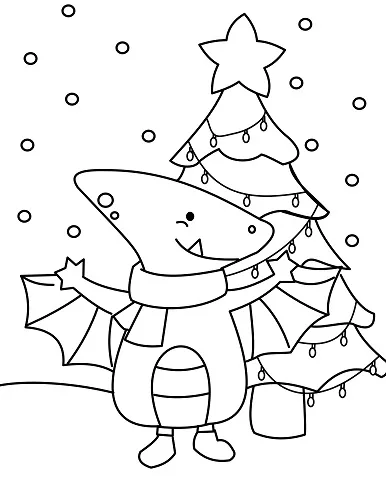 Pterodactyl Christmas Coloring Page
Dinosaurs with Christmas Lights Coloring Pages
These next few Christmas dinosaur coloring pages are particularly whimsical and some of my favorites! They feature some baby dinosaurs and adults as well wrapped up in Christmas lights.
Nothing says Christmas quite like twinkly lights.
These ones are so cute and festive! Perfect for the holiday season.
I would definitely turn these into holiday cards.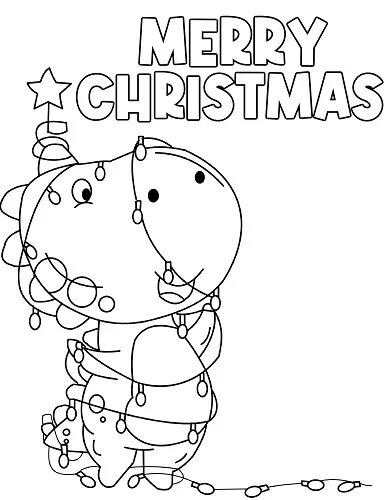 Cute Christmas Tree Rex Coloring Page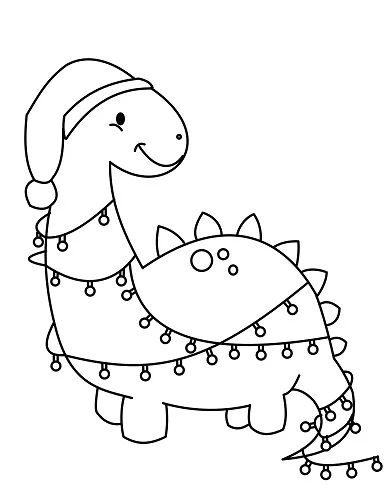 Cute Dinosaur Wrapped in Christmas Lights Coloring Sheet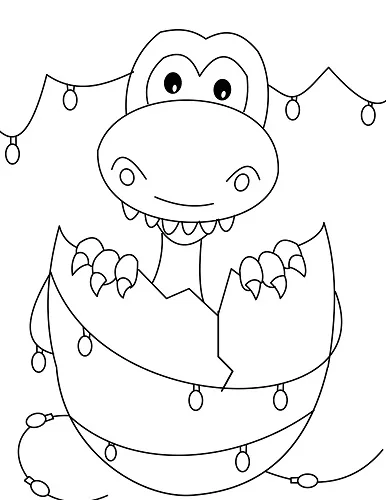 Cute Baby Dinosaur with sharp claws in Egg with Christmas Lights
Christmas Tyrannosaurus Rex Coloring Pages FREE
Last but not least we have one of the most ferociously popular dinosaurs of the late Cretaceous period (the Jurassic park movies always make it seem like it's from the Jurassic period), the tyrannosaurus rex! Watch out for those sharp teeth!
But don't worry, these free printable coloring pages are a lot less scary though because anybody wearing Christmas hats can't possibly be that frightening.
Speaking of time periods, did you know that the earliest appearance of dinosaurs dates back to the Triassic period? These guys were mainly small two-legged carnivorous dinosaurs.
Santa T Rex With Candy Cane Coloring Page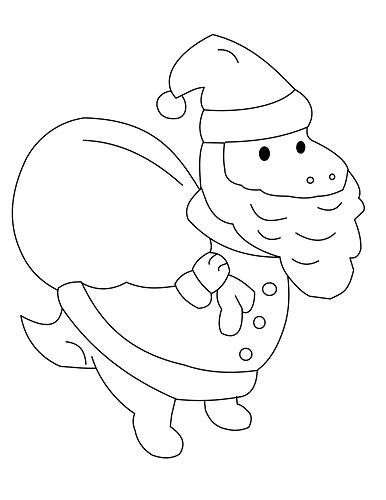 Christmas Santasurus Coloring Page
More FREE Christmas Coloring Pages
Cute Snowman Christmas Coloring Pages PDF
Free Gingerbread Man Christmas Coloring Sheets Printable
Free Christmas Coloring Pages PDF
Free Christmas Worksheets PDF For Kids
Send A Letter To Santa Template Printable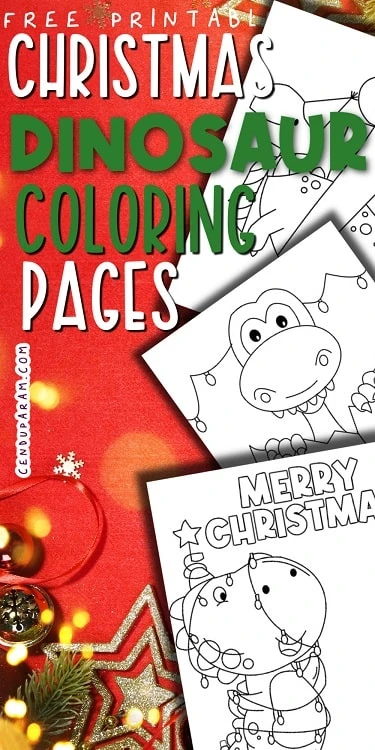 Wrapping Up Christmas Dinosaur Free Coloring Pages
I hope you and your little dinosaur lover enjoy these FREE and fun coloring pages!
Coloring is a fun and relaxing activity for kids of all ages whether you've got big kids or small ones. It's just about the best way to unwind during your winter holidays.
It's a perfect activity to do independently or with loved ones.
Your finished artwork makes for a great gift to share with family and friends.
These cute dinosaurs in Christmas apparel really adds a fun and festive touch, don't you think?
If you're looking for more Christmas animals or Santa coloring pages be sure to check out some of the posts that are linked above and print them all!
Happy Holidays!