What Do You Give A Newborn For Christmas?
The holiday season is just around the corner and Christmas shopping is well underway! Maybe you've crossed most names off your list but now you're wondering what to buy a newborn for Christmas.
Maybe you're a first-time parent or grandparent and are unsure what would make a perfect gift for your precious new bundle. Or perhaps you're just at that age where newborn babies are everywhere because all your friends and family are in their baby boom phase.
Whatever the case, you've come to the right place because I'm putting together a baby's first Christmas gift guide with tons of great ideas for the tiniest new member of the family.
Should I Buy My Newborn Christmas Gifts?
First off, do you even need to buy Christmas gifts for a newborn?
Well, that's totally up to you. I'm sure you probably received a bunch of new baby gear during your baby shower and maybe even when visitors came to see your newborn so you probably don't need to pile up a bunch of presents under the tree.
But that doesn't mean its too early to start some sweet Christmas traditions with your newborn and celebrate baby's first Christmas in a memorable way.
You might want to buy some sweet sentimental keepsake-type gifts to commemorate the occasion so you can look back on it when they're older.
For instance, one fun Christmas tradition we started when my little guy was just a newborn was family Christmas pajamas.
We would open that one gift the night before Christmas so we could wear them to bed before Christmas morning. You get the bonus gift of being coordinated for fun Christmas photos in the morning.
Win-win!
This post contains affiliate links, so we may earn a small commission when you make a purchase through links on our site at no additional cost to you. You can read more about it on the disclosure and disclaimer page.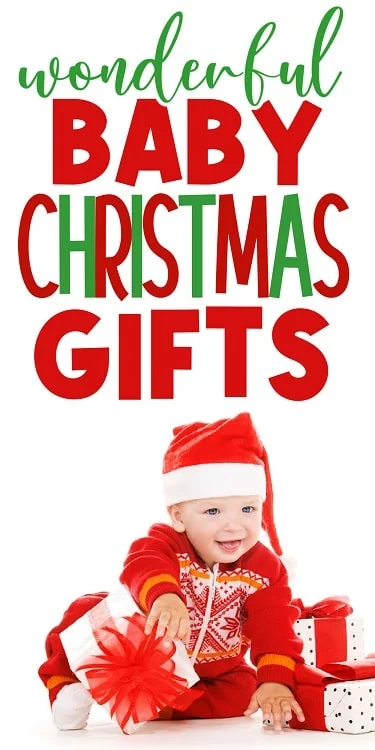 Best Newborn Christmas Gift Ideas
Whether you've got a baby boy or baby girl, these fun holiday gift ideas for newborns should give you some shopping inspiration to find just the right present.
Some are more sentimental keepsake-type gifts that are perfect for celebrating baby's first Christmas. Others are more practical gifts that will get lots of use.
Let's check out some of the best Christmas gifts for newborns and babies! Even if a newborn doesn't need much, they grow quickly and will be enjoying your thoughtful gifts before you know it.
1. Newborn Christmas Pajamas
If you like the idea of the Christmas pajamas tradition, it's never too early to start! Let your little one join in the fun with cute Christmas-style sleepers.
I personally LOVED sleepers and hated onesies. They're easier to put on and take off (especially when you're changing a diaper 10 times a day).
If baby has a poop explosion, you don't have to try to pull a onesie over their head (so gross!) or try to maneuver it off in some other way.
Just zip or unzip and you're done!
Plus I love all the cute designs. My little guy was a fall baby so he spent the first several months almost exclusively in sleepers.
Here are a few Christmas-themed sleepers you can grab from Amazon:
Hudson's Baby Christmas Sleeper 2 Pack
Holiday Pajamas Set Baby Sleepers
The Peanutshell Footed Baby Sleepers 3 Pack
Some other great places to look for holiday sleepers for baby is The Gap (like this organic cotton one ) or Old Navy (like this cute one).

2. Newborn Christmas Outfit
You can't forget adorable newborn Christmas outfits for your little one.
I really prefer the Christmas sleepers for the most part because they're super comfortable for your little one and they're really cute!
But sometimes, you just want a really cute Christmas outfit to mark the occasion.
Little ones can be fussy though so I caution you to avoid itchy fabrics or too many bells and whistles that might be a bit of a sensory overload for little friends.
Here are some adorable Christmas outfits to dress up your little one for their first Christmas.
Christmas Outfits For Boys:
Christmas Sweater Hat + Jumpsuit
Christmas Outfits For Girls:
Baby Girl Cotton Linen Jumpsuit + Headband
3. Baby Board Books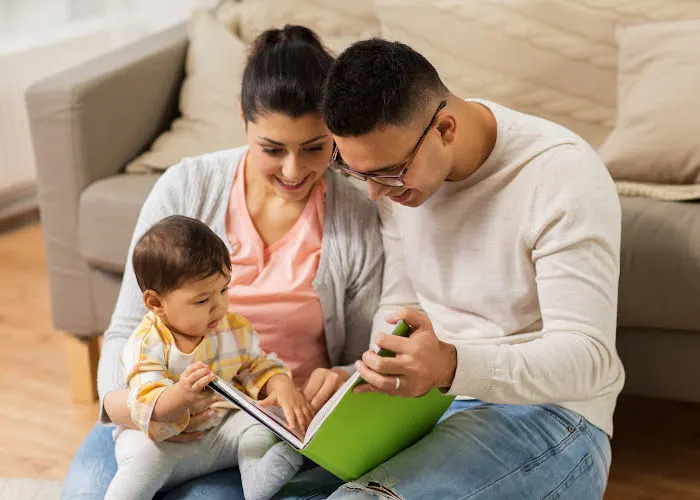 You can't go wrong with baby books for any occasion, it's definitely one of the best newborn baby gift ideas. Help build baby's first library with some classics and even some holiday and Christmas-themed board books.
I love book gifts because they are gifts that can grow with baby for years to come.
My little guy adores story time and even though he can read on his own now, he'll still bring over his favorite books to share with me. It creates a beautiful bonding opportunity and a familiar routine (with our bedtime stories).
There are literally tons of options to choose from but here are a few of my favorite baby board books that every library needs:
Black and White Contrast Touch and Feel Crinkle Book
Brown Bear, Brown Bear, What Do You See?
My personal favorite sweet board book has to be Love You Forever (I still can't get through this one without tears)!
Check out my list of baby books for the first year for more recommendations.
If you're looking to add some winter and holiday books to baby's collection, check out some of these:
Christmas Lift-A-Flap Board Book Pack
Merry Christmas, Little Pookie
The Snowy Day (is an award-winning board book and the New York Public Library's #1 book on the list of "Top Check-Outs of All Time")
Check out even more Christmas and holiday books.

4. Personalized Christmas Books
What could be more magical for a child than reading a Christmas story where they're the main character? I love personalized books (and not just for Christmas).
They are some of my favorite gifts to give children during the holidays or for birthdays.
My son has a few personalized books, which are definitely among his favorite books. They're a great way to get little ones interested in reading.
Some of the books even let you personalize your character and choose hair color/style, outfit, skin tone and so much more so your little one really feels like it's them.
I did take a look on amazon but it was pretty slim pickings (I only found this one). If you want a beautiful personalized book, I would suggest checking on Etsy instead.
I loved this Personalized Letter From Santa Storybook! How cute!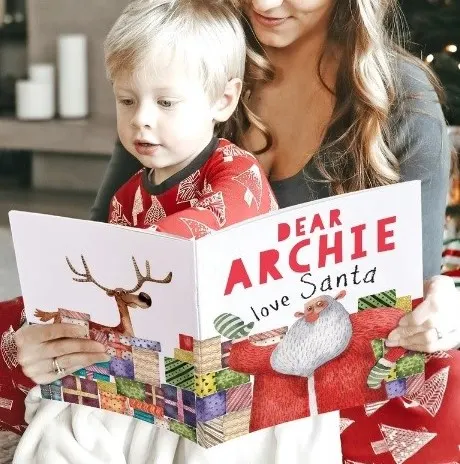 I also love this personalized Christmas Story Collection book. It has a beautiful vintage-looking cover and they'll put your child's name on it.
This one is a collection of stories and is 120 pages long!
The book is presented in a beautifully crafted gift box you can store your book in. These wonderful books will give you years and years of special memories.
Definitely check this one out.

5. Personalized Santa Sack
Another fun Christmas tradition you can add to the list is getting gifts from Santa in your own personalizable Santa sack. This one has a space for your child's name but you'll have to put it on yourself.
This is such a fun gift that will grow with your little one over the years. It'll eventually become a special Christmas keepsake that reminds them of their fond Christmas family memories.
If you want a personalized Santa Sack where somebody else will take care of the personalizing Etsy's the way to go.

6. Personalized Christmas Stocking
Let's keep going with some cute Christmas traditions to start with a baby. You'll need to add a new stocking to the fireplace for your newest addition.
You can get some cute and festive Christmas stockings from Amazon.
Another more unique option would be to grab a personalized stocking from Etsy.
They've got so many more creative and custom options if you're looking for a keepsake piece that your little one can use for years to come.
7. Personalized Birth Poster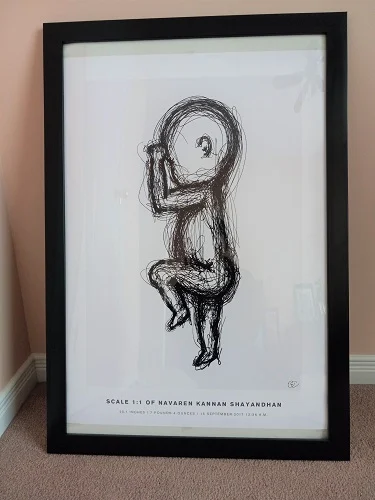 One of the best baby gifts I got was a beautiful personalized birth poster that's a 1:1 scale drawing.
It hangs in his room to this day and is a constant reminder of just how little he once was.
You can personalize it with the baby's name, weight, height, and birthdate.
It's such a lovely keepsake gift and makes for beautiful wall art. It doesn't include a frame though so you'll have to add your own.
8. Custom Baby Birth Print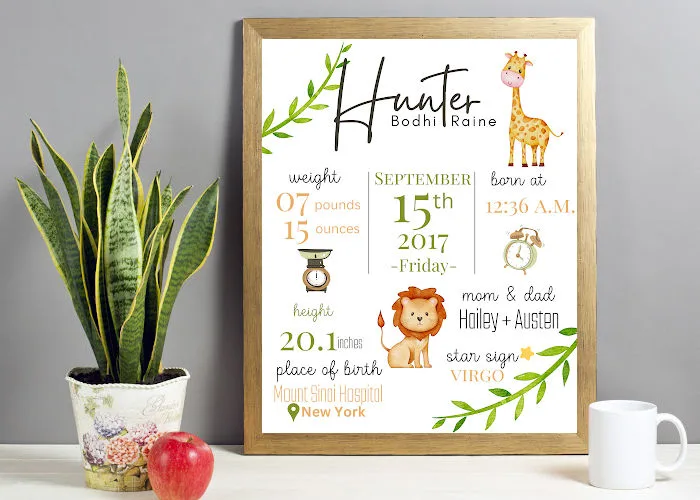 Along the same lines as the poster, you could also opt for a cute baby birth print instead. It's another cute piece of wall art you can add to baby's nursery as a reminder of the day they were born.
The best baby gift ideas are often those custom or personalized items that show that little extra thoughtfulness.
You can easily DIY a baby birth print with my editable template. Just use the template to edit the information then download, print, and add it to a frame and you're done!
This cute baby birth print allows you to edit: baby's name, weight, birth date + time, height, place of birth, parents' names, and star sign.
You'll get access to 2 sizes to choose from (8 x 10 or 11 x 14) and you can save them as a PDF, PNG, or JPG.
9. Personalized Name Initial Print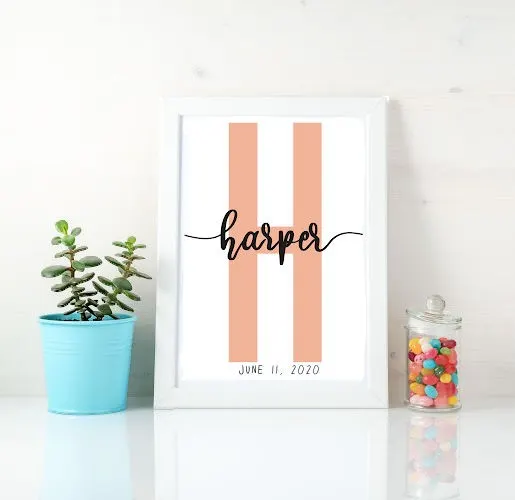 Another option for baby's nursery is a sweet and simple name print like the one above. It's a cute personalized gift that the little one can enjoy for years to come.
Since this gift requires some customization, it's made-to-order (not an editable template).
You can customize the color, baby's name, and birth date. If you have a very specific color in mind to match your nursery, please provide the hex code and we can get a great match.
You can choose between an 8 x 10 or 11 x 14 (or request a bigger size if needed) and you'll get a digital file (PDF, PNG, and JPG) that you can print at home or send to your local printers for a more professional look.
10. Keepsake Memory Bear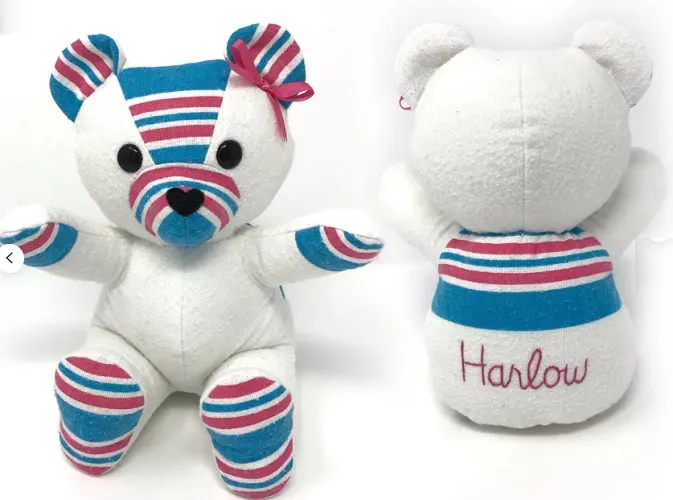 I thought this keepsake memory bear was such a precious Christmas gift for a newborn! The best toys are the ones you never forget about, even when you're all grown up.
What makes this gift extra special is that the seller makes it from one of your baby's blankets or favorite outfits!
You'll have to send the outfit or baby blanket to the seller and they'll turn it into an adorable stuffed animal that your little one can hold on to forever!
How sweet is that?!
I've seen it done with hospital blankets and baby's coming home outfit. It's so precious!
If you're crafty and good at sewing (unlike me) you could probably follow this youtube tutorial and make your own.

11. Wooden Name Puzzles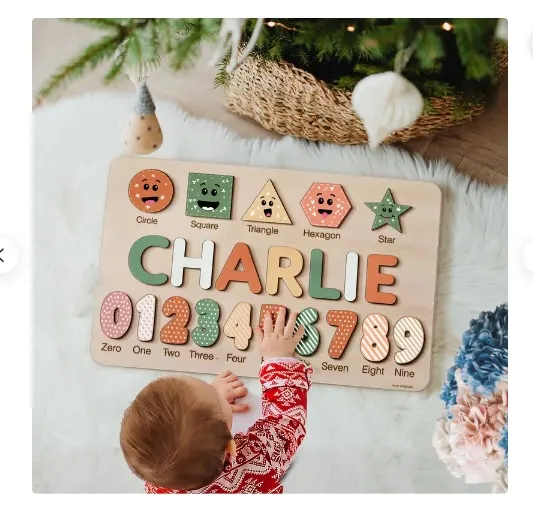 While we're on the topic of personalized gifts, I thought I'd also include these beautiful custom wooden name puzzles! These beautiful puzzles are handcrafted and made of the most beautiful natural wood.
The quality speaks for itself and the seller has rave reviews on Etsy.
This is an excellent choice for your baby's Christmas gift because even if they can't use it this Christmas, it's a beautiful gift that will grow with them for years to come.
Puzzles are such a wonderful developmental educational toy since it helps little ones work on their fine motor skills, balance and coordination, spatial intelligence, problem-solving and so much more.
A puzzle that also features their name is just so much more special and will be a keepsake for years to come!

12. Baby Birth Announcement Ornament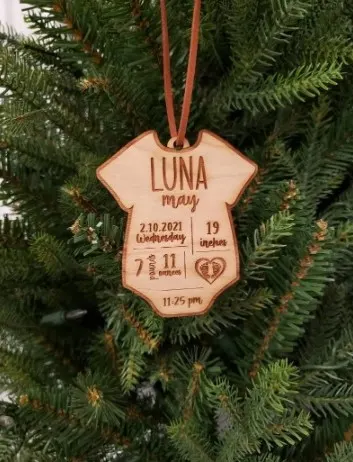 This beautiful baby birth announcement ornament by HeartFeltRustics will become a treasured piece in your ornament collection forever.
What a perfect way to commemorate the birth of your new baby this Christmas. You can customize your ornament to include all of baby's birth details like weight, height, birth date, time, and of course baby's name.
You can also choose between the beautiful wooden ornament shown in the picture or an acrylic version.

13. Baby's First Christmas Ornament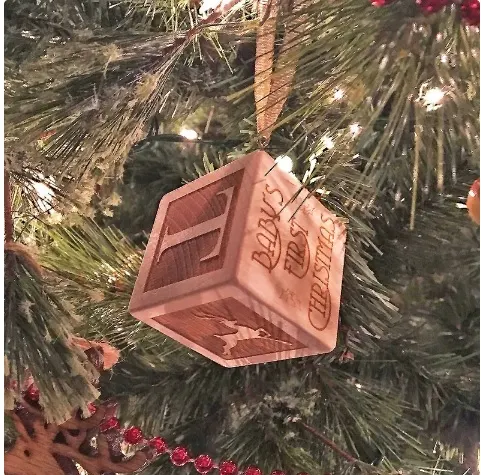 I absolutely love this baby block-shaped baby's first Christmas ornament by Glitzby!
What a unique and memorable keepsake ornament for commemorating baby's first Christmas! This one is personalizable so you can include the baby's name, birth date, and a personalized message.
This is probably one of the best baby Christmas gifts I've seen! It's so thoughtful, sentimental, and sweet.
Your little one will love hanging up their ornament every year (when they get big enough that is).
Although not quite as unique as this ornament, you can find some cute personalized baby's first Christmas ornaments on amazon as well.
14. Baby Handprint Ornament Kit
Commemorate baby's first Christmas with a fun holiday activity.
Grab this baby handprint ornament kit that has everything you need to make a sweet handprint (or footprint) keepsake ornament.
If you decide to do this one, one tip I would give you is to get that handprint done while your baby is sleeping.
It's kind of hard to get them to unclench those adorable little fists. You should've seen my baby handprint wall art for Father's Day, it was so much fun but so messy.

15. Personalized Plushie
It's never too early for plush toys! Make baby's first plushie a little extra special with some personalization like this personalized soft plush elephant that includes baby's birth stats.
You can personalize it any way you like with 1-6 lines of messages. You also have the option between a pink or blue elephant.
Here's another cute version of the personalized stuffie that comes with more color options.
If you're looking for more unique choices, take a look at Etsy instead.
I found a bunch of cute and uncommon personalized stuffies there, like this bunny and cute crochet bear.
16. Heirloom Quality Handcrafted Stuffie
If you want to give your baby a special Christmas gift that keeps on giving, you'll love this sweet Cuddle + Kind Henry The bunny.
This adorable stuffie is also ethically produced and aims to give back, making it a perfect Christmas gift to really celebrate what the season is about.
For each doll sold, 10 meals are provided to children in need.
The quality of the doll is also fantastic, it's definitely heirloom quality and something your child will hold on to for years to come. It's lovingly handcrafted in Peru using premium 100% cotton yarn.
It also comes with a forever guarantee meaning if you aren't satisfied with your purchase you can return it or if you have any quality issues they'll replace it.

17. Personalized Reindeer Teddy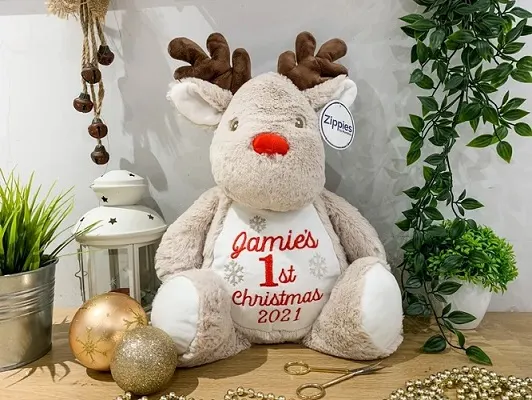 Since it is the baby's first Christmas, maybe you want a plushie that commemorates this festive occasion.
How cute is this personalized reindeer stuffie? It comes embroidered with baby's name and 1st Christmas 2022 or anything else you might want to change it to.
It's the perfect holiday cuddly friend and keepsake for your little one.

18. Soft Toys
If you're planning on getting some toys for your newborn this Christmas, I think the best toys are soft toys because they're easier for little ones to manipulate and they won't hurt themselves if and when they accidentally drop it on their face.
This set of Melissa and Doug soft blocks is perfect for babies and toddlers.
They're soft and lightweight for babies but also feature numbers, animals, and shapes for when your little one is older.
Another soft toy you can get is this foot and wrist rattle.
Since your little one spends a lot of time looking at his hands and feet, this toy is perfect! Securely attach these toys to baby's arm or foot and they'll spend all-day waving their limbs about.
They'll love their new crinkly feet and hands! What better way to stimulate a baby's senses and motor development than with bright colors and contrasting patterns you can't wait to touch?
19. Baby Play Mats
Your little one won't be doing too much playing in those first few months of life so they don't really need a plethora of toys just yet.
What they will be doing is working on their neck strength and basic coordination and motor skills through activities like tummy time.
So a great gift for newborn babies would be baby play gyms or easy-to-clean play mats.
I love a good waterproof play mat! It's a great gift that can grow with your newborn well into the toddler years and beyond.
This one is extra large, reversible, can be used indoors or outdoors (perfect for those future picnics at the park), and has an added tear-proof layer making it more durable.
20. Tummy Time Play Gym and Activity Mats
If you don't want the play mats listed above, the other great option for tummy time is a new baby play mat or activity gyms that's got fun and playful sensory toys attached to it.
There are so many different kinds to choose from and most can be used from the newborn stage to about 36 months.
Although to be honest, my little guy was over it by about a year or so (but we still use our waterproof play mat all the time).
A very popular choice is the play gym by Lovevery (with a 4.9-star rating) which goes from tummy time to play fort with 5 developmental zones and different activities that can be revealed or concealed so as not to get the baby overstimulated.
I love that it's super easy to wash and it dries quickly as well. It's made of good quality fabric and lasts a long time.
Your other option is to get a mat of your choosing (or a baby lounger) and then add a play gym instead of buying them as a set like the one mentioned above.
I really liked this wooden play gym that has 3 wooden toys and 3 soft toys.
21. Terry Bath Mitt, Bath Toys, and Bath Products
You really can't go wrong with baby bath products as a thoughtful, useful and practical gift idea. It's a gift you know will get lots of use (pretty much daily) and can add something special to baby's bath time routine.
How about these super cute baby bath mitts that look like animal puppets? They're super soft and designed to be extra gentle on a baby's sensitive skin. Here's a similar option from Etsy as well.
This silicone bath mitt by Frieda baby isn't quite cute but is a practical option that is bacteria resistant.
Make bath time extra fun with these silicone (and mold-free) baby bath toys.
Watch out for the squirt bath toys because they're cute and fun but the water usually can't get out completely and they end up getting mold growing inside them (like your typical rubber duckies).
Then you have a baby teething on toys with mold inside. Yuck!
Don't forget to add a cute, plush, and soft organic hooded towel to your gift.
Last but not least, don't forget to add your favorite baby body wash and lotions.
My little guy would always have eczema outbreaks until we switched to the Attitude natural baby body wash and shampoo which is plant-based, vegan, and hypoallergenic.

22. Baby Bassinet, Car Seat Blanket Swaddle
Depending on where you live, winters can be long and cold. Babies aren't really good at regulating their own temperatures for a while so you'll want to make sure to keep your little one warm on those really cold or snowy winter days.
The only problem though, car seats aren't meant to have babies wearing their winter jackets for safety reasons. You need the Nido Airy Baby Wrap that's specially designed to work with car seats and your bassinet.
It can double as a play mat, changing pad, or just a regular blanket too.
If you're still prepping for your baby's first winter, check out my list of baby winter essentials.

23. Baby Bear Snowsuit
Another fun winter must-have that makes a wonderful Christmas gift is a cute and cozy baby bear snowsuit! Your little one will be nice and warm in this suit and it makes for some super cute baby photos!
We took some adorable photos with our baby in one of these suits sleeping in a basket under the Christmas tree. It made the cutest Christmas card!

24. Newborn Knotted Gown and Hat Set
This newborn gown gift set is the best thing to gift babies because it's useful, practical, and super cute!
This 4 piece set includes all the popular newborn essentials any new mom and dad would want: knotted baby infant gown, matching hat, swaddle blanket, and a bandana bib.
It's part of the snuggle knit collection and is a supremely soft, cozy, and stretchy fabric that's machine washable.
If you want something that's more in the Christmas and holiday spirit, this festive newborn gown set from Etsy comes in a buffalo plaid color and would be perfect!
Here's a similar style from Amazon.
25. Baby Quilt Blanket
The colder months are perfect for a warm and cozy quilt. These Little Unicorn muslin quilted blankets are super soft and have 4 layers of 100% cotton muslin.
This means it's nice and warm yet breathable so the baby won't overheat.
There are a bunch of different designs and bright colors, including Christmas ones so take a peek!
If you want something really special, I loved these personalized quilted baby blankets I found on Etsy.

26. Muslin Swaddle Blankets
With a newborn, you really can't have enough swaddle blankets.
It's such a versatile gift because you can do so much with them. They double as nursing covers, burp cloths, changing table covers, tummy time covers, stroller covers, and more.
Muslin swaddle blankets are also fairly large so it's easier to swaddle baby snugly so it doesn't easily come undone. This set is super soft and washes very well. It's a mix of bamboo fabric and muslin cotton.
If you want some fun and festive holiday muslin swaddle blankets there wasn't much to be found on Amazon but Etsy had some really beautiful and unique pieces.
This Christmas-themed personalized swaddle and hat or headband set are so precious!

27. Muslin Lovey Blanket
This muslin bunny-lovey blanket might be the perfect present for a newborn because it combines the idea of a security blanket and your favorite stuffed animal. I love this minimalist design.
This sweet gift makes for the perfect security blanket. It's made of super soft organic cotton muslin and comes in a bunch of different colors.
There are a ton of different animal and fabric combinations to choose from like this minky elephant blanket or this adorable organic cotton lion.
Etsy has this adorable personalized bunny lovey and teether set that would make a wonderful gift.
These easily become favorite gifts for many little ones who hold on to them for years.

28. Baby Feeding Supplies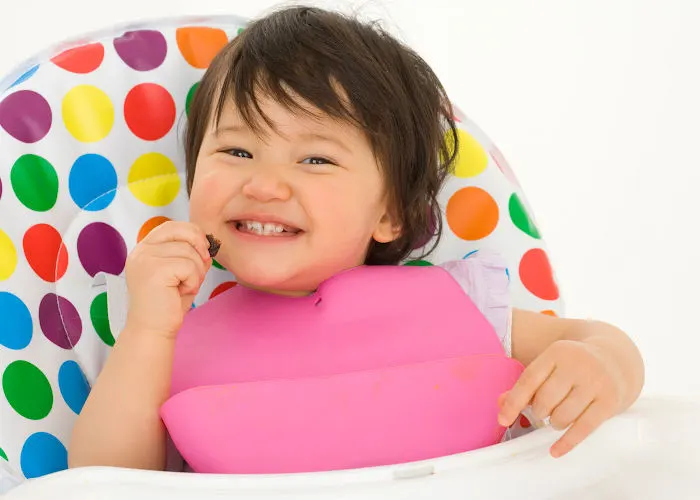 Some of the best gifts are often practical and useful. You can't go wrong with baby feeding utensils.
Your newborn won't be grabbing for that feeding spoon just yet but within a few months (it really does go by quickly) you'll be needing all the supplies to start your feeding journey.
One absolute must-have is this silicone baby bib.
They're easy peasy for clean up and they have these super deep bottom pockets to catch stray food or spills. I can't get enough of these!
If you want something more festive, check out these cute Christmas-themed silicone baby bibs.
If you don't want baby throwing the whole plate away during mealtime, you'll definitely want these suction-grip baby plates.
For a more holiday-themed notion check out this cute reindeer-shaped one.
These are great starter spoons because there is no wrong way to hold them (no scooping or balancing needed).
I also loved these Munchkin spill-proof trainer cups.
29. Baby Teethers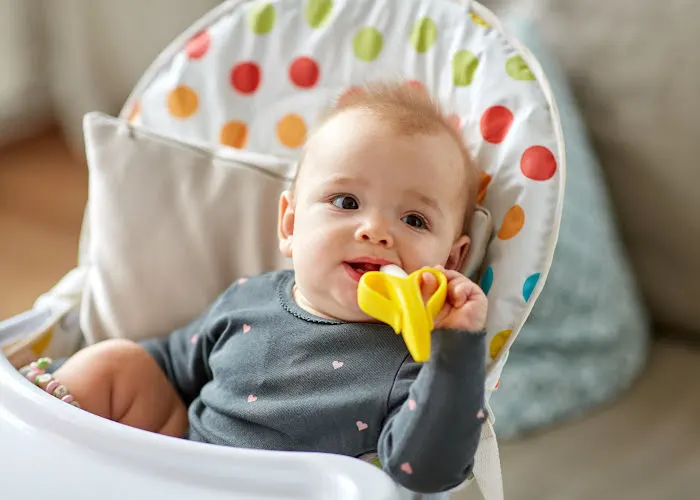 My little guy's favorite toys as a baby were mainly whatever he could get into his mouth. He spent most of those first few months trying to chew on everything because he was teething and drooling.
So it just makes sense to get baby some fun and useful gifts like teethers. They make great stocking stuffers for babies!
For some reason, this Sophie La Giraffe is the most beloved teether among babies. I love that it's a 100% natural rubber teether from the Hevea tree.
If your baby loves it too, I suggest getting a spare because my little guy would take his everywhere and we made the mistake of leaving it at grandma's place that one time (needless to say all hell broke loose).
This Winkel rattle and sensory teether was another favorite that got a lot of use. This one is the recipient of numerous accolades from child development experts.
Some more fantastic options include this baby banana toothbrush and teether, amber teething toy or this Nuby natural wood and silicone teether.
All of these teethers are perfect for little hands to manipulate which is probably why they love them so much.
30. Piggy Bank
I think one of the best newborn baby gifts you can give any time of year is a beautiful ceramic piggy bank. This one is technically an elephant bank but you get the idea.
I liked this kinda whimsical and vintage design but maybe you're looking for a more traditional piggy bank.
If you want something extra special, Etsy has these adorable personalized piggy banks to that you can add your little one's name to.
It's a classic baby gift that is a perfect addition to any baby nursery. Then when your little one is old enough, you can teach them about the importance of saving and have them start putting their coins inside.
You can even add a few coins to the piggy bank as part of your gift.
31. Personalized Night Light
They sure didn't have night lights like this when I was growing up! I think one of these custom-name night lights would make a unique addition to a baby's nursery.
There are so many different designs to choose from like dinosaurs, dump trucks, bunnies, fox, whale, space, mountains and so much more.
No matter your nursery theme, I'm sure you'll be able to find something that fits. It even changes color! You can see it in action here.
I think this is one of the best holiday gifts because it's unique, creative, and useful. It's a gift that a little one can use for many years to come but also wonderful for those nighttime baby feeds with a newborn.

32. Christmas Photography Session
A special gift for baby's first Christmas is the gift of memories. Capture baby's 1st Christmas (and maybe make it a yearly tradition) with a professional Christmas photo session with a local photographer.
During the holiday season, there are often tons of photographers offering holiday sessions (or mini sessions that are short but more affordable) where a beautiful Christmas backdrop is already set up for you to use.
I was able to find a bunch of local photographers offering these kinds of deals on Facebook marketplace and Instagram as well.
These beautiful photos are one of the best thoughtful gifts you can give a new family.
Plus, you can even use the photos from the session for your holiday card.

33. Baby Gift Card
If you're still not sure what newborn Christmas present to get, you can't go wrong with letting new parents choose their own gifts. Grab this Oh Baby! Gift card that new parents can use at a bunch of different baby stores and online including Baby Gap, buybuy Baby, Carter's, Nordstrom Rack and The Honest Company.
If there were any items left on the baby registry, the new mother can use this gift card to complete her list.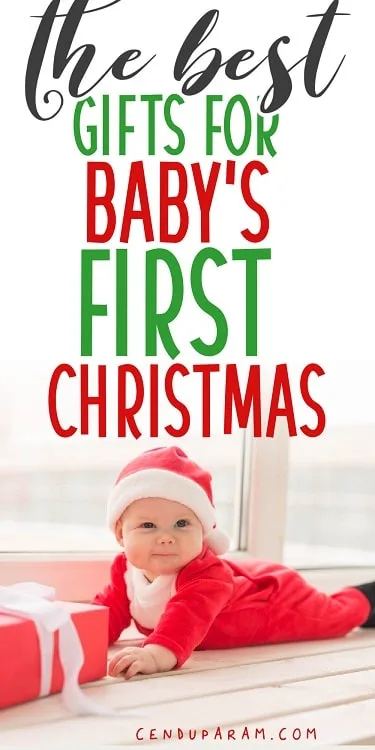 More Shopping Gift Guide
The Best Non-Toy Gifts For Toddlers
Practical Gifts For Toddlers That Don't Suck
The Best Baby Shower Gifts For Mom To Be
The Best Educational Toys For Toddlers
Wrapping up Newborn Baby Gift Ideas For Christmas
I hope you enjoyed this list of newborn Christmas gift ideas! Lots of them are the perfect way to commemorate a baby's first Christmas and many are wonderful gifts to enjoy every year.
There's a good mix of sentimental and thoughtful gifts as well as more useful and practical gifts.
If you
Enjoy making memories and starting traditions with your little one. That's the stuff they'll remember.
Happy Holidays!