Valentine Gnomes Coloring Pages PDF Free Printables
What better way to celebrate Valentine's Day with kids than with some fun Valentine Gnomes coloring pages?! No matter what age, coloring is such a fun and relaxing activity for all.
It's a great activity to work on fine motor skills and color recognition with younger kiddos while being a wonderful creative outlet and stress reducer for older kids and adults too.
Whether you're just looking for a fun activity to keep the kids busy for a while or making your own gnome valentine cards (because isn't the best part of Valentine's Day giving out cards), these cute Valentine's gnome coloring sheets are just what you need.
You can either have the kids color their pages to hang around the house for a festive look or make some DIY Valentine's Day cards to hand out to family and friends.
I've got 10 coloring pages in total so print them all and make a fun Valentine gnomes coloring book.
If you want even more Valentine's Day printable coloring pages and activity sheets to add to your activity book keep reading because I'll link them all at the end of this post.
These coloring pages are perfect to use at home or even in the classroom but just keep in mind they're for personal use (that just means you can't resell them or distribute them on other sites without permission).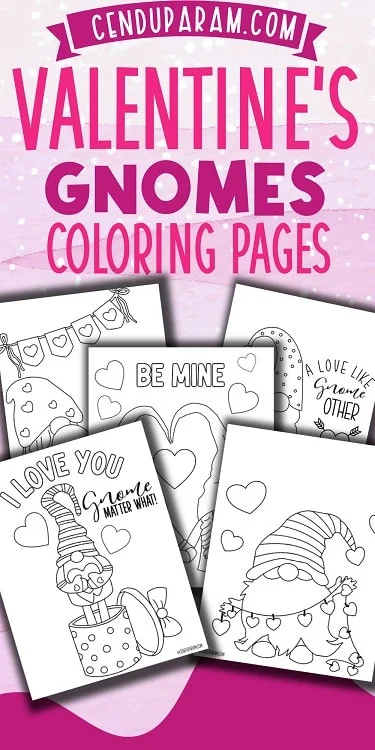 How To Print Your FREE Gnome Valentine's Day Coloring Pages
Printing your cute love gnomes designs is easy peasy. You get access to an instant download, no sign-ups, no emails, and no catch.
Just click on the words download pdf under the image you want to print. It should open in a new window or tab displaying the coloring page PDF file.
Look to the top right-hand corner and you should see a printer icon. Simply click the icon and your printer should pop up and allow you to print the coloring page.
You also have the option to download the coloring page digital file to your computer if you need to save it for later.
If the image doesn't open for you automatically, that could mean you don't have a PDF reader installed on your computer.
There are a bunch of PDF readers available but I usually suggest Adobe Reader since it's free to download and use.

Cute Valentine Gnome Coloring Pages
How cute are these Valentine's Day Gnome coloring sheets?
Kids of all ages will love these adorable valentine themed images. They're the perfect gift to share with family and friends at school.
Better yet, if you're having a Valentine's day party, be sure to print off a bunch of these and have a coloring contest to keep little hands occupied.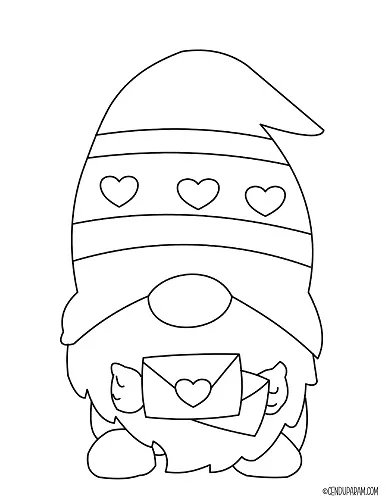 Valentine's Gnome With Love Letters Coloring Sheet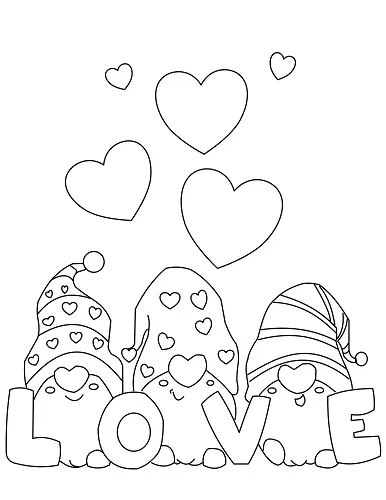 Cute LOVE Gnomes Coloring Page Printable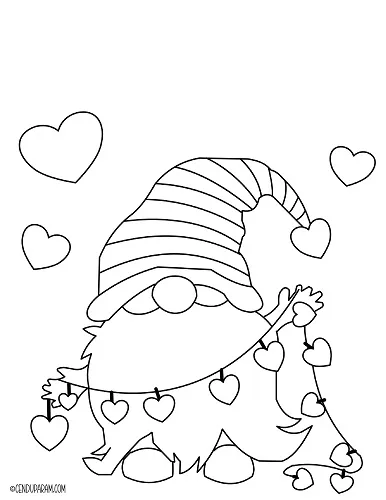 Vday Gnome With Heart Garland Coloring Page
Happy Valentine's Day Gnome Coloring Pages
The next set of Valentine's Day coloring pages features cute gnome couples.
These valentine's gnome coloring pages have gnome couples doing what gnome couples do like swinging together, holding hands, and just being generally lovey-dovey.
How sweet!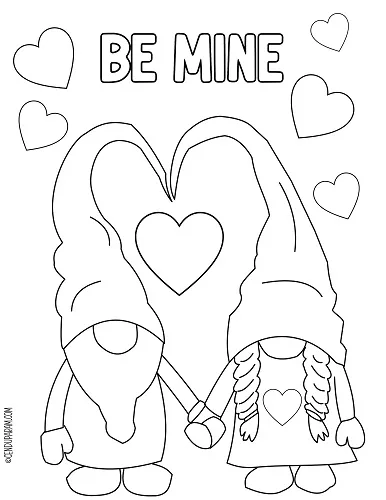 Gnome Couple Holding Hands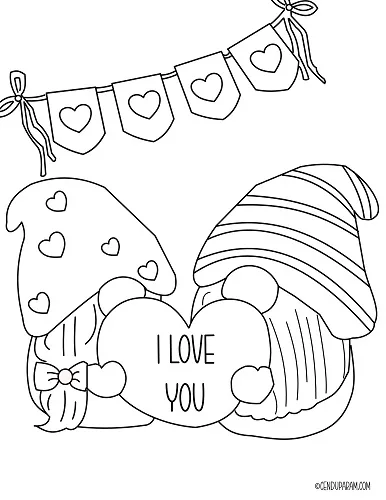 Gnomes I Love You Coloring Page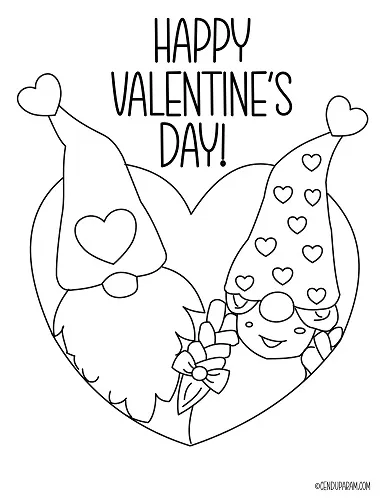 Happy Valentine's Day Gnomes Coloring Sheet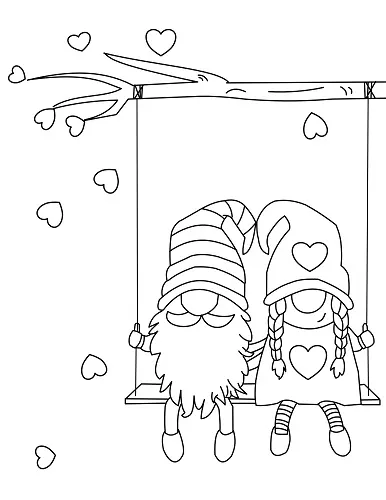 Gnome couple on a Swing Coloring Page
Valentine's Day Gnomes Coloring Pictures and Quotes
These last few cute Valentines day coloring pages feature cute little gnome friends with fun and 'pun'-ny sayings or quotes.
Who doesn't love a good cheesy quote along with their Valentine's day picture, right?
They're like the quintessential bad dad joke, you just come to expect it.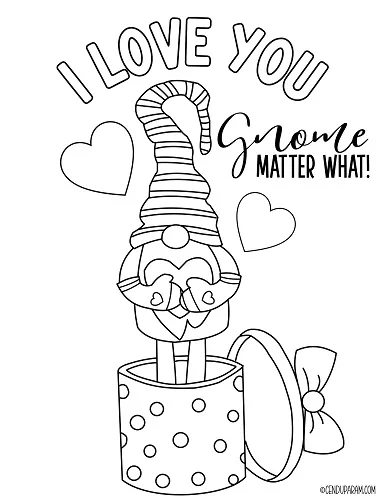 I love you gnome matter what coloring page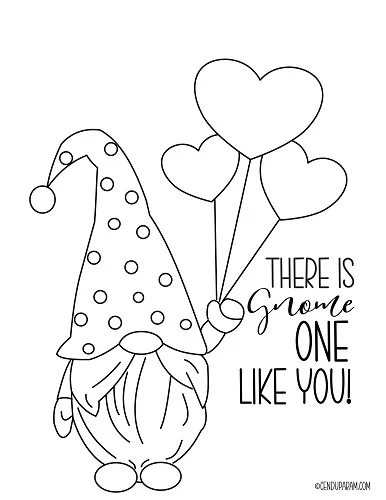 Valentine Balloons and Gnome Coloring Page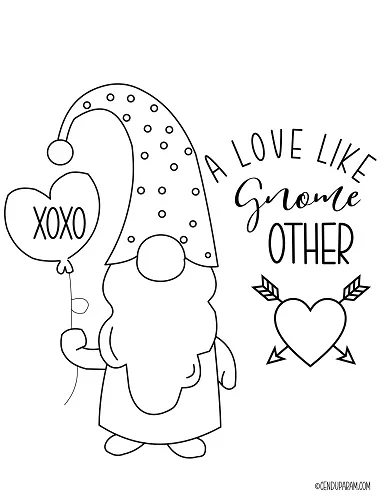 A Love Like Gnome Other Coloring Sheet
More Valentine's Day Coloring Pages and Activities
Valentine's Day Coloring Pages PDF
Valentine's Day Dinosaur Coloring Pages PDF
Free Valentine's Day I SPY Game Printable
Easy Valentine's Day Crafts For Kids
Non Candy Valentine Ideas For The Classroom
Ideas to Celebrate Baby's First Valentine's Day
Valentine's Day Books For Kids
Easy Valentine's Day Cootie Cleaner Craft
Valentine's Day Monsters Scavenger Hunt Game Printable
Easy Valentine's Day Handprint & Footprint Crafts for Kids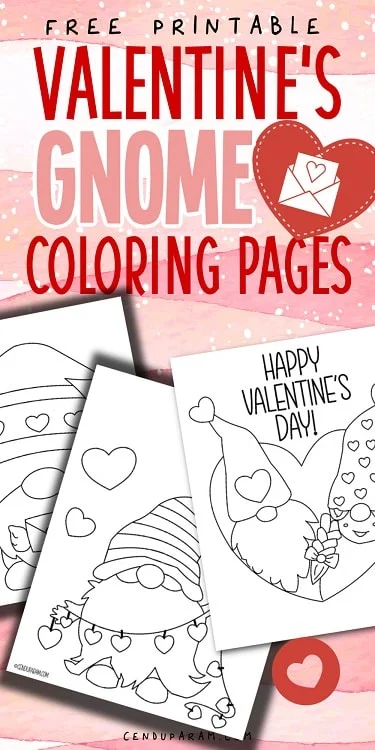 Wrapping up Cute Gnomes Coloring Pages For Valentines Day
I hope you enjoyed these free Valentine's Day Gnomes coloring pages. They're super cute and lots of fun!
If you're looking for more cute Valentine's day coloring pages or fun crafts be sure to check out some of my other posts listed above.
You can use these adorable gnome pictures to make your own cute valentines to share with your best friend, classmates or family.
Whether you've got little kids or big ones, Valentine's day is a such fun time for spreading love and sharing your colorful creations.
Happy Valentines Day friends!