UPDATED JAN 5, 2021
Things To Do With Baby on Valentine's Day
Wondering what to do with your baby for Valentine's day?

Ah Valentines Day…I've never been too big on Valentine's Day. In fact, on our first Valentine's Day together I kinda forgot and then started scrambling last minute to figure out something we could do together. I kind of regret that and wish I had planned ahead. So don't be like me, let's make some plans.

Afterall, the first year is all about celebrating firsts so even if you aren't big on V-Day (like me) you can still do something simple to commemorate baby's first Valentine's day.
I get it, there's not much a little baby can do yet so keep things easy and simple.

Here are a few simple and easy ways to celebrate baby's first Valentine's day.


Disclaimer: As an Amazon Associate I earn from qualifying purchases but this comes at no additional cost to you.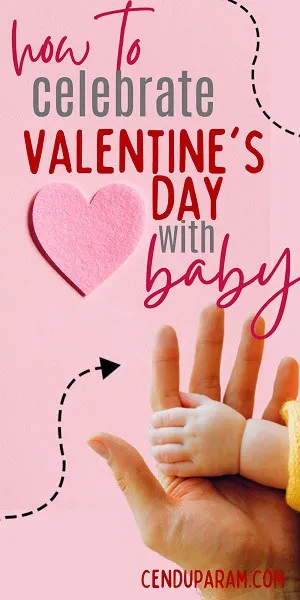 1. BABY'S FIRST VALENTINE'S DAY PHOTO IDEAS


This is a fun way to commemorate baby's first Valentine's Day plus you get tons of cute photos to cherish and share. It can be something simple that you do at home or you can go all out and book a Valentine's Day special with a local photographer for the whole family.

Either way, you'll make some beautiful memories to look back on. If you do your photos ahead of time you can even have them printed to share as Valentine's day cards with the grandparents, family and friends.

You can do coordinated outfits, the whole shebang, or how about dressing up your little one as an adorable little cupid or a "covered in kisses" look.

That's easy enough, apply lipstick, smother baby with kisses and repeat!

Just make sure you test the lipstick ahead of time to make sure it easily comes off. I used coconut oil to get everything off without having to rub baby's sensitive skin.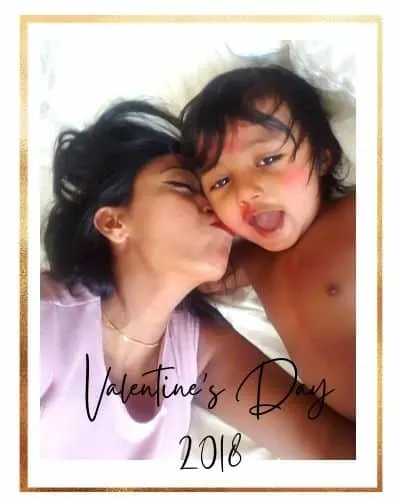 VALENTINE'S DAY PHOTOSHOOT BACKDROP + PROPS


You can easily DIY a simple Valentine's themed backdrop using cut out hearts and string. Simply tape your hearts to a long piece of string and create multiples of these then hang them on the wall and you're done!

If you aren't a DIYer, there's always Amazon (thank goodness). Any of these cute backdrops would be perfect! Then just throw in some Valentine's themed props and you're done!

RED FELT VALENTINE'S DAY HEART GARLAND


Next, just throw in a few Valentine's day themed photo props, some rose petals and voila!
DECORATIVE VALENTINE'S DAY THROW PILLOWS


This post over at country living has some more cute Valentine's day photoshoot ideas you can try.
2. DIY HANDPRINT

AND FOOTPRINT VALENTINE'S CRAFTS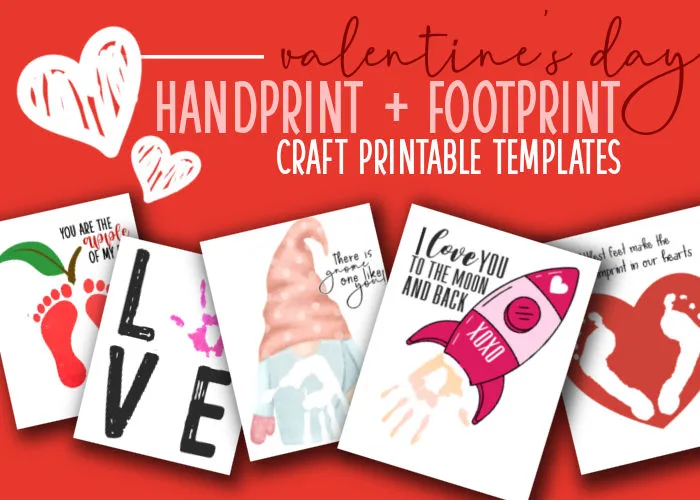 This could be a great time to create those baby handprints or footprints you've been wanting to make.

You could make hand or foot print in clay or even just use some red paint and create handprint or footprint hearts on a blank canvas.
Or you can use my printable handprint and footprint Valentine's Craft templates to make some fun Valentine's Day crafts to share with family and friends.
The grandparents will love hanging up their art on the walls.
For a sturdier base, I would print the templates on cardstock paper. It gives a nicer finished product and is perfect to pop into a frame for a cute DIY Valentine's Day gift for the grandparents.

It's such a fun activity to do with your baby. They'll love the sensory experience of exploring paint. The best part, with so many templates you could print out a different one each year and create a fun tradition of creating fun Valentine's art.

You could also opt for one of these no muss no fuss handprint kits too.

3. BABY'S FIRST VALENTINE'S DAY OUTFIT




If you just want to try something simple, quick and easy, why not just get dressed up for Valentine's Day?
There are a ton of cute Valentines themed outfits with all kinds of Valentine's inspired paraphernalia. Get decked out in hearts, kisses, pinks, and reds.

You can dress up too and join in the festivities with some matching outfits for the whole family.

Here's some super cute inspo all available from Amazon in a flash!


BABY GIRL VALENTINE'S DAY OUTFIT

BABY BOY VALENTINE'S DAY OUTFIT

MATCHING FAMILY VALENTINE'S DAY OUTFIT

4. VALENTINE'S DAY BOARD BOOKS FOR BABY




We pretty much celebrate everything with some new books. It's always one of baby's presents on holidays since it's something we get repeated use out of and my little guy loves reading time so it's a no brainer.

Here are some board books perfect to read with baby on their first Valentine's day. My little man especially loves the touch and feel kind.


MY FUZZY VALENTINE (TOUCH AND FEEL BOOK)

LOVE FROM THE VERY HUNGRY CATERPILLAR

VALENTINE'S LIFT A FLAP BOARD BOOK

5. WRITE A LOVE LETTER TO YOUR SWEETHEART




Yes, obviously baby can't quite read yet but that doesn't mean they wouldn't like to one day. You can curate a time-capsule keepsake (or scrapbook) where you store sweet memories to share with your sweetheart one day.

This can include a letter or Valentine's Day card to baby and any other little gifts or outfits that you used to celebrate.
6. BABY VALENTINE'S DAY SENSORY B
IN OR BAG

This idea is super fun but dependent on baby's age. It's obviously a little too much for a newborn but if baby is a few months old and loves exploring, you have to create a DIY Valentine's day sensory bin (or bag) for them to touch, feel and play with.

Make sure to supervise baby while they play and avoid using anything too small as it could be a choking hazard if baby decides to explore with their mouth. We did a water play bin with some foam hearts , sponge hearts and a few other tickets (like these pompoms) .

For the sensory bags, we use ziplock bags and fill them with different color textured items for baby to feel and explore.

Our favorite has to be the water beads! They just feel so cool. We've also tried colored rice, paint or whatever else we can find.


7. FAMILY VALENTINE'S DAY DATE




It's probably been a while since you had a date night and you could probably use some celebrating too.

Why not plan a date night?

You could do a date night at home or hit up a baby-friendly date spot. Dinner for 3 anyone?

Personally, I can't stand the line-ups and wait-times to get into a restaurant on Valentine's Day (let alone try to bring a baby along for the wait). I much rather have a movie and a dinner date at home together instead (featuring take-out from your favorite spot, of course).
Whatever you decide to do just have fun! It's not about the gifts, the chocolate or those flowers, lets just celebrate love, the eternal kind that you never knew existed until the little love of your life came along (okay spouses too!).
MORE VALENTINE'S DAY POSTS
Free Printable Valentine's Day Coloring Pages For Kids
FREE Valentine's Day Dinosaurs Coloring Sheets
Cute Valentines Gnomes Coloring Pages
Valentine's Day I SPY Game For Kids
Valentines Monsters Scavenger Hunt Game
Valentine's Day Handprint Footprint Crafts For Kids
+20 Fun and Simple Toddler Crafts + Activities For Valentine's Day
Funny Valentine's Day Books For Kids
DIY Valentine's Day Craft Cootie Cleaner Hand Sanitizer
Free Printable 'Punny' Valentine's For Kids Classroom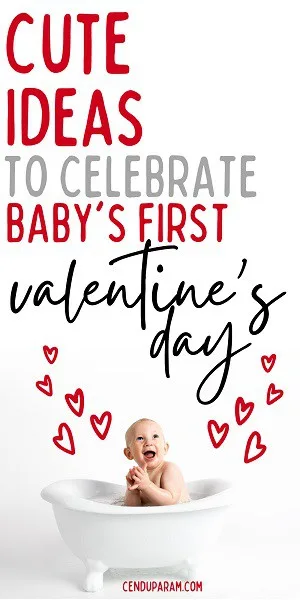 WRAPPING UP BABY'S FIRST VALENTINE'S DAY IDEAS

I hope you've got some fun and easy ideas to celebrate baby's first Valentine's day!

Remember, this is more for you than baby. It's a memory to add to your baby bucket list so just keep things simple and enjoyable. Babies can be fussy and unpredictable so yes, make some plans (more like a guideline) but remember to keep things flexible.

If you have some more fun ideas for baby's first Valentine's day, leave me a comment below 🙂