Fun Valentine's Day Story Books For Kids

It's almost time for hearts and flowers! Valentine's Day is just around the corner so let's celebrate love with a collection of the best Valentine's Day themed books and short stories made just for kids.

I'm not super into the commercialization of this holiday and the need to spend exuberant amounts of money on over-priced flowers and candy.

Hard pass!

What I do love, sharing this holiday with kids.
I thought Valentine's Day was way more fun when I was in school.

Who doesn't love making Valentine's Day cards and surprises to hand out to all your friends and classmates.

I've rounded up my favorite Valentines books but also included some that aren't specific to Valentine's Day but focus on children's books about loving others, family and friendship which are also great themes to talk about during, February 14th,the love month or any month really.
Ways To Include Fun Valentine's Day Books



One way I love starting our Valentine's Day fun in the classroom is with a great Valentine's Day themed book.

It gets the students primed for a follow up activity and gives them some background. I want my students to understand why we celebrate Valentine's Day and where the holiday came from.

So I love including some reading about Saint Valentine, along with some fun and sweet Valentine's Day read alouds.

If you'd like to shop any of the books below just click the title.
Disclaimer: As an Amazon Associate I earn from qualifying purchases but this comes at no additional cost to you.

Valentine's Books For Toddlers, Preschool and Kindergarten


Here are my very favorite Valentine's Day themed books for tiny tots and young learners. These picture books are colorful, vibrant and fun. Many of them use rhymes and songs or simple text to engage little learners.
HAPPY VALENTINE'S DAY MOUSE
BY LAURA NUMEROFF

This is one of the many books that are part of the Mouse series. In this book, Mouse explains why he loves each one of his friends for their special qualities.

Such a great book to get our little learners talking about what they love most about their families and each other.

After all, Valentine's Day should be about more than presents.

The Day It Rained Hearts
by Felicia Bond

This is a great pre-activity reading for making Valentines as a class or at home.

In this story, little Cornelia goes outside and sees that it's raining hearts!

She catches a bunch to give out to her animal friends on Valentine's Day.


LOVE from The Very Hungry Caterpillar
by Eric Carle

If you're a fan of the original Very Hungry Caterpillar series, you'll love this Valentine's themed edition.

In his kid-friendly style, Eric Carle explains all the ways that someone is so special and why we love them (using food similes just like the original).

The perfect read for little ones. You could make a list together afterward of all the things you love about someone.


If You'll Be My Valentine
by Cynthia Rylant

This adorable book celebrates Valentine's Day by following this little boy who delivers homemade Valentines for everyone in his family.

The book uses rhyming and cute pictures which the toddlers and preschoolers love!

Perfect Valentine's book for creating Valentine's cards or making a list of all the reasons someone is so special and why we love them.

Why not make one for each of the grandparents and hand-deliver them?

Llama Llama I Love You
by Anna Dewdney

I first discovered the Llama Llama series when I was pregnant and received a gift set at my baby shower.

I've been in love with these sweet stories ever since.

This board book uses simple rhymes and beautiful colorful pictures that engage little readers.

Little Llama delivers Valentines to all his favorite people- "Fancy glitter heart for mama. Yummy chocolate heart for Llama."


Plant a Kiss
by Amy Krouse Rosenthal

This is a super simple book text wise but has such an impactful message. Only a few words on each page so it's great for open-ended talk.

In this book, little Miss plants a kiss, and this one act of love begins to bloom and grow and she learns about life, kindness, and giving.

It's such a sweet read and I found the little ones absolutely loved it.

I'll Love You Till The Cows Come Home
by Kathryn Cristaldi

I absolutely love this sweet book about family and the love that we share. They use the old saying "till the cows come home" to show just how much your little one is loved:
– I will love you till the cows come home from a trip to Mars through skies unknown, in a rocket ship made of glass and stone… I will love you till the cows come home.
Valentine's Day Books For Elementary Students


Here's a few of my favorite Valentines themed books for elementary students. Many of these also have beautiful illustrations but also fun and sweet stories, or poems. You could use them as a pre-reading before activities for creating cards together or even for poetry or writing units that look at parts of speech.

RELATED POST: The Best Christmas Books For Kids


The Invisible String
by Patrice Karst

I adore this book so much!

It isn't a typical Valentine's book so it can really be used any time of year. It follows a mother and her children as she teaches them about the power of love and the invisible bond that we share.

It's " an Invisible String made of love. Even though you can't see it with your eyes, you can feel it deep in your heart, and know that you are always connected to the ones you love."

This book would be wonderful for Valentine's day but also great for talking to children about loss and grieving.

Dinosaur Valentine
By Liza Donnelly

This was a book my own teacher read to us when I was in the first grade. I wanted to include it because it's always nice to add some Valentine's books that the boys will enjoy too (I actually loved it so maybe your girls will too)!

This cute story follows Rex and his dog as they deliver Valentines and come across a dinosaur that needs rescuing from a dog catcher.

A Crankenstein Valentine
by Samantha Berger

How cute is this book?

The kids will absolutely LOVE this one because it will make them laugh out loud. It's oh so relatable which is why it's a fan favorite in our classroom (especially among the boys).

Who can't relate to feeling like a Crankenstein sometimes?

In this book, an ordinary boy turns full-fledged Crankenstein because he can't take any more mooshy gooshy lovey-dovey Valentine's PDA!

It would be great for discussing kids' opinions about the holiday or doing comparisons of what you like or don't like about it.


RELATED POST: The Best Easter Books For Kids


Arthur's Valentine
by Marc Brown
If you've been here before, you'll already know I'm slightly obsessed with Arthur books. You'll see an Arthur book on EVERY SINGLE BOOK List I have- like my Christmas book list or fall book list.

I grew up with these books and then the TV series and they're still so near and dear to my heart, plus they're just overall great books for kids.

This time, Arthur is trying to figure out who his secret admirer is.

Amelia Bedelia's First Valentine
by Herman Parish

If you haven't read the Amelia Bedelia series yet, you are seriously missing out. I've been following her hilarious adventures since I was a kid.

Amelia is a fun and sweet little girl who takes words VERY LITERALLY and this often ends in a big mess.

In this adventure, Amelia has her first Valentine's Day and makes cards to hands out but forgets them on the bus. She comes up with some crafty ideas to fix the problem in true Amelia Bedelia fashion.

Junie B. Jones And The Mushy Gushy Valentine
by Barbara Park

If you like Amelia Bedelia books, then you'll definitely love the Junie B. Jones series.

Junie B is such a spunky, funny and tell-it-like-it-is kindergartener who will make the reader LOL!

These were also a favorite of mine growing up and I loved sharing them with my class because they are pretty much guaranteed to spark reading joy.

This time Junie B. gets a "mushy gushy valemtine" from a secret admirer and has to figure out who.

RELATED POST: The Best Fall Books & Stories About Autumn

This is NOT a Valentine
by Carter Higgins

This is such a cute little book and also very relatable to young learners. It shows them real love and friendship is about more than glitter, heart shaped cards or sweet treats- it's about the memories and moments that we share.

It shares the importance of friendship every day. A great segway into the true meaning of friendship and what it means to be a friend.

The Paper Bag Princess
by Robert Munsch

Yes, I know, this isn't your typical Valentine's Day book. But seriously, any excuse to include Robert Munsch in my reading lists.

Why not introduce this classic Munsch book with a not so classic message!

The paper bag princess is one of my favorite Robert Munsch characters because she's such a kick-butt strong female lead who takes care of business on her own- no waiting for a prince to save her.

That's a great message any time of year. The kids just love this book so much because it's hilarious. It's one they go back to time and time again after our read aloud.
Why Do We Celebrate Valentine's Day?



The Story of St. Valentine
by The Voice of the Martyrs


If you want to teach your child or class the reason why we celebrate Valentine's day in the first place, this is a great book that lays out the story in a kid-friendly format.

It tells the story of a Roman priest, Saint Valentine, who secretly helped soldiers get married because the Roman emperor didn't allow the soldiers to marry since married men didn't make great soldiers (they were too worried about their wives and families).

This is why St. Valentine was considered the saint of love: because he risked his own life so that he could connect lovers forever.
Here's a super cute video that explains the story in a way that kids can understand and find engaging by Christian Kids TV on Youtube.


RELATED POST: The BEST Baby Board Books To Start Baby's Library



Amazon Prime Book Box

If you and your little one LOVE reading together, you might want to look into our new fav service: Amazon's new Prime Book Box.
It's like a subscription book service that sends you either 2 hardcover books or 4 board books a month for just 19.99 that's like 40% off buying them individually!
You can even customize it to the age of your little one! I love that ALL the books you get will be hardcovers.
How awesome is that?!
Plus you can try out your first month for just $16.99 and cancel if you aren't happy.

More Valentine's Day Related Posts



FREE Valentine's Day Coloring Pages PDF
Gnome Valentine's Day Coloring Pages PDF
Valentines Dinosaur Coloring Pages Printable FREE
Valentine's Day I SPY Activity Pages Printable
Valentine's Day Monsters Scavenger Hunt Game
Valentine's Day Handprint Craft for Kids
Simple and Easy Valentine's Day Crafts To Do With Preschoolers
Fun Ideas for Celebrating Baby's First Valentine's Day
Non Candy Valentine Ideas + Free Printable Cards For Kids
Create Your Own DIY Valentine's Day Cootie Cleaner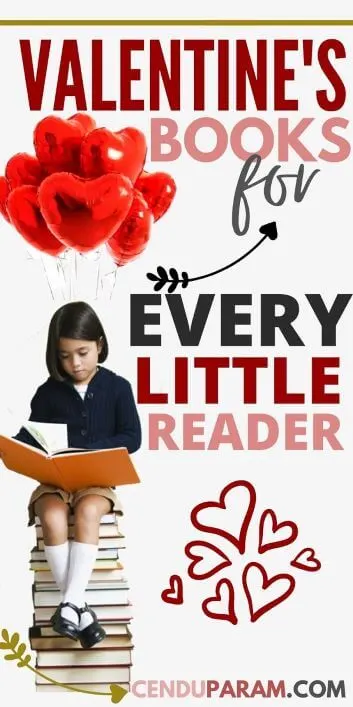 WRAPPING UP VALENTINE'S DAY SHORT STORIES AND BOOKS

I hope you found some wonderful new books to add to your collection for Valentine's Day. A book is one of my favorite things to share with kids because it really does spark the imagination.

What's your favorite Valentine's or love themed book for kids?

Did it make the list?

Leave me a comment below.

I'm always adding and updating these book lists.