Hippie Earthy Boho Baby Names For Your Flower Child
---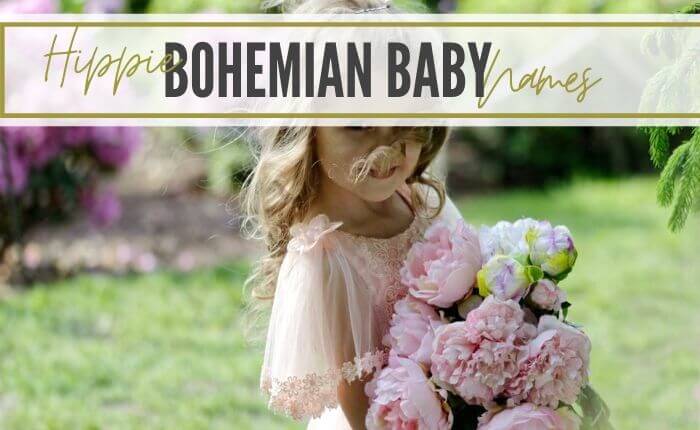 Looking for the perfect hippie bohemian baby name?

Ah baby names!

I think picking baby names is one of the most fun yet hardest parts of pregnancy!

You have to find just the right one, even then, you won't know how well it fits until you hold that little bundle in your arms.

During our baby name finding journey, I scoured the internet far and wide looking for all kinds of unique baby name inspiration. I even came across a some that said hobo girl names (I think they meant boho?)!

What really caught my attention was beautiful hippie, earthy bohemian inspired baby names for boys and girls.


These boho names are inspired by 60's era when love, peace and a connection to nature were very prominent. It was all about being a free spirit and connecting to the world around you, very groovy!

Wouldn't you say?

It's no surprise than that many of these names are plant inspired. Think organic, green, flowers and nature.

The 60's era was also huge for its artsy and musical influences so you'll also see a lot of artsy hipster names too.

If you'r looking for the perfect earthy boho name for your flower child, look no further!


Disclaimer: This post contains affiliate links which you can learn more about here

Hippy, Earthy Boho Names For Baby


Check out these beautiful and super popular boho names inspired by plants, nature and the groovy 60's era vibe.

Just perfect unique bohemian name for you little flower child!

I've broken them down by alphabet and then listed girl names followed by boy names for each category.


Bohemian Names That Start With A


For Girls

Amethyst
meaning jewel is a purple or violet gemstone
Aria
depending on it's origin, Aria has many meanings but the most common ones are: air or the melody (in Italian), treasure (Albanian) lioness (Hebrew) and noble (Persian)
Aspen
meaning shaking poplar tree, also inspires images of mountains and snow
Aster
meaning stars is often a unisex name
Aulora
meaning golden laurel blossom
Aurelia
meaning the golden one (how beautiful is that?!)
Aurora
this name comes from Greek mythology and she is the goddess of sunrise. The name Aurora means dawn. A beautiful nickname you can use is Rory!
Autumn
this one is pretty self explanatory- meaning 'fall' or the season of autumn
Avery
can mean "ruler of the elves" or it can be associated with birds (aviaries)
Azalea
meaning dry earth because this flower flourishes in dry soil

For Boys

Ace
meaning unity
Acton
a French name meaning village with oak trees
Alaric
this uncommon boy name means noble ruler and lends itself to the nickname Rick
Archer
meaning bow or "bowman'
Arlo
depending on it's origin it can mean army or little soldier or fortified hill. Perfect for the spunky boy!
Asher
this cute name means happy, fortunate or blessed
Atticus
can meaning "man of Attica"
RELATED POST: Magical, Whimisical Girl Names Inspired by Fairy Tales and Mythology
Hippie Names Starting with B

For Girls

Blossom
which means to bloom or blossom (think flowers)
Brooke
meaning "from the running stream or small stream"

For Boys

Beau
I love this classic French boy name that has a very hippie vibe and means handsome or sweetheart
Blayne
a Celtic baby name meaning slender- the alternative spelling makes it something different and unique. The regular spelling spelling Blaine means yellow
Bodhi
this Sanskrit name means awakened or enlightened
Bowie
inspired by the 60s rock legend David Bowie, this name means yellow/blonde or fair haired
Boho Names Starting with C

For Girls

Calla
named after the flower calla lily- calla means beautiful
Camellia
meaning a flowering tree
Cassia
meaning cinnamon
Celeste
meaning heavenly daughter or celestial
Chloe
meaning blooming or fertility is associated with spring and greenery
Chrys (anne)
short for the flower Chrysanthemum meaning golden flower
Citrine
named after the yellow gemstone often also referred to as a sun stone because of its color
Coco
I picked this name because it reminds me of cocoa plants and chocolate but the name actually means help
Coral
named after the beautiful corals of the sea (alternatives could be Cora)
Cori
meaning from the round hill or ravine or seething pool
Crystal
meaning clear brilliant glass or gemstone

For Baby Boys

Cane
this strong boy name means warrior
Clay
this Earthy baby boy name means maker or mortal

Conall
this unique boy name means wolf
Coyote
this uncommon boho boy name means trickster
RELATED POST: The Cutest Girl Names With Equally Cute Nicknames
Bohemian Names that Start with D

Girls

Dahlia
this name is after the "dahl" flower and has Scandinavian origins
Daisy
is a name of a flower meaning day's eye is perfect for a flower child
Daphne
after the flower of the same name meaning bay tree or laurel tree
Dawn
meaning daybreak or first light of day

For Boy Baby

Dacher
this very uncoimmon name comes from dach meaning beaver and lends itself to the super cute nickname Dash
Dean
this classic boy name means valley
Declan
this cute boy name means "full of goodness"
Dillon (Dhillon, Dylan)
this beautiful boy name means like a lion or born by the sea (depending on origin)

Drake
this sultry cool boy name means dragon
RELATED POST: Celestial Baby Names For Boys and Girls
RELATED POST: 3 LETTER BABY GIRL NAMES AND MEANINGS
RELATED POST: OLD TIMEY NAMES FOR GIRLS + MEANINGS
Hippie Child Names Starting With E

For Baby Girl

Eden
meaning place of pleasure or delight, or paradise
Elena
meaning shining light or bright one (perfect for your one and only sunshine)
Ella
meaning beautiful fairy woman (or french for she)

Evie
meaning life, living, or lively

For Boys

Emmett
meaning universal or truth
Ezekiel
this uncommon name means god will strengthen (and makes such a cute nickname- Zeke)
Ezra
this unique Hebrew name means help
♡ Want a free prenatal course + FREE Week-by-Week pregnancy Ebook? ♡
Earthy Name Ideas Starting with F

Girl Baby

Faye
depending on it's origin can be different but commonly in french it means fairy and in Gaelic means raven
Fiona
meaning vine, white or fair
Flora
named after the Roman god of flowers and Spring means flower

Freesia
named after the flower of the same name means Freese flower

Baby Boys

Felix
has Latin origins and means happy or lucky, very hippie, don't you think?
Finch
this cute and uncommon hippie boy name means "to swindle" but reminds me of the bird of the same name
Foxx
from the Gaelic word meaning "son of fox" is such a cute animal inspired boho name that's unique and remind me of this clever little trickster
Fynley
has Gaelic origins and means "fair haired courageous one". I just loved the sound of this name and it's very unique spelling- that kinda artsy boho vibe
RELATED POST: Cute Boy Names That are 4 Letters Long
Bohemiean Names Beginning with G

Girls

Gaia
comes from Greek mythology and was the name of the mother goddess. Thee name means Earth
Georgia
meaning "farmer" or worker of the Earth. Also lends itself to the adorable nickname Gigi

Boys

George
this classic baby name means "tiller of soil" or farmer- perfect for your Earthy boy
Griffin
has Latin origins and means "strong lord" but reminds me of the mythical creature with the same name
Gunthrie
this beautiful and uncommon hippie boy name has Gaelic origins and means windy place
Bohemiean Names Beginning with H

Baby Girl Names

Haven
meaning a place of safety or shelter
Hailey
meaning hays meadow
Harper
I love this traditional boy name for a girl- boy names for girls is unconventional and groovy- this one means harp player
Heather
is a beautiful flowering evergreen plant
Hedley
meaning heathery clearing
Helena
meaning bright, shining light

Holly
which comes from the holly tree and reminds me of Christmas

Baby Boy Names

Harlow
meaning a rocky hill area
Heath
this classic baby name means "the heathland dweller"

Henley
is an English name and means "high meadow"
Hunter
this cute name means one who pursues or hunts
♡ You gotta try this FREE Ultimate Breastfeeding Course before baby comes! ♡
Hippie Inspired Names Starting with I

For Girls

Inara
meaning ray of light or heaven sent
Iris
inspired by the flower with the same name means rainbow- how pretty!
Isla
meaning island
Iya
meaning violet has Greek origin

For Boys

Iggy
comes from the Roman name Egnatius which means fire
Hippie Inspired Names Starting with J

Baby Girls

Jade
I picked this one because it's a beautiful green natural stone that occurs in nature and the name means stone of the colic because it was believed placing a jade on a baby's belly would cure colic
Jasmine
named after the beautiful smelling flower and means gift from god. I've loved this name ever since I was a little kid and saw Aladdin for the first time.
Jetta
the name means stone from Gagai and refers to a shiny jet black colour stone

Juliette
such a pretty french name meaning youth or youthful

Baby Boys

Jagger
this adorable boy name screams rockstar but actually means from medieval times where a jager is a person that sells things- a peddler. It reminds me of the Indian word jaggery for sugar cane

Jasper
meaning bringer of treasures or keeper of treasures- reminds me of the gemstone of the same name
Jayden
this cute name means thankful
Jess
is such a cute name and means a riches or gift
Jonas
this cute name means dove
RELATED POSTED: Unisex, Gender Neutral Baby Names For Boys and Girls
Bohemiean Names Beginning with K

Girl Names

Kaia
meaning the sea from Hawaiian origins
Kayla
meaning laurel or crown is perfect for the boho princess and her flower crown
Kendal
meaning royal valley
Korina
meaning maiden

Boy Names

Kai
this simple yet beautiful boy name has Hawaiian origins and means the sea. Check out more strong Hawaiian baby names

Keanu
is another beautiful and popular Hawaiian baby name that means breeze

Keller
was a common surname and means winemaker or cellar
Kit
with all the GAme of Thrones mania over the past few years, I couldn't leave this one out. This short and cute name is often a nickname for Christopher and means pure or carrier of Christ
RELATED POST: +200 Cute Boy Names That Are 3 Letters Long
Bohemiean Names Beginning with L

Baby Girl Names

Lily
just like the beautiful flower. I love this simple name which means pure, passion and rebirth
Lennox
this unique and very boho sounding name means "with many elm trees" and comes from Gaelic and Scottish origins
Lola
now this one doesn't have a hippie meaning (it actually means sorrow in Spanish) but it's such a beautiful bohemeian sounding name so I had to include it
Luna
I love this name so much! Super cute and means moon

Baby Boy Names

Lennon
this cute boy name means lover or little black bird
Leo(pold)
this classic baby name is perfect for a playful little cub because the name means lion

Levi
is such a cute boho sounding name and means joining or attached
Logan
this name sounds very artsy and cool. It means small hallow
RELATED POST: Unique Boy Names Meaning Strength and Bravery For Your Little Warrior
Hippie Names Starting with M

For Girls

Maya
another beautiful name with different meanings depending on origin but the most common are: water (Spanish, Greek, Hebew), illusion (Sanskrit)
Marigold
like the colorful flower, this name means golden flower
Meena
this beautiful Sanskrit names is associated with fish and the sea
Monet
this has that sort of fancy artsy boho vibe and means to be heard

For Boys

Maddox
this cute boy name means lover or little black bird
Maverick
this unconventional baby name has hippie vibes all over it. It means someone who is independent or "nonconformist"

Max
I love this short cute name that means "greatest"
Miles
this short and sweet name can mean merciful or soldier
♡ Prepping for labor? Check out this FREE Prenatal Course ♡
Earthy Hippie Names Beginning with N

Girls

Nala
this lovely name (because I love the lion king and thought I would be naming my child that when I grew up LOL) has different meanings depending on origin but the most common is "first drink of water" or water in the desert and in Swahili it means gift
Nila
this one is popular in my culture and means sky
Nina
this one means gracious or full of grace
Nova
this one refers to stars and reminds me of an infinite universe

Boys

Nate
this cute boy name is often a nickname for Nathaniel and means gift of god
Nero
this unconventional baby name means strong and energetic

Noah
I love this classic baby boy name that means restful or repose
Nolan
this adorable name means chariot-fighter champion, crier or howler depending on which origin you look at
60's Era Names Starting with O

Girl Names

Oceane
this pretty French name means just that, ocean

Olivia
this gorgeous name comes from the Latin meaning "olive tree"

Oriana
another Latin origin name that means sunrise or dawn
Ostara
this lovely name means spring or dawn

Boy Names

Oakley
this cute boy name means Oak or meadow
Oliver
this is the male version of Oliva meaning olive tree and you can use the adorable nickname Ollie

Orson
this adorable hippie boy name means bear cub
Oscar
this classic baby name means god spear, deer lover or champion warrior depending on which origin you look at
RELATED POST: Experienced Mom Shares How She Gets FREE Baby Products with this Trick!
Hippie Names Starting With P

Girl Names


Phoebe
because I'm a crazy friends fan i had to include the ultimate hippie boho chic-this one which means bright one

Phoenix
this is a beautiful unisex name and reminds me of the beautiful and strong bird that rises from the ashes. this name actually means dark red
Piper
this popular boho name means one who plays the pipe
Pippa
this cute name means lover of horses
Poppy
this pretty name means red flower

For Boys

Parker
this old English name means park keeper
Patson
this unique boy name is a derivative of Patrick and can mean head or skull
Presley
this uncommon name is a tribute to the King of Rock and means priest's meadow

Preston
this adorable boho sounding boy name means "priest's village"
Uncommon Hippie Inspired Names Starting with Q

Girls


Quinn
this pretty and uncommon name means wisdom or intelligence


Boys

Quentin
this boy names sounds very hipster and means "the fifth"


Unique Bohemian Names Starting with R

For Girls


Rae
this sweet name reminds me of a ray of sunshine and means female sheep in Hebrew
River
this uncommon name means "riverbank" and sounds very hippie
Rosalie
this traditional yet beautiful name means rose
Ruby
this cute name means deep red precious stone
Ryleigh
I love this unique spelling which gives the name a real boho vibe and the name itself means courageous

For Boys


Reign
this is a unisex name but I really like it for a boy and it means to rule as king or queen. It has very boho vibes since it sounds like rain
Ronan
this unique and cute boy name has Irish origins and means "little seal"

Rex
this ultra cute boy name reminds me of a dino but actually means king

Rowan
this is such an earthy boy name because its named after a tree with red berries and means little redhead
RELATED POST
Adorable Boy Names With Equally Cute Nicknames

Old Fashioned Classic Boy Names
Bohemian Names Starting With S

For Girls


Savanah
this is such a pretty girl name and means a treeless plain
Selena
this sweet name means moon goddess
Serena
this pretty feminine and boho name means calm, peaceful and serene
Shay
I love this pretty name (which reminds me of my hubby) and means admirable
Sierra
can mean "saw" and is used to describe mountains
Spencer
another boy name that makes a great unconventional name for a girl and means steward
Stella
this beautiful and classic girl name means star
Sutton
this is also a unisex name but I love it for a girl. It has that very unique and uncommon vibe and means one who is from the southern homestead
Sykler
this cute name is for the unstoppable one and means little warrior, and lends itself to the cute nickname Skye as well

For Boys


Sawyer
this uncommon boy name means "woodcutter"
Silas
this ultra cute boy name has Greek origins and means forest or woods
Shepherd
although traditionally a surname, this cute boho name is becoming a popular first name and means one who herds sheep
Stefan
this classic boy name means crown or garland- very hippie and reminds me of a flower crown
RELATED POST: Boy's First and Middle Names That Sound Perfect Together
Groovy Baby Names that Start with T

For Baby Girls


Tempest
this name is perfect for a fiery little lady and means stormy
Tianna
I love this pretty name which means fairy queen, how boho!
Tia
this sweet name has all the boho vibes and means goddess or godly
Tula
if you like something short and sweet, this adorable name means mountain peak

For Baby Boys

Tag
here's another throwback to Friends (remember Rachel's boyfriend/assistant) this short cute name means handsome
Tanner
I had to include this because I'm a Full House fan and it just sounds so boho and cute. This name means one who works with leather

Taten
this cute and unusual boy name means "cheerful"
Teagan
this cute name means "little poet"- how hippie is that?
Thatcher
this name comes from an old English occupation and means "one who covers the roof in straw"
Thor
this ultra cute boy name comes from Norse legends of the god of thunder
Twain
this cute name is perfect for the artsy hipster vibe and means divided in two
Hippie Baby Names Starting With U

For Baby Girls



Uma
this name has Indian origins and means tranquility or night
Ursula
another friends themed name (can you tell I'm obsessed) this one means little she-bear, how cute?!!

For Boys


Usher
this one has an artsy feel to me because it reminds me of the singer but it actually means a gatekeeper

Uri
this cute and unusual boy name means "my flame" or "my light"
Hippie Names Starting With V

Girl Names


Vienna
this pretty name has different meanings depending on its origin. It can mean white, fair or forest stream
Violet
just like the shade, this name means purple and reminds me of the flower of the same name
Vina
this simple pretty name means beloved or friend- tres hippie chic
Vivianne
this pretty French name means alive

For Baby Boys


Valentino
this Latin name means one who is healthy and strong but reminds me of love and valentine
Vaughn
this cute boho sounding name means "small"
Vinny
this adorable boy name means "winning" or "conquering"

Boho Baby Names That Start With W

For Girl Babies

Willow
this name reminds me of trees (willow trees) but actually means slender or graceful
Winnie
this cute name mean fair one
Wynter
I like this alternate spelling for the coldest, snowy season of the year

For Boy Babies


Wesley
this ultra cute and Earthy boy name means west facing wood, clearing or meadow- you can use the sweet nickname Wes
Wilford
this cute boho sounding name means "one who desires peace"- very hippie indeed- and you can use the cute nickname Will or Willie
Wolfe
this uncommon Native American name is gaining popularity with boho parents and means wolf
Wren
this adorable boy name means 'little chief'

Hippie Inspired Baby Names Starting with Z

For Girls

Zara
this lovely name means seed, star or flower depending which origin you're looking at and it can also be spelled Zhara
Zelda
this cute Yiddish name means blessed
Zina
this name can mean shining, beautiful and strong or sun flower

For Boys

Zander
this cute boy name means to defend but is usually spelled with an X
Zane
this very hipster name means god is gracious (had to include it because of the beautiful voice that is Zane Malik)
Zac
this cute boho sounding name (usually the nickname of Zachary) means god has remembered but has such a cool vibe
Zephyr
this uncommon boy name with its unique spelling means "west wind"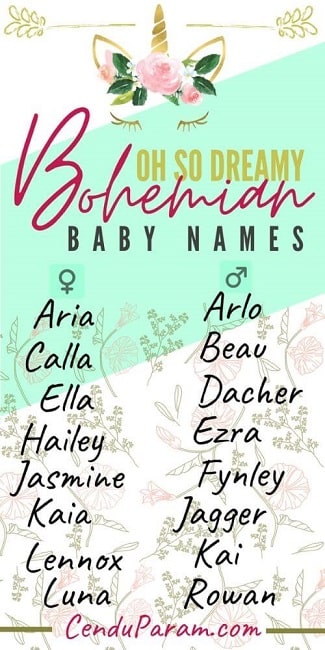 The Perfect Bohemian Earthy Baby Names For Crunchy Moms
Well crunchy mama, I hope you found some beautiful bohemian, hippie inspired baby names for your precious bundle of joy. I love these Earthy, nature and artistic inspired names for the creative in us. What was your favorite one? Or do you have a favorite that wasn't on the list? Let me know below.