Candy Free (Non Candy) Valentine's For Kids

It's almost LOVE day! I loved Valentine's Day as a kid (way more so than as an adult). It was always so exciting to make your own handmade candy-free Valentine's Day cards or gifts and stealthy deliver them to your best friend's make-shift paper bag mailbox.

These days parents and teachers are even more health-conscious and many schools don't even allow candy or chocolates to be distributed at all.

So, as a teacher, I started looking for Valentine's ideas that aren't candy that I could share in the classroom.

I've done my homework so you don't have to! I've got the ultimate list of noncandy Valentine gift ideas that are so awesome you won't even miss the sugar.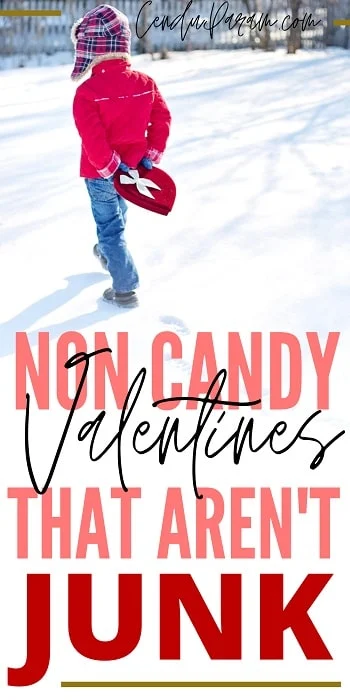 Disclaimer: as an Amazon Associate I earn from qualifying purchases. This comes at no extra cost to you.
NON Candy Valentine Gifts For The Classroom


I thought we would break down our gift ideas into two sections.

The first part are awesome Valentine's Gifts that your kids can hand out in their class. These no candy gift ideas are perfect for school because many of them are for classroom use so they're actually something useful.

The second section, we'll look at some sugar-free Valentine gifts that parents can give their children (that aren't junk).


Pencils, Crayons, Highlighters & Markers

Pencils, crayons or markers or gel pens would make a wonderful non candy Valentine's Day gift to hand out in class. These are things that students use in the classroom anyway so it's a great practical gift.

You can make them a little more fun and exciting by adding a mini Valentine's Day word search card or a pun-ny Valentine's card. You're in luck because I made a few just for YOU! (It'll be right at the bottom to download).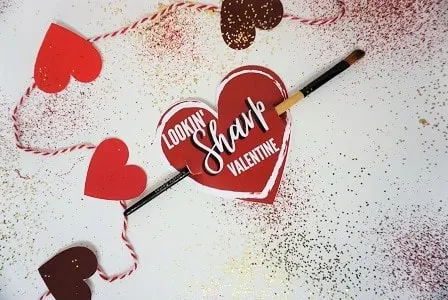 Valentine's Themed Pencils + Eraser
This kit includes 24 super cute Valentine's themed pencils in assorted colors and designs with a bonus eraser on top! SCORE!
Or you can go with some crayons or markers instead. You don't have to give a child an entire pack, just take out one per kid and attach it to your card.
Crayola Crayons 24s- PACK OF 2
You could also opt for the mini packs of crayons. These come pre-packaged with 4 crayons per box and come as a kit of 24 boxes. Perfect for party favors too!
Crayola 4 Pack Crayons- 24 Boxes

The other thing that the kids are ALWAYS obsessed with are gel pens! When I hand out gel pens as gifts I've always got smiles. This is another no candy Valentine Gift you can buy in bulk and just hand out 1 per child.
Assorted Colors 60 Pack Gel Pens


Here are some great puns and sayings to use with a pencil, pen, or crayon Valentine gift:


♥ Valentine, you're all write

♥ Valentine, we click (for lead pencils)

♥ Valentine, you are just write

♥ You're so sharp, Valentine!

♥ You're the write Valentine for me

♥ Valentine, you've got the write stuff

♥ Lookin' Sharp, Valentine

♥ Color me happy, Valentine

♥ Valentine, you're the highlight of my day

♥ You're stu-pen-dous, Valentine!

♥ Valentine, we really gel!



Erasers

Another useful and practical Valentine's Day gift instead of candy are erasers. There's a ton of colorful, cute Valentines themed erasers you can grab in bulk. It's something they'll use often and it's inexpensive. WIN-WIN. Here's a few cute ones! I loved those scented ones as a kid. Anybody else?!
Heart Shaped Smiley Valentine Erasers Assorted Colors
Snack Attack Scented Erasers With Case

Here's some cute puns and Valentine's pharses to jazz up your eraser:
♥ You can never be erased, Valentine

♥ Valentine, nobody can erase our great memories

♥ Valentine, you're rubbing off on me

♥ Valentine, nobody can erase this friendship

♥ Make no mistake, you're awesome Valentine

♥ You're erase-istable!

Bookmarks

Bookmarks are another great non sugar Valentine that's perfect for the classroom. You can easily diy them if you want a personal touch like a student's name or you can shop some valentines themed bookmarks.

Either way, kids will love this practical Valentine's day gift.
I LOVE these Magnetic Valentine's Day Book Marks because you'll never lose a bookmark again. It folds in half and connects to the page.

How GENIUS!

These are a bonus one that includes cards as well: Magnetic Valentines Day Bookmarks + Cards

I found one more version that doubles as a Valentine's Bookmark and Ruler. Which one is your FAV?

Now for our pun-ny Valentine's slogans for bookmarks:
♥ You're #1 in my books, Valentine

♥ I'm booking you to be my Valentine

♥ I don't have to hit the books to know you're awesome, Valentine

♥ Valentine, I'm checking you out

♥ Valentine, lets book it outta here

♥ In my book, you're the happy ending, Valentine



Rulers

Next on our no candy Valentine gift ideas are rulers. Rulers are another handy tool to have in a kids classroom tool belt. You may not find Valentine's themed rulers but you can always add an appropriate Valentines pun and you're done.

These were the closest I found to Valentine's Color Rulers and they have cut out shapes and designs that can be traced as well.

Another cute idea I came across were slap bracelet rulers. Who doesn't love a good 2 in 1 gift that you won't lose. Or you could opt for the ruler/bookmark I mentioned before.


Some super cute ruler puns to finish your gift:
♥ Valentine, you RULE!

♥ Valentine, I love you this much

♥ You rule my heart, Valentine

♥ Valentine, let's break all the rules

♥ Let's get it straight, you're awesome, Valentine!

♥ Nobody measures up to you, Valentine



Stickers and Tattoos

Was anybody else OBSESSED with stickers as a kid? I was that dorky kid who collected stickers and tattoos. I didn't even use them! Just collected it. I think kids still love them and they're fun and easy since you can make them whatever theme you want.

Is there a favorite TV show or character (BABY YODA, ANYONE?) your little one is obsessed with these days?

You could get matching cards + stickers and you're done, or stick to Valentine's themed stickers and make your own cards.

I thought this Food Themed Valentine's Day Card + Tattoos were so so cute! The cards are the scratch and sniff type and smell so DELICIOUS! Plus you get adorable tattoos to add as well. This one is a win in my books.

Here's an animal themed one with really cute designs that include stickers- Classroom Exchange Animal Print Card + Stickers

Or you can opt to just buy some valentine's themed stickers like a roll of red hearts, foam hearts , or this assorted Valentine's roll and add them to your own DIY pun-ny Valentines.

Now, let's add some very pun-ny sticker jokes!


♥ Valentine, I'm stuck on you

♥ Valentine, we gotta stick together

♥ I'm sticking with you, Valentine

♥ Stick with me, Valentine

♥ You're stuck with me, Valentine

Mini Hand Sanitizes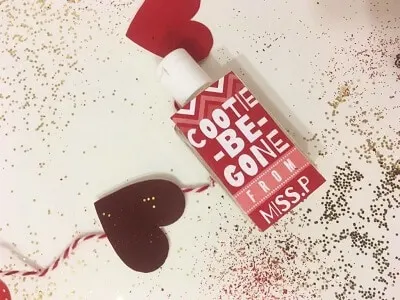 Here's another Valentine's gift for kids that won't give you cavities. One year, I made my own labels and glued them to mini hand sanitizer bottles and handed those out as my Valentine's Day treat for the classroom.

Surprisingly, they were a hit! We know that germs run rampant in the classroom so I think this is an awesome treat to keep everybody happy and healthy.

I labeled them Valentine's Cootie-Be-Gone which the kids found HILARIOUS!

These Purell mini hand sanitizers are really well priced but these ones from Bath and Body Works are so cute! Take your pick!


If you would like to download a free Cootie Cleaner Hand Sanitizer Label Template, just click the link and I'll walk you through how to make them.

This one was hard to think of puns for!


♥ Valentine, nobody can wash away our friendship

♥ Valentine, I'll give you a hand any day

♥ Hands down, you're the best Valentine

♥ I'm coming clean, you're the best Valentine

♥ Hands down, you're my favorite Valentine
RELATED VALENTINE'S DAY POSTS
Easy Peasy Valentine's Day Crafts For Kids
Fun Ways To Celebrate Baby's First Valentine's Day
Candy Free Valentines Gifts For Kids

Now, lets switch gears and look at some Valentine's gifts you can give your kids that won't rot their teeth. I'm sure they got their fill over Christmas and you aren't looking to add more sugar for Valentine's day.

These are some fun Valentine's gifts that are so sweet without the sugar!

I love gifts that are fun but practical too, meaning things that will get plenty of use, so that's what I tried to roundup.

I really dislike the wastefulness that many of these holidays bring with one time use gifts that'll get tossed aside in a day or two. Let's face it, that's not great for the environment or our wallets.
Books

Books will always be a favorite gift of mine to give children. I always buy new holiday books to add to the classroom and at home. They spark the imagination and engage the mind. What's not to love? Books are a great alternative to candy on Valentine's Day for kids.

Here are a few of my favorite Valentine's themed books, click the link to check out my full list!


LOVE From The Very Hungry Caterpillar
by Eric Carle

I love anything by Eric Carle, especially for my younger learners (toddlers, preschoolers and kindergarten). If you have a little fan of the Very Hungry Caterpillar, they'll love this love-themed version.
I'll Love You Till The Cows Come Home
by Kathryn Cristaldi



This is just the cutest book ever and would make a wonderful Valentine's Day gift for kids. It's sweet and funny and talks about just how much we love our kids with crazy examples like:
I will love you till the cows come home from a trip to Mars through skies unknown, in a rocket ship made of glass and stone… I will love you till the cows come home.



A Crankenstein Valentine
by Samantha Berger


This book was always a favorite in the classroom for the older kiddos for Valentine's Day. They love it because it's super funny and relatable- sometimes all the lovey-dovey can be a bit much and turn you into a Crankenstein!

Arthur's Valentine
by Marc Brown


I LOVE Arthur books! I've loved them since I was a kid and now I love sharing them with my class and my toddler too.

It was one of those series that really sparked my love of reading and I keep going back because their stories are simple, fun, and relatable.

I still find that kids love Arthur and the gang.

What I Love About You– Personalized Book


This is a super cute idea! It lets you write out each special reason why you love your child. Check out the video below to see it in action!


Pajamas

You can't go wrong with a new set of Valentine's Day themed pajamas. They look super cute and it's something the kids can continue to use even after Valentine's day has come and gone. Winning! Here's a few cute ones I came across.


Button Down Front Pajamas 2 Piece Set


Journals

Another awesome no candy Valentine's gift for kids is a journal or diary. A special place for them to jot down all their feelings and ideas. It makes a great keepsake to look back on as well while letting them practice their writing skills (whoops, is my teacher side showing? LOL)
This One Question a Day for Kids: A Three-Year Journal is a great idea and makes journaling simple with just one question a day writing prompts. Your child is essentially making their own memory time capsule

Another great idea for kids is practicing gratitude.

You're never too young to be thankful.

This 3 Minute Gratitude Journal teaches children gratitude and mindfulness by allowing them to practice these daily.

Or you can opt for blank journals or diaries that leave all the writing to the kids. For boys, you'll probably want this Diary of a Wimpy Kid Journal-not a diary!

Your little girl likely has super important can't-get-out-or-It'll-ruin-me type secrets so she'll probably want a diary with a lock.
VALENTINE'S DAY ACTIVITY PACK
Why not put together a fun and entertaining gift with this awesome value-packed Valentine's Day worksheets and activities bundle!
I've created a bundle of beautiful printables and activities to keep kids busy and entertained for Valentine's Day (without all the sugar).

This value-packed bundle is bursting with over 40 pages of fun Valentine's Day-themed worksheets and printable activities featuring beautiful, vibrant colors and images!
You'll find everything from scavenger hunt clues for around the house, to a fun Valentine's Day Emoji Pictionary Game and everything in between (like the classic word search, crossword, coloring pages, and more).
I'm the go-big or go-home type. So, when I offer a product, I want my people to feel like I over-delivered!
They should feel like they just got a steal!
Know what I mean?
This bundle is currently on SALE! So click the image below or the check price button and see what's in store!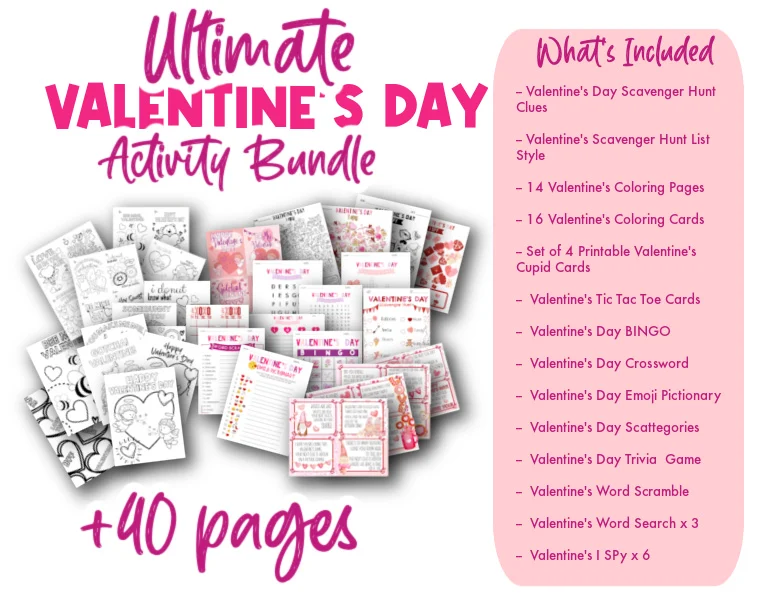 Make Memories With Fun Things To Do With Your Kids For Valentine's Day


Gifts are great and everything but what the kids want most is your time. Why not opt for a simple gift like one of the one's listed above and plan a love filled day of fun instead.

If you have a younger child (baby or toddler) you should read this post on how to celebrate baby's first Valentine's Day.

Here's a bunch of fun activities to do with your older child for Valentine's Day.


♥ Bake Valentine's Day Cookies together ( don't forget your heart shaped cookie cutters and maybe a new apron– great gift!)

♥ Plan a Valentine's Day Scavenger Hunt

♥ Make your own Valentine's Day cards to hand out to family and friends

♥ Make a Valentine's Day Craft together

♥ Make and hang Valentine's Day decorations around the house

♥ Day of Love- everyone gets to pick something they love to do and the whole family participates in sharing the love

♥ Watch a classic Valentine's Day movie together (like Be My Valentine, Charlie Brown)

♥ Have a Valentine's Day tea party ( got you're tea set?)

♥ Spread some love and perform a random act of kindness together

♥ Plant flowers (or a herb garden) together – don't forget their gardening kit

♥ Discover your inner cupid with a day of archery tag for the whole family

Valentine's Day Crafts and Activities for Kids
If you're looking for more fun Valentine's Day games, printables, and activities for kids be sure to check out some of the posts below!
Valentine's Day Coloring Pages PDF FREE Printables
Valentine's Gnomes Coloring Sheets FREE Printables
Cute Valentines Dinosaur Coloring Sheets FREE Printables
FREE Valentine's Day I SPY Printable Game
Sweetest Valentine's Day Books For Kids
Valentine's Day Cootie Cleaner Craft For Kids
Valentine's Day Monsters Scavenger Hunt
Valentine's Day Handprint & Footprint Craft For Toddlers
Easy Valentine's Day Toddler Crafts and Activities
Cute Ideas For Baby's First Valentine's Day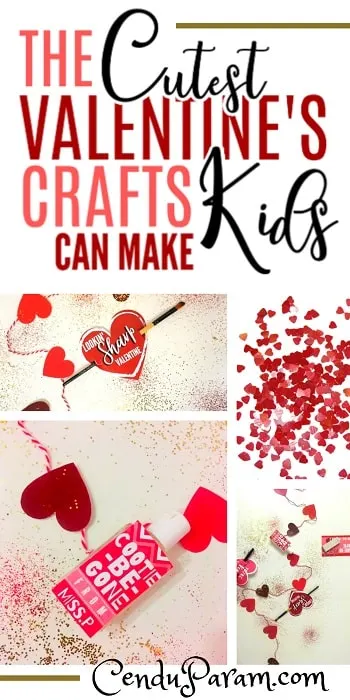 No Candy Valentine's Day With Kids

I hope you found some ideas for your noncandy Valentine's day for the classroom or for your child. There are tons of great options that are teeth-friendly and kid approved! Which one was your favorite? Do you have some great non candy Valentine's ideas for kids to hand out in class or at home? I would love to keep adding to the list. Leave me a comment below! If you would like to download any of the cards/images you saw above, just click the links listed below.


You're Stu-pen-dous Valentine Cards