Valentine's Day I SPY Worksheet
Looking for some fun and free Valentine's day activities to keep your kids entertained?


Try this Valentine's Day I SPY printable pdf absolutely FREE!

It's a simple and fun activity that will keep little ones busy working on early math skills and fine motor skills like coloring. Your little one will have tons of fun trying to count and color all the different Valentine's day themed icons like hearts, bouquets, love letters, Valentine's day cards, teddy bears, and more!

It's the perfect Valentine's day activity to do at home or in the classroom. So ditch the screens and try this fun and free Valentine's Day I SPY game for kids. You can even hand them out as an alternative to Valentine's day cards. Who doesn't love some fun and games?


Disclaimer: As an Amazon Associate I earn from qualifying purchases but this comes at no additional cost to you.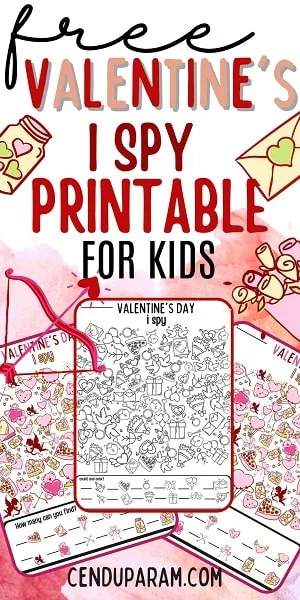 BENEFITS OF I SPY VALENTINE'S DAY GAME FOR KIDS

First, let's look at some of the great learning that happens when kids engage in these types of games. There are plenty of skills they learn to use and hone with these types of activities:


Visual Discrimination

I SPY games help children to pay attention to details in images and discern and discriminate between them similar shapes, letters, and numbers (depending on the particular I spy printable).

Image how difficult it is for our little learners to differentiate between similar letters like p, b, d, and q. These types of activities help hone the ability to differentiate between similar-looking shapes, colors, numbers, and images which is a skill they'll need for early math and literacy.

Memory

I SPY activity sheets are also a great way to strengthen children's working memory. Memory is one of those things that gets better and better with practice which is why I love using these in my classroom.

They have to use their working memory skills to match each item in the list. It requires mentally keeping that list in mind while you search.


Fine Motor Skills
For our younger learners, this activity is also great for working on their fine motor skills by practicing how to grip and manipulate their pencils, crayons, and other writing tools. They'll be able to circle and color to help practice their fine motor skills.

Numeracy and Counting



The task at hand is to count and record how many of each item they can find so it's the perfect opportunity to practice their counting and numeracy skills.

In the classroom, once we've had a chance to work through the activity, we come together to share and compare our results. How many did everyone find? Which item had the most? Which item had the least?

It's an easy activity to build on. If you want to read more about the benefits of these kinds of activities check out this article by Scolastics.

MATERIALS FOR VALENTINE'S DAY I SPY PRINTABLE

Now, let's just run through everything you're going to need for your Valentine's Day I SPY printable and how to get the best results.

Prepping for this activity is pretty minimal, all you really need to do is print it out and hand it over along with some crayons, markers, pencils or pencil crayons. To add a little more fun, you can provide a magnifying glass too (my kids love that).

The black and white copy is meant to be a count and color worksheet so make sure you've got some pencils as well as markers or crayons around.

The color version is more for counting and recording.

Personally, I love to laminate mine and print them on cardstock paper instead of regular printing paper because we reuse them all the time in the classroom.

It makes it easy to complete the activity with whiteboard markers and simply wipe clean.
If you're in the market for a laminator, be sure to check out the Crenova A4 Laminator. It's inexpensive and works wonders!



FREE PRINTABLE VALENTINE'S DAY I SPY BLACK AND WHITE




The first Valentine's day I SPY printable PDF is a black and white version filled with all kinds of Valentine's themed items to find like bouquets of flowers, boxes of chocolate, love birds, cupid's arrows, Valentine's day cards and more!

Have your little one count and color all the different Valentine's day items they can find.

Simply click the pink download button below the image and enjoy!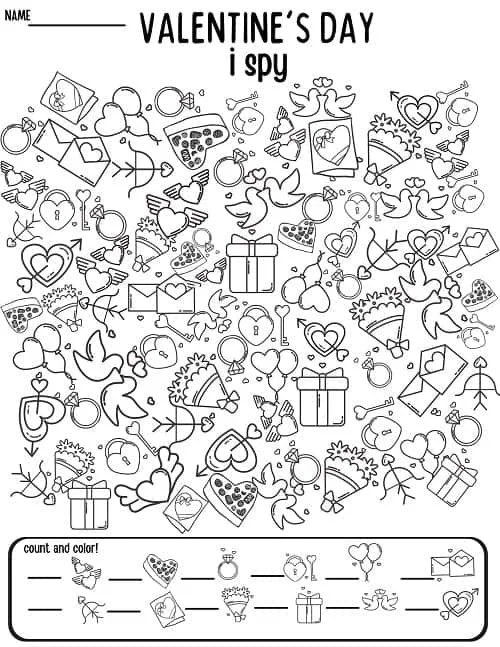 VALENTINE'S DAY I SPY COUNTING WORKSHEET


This color copy Valentine's Day I Spy is a counting worksheet so simply print it out and have your little one whip out their magnifying glass to circle, count, and record all the different Valentine's day items.

Since this one requires just a pencil or marker, it's a great on-the-go activity when you're out and about and need to keep the kids busy.

This is why I love laminating mine. I keep a few different copies available to hand out to my kiddos who finish their other work early and need something to keep busy.

You can even keep a few copies in the car for long road trips (or even short ones).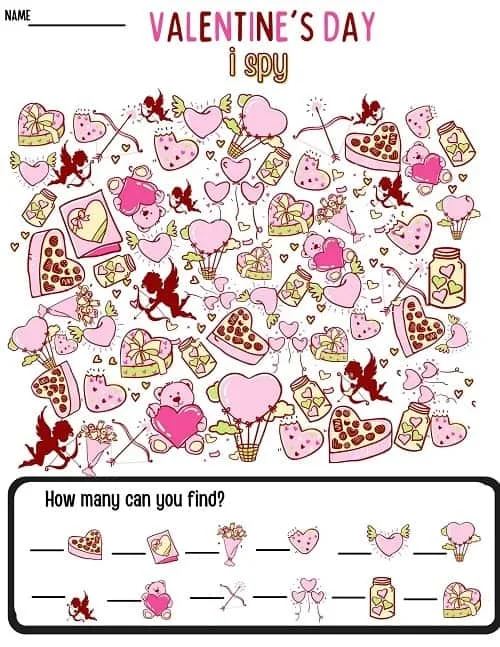 VALENTINE'S DAY WORKSHEETS + PRINTABLE ACTIVITIES BUNDLE
Before you go, I wanted to give you a special offer for landing on this page!
I've created a bundle of beautiful printables and activities to keep kids busy and entertained.

This value-packed bundle has over 40 pages of fun Valentine's Day-themed worksheets and printable activities featuring beautiful, vibrant colors and images!
I'm the go-big or go-home type. So, when I offer a product, I want my people to feel like I over-delivered!
They should feel like they just got a steal!

Know what I mean?
This bundle is currently on SALE! So click the image below or the check price button and see what's in store!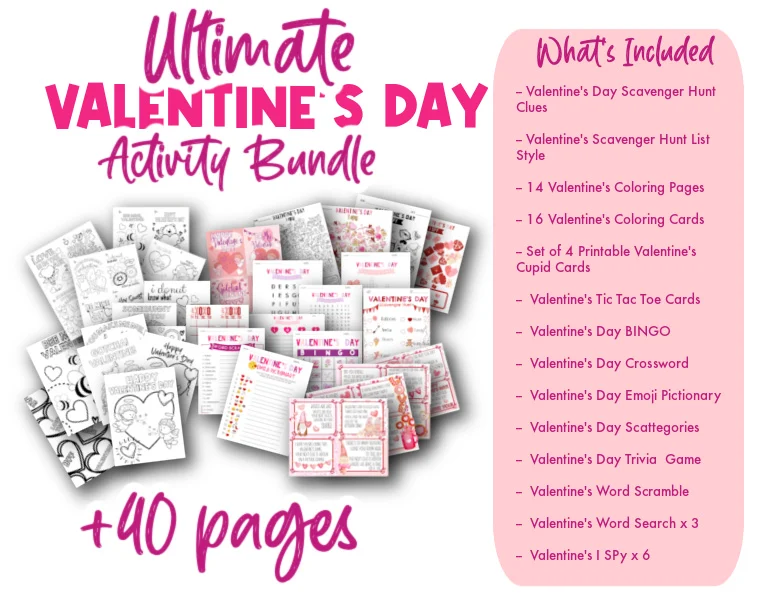 MORE VALENTINE'S DAY PRINTABLES + ACTIVITIES



FREE Printable Valentine's Day Coloring Pages PDF
Valentine's Day Gnomes Coloring Pages FREE Printables
Adorable Valentine's Dinosaur Coloring Pages FREE Printable
Things To Do With Baby For Valentine's Day
Simple Easy Valentine's Day Crafts + Activities for Toddlers
FREE Printable Valentine's For Kids + Non Candy Valentine Ideas
The BEST Valentine's Day Story Books For Kids
Easy DIY Valentine's Day Gift Cootie Cleaner Craft
Easy Peasy Valentine's Day Handprint Craft For Kids
Valentine's Monsters Scavenger Hunt For Kids
WRAPPING UP CUTE VALENTINE'S DAY I SPY PRINTABLES


I truly hope you and your child enjoy these fun and free V-Day I SPY printables. It's the perfect way to spend Valentine's day at home with the kids. It'll give them something fun and educational to do while giving you a much needed break.

If you're looking for more ideas or more free Valentine's day printables make sure to visit some of the blog posts listed above.

Have yourself a love filled Valentine's Day!

If you've enjoyed this printable or have some suggestions for some more Valentine's day printables, make sure to leave me a comment below 🙂