Valentine's Day Handprint and Footprint Art For Kids
Are you looking for some fun and easy Valentine's Day crafts to make with young kids? Have fun creating sweet and memorable keepsake art with these easy Valentine's Day handprint and footprint crafts.
They're perfect to gift to grandparents, family, and friends or simply frame and hang up as your little one's first artistic creations for everyone to admire.
It's a fun sensory activity for little ones, you can even do these with babies (although it's usually easier to get a good print when they're sleeping).
It's absolutely perfect for entertaining toddlers, preschoolers, kindergarteners, and early elementary kiddos.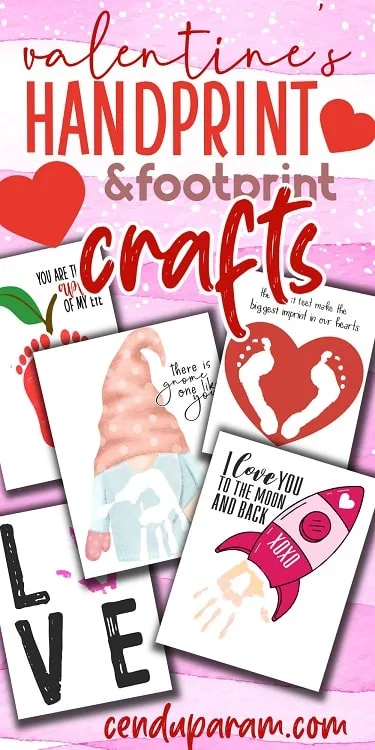 This post contains affiliate links, so we may earn a small commission when you make a purchase through links on our site at no additional cost to you. You can read more about it on the disclosure and disclaimer page.
What Do You Need?
I have a Valentine's Day Handprint + Footprint Templates Bundle to make it super easy to recreate these crafts without much effort.
If you're a little bit artsy, you can probably draw a similar template yourself but if not I would suggest grabbing mine and printing out the ones you like.
You just need your standard 8.5 x 11-inch paper to print them on, although I really prefer cardstock paper for painting crafts because it's thicker and sturdy.
If you don't have any, just use your regular paper and make sure to let it dry completely (away from little hands) before you frame it or hang it up.
Other than that, you'll just need some washable non-toxic paint and either a paintbrush to coat their small hands or pour some paint onto a paper plate and let them get messy.

1. Love Handprint Craft
Our first Valentine's day handprint craft is a simple classic.
It simply spells out LOVE in bold block letters, leaving a space for the 'O' where you can either have your little one place a handprint or a footprint in whatever color you like.
This is such a cute one that makes a perfect gift for doting grandparents. If you want to make it extra special, put it in a frame so they can hang it up proudly.
You might even be able to find some inexpensive ones at the local dollar store.

2. Cursive Love Handprint
This second one is just another take on the first, this time we're using a cursive font to spell out love for a fancier look. You could print out both and use a handprint for one and a footprint for the other to create a cute matching set.

3. Love Footprint Craft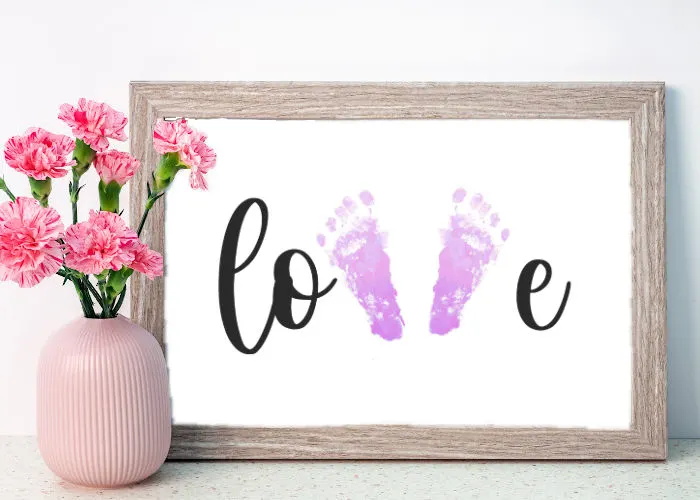 In this variation of the LOVE art print, your little one will use their footprints in a V shape for the V.
Who doesn't love teeny tiny little feet?
This one is super cute and looks pretty nice too. You can add it to your little one's room as a reminder of just how small those feet once were.
4. To The Moon and Back Handprint Craft Valentine's Day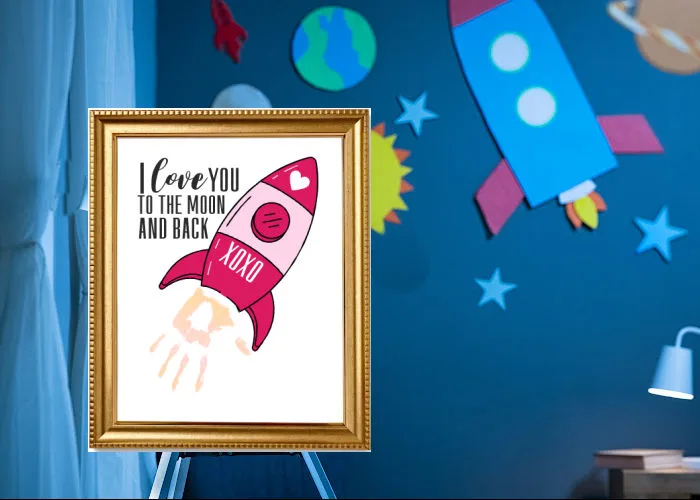 This fun Valentine's day handprint art is perfect for your space lover! It features a cute space rocket where they'll put their handprint as the fire exhaust behind the rocket.
I love the cute phrase, " I love you to the moon and back' on this one.
We did a pink handprint just to keep with the color scheme but feel free to let your little one explore whatever colors they may like.

5. Apple Of My Eye Valentine's Day Handprint Art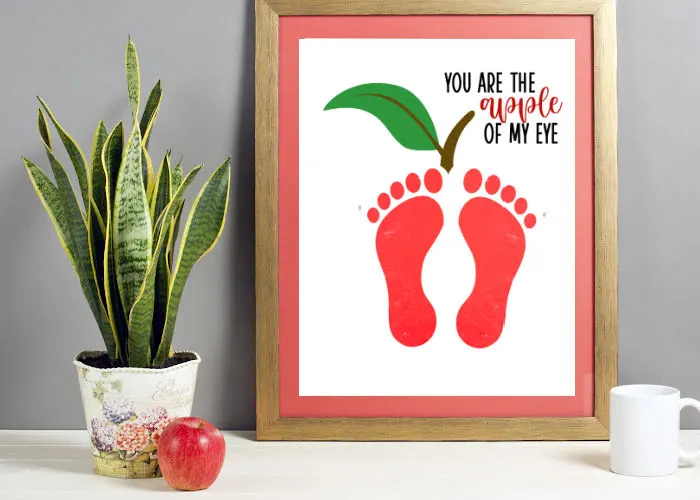 This adorable Valentine's day footprint craft uses tiny kiddie feet to recreate an apple.
How cute! Look at those little toes!
This one reads you are the apple of my eye. This craft could totally be done during the fall season as well and you could use different colors and make a bunch of different fall-themed apples.

6. Bee Mine Valentine's Day Craft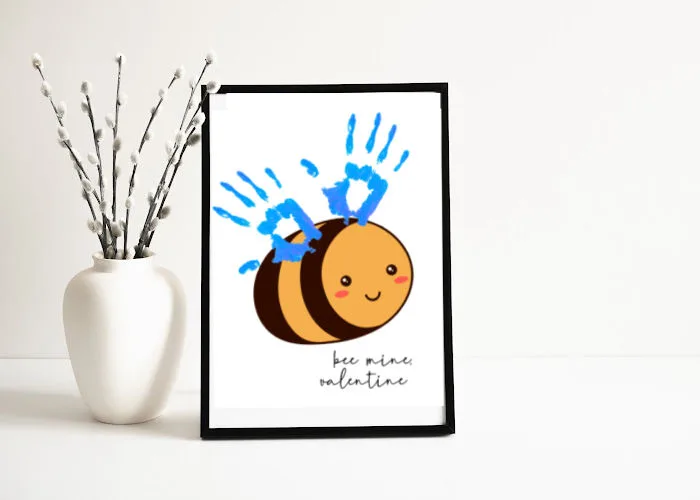 This cute honey bee handprint craft is so cute! You could probably use little feet for the wings as well (as long as they're pretty tiny feet).
Give your bee any color wings you like! I think adding some iridescent glitter on top could really make them stand out like real wings.
This cute craft has the sweet saying, bee mine valentine.
Your little one will be so proud of their work and will love sharing them with family and friends.
Make it a yearly tradition!

7. Owl Always Love You Handprint Craft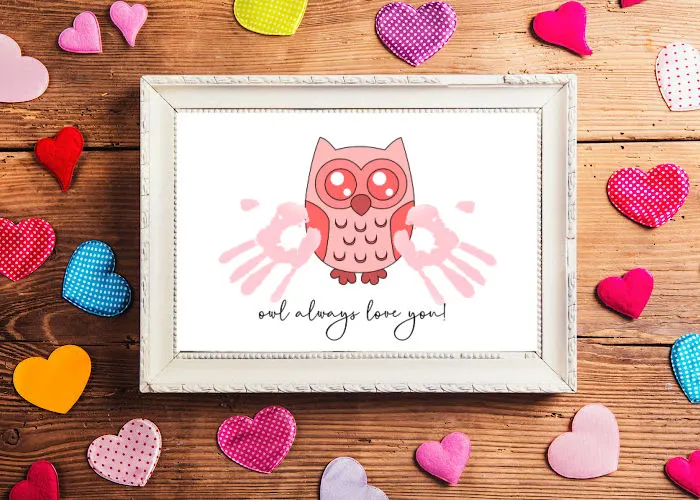 This owl handprint craft is another super sweet choice. It reads 'owl always love you!'
As perfect as this owl is for Valentine's day, this would also make a perfect craft for Mother's Day, Father's Day, or Grandparents' Day since it doesn't specifically mention Valentine's Day on this one.
You could even put this cute craft in a frame and give it as a sweet birthday gift to anybody who's obsessed with the owner of those sweet little hands (like aunts, uncles, cousins, teachers, family, and friends).
I love a product that has multiple uses, don't you?!
This is another craft that you could probably use handprints or footprints with and either could pass for owl wings.

8. Footprints in Heart Valentine's Day Craft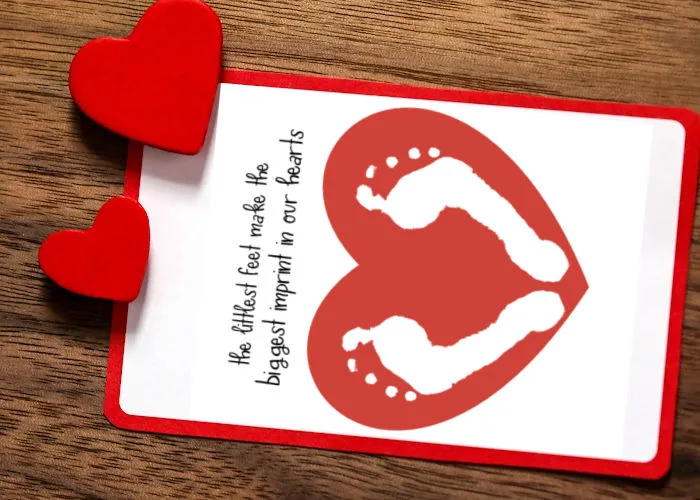 I don't know if there's anything cuter than little footprints. Oh wait, how about little footprints in a heart?
This adorable Valentine's Day craft is the perfect way to remember just how tiny those little feet once were.
It's a fun Valentine's Day craft you'll want to keep forever.
This one is perfect for babies and toddlers. It's so much for having them feel the paint on their feet for the first time and watching their reactions. Then you get to commemorate the moment with a sweet footprint keepsake.
Win-win!
Since the heart is red, be sure to choose a color with high contrast so the footprints really stand out. I think white works really well for this one.
The top of this little artwork reads " the littlest feet make the biggest imprints in our hearts."

9. Love Grows Here Handprint Craft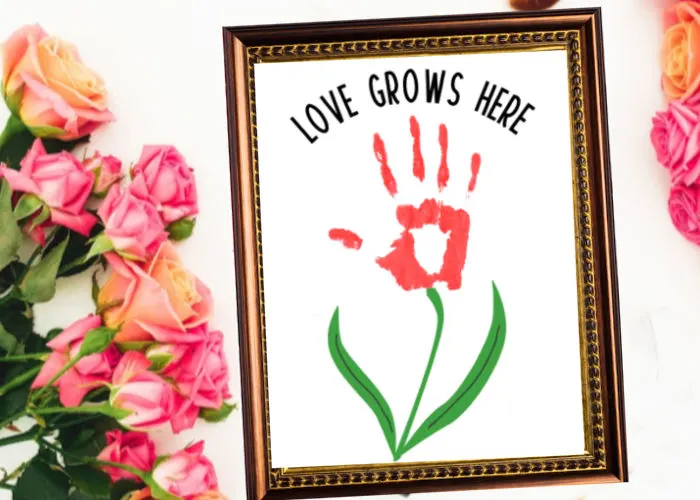 What says Valentine's Day better than flowers? Handprint flowers of course!
Create a whole rainbow of handprint flowers in every color and hand them out to loved ones for Valentine's day or any time just to spread a little love and sunshine.
This cute craft reads 'Love Grows Here' and has a flower stem with leaves that your little one can add their handprint flower to and make a pretty and easy craft to share.

10. Valentine's Day Gnome Handprint Craft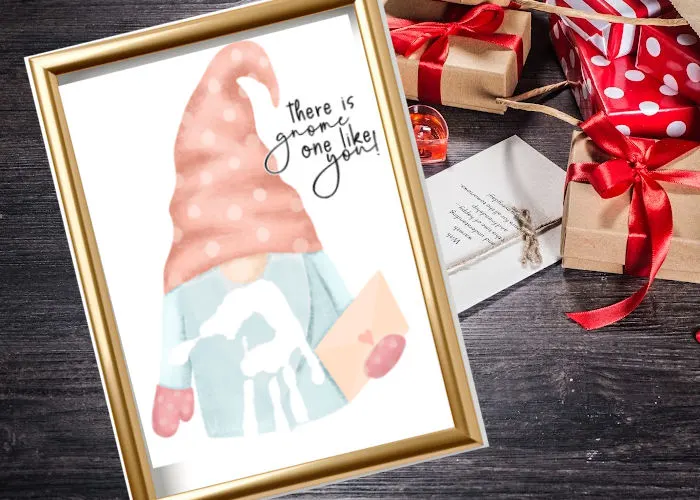 Is anybody else slightly obsessed with gnomes?
They've become a holiday staple these days and Valentine's day is no different.
How sweet is this Valentine's Day gnome handprint craft? Your child can add a fun handprint beard to their Valentine's gnome.
This fun Valentine reads 'there is gnome one like you'.
Since it doesn't specifically mention Valentine's day, this is another cute craft you can use for different events.

If you've decided you need the Valentine's Day Handprint + Footprint Templates, be sure to grab them before you go!

More Valentine's Day Printables + Activities
If you're looking for more fun and FREE Valentine's Day activities and printables to keep your little one busy, be sure to check out some of these fun posts below!
Cute Valentine's Day Dinosaur Coloring Pages
Cute Valentine's Day Gnome Coloring Pages
FREE Valentine's Day Coloring Pages PDF
Valentine's Monsters Scavenger Hunt Game
Valentine's Day I SPY Game Printable
Easy Valentine's Day Crafts To Make with Kids
Cute Non Candy Valentines For The Classroom
Cute Ways To Spend Baby's First Valentine's Day
Must-Have Valentine's Day Books For Kids
Valentine's Day Cootie Cleaner Craft To Make With Kids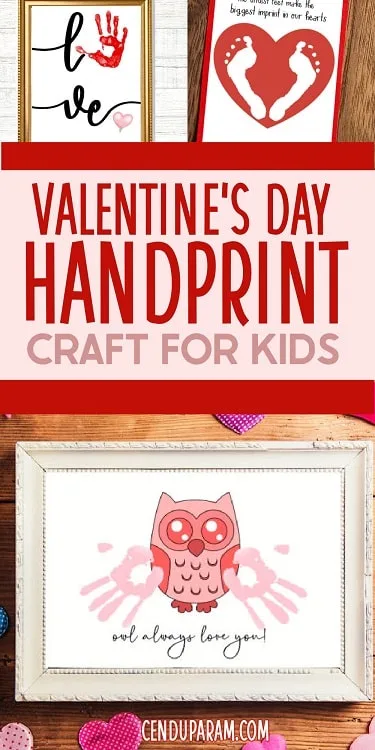 Wrapping up Valentine's Day Handprint Crafts For Kids
I hope this post gave you some inspiration for some easy-to-create Valentine's Day crafts that are perfect for little hands and feet.
You don't have to be a Pinterest mom to make some super cute and Pinterest-worthy crafts this Valentine's Day. Just grab these done for you Valentine's Day Handprint + Footprint Templates and you're all set!
The best part, I add new templates in there over time and you get lifetime access to all the updated templates in there for FREE!
I started with 10 templates and will continue to add more. Eventually, the price will go up but if you buy them at the intro price, you get all the new stuff for FREE.
If you're looking for Valentine's Day freebies, be sure to check out some of the posts I liked above for adorable and FREE Valentine's Day printables you'll love.
Happy Valentine's Day! Spread the love friends 🙂