Fall Books & Short Stories For Kids about Autumn
Autumn is one of my favourite seasons with its beautiful fall colors, cozy sweaters and hot sips of apple cider or pumpkin spice lattes. One way I love to get the kids excited about fall is through books. Wonderful autumn books about the changing color of the leaves, pumpkins, and fall harvests spark your little one's imagination and will entice them to get outside and jump in a pile of leaves.
Here's a list of 17 of my favourite autumn themed books to get your little one excited about everything this beautiful season has to offer.
This teacher's autumn reading list also includes after-reading activity ideas and free printables worksheets. word searches and more at the end of this post.
Get started on your own fall reading challenge now!
If you're also interested in a ton of fun things you and your family can do this fall, check out my ultimate fall bucket list for the whole family with a free printable!
Disclaimer: As an Amazon Associate I earn from qualifying purchases but this comes at no additional cost to you.

Fantastic Autumn Themed Books For Kids Of All Ages


Although most of these books are pretty perfect for any age, some of the activities you can create will be better geared toward early learners in the preschool age while others may be better suited to school aged children.
I've broken down the list into great autumn themed stories for early learners from preschool, kindergarten and grades 1 and 2 and wonderful fall themed books for older learners grade 3 and beyond.
Even if your little one isn't in school yet these autumn books are also great for toddlers to begin their reading adventures.


FALL THEMED SHORT STORIES FOR PRESCHOOL, KINDERGARTEN AND EARLY LEARNERS ( GRADES 1 & 2)


BELLA'S FALL COAT BY LYNN PLOURDE

I absolutely adore this story about Bella and her very special fall coat her grandma made for her.
This cozy autumn book talks about all the beautiful things Bella loves about fall like the smell of crisp delicious red apples, the sight of geese flying south for winter and the sound of leaves as they crunch under your boots.
However, her favorite coat is growing ever smaller, what will she do?

SPOILER ALERT: She actually finds a brilliant solution and learns to accept change.
It really makes you reminisce about those memorable childhood days going back to school after an awesome summer break. As well, I love the bond that it explores between grandparents and grandchildren.

In a world where nothing lasts forever, it's so lovely to see that the bond between parents and their children is at least one magical thing that does.

After reading activity: This book lends itself well to fall activities as well as what to wear for fall. Make a list with words or pictures about what we wear for fall like scarves, sweaters, cardigans and more.

It's also great for teaching children about change and adapting to change..

I LOVE FALL BY ALISON INCHES


This is a wonderful sensory book about all things autumn like plump orange pumpkins, thick cozy wool scarves, crunchy fall leaves and smooth wicker baskets.
The book has bright and vibrant fall colors and it uses fun rhyming verses that little ones will love. Get those little hands to touch and feel their way through this story.
Wanna take a look inside? This customer added some great photos to their review, take a peek.

After reading activity: Then as an after story activity, collect as many different items as you can and sort them by texture and create your own fall sensory bin.

FLETCHER AND THE FALLING LEAVES BY JULIA RAWLINSON


This is such a darling little story about Fletcher the fox who is horribly worried that his favorite tree is sick because it's leaves are changing colors and falling off.

He tries desperately but unsuccessfully to save the tree's leaves.

However, after the last leaf has fallen, he awakes to the season's first snowfall and a beautiful surprise.


It's a great book to teach the changing seasons and also talk to kids about letting go, accepting change and how it can be a good thing.

All the books in the Fletcher the Fox series are super cute and the illustrations are just so beautifully whimsical.

Take a peek here!

After reading activity: This is a great book to talk about feelings, and empathy but you can also do a fun fall craft like creating your own paper bag tree with colorful leaves. Or you can make your own fox masks and act out how fox was feeling.

WE'RE GOING ON A LEAF HUNT BY MIKI SAKAMOTO


This fun adventure follows the same "sing-song" tune of We're Going on a Bear Hunt as we follow three friends over mountains and through the forest as they collect leaves of all shapes, sizes and colours.

This is such a fun read for younger learners with its rhyming and beautiful pictures. After a few times, they'll be able to 'read' it themselves. This fall book is just perfect for preschoolers.

After reading activity: Why not take a scavenger hunt of your own and see how many autumn themed items you can collect, count and sort.

LET IT FALL BY MARYANN COCCA-LEFFLER


I love the whimsical illustrations in this rhyming story about a family who celebrate fall together by attending the fall fair, helping with the fall harvest and engaging in autumn activities like apple picking, hay rides, raking leaves and then jumping in them, and so much more.

This book is part of a series so you can collect all the seasons if you love this one as much as I do.

After reading activity: This book has so many great ideas for fall activities so you can find your favourties and create your own fall family bucket list. Or just head over to my fall family bucket list and print your own!

APPLES AND PUMPKINS BY ANNE ROCKWELL


A young girl gets to spend a glorious fall day on the farm picking crisp red apples and selecting the perfect pumpkin for her jack-o-lantern.

We follow her through her day where she later gets home to carve her pumpkin and go trick-or-treating.

It's the perfect story for talking about harvest time at the farm.

The text is sweet, simple and easy to follow along. It's a favorite fall story with toddlers and preschooler alike!

After reading activity: This book would make a great intro to a trip to the farm for a harvest festival. You can look at the sights and sounds of fall on the farm and what a harvest is all about. We read this one before our first kindergarten class trip to the farm and the kids loved it and talked about it during the trip. They were able to relate a lot of the story to their experience which we wrote about later.

MOUSE'S FIRST FALL BY LAUREN THOMPSON

One cool day Mouse and Minka head out to play. From leaves of all colors—red, yellow, orange to brown—to leaves of all shapes and sizes—Mouse learns what makes fall such a special season!

This one has bright colorful pictures and simple text and also explores the 5 senses as it relates to autumn.

It's great for very young learners and those beginning to read independently.

Mouse's First is part of a series so if you love this one there's many more to choose from.

After reading activity: this is great book to teach young learners about their 5 senses and explore what we can see, touch, taste, hear and smell that reminds us of fall.

THE LEAVES ON THE TREES BY THOM WILEY

This cute book looks at the sights, sounds, smells and tastes that we typically associate with autumn.

It also shows a variety of different types of leaves.

I love that it's rhyming story can be sang to the tune of the wheels on the bus. The younger children absolutely love that!

This fall book is a great addition to an early elementary or preschool classroom.

After reading activity: This is a great book for discussing the 5 senses and making a list of what we see/hear/taste/smell/touch that make us think of fall.

LEAVES BY DAVID EZRA STEIN


This book follows this little bear's first fall where he notices the leaves are changing colours and falling off the trees. He attempts to reattach them but no luck.

He eventually gets so tired he has to sleep but when he awakens its spring!

It's a great read for anything related to fall, leaves or winter and hibernation.

After reading activity: Discuss what the bear does? What is hibernation? How do you prepare for winter? Are there any other animals who hibernate?

THE BOOK OF FALL BY AGNESE BARUZZI


This is a very simple book with bright colorful images of experiences, sensations or objects we would typically associate with fall like leaves, puddles, rain boots and colourful trees.

Another great book for younger learners to learn about the fall through their senses.

After reading activity: Make a think map of all the things you associate with autumn like sights, sounds, objects and sensations using both words and pictures.

AUTUMN THEMED SHORT STORIES FOR GRADE 3 AND BEYOND


I KNOW IT'S AUTUMN WHEN BY EILEEN SPINELLI

This was a fall favourite in my classroom!

There are beautiful illustrations and a sweet story about all the small things that tell us that autumn is arriving.

It lends itself wonderfully for read alouds for young children as well because it has a repetitive phrase " I know it's autumn when…".

After reading activity: You can easily create your own crafts or worksheets based on your little one's favourite ways to tell that it's fall. In our classroom we made a colorful list using this book and adding our own ideas.

AWESOME AUTUMN BY BRUCE GOLDSTONE


I love to include some books in the classroom that also include relia or real life examples. This book is chalk full of fall themed images like red, orange and yellow leaves, acorns and squirrels harvesting for winter.

They include fun fall activities like jumping in leaves and also talks about how different animals get ready for colder weather. It's a great addition to any library.

Whether you have a preschool aged child or an older child, this book is versatile enough for any age.

It's one of the most comprehensive books about autumn for kids. Everything from environment and weather, plants and animals, and human traditions and experiences

After reading activity: Are you feeling inspired after all those beautiful fall photos? Either take your own fall pictures or cut out images from magazines and make a fall collage

HELLO, HARVEST MOON BY RALPH FLETCHER


This lovely book takes place on a crisp cool fall night of the harvest moon. While the adults are fast asleep, a little girl and her cat explore all the happenings of fall at night in nature as the full harvest moon rises over the corn fields.

It is told so beautifully and poetically that it lends itself well to talking about imagery, similes and metaphors.

After reading activity: Go through the book and write out your favourite similes and metaphors about fall at night.

ARTHUR JUMPS INTO FALL BY MARC BROWN


Arthur was always a childhood favourite of mine so I had to include this one in the list. Arthur wants to jump in the leaves but his dad informs him it's his job to rake them up. He enlists the help of his friends and gets the job done.

After reading activity: This is a great one to teach socialization skills and the importance of helping our friends. After this reading we talked about how we can be helpful or what we can do to help our friends and family and why it's important.

You can then talk about the simple pleasures of fall that everyone enjoys and make a fall bucket list – like raking and jumping in leaves

LEAF MAN BY LOIS EHLERT


On the surface this is simple story where the wind takes leaf man and blows him away to many different lands where he encounters ducks, fields of pumpkins and winter squash and turkeys.

With older children, you can discuss the deeper meaning of how life constantly changes and like the leaf man, we're often swept up with it and have little or no say. It's great to discuss the importance of adaptability and embracing changes.

The author creates eye catching images with textured paper and leaves.They also show the different kinds of leaves and what trees they come from.

It would be great for a science sorting project.
After reading activity: Take a nature walk and collect leaves and acorns to create your own leaf man or leaf animals or a fall collage.

Take a look at the beautiful leaf man art created by this class that was inspired by this book!

WHY DO LEAVES CHANGE COLOR BY BETSY MAESTRO


This autumn book is perfect for teaching students exactly what happens during the magical process that makes leaves change color in autumn by introducing photosynthesis.

The book also includes simple, fun activities you can do afterwards. It makes a great resource book to add for your curious learners.

The Let's Read and Find Out Series is such a great addition for homeschooling families too! They're got books on all kinds of science topics.

After reading activity: Make your own chart together documenting how leaves change color. Discuss what you've learned about photosynthesis.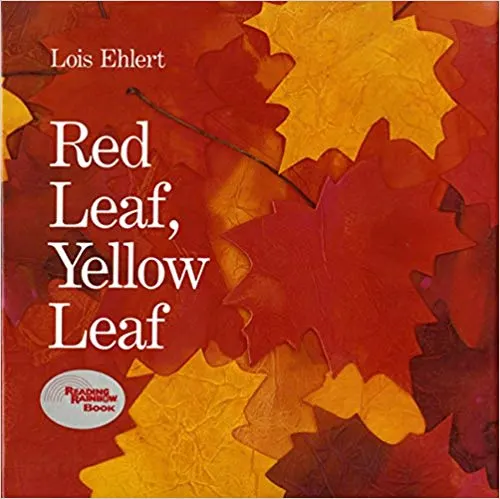 RED LEAF, YELLOW LEAF BY LOIS EHLERT

I had to include one more great fall read by Lois Ehlert. This is another beautifully written autumn themed book.

It can be used to teach autumn in general or used during a poetry or words of speech unit to dissect similes and metaphors among other parts of speech (that's what our class used it for).

It's great for teaching photosynthesis as well as it's chalk full of information about how plants derive nutrients, how photosynthesis works and how sap in trees circulates!

After reading activity: There's so many things you can do with this book for after-reading depending what you're teaching. You could do a simple work-sheet about photosynthesis and plants, you could have students write their own fall poem using this book as inspiration or find and identify different types of leaves.

The possibilities are endless.

AMAZON PRIME BOOK BOX FOR FALL BOOKS



If you and your little one LOVE reading together, you might want to look into our new fav service: Amazon's new Prime Book Box.
It's a subscription book service that sends you either 2 hardcover books or 4 board books a month for just 19.99 that's like 40% off buying them individually!
You can even customize it to the age of your little one! I love that ALL the books you get will be hardcovers.
How awesome is that?!
Plus you can try out your first month for just $16.99 and cancel if you aren't happy.

It makes for a wonderful holiday gift as well!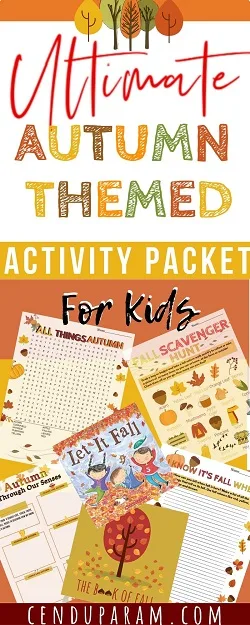 WRAPPING UP FALL BOOKS AND SHORT STORIES FOR KIDS

I hope you enjoyed my favourite fall reading list for kids.

Did you find some new ones?

Are there any great fall books I've missed?
Leave me a comment below

. Don't forget to download and print your free printable activities (click on the images to download) to do your own after-reading activities at home or in the classroom.

Do you have any awesome autumn themed crafts or project ideas? List them below 🙂