Summer has come and gone and we're slowly welcoming the change in seasons as we get ready to head back to school. The days are getting shorter and the temperature is getting cooler. It can obviously be a tough time for the kids as they re-adjust to the regular school routine.
Why not make autumn a fun time to look forward to with the ultimate fall bucket list for kids and the whole family. Autumn is one of my favourite seasons because it's just so beautiful to see. The changing colors of the falling leaves and sips of hot cider and pumpkin picking, fall harvest festivals, there's just so much to see and do with the family this fall. Check out these awesome fall activities for the whole family and print out a copy of our fall bucket list for the kids to work through.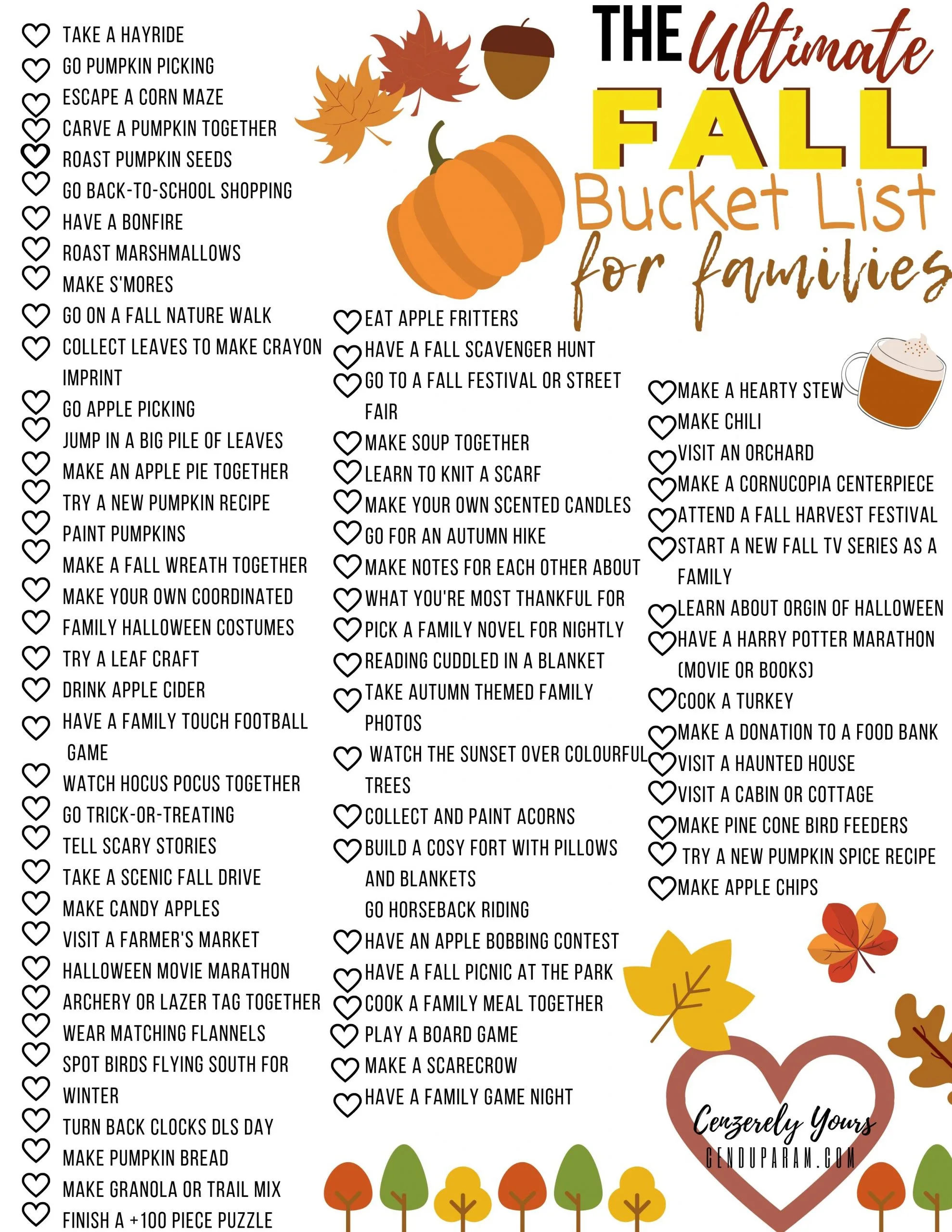 The Ultimate Fall Bucket List For Kids
Take a hayride
Go pumpkin picking
Escape a corn maze
Carve a pumpkin together
Roast pumpkin seeds
Go back-to-school shopping
Have a bonfire
Roast marshmallows
Make s'mores
Go on a fall nature walk
Collect leaves to make crayon imprint
Go apple picking
Jump in a big pile of leaves
Make an apple pie together
Try a new pumpkin recipe
Paint pumpkins
Make a fall wreath together
Make your own coordinated family Halloween costumes
Try a leaf craft
Drink apple cider
Have a family touch football game
Watch Hocus Pocus together
Go trick-or-treating
Tell scary stories
Take a scenic fall drive
Make candy apples
Visit a farmer's market
Eat apple fritters
Have a fall scavenger hunt
Go to a fall festival or street fair
Make soup together
Learn to knit a scarf
Make your own candles
Go for an autumn hike
Make notes for each other about what you're most thankful for
Pick a family novel for nightly reading cuddled in a blanket
Take autumn themed family photos
Watch the sunset over colourful trees
Collect and paint acorns
Build a cozy fort with pillows and blankets
Go horseback riding
Have an apple bobbing contest
Have a fall picnic at the park
Cook a family meal together
Play a board game
Make a scarecrow
Have a Halloween movie marathon
Play archery tag or lazer tag as a family
Wear matching flannels
Look for birds flying south for winter
Turn back the clock for daylight savings time
Make pumpkin bread
Learn about pioneers and pilgrims
Make a hearty stew
Make chili
Visit an orchard
Make a cornucopia centerpiece for Thanksgiving
Attend a fall harvest festival
Start a new fall tv series as a family
Learn about All Soul's Day (All Saint's Day) and the origins of Halloween
Have a Harry Potter Marathon (movie or books)
Cook a turkey
Make a donation to a food bank
Visit a haunted house
Visit a cabin or cottage
Make pine cone bird feeders
Try a new pumpkin spice recipe
Make apple chips
Go to a drive in movie
Make granola or trail mix
Do a giant puzzle together
Have a family game night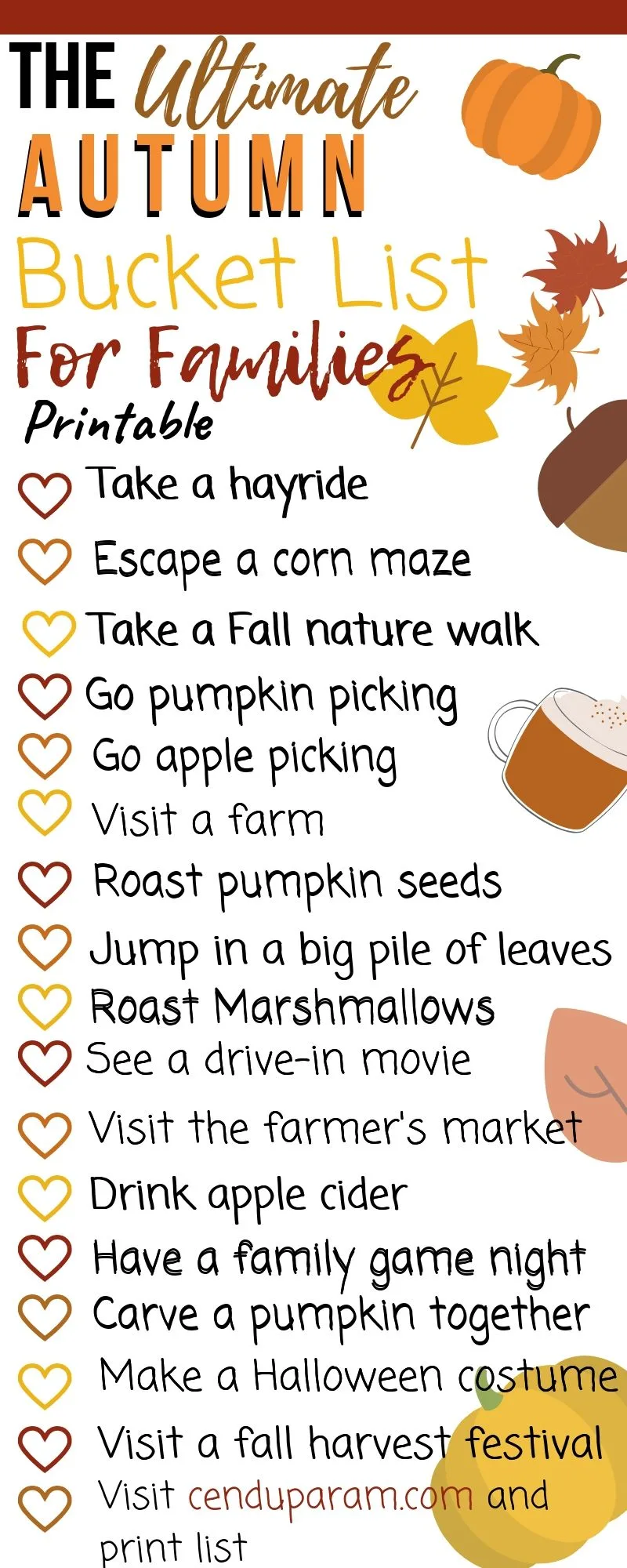 I hope you'll print a copy of our fall family bucket list challenge and have fun family adventures making memories during this beautiful season. I hope you get to dress up for Halloween and all be kids again. I hope you remember this Thanksgiving Day that the best gift of all is family.
If you have some more great ideas to celebrate autumn I would love to hear it. Leave me a comment below!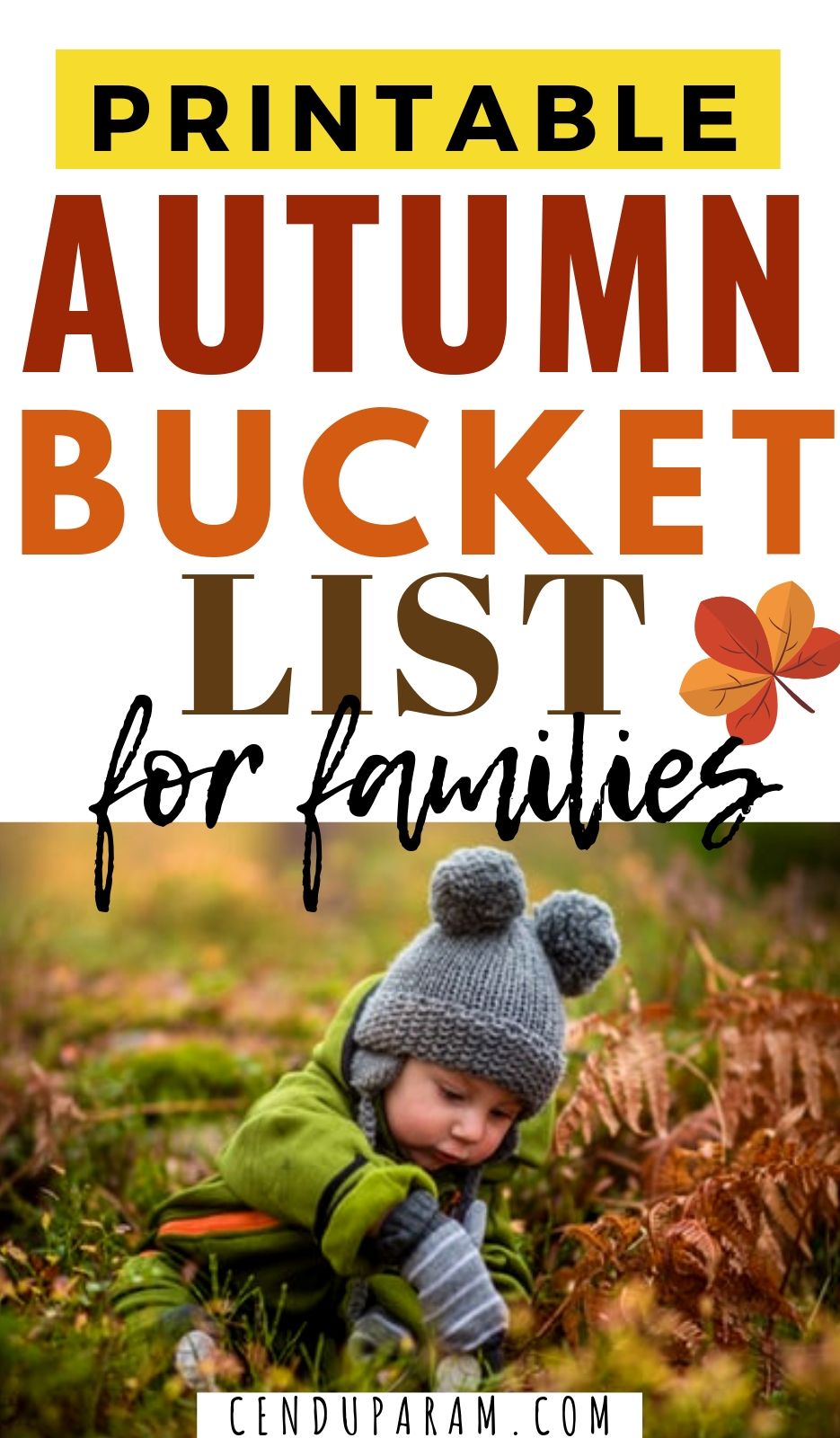 Download and print your free family fall bucket list here
© Cenzerely Yours printables exclusive property of cenduparam.com. For personal use only, not to be copied, distributed, altered or sold.