It's time for that back-to-school mayhem, but one thing that makes it better is delicious school lunches. Kids get bored and some are just picky so I've got a mix of kid approved healthy lunch ideas to keep your little learner satisfied. You need a great mix of healthy and scrumptious school snacks too. What about storage? I've got the best lunch boxes for kids too! Everything you need for back-to-school lunches in one place. As a bonus, I've also got free printable lunchbox notes to make your kiddos smile.
Disclaimer: As an Amazon Associate I earn from qualifying purchases but this comes at no additional cost to you.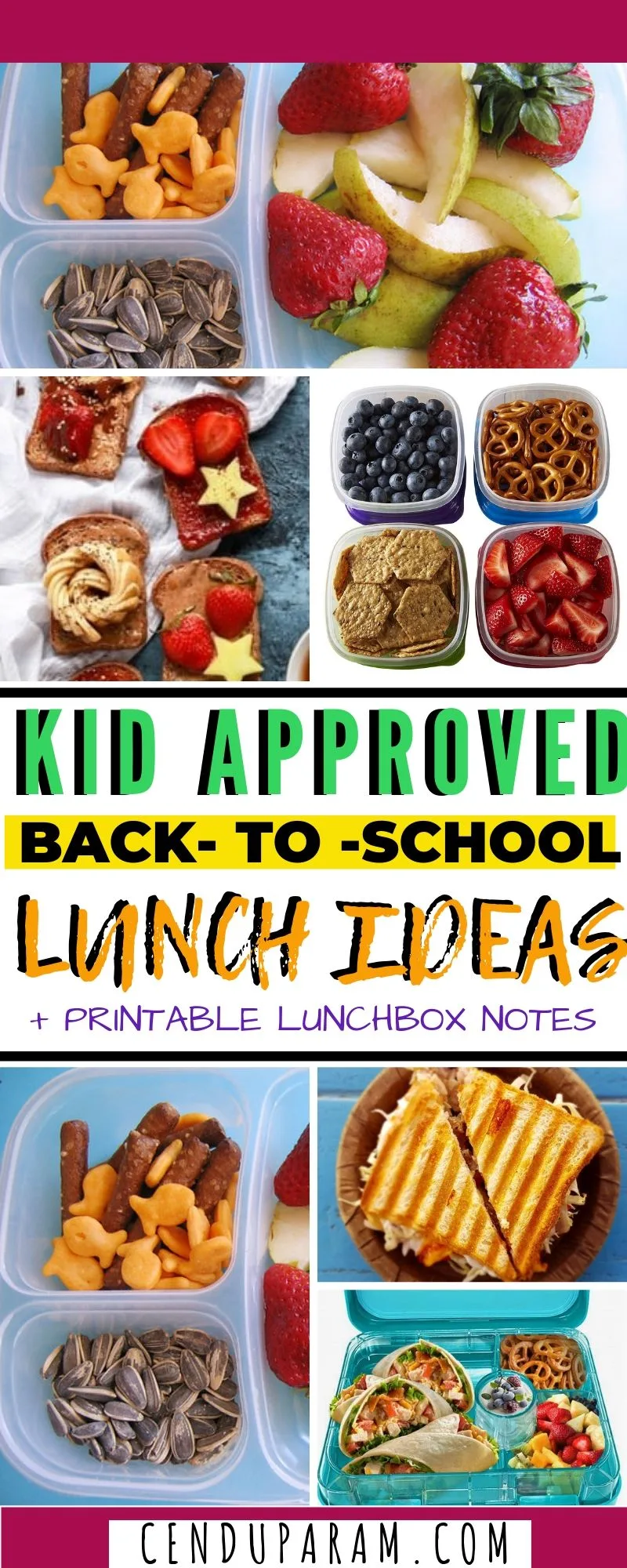 The Best School Lunch Box For Kids
Lunch boxes have really evolved since I was a kid. We're way beyond the plastic Judy Jetson lunch box and thermos set of the past. These days, there's everything from bento-box style lunch boxes to stackable lunch boxes which come in different finishes and materials, to insulated lunch boxes and cooler style lunch boxes. The possibilities are endless but here's a few that I loved!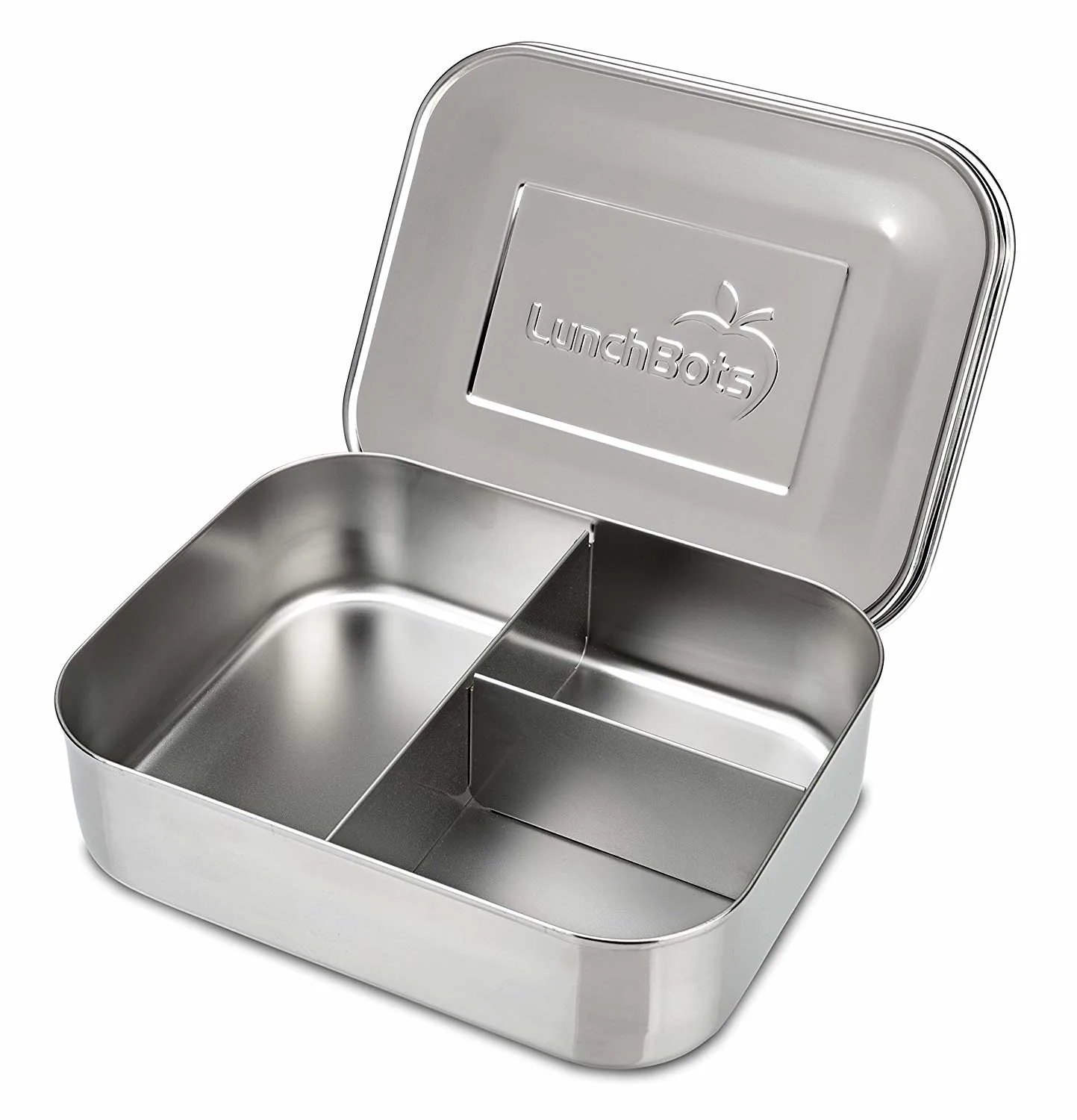 Best Bento Lunch Box for Kids
Best Stackable School Lunch Box for Kids
Best Insulated Lunch Containers
Best Snack Containers and Tiffin Box
Fast & Healthy School Snack Ideas
In addition to school lunches, your kiddo is going to need a few snacks to survive the day. A little bit of prep work can help you create some fast but nutritious snacks that are inexpensive and can be done yourself.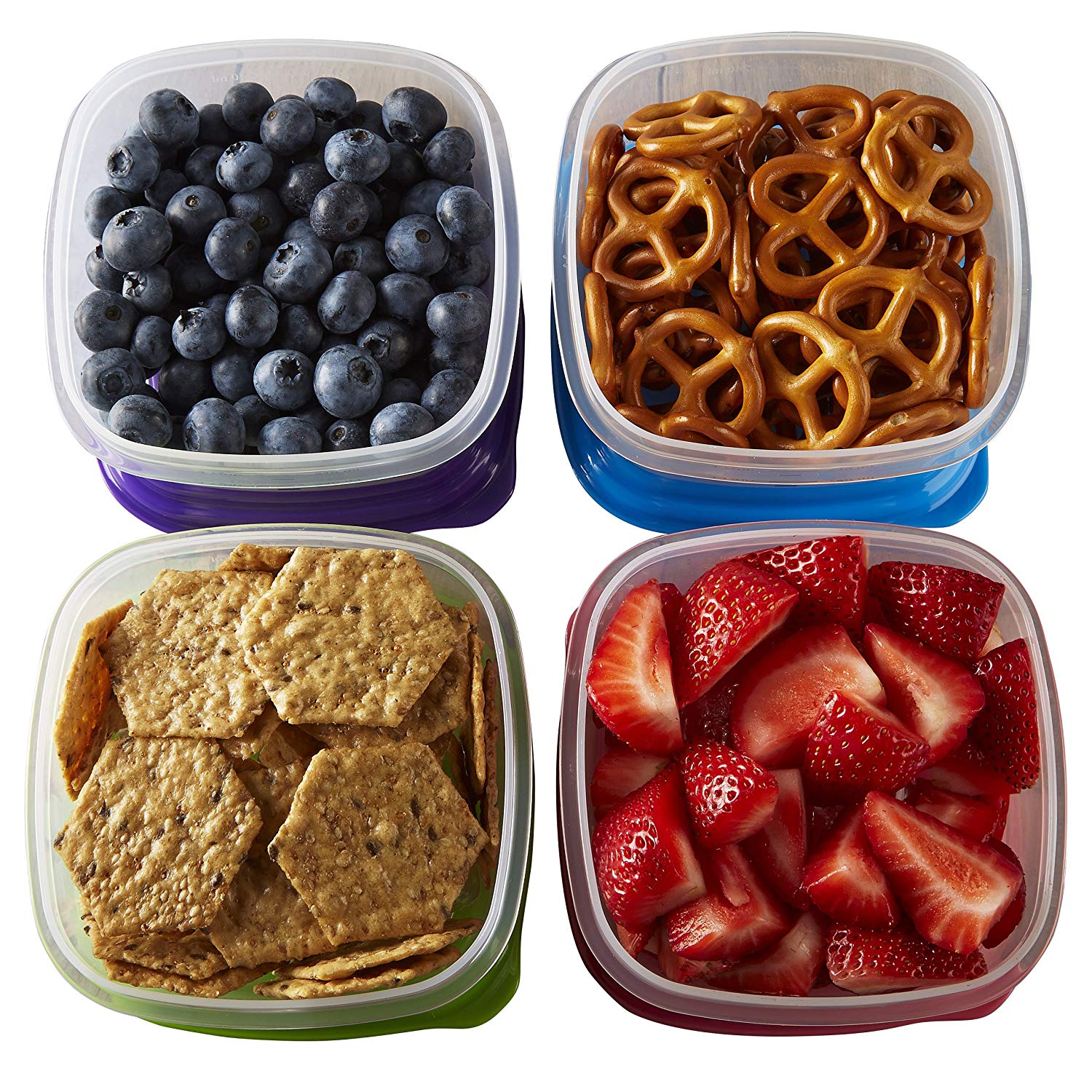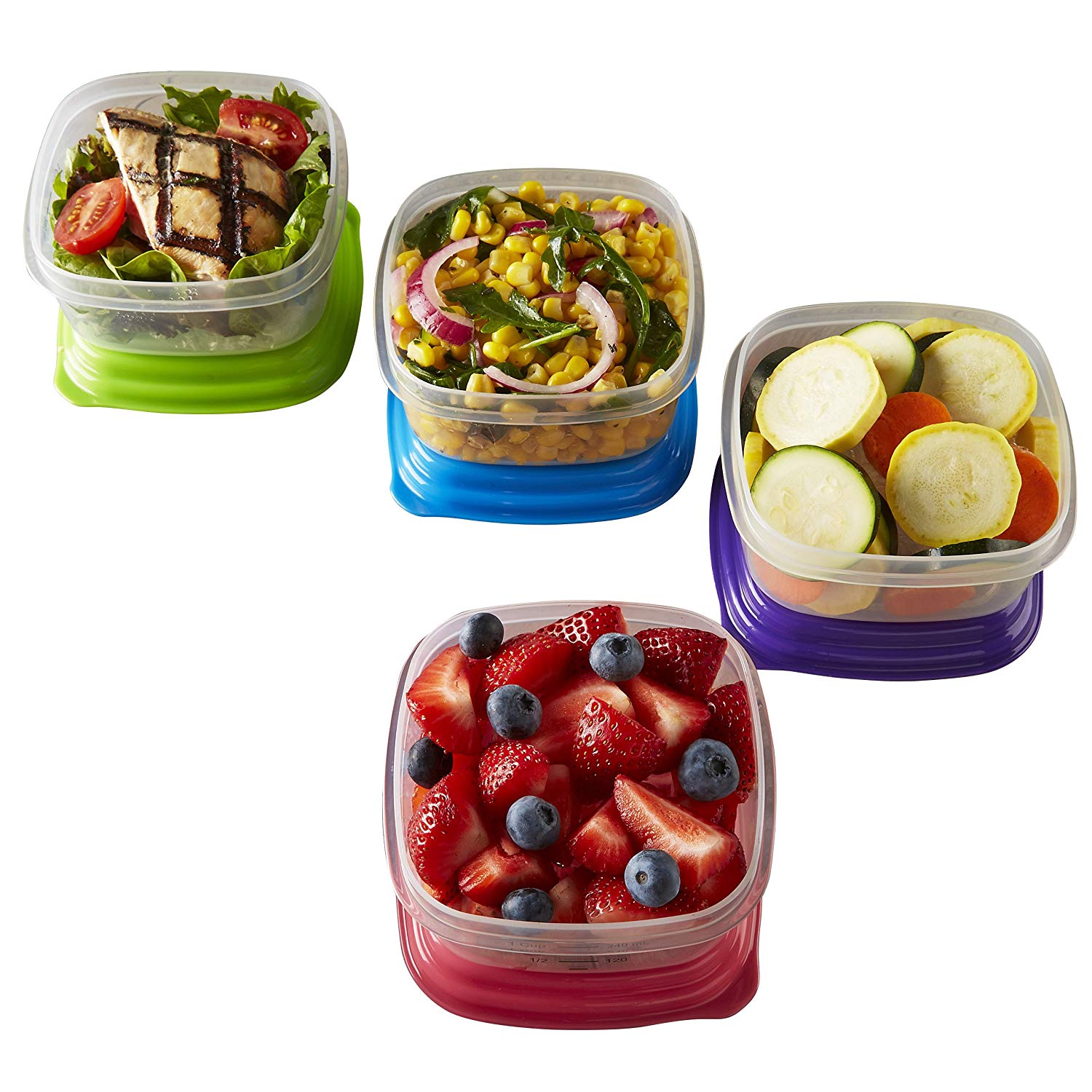 Vegetable Snack Ideas
Celery Sticks
Carrot Sticks
Cucumber Sticks
Green Pepper Sticks
Cauliflower florets
Sugar Snap Peas
Kale Chips
Corn Kernals
Cherry Tomatos
Edamame
Roasted Seaweed
Asparagus Fries
Sweet Potato Fries
Veggie Snack Staws
Olives
Sweet green peas
Dips For Veggies
Hummus Dip
Avocado/Guacamole Dip
White Bean/ Artichoke Dip
Spinach + Artichoke Dip
Plain Yogurt
Salad Dressing
Fruit Snack Ideas
Cubed watermelon
Handful of blueberries
Handful of strawberries
Sliced apples
An orange/ tangerine
Avocado cubes
Handful of raspberries
Handful of blackberries
A banana
Handful of cherries
Raisins
Grapes
Dried fruit
Cubed mango
More Healthy Snacks
Multigrain Crackers
Pretzels
Goldfish Crackers
Cheese cubes
String Cheese
Cubed meat
Deli meat slices
Trail mix
Oatmeal Raisin Muffin
Sunflower Seeds
Hard boiled egg
Multigrain Cheerios or other cereal
Nut-free granola bar
Hummus + Pita
Roasted Chickpeas
Healthy School Lunch Ideas For Kids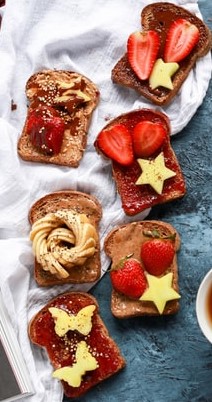 I think the absolute best part of any kids school day is lunch time! Here are some yummy ideas to keep things interesting.
I love the idea of incorporating a personalized or special note for your little learner. It's a fun little surprise they look forward to.
It can just be a nice message or you can have a little fun with it and do riddles or jokes too!
Sandwiches & Wraps
You can't go wrong with the tried and true sandwich. It's yummy, healthy and is open to variety. There is an endless number of things you can do with a sandwich. You just need some inspiration so you can mix it up. The best school lunches are those that do not repeat! The thing I hated most as a kid was the same lunch over and over again for days. You can also opt out of the bread and replace it with a whole wheat tortilla wrap instead
Classic Grilled Cheese: This is always a favourite with the kiddies. Grab some whole wheat bread and add your cheese of choice. I often like to melt a soft cheese (like the laughing cow spreadable cheese) with a slice of cheddar cheese and melt. Mix up your cheeses to keep it interesting
Ham & Cheese: Another classic is the kid friendly ham and sliced cheese sandwich. Add a few layers of each and you're done
Garden Vegetable Sandwich: This is my favourite. I love this style sandwich on a baguette. You can add whatever veggies you choose but I typically go for lettuce, tomato and cucumber with a cream cheese spread.
Jam & Cheese Sandwich– fear not, this isnt as gross as it sounds. Pick your jam of choice and add a plain cream cheese. I love a PB&J but schools today are nut-free facilities so make sure to keep the nuts for home snacks
Roast Beef: another kid friendly combo I've discrovered is roast beef with provolone cheese and a pesto spread
Chicken Wrap: spread of your choice (did I mention I love a pesto-mayo) with lettuce, deli sliced chicken and cheese of choice (we usually stick with cheddar and mozzarella) just fold in the sides, wrap it up and cut in half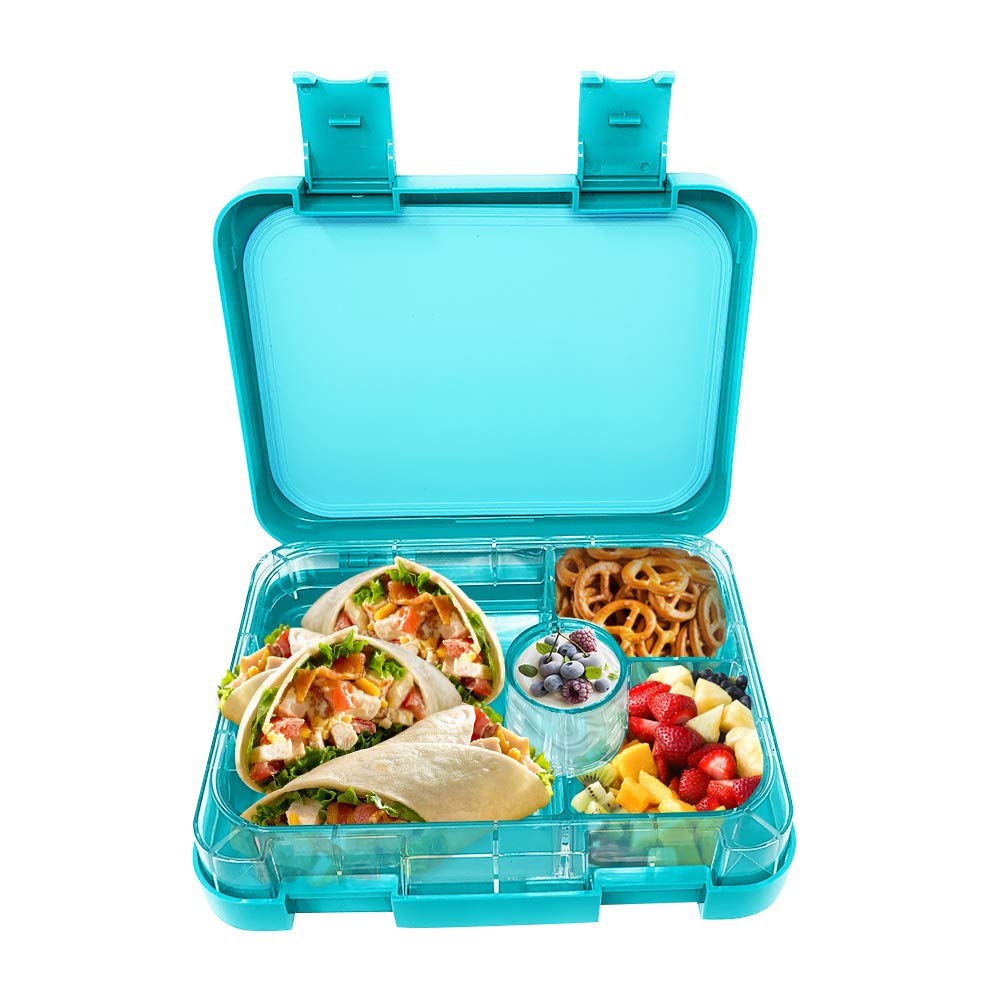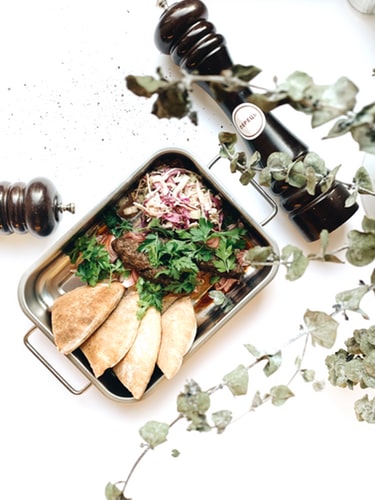 Quesadilla
I absolutely love a grilled quesadilla for lunch. Just like the sandwich, or wrap the topping options are endless. Even my toddler approves these lunches. Unless your picky eater hates cheese, these are almost always a win.
Classic Bean & Cheese Quesadilla: Even the pickiest of eaters is usually fine with this delicious classic. Spread some refried beans on your tortilla, add cheese of choice (I love to use the shredded tex-mex mix) and grill on a pan
Turkey Medley Quesadilla: This is my toddler's favourtie quesadilla. I add in some extra veggies and he doesn't even notice. I start this with a shredded cheese base as usual but also add in ground turkey, small chopped onions, tomatos, spinach and cilantro. The secret ingredient: cut up pieces of 1 laughing cow spreadable cheese
Vegetarian Quesadilla: I'm actually a vegetarian so I either opt for the bean and cheese version or a garden vegetable style. My favourite combo is: mixed shredded cheese, finely chopped red onions, tomatos, cilantro and crumbled tofu.
Spinach & Ricotta Quesadilla: This one is sort of a greek inspired quesadilla because I love spinach pies. I premake the ricotta and spinach mix (spinach + parsley + onions cooked until wilted and combined with ricotta cheese, salt and pepper) and just add in some shredded cheese
Buffalo Chicken Quesadilla: This is a crowd-pleaser for young and old. The buffalo chicken mixture is made by combining shredded chicken, cream cheese and franks hot sauce. It's not spicy as the cream cheese cuts the heat. Add the buffalo chicken mixture with shredded cheese and melt for the ultimate picky eater meal buster
Pasta
What kid can say no to a creamy,saucy, delicious pasta? It's such a great way to sneak in added veggies and it takes great. If you aren't using an insulated lunch box that keeps the food warm, you may want to opt for a pasta salad instead.
Creamy Alfredo Pesto Pasta: my little guy loves pesto sauce mixed with Alfredo. We usually add in some veggies like spinach, onions, tomato, mushrooms and a meat.
Hamburger Pasta: another family favourtie is the classic hamburger pasta with tomato sauce, cheddar cheese, and ground beef. For added nutrition I love to cut up some veggies really small and mix them into the sauce. We usually add carrots, celery and mushrooms.
Pasta Stir Fry: Sometimes we like to mix it up and I'll snap my whole wheat spagetti into smaller chunks and make a Chinese style stir fried noodles with veggies, meat and some soy sauce.
Pasta & Meatballs: If you're little one isn't the adventurous type when it comes to food, you can always stick with a classic like spaghetti and meatballs. I opt for a multigrain pasta for some added punch and always add some extra chopped up veggies in the sauce
Mac & Cheese: you seriously can't go wrong with mac and cheese. I haven't met a kid yet that doesn't love it.
A Few More School Lunch Ideas
Here's a couple more ideas that didn't have their own category but are still oh so yum so of course I had to share.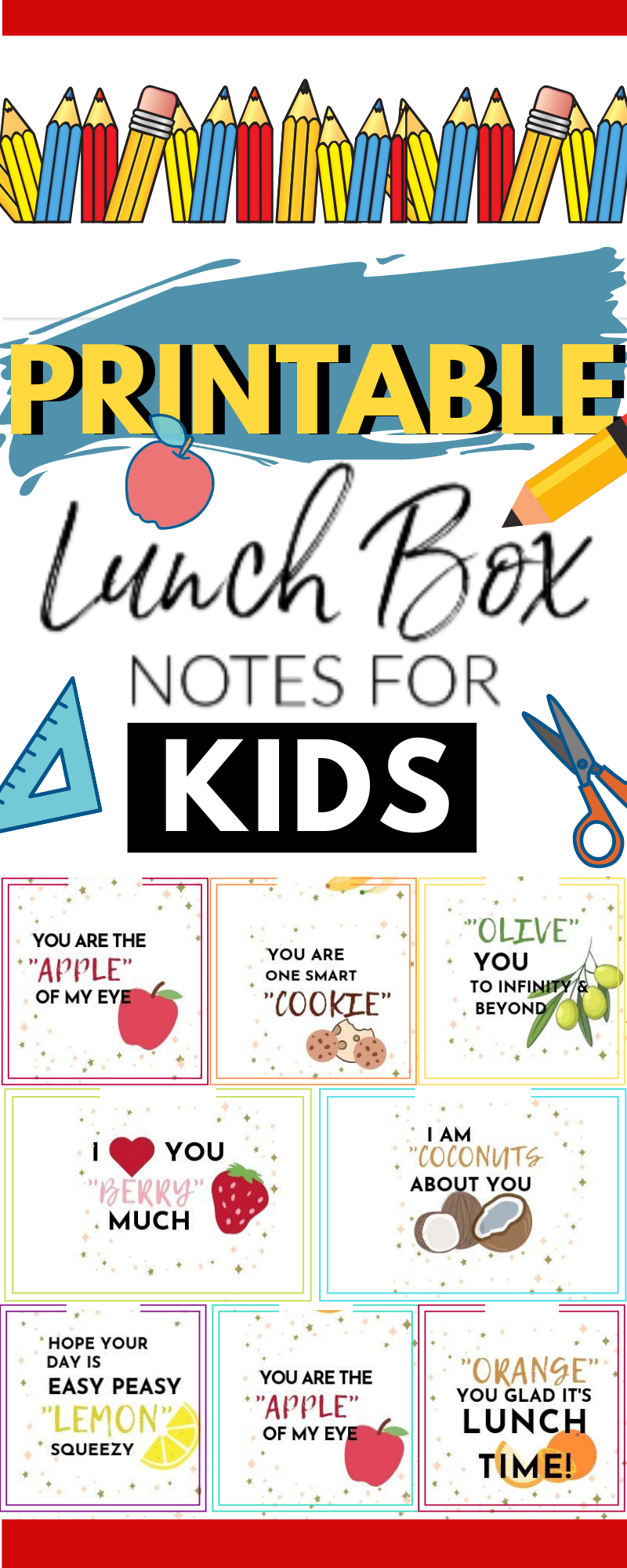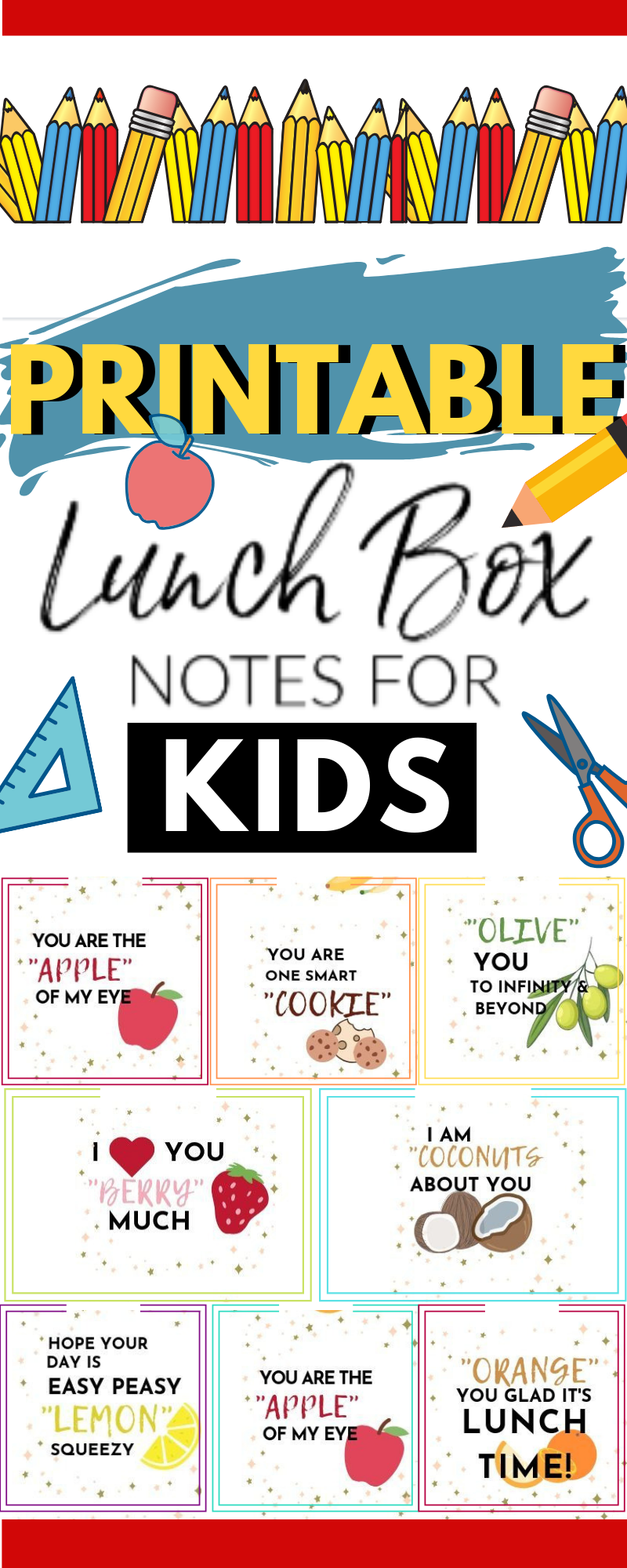 Tacos: pretty much all Mexican food is a favourite in this house. You can either pre-assemble them or use a bento style lunch box and put your toppings inside for your little one to diy at school. Theres so much variety in terms of the meats you can use and toppings like lettuce, tomato, onions, cheese, avocado. Plus, you can do hard or soft tacos.
Chicken tenders: this is usually a good one for picky eaters and you can either buy a pre-made one or make your own. Add a side of sweet potato fries for the win
Bagel Pizza: you can do this quick lunch using either a bagel, English muffin, pita or a piece of focaccia bread . Just add pasta sauce, cheese, whatever toppings your child loves and melt!
Beef or Chicken or Veggie Jamaican Patty: I remember throughout high school the go to lunch was always a beef patty. You can even put it in a burger bun and dress it like a sandwich. This was also another popular one in school
Vegetarian Sushi Rolls: you should probably stay away from regular sushi rolls unless you can keep them cold but a cucumber avocado roll is always a safe bet. Try adding mango or other fresh fruits for more flavour and fun
Steamed Dumplings: Another Chinese favourite at our house are steamed dumplings with soy sauce on the side. I usually buy the organic frozen ones at my local grocery store. There's a lot of different varieties like chicken, pork and vegetarian.
Perogies: This is another classic that we usually buy frozen. Again, there's so many different flavours to try. You can stick to a basic cheddar and potato for pickier folks or try something more adventurous.


LUNCH BOX NOTE JOKES FREE PRINTABLE

There are a few ideas to get you through the first few weeks of school. I'm on the hunt for more ideas so leave me a comment below with your kid's favorite lunch and any fun or special things you add. I want to hear them all!
Make school lunches extra special with a fun little love note or message. How about these 'punny' ones below!
Don't forget to download your free lunch box note jokes with the link below!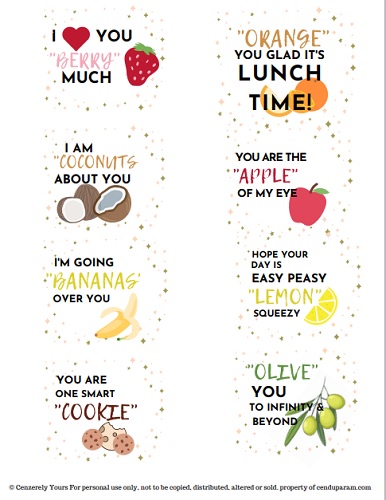 DOWNLOAD YOUR FREE PRINTABLE LUNCHBOX NOTES HERE