My favourite part of summer is our annual beach trips. Now, we've got a little one tagging along too. Being prepared makes beach trips with little ones so much easier. What to pack for the beach? I've compiled the ultimate beach packing list with all the beach day essentials you'll need for you and your little ones to have an awesome time. You really don't want to get to the beach just to realize you forgot the swim diapers. Eeek!!
Bonus: it's free and it's printable! Wahoo! I've even got a bunch of beach tips and hacks for a fun filled day at the beach with kids and it's a must-read! Avoid regret and print our beach-must-haves so you can check off everything you need without all the stress.
Disclaimer: As an Amazon Associate I earn from qualifying purchases but this comes at no additional cost to you.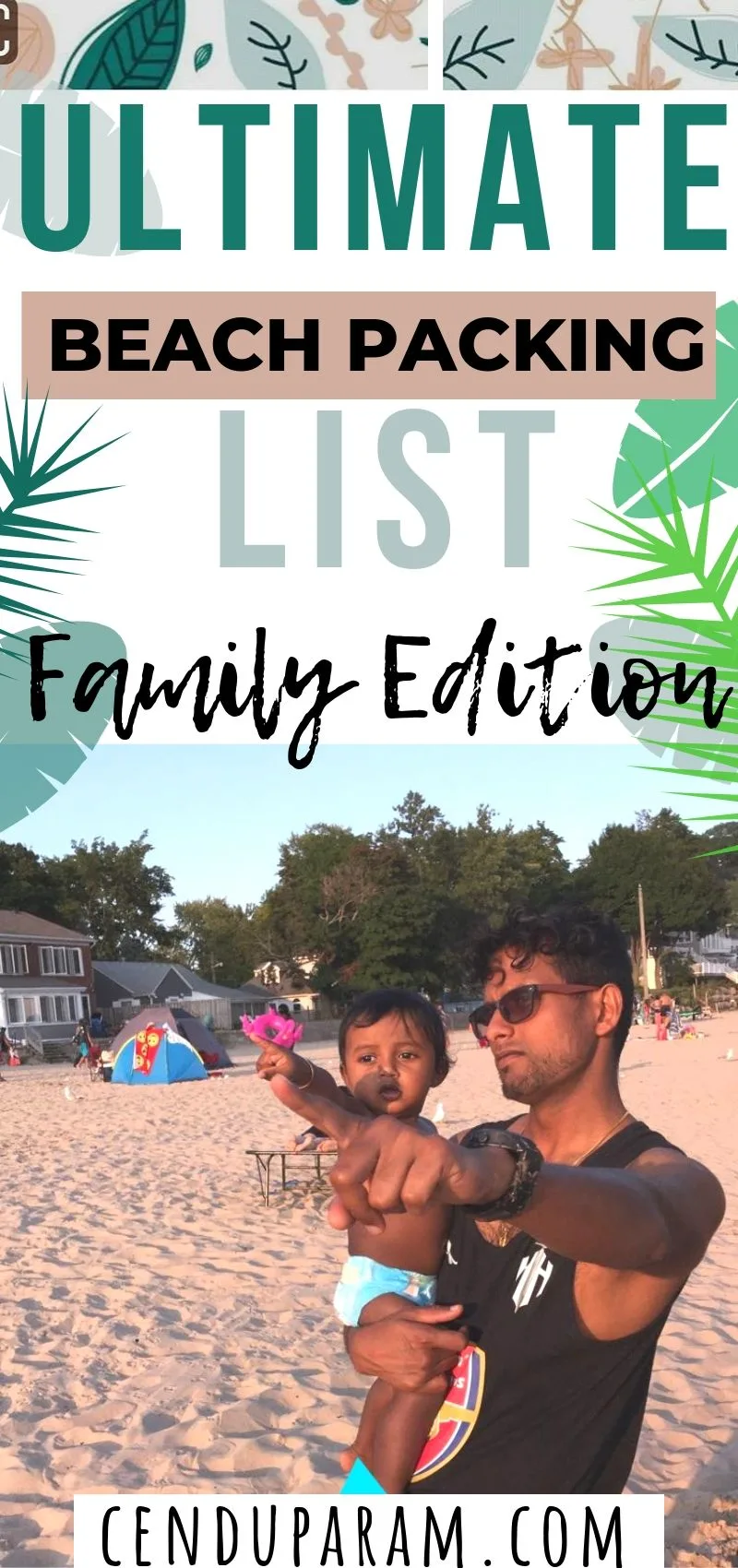 Beach Packing List Essentials
Larger Items You Need For the Beach
So these are the bulkier must-haves for the beach. You really don't want to skimp out on these because they really can make or break your trip and it's well worth hauling them all the way there.
Beach Shade Is a Must
Make sure you have a place of your own where you can beat the heat. If you're travelling with little ones this is especially important. Pack a beach umbrella or beach tent that can fit the whole family. If not, at least make sure to bring a small portable tent for the kids. I was super glad we brought our own tent because by the time we got to the beach (an hour later than planned) all the areas with beach umbrellas on site were already taken. It was insanely hot that day and we wouldn't have survived without our tent!
Beach Chairs or Beach Blanket
You'll obviously need a place to sit and lounge so you can either bring your own folding chairs or a beach mat or blanket (these are usually waterproof and won't hold on to sand) or you can take your chances and hope there's some available at the beach.
Beach Transport
If you're dreading carrying all that stuff to the beach, you may want to opt for a beach wagon to help you. You can get a collapsible one or something sturdier if you've got enough room in the car.
Store your beach toys and other items that get a lot of sand on them in mesh bags so you don't bring home bucket loads of sand.
Beach Essentials For Kids
Whether you've got a baby, a toddler or just a kiddo, you'll want to make sure you're adequately prepared for your little one. This means sun protection of course, as well as a few things you may not have remembered.
Heat & Sun Protection
Sun protection is priority at the beach where you don't always have an escape from the scorching sun. Remember your sunscreen and don't forget to reapply it frequently. Dress your little one in protective swim gear like surf shirts which offer added UV protection.
You'll also want a hat and some shades. Hopefully you're little one is better than mine about wear their hats.
Another great product for little ones who can't deal with flip flops is water shoes! They're great for younger kids because the sand can get way too hot for their little feet.
Water Protection
When it comes to beach trips, there's nothing as important as water safety. All the water safety equipment in the world can't replace your own supervision and your children's knowledge of water safety. If you haven't talked to your kids about water safety head over to my post and look over some essentials you should cover about water safety with your kids. It includes some specifics for the beach as well.
With that being said, I think a proper life jacket or at the very least floaties (but I would be careful with these). Life guards often recommend the Puddle Jumper over floaties because they can easily slip off or your child may flip and the floaties may keep them under instead of helping them resurface.
Beach Toys
If you don't want to hear those words every parent hates, "I'm bored", then don't forget the entertainment. Bring along some simple beach toys so the kids can have hours of fun building sand castles or playing in the water. You can even bring bubbles, water balloons, water guns or a volleyball.
Swim Diapers, Swim Wear and Towels
If you've got a baby or toddler, you may also need to bring swim diapers as well as regular diapers. You can grab reusable or disposable swim diapers but either way just keep in mind that the swim diapers are only designed to catch the poop, not pee. So you're not going to want to put baby in swim diapers for their trip to the beach but rather change them at the beach. Unless you want to play Russian roulette with the car seat.
Personally, I like the disposable ones because we don't go that often and my little guy would need a bigger size by the following year anyways.
Of course, don't forget the swim suits and swim shorts. I can just see it now, full meltdown mode! I really have to look into those matching family swim suit sets because OMG how cute. Also pack plenty of large absorbent beach towels, like microfiber towels. At least one towel per person should do but it's always great to have a few extras.
Beach Must-Haves For Grown Ups
Beach & Sun Safety Items To Bring
A parent's duty is never done, is it? You'll want to make sure you have a first-aid kit on hand just in case anybody gets some scraps or cuts.
Even if you're careful, you may still get a sunburn with long hours in the sun where you're constantly in and out of the water. Be prepared and have some sunburn remedies ready in your first-aid kit like aloe vera gel.
Did we mention sunscreen? Yep, I think we did but it's worth mentioning again. Bring some extra sun screen just in case you happen to run out. It's always a good idea to have a back up.
Don't forget, you need sun protection too so slather on that sunscreen, add a hat and some sun glasses and repeat for everybody else.
Here's a quick list of items you will probably want to pack in your beach bag for yourself:
What should I pack in my beach bag?
♥ Flip Flops/ Beach Shoes
♥ Towel
♥ Swim Suit
♥ Sun glasses
♥ Sun Screen
♥ Water bottle
♥ Beach cover-up
♥ Hat
♥ Change of clothes (include something warmer in case it gets cold)
♥ Underwear
♥ Book/magazine/e-reader
♥ Comb
♥ Wallet/ Purse
♥ Credit cards/cash/ Ids
♥ Phone/ charger
♥ Camera
♥ Bug repellent
♥ mini soap/shampoo/deodorant if you plan to shower there
♥ plastic bags for wet clothes/towels

Beach Snacks
Having some beach-friendly snacks on hand is a good idea! Think of things that are easy to transport/ hold and eat while there's sand flying about. Also, don't forget water. All that running around on the sand and beach will most definitely tire out your little ones. Obviously, you want to try to limit sticky/wet foods that sand would stick to.
You can even freeze water bottles a head of time and use them as ice pack replacements for your cooler and have less things to carry around.
Don't forget eating utensils that you may need as well. If you're travelling with a baby, you may also need your bottles/nipples and formula.
Here's a list of some easy beach-friendly snack ideas:
Seedless pre-cut watermelon cubes
wraps/sandwich
trail mix/ granola
whole wheat crackers/ gold fish crackers
energy bars/ granola bars
apple chips/ vegetable straws
pop corn
mixed nuts
dried fruit
bottled water
cheese cubes/ cheese strings
pre-cut veggies- carrot sticks, celery sticks, cucumber sticks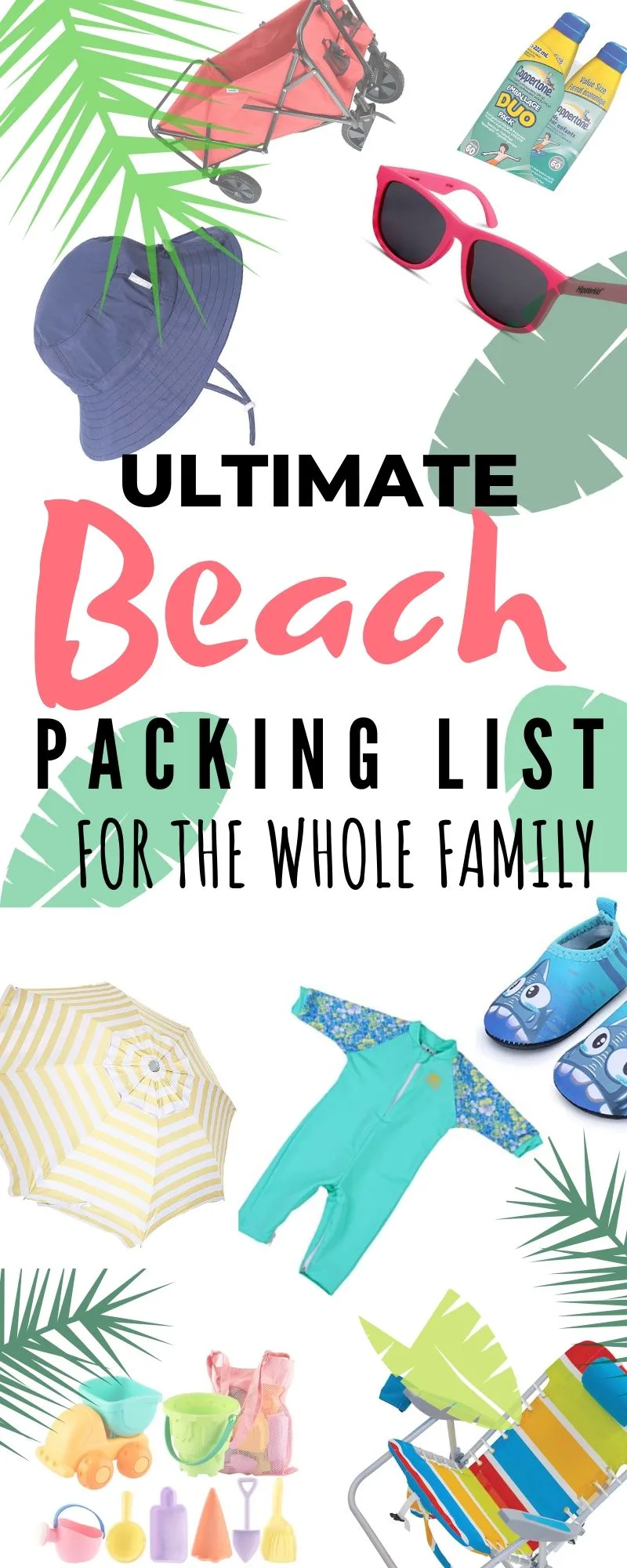 Don't Forget to Have Fun
I think that's everything! Getting out with the kids can be difficult but oh so worth the effort. Don't forget to let loose and have fun. Get in the water with the kids, build a sandcastle and make some memories. Plan proactively and avoid the last minute meltdowns. Print the beach packing checklist below and you'll have one less thing to worry about.
Have you thought of any items I've missed? Got any great tips to survive beach trips with kids? Have some great beach memories? Leave me a comment.