UPDATED MARCH 25, 2020


If you've stumbled onto this page that means, like me, you probably have a house that is overflowing with toddler toys (most of which barely ever get used). With my 2 year old's birthday right around the corner, I started thinking (and googling), "What are the BEST practical gifts for 2 year olds?"

I wanted some alternative gifts for 2 year olds that weren't just more toys or junk. I'm not saying don't get any toys, toys are great!

BUT- there is definitely a difference in practical or useful toys that allow for open ended imaginative play and those toys that only do 1 thing and end up in a corner in about 5 minutes.

So, here's the best practical gifts for parents who have a two year old (or just toddlers in general) that are useful , functional and will get plenty of use ( which aren't just toys).


Disclaimer: as an Amazon Associate I earn from qualifying purchases. This comes at no extra cost to you.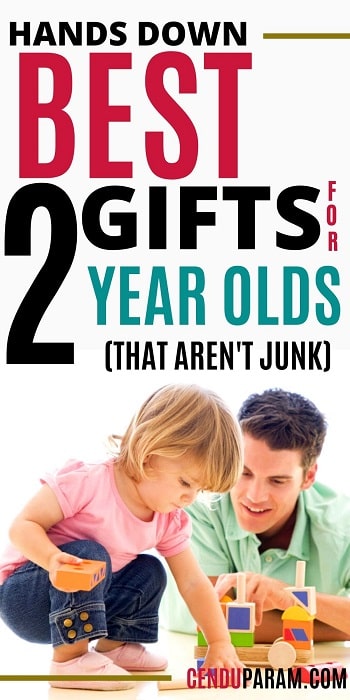 What Are Practical Gifts For 2 Year Olds?

I actually had the same dilemma over Christmas because his aunts and uncles want to give him all the FUN things which I totally get but unless you live with a toddler, you don't realize that in most cases they rather play with the box than the toy inside.

So, I actually ended up making a non toy gift guide with some great alternatives to toys that my little guy LOVED!

That's when I realized there's actually tons of great options like: furniture, books, clothes, art/ crafting supplies and everyday utensils. Things that will get multiple uses and even grow with your child.

THIS IS WHAT WE NEED!

These are the best gifts for a toddler girl or 2 year old boy who has EVERYTHING.

Furniture Makes A Great Useful and Practical Gift For 2 Year Olds

Toddler sized furniture made just for them is a great practical non toy gift for 1 and 2 year olds. I've found that my little guy gets super excited about his special tot size furniture and always insists on using it (he's even asked to take it on the go when we're out and about LOL!)

Here are some useful toddler gifts that they'll love!

Stools

A toddler stool is a perfect gift for a little one that can help foster their independence. My little guy feels like quite the grown up when he pulls out his stool and climbs on up to wash his hands.

It's multi-purpose in that they can use it to help mom or dad in the kitchen as well.

You can opt for a mini step stool like this one that comes in a two pack. These are great for when you're potty training as well so your child can reach the sink on their own to wash their hands. I love that its slip resistant!




Or you can go for a sturdier wooden stool with safety rails that's perfect for the kitchen where the sink is usually higher up. This one is great because it grows with your child.

Potty & Potty Training Accessories

If you're thinking about what to get a 2 year old for their birthday, consider what developmental milestones they'll be hitting soon. Potty training is one that is right around the corner so a potty or potty training accessories would be a very useful and actually serve a purpose.


We recently purchased this potty training toilet seat with step stool ladder that sits atop the grow up toilet.

I'm super happy we went with this one because I didn't want to have to transition from a toddler potty to the adult one, plus I love not having to clean out the little potty afterwards.

If you prefer, you can totally go with a My Size Potty fit for a little one. I get it, the big one can seem a little scary for some. They made need some time to adjust.

If you're shopping for a practical gift for a 2 year old boy, this super cute frog potty training urinal with aiming targets is a fun one that easily attaches to the wall.

Tents, Teepees & Club Houses

Now, here's a fun yet pragmatic gift for a young child. I bet you're toddler would love having their own special hide out where they can play or curl up and read a good book or let their imaginations run wild.

This super cute teepee tent comes with lights and has a waterproof base which is a MUST during those potty training years.

They make great props for photo shoots too! I LOVE a multi purpose product.

RELATED POST: The BEST Places To Take Toddlers To Spark Their Cognitive Development
Toy Organization Gifts Make a Great NON Toy Gift

How about a gift to get ALL those toys organized and put away. I bet any parent would be over the moon (or is it just me?) to get a toddler gift that will help them get all the toys they already have, organized (instead of adding more toys to the ever growing pile).

It's a great gift for a 2 year old too because it will help to teach them how to put their things away properly when they're done playing.

I absolutely LOVE this toddler book rack that looks just like the one we use in my kindergarten class. It's just the right size for little ones and it's easy to use as they just pop the book into the flaps (no need to make sure they line up and don't fall out).

If you're child has lots of loose toys that end up all over the floor, a toy storage organizer with plastic bins is the perfect functional solution.
Best Educational Practical Gifts For 2 Year Olds (That Aren't Just Toys)


Educational gifts are another useful and functional gift for 2 year olds. There are some great ones that are toys but there's many more options that are non toy educational gifts too. Here's a few of the best educational gifts my 2 year old LOVES!


Board Books

Books are a great alternative gift educational for 2 year olds. It's something they can reuse over and over again and it helps foster their imagination and brain development so why not?!

I love board books for toddlers because they're sturdy and durable. My guy is quite the destructive force of nature and the board books hold up way better than paperback.

Here are some of my favorite board books for 2 year olds that are fun, interactive (like Dear Zoo) and great for toddlers development (both educational, fine motor and gross motor skills).

Peek-A-Who? by Nina Laden

This is such a cute and fun board book for toddlers where you look through the die cut windows to see who is peeking out. It's bright and colorful with a fun rhyming text.

The Very Hungry Caterpillar by Eric Carle

I would hope you already have this one in your collection because it's such an awesome classic. It's a great interactive book for talking about food, the days of the week and eating healthy just to name a few. My toddler is obsessed with this one!

Munch! by Matthew Van Fleet

This is such a FUN book! It has interactive tabs that make the different animals mouths move in different ways. The text is super simple and talks about the different sounds the animals make. This is one my kid has practically memorized now and loves to 'read' on his own.

First 100 Animals Lift-the-Flap by Roger Priddy

This is a fantastic book for teaching your child about animals. It has fun and interactive flaps to keep them engaged. It divides up the animals into categories like pets and on the farm.

First 100 Words Lift-the-Flap by Roger Priddy

Can you tell we like the Priddy series? Here's another favorite in the same type of style as the animal one. This is a great tool for teaching your toddler their first 100 common words of things they'll see around their environment like pets, food, toys and more.

RELATED POST: Best Baby Board Books To Add To Your Library

Educational Posters

Another practical educational gift for 2 year olds are educational posters. I'm talking alphabet, numbers, colors, shapes. Having these large visuals is a great learning tool that you're toddler can go back to over and over again to practice.

I teach English online so I'm always referring to the posters. Now, my little guy visits his posters pretty much daily and shouts the alphabet pretending to be a little teacher. It's seriously TOO CUTE!

Posters are a fantastic way to reinforce learning in little learners and allows them to practice independently (I find some can be shy or nervous about getting things wrong)!

This awesome educational poster bundle comes with 11 education posters that include alphabet, numbers, colors, days of the weeks, months and much more. I've seen single posters go for as much as this ENTIRE bundle! It's a steal!

If you want something that looks a little prettier for their room, consider an alphabet wall decal.

Stationary and Art Supplies

Stationary supplies like toddler friendly crayons, markers or craft supplies are another great practical gift for toddlers that still a ton of fun!

I think triangle crayons are a great first coloring, drawing and writing tool for toddlers.

They're a lot chunkier than regular crayons so it'll be easier for 2 year olds to manipulate while they master their gross and fine motor skills.

Plus, you won't have to worry too much about losing them since they won't roll off on their own.

Or skip the supplies and grab a magnet doodle board that they can use over and over again! I loved mine as a kid.


The magnet doodle is on my to buy list, currently we're using the giant water doodle drawing floor mat. It's a big hit with little ones.


Mine folds up so we take it along when we're having play dates and every toddler just gravitates to it.


It's fantastic because you don't need to worry about any accidental wall art that might happen when you aren't looking. You're little Picasso's tool is filled with water that only works on the mat.


Another must have at our house is Play-Doh and tools to play with it! Anybody else?

Another gift to spark their creativity is a toddler craft and activity kit filled with materials and simple projects to make.
RELATED POST: Use This One Trick To Avoid Toddler Meltdowns in Restaurants
Practical Gifts For 2 Year Olds (That Foster Independence)

Now, here are a few essential items you can buy for a 2 year old that will help them to do more things independently and develop new skills (which they're gonna want to be doing anyway). This article talks more about how you can encourage toddler independence.


Practical and Essential Personal Hygiene & Personal Care Gifts For 2 Year Olds

Now, it's about time your toddler starts taking care of business on their own. They'll still need your help and guidance but its a great time to let them start trying things.

First up, teeth brushing! These toddler toothbrushes have extra large handles and a short neck making it easier for small hands to manipulate and avoid gaging while they learn.


Bath time essentials are up next. A toddler bathrobe will make them feel like quite the little grown up and they looks SO CUTE! Or how cute is this hooded fox towel?!


At this age, your toddler should also start brushing their own hair. I love the benefits of using wooden soft bristle brushes (stimulates scalp, encourages blood flow and promotes hair growth) and this set is perfect for little ones.

If you're shopping for a 2 year old girl's birthday, you could even add some adorable hair accessories like bows and clips.

Eating Utensils and Food Related Practical Gifts For A 2 Year Old


Teaching your toddler to self feed is a must! These products are great for help toddlers independence when it comes to feeding themselves.

I got rid of the bottle ASAP! Shortly after my my little guy turned 1 we slowly began transitioning away from the bottle and towards using cups.

This Munchkin Miracle 360 trainer cup has been our go to. I love that its leak and spill proof so less mess for mom. Plus, its designed in a way that requires your toddler to sip/pull the water out, thus teaching them how to drink from a real cup eventually.


My little guy still needs a bib when he's eating because there are still some spills and messes. These silicone bibs with deep spill pockets are GENIUS!

Now, for plates. I love divider plates with suction cups. If you're kid is anything like mine, you've had a plate a food fly by your head at some point. These suctions cups on the bottom of the plat e are a LIFE SAVER!

Another great buy are these awesome chunky spoon and fork set. For whatever reason, if you serve my kid food (any food) with that fork he will FINISH it. I guess he thinks its fun.

Alternative Gifts for 2 Year Olds For Homekeeping & Pretend Play

My two year is so so eager to 'help' out in whatever way he can. He loves to assist in the kitchen or when I'm cleaning around the house. If you're little one is the same, or maybe you just want to teach them to clean up after themselves, here are a few great tools to get them started.

This adorable toddler clean up set has a few great tools to get them started plus a stand to put everything away when they're done.

If you've got a little chef, then you'll definitely want this toddler cooking set complete with stainless steel utensils, play food, hat+apron and a cute little box to put everything away when you're done.

RELATED POST: The BEST Toddler Sleep Sacks & Wearable Blankets
Best Educational (Award Winning) Toys For 2 Year Olds
If you really want to bring a toy for a two year old, that's great too, but make sure it's something that will grow with them and something they will get plenty of use out of.

I love learning toys that are multipurpose. Toys that have several different ways to play with them and offer more imaginative play (rather than toys that just do one thing and get boring fairly quickly).

Here are a few of the best educational toys for 2 year olds.
(Just click the blue link if you want more details on the products)

There's good reason this is an award winning game for 2 year olds and beyond. This game is FANTASTIC for working on your toddler's vocabulary and memory skills.

I love that it has multiple different ways you can play it, varying its complexity so that you're little one will still find it fun, engaging and challenging as they grow older.

It can be played alone or with multiple children which is a bonus if you've got siblings at home.


These megablocks are a fantastic learning toy for toddlers and a great alternative to legos which can be a bit too small for this age. It's a wonderful gift that will grow with your toddler.

My little guy absolutely LOVES to build for hours with his set. His favorite game is probably building a huge block tower-then knocking it over.

We also use the blocks to teach colors and sorting.

It's great practice for their fine motor skills and spatial learning.


This Radio Flyer tricycle was one of my 2 year old's favorite birthday gifts to date. He loves to ride it or even just sit on it and ponder. It's pretty cute to watch.

I love that its a gift that helps get him active and outdoors (although you can certainly ride indoors too, just make sure any stairs are blocked off) while helping him to build his gross motor and balance skills.

Montessori Stacking Peg Board Toy Set


This is an excellent early learning gift for 2 year olds that's perfect for helping them develop their coordination and fine motor skills.

It's great for open ended play, building and learning. You can easily teach colors, numbers/counting, patterns and more with this Montessori inspired gift.

You can check out more STEM toys for toddlers in this Toddler STEM TOY gift guide.


Importance of Practical Life Activities For Toddlers

One of the things I love about Montessori education is it's focus on everyday activities for children's development.

We do have to teach our children to become self sufficient and we do this by introducing every day routines and activities that help them become more independent.

This includes things like dressing themselves (picking out their own outfits- however strange it may look LOL!), brushing their teeth, brushing their hair, cleaning up after themselves, feeding themselves etc.

They break these down into 4 categories:

♡ Preliminary Activities
♡ Self Care
♡ Caring For The Environment
♡ Social Awareness

Keep these things in mind when buying practical and useful gifts for your toddler. Think about how it helps them excel in these different areas. You can learn more about the importance of practical life activities for toddlers if you're interested.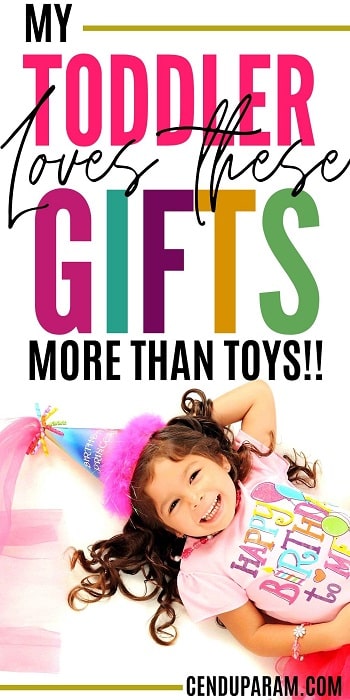 What Is A Good Gift For a Two Year Old?


Hopefully, this guide has provided you with some good practical gift ideas for 2 year olds. Did you find some useful gifts for a 2 year old that aren't just more junk?

I hope so!

Do you have some great gift ideas I missed?

Leave me a comment below with your useful or practical gifts for 2 year olds. Or some of the best toys for 2 year olds.

I'm always updating the lists so feel free to leave some suggestions 🙂