Looking for the best wearable blankets for your toddler? Wondering what the BEST sleep sacks for toddlers is? Well, you're in the right place! I've rounded up my favorites that you can grab in a flash on Amazon!

I used baby sleep sacks since my little boy was born and we wanted to continue with some kind of a toddler wearable blanket once he outgrew them because they really helped him sleep well as a baby.

I was looking everywhere for something that was specifically for toddlers and having a bit of trouble because most posts were about the benefits of sleep sacks for babies but there wasn't much about toddler sleep sacks for ages 12-18 months or 18-24 months, which is what I was after.

After all that research, I figured I could help other parents in the same situation.

So, there you have it, my list of the ultimate sleep sacks and wearable blankets for our big kids to buy from amazon.


Disclaimer: as an Amazon Associate I earn from qualifying purchases. This comes at no extra cost to you.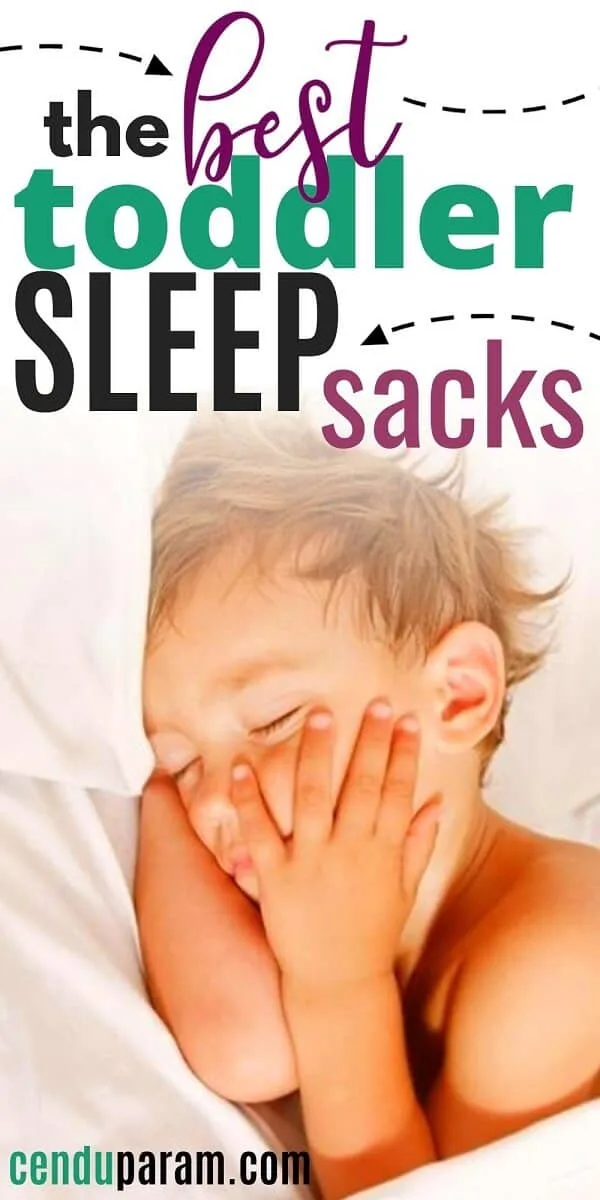 Woolino 4 Season Ultimate Toddler Sleep Sack Bag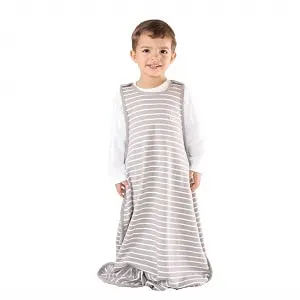 I think the Woolino 4 Seasons Toddler Sleep Sack is the best overall investment if you want the best bang for your buck.

If you purchase this one sleep sack, you're pretty much set for the whole year! That's because it's made of 100% natural super-fine Australian merino wool which is super breathable and helps your little one naturally regulate their temperature.

You'll have a peace of mind knowing you never have to worry if your baby or toddler is too hot or too cold. This was the reason we got this one.

My little guy's body temperature always runs a little hotter so most wearable blankets leave him feeling overheated and he refuses to use them.




SIZE: This one is labeled as a universal size and should fit toddlers between ages 2-4. It has snaps under the arms so you can adjust the size as needed.


PROS

♡ Great Quality and Soft, Breathable Fabric

♡ Temperature Regulation

♡ Usable All Year Long = SAVE MONEY

CONS

♡ More Expensive Than Most Others



Tealbee DREAMSUIT: Toddler Wearable Blanket With Legs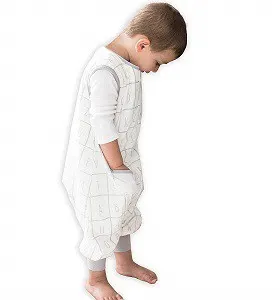 Next up, we have the Tealbee Dreamsuit Toddler Wearable Blanket.

This is another breathable blanket but this one is made from a mix of bamboo and cotton. They advertise themselves as the softest wearable blanket that's great for even sensitive skin.

This one has legs so it's perfect for beginner walkers and toddlers on the run like my guy.

If you're worried about your little one falling because they'll try to walk, even while wearing their blanket, this is a great alternative.

SIZE: this one has sizes that range from 1-3 years old (12-36 months), they also carry baby and newborn sizes.


PROS

♡ Breathable + super soft fabric made of cotton + bamboo allows for self regulating temperature

♡ Has open feet to prevent falling

♡ Parents have reported better and longer sleep

CONS

♡ Slightly pricey and has more limited age range

♡ Fabric may pill with repeated washing (see photos) and some parents reported shrinkage after washing so I would suggest hanging to dry instead of using the dryer

RELATED POST: Awesome Practical Useful Gifts For Toddlers

HALO Big Kids Wearable Sleep Sack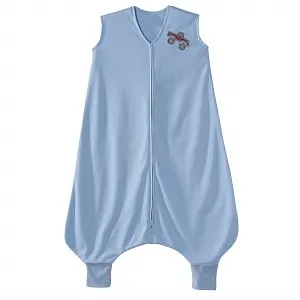 I used the Halo sleep sack with my guy when he was just a baby and we LOVED it. He finally started sleeping through the night once we used it.

We just recently learned they also have a toddler version, the HALO Big Kids Wearable Sleepsack.

This one is a light knit 100% polyester material that's meant to be worn over your little one's sleepwear. So this one isn't self-regulating in terms of heat but that's why they've made is sleeveless to prevent overheating.

Unlike the sleep sack version that we used, this one has legs to allow toddlers more mobility. It's quite roomy so you can actually pull it over their feet at night if you'd prefer the feet covered while sleeping.

SIZE : The HALO line offers sleep solutions from newborn to 5T!

That's quite a range.

If you prefer the sleep sack style, they suggest the extra large sleep sack for toddlers, that should be able to accommodate children from 26-36 lb.

You can learn more about the Halo Sleep Sacks in this FAQ.


PROS

♡ Inexpensive

♡ Has feet holes for more mobility but roomy enough to allow feet to be tucked away while sleeping

♡ Reverse zips from bottom to allow for easy bathroom use

CONS

♡ Not made for all seasons so you'll need to purchase a fleece sleep sack for colder weather or layer

♡ Some parents said the fabric started pilling after 4-5 washes


RELATED POST: Best NON Toy Gifts For Toddlers

ErgoPouch Toddler Sleep Suit Sleep Sack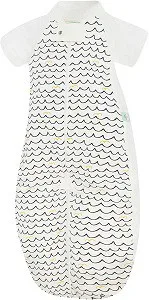 I think the ErgoPouch Toddler Sleep Suit is just genius!

This product is made from 100% organic cotton so it's fairly breathable and it can actually convert between being a sleep sack and a sleep suit with the flip of a zipper. How genius!

Unlike most of the other ones, you're little one's feet will stay warm because they convert to footed sleeper or sleep sack.

The bottoms also have non slip grips if you're using the covered feet so you won't have to worry about your kiddo falling (unless they're just plain clumsy like mine LOL).


SIZE: this product has the most versatile size range I've seen yet!
They have sleep suits from 2 months to 6 YEARS OLD!


PROS

♡ Well made and good quality held up for many washes

♡ Converts between sleep sack and wearable blanket with feet (covered!)

♡ Comes in a vary wide range of sizes and patterns/colors

♡ Many parents reported the slight weight helped their children sleep better

CONS

♡ This sleep suit is on the pricey side

♡ Some parents said they had trouble changing diapers for sleeping children (without waking them)

♡ Comes in different TOG warmth levels so you may potentially need different products for different times of year


Baby Deedee Sleep Nest Lite Sleep Sack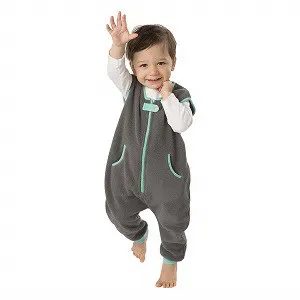 The Baby Deedee Sleep Sack With Feet is a wearable blanket for toddlers and babies, that seems to be well liked by parents according to reviews.

This is a cozy and soft wearable blanket made from polyester fleece which is why they don't have arms. You don't want your little one to overheat! Parents reported that it kept their little ones nice and warm without getting too hot.

It's perfect for toddlers who want the freedom of movement (although they do have sack versions for up to 36 months old) and tend to kick off blankets.


SIZE: If you're getting this version with feet, the size ranges from 18 months to T4.

The sack version is available from newborn sizes up to 36 months


PROS
♡ Allows toddlers to have greater mobility while keeping them warm

♡ Perfect for kids who don't like using blankets

♡ Reasonably priced and good value


CONS

♡ Not made of breathable material (polyester) so does not allow for automatic temperature regulation

♡ It's listed as being chemical free but parents reported that the tags said it contains flame retardant (see photo)

♡ Zipper isn't placed at the bottom for easy diaper changes

RELATED POST: DIY Toddler Restaurant Survival Kit

Flying Squirrel Wearable Blanket For Toddlers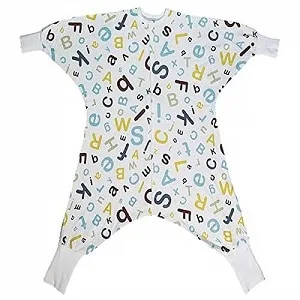 The Flying Squirrel wearable toddler blanket comes from the makers of the Zipadee-Zip baby sleep sack. This is their transition products for toddlers.

It's made to be loose and comfy and mimic a blanket. Unlike the Zipadee-Zip though, this one has openings for the hands and feet to allow more mobility for your toddler.

However, the nice thing about this one is you have the option to cover the hands and feet if you want.

It's a mixed fabric with cotton and modacrylic so it's ideal for room temperatures around 74-76 degrees Fahrenheit (23-24 C).




SIZES:
This one comes in the following sizes
♡ Size 12-24m – fits height up to 39″
♡ Size 2/3T – fits height up to 48″
♡ Size 4/5T – fits height up to 56″
PROS

♡ Parents loved the soft, breathable fabric

♡ Allows free movement with the option to cover hands and feet when sleeping

♡ Advertised to fit ages 1-8 as it runs bigger/baggy

CONS

♡ Doesn't offer free returns (paid shipping)

♡ Some parents found the arm/leg cuffs to be on the tight side although the company has done this on purpose as it will stretch with use



Slumber Safe Sleep Sack For Toddlers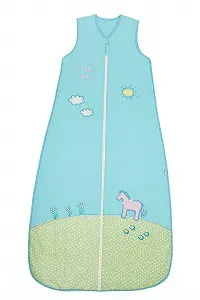 The Slumbersafe Sleep Sack is essentially like a wearable sleeping bag for toddlers. Although they do have a version with leg holes as well.

It's made of 100% cotton and is meant to be both warm and breathable. It's definitely meant for the colder winter weather and they recommend it for temperatures around 59 degrees Fahrenheit (15 C).


SIZES: This company carries sleep sacks from newborn size all the way to 6 years old (although parents reported up to even their 8 year olds fitting in there) It's quite roomy so do check the size chart.

PROS

♡ Good quality fabric that kept child nice and warm

♡ Long sleeves for extra warmth during winter

♡ Lots of space so can be used for years

♡ Zip opens from the bottom allowing for quick and easy diaper changes

CONS

♡ Too warm to use throughout the year (winter /cold only)

♡ Velcro strap at the neck doesn't always stay put

RELATED POST: Awesome Toddler Art Toys That Keep Them Busy For Hours

Ergobaby Sleeping Bag on The Move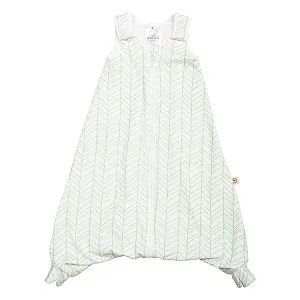 Last up we have the Ergobaby Wearable Sleep Bag. This one is 100% cotton and made to be warm but breathable and well made (see actual photos of product).

They feature tuck away feet so your toddler can run and play during the day while still being able to use it like a sack with their feet covered when they sleep at night.


SIZE: This one comes in 2 sizes :6-18 months, 18-36 months. They also have a sack version for 0-6 months.

PROS
♡ Soft and breathable cotton

♡ Adjustable shoulder straps

♡ Has foot holes but can be covered at night

♡ 2 way zipper for easy diaper changes

CONS

♡ Should be air dried as some parent reported shrinkage when using the dryer

♡ Comes in different levels of TOG so you will need multiple products for different temperatures

RELATED POST: Fun Places To Take Toddlers To Spark Their Development

Things To Consider When Buying Your Toddler Sleep Sack (FAQs)


I've tried to include items that are good quality, reasonably priced and parent approved. You'll have to think about the climate where you live to pick your ideal wearable blanket.

How warm do you need it to be? Do you live somewhere that the weather changes seasonally? Or is it pretty consistent throughout the year? Depending on your answer you might need something that's great for all seasons or maybe just something for the colder months?

You'll have to use the TOG rating guide to help you choose.


What is a TOG rating?


You probably noticed all the items had a TOG number on them.

What the heck is a TOG rating you ask?

This refers to thermal insulance or thermal resistance. Basically, how warm is the fabric of choice. This number will help you choose the item that best suits your little one's needs so you can prevent overheating.

The higher the TOG, the warmer the fabric.

As a reference you can use this:


0.5 TOG – ideal for warm temperatures (74-78 °F/ 23-26 °C)

♡ these are the best toddler sleep sacks for summer

1.0 TOG – around room temperature (69-73 °F/21-23 °C )

♡ these are the best toddler sleep sacks throughout the year

2.5 TOG– cool temperatures ( 61-68 °F / 16-20 °C )

♡ these are the best toddler sleep sacks for winter

You should choose your sleep sack based on the temperature in your toddler's room (not the temperature outside).

Generally 1.0 TOG is the year round ideal as you can easily add layers or take them off as needed.


How Should a Toddler Sleep Sack Fit?


This will depend on whether you choose a sleep sack or wearable blanket but generally they are spacious but shouldn't be so baggy that you're toddler is tripping over it.

The arm holes should have enough space for easy movement but they shouldn't be able to pull their arms in and out willy nilly.

Make sure the heck area isn't big enough for them to easily sleep their head inside, this could pose a suffocation hazard. It should be snug but not tight.

In terms of length, for a sleep sack you can buy it a little longer to allow your little one to use it longer.

However, for a wearable blanket, it's best to measure your toddler from neck to ankle and choose a size within that range. You don't want them tripping and falling all over the place because they have excess fabric hanging around their ankles.


Benefits Of Using A Sleep Sack (Does Your Toddler Even Need One?)


Typically, sleep sacks are the product of choice for newborns and babies because they aren't easily able to regulate their temperatures and need help staying warm.

Blankets can easily unravel and pose a hazard so parents opt for sleep sacks for their babies.

Plus it also helps with the startle reflex. Babies often swing their arms out and wake themselves up.

Your toddler doesn't really have these problems anymore.

Do they even need a sleep sack?

That totally depends on you and your toddler. My little guy just grew accustom to his sleep sack and sleeps better in them so it was a necessary transition for us.

Also, he HATES blankets!! We tried blankets several times but he ALWAYS kicks them off. Then he ends up cold during the night and wakes up.

If you've got a kicker on your hands, a wearable blanket is a great solution.

Do you have a diaper remover?

So, my guy has gotten into this weird habit lately where he LOVES to take off the diaper and streak around the house butt naked.

The wearable blanket has stopped him in his tracks!



How Many Toddler Wearable Blankets Do You Need?



This is going to depend on what you decide to purchase.

Are you planning to get different TOG levels for different weather? Or will you opt for something that can be used year round with layering?

In either case, I suggest having at least 2 on hand of whichever type you decide to use.

My little guy pretty much NEEDS his to sleep so I always want to have a spare handy for when I'm doing laundry or if we accidentally leave one somewhere or can't find it.



When Should Toddler Stop Using A Sleep Sack?


Again, this is totally up to you and your toddler.

It really depends on whenever they're ready.

I try out a blanket from time to time during my son's naps to see if he might actually keep one on. So far, no luck (he's 2 and a half now) so we're still using the sleep sack.

As you've seen, there are toddler blankets that go as high as 6 or even 8 years old so there isn't really a set age limit for when they should stop.

It's safe and comfortable to use so what's the rush?



How To Take Care of Your Toddlers Sleep Sack?


The main complaint I saw on reviews before buying was that the fabric would often begin to pill or shrink after washing.

My tip (and what I've been doing religiously) to extend the life of your sleep sack is to HANG/LAY FLAT TO DRY!

Make sure you read and see what material your sleeper is made out of and how the manufacturer meant for it to be cared for.
For instance, cotton tends to shrink in the dryer whereas cotton blends generally hold up better.

Excessive heat is going to damage the fabric.

You can go ahead and machine wash then just hang it or lay it flat to dry. Doing this will keep your toddler's sleep sack looking like new for A LONG TIME!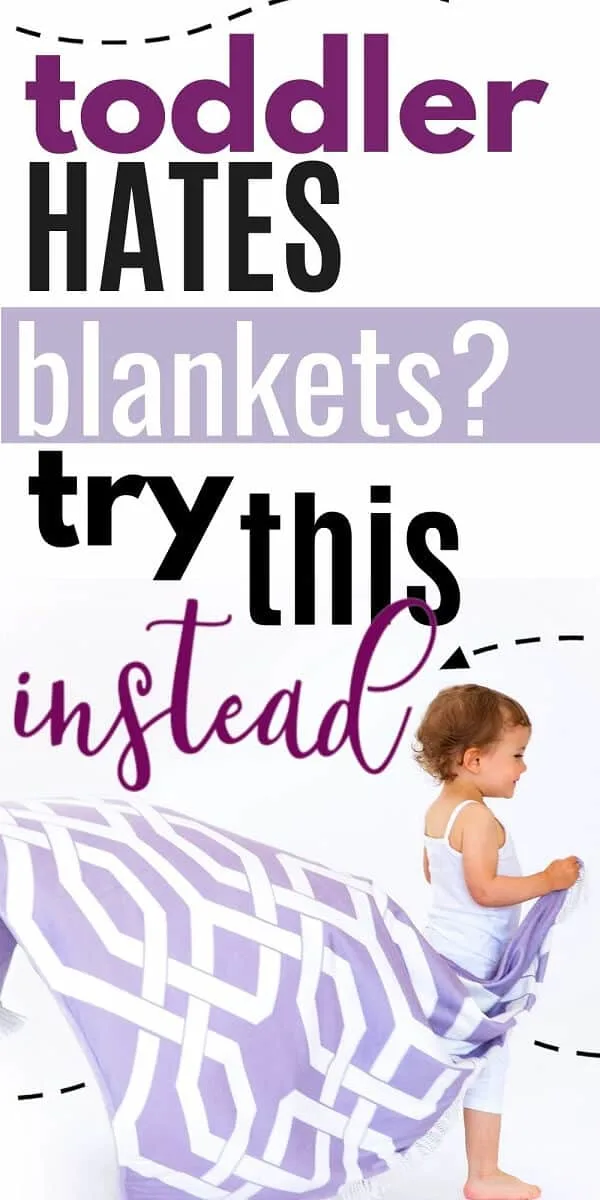 The BEST Toddler Wearable Blankets


A wearable blanket or sleep sack is a great option for toddlers who always end up kicking off their blankets or those that love the feeling of being cuddled or swaddled.

If you're little one used a sleep sack as a baby, they may want to continue feeling cocooned when sleeping.

Hopefully, you found some great options here that you can transition to as they grow. It'll make a great alternative to a blanket until they're ready.

Does your little one currently use a sleep sack or wearable blanket? Which one is your favorite?

I'd love to know! Leave me a comment.