Are you looking for some fun places to take a 1 year old? I've rounded up a list of places to go with a 1 year old, both indoor and outdoor so even if it's a rainy day, you'll have plenty of ideas to keep you busy!

It can be a lot of work getting outside with a baby but if you prepare ahead of time, it can be so much fun and you won't feel like pulling you're hair out 15 minutes into your outing.

Exploring the world with your little one is fantastic for their growth and development. It gives them new sights, sounds and experiences that engage their curious minds.

Plus, it's a wonderful way to make memories and bond with your 1 year old. Sure, they may not remember but that's what photos are for so remember to take your camera and snap away!


1 Year Old Developmental Milestones: What Do They Like To Do?

You're 1 year old is at that stage where they're super mobile and that means super curious. They want to explore everything around them (usually that involves a lot of putting things in their mouth).

Give them plenty of opportunities to practice those fine and gross motor skills through sensory play.

They'll also want to practice moving around since they've recently learned to crawl and are possibly working on walking too!

Many of these places are a great way to allow your little one to explore their new skills in a safe environment.

So if you're wondering where is a good place to take a 1 year old? Or What activities can you do with a 1 year old?

I've got 19 toddler approved places to go and things to do!

Fun Places To Take a 1 Year Old: Outdoor Activities


If you're a stay-at-home mom like me, you might feel a little stir crazy from time to time. Getting out of the house can do you a world of good and keep you feeling sane.

Plus, it's a great visual and sensory experience for your one year old. It gives them different stimuli than what they're use to at home. You want to offer as many new experiences as you can. You can read more about the importance of outdoor play for babies and toddlers cognitive development in this article.

It's also a great way to build on their vocabulary. Talk to your baby about all the new sights and sounds they're seeing.

Here's a list of my favorite outdoor places to take a 1 year old: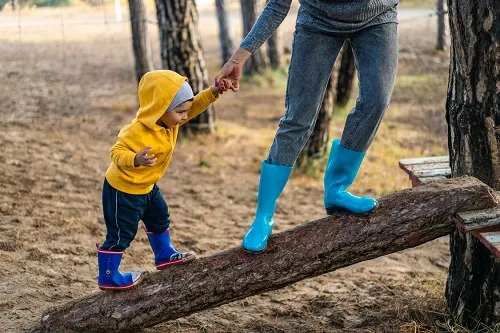 The Park Is a Great Place To Take 1 Year Olds


Getting out of the house can be as simple as a trip to the neighborhood park. If you want to be a little more adventurous, take a look at other parks within driving distance.

Your little one likely can't play on all the park equipment yet but they may love just sitting in the grass and watching the big kids play like my little guy.

My little guy loved just feeling and touching the grass with his hands and toes. His first time was actually kind of hilarious. He didn't know what to expect and wouldn't put his feet on it.

You can even pack a picnic to enjoy together.

After our picnics, we love to take a spin on the baby swing.

My little guy is 2 and a half now but he's still obsessed with the swing and I think that started from his early park trips.

These park trips give him more things to verbalize and talk about like the man walking his dog, or the birds in the sky, or the butterflies flying by.

It's really not about where you go, but what you make of those outings.

Spend the time pointing things out with your baby and talking about what you see, hear and smell. Touch things, describe them, and play.

Some things we love to bring along to the park to play with include:

❤ Bubbles + giant bubble wand

❤ Sensory Play Ball

❤ Push-and-Play toys that promote walking (this one even does bubbles)


Visit The Farm With Baby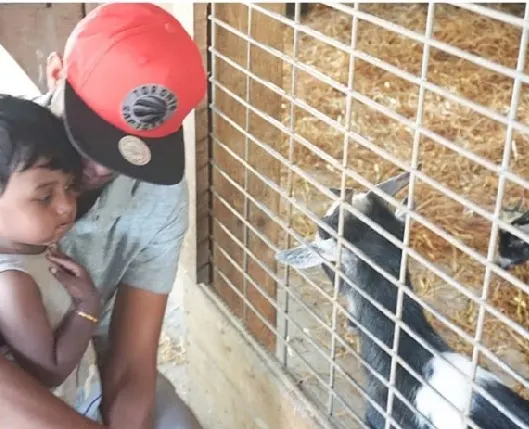 One of our most favorite places ever to go with our 1 year old is the local farm. I think we love it as much as he does.

There's just so much to see and do! We always check out the animals and name them as we go. They even have a little petting zoo section so he was able to get up close and personal with some of the goats, and ponies.

It's a great way to work on our animal words. We often bring our First 100 Animals book on our visits and see how many we can find and name.

Our farm even has seasonal festivities like Easter egg hunts or the pumpkin patch in the fall so it gives us even more reasons to visit throughout the year.

They have tractor and wagon rides throughout the property that my little guy absolutely LOVED!

A trip to the farm should definitely be on your 1 year old's bucket list!

Take A Trip To The Zoo


Another great activity to do with your 1-year-old is a visit to the zoo. This one is likely a whole day trip so I would suggest bringing reinforcement.

Having a grandparent, friend or partner come along will give you an extra pair of helping hands plus if your toddler knocks out at some point for a nap, you'll have someone around so you're not bored.

If you've got a little animal lover like my boy, they'll be super excited by all the new creatures to see. He was pointing and giggling at everything in sight. It was so much fun!

Don't forget to pack snacks, water and bring your stroller.

The other thing I brought along was my baby carrier (or wrap) because my little guy doesn't like sitting in his stroller all day long. With the carrier, we were able to get a little closer and take a look at the animals together.


Visit The Farmer's Market With Baby


Not every trip with your 1 year old needs to be an expedition. Taking your little one on daily errands around the neighborhood provides lots of stimulation and learning opportunities too.

A trip to the farmer's market can be a great little trip to take with your child that doesn't require a lot of effort and planning.

Let them take in the sights and sounds like the fresh baked goods and the colorful fruits and vegetables. Point things out and name them together while you shop.

It's a wonderful way to support your local community while starting healthy eating habits early on. It can be a weekly tradition with the kids and can even help them become better eaters later on (have them help you pick things out when they're older, for instance).


Go To The Splash Pad or Pool With Your 1 Year Old


If you've got a little water lover on your hand, like my little guy, you will most definitely have to take a trip to the local splash pad or wading pool. My little one can spend hours here and never get bored.

Water play is beneficial for SO MANY REASONS:

– Promotes baby's balance and strength

– Helps them work on their coordination by working their muscles and motor skills

These are just a few of the reasons you gotta get in the water with baby.

If you're worried about chlorine on baby's sensitive skin, do a little research on what's available in your community.

Many private pools these days offer salt water pools which allow the pools to stay clean without chlorine use.



Take Baby To The Beach


Another favorite place to take our baby is the beach. It's become an annual tradition with him and the whole family. We try our best to get all the aunts, uncles and cousins together each year for a beach day bash.

The beach is a fantastic place to take your 1 year old, not just because its SO FUN, but also because it provides them with so many learning opportunities too.

Playing in the sand, water, and mixing the two for sand castles will provide a unique sensory experience, unlike anything they've tried before.

There are so many new sights and sounds like the seagulls above and the sand and seashells below.

My little guy gets really vocal after a beach day, he wants to 'talk' about all the new things he's seen and done so it's also a great opportunity to work on his speech and language skills.

I know that planning a beach day with a baby can sound a little intimidating but as long as you prepare, you should be just fine!

I can help! Check out my family beach essentials so you know what to pack (and what you really DON'T WANT OT FORGET) plus some GENIUS baby beach hacks that will make your trip SO MUCH EASIER!

This is also a good time to review water safety rules when taking kids to the beach or pool. It's always better to be safe!


Take Your 1 Year Old Baby To An Amusement Park or Carnival


If you have any toddler-friendly amusement parks or carnivals visiting your area, why not make a little trip of it.

You obviously won't be riding any roller coasters but there are often baby-safe rides that you can enjoy with your little one like the carousel or visit the Peanuts gang at Plant Snoopy in the kiddie section of Wonderland.

Plus, there are just tons to see. There are lots of lights and bright colors and sounds for them to take in.



Take A Nature Walk


Why not grab the stroller or baby carrier and simply head out for a walk in the community with your 1 year old baby.

A national park could also be another great place for nature walks but even your neighborhood will do.

I love doing this in the summer and fall so we can talk about the leaves and see the colors change.

We sometimes even collect things on our nature walk that we can add to our sensory play bins like leaves or pine cones.

Other times, we might pick some flowers to smell.

We have a little pond nearby and sometimes we take a walk to the pond and bring along some bread to feed the ducks. This is one of my little guy's favorite things to do.


Play in the Backyard With Your Baby


If all these outdoor activities for a 1-year-old seem OVERWHELMING, then why not just head out to the backyard?

There is tons of fun to be had right in your backyard. Make some mud pies! Lay in the grass or sit back and blow some bubbles.

You can make your backyard a fun place to explore for baby. You can even add a few awesome backyard toys for added excitement.

Click the link to check out some of my favorite backyard toys:

Rain Showers Splash Pond Water Play Table + 13 Accessories


KidKraft Wooden Backyard Sandbox w/ Mesh Cover

Fun Places To Go With Your 1 Year Old On a Rainy Day: Indoor Activities


Now, lets look at some fun places to go with your 1 year old that are indoors or enclosed.

I wanted some rainy day activities for 1-year-olds in case some of our outdoor plans fell through and we needed some place warm and dry to head to instead.

Here are our favorite places to take a 1 year old for indoor activities, perfect for a rainy or cold day.


Visit Your Local Library With Your 1 Year Old



If you want to start with smaller more manageable outings, a visit to your local library with your 1 year old might be the perfect trip.

It's usually not a far distance to travel so if things go south, you can easily pack up and be home in a jiff.

We take weekly trips to the library, it's become a part of our routine. It's usually only for an hour or so but he loves it.

We look at new books, read together, play with toys and even make friends.

Our local library hosts activities for babies and toddlers alike. They have music classes, read alouds and so much more. It's a fantastic way to meet other moms with babies around the same age.

It's a great way for my little guy to socialize with other little people his age.

Check out your own library to see if they have a similar program available. Most of them do and sometimes they require you to reserve a spot so make sure you see what's required.


Go To The Aquarium With Baby


The aquarium is an awesome indoor place to visit with your baby. It's beautiful and colorful! Your baby will LOVE it!

My little guy was mesmerized the whole time. Watching all the animals swim by can be so captivating for little ones. They can touch the glass and see all the fishes and sea creatures swim by.

Many aquariums even have hands-on exhibits where you can get up close and personal with some interesting sea creatures. It'll be a memorable experience for everyone!

This is the Ripley's Aquarium in Toronto and as you can see, this little one is completely mesmerized!


Go To the Museum With Baby


Visiting a museum with a baby can be an awesome trip that's enjoyable for the whole family.

There are tons of multi-sensory experiences and exhibits to check out that will spark curiosity and many that allow you to get interactive too.

It's a trip where you can all learn something new.

We have an amazing science museum in Toronto called the Ontario Science Center that's full of fun, interactive and educational exhibits about EVERYTHING you can think of. You can touch, test, and experiment to your heart's content.

You should definitely add a museum visit to your 1 year old's wonder years bucket list.



Take Baby To a Conservatory or Greenhouse


An easy rainy day activity is to visit an indoor conservatory or greenhouse with baby. There are so many different kinds you can check out from botanical gardens or greenhouses to butterflies and birds.

Check out the exotic plants and explosive colors.

When we visited Niagara Falls with baby, we were sure to check out the botanical gardens, the butterfly conservatory (with live butterflies!) and the bird kingdom.

It was a memorable experience for the entire family and totally baby-friendly.


Take 1 Year Old To an Indoor Play Place


An indoor play place is a toddler's paradise! It was made with them in mind and offers them a fun and safe way to play and explore.

They usually have lots of different activities for little ones of all ages from things like ball pits to slides and climbing apparatus.

It's a great place for little ones to socialize and find some friends their own age to babble with. My little guy didn't want to leave!



Visit a Baby Drop In Program


Does your community offer community drop-in programs for babies and toddlers?

It's well worth checking out! We have a great one in our neighborhood. They're open every single day! They offer different programs for babies and their parents based on age. Some are paid but most are free.

Our local child and families programs have so many fun activities like the mother goose club, music and movement and arts and crafts.

In Ontario, every family has free access to these programs through the Early ON Child and Family Centers. Check and see what local programs you have in your neighborhood.

You can even check out the YMCA, they also have some great programs.


Take Baby to a Gymboree Class


Get social and musical at a baby Gymboree class! These classes have something for all of baby's developmental needs.

Lots of great social interaction with other little ones. It get's them active, moving and grooving. Some even teach baby sign language.

They offer parents tips and tools so the learning and fun can continue at home. Plus I'm sure you'll make a few parent friends too.

It's another one for the baby bucket list for sure!


Go To A Mall Near Me With Baby


As I was saying before, not every trip outside has to be something extraordinary. Your everyday outings can be just as rich a learning experience for baby as the other stuff.

A trip to the mall has plenty of action to stimulate and encourage your little one's cognitive development.

When we go to the mall, I love to take my kiddo to the pet shop. We go look at the animals and practice animal names and sounds together. He points out each one he knows and names them. It's a perfect opportunity to work on his language and vocabulary skills.

If we go during the early part of the day when it's pretty quiet, I even let him out to explore. He loves running around the wide-open space.

Then, we usually share lunch and maybe even a little frozen yogurt in the food court before heading home (because that was on my mom & son bucket list).


Take Your 1 Year Old To The Local IKEA


Along the same lines as the mall, IKEA is another crazy fun place for kids and adults alike. I know you might be thinking, are you crazy lady?!

But hear me out!

Have you actually checked out the children's section of IKEA? It's totally set up for kiddie entertainment. They have tons of toys out for the kids to try before you buy (warning: you probably won't be leaving empty-handed).

My toddler thought the maze-like architecture and swirly stairs were a hoot! He loved running around and finding new corners to turn into.

He also enjoyed trying out all the kiddie furniture in the staging areas.

Plus, when you're done with the fun, you get to dine at the IKEA cafeteria which is ALWAYS a MUST! It helps that they have lots of kid-friendly options and even (free) baby food too!



Take Little One To Local Community Events


Keep an eye out for local community events happening in your area. There is always tons of fun to be had at these local gatherings.

Out town has tons of these: strawberry festival, food truck festivals, holiday festivals and parades just to new a few.

Just last Halloween, our community held a kiddie trick-or-treat event during the day at the local shops.

This way, parents with really young children were able to participate and not have to worry about taking their kids out at night.

It's great because it involves little or no planning on your part. Just grab the family, head out and enjoy!


Baby and Me Fitness Classes (like Yoga)


Another great experience for babies and parents is a shared fitness class. Again, this will be dependent on what's available in your area so take a look and see.

Our area has great mommy and me yoga classes for little ones and parents.

It's fantastic because your 1-year will love coping you while they work on their coordination and balance as well as spatial and body awareness.

There's plenty of opportunity for socialization and teamwork too! You'll make new baby and parent friends. It becomes such a fun routine and it's a great way to keep fit and set a great example for you little one.

I find it can be such a calming thing for little ones as well, it helps them to focus and develop cooperation skills.



Tips For Taking Your Toddler Out


I want you to enjoy your outings with your little one and focus on making memories. In order to do that, we need to be prepared. Here are my tips for a successful toddler outing:


Pack snacks and don't forget your sippy cup or bottle (hangry toddlers can be a nightmare!)


Bring your baby carrier as well as your stroller- sometimes the strollers don't always fit in certain places so it's handy to have your baby carrier on hand


Head out after nap time & plan according to their schedule– this one seems obvious but I don't know how many times I've forgotten and these outings turn into disaster with a cranky kiddo


Start Small– if you're just starting out, start with smaller stuff closer to home so you can see how your 1-year-old is adjusting- if it all goes wrong you'll be ready to run home ASAP


Bring Back Up– whenever possible (especially for long hauls) bring some support (partner, grandparent, friend, etc) so you don't feel so overwhelmed if you need a little help


Gauge Baby's Mood– there are some days they just aren't having it so don't force it- there's always tomorrow


Avoid Peak Times (like at the mall) – it can be super annoying trying to push a stroller through an endless sea of people who don't seem to notice you're there so try to go during off peak hours whenever possible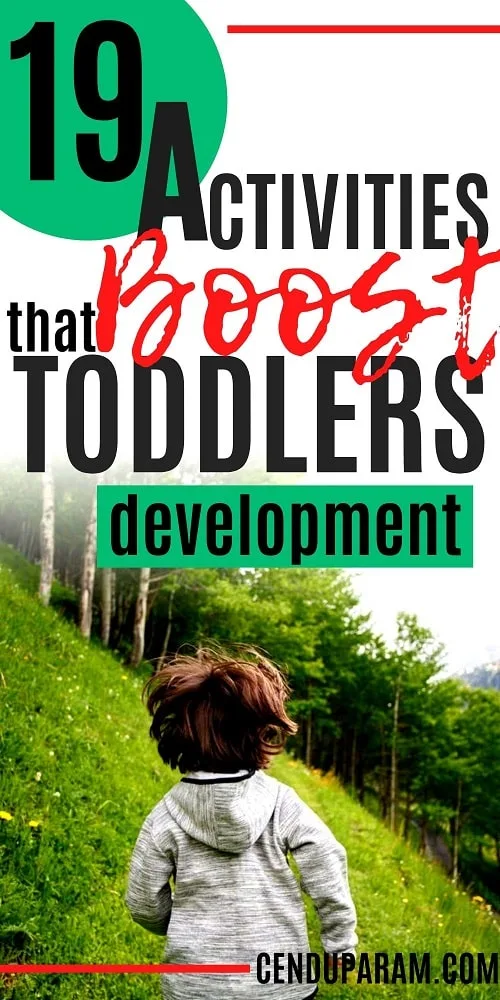 Where To Take a 1-Year-Old Near Me


Hopefully, this list gave you some great ideas about where to take your 1-year-old in your area. Providing your little one varied experiences and environments to explore enriches their development and learning.

I know it can be tough getting outside with a toddler but it's so worth it! As you can see, it doesn't always have to be something complicated.

Even errand runs can be a great opportunity to work on their vocabulary.

Do you have fun or memorable places you take your little one?

Leave me a comment!