We recently took our first little mini vacation (or more like stay-cation) a few weeks ago with our toddler. We wanted something easy and manageable for our first trip away so we choose to try Niagara Falls with our toddler. We're on the Canadian side of the border and if you're visiting Niagara Falls USA, it's well worth it to cross over for the EPIC Canadian falls view. Niagara Falls is actually a pretty perfect trip with baby or a toddler. You can get around fairly easily on foot and although not everything is baby friendly, there's quite a few fun things to do with kids in Niagara Falls.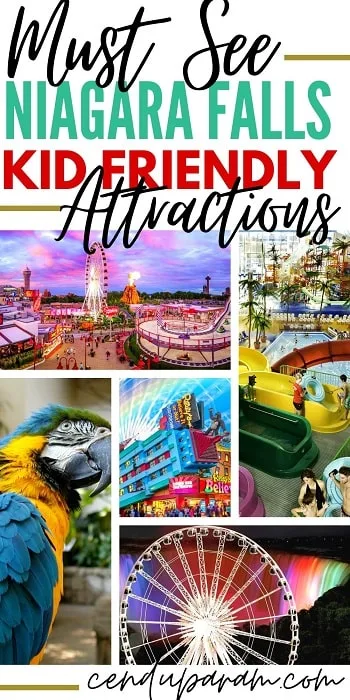 What's The Best Time of Year to Visit Niagara Falls?
Of course, this is totally personal preference but you don't have to choose just one season. Niagara Falls often has things going on all year long. The busiest time of year is of course-summer. If you don't mind all the tourists and crowds, summer may be right for you. The weather is perfect for walking around. Some days can get super hot but the mist from the falls helps you cool down. Pretty much all the attractions are open and it's high season.
Personally, although super beautiful, summer isn't my ideal time to visit Niagara Falls. This is mainly because I'm not into crowds. The massive amounts of people and stalled traffic makes me want to hyperventilate into a brown paper bag so we wait til off-season for our trips.
If you're traveling with a baby or toddler to Niagara Falls you may also prefer off-season because it's so much easier to walk around with your stroller or baby carrier. You won't be caught behind a massive line of people at every attraction.
Usually, we go every winter around my husband's birthday. This is the most dead time of year (early December). I've been able to walk around Niagara Falls in early December and it feels like we have the entire place to ourselves. I kinda love that.
This year, however, we decided to go in early October with our toddler because I didn't want it to be super cold. Weather wise, early October was pretty perfect, not too hot and not too cold. Temperatures were around the 15-19 Celsius. Perfect for strolling through Niagara and taking in the sights and sounds without freezing. Full disclouser though, after the trip we all ended up sick. It's probably not the best idea to play in the mist on a cooler day.
Things To Do in Niagara Falls with a Baby or Toddler
You probably won't be hitting the casinos with your baby in hand but there's plenty of other things you can try. There's a lot of natural beauty to take in, the Falls (obviously) but there's a lot of other things to do to. Some stuff feels super touristy and a little cheesy but I find the kids love it!
Toddlers Love the Niagara Botanical Garden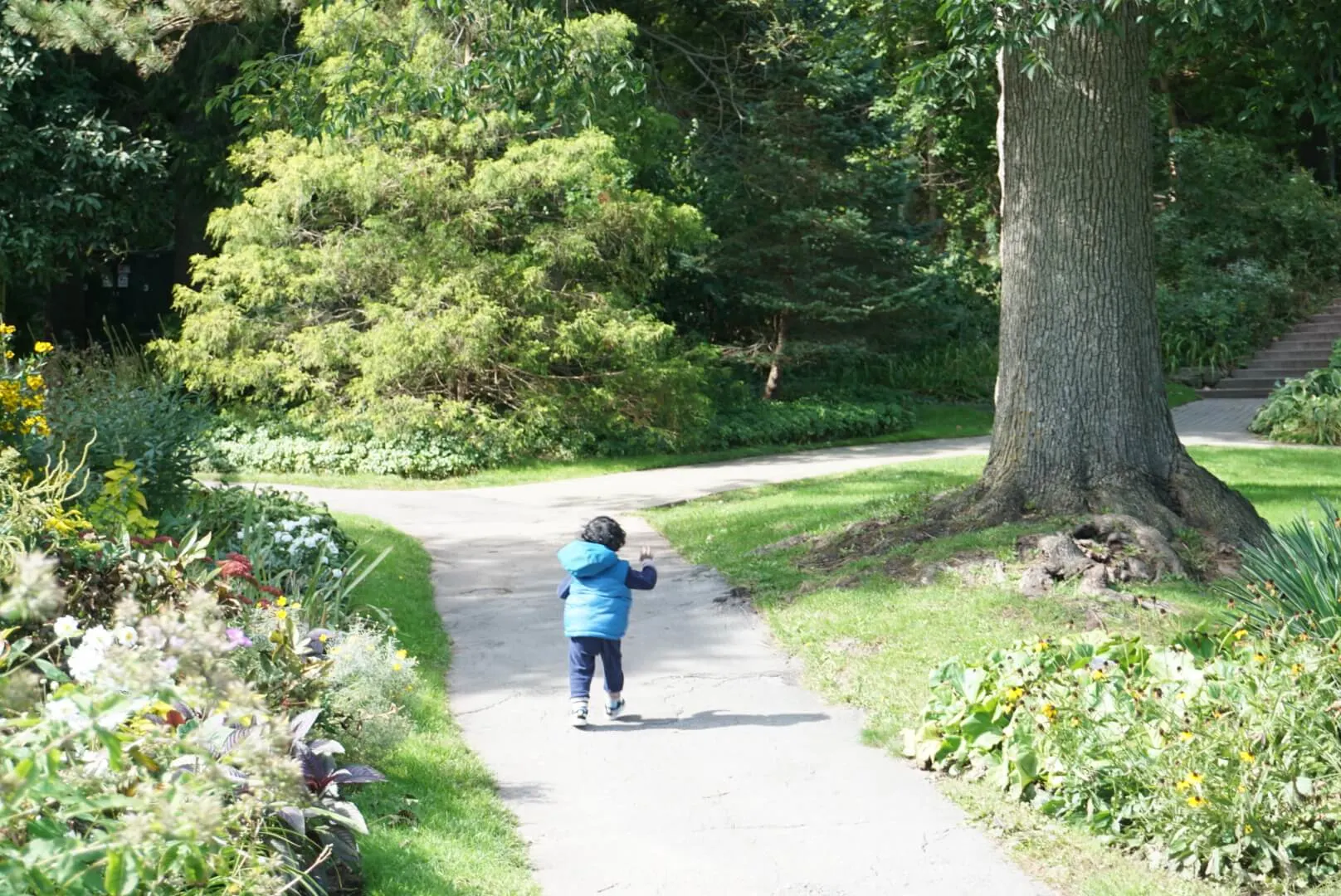 Niagara Falls has one of the most beautiful rose gardens along the scenic Niagara Parkway. The best time of year to visit the garden to get the full effect is definitely in the summer but lucky for us, there was still many flowers in bloom in early fall. My little guy loved running throughout the garden and smelling flowers. This almost-100-acre garden is the perfect spot for beautiful photos too. I felt like Mary exploring my own secret garden.
Niagara Butterfly Conservatory is Perfect for Young Children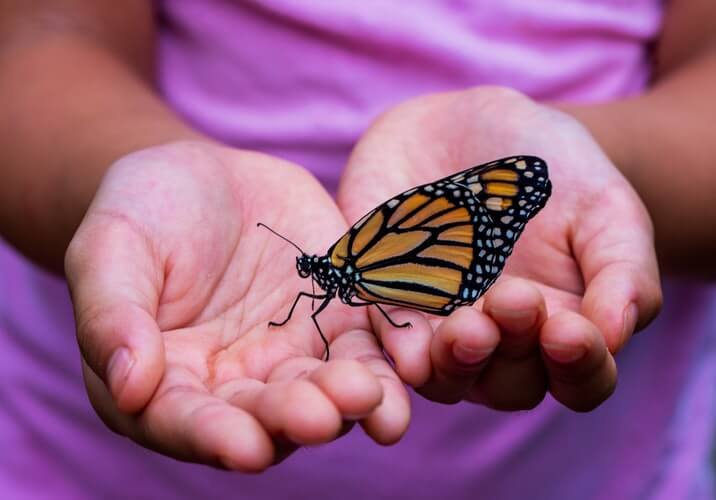 If you're already near the garden, the next place to stop is the Niagara Butterfly Conservatory which is located right on the grounds of the Botanical Gardens. Take a self-guided tour of the conservatory and check out 45 different species of butterflies. This one is perfect for little explorers. Your toddler or baby will absolutely love seeing all the beautiful bugs fluttering by ( or it may end in a meltdown if they hate winged creature flying overhead). I love that it feels like you've just been transported to some tropical oasis. Kinda fun, yes?
The Hornblower Cruise is Kid Friendly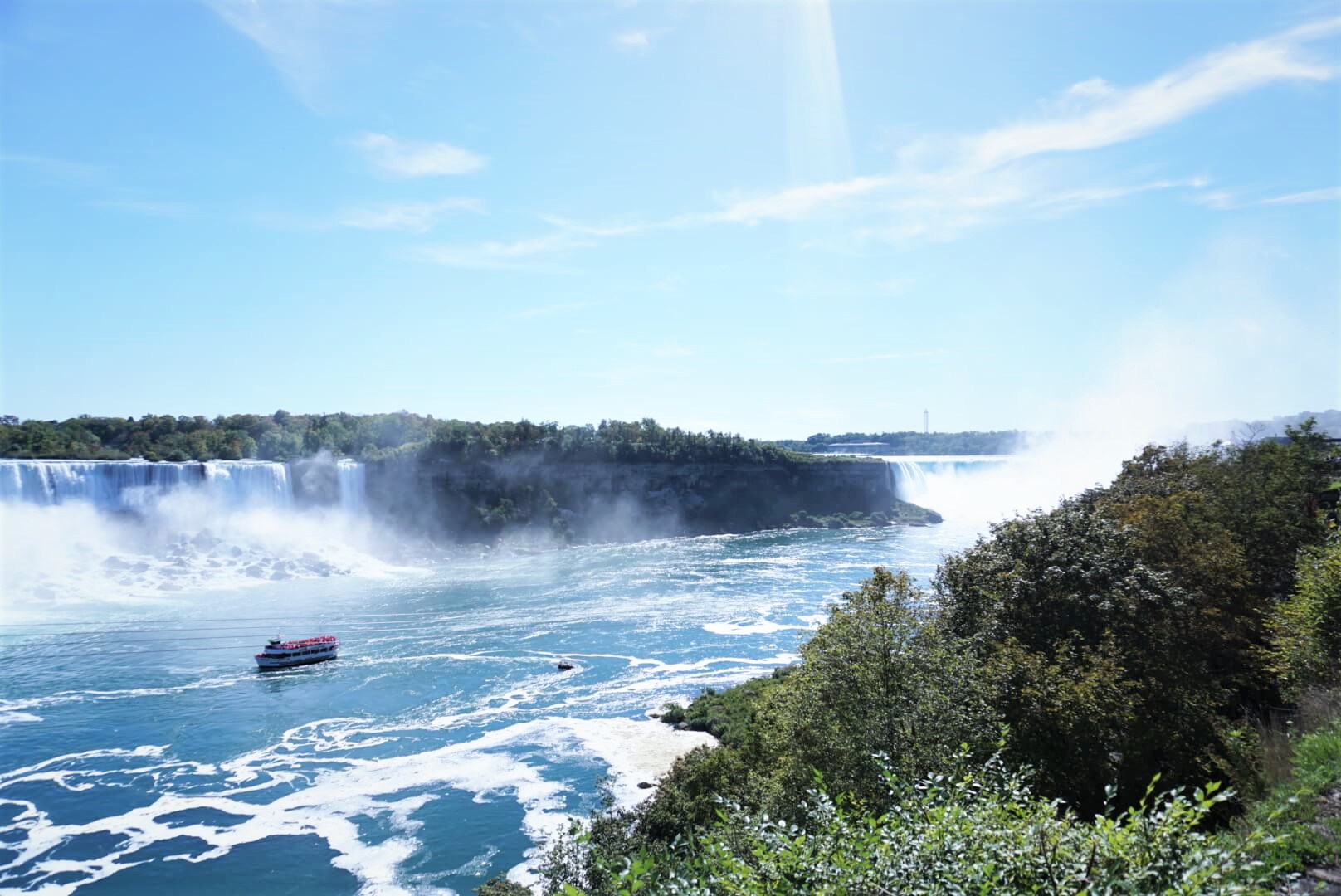 No trip to Niagara Falls is complete until you head out onto the waters and experience the majesty of the falls up close and personal. Your toddler will go nuts for this! The best part, you can even take your stroller on board so your toddler has a front row seat. Don't forget your rain ponchos! They have adult and kid sizes available to buy but the kid size isn't baby or toddler friendly so we brought our own.
You'll start with a little mist but you will very quickly get drenched. If you don't want to end up soaked then I suggest checking out the sights on the start of the ride, then moving inside as you move closer to the falls. We chose to stay closer to the rear of the boat because it was much less crowded (can you tell I hate crowds yet?).
Clifton Hill
When you think Niagara Falls, you think Clifton Hill. This is the super duper touristy area that's jam packed with games, rides, attractions, haunted houses, restaurants and so much more. There are arcades, rides, scary, and silly things all around so naturally, this is where most tourists can be found. It gets insanely congested in the summer months. It can take 15-20 minutes to drive a 3-5 minute route. In the summer, it's complete mayhem with people overflowing onto the roads so stay alert and cautious!
Lucky for us, it wasn't insanely crowded in Clifton Hill in October. There was still quite a lot of people but nowhere near the insanity of the summer. You can easily stroll around in a stroller. There's a ton of stuff to do here, Ill list a few of our favorites below.
Niagara Sky Wheel Is The Perfect Attraction For Toddlers and Babies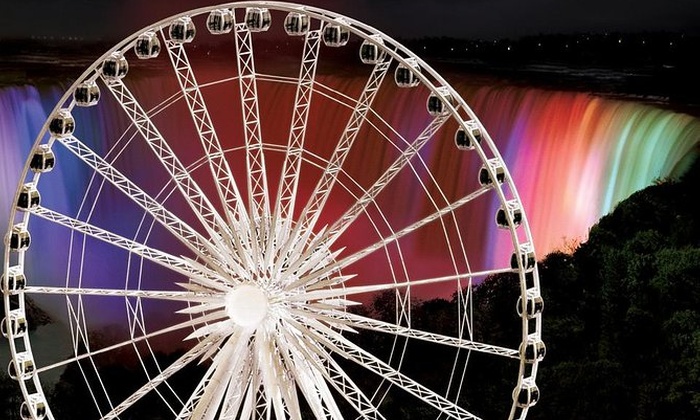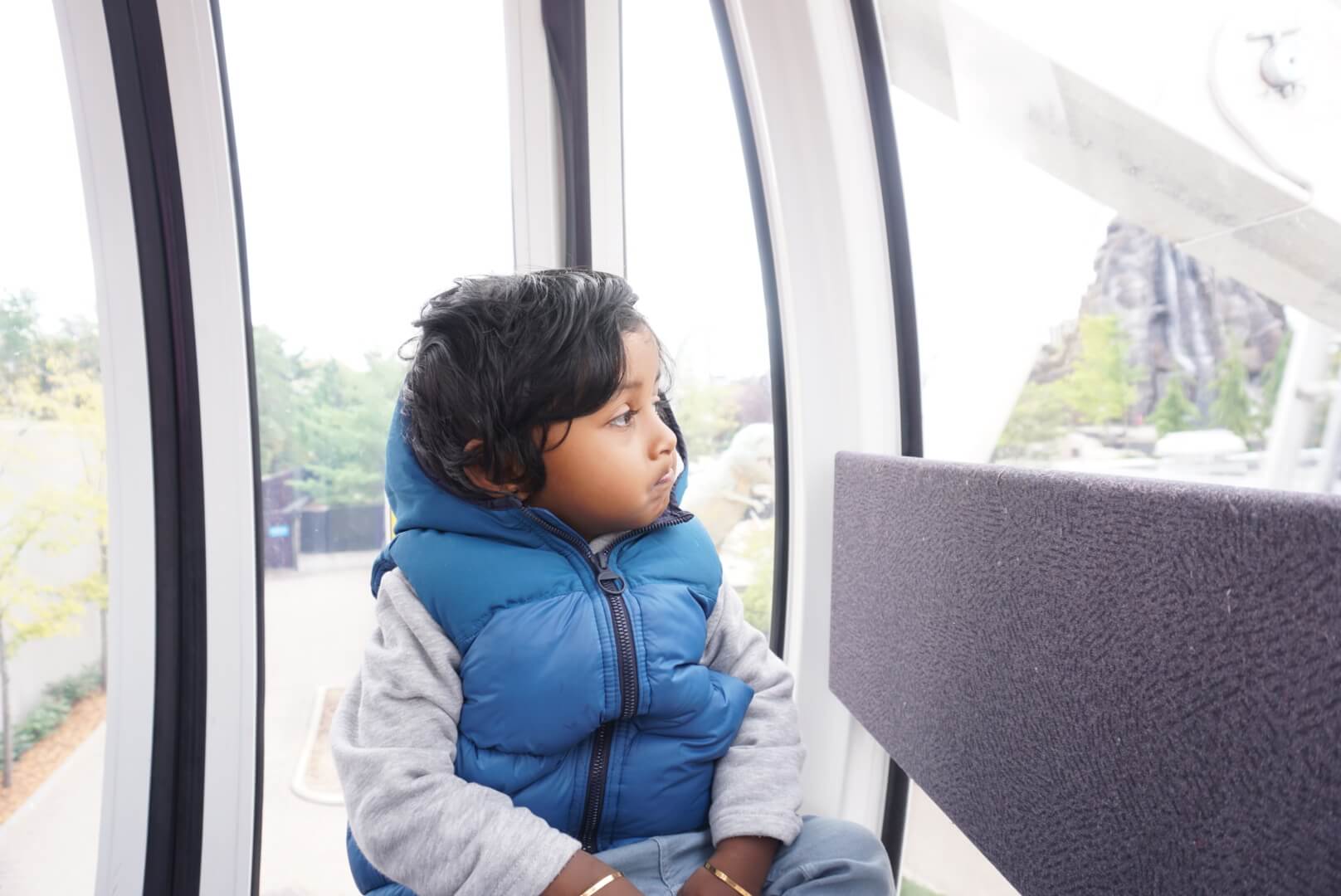 The Niagara Sky Wheel is the perfect attraction to try with your baby or toddler. Who doesn't love a good Ferris wheel? It's the most EPIC spot to take in the view of the falls and surrounding area. Since we went during off-season there was no line up AT ALL! They even let us ride for longer since nobody was waiting. I think we took 8 or 9 rounds in the sky wheel. It looks amazing!
It's a very comfortable ride with lots of space and fully enclosed capsule. It was just the 3 of us in there but it could have easily fit a few more. My son looked around in awe pointing every which way.
Niagara Speedway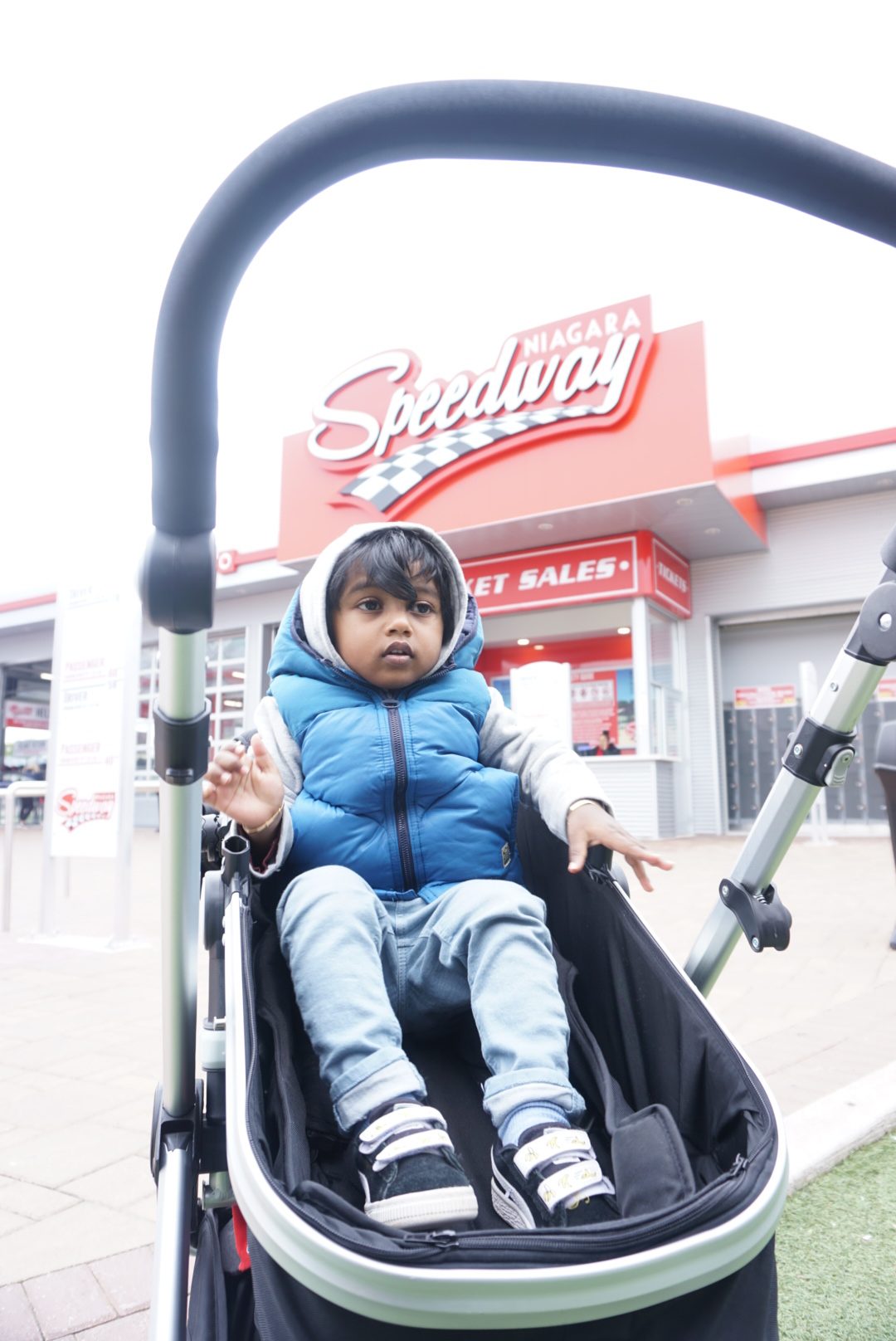 Although your baby or toddler is too young to race, if they're like my little guy and enjoy cars, they may love watching racers on the Niagara Speedway. We sent dad off to race so we could cheer him on. We watched from the sidelines as go-kart racers zoomed by. If you have an older child, you can take them along as a passenger, something we will most definitely be doing in a few years.
Movie Land Wax Museum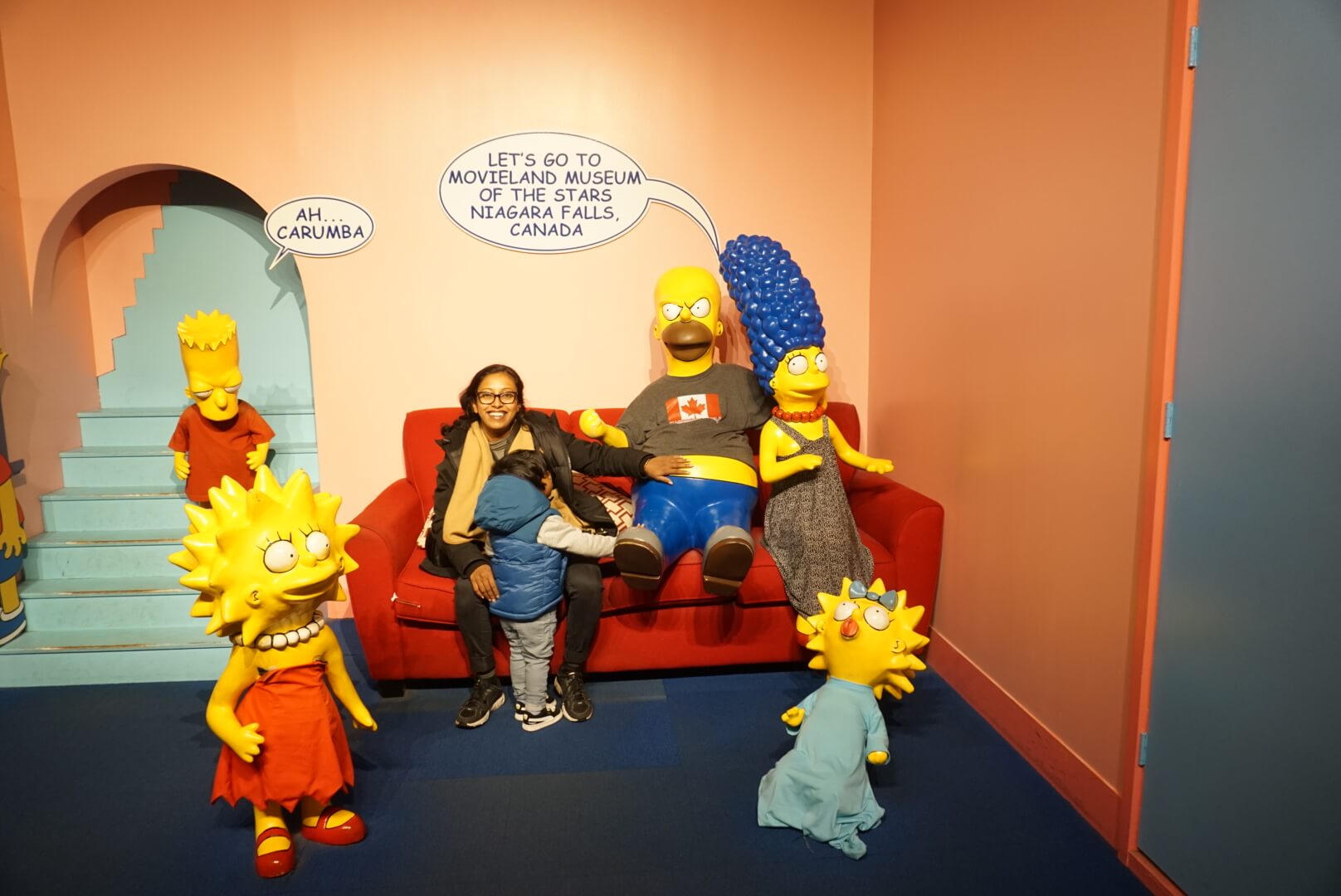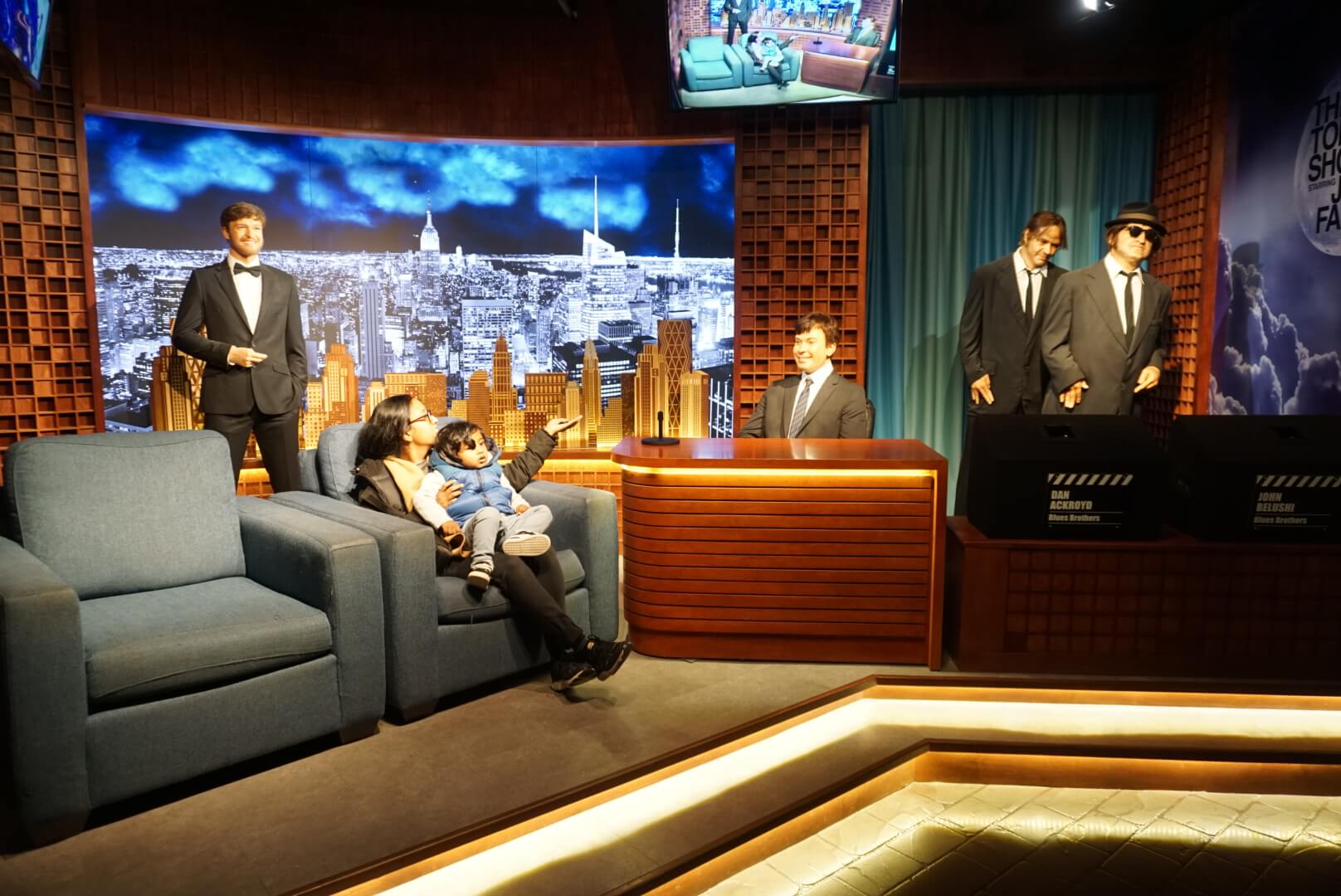 We purchased the Clifton Hill Fun pass and this was one of the attractions that's included. If you're into wax museum's then you'll probably love this one that includes a great mix of classic/ old Hollywood and more recent stuff. There were tributes to: Taylor Swift, President Obama and the First Lady, The Simpsons and much more. There is a scary part at the end but you can opt to skip this section if you feel it might be too much for your toddler. My guy actually slept through it LOL.
Glow-in-the-Dark Wizard's Golf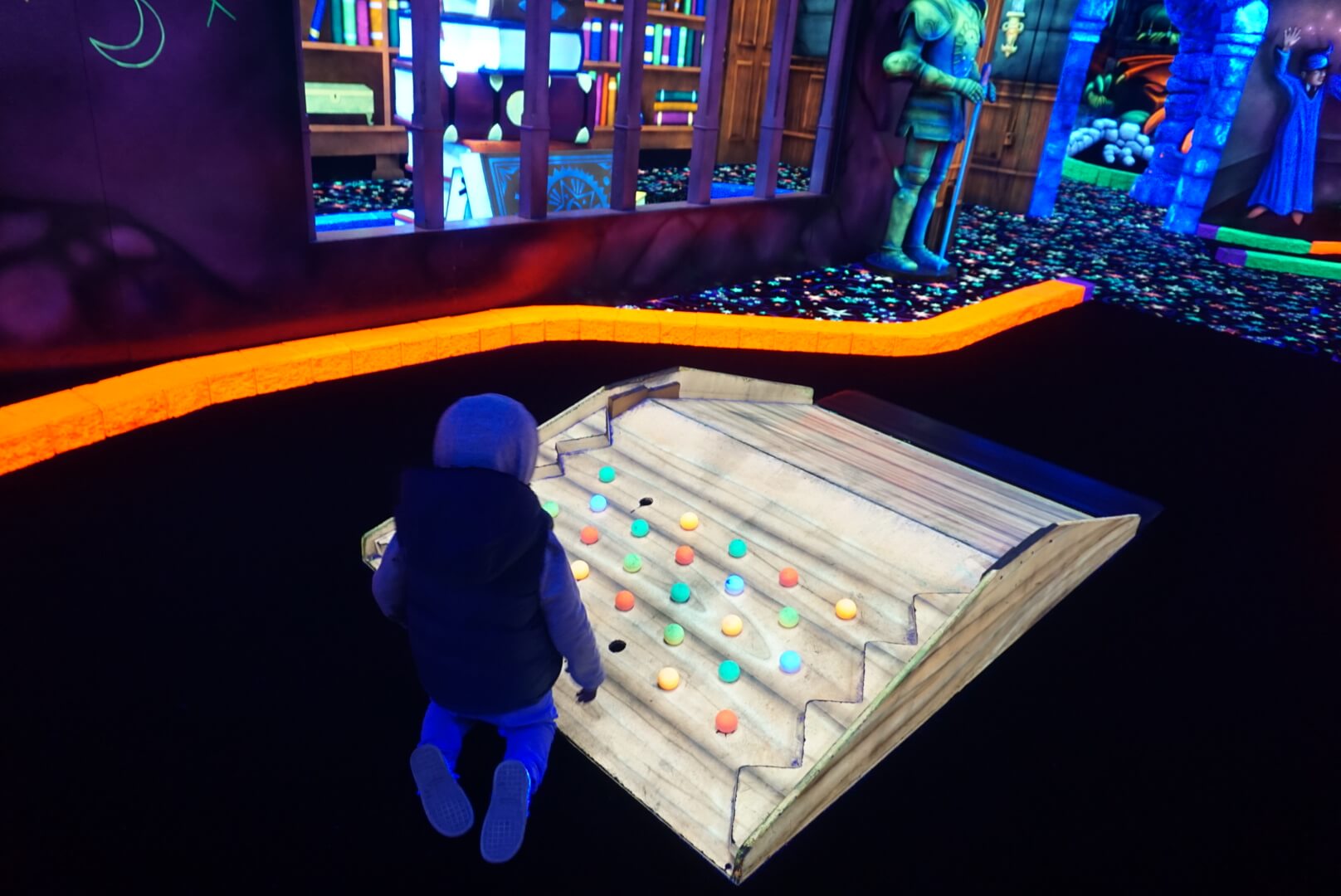 Our pass also included the choice of glow-in-the-dark Wizard's Golf or Dinosaur Adventure Golf which is outside. It was starting to get a little chilly by this time so we opted for the Wizard's Golf simply because it was indoors. They have tiny putts for your toddler to join in as well. This was a lot of fun and my toddler loved the glow-in-the-dark concept so much! He kept trying to touch everything, it was hilarious.
Bird Kingdom Niagara Falls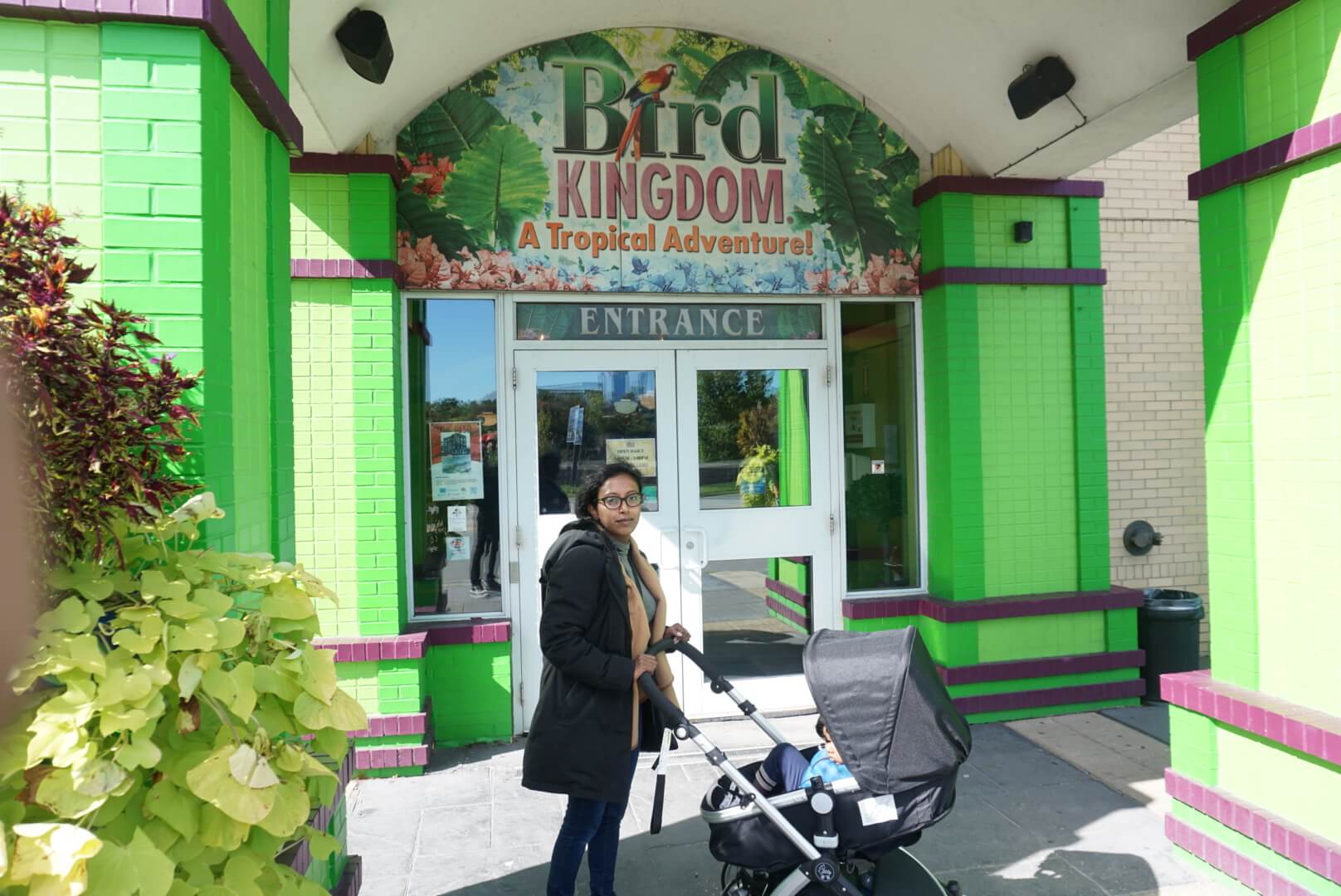 This can go one of two ways: oh so fun or complete disaster. If you're little one loves birds, then this is a must as its one of the world's largest free-flying indoor aviary. You can encounter exotic birds and animals and even feed some of them. If you're interested in the interactive animal encounters like feeding or holding an animal, make sure to check the schedule ahead of time so you don't miss it. If you're little adventurer loves animals, this should be a stop on your trip. They allow you to bring your camera in to capture the fun. You'll need about 45 minutes to 1 hour to explore it all.
Niagara Water Parks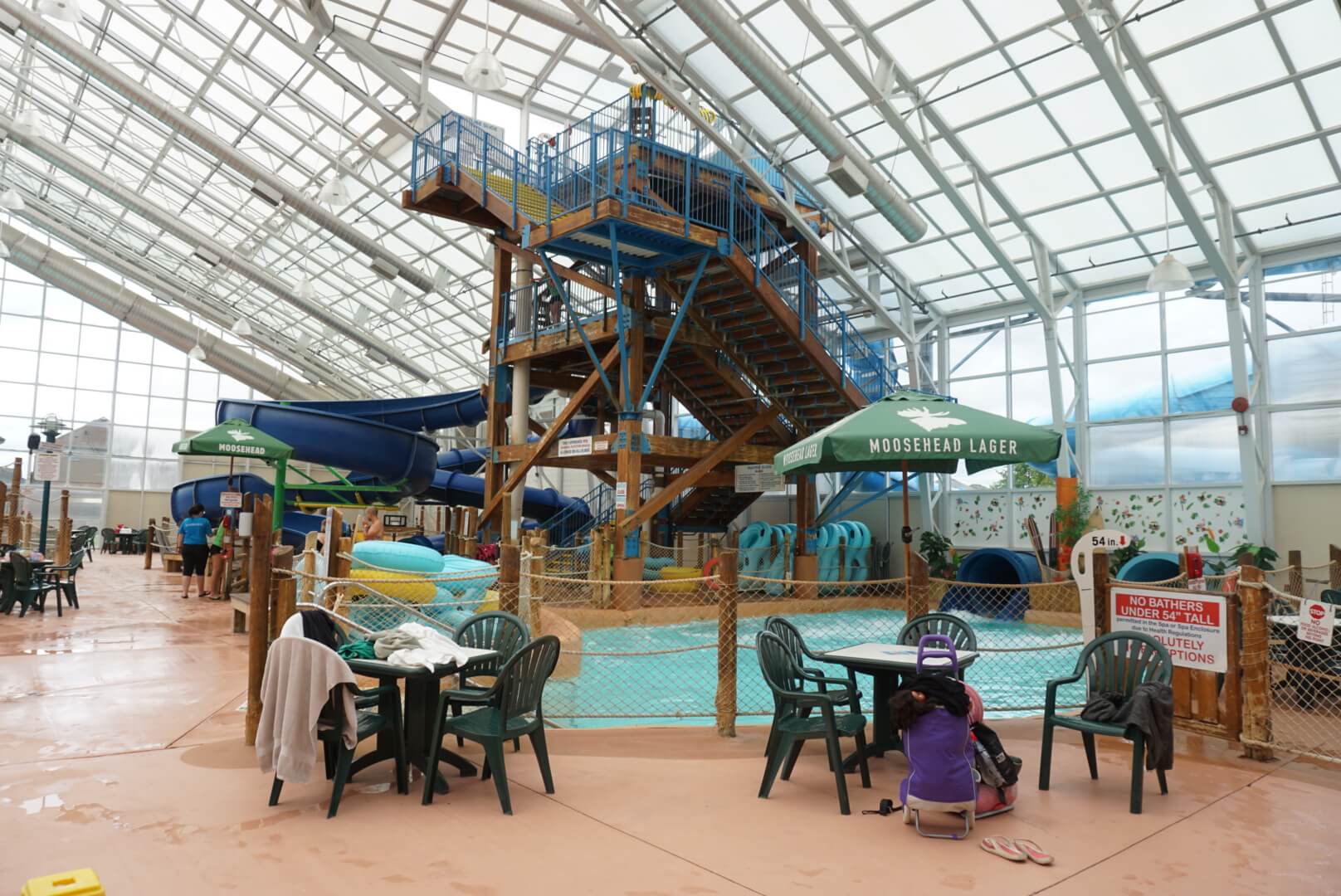 Since we went during the colder off-season time, we wanted to find plenty of fun indoor activities but also didn't want to feel like we missed out on summer. The Niagara Water parks offer the best of both worlds all year long. There's quite a few to choose from but we went with the most baby and toddler friendly option. We stayed at the Americana Conference Resort Spa & Water Park which included free passes to the Waves Indoor Water Park.
The water park was very well maintained and feels like you're some place tropical with the warmness and humidity. It's all glass enclosure that lets tons of light spill in and has a retractable roof but obviously we didn't get to use that feature in October.
They have a kiddie pool area with toddler slides and swings which my little guy loved. He was such a little fish and didn't want to leave. We will definitely be back. There's tons of slides and structures for older children as well, or just enjoy the waves in the wave pool. I also loved that they provide free life jackets for everyone. Safety first folks.
Fallsview Fire Works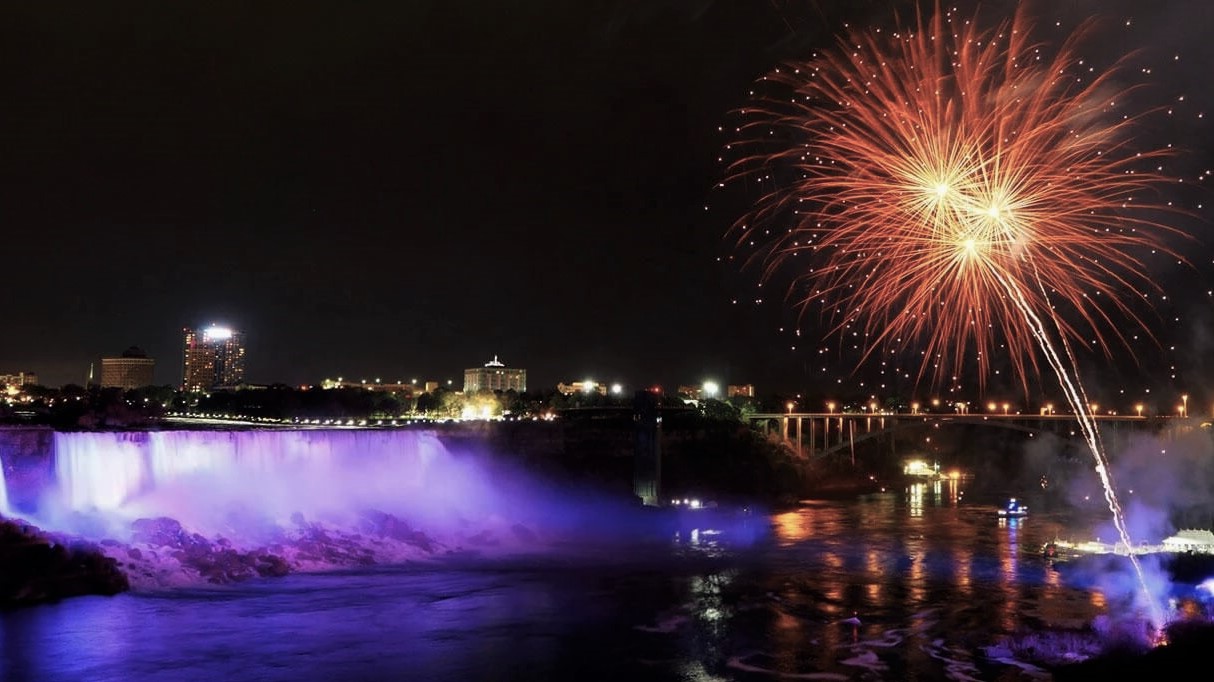 If you've never experienced Niagara Falls at night, you are seriously missing out. Niagara Falls Canada puts on some amazing shows in the evening like the Fire Works show or the laser lights show. Depending what time of year you happen to be visiting, there are often different shows. Make sure to check the fireworks and show schedules ahead of time so you don't miss out. Your little one is sure to enjoy the sight! If you have a baby or toddler that isn't a fan of loud noises make sure to bring your noise canceling headphones.
The Flying Saucer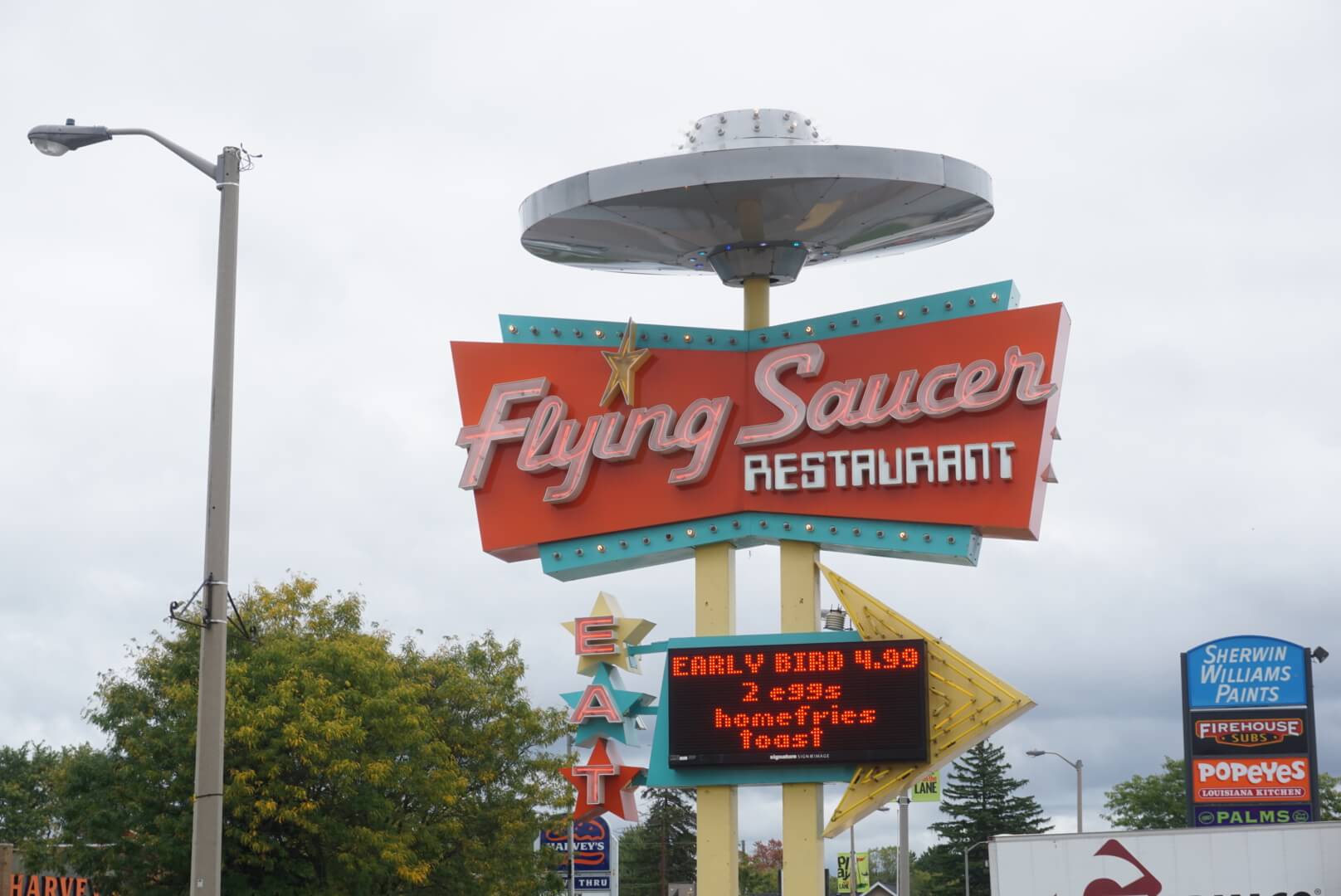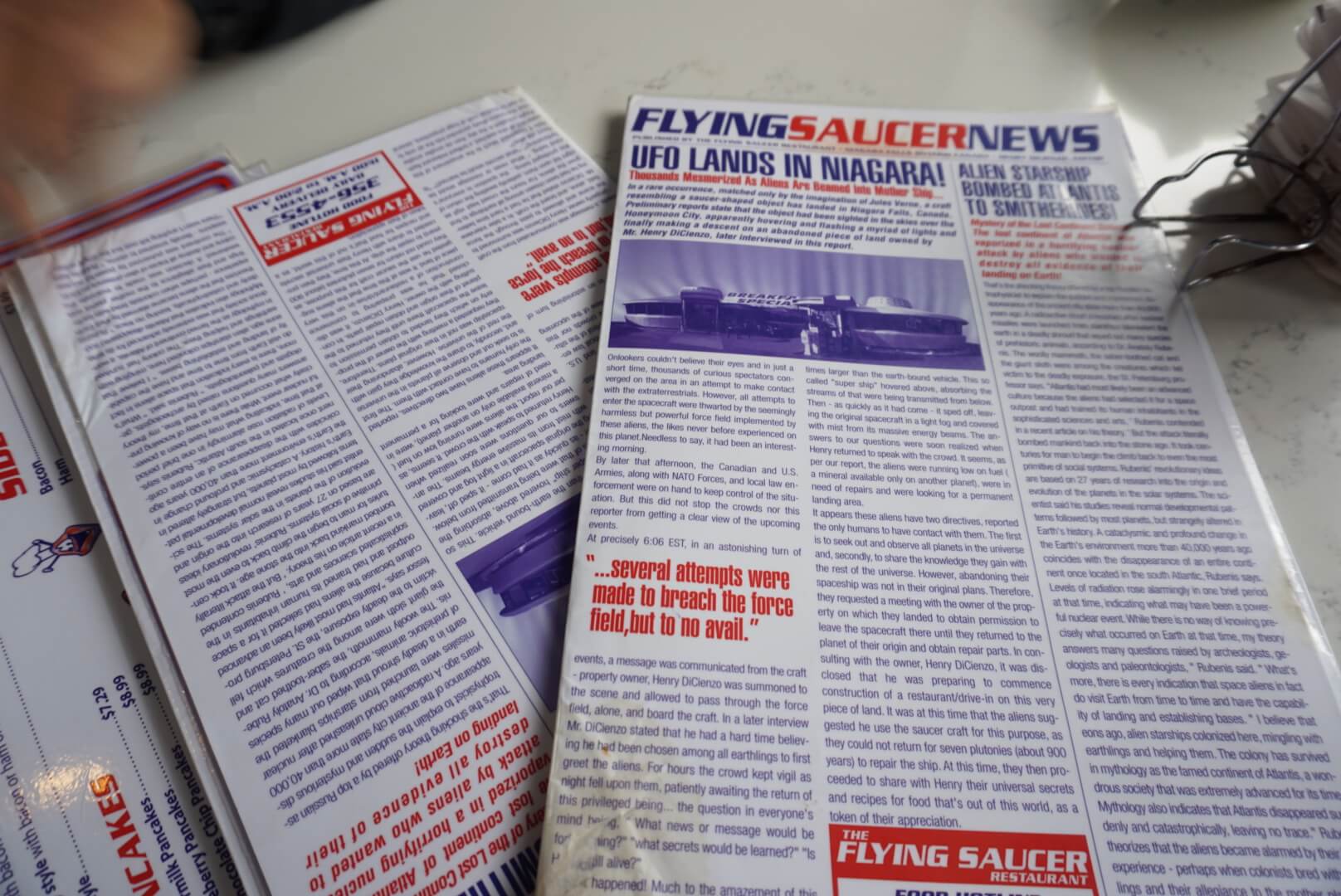 Although this isn't actually an attraction, I think it's definitely worth checking out. If you've ever wanted to be abducted by aliens, this is your chance. The Flying Saucer Restaurant is our FAVORITE breakfast spot in Niagara Falls. The food is always delish, the coffee is amazing and the theme is so much fun. It's baby and toddler friendly as well. The inside and outside are made to look just like a spaceship. It's just a few minutes drive away from the Falls and it will likely be the best breakfast you have there. Dare I say, way better than the overpriced IHOP or Dennys. The E.T special is a great deal. To Keep my little guy busy while we were there, I made sure I had my toddler restaurant kit ready! You should make your own too!
Tips and Hacks For Surviving Niagara Falls with a Baby and Toddler
Here's some things to keep in mind to make sure you have the best trip ever with your baby or toddler. Preparation is key! Planning ahead will save you headache, time, and money!
Baby Wearing & Strollers– Most likely, you'll be traveling on foot as it's easiest to get around if you're going during the summer rush. Baby wearing will make this part much easier. If you do have to bring a stroller, like we did, try to opt for an umbrella stroller that's compact and easy to maneuver through crowds.
Arrive Early- Check start times, make a schedule and try your best to stick to it. If at all possible, hit up the most jam packed stuff first so you and you're toddler aren't stuck waiting around for 20-30 minutes.
Buy Online– most attractions today allow you to shop online for tickets ahead of time and also offer a discount. Plan ahead and skip wait times.
Pack Extra Clothes– keep extra cloths for yourself and your kids on hand. You never know how soaked you might get from the mist and you don't want to walk around cranky and wet all day.
Wear Comfortable Shoes– I always want those cute shoes on for photos but this isn't the time for that. There's ALOT of walking and cute shoes aren't always so comfy. This time I opted for runners and I was super glad I did.
How to Save Money at Niagara Falls
Since Niagara Falls is one of Onatrio's biggest tourist attractions,you better believe EVERYTHING is going to be overpriced. However, that doesn't mean you have to spend an arm and a leg on your vacation. There are a bunch of ways to save money that are super easy and just require you to do some planning ahead.
Shop Online– as I mentioned before, many of the tickets to attractions can be purchased ahead of time online and many offer huge discounts. There are also many packaged deals for attractions that offer great discounts. We bought the Clifton Hill Fun Pass which included 6 attractions. Make sure to check out what's included as not everything on there is baby and toddler friendly.
Shop Groupon– Did you know that Groupon almost ALWAYS has discounts available for Niagara Falls? They offer discounts on attractions, restaurants and accommodations. Many of the accommodations booked thorough their site offer packages that include dining vouchers and attraction vouchers as well. If this is your first time using Groupon, click the link and you'll get $10 off your first Groupon.
Check Your Hotel- most hotels will have offers available as well. Ask your hotel when you check in if they have any discounts or promos. Ours had tons of coupons and brochers in the lobby with discounts on everything we wanted to try.
Grocery Shop– If you want to save some money on dining, why not visit the local grocery store and pick up some items for breakfast. Check ahead to see if you're hotel room has a microwave and mini fridge. This way you can spend on lunches and dinners and save a little on over priced breakfasts in the area.
Parking– getting around in Niagara Falls can be expensive because pretty much EVERYWHERE you go is paid parking. Many hotels offer free shuttle service so if you don't mind a little walking, you can use the shuttle service to get to the main attractions and walk around.
Hotels– Make sure you aren't booking hotels directly through the hotel chain. I always find great deals through Expedia. Since I booked my hotel through them I received free water park passes and my room was about $50 less than the advertised price on the hotel's website.
Off-Season– another great way to save money when visiting Niagara Falls is going during off peak season when prices drop drastically. This is pretty much any time that's not summer.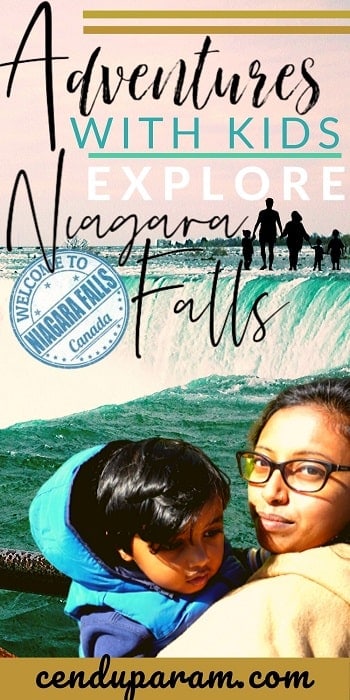 Enjoy Niagara Falls with Kids
I sincerely hope you have a wonderful time making memories together. Hopefully, you found some helpful information to make planning easier and if you have some tips of your own, I'd love to hear them. As with any vacation, planning is the key (especially when kids are involved). Leave me a comment with your best travel tips.