One of the hardest things about being pregnant is keeping it hush hush. You're so excited you want to shout it from the rooftops! That's why, when it's finally time for the official reveal, people love a special way to announce their pregnancy. So, I've rounded up the cutest most creative pregnancy announcement captions and photo ideas to tell the online world that you're expecting.

Find the perfect baby bump caption to let all your Instagram family know there's a bun in the oven. Or maybe you need just the right funny pregnancy announcement for Facebook? We'll look at all kinds of different pregnancy announcement ideas so hopefully there's at least 1 that speaks to you.


Disclaimer: As an Amazon Associate I earn from qualifying purchases but this comes at no additional cost to you.




When To Announce You're Pregnant


Of course, this is totally up to you. However, most people will wait until the end of the first trimester, at the very least, before announcing they're expecting.

That's because the first 12 weeks are considered the highest risk time. During the first 12 weeks, there's a 1 in 4 chance of a miscarriage. That's huge!

It really sucks to have to tell people about a miscarriage after announcing a pregnancy. This was my reality during my first pregnancy.

We were so excited we couldn't hold it in. We called EVERYONE pretty much as soon as we found out and the news spread far and wide.

Then, when I went in for my 12-week scan I received the devastating news that my little love passed away around the 8-week mark.

It was hard enough dealing with the loss of my first baby and having to tell our family and friends about the miscarriage just made it even harder. It was like reliving the awful experience EVERY SINGLE TIME.

So yes, it's totally up to you, but I would suggest waiting until you're passed the danger zone just to be on the safe side.

Some people even wait until the 4-5 month mark because they want to reveal the baby's gender at the same time.

Do whatever feels right for you.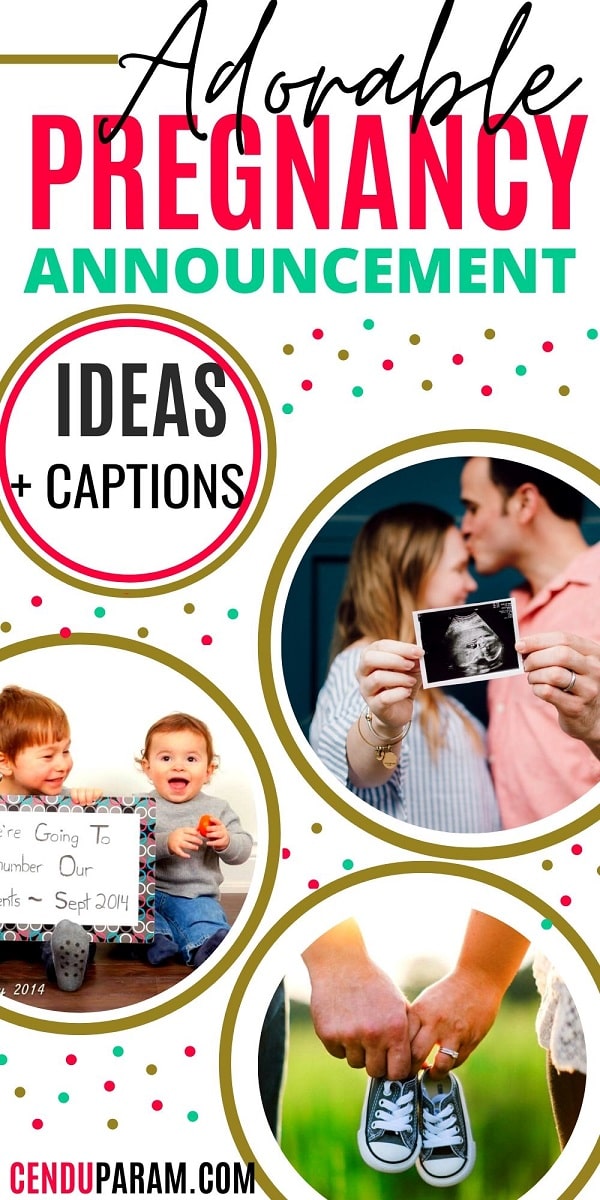 Who Do You Tell First, When You Find Out You're Pregnant?


Tell Your Partner

Again, totally your call but I started with my husband. You can simply show your partner the pregnancy test (like I did while screaming) or you can surprise your husband with a special pregnancy announcement.

Tell Your Inner Circle

Next up, I told those that were closest to me. So for myself, that was our parents, sisters, and my bestie of course.

Again, you can either choose to do something special and plan a surprise grandparent's pregnancy announcement.

We all live in different cities and we didn't want to just tell them over the phone so we arranged a little dinner to get everyone together so we could tell them in person.

Tell Your Employer

I know you probably can't wait to tell the Insta fam but if you have co-workers or your boss following you on social media, maybe tell them first and get that sorted out.

It might be kind of awkward if they find out online instead of you telling them yourself.

There's actually a whole bunch of stuff you need to do in the first trimester and that's just one of them so check out the first trimester to-do list to make sure you haven't missed anything.

You might also want to check out all my first trimester favorites while you're at it.

Tell The World

Once all your most important people have been told, it's time to announce it to the rest of the world! World, I'm pregnant! Now, you get to tell everyone on social media that you've been blessed.

Lets find just the right caption and photo for your pregnancy announcement to the world!

How To Announce Your Pregnancy On Social Media (Instagram & Facebook Pregnancy Announcement Captions)


You can certainly make your social media pregnancy announcement and caption as simple or elaborate as you like.

Keep in mind, this is going to be one of the first little mementos from your pregnancy so it may be nice to do something special that reflects you as a couple. This could be a favorite hobby, sport, or something else, you both love.

If this isn't your first rodeo and you've already got a kid or two, you can include them in your announcement and do a sibling pregnancy announcement.
Check out my adorable big brother pregnancy announcement ideas and big sister pregnancy announcements for baby number 2 for more inspiration!

And don't forget the fur babies! Some couples opt to include their pets in their pregnancy announcements and the result is super cute.

RELATED POST: Push Present Ideas For DAD?
Seasonal & Holiday Pregnancy Announcement Captions and Photos

One relatively easy pregnancy announcement idea is to choose something that reflects the season. Couple's usually make an announcement based on the season their little bundle of joy will arrive but you could also just use which ever the current season is for your announcement theme too.

Here's a few cute season themed pregnancy announcements to spark some inspiration.


Winter & Christmas Pregnancy Announcement Captions + Photos



You could do something simple like this one with winter booties (because what's cuter than ity bitty baby feet?!) or also opt for something holiday inspired like a Christmas themed message like the cheek one below!

If you've got a little one already, a cute Christmas themed idea would be to have them hold up a wish list that includes baby brother/sister.
I've got a whole post on Christmas pregnancy announcements with siblings for more fun ideas!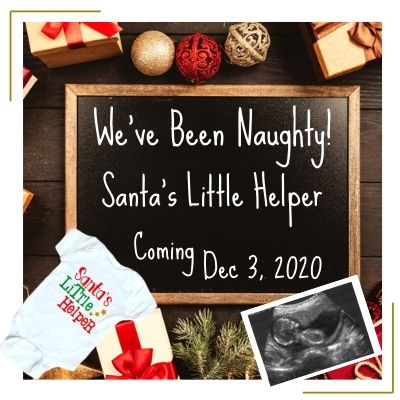 Winter & Christmas Pregnancy Announcement Caption Ideas


❤ There will be no more Silent Nights

❤ Santa's bringing us the best gift ever! Unwrap on "put your due date here"

❤ We've been naughty. Baby arriving " date here"

❤ My wish list: list a few things + baby

❤ Hold on to your stockings! We've got big news.

❤ The more the merrier! Baby arriving "date"

❤ Santa's getting a new helper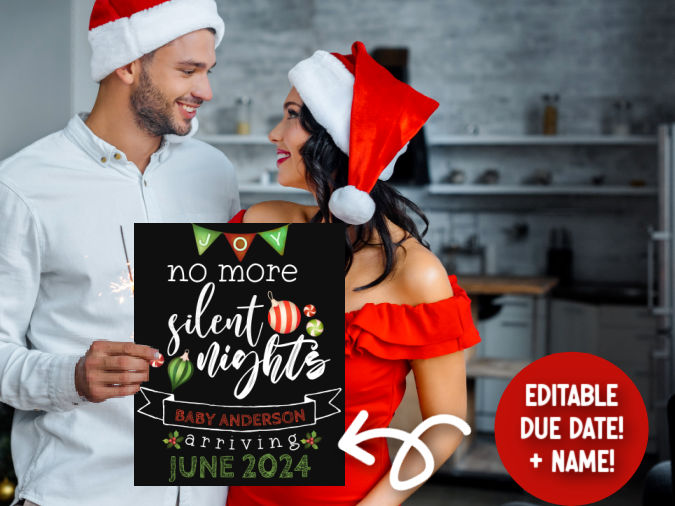 You could even grab this cute editable Christmas pregnancy announcement board to use as a fun photo prop and take some pictures!
It has an editable due date and family name. Just edit and print this cute chalkboard-style sign to personalize your announcement.
You have 3 sizes to choose from: 8 x 10, 11 x 14, or 16 x 20.
It adds the perfect festive element and makes for some great photos.
If you're planning a Christmas pregnancy announcement for baby #2 or beyond check out these adorable Christmas pregnancy announcement ideas with siblings.

Fall Pregnancy Announcement Quotes and Photo Ideas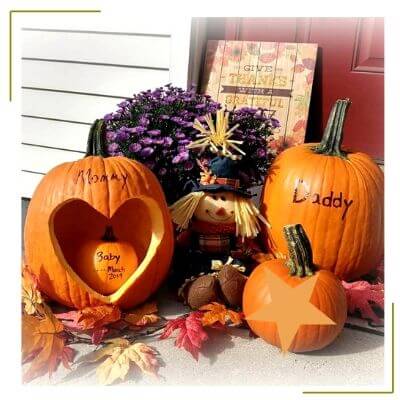 If you happen to be pregnant during the fall months or have a fall baby, you can opt for a fall or Halloween themed pregnancy announcement with pumpkins, or get all dressed up in a fun costume. Whatever you like!


I love the carved pumpkin in a pumpkin by Mom Group Drop Out! So so adorable!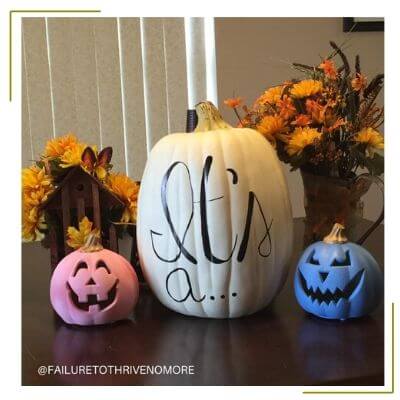 How cute are these painted pumpkins by Failure To Thrive No More for a gender reveal?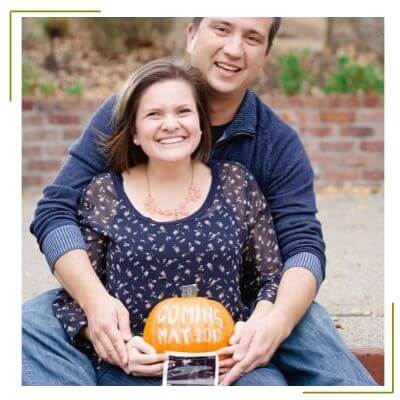 Or it keep simple, grab a pumpkin and an ultrasound photo like The Postpartum Party and you're all set! Just write your due date on your pumpkin and get snapping!


Fall & Halloween Pregnancy Quotes + Caption Ideas

❤ Sugar, pumpkin spice, and everything nice- baby coming "date"

❤ We're spicing things up! Baby "date'

❤ We're "falling" for someone new. Baby "due date"

❤ If you've got it, haunt it! (perfect for a bump photo reveal)

❤ A BOOtiful surprise is on the way! Baby due date

❤ Trick or treat? Baby coming

❤ Spice, spice, baby!

❤ Orange you happy?! I'm pregnant!

❤ Squad ghouls! (another great one for a bump photo reveal)

❤ We just got one more reason to love awww tum! Baby coming "date"



Pregnancy Announcement Captions & Ideas With Siblings


What is sweeter than a pregnancy announcement involving siblings? I really can't see it getting better than this.

If you have children already, including them in the announcement is a great way to help them feel involved in the pregnancy and share the excitement and anticipation.

I can't wait til my little guy gets promoted to big brother!

I'm already thinking about how I want to tell him (even though I'm nowhere near pregnant right now).


I'm LOVING this set that's super hero themed and comes with a book , cape and mask.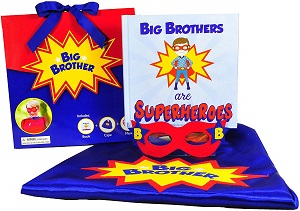 It would go perfect with the caption "every super hero needs a sidekick! Baby brother/sister coming and the date".

You might also want to take a look at the book You're The Biggest when you're explaining to your little one that they're about to get a sibling.

It's a super sweet book that celebrates their new role and those all important responsibilities like teaching baby all the things they need to know .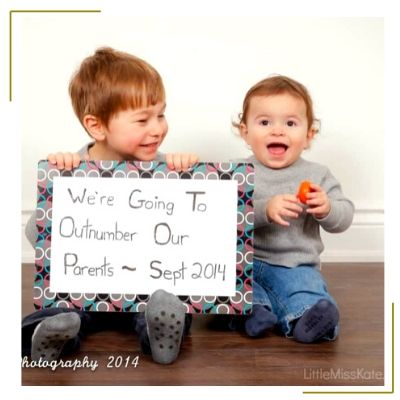 Kate over at Little Miss Kate had her two little ones hold this cute sign to announce baby number 3. Love!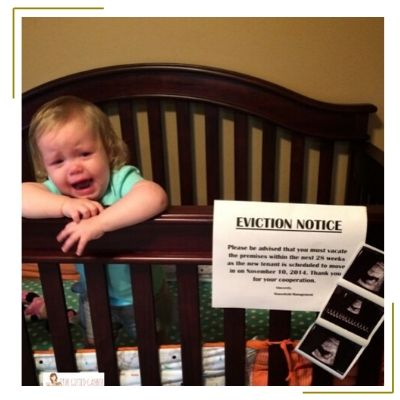 This super cute eviction notice pregnancy announcement by Amy at The Gifted Gabber had me laughing out loud!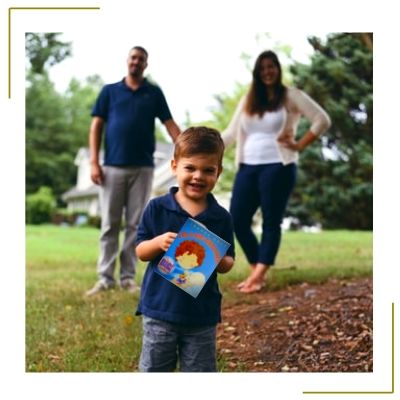 Another easy way to include siblings is to take a picture of them holding a I'm a Big Brother book or I'm a Big Sister book by Joanna Cole.


Pregnancy Announcement Caption Ideas For Sibling Announcements


❤ Only the best kids get promoted to big brother/sister

❤ Oops! We did it again!

❤ The more the merrier!

❤ Here we grow again

❤ "Older child's name" would like to announce the end of his/her reign as an only child. Baby arriving date

❤ My sister/brother has the best sister/brother in the world

❤ I was born first so he/she wouldn't have to go it alone

❤ Big brother is watching you

❤ You mess with me, you mess with him/her

❤ I've got a new partner in crime

❤ I wouldn't trade my new sibling for the world. I don't have anywhere to put it

❤ Siblings- the only enemy you can't live without

❤ Every super hero needs a sidekick. Baby arriving date

❤ I'm so perfect they wanted to see if they could replicate the results

❤ Ctrl + Copy => Ctrl + Paste

❤ Eviction Notice! Baby arriving date

❤ The sequel is coming "baby due date"

Pregnancy Announcement Quotes + Photos With Pets


Your fur babies are just as much a part of the family as the humans so of course, they deserve a spot in the sibling announcements too!

Here are some fun and easy ways to include your four legged friends or other pets in your pregnancy announcements.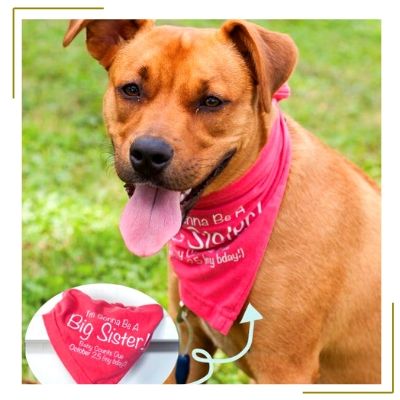 Emily over at Small Stuff Counts shows you how to make this adorable bandanna that you're pet can wear to announce your pregnancy.

How cute is that?!

If your DIY skills aren't Pinterest perfect than just order this adorable pregnancy announcement bandana from Amazon and call it day.

You're welcome!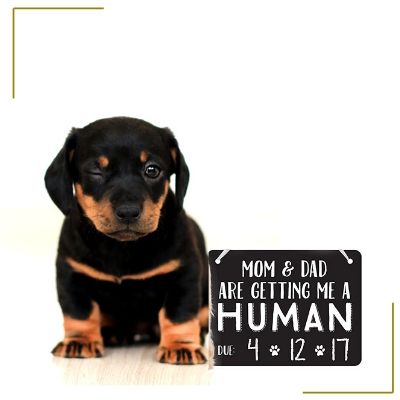 Or you can keep it super simple and have your sweet fur baby pose with you and a cute sign like this one.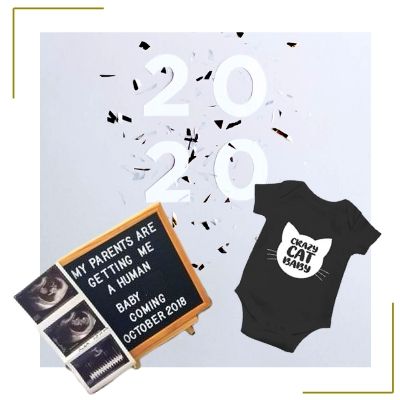 If you've got a pet cat, how cute is this crazy cat baby onesie?!

It's perfect for a flat lay shot with a letter board announcement like this one.

It's awesome because you can continue to use the letter board after baby is born for monthly photos too!




Pregnancy Announcement Captions With Pets

❤ The cat's outta the bag. Baby X arriving date.

❤ Crazy cat baby coming date

❤ Mom and Dad are getting me a human!

❤ Newest member of the pack arriving 'date'

❤ My siblings have paws

❤ Guard dog in training

❤ Don't mess with my tiny human

❤ Only the best dogs/cats get promoted to big brother/sister

❤ All I need in this life of sin is me and my tiny human

❤ Promoted from branch manager to big brother/sister (this one is for the pups)

❤ We're adding another set of paws to the gang. Baby arriving date

❤ Wait til you meet my paw-tner in crime! Baby arrival date



Easy Pregnancy Announcement Ideas & Captions


If you don't have any particular theme in mind you can quickly put together one of these easy pregnancy announcement ideas that don't take too much time or money.


Just grab a prop like baby shoes or a onesie and get snapping. Then you get to keep it as baby's first keepsake. Win-win!



The baby shoes pregnancy announcement is such a classic and so easy to do. It works with other siblings as well.

Either line up the shoes from biggest to smallest or hold a pair together, or set up cute flat lay. Whatever you like!

If you're doing a gender reveal at the same time you can opt for gender specific shoes. If not then a cute pair of Baby Converse are universally acceptable (according to me).

Check out these adorable baby shoe pregnancy announcement inspiration.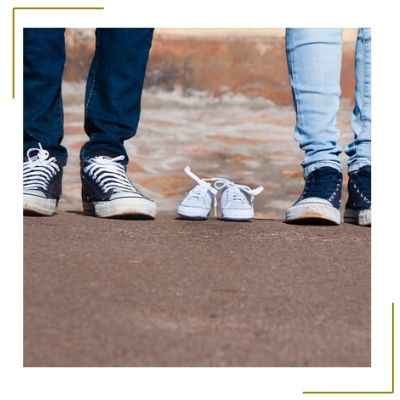 A perfect shot with everybody in sneakers! I love this because I'm a sneaker girl, you?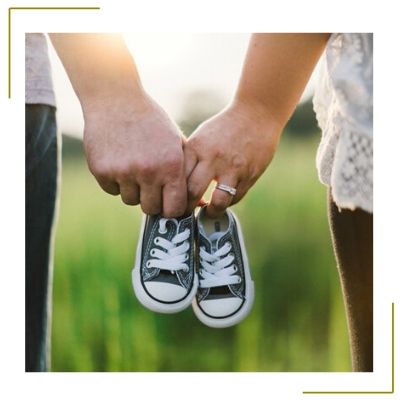 Gosh! I love this one! It's simple and sweet.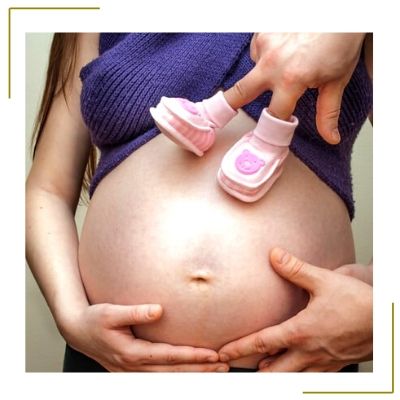 This baby bump + baby shoes combo is perfect for a gender reveal and pregnancy announcement in one.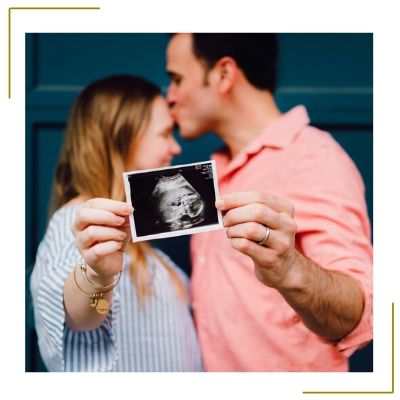 You can't go wrong with this easy ultrasound pregnancy reveal. Super easy but still sweet and memorable.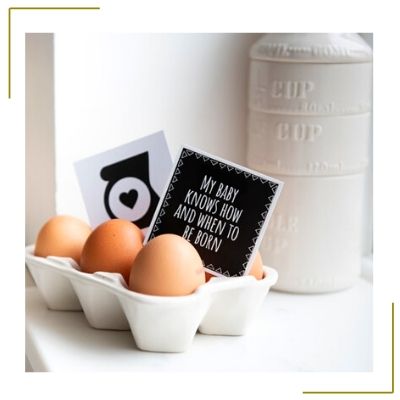 If you consider yourself a chef or baker, something easy and cute like this egg carton idea paired with a classic caption like"we've got a bun in the oven" is fun and cute!



Cute Pregnancy Annoucement Captions For Instagram (Social Media)


Now, lets think of a bunch of different cute and fun ways to say "I'm pregnant!

These are general pregnancy announcement captions that you can pair with pretty much any pregnancy announcement photo.

Everything from funny pregnancy announcement quotes to heartfelt and sentimental baby announcement caption ideas.

Go on, take your pick!


❤ There is no better feeling than the movement of life inside you

❤ Pink or blue? We can't say but we're so excited for our delivery day!

❤ You can stop asking now. We're pregnant!

❤ I'm in love with a tiny human I haven't met yet

❤ A baby fills a place in your heart you didn't even was empty

❤ The smallest feet leave the biggest prints on your heart

❤ The butterflies he used to give me turned into tiny feet

❤ We'll be sleep deprived starting "date"

❤ We love big bumps and we can not lie!

❤ Finally! Someone to occupy the middle seat.

❤ Ten little fingers, ten little toes. With love and grace, our family grows.
This precious soul, so sweet and new. This little life, a dream come true.

❤ God doesn't always give you WANT you want but he always gives you exactly what you NEED. Baby arriving "date"

❤ I grow humans. What's your super power?

❤ First we had each other, then we have you. Now, we have EVERYTHING!

❤ There's nothing like a new pair of genes. That's right we're expecting! Baby due "date"

❤ Don't judge. I'm eating for two!

❤ Being pregnant means every day I get closer to meeting the love of my life.

❤ My head says broccoli but my bump says french fries

❤ Pregnancy is all about balance. That's why I've got a burger in each hand. Eating for 2! That's right we're pregnant!

❤ What is tiny, causing me lots of grief, and will make its appearance in (birth month)?

❤ A little person is on the way who makes love stronger, the days shorter, the nights longer, savings smaller and a home happier

❤ Just when you think you understand this love thing, something little comes along and reminds you just how big it really is

❤ No, it's not a waddle. It's pregnancy swag

❤ one…two…and baby makes three!

❤ You + me = 3

❤ Hungry. Nauseous. Tired. Can't Sleep. Terrified. Thrilled. Pregnant.

❤ Coming in for landing "baby due date"

❤ What gets a shower but doesn't get wet?

❤ We be poppin' bottles (baby bottles that is!)

❤ We're gonna be 3 peas in a pod!

❤ I'm patiently waiting on the day my back hurts, my feet are swollen, and i walk like a duck.

❤ Bun in the oven and burgers on the girl- the bump made me do it

❤ Don't eat watermelon seeds, or you'll end up like me!

❤ What do a chef who's baking a dinner roll and I have in common?

❤ So we placed an order but they don't have Amazon Prime so we'll be waiting 9 months for the delivery!

❤ We solemnly swear we have been up to no good (for those Harry Potter fans!)-this one is perfect to pair with this Harry Potter themed onesie set
RELATED PREGNANCY ANNOUNCEMENT POSTS
HOW TO TELL YOU'RE PARENTS YOU'RE PREGNANT IN A FUN WAY
CUTE WAYS TO SURPRISE HUSBAND WITH PREGNANCY
Pregnancy Announcement Scavenger Hunt For Husband
Easter Egg Scavenger Hunt Pregnancy Reveal Idea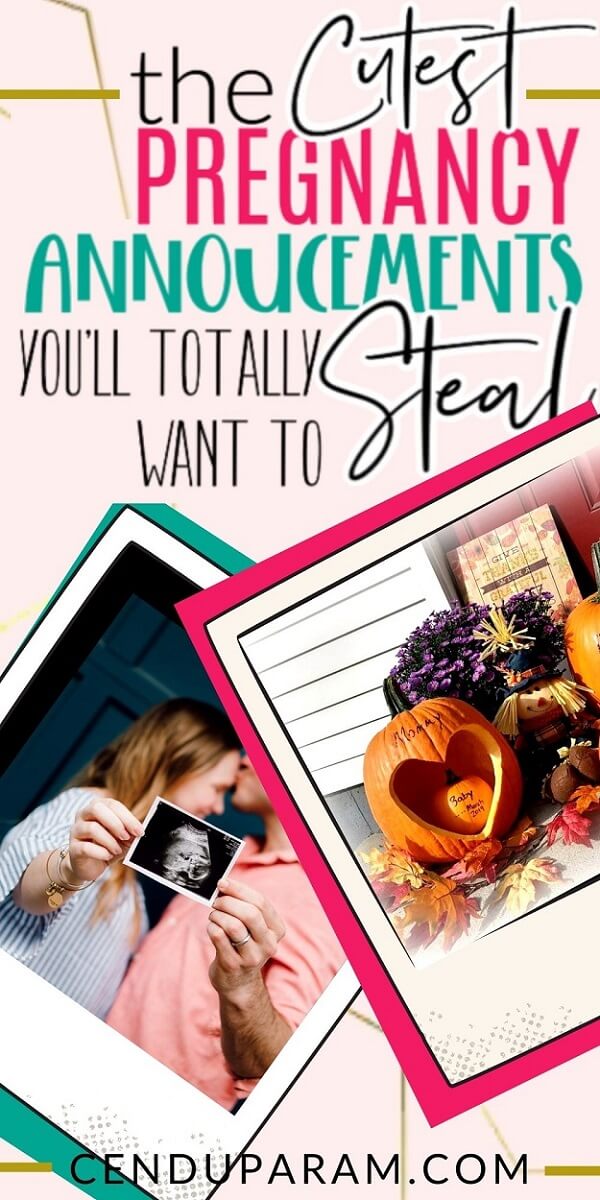 Pregnancy Announcement Photos, Quotes & Captions


I hope you were inspired to create something magical for your own pregnancy announcement to the world. It'll be something you cherish forever and something you'll one day share with your precious bundle.

If you've got a great pregnancy announcement idea leave me a comment below! I would love to hear more.

If you have a photo/blog and would like to be featured on our pregnancy announcement page either email me or leave me a comment and I'd love to add your announcement idea to the list.

Enjoy this time and make memories! It's gonna be over before you know it.