Funny Big Brother Announcement Ideas You'll Want To Steal!
Let the world know that your firstborn is about to become a big brother in a special way with a cute and fun big brother pregnancy announcement!
It's such a sweet way to let your little one be a part of this new adventure, plus it makes for a cute keepsake for years to come.
It gives him an important job to do as the one to introduce his new best friend and important new role.
There are so many ways to do a big brother pregnancy announcement.
You can keep it simple or go all out.
It's really up to you, let's check out some inspiration with these fun sibling pregnancy announcement ideas.
As a bonus, I've made a bunch of different big brother announcement boards that add a special pop to any big brother announcement photo! Each of them has its own cute big brother announcement quotes.
You can choose from 3 sizes ( 8 x 10, 11 x 14, and 16 x 20), and since it's a digital download, no need to wait for shipping!
You can instantly download your purchase and either print them at home or for a more professional look, send them to your local printers (like Staples).
If you're planning to use the bigger sizes I would suggest getting them printed professionally.
The best part, you can edit the due date on your announcement board!
You'll use a free online program called Canva to do the editing, you do have to sign up but it's totally FREE.
I've even included a quick video tutorial with your purchase to show you how to do it, don't worry, it's easy peasy!
Since they are digital files please note that all sales are final for the announcement boards but I'm happy to help if you're having any trouble with your purchase.
Disclaimer: as an Amazon Associate I earn from qualifying purchases via my affiliate links. This comes at no extra cost to you.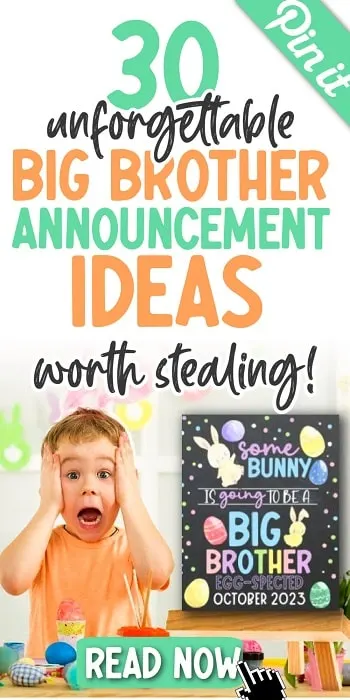 1. Big Brother Pregnancy Announcement Shirt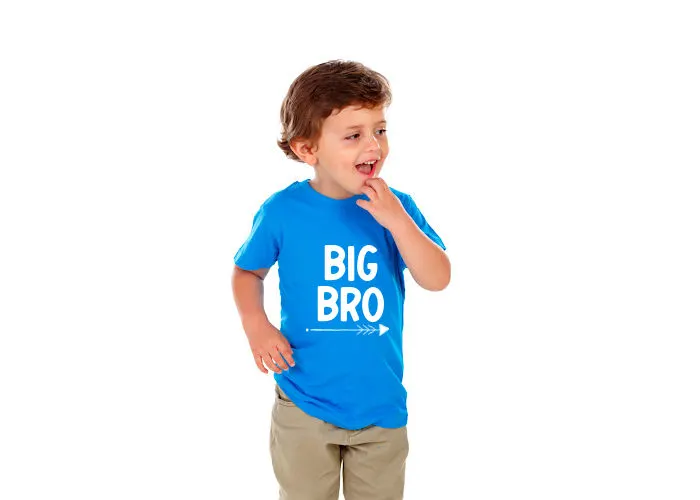 If you want an easy and simple sibling pregnancy announcement, you can't go wrong with a t-shirt. You can grab a cute 'big bro' t-shirt and take some fun pictures.
It's quick, simple, and inexpensive.
You can even buy a matching onesie for the new sibling to wear as well. Those will make for some fun pictures once baby arrives.
Here are some cute options you can snag from Amazon!
How about this classic big brother t-shirt?
No muss, no fuss. Just sweet and simple.
It's super soft and made of good quality cotton.

Here's another similar option but says big. bro. instead.
This 'I'm going to be a Big Brother' Shirt is an Amazon's Choice one so I figured I'd include it as well. They've got sizes from 11-18 months to 5T.
This promoted to big bro shirt is another great choice!
2. Big Bro Jean Jacket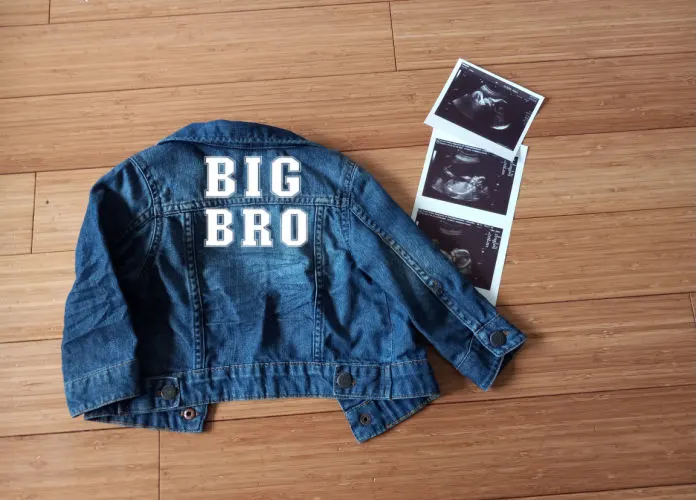 If you liked the t-shirt idea but want to kick it up a notch, try a cute big bro jean jacket instead. It's super stylish and oh so cute!
I saw a few cute big brother jean jackets on Etsy but be warned, they are on the pricey side.
You could easily DIY this look with any jean jacket of your choosing and some iron-on letters.
The iron should work to stick on the letters but you could always reinforce it by sewing if you want to really make sure they never come off in the wash
Have your little guy pose with his back to you and snap away.
You could also give him some ultrasound photos to hold.

3. Big Bro Hat Sibling Pregnancy Announcements
Another easy peasy way to announce that a little brother or sister is arriving is with some cute hats. For little man, grab this cute big brother hat. Check out Etsy if you want a personalized big bro hat with your kiddo's name on it
Don't forget to grab matching mom and dad hats too.
I love the shot where everyone is wearing their hats backward and their backs are facing the camera.
You can all hold hands with your little guy in the middle.
You can add one of the more generic signs if you like but it isn't a must.
4. Big Brother Book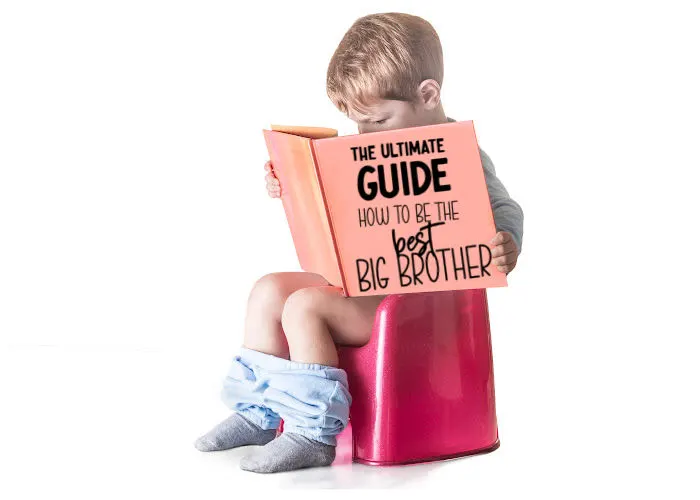 Another great idea to announce your pregnancy news is with a good book! I'll list some of my favorites below.
Have your little one pose like they're reading the book for a cute picture and voila you've got an adorable social media announcement from your older sibling.
You could even have them lying on their bed with one foot up on their knee. That's a cute pose.
I've even seen some pictures of the older sibling sitting on a potty, reading their guide to how to be a good big brother.
It's just the cutest!
The great thing about the big is that your little one will enjoy it as well. It's another great way to involve them in the pregnancy and help them understand their new role and all the big kid responsibilities that come with it.

If your little man is into superheroes, he'll absolutely love this Superhero Themed Big Brother Set complete with Big Brothers are Superheroes Book, a satin cape, and a mask.
This set would make for some adorable pictures! You've got everything you need for a fun announcement at a great price.
One of my favorites and a #1 best seller on Amazon is the I Am A Big Brother Book by Caroline Jayne Church.
This cute book teachers our older siblings how to be good helpers when a new baby joins the family. I love the illustrations, they're simple but cute.
The text is also very simple and easy to understand so it's perfect for young toddlers and older kiddos too.
It's a hardcover book with thicker pages but it isn't exactly a board book, that's the only thing I'd probably like to change.
The other thing to note, this book shows the mom bottle feeding baby and the little one helping.
If you're looking for a book that normalizes breastfeeding, I would suggest checking out My New Baby.

Another wonderful book is I'm a Big Brother by Joanna Cole.
This sweet book is told from the big brother's perspective and they talk about all the stuff that babies like to do (drink milk, sleep, cuddle) and the "special" things the big brothers gets to do (eat pizza, ice cream, walk, play with toys).
The main theme is that big brother is special too and still very much loved by mom and dad.
It shows how special this new role is as well and that there are fun things they can do that baby can't yet.
All in all, it puts a positive emphasis on becoming a big brother and is loving and reassuring.
Children love to see kids like themselves reflected in the stories they read and representation is so important! If you're looking for sibling books with more diverse characters, I would urge you to check out André The Best Big Brother by Mikaela Wilson.
This book features a multicultural family as they adjust to life with a new baby and normalizes all the big emotions a toddler might feel about becoming a big brother.
It shows how the big sibling can be involved in caring for the new baby and showcases the beautiful bond that develops between siblings.
I love that they don't talk about the gender of baby so it can fit every family.
5. Super Hero Pregnancy Announcement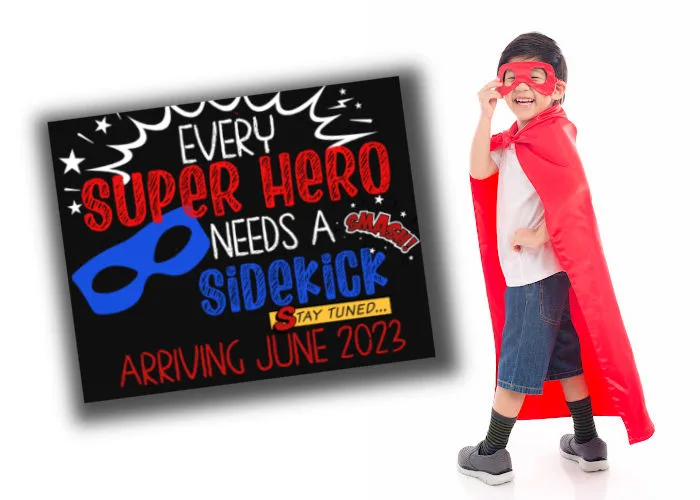 If the new big brother is a fan of superheroes or has one in particular he loves, you could definitely incorporate this into the announcement.
Have your little crime fighter dress up as his favorite superhero.
You could always reuse the costume for Halloween or just dress up and imaginative play so win-win.
Here are a couple of costumes you can grab from Amazon:
If you don't want to get a full-on costume, you can always opt for a superhero-themed shirt instead.
Have your superhero strike a pose next to a pregnancy announcement sign like the one in the picture that says
'Every superhero needs a sidekick, followed by your due date (the date is editable).
Please note that it's a digital file and you would have to edit and print it at home or at local printers.

6. Recipe For a Big Brother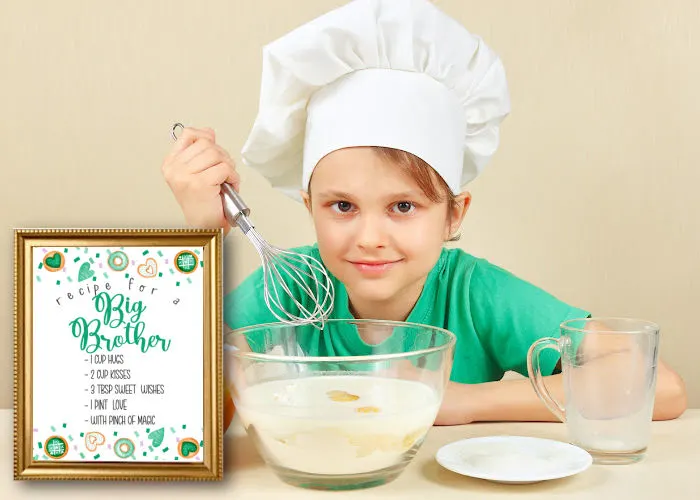 We're a family that loves to bake together, so a cooking-themed pregnancy announcement just seemed perfect! If you and your little one share a love of cooking, then this could be a great way to share your exciting news.
I love how easy this announcement is!
All you need to do is get out your cooking utensils and add a little chef's hat for your sous chef.
Grab a cute frame and this adorable recipe for a big brother printable and you're all set (note for this one there isn't an editable date but you'll get a pdf download with 3 sizes 8 x 10, 11 x14 and 16 x20).
That's it! Take a few pictures with your cooking set up and you've got an easy-peasy pregnancy announcement that's pretty unique and super cute.

7. Promoted To Big Brother Announcement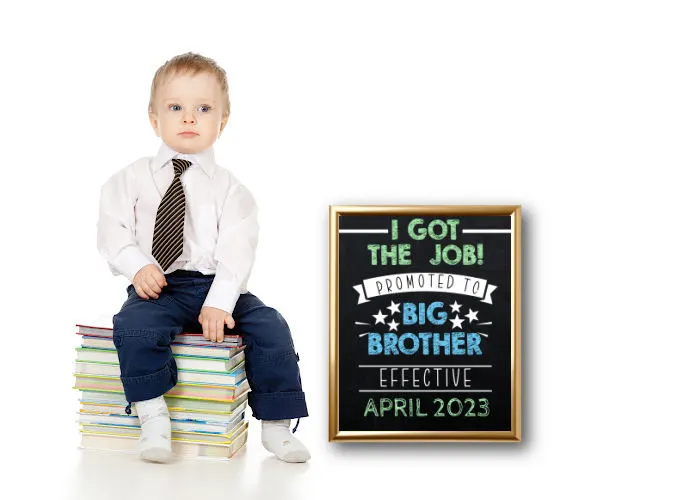 Another fun way for your firstborn to share this exciting news is to let everyone know they've been promoted to big brother.
Have some fun with a play on words here and do a photo where your little one is dressed up like a corporate employee in a suit and tie (maybe even throw in a briefcase and some reports with pie charts because why not!) who's just been promoted.
Tie it all together with this printable promoted to big brother chalkboard style sign.
You can customize the date and then print it at home or at your local printing shop.
8. Eviction Notice Pregnancy Announcement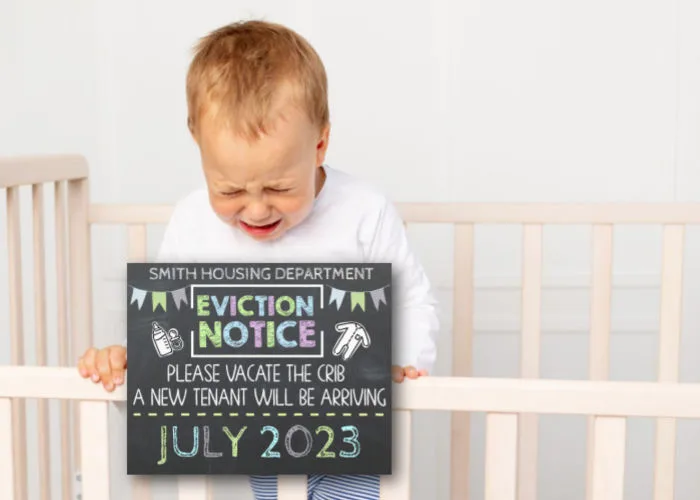 If you're looking for a funny pregnancy announcement try this hilarious eviction notice announcement!
This one is great because it's so easy and simple. You don't really need anything but your kiddo, their crib, and an eviction notice.
You can make your own or grab my printable eviction notice announcement sign with an editable due date and family name.
If your little one is crying or looking moody, it only adds to the authenticity of the photo because it really looks like they're actually upset about being evicted from their crib.

9. Ice Cream Pregnancy Announcement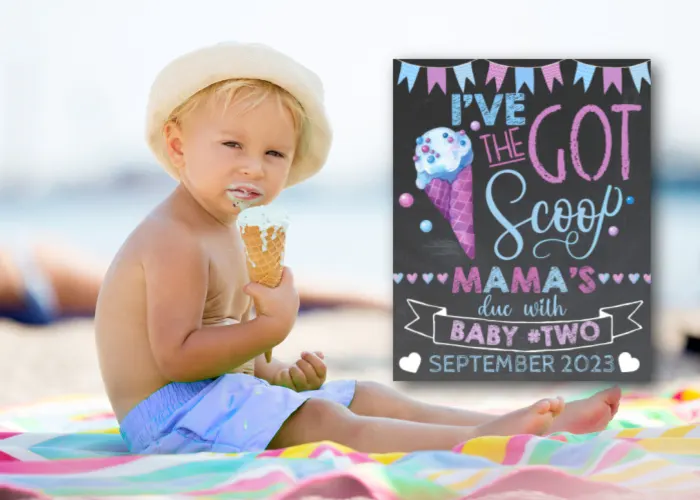 If you've got a summer pregnancy announcement (and a sweet tooth), what better way to celebrate than with ice cream?
This cute big brother announcement uses a fun play on words involving ice cream. It reads I've got the scoop, baby #2 is due, followed by your due date.
I love an easy prep and this idea definitely gives you that.
All you need is a warm and sunny day, a delicious ice cream cone, a happy big brother, and a cute announcement sign. If you're feeling fancy I would even throw in a pair of sunglasses because it's a vibe.
f you don't want to make your own, grab my printable ice cream pregnancy announcement sign with an editable due date instead.
Another option would be to take your picture at a local ice cream parlor where the decor is already done for you! If you've got any of those cute old-fashioned-looking ice cream shops, I would totally do it there.

10. Summer Beach Pregnancy Announcement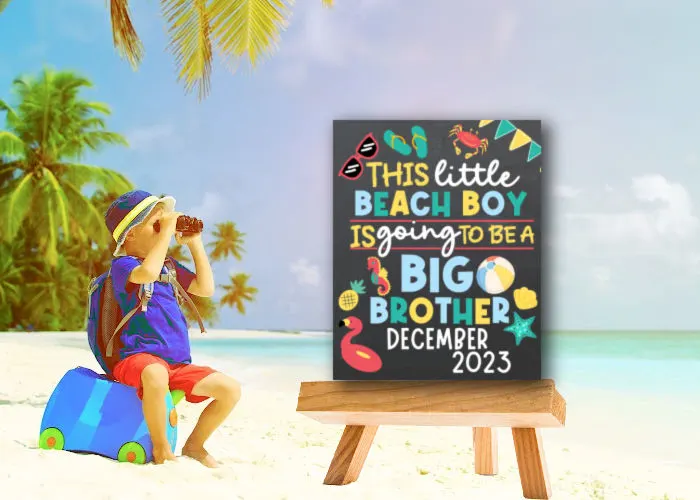 Who doesn't love the beach?!
It's the perfect place for a fun summer pregnancy announcement. It gives you a gorgeous backdrop so you don't have to do much work at all.
Just bring along some beach toys and a cute beach big brother announcement board and take some fun pictures featuring sun and sand.
Another option is to write your announcement right in the sand and have your little one sit next to it or you could even use everyone's footprints.
The options are endless!

11. Bucket List Sibling Announcement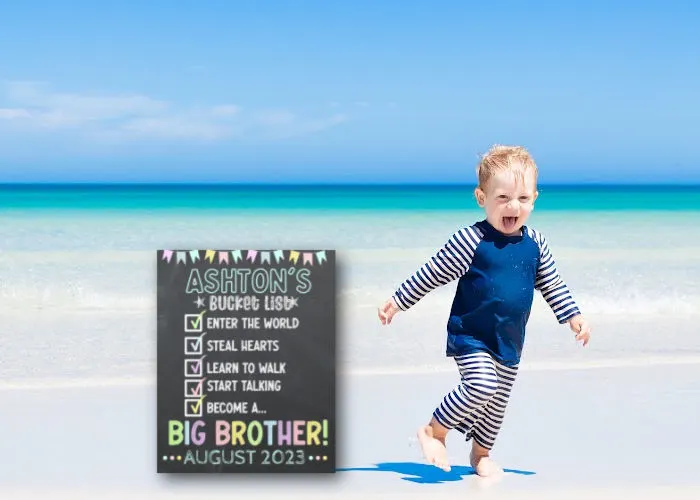 I love this cute announcement idea so much!
Create a personalized bucket list for your little man with toddler-friendly goals like learning to walk, be adorable, start talking, and then as the last thing on the list, add "become a big brother!"
This idea is super easy to execute since all you need is a colorful bucket list.
If you don't consider yourself particularly artsy, you can grab my printable bucket list big brother announcement.
You can customize your child's name and your due date before you print.

12. Only Child Expiring Pregnancy Announcement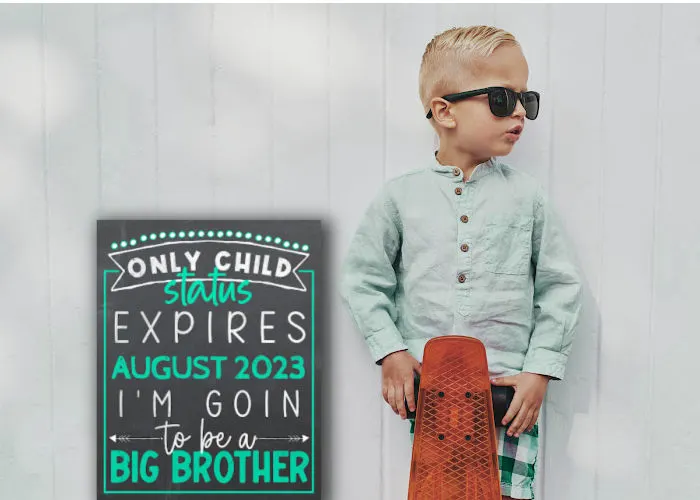 Another easy second pregnancy announcement could be a simple, only child expiring sign with your due date. This one announces that your little one is becoming a big brother (with the arrival of his new best friend) but doesn't require any extra props.
How you style it is totally up to you since this type of announcement isn't a specific theme.
All you need is an only child expiring sign and you're set.
You could also opt for an 'only child expiring' t-shirt as well.
13. Fall Camping Smores Pregnancy Announcement

If you're a camper family or just love the fall time you'll adore this sweet smores-themed pregnancy announcement idea!
This theme is easy to do and doesn't require a lot of props (unless you want them).
Just wait for a beautiful fall day, preferably when the ground is covered in colorful leaves, and grab your s'mores pregnancy announcement sign.
Head on out and have your little one dressed for the weather in cute sweaters or a nice fall jacket. All they have to do is hold the sign or have it placed nearby.
If you want a more camping-style announcement, you could get a cute toddler teepee tent. This set even comes with its own play campfire and twinkly lights! So cute!
You can easily do this set up indoors or outdoors which is awesome.
I love how this idea lets you keep it as simple or creative as you want.

14. Spring Gardening Themed Pregnancy Reveal
If you're looking for a fun spring-themed announcement, I love this cute sibling pregnancy announcement that's a sort of spring or gardening theme.
This fun play on words says 'I've got the dirt. Mama's due with baby #2' and has an editable due date.
This is a perfect one to do outdoors or even at your local community garden (if you don't have one of your own).
You can keep the props simple with a little watering can and let the beauty of nature take the front stage.
Grab my gardening spring announcement sign or make your own and you're all set.

15. Under Construction Big Brother Pregnancy Announcement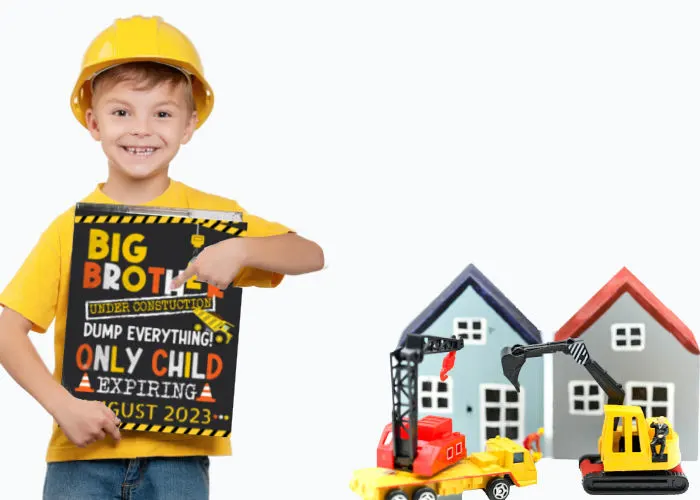 If you love simple yet creative pregnancy announcement ideas, you'll love this under-construction pregnancy announcement!
If your little boy is anything like mine and obsessed with all things construction, this is perfect! You'll likely already have blocks, dump trucks, excavators, and cranes lying around.
These would make such cute props in your photo.
You could add an awesome shirt that's on theme or a hard hat and vest to complete the look.
Add this cute big brother under construction sign and you're done! It's an instant download so just edit your due date, download, and print!

16. Dinosaur Pregnancy Reveal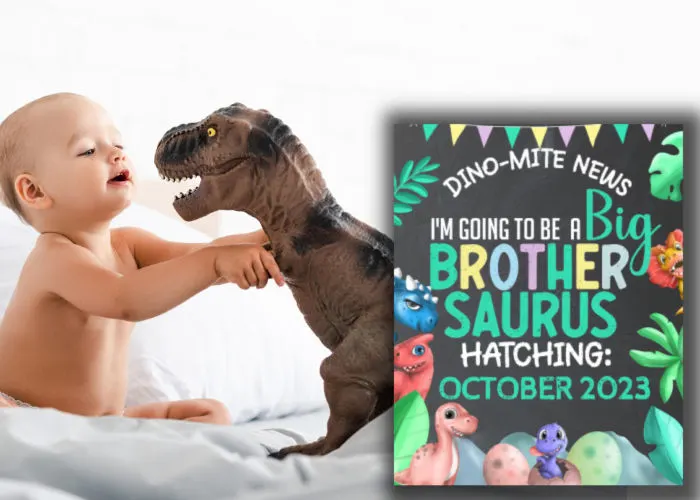 If you're looking for a fun pregnancy announcement for a dinosaur-loving big brother, you've found it! This is another easy one because you've probably already got a collection of dinosaur toys to use as props for an adorable photo.
For a little extra fun, you could also add my Big Brothersaurus announcement sign with an editable due date.
Pose with a cute smile or a scary dino roar! Whatever you like!
This cute dinosaur brother t-shirt is another fun option.

17. Big Bro Balloon Announcement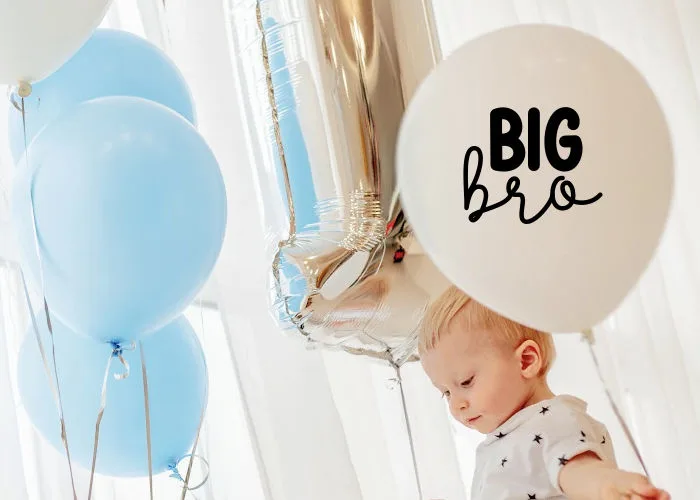 A fun and simple way to share your big news are with some cute pregnancy announcement balloons.
Amazon only had this set of big bro balloons yet they have the regular big sister balloon. Go figure.
If you're looking for a similar style like the big sis balloon linked above, your best bet is Etsy.
You could get a big bro foil balloon or one like this where you can customize the due date.
I love how easy this idea is and you can all join in for the photo. No extra props needed.
Plus you could always hold onto the balloon as a keepsake as well.
Just add it to your baby box.

18. Video Game Pregnancy Announcement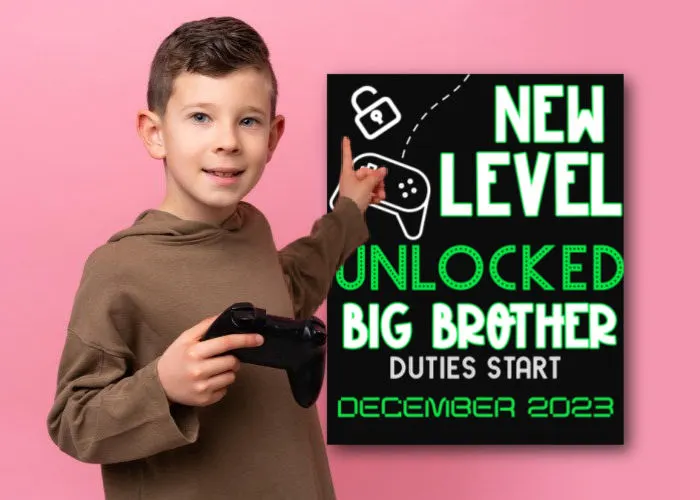 If you're a gamer family then the perfect way to share your announcement would be with a fun video game themed reveal!
You could do this in a couple of different ways.
The easiest is probably just holding some video game controllers and sitting next to a cute video game announcement sign like in the picture.
Just edit your due date and print it out!
You could also go with cute gamer-themed shirts for the whole family and a cute 'player 4 has entered the game' onesie for the new baby.
I would let your little guy stand in the middle with a controller in hand and then hold the onesie above his head between you and your partner.

19. Nautical Pregnancy Announcement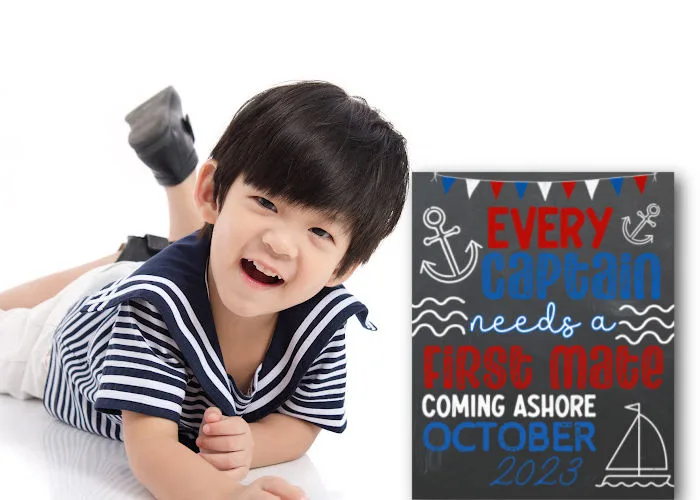 Maybe you're inspired by all things nautical or just love being by the seaside.
Opt for a cute sailor-themed pregnancy announcement to share the news about the newest member joining the crew.
This fun sibling announcement message says every captain needs a first mate. Coming ashore and then has an editable due date.
Make your own or grab my nautical pregnancy announcement board.
If you've got a sailor costume or just a striped t-shirt, that'll look great. Or you could opt for a fun captain's hat.
Either way, this announcement is guaranteed to make a splash! Speaking of which, you could also take this board to the beach and take your pictures there for the full effect.
If you live anywhere near a marina or harbor front, you could even find a boat to stand in front of.

20. Pilot Pregnancy Announcement (Wingman)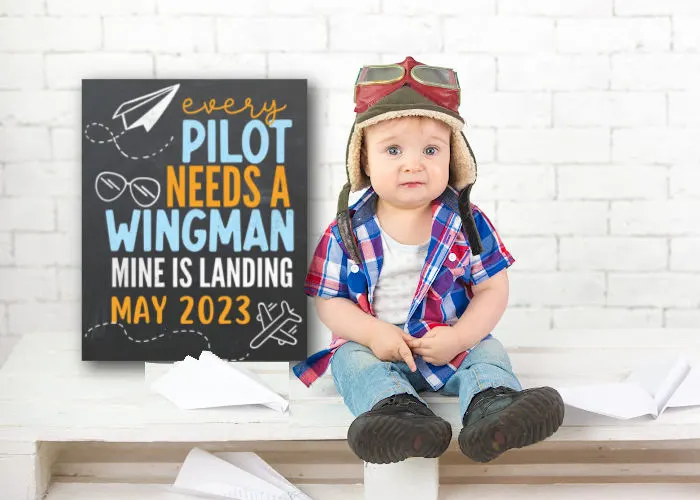 If your little boy is obsessed with all things that fly then why not try this adorable pilot-themed pregnancy announcement idea.
How cute is this pilot-themed sign that says 'every captain needs a wingman' and it allows you to edit the due date for when your new wingman is set to land.
If your kiddo already has toy airplanes and helicopters you can let him hold one of those, otherwise just make a few paper airplanes and you're set.
If you want to go the extra mile grab a flight suit or pilot's hat with goggles.

21. Every Trouble Maker Needs a Partner in Crime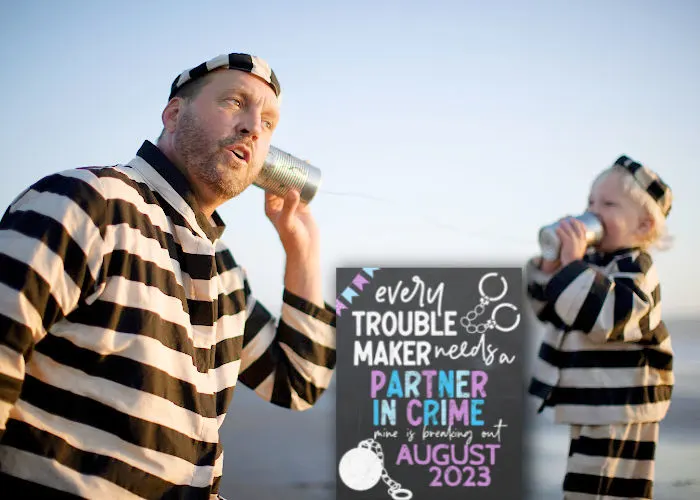 How cute is this partner-in-crime pregnancy announcement idea? It's such an adorable way to share your pregnancy news!
You can keep things easy by simply using a partner in crime announcement board, like in the picture, and leave it at that.
But if you love being a little extra, because why not?
You could get the whole uniform! Grab a cute classic black and white prisoner costume for your little one or go with an orange jumpsuit for your little inmate.
The best part, use them again for Halloween!
This would make such a cute and funny big brother announcement idea.

22. I'm Spilling The Beans (Jellybean announcement)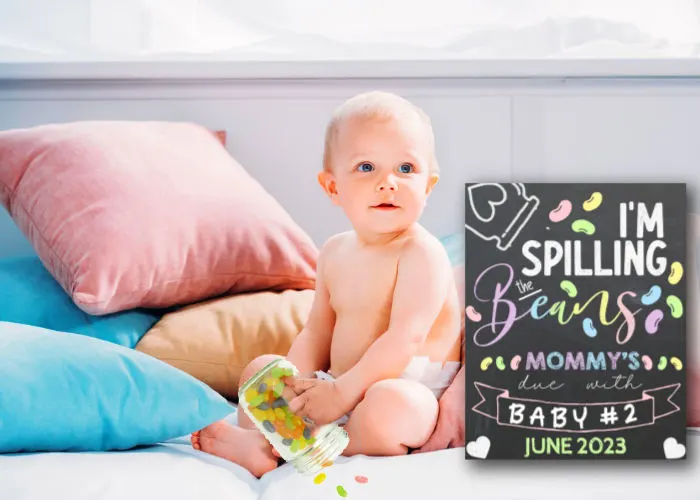 If you love cute and clever pregnancy announcements then I think this one is right up your alley.
How fun and easy is this 'spilling the beans' announcement idea?
All you need is a jar of jellybeans for your little one to spill and a fun jellybean-themed announcement board.
I bet your kiddo is going to be just as excited about this sweet announcement (especially if they get a treat for helping out after they're done).

Holiday Big Brother Announcements
Your other option is to tie in your little man's big bro announcement with an upcoming holiday! That's such a great one because there are so many to choose from and it'll make that holiday extra special forever.
It gives you an easy peasy built-in theme to build your announcement around and you probably already have holiday props lying around.
If you don't, the dollar store almost always has holiday decor for super cheap.
Let's check out some fun holiday-themed announcement ideas, shall we?
As always, I'll include links to all my fun big brother announcement boards.
23. Christmas Pregnancy Announcement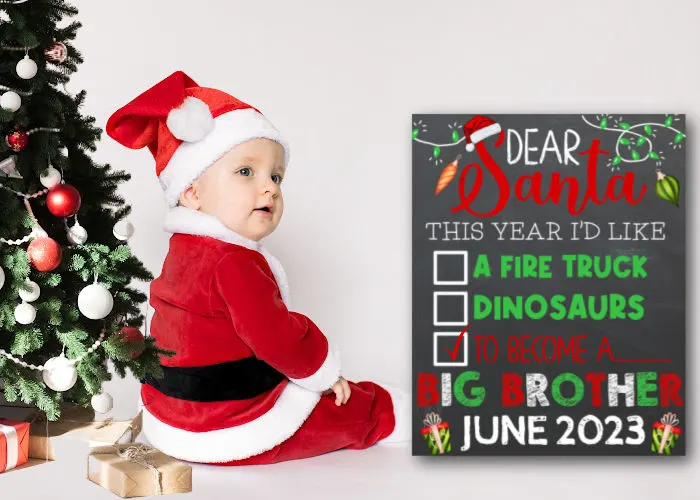 Okay, I couldn't help it, let's start off with the jolliest holiday announcement of the year! There are so many fun ways you could do a Christmas pregnancy announcement but here's a pretty easy one.
Grab this Santa wish list announcement board and you can take a cute picture in front of the Christmas tree or head outside on a snowy day and take a shot in nature.
This creative and fun announcement involves your first born making a Christmas wishlist with the last item being, becoming a big brother! What a perfect gift 🙂
It's such a sweet and memorable way to share some joy this Christmas.
If you're looking for more Christmas-themed ideas I have a whole post dedicated to Christmas Pregnancy Announcements With Siblings!

24. New Years Pregnancy Announcement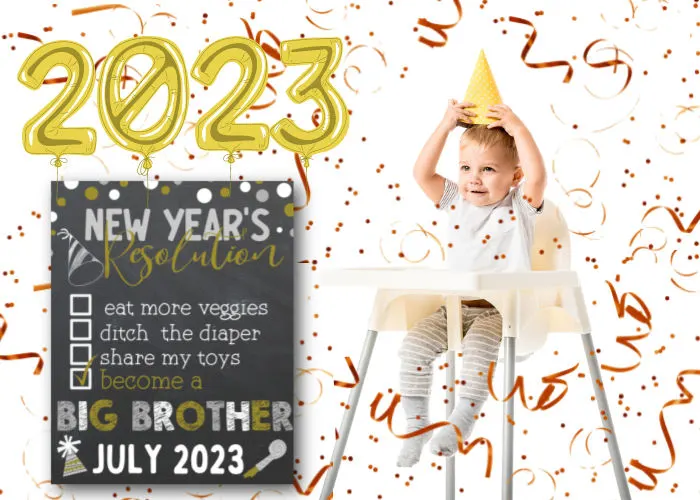 While we're on the topic of December and the holiday season, let's also do a New Years' themed announcement idea.
Ring in the new year with the whole family and have an unforgettable surprise! I love this cute New Year's Resolution pregnancy announcement board featuring funny toddler resolutions ending with a resolution to become a big brother!
If you want things to be a little festive, just add some new years decor and a party hat for your little one.
This is one resolution the whole family won't forget!

25. Thanksgiving Pregnancy Announcement Idea
Let everyone know what you're thankful for this year with this adorable Thanksgiving-themed big brother announcement.
This picture would be perfect to do at the pumpkin patch or farm! But you can easily do it in your backyard surrounded by colorful leaves as well.
Grab my Thanksgiving big brother announcement board and take some memorable photos!
This fun announcement says, 'this little turkey is going to be a big brother. Baby #2 arriving followed by the due date.

26. Halloween Pregnancy Announcement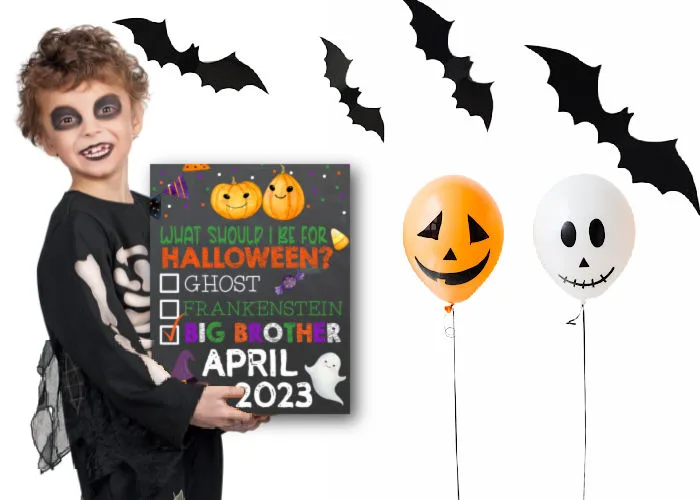 Everyone will be in for a treat with this spooky good Halloween big brother announcement idea!
You can have your first baby dress up in whatever Halloween costume you like and just prop up this cute Halloween announcement sign next to them.
If you've already got Halloween decor lying around, you could add a few things for your photo or grab a few fun Halloween balloons.
Halloween is such a fun holiday for the kiddos and this announcement only adds to the excitement! It lets you get as creative as you like because all the family members could do matching costumes as well and get in the photo!
If you're the kind of person who loves family costumes, this announcement would just be icing on the cake.

27. 4th of July Big Brother Pregnancy Reveal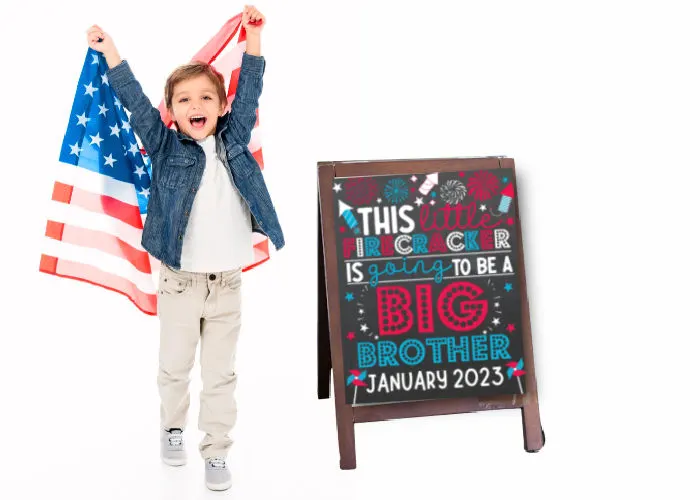 Tell the world you're getting ready for stars, stripes, and sleepless nights with this adorable announcement perfect for the 4th of July!
This cute independence day themed sign is perfect on its own or pair it with a little flag and you're set! It'll make for some unforgettable photo ops, that's for sure.
This fun announcement declares that 'this little firecracker is going to be a big brother' followed by an editable due date.
It's the perfect festive sibling baby announcement to kick off summer and Independence Day!

28. Easter Sibling Announcement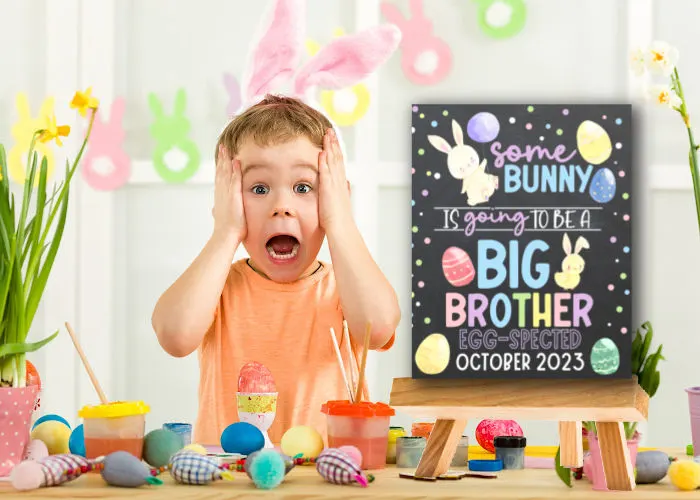 Easter is the perfect time to share your egg-citing baby news! It's the time for new beginnings and the hatching of cute and furry friends so why not!
Just litter the floor with plastic easter eggs and toss in a stuffed bunny and you're good to go.
You can add my cute chalkboard sign Easter pregnancy announcement board for some extra oomph!
Your little one might even love these adorable bunny ears. It goes with the announcement board perfectly since our caption is 'some bunny is going to be a big brother'.
Another fun idea is an easter egg hunt pregnancy reveal!
This can be done for your kids and hubby or even the whole family!

29. St. Patrick's Day Big Brother Announcement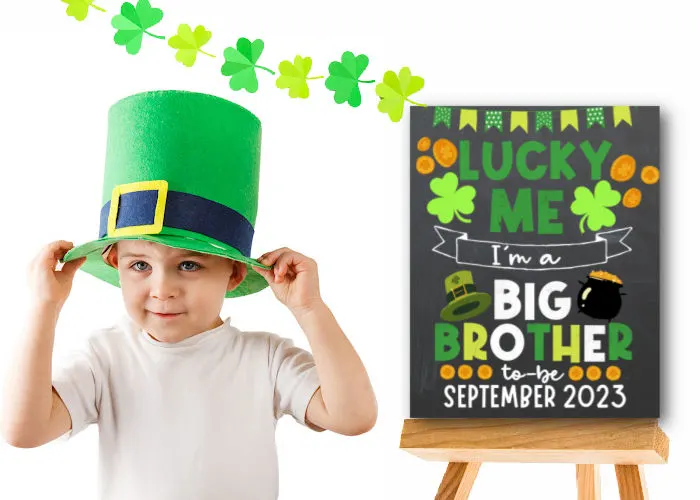 If you're feeling lucky, when better to announce than St. Patrick's Day?
Let everyone know that a new little lucky charm will be joining the gang soon with this fun St. Patrick's Day announcement board.
This is such an easy theme to create even if you don't have shamrocks or a pot of gold.
Just wear green and you're photo-ready! The green leprechaun hat is cute but totally optional.

30. Valentine's Day Pregnancy Announcement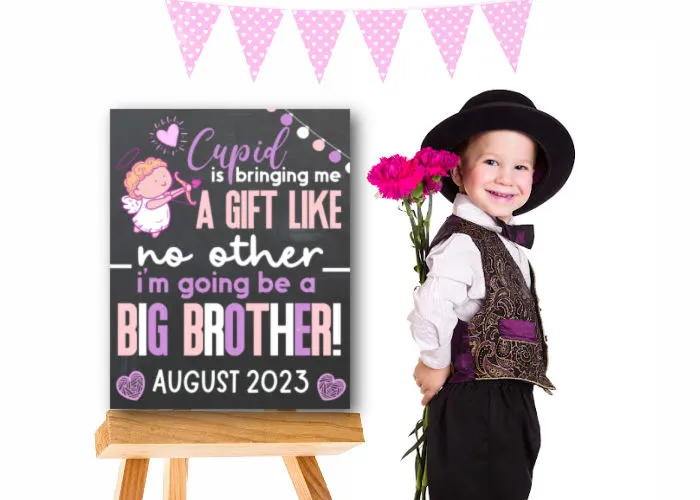 Celebrate love with an adorable sibling announcement this Valentine's Day! Your son could simply wear red or if you've got a young toddler you could even dress them up like cupid.
This sweet Valentine's themed announcement board reads: 'cupid is bringing me a gift like no other. I'm going to be a big brother!'
It's a fun opportunity for some priceless pictures and a perfect way to share the love!

More Fun Pregnancy Announcement Ideas
Unforgettable Surprise Pregnancy Announcement To Husband Ideas
Fun Grandparents Pregnancy Announcements Worth Stealing
Creative Pregnancy Announcements For Social Media
Adorable Big Sister Pregnancy Announcements
Easy Pregnancy Announcement Scavenger Hunt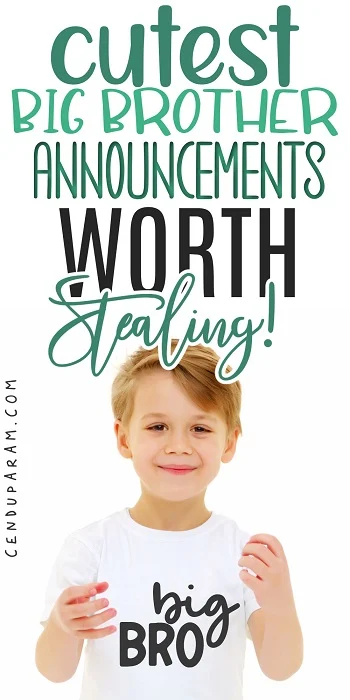 Wrapping Up Big Brother Announcement Ideas
I hope you enjoyed these fun and creative big brother announcement ideas! Hopefully, you've got some inspiration for your own pregnancy reveal now!
If there's a particular theme you were looking for and couldn't find here, leave me a message in the comments and I'll try to whip something up!
If you're looking for big sister announcement ideas be sure to check out that post linked above.
If you're ready to start looking for baby names, I've got 1000s to choose from and they're all sorted by different themes to make things easier!