How To Tell Your Husband You're Pregnant in Unforgettably Cute Ways

If you've somehow found your way here, that must mean you're pregnant! Congratulations!! When I first found out I was expecting, my first thought was how do I tell my husband I'm pregnant?

Did you do a surprise for your husband when pregnant, you ask?

I wanted my pregnancy reveal to my husband to be something fun, unexpected, and totally memorable. But alas, I could hardly wait and ended up just running into the room with a positive pregnancy test in my hand weeping and laughing like a crazy person.

That's why, for the next time around, I want to plan well ahead so I've already started googling fun ways to tell your husband you're pregnant and bought a bunch of pregnancy test strips so I'm ready to go!
WHEN DO YOU TELL YOUR SPOUSE YOU'RE PREGNANT?



So, how long did you wait to tell your husband you were pregnant, you ask?

This is of course, totally a personal choice so the right time is whenever you're ready.
For myself, it was pretty much immediately, like the moment I saw the little pink plus sign on the stick.
I really wanted to do something special but this was something we had wanted for so long I couldn't keep it in.

Ideally, I wish I had waited at least long enough to set up some kind of special surprise pregnancy reveal that he would always remember (probably a few days at the most).

If you want to be ready to reveal ASAP, I suggest looking through some creative ideas to reveal pregnancy to husband ahead of time and getting your items ready before you're actually pregnant (maybe even while you're trying).

SHOULD YOU WAIT FOR YOUR FIRST DOCTOR'S APPOINTMENT?

Some mama's want to wait until things are official after their first doctor's appointment so mums the word until then. Just keep in mind, that sometimes the first appointment may not be until around 8 weeks or so.

If you most definitely want your partner there for every step, then I would just reveal it as soon as you can but if you don't then you can certainly wait (just consider if your partner may want to be present too).

Personally, my hubby would have probably been a little hurt if I waited that long because he wanted to attend every appointment and be there every step of the way so that was more a priority for me than the surprise.

We only made it a point to wait to announce our pregnancy to family and friends because of a previous miscarriage which is actually fairly common.
This Healthline article discusses some of the pros and cons of waiting on your big announcement.


Disclaimer: As an Amazon Associate I earn from qualifying purchases but this comes at no additional cost to you.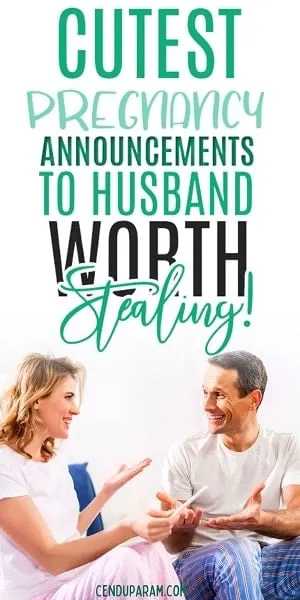 Cute Ways of Announcing Pregnancy To Husband: Creative Ideas You'll Love!


So what's the best way to tell your husband you're pregnant?
It really depends on you and what you're going for. I'll include a mix of some easy and simple ways to tell him you're expecting and a few more elaborate ways to do it.
Some will include a little gift or keepsake of some kind and others won't cost you a thing.
If it's your first pregnancy, you might want to go big and reveal your pregnancy in a unique way so I'll include some of those too.
Now, let's jump right in and check out some creative and fun ways to tell hubby you're pregnant.
You can easily grab most of these items from either Amazon or Etsy by clicking on the link or pictures.


1. TELL HUBBY YOU'RE PREGNANT WITH A BABY ONESIE


You can't go wrong with the classic baby onesie reveal. Wrap up a special gift of baby items including a onesie with a fun daddy-related quote (this one made me LOL).

It's a great present that baby gets to use too! So why not?

You can even get matching baby and daddy outfits (or family-style ones for you too).

Take a peek at these super cute options for inspo. I've got a gamer guy so I thought this first one would be perfect + hilarious!

GAMER DAD PREGNANCY REVEAL ONESIE

FAMILY MATCHING T-SHIRTS PREGNANCY REVEAL

2. SWEET SURPRISE PREGNANCY ANNOUNCEMENT COFFEE CUP


Another creative way to tell hubby you're pregnant is with some fun pregnancy announcement mugs. I've found a few different ones you can try.

Imagine sipping on your hot cup of morning coffee like it's a day like any other, then getting to the bottom of that cup and discovering a surprise that's going to change your life forever!

If you want to go the surprise route, like this, some of the pregnancy announcement to husband have the message inside the cup of coffee.
Others have cute messages on the front (like the funny one below).


SURPRISE SECRET MESSAGE MUG: YOU'RE GOING TO BE A DAD

SECRET MESSAGE MUG: WE'RE PREGNANT!

FUNNY BABY REVEAL MUG FOR HUSBAND


This set is perfect if you want a little keepsake for yourself too. It's a cute and simple gift you'll both enjoy while you wait for your precious little one to arrive.

3. DAD-TO-BE BEER ANNOUNCEMENT


Maybe your guy isn't really a coffee guy. If he's more of a beer or alcohol lover, then ditch the mugs and try one of these cute daddy announcements that includes a beer mug and some fun labels you can add to a 6-pack. It's pretty much the ultimate baby announcement.


DAD BEER ANNOUNCEMENT GIFT SET

This cute gift set says it all! You get a cute mug along with a beer opener and the surprise message of a lifetime, ' You're going to be a dad!"

Don't forget to grab some custom beer label pregnancy announcement to stick onto your guy's favorite 6- pack.

Here's another cute beer label I found on Etsy for 'baby daddy' that allows you to customize your due date.

You could also add this 'locally brewed' onesie from Amazon, how cute!

This Dad Est. beer mug is another great memento. I love that the price even includes customized engraving. Engrave a name, date or initials on the glass at no additional cost.
If dad is more of a whiskey man, then try this Dad EST Whiskey Glass instead.
4. SURPRISE PREGNANCY ANNOUNCEMENT TO HUSBAND SCRATCH CARDS


Do you or your partner love scratch and win cards?

We always pick up a few for fun so I thought this would make such a fun and surprise pregnancy announcement to my husband.

These are some custom scratch and win cards to announce your pregnancy to your hubby, plus they have extras in the pack so you can even use them as a fun way to announce your pregnancy to your family as well.

They're just the right size and look totally real, but once you scratch you get the best prize ever ' Guess what- We are having a baby!'.

If you decide to go with this idea, you should definitely record their reaction. I bet it's one you'll both want to remember. I'm hoping to try this with my family for baby #2. I'll set up my phone to record and pretend to join in on the scratch card fun so nobody expects a thing.

It makes a sweet keepsake too, you can frame it or add it to your baby book.
PREGNANCY ANNOUNCEMENT SCRATCH CARDS 6 PACK

INSTANT CASH PREGNANCY REVEAL SINGLE TICKETS

GOLDRUSH PREGNANCY ANNOUNCEMENT REPLICA SCRATCH CARDS

5. NEW DAD SURVIVAL KIT


Another sweet and fun way to let your partner know he's going to be a daddy soon is with a new dad survival kit. It's a funny yet practical way to announce a pregnancy that the new dad won't forget any time soon.

You can either put one together yourself or go with a premade one. Don't forget to add that positive pregnancy test along with all the essentials. If there's a birthday or holiday coming up, he won't even suspect the surprise.


If you're going the DIY route, here are a few essentials you can add to your new dad survival kit:
6. PREGNANCY ANNOUNCEMENT SHIRT FOR DAD


Along with a baby onesie (or instead of), you could also add a T-shirt or sweatshirt with a fun dad message to announce your big news. There are tons of matching ones if you decide you want one too (they make for great photos for your Instagram or Facebook pregnancy announcements).

You can go with something simple or funny. Take a look at these cute options for inspiration.

THE MAN BEHIND THE BUMP T-SHIRT


Etsy is another great place to look for unique customized t-shirts and onesies for your announcement.
7. ANNOUNCE PREGNANCY TO HUSBAND WITH A GAME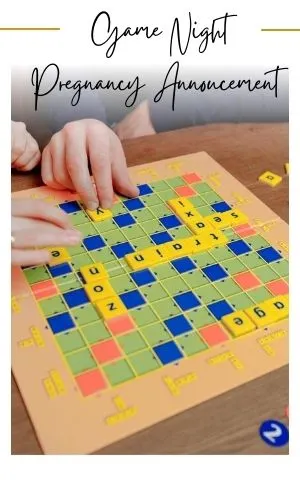 If you're the kind of couple that has game nights or just love playing games together, why not set up a special surprise to announce your pregnancy with a game.

There are a few great games you could potentially use to make the big announcement.

Scrabble is a great option since you can play with just two people. You would have to be crafty and cheat a bit though. Make sure to prepare your letters ahead of time so you can spell out I'm pregnant or we're pregnant.
Charades or Pictionary would also work really well. You can either draw or act out that you're pregnant and once your partner makes the right guess, whip out that positive pregnancy test. It'll be a reveal he'll never forget!
The Speak Out Game would be another super fun and funny way to tell your husband you're pregnant.

If you haven't played before, basically you put this weird mouthpiece in your mouth that makes it almost impossible to understand you when you talk. There are cards with simple phrases which you'll say to your partner and they have to decipher the message.

Imagine putting in your mouthpiece and trying to get hubby to say 'we're having a baby!" It'll be epic! This would be a fun one to record as well. You'll want to see that reaction over and over again.

8. SURPRISE SPOUSE WITH PREGNANCY USING BOOKS


Another great way to surprise your partner with a pregnancy announcement is with a book. It's a great practical and useful gift that he'll actually use.

You could either go with baby books about dads or you could go with pregnancy + baby care books for new dads. Or how about a bit of both?

Here are a few of my favorites:


We're Pregnant! The First-Time- Dad's Pregnancy Handbook
The Expectant Father (The Ultimate Guide For Dads-To-Be)

101 So Bad, They're Good Dad Jokes

9. FISHING LURE PREGNANCY ANNOUNCEMENT


If you can take your partner's hobbies or interests into account, you can probably come up with a super special way to announce your pregnancy.

For instance, if your partner loves fishing, why not try this adorable engraved fishing lure ? This one isn't customizable but they have the same fishing lure on Etsy that allows custom engraving.

I also found this super cute onesie that says, "Pack my diapers. Going fishing with dad". This would make the perfect gift for a dad that loves to fish!
10. GOLF THEMED PREGNANCY REVEAL TO HUSBAND




If your partner is all about golfing, you can put together a little surprise announcement with a few cute golf-themed keepsakes like the personalized new golfing buddy marker pictured above. This one is great because you can customize your due date too!

I would also add in these cute #1 Golf Dad golf balls.



Plus this cute Pop's Golf Buddy romper and you're all set!

You could even plan a special day at the golf course where you present him with his new golf balls and marker. He won't even know what he's opening so it'll be such a fun surprise.

11. ANNOUNCE YOUR PREGNANCY WITH DESSERT



If you ask me, dessert is always a good idea. So if he's got a sweet tooth, grab your favorite sweet treat and serve it with this not-so-subtle pregnancy announcement spoon.
Personally, I would stick it in a big bowl of ice cream because you can really bury it in there and he probably won't see it until after his first big bite.

This would make such a fun surprise and memorable keepsake. There are a couple of different messages you can choose from:
❤ We're Expecting + baby feet Spoon


Who knew there was a way to make ice cream even sweeter? You can even frame your spoon after the big announcement. If you plan to frame it, you can make a customized spoon with your due date on Etsy.

12. STAR WARS THEMED PREGNANCY ANNOUNCEMENT


If he's a Star Wars superfan, these super cute matching T-shirts from Etsy would make a perfect gift. You would have to add a customary 'Pregnant, we are" message along with your gift.

These Star Wars-themed daddy Darth Vader books are a perfect addition and super cute and funny. It's the perfect way to tell a Star Wars lover that he's about to become the Dadalorian.

13. JUMBO BABY BLOCKS PREGNANCY REVEAL



If you're a 'go big or go home' type of mama, you may love these giant baby blocks for your pregnancy announcement.

Imagine setting up these giant blocks and some fun helium balloons or a garland like in the picture, along with some baby shoes and your positive pregnancy test.

You could blindfold your partner and lead them to the surprise or even set up a fun scavenger hunt with this as the reveal!

The best part? You can even use the blocks again for your own maternity photos or baby shower.

That's what I call a win-win!

14. SURPRISE PREGNANCY ANNOUNCEMENT TO HUSBAND WITH BALLOONS



If you want a surprise pregnancy announcement that's sweet and simple, this one is for you. It doesn't require a lot of planning or setting up.

Simply attach a floating helium balloon (like one of the funny ones above or this cute one) to your pregnancy test along with some cute baby shoes or a funny card.

You can just tell your partner you've got a special surprise set up for them in the bedroom (or wherever you decide) and watch the shock, surprise, and happiness.

If you want to relive the moment, make sure to set up your phone to capture the reaction.
15. TELL HUSBAND WITH A PIZZA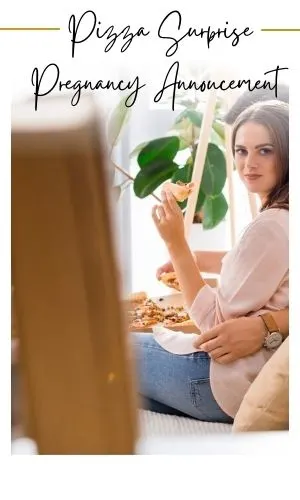 Here's another simple reveal that hubby will appreciate because you can eat it afterward.

Either make your own or get a pizza take out for dinner and spell out 'I'm pregnant' with your favorite toppings. If that sounds like too much work, you can always write your message on the inside of the box as well.

He'll open the box and be totally surprised!
16. SURPRISE PREGNANCY ANNOUNCEMENT WITH A CARD



Sometimes, all you need is the right card (you can frame it afterward or add it to your baby album). There are a ton of funny pregnancy reveal cards that are sure to get a laugh. It's a fun and simple way to announce your pregnancy that's still memorable.

There's actually a better selection of customized cards on Etsy, than I found on amazon.

Check out this funny one! Perfect for babies created during a pandemic.

Or if you're kinda artsy, you can even make your own.
17. LETTERBOARD PREGNANCY ANNOUNCEMENT IDEAS




Letterboards have become super popular with pregnant mamas. And not just to announce pregnancies but to use throughout pregnancy.

This one is a great idea because you can use your letter board for your weekly bump photos and even after baby is born.

Who doesn't love a product with multiple purposes?

Okay, back to your announcement. You can add a sweet pregnancy announcement quote or caption on your letter board for your partner to read.

Or, I've seen some mamas have their partner hold a letter board saying something like:

" Shhh.. I don't know what this message says yet but I'm about to be a father!".

Then, they snap a picture and ask him to see what he thinks about the shot and when he takes a look, he gets the biggest surprise ever! Such a fun way to reveal your pregnancy and get a fun keepsake in the process.

If you're going with this idea you may want a large letter board since it's easier to read.

18. PREGNANCY REVEAL FOR PET PARENTS


If you and your partner were pet parents first then you can totally include your precious fur baby in your pregnancy reveal.

These cute bandanas are just perfect and super cute if you want to use dogs to tell husband you're pregnant. Have your pet casually stroll in wearing one of these and surprise your partner in a way they won't forget.

I also found this cute "how to be a big brother/sister' custom dust jacket book covers on Etsy that would be perfect to add to your social media pregnancy announcements.

19. PREGNANCY REVEAL FORTUNE COOKIE



I love this creative pregnancy announcement idea!

Imagine finishing your delicious Chinese food takeout, reaching out for your fortune cookie, cracking it open, and finding a crazy message like

"Guess what? You're going to be a daddy!"

Well, this company lets you create a personalized message fortune cookie. I was surprised how reasonably priced it is too! You get 12 individually wrapped cookies so you can even use them afterward for your surprise announcement for parents, family, or friends.

20.HOW TO TELL HUSBAND YOU'RE PREGNANT WITH SECOND CHILD



If this isn't your first rodeo, you could simply use one of the ideas above and add "again" to your announcement or you could plan a special surprise including your first child.

There are tons of cute T-Shirts and onesies saying things like "promoted to big brother or sister" which would work perfectly.

You could have your little one all dressed up in their new big bro or big sis shirts and reading a "how to be a big brother" or "big sister" book.

Or check out my unique big brother pregnancy announcements and adorable big sister announcement ideas for more inspiration!
21. Cute Pregnancy Announcement To Husband Scavenger Hunt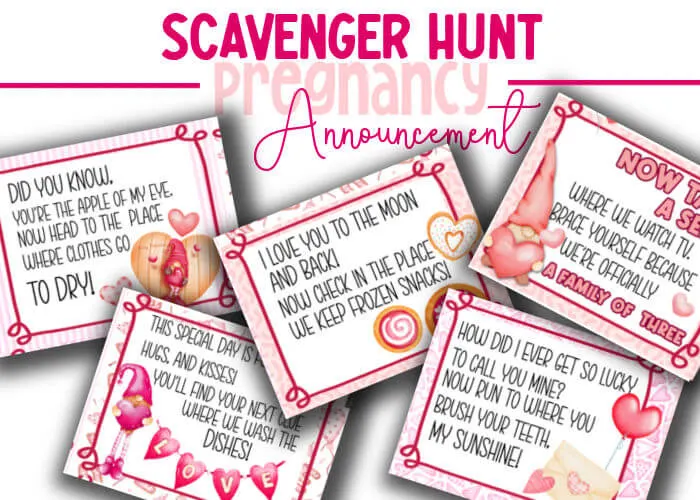 Remember those fun scavenger hunts you did as a kid? Why not recreate some of the magic of childhood to announce your own baby news with a cute and fun pregnancy announcement to husband scavenger hunt!
You can keep it simple and hide the clues around the house and have it lead to your positive pregnancy test and maybe a cute dad-to-be gift too.
It's such a sweet and romantic way to tell your husband you're pregnant.
You can make your own clues or you can purchase these scavenger hunt clues from me!
I've made 20 clues (5 pages with 4 clues per page) for around the house so you have plenty to choose from!
Plus, I love that they're quite big as well. It's 4 clues per sheet of 8.5 x 11 paper.
Simply print, cut, and hide your clues and you're done!
Plus you can save these adorable clues as a keepsake in your future baby box.
22. Cute Pregnancy Announcement With a Pair of Baby Shoes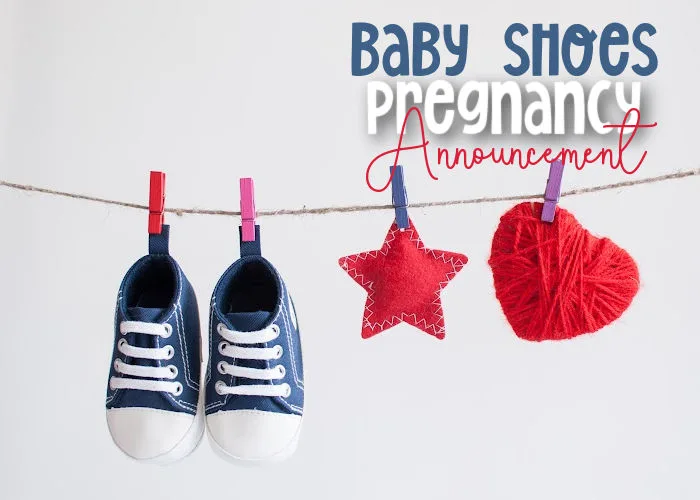 You really can't go wrong with a classic pregnancy announcement with a pair of baby shoes!
Don't forget to wrap them in a nice little box so your partner has no clue what's coming.
The great thing about using baby shoes as a pregnancy reveal is that you actually get to use them when baby arrives. They will serve as a special keepsake for years to come!
Plus, you could also use them for pregnancy photos later on as well! So, win-win!
Itty bitty baby shoes are about as cute as it gets and my favorite pair has got to be these adorable Baby Converse Sneakers!
They're great since they work for boys or girls and you probably don't know the gender yet.
They have these cute Converse Chuck Baby Booties too (in case you want something more practical)!

23. Surprise Partner With Pregnancy App and Push Notification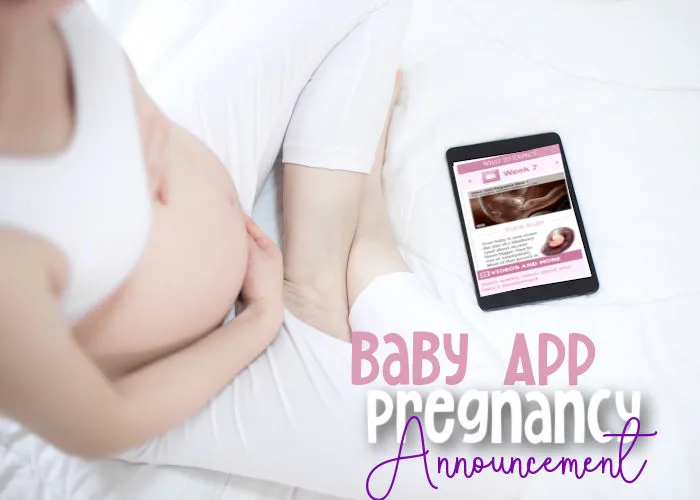 Here's another memorable way to announce your big news using a pregnancy app!
You'll need access to your guy's phone for this one though, so that part could be a little tough. Mine takes his into the bathroom so I have no idea when I'd be able to pull this off.
Maybe when they're napping?
Just download your favorite pregnancy tracking app onto his phone and then set up push notifications.
Your unsuspecting partner will go about his day and then be alerted with a life-altering message that 'You're 5 weeks pregnant today and baby is the size of a poppy seed!'
Who would forget that?!
I'd want to see the look on his face so I'd probably set it up to go off on a day we're together (like the weekend).

24. How To Tell Your Husband You're Pregnant Using The Bathroom Mirror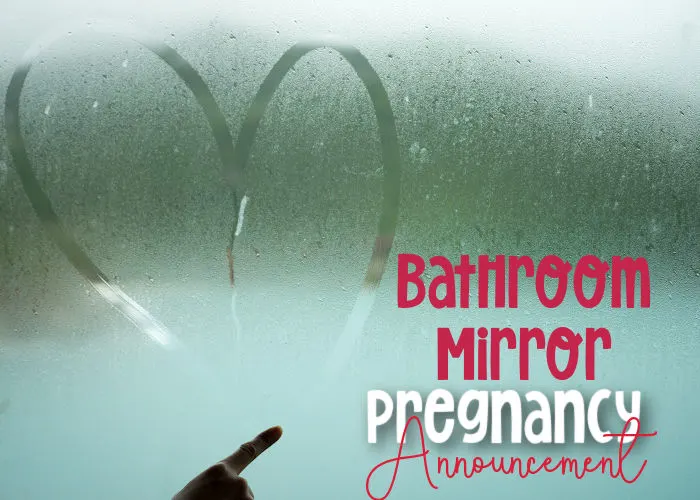 Sometimes the best way to tell your husband you're pregnant is to keep it simple and catch him when he least expects it.
Like when he steps out of the shower!
Just sneak into the bathroom during his shower but wait a few minutes until things get good and steamy in there. Then head over to the bathroom mirror and write a simple and sweet message like, 'You're going to be a daddy!' or the classic 'Guess What? We're Pregnant!'
If this is your second time, then an even more fun message could be, "Oops! We did it again!"
Be sure to leave your positive test on the counter so he knows what you're talking about.
If you want bonus points, you can even hop in the shower with him so he doesn't suspect a thing. Plus, you'll get to see his reaction when he reads your pregnancy news!

25. Plan a Special Dinner with Baby Themed Foods to Share The Good News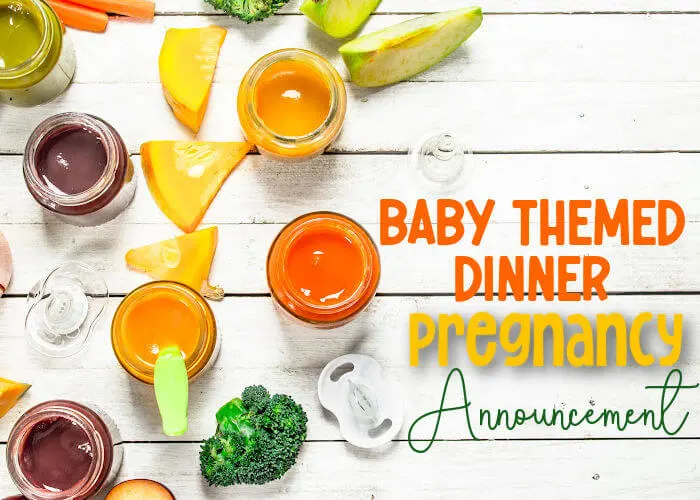 If you want something easy and cute definitely add this to your fun ideas for husband pregnancy reveals! Plan an extra special dinner for you and your hubby featuring baby-themed food items and ask him to guess what the theme is.
If you're a Full House fan, you might remember that Rebecca revealed her pregnancy to Jesse in exactly this way!
He didn't catch on right away but it was super cute to watch.
If you remember, she served him baby shrimp, baby corn, and baby back ribs and tried to get him to guess the theme. Unfortunately, he had other things going on and completely missed the mark!
Then she later tried again with picture charades.
Here are a few more ideas for baby-themed food to announce pregnancy:
Baby Red Potatoes

Baby Bell Cheese

Baby Carrots

Baby Spinach

Baby Kale

Baby Beets

Baby Radishes

Baby Fennel

Baby Bok Choy

Baby Lettuce

Baby Artichokes

Baby Asparagus

Baby Eggplants

MORE PREGNANCY-RELATED POSTS
Fun Ways To Announce Pregnancy To Parents and Family Members
The Complete First Trimester To DO List
First Trimester Essentials I Couldn't Live Without
+500 Cutest Baby Names By Theme
Family Christmas Pregnancy Announcements With Kids
Fun Easter Pregnancy Announcement to Husband Idea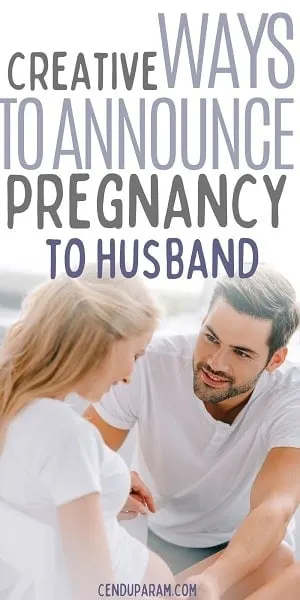 WRAPPING UP THE BEST WAYS TO TELL YOUR HUSBAND YOU'RE PREGNANT


There's really only a handful of times in your life you'll be able to tell your partner that you two have made a tiny little human. It is definitely worth pulling out all the stops. It's a life-changing announcement and one you'll both look back on fondly.

So make it count!

I hope you found some fun and creative ways to tell your partner that you're pregnant. The fun is just getting started so be sure to check out some of the helpful pregnancy-related posts above for navigating the next 9 months.

Congratulations, mama!

I'm truly so excited for you.

If you decide on one of these announcement ideas or have another fun idea of your own I'd love to hear about it in the comments!

Lets chat 🙂