CREATIVE WAYS TO ANNOUNCE YOUR PREGNANCY TO PARENTS
Looking for some fun ways of announcing pregnancy to parents? One of the best parts about being pregnant is sharing the big news with all your family and friends.


So, of course, you'll want it to be special.
Something that everybody is going to remember for years to come. And the people who are often the most excited? The grandparents-to-be, of course!

Becoming a grandparent is a HUGE milestone and you'll want to mark the occasion in a special way. Maybe even think about a special keepsake you can give them to commemorate the occasion.

I'll try my best to help with some fun and memorable keepsakes you can add to your announcement.


WHEN SHOULD YOU TELL YOUR PARENTS YOU'RE PREGNANT?


This is most definitely a very personal choice but many couples choose to wait until the end of the first trimester of pregnancy (which is around the 12-week mark).

This is because the chances of miscarriage are highest during this time. Personally, I chose to tell my parents right away!

Like the same week, I found out.

Unfortunately, that pregnancy did end in a miscarriage. And it was so difficult to have to tell everybody about it and continue to relive the experience over and over.

But, at the same time, it was super comforting to have them around for support. Telling them was hard but a girl needs her mom in all this so, at the end of the day, I was happy I told them.

You'll have to decide for yourself what feels right.
Disclaimer: As an Amazon Associate I earn from qualifying purchases but this comes at no additional cost to you.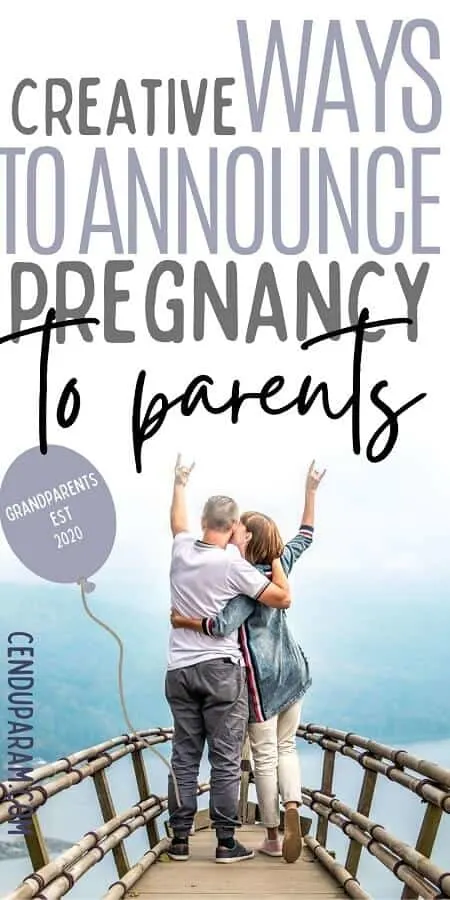 FUN WAYS TO ANNOUNCE PREGNANCY TO PARENTS

Let's jump right in and look at some fun and memorable ways to tell your parents they're going to be grandparents!

A cute gift or keepsake is perfect since it's something they can always look back on. If you're announcing your pregnancy to parents around the holidays, any one of these grandparent announcement gifts would totally make them swoon!

Can you imagine opening up a Christmas gift and finding out that you've got a grandbaby on the way? BEST holiday ever (or birthday or any other day really)!




These insanely cute grandma and grandpa mugs would make the perfect little keepsake! I love that it includes the year too!

They also have some adorable mugs that say promoted to grandma/grandpa as well.

If you were fur baby parents first, then you have to check out these 'from dog grandparent to human grandparent' mugs.

We commemorate everything with mugs in this house so this was a no-brainer for our announcement.

If they're also coffee fanatics, you could put together a special package with a custom blend and add these gorgeous 'perfect blend' custom made coffee stickers as well.


MORE CUTE PREGNANCY ANNOUNCEMENT MUGS FOR GRANDPARENTS

GRANDMA + GRANDPA NUTRITIOAL FACTS GLASS MUGS
BEST GRANDMA + GRANDPA EVER MUGS
GRANDMA BEAR + GRANDPA BEAR GLASS MUGS SET
Maybe your folks aren't coffee or tea people. That's fine. But who can say no to wine?! What better way to celebrate than popping bottles?

I love this set because it's got wine labels for the whole family (aunts, uncles, grandparents, the works!).

You might want to make this a set too and include some special wine glasses to go along with the wine.

ADD A CUTE WINE GLASS (OR BEER MUG)!


GRANDMA EST. STEMLESS WINE GLASS
GRANDMA SHARK NEEDS A DRINK (who doesn't love a bit of humor?)
GRANDPA EST STEMLESS WINE GLASS + GRAND DAD PROMOTED WINE BAG
GRANDPA EST BEER CAN PINT GLASS (in case grandpa is more of a beer guy) + add these cute BEER PREGNANCY ANNOUNCEMENT LABELS + BEER CADDY

If you're looking for a fun and unique way to announce your pregnancy to your parents, why not consider these cute scratch cards! You get a set of 5 in this pack so there's enough for all the grandparents-to-be.

If you really want to trick them, these are the ones to get because they look so real! You can check out this customer's photo to see what it looks like in person.

Work in an entire story to really sell it. Tell them how you made a little winning from these scratch cards so you thought you'd buy a few for everybody! Then watch their jaws drop as they scratch the big reveal.



MORE CUTE SCRATCH CARDS TO CHOOSE FROM

GOLD LUCK PREGNANCY ANNOUNCEMENT SCRATCH CARDS
INSTANT CASH FAKE SCRATCH CARDS PREGNANCY ANNOUCMENT
LUCKY 7'S BABY ANNOUCEMENT SCRATCH CARDS
LAUGH IN A BOX PREGNANCY ANNOUNCEMENT SCRATCH CARDS 10 PACK

When you're deciding on your announcement, think about any family traditions or rituals you might have.

If you have the kind of family that loves to do puzzles together, this puzzle pregnancy announcement could be a wonderful way to surprise your parents with the news.

I saw some pretty funny ones too! So take a look below for some more puzzle inspo.


MORE PUZZLE PREGNANCY ANNOUNCEMENT TO PARENTS IDEAS

'I QUIT DRINKING (ONLY FOR 9 MONTHS)' PUZZLE
PERSONALIZED BABY ANNOUNCEMENT TO GRANDPARENTS PUZZLE
PROMOTED TO GRANDPARENTS PUZZLE

If you're still wondering how to tell your parents you're pregnant, well, you can't go wrong with a classic.

The baby onesie is a classic yet fun way to tell your parents you're expecting.

I especially liked this gift set because it comes beautifully packed in a gift box along with a 'guess what?' greeting card to build that anticipation.

Take a look at this customer's photo + review to see what it looks like in person.


MORE PREGNANCY ANNOUNCEMENT ONESIES

SURPRISE! YOU'RE GOING TO BE GRANDPARENTS ONESIE
HELLO…GRANDMA & GRANDPA ONESIE
GRANDMA & GRANDPA SEE YOU IN 'YEAR' ONESIE
LET THE SPOILING BEGIN ONESIE
If you have a parent that has passed away, this onesie is too precious!


GRANDPARENTS PREGNANCY ANNOUNCEMENT APPAREL



Of course baby onesies are adorable, but you could totally add some new grandparents gear too!

I'm sure the proud grandparents-to-be would love to proudly display their new status for everybody to see so one of these adorable grandparent t-shirts or sweatshirts would be a perfect way to announce pregnancy to parents.
RELATED POSTS
Creative Pregnancy Announcement Quotes, Captions, and Photo Ideas for Social Media
First Trimester Must Haves and Essentials
The Ultimate First Trimester Checklist (free Printable PDF)
How To Score FREE Pregnancy and Baby Stuff For Expecting Moms

Here's a super fun creative way to announce pregnancy to parents that I haven't come across before: the surprise quail egg!

Make your big announcement to loved ones by giving them the fun of cracking open their own quail egg to reveal your pregnancy with a glittery secret message!

Added bonus 10% of the proceeds from this product go to benefit the Phoenix Rescue Mission which provides life-transforming solutions to persons facing hunger and homelessness. I love that!

This customer even taped her mom's reaction while she opened it.
Watch the video here! It's so sweet!

TIP: Don't send this directly to your parents because the amazon packing slip says pregnancy announcement on it. I would deliver this in person or re-ship it.

Another classic yet memorable pregnancy reveal to parents is using your sonogram photo!

This pregnancy announcement gift takes it one step further with a special 'promoted to grandparents' frame.

I love this cute rustic style frame but there's tons more to choose from. Take a peek below.


MORE SONOGRAM PICTURE FRAMES

THE GRANDPARENT GIFT CO SOMETHING SWEET FRAME
TRIPLE SONOGRAM KEEPSAKE FRAME
HELLO GRANDMA! SEE YOU SOON FRAME

These beautiful rose gold pregnancy announcement keychains would make a wonderful keepsake for the grandparents-to-be.

Did you notice how they form a heart when they're lined up? And the little baby feet? How cute! The others I was looking at weren't quite as detailed as this one. It would make a wonderful first-time grandparents' gift.

I love that it's actually made of stainless steel so you don't have to worry about rust or tarnish.

If you aren't a fan of rose gold, check out some of these other keychain options as well.


MORE KEYCHAIN GRANDPARENT ANNOUNCEMENT GIFTS

SOON TO BE GRANDPARENTS SILVER COLOR STAINLESS STEEL KEYCHAIN
PROMOTED TO GRANDPARENTS KEYCHAIN
SCRIPT FONT GRANDPARENTS EST. KEYCHAIN

If you're looking for a creative way to tell your parents you're pregnant, this is it! This company does custom fortune cookies so you can have them put whatever message you want.

This is such a fun way to announce your pregnancy to the family in person. Get the family together for some delicious Chinese take out and end the meal with the surprise of a lifetime!

I would probably go with a funny pregnancy announcement to parents like, 'You can stop asking now! We're pregnant!'
If your parents have a sweet tooth, you can make your pregnancy announcement to parents in person.
You can plan a nice dinner for your parents and when it's time for dessert, serve some delicious sweet treat (ice cream please!) along with these adorable pregnancy announcement spoons!
These quality spoons are made of stainless steel and the engraving is made using industrial standard engraving machine to withstand wash after wash.

GRANDPARENT ANNOUNCEMENT BABY BOOKS


You really can't go wrong with some sweet baby books to announce your pregnancy to your family.

These grandparent books are so sweet and funny! They can keep them at their house and read it to baby when you come to visit. It could be a sweet and simple tradition for the grandparents to start with baby.


So, this one is obviously a little bit time-sensitive but I'm writing this post around the holidays so I've got to include it.

Add a special ornament to the tree with this adorable 'soon to be grandparents' ornament. It would add such a special touch to any gift you give them.

This would've been my go-to if I was planning a holiday pregnancy announcement.


MORE ORNAMENT PREGNANCY ANNOUNCEMENTS
WOOD LASER ENGRAVED PERSONALIZED ORNAMENT
HANDMADE GLITTER ORNAMENT 'GRANDPARENTS'
PERSONALIZED ENGRAVED GLASS ORNAMENT

ANNOUNCE YOUR PREGNANCY TO PARENTS DURING FAMILY GAME NIGHT


Another super fun way to announce your pregnancy to the family is during a fun family game night!

The most obvious game choices would probably be Pictionary, Charades, or Scrabble (you'll have to rig the letters ahead of time).

Either draw it out, act it out, or spell it out and watch the jaws drop when they realize what's actually happening!

This cute mama did a game with her parents where she had them wear headphones and try to repeat what she's saying while she said 'we're going to be grandparents!" (or "the whisper challenge" I think it's called on social media.)

Check out the video here! This was such a cute idea!

GRANDPARENTS PREGNANCY ANNOUNCEMENT COUPONS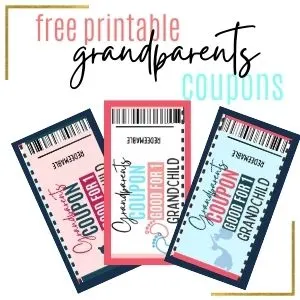 Who doesn't love a good coupon? You can totally dress up the packaging to look like a gift certificate.

This one is especially fun for first-time grand-parents because you can write something on the outside like, 'the perfect gift for parents who have EVERYTHING'.

Inside, they'll find a coupon redeemable for one grandchild and a spot for you to write down your due date.

This is such a fun announcement that they can frame and keep as a souvenir.

To download your own free grandparents' announcement coupons just click the button below!

PREGNANCY ANNOUNCEMENT TO PARENTS WITH A BUN IN THE OVEN


You could always go with the literal 'bun in the oven'! It's kind of "punny" don't you think?

Pop a bun in the oven (preferably already cooked) and stick a little note in it that says something like "this bun should be ready by" and put baby's due date.

Invite your parents over for dinner and make your pregnancy announcement in person by asking them to grab the food out of the oven. Make sure to set some kind of timer to go off so they aren't expecting anything out of the ordinary.

HOW TO ANNOUNCE PREGNANCY TO PARENTS WHO ARE ALREADY GRANDPARENTS


How do you tell parents they will be grandparents again? Maybe your parents are already grandparents, but that doesn't mean welcoming a second, third or beyond baby isn't just as magically.

You can easily use any of the above pregnancy announcement ideas and simply add a note that includes something like 'surprise! You're going to be grandparents….again!'

If you want a little gift that does it for you, here are some fun ideas on how to announce pregnancy to parents who are already grandparents.

If you've already done one of the above the first time around, you could always continue with that tradition but there's always room for creativity.

Any of these grandparents again gifts are sure to please.
Or check out my big brother announcement ideas and cute big sister pregnancy announcement ideas for more creative inspiration.


GRANDPARENTS AGAIN ONESIES AND T-SHIRTS



These cute 'grandparents again' onesies are a sweet and simple way to announce your pregnant again. No muss, no fuss but still so cute.

GREY GRANDPARENTS AGAIN ONESIE
WHITE GRANDPARENTS AGAIN ONESIE
I'M THE LAST ONE ONESIE

If you want to give your parents a funny pregnancy announcement, I would go for the 'oops we did it again' t-shirt!

You could also go the grandparents again t-shirt route and grab one of these cute shirts to share the big news.


GRANDPARENTS AGAIN PREGNANCY ANNOUCEMENT MUGS


How about a matching set of grandparents again mugs to mark the occasion?

It's an easy gift to customize which is great! You can add whatever other little gifts or trinkets you'd like inside the mug then wrap it up in cellophane and a bow.

Voila! Easy peasy.



GRANDPARENTS AGAIN PREGNANCY REVEAL PUZZLE


This grandparents again pregnancy announcement puzzle is another cute and fun way to tell your parents you're expecting another blessing.

If you're going the puzzle route, you could also include a frame so they can hang up the puzzle once they've finished it.


HAVE THE SIBLING-TO-BE ANNOUNCE IT




If you want a cute and fun way to announce your pregnancy announcement to your family, why not include the sibling(s)-to be as well!

They'll love having such an important job. Plus it just looks so cute!

Grab a promoted to big brother or big sister shirt and wear them on your next visit to grandma and grandpa's place.

Then, of course, don't forget to snap some memorable pics.

If you want to combine siblings and Christmas for your announcement check out these very merry Christmas sibling pregnancy announcements.
MORE RELATED PREGNANCY POSTS!

Creative Pregnancy Announcement to Husband Ideas
Creative Easter Pregnancy Announcement Egg Hunt
Pregnancy Announcement Scavenger Hunt For Hubby
Must Have Newborn Essentials To Add To Your Baby Registry
The Labor Hospital Bag Checklist I wish I'd Had (free pdf)
The Postpartum Care Kit You Should Put Together BEFORE Baby Arrives
What To Wear After Giving Birth Instead of a Hospital Gown

WRAPPING UP WAYS TO ANNOUNCE PREGNANCY TO YOUR PARENTS



Hopefully, you found some inspiration for your very special pregnancy announcement to parents.

It's meant to be fun so keep things light and don't stress about it. Whatever you choose will be just perfect. The news in itself is already the best surprise ever. This stuff is just icing on the cake.

Whatever you choose, they'll treasure it forever because it marks the day they learned about the best blessing ever. A moment they've been dreaming of since they first held you.

Congratulations! It's going to be great!

If at all possible, try to record their reactions because that's always fun to look back on.