Creative Big Sister Announcements Worth Stealing!
Let the world know that your firstborn is about to become a big sister in a special way with a cute and fun big sister pregnancy announcement!
It's such a sweet way to let your little one be a part of this new adventure, plus it makes for a cute keepsake for years to come.
It gives her an important job to do as the one to introduce her new best friend and show off her new role.
There are so many ways to do a big sister announcement.
You can keep it simple or go all out.
It's really up to you, let's check out some unique ways to go about it with these fun sibling pregnancy announcement ideas to share with your family and closest friends.

Big Sister Announcement Board
Most of my announcements feature super cute big sister announcement boards and you can get your hands on these for your own announcement too!
I've made big sister announcement templates that allow you to edit your due date and print the sign yourself.
You'll be using a free online program called Canva to do the editing, and you do have to sign up but it's totally FREE.
Don't worry, it's super easy to use and I've even included a quick video tutorial.
You can instantly download your purchase and print them at home or for a more professional look, send them to your local printing store like Staples.
I've included different sizes (8 x 10,11 x 14, and 16 x 20) so that you have the option to print at home or get it printed professionally.
If you're planning on using one of the bigger size options, I would suggest getting it printed since most home printers aren't equipped to print something that's 16 x 20.

Since they are a digital file please note that all sales are final for the announcement boards but I'm happy to help if you're having any trouble with your purchase.
Now let's check out some fun big sister announcement ideas.

Disclaimer: as an Amazon Associate I earn from qualifying purchases via my affiliate links. This comes at no extra cost to you.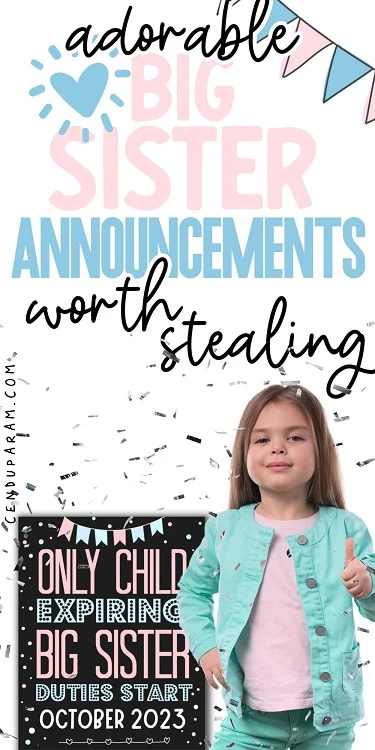 When Should You Announce Your Pregnancy News?
This is obviously a very personal choice and the right time is whenever you feel comfortable and ready to do so. I know as new parents, I could hardly wait to share my good news with everyone and started telling people pretty much right after my positive pregnancy test!
That being said, many people tend to wait until after the 12-week mark (basically the end of the first trimester) because this is considered the most precarious time during pregnancy and is associated with the highest level of miscarriages.
My first pregnancy actually did end in a miscarriage and then having to deliver that news after wasn't great for my mental health.
Consider your own current situation and any special circumstances regarding your pregnancy or medical advice from your health care practitioner.
How Do You Announce A Pregnancy With A Sibling?
There are so many ways to include an older sibling in a second pregnancy announcement and some are super beautiful and elaborate while others are more simple and easy.
If you've got a small child (toddler aged) you probably already have your hands full running around after them and may not have a ton of time for planning this 2nd pregnancy announcement.
I'm going to give you a list of 30 easy pregnancy announcements you can do with older siblings that don't require too much prep work or props but still delivers a memorable photo.
Add your own personal touch to any of these and make it your own.
The simplest and easiest way is probably just going with a sonogram announcement and a letter board but if you want to go a little more creative check out these awesome you're going to be a big sister ideas below!

1. Big Sister Shirt Pregnancy Announcement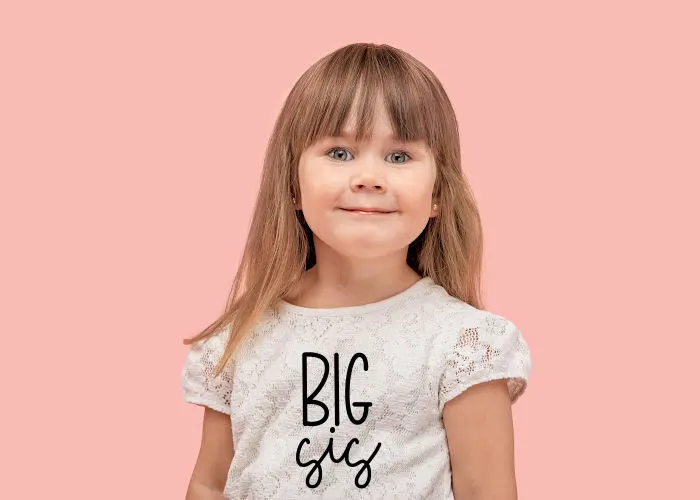 One of the simplest ways to announce your pregnancy with a new sibling is with a big sister t-shirt.
It's a super cute idea for photos and gives your little one a fun way to display their new role. They'll want to wear it all the time.
Plus, once you find out whether they'll have a little brother or sister, you can get a matching onesie for baby.
That'll make for some super sweet sibling photos once the baby arrives.
It's easy enough to do since Amazon has so many cute choices and it'll ship quickly.
Take a look!
This cute big sister t-shirt seems to be the most popular choice on amazon probably because it's good quality, made of cotton, comes in a few different colors, and is inexpensive.
No wonder it's got 4.8 stars.
This big sis t-shirt is another cute option and also has great ratings. This one is a blend though and not 100% cotton but still super soft.
I love the cursive font on this shirt!
There is literally an endless sea of big sister announcement shirts to choose from so take a look!

2. Big Sister Jean Jacket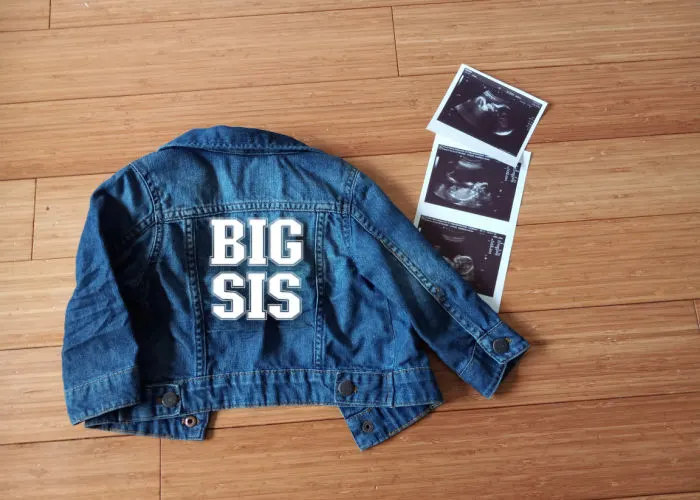 Along the same lines as the t-shirt, you could also go the route of a cute big sister jean jacket.
Unfortunately, Amazon doesn't seem to have these but you can find some really cute ones on Etsy.
They even have matching mom and dad ones so you could deck out the whole family!
The only downside here is it can get a little pricey!
So if you're looking for a more budget-friendly way to do this, I suggest going the DIY route.
You could use heat transfer iron-on decals or grab these iron-on letters from Amazon.
If you're all joining in on the photos, you may need someone else to take the picture or set a timer because you'll have to face your back to the camera.
You can even have big sister holding an ultrasound image for that special added touch.
3. Big Sis Hat
Another easy peasy big sister pregnancy announcement is with the use of some adorable big sis hats. How cute is this little pink hat?! It makes a wonderful big sister gift when telling your little one about the new baby.
If you want a personalized big sis hat with your little lady's name on it then check out this cool Etsy shop.
And you can't forget to add matching mom and dad hats, can you?
There are a few fun shots you can take with these hats.
First one, everybody wears their hats backward and obviously faces their backs to the camera. Then have your little one in the middle and each parent holds her hand.
How cute would that look?!
Another fantastic shot would have the parents standing the same way but holding your daughter so she's facing the camera (and wearing her hat forward).
Have her hold out a cute sonogram photo and snap away while she faces forward and her parents' backs are to the camera.
Can you picture it?
This would also work with everyone sitting on a sofa too.

4. Big Sister Book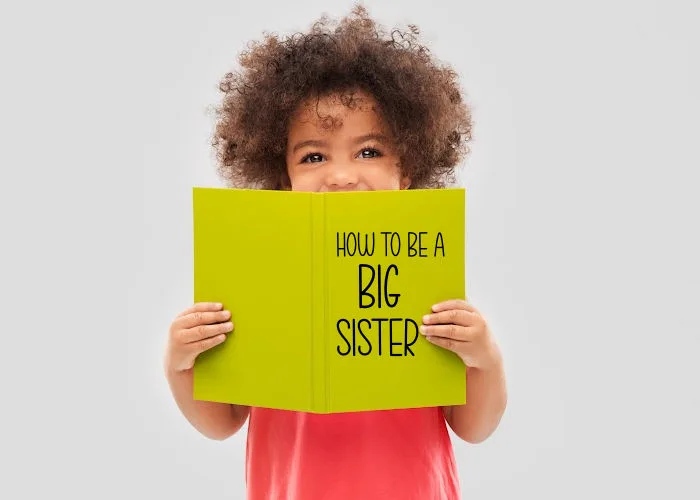 A classic way to share the big news with your little one is with a sweet big sister book.
This idea is great because it's another awesome pregnancy announcement gift for the future big sister and it can also be used as a photo prop later.
Have your little one pose like they're intently reading the book for a cute picture and voila you've got an adorable social media announcement from your older sibling.
I've even seen some with the kiddos sitting on their little toilets reading their big sister or big brother books.
It's such a cute and funny pregnancy announcement idea!
There are some great big sister books that'll help your little one understand their new role and show them ways to help while still letting them know how special they are to mom and dad.
Here are a few of my favorite big sister books you can grab from Amazon.
I Am a Big Sister by Caroline Jayne Chruch is arguably one of the most popular sibling announcement books on the market.
This one has beautiful pictures and a sweet and simple story about becoming a big sister and how to help take care of the baby.
It's geared toward young toddlers so I would say it's best for those under 3 years.
Big Sisters are the Best by Fran Manushkin is another great book to help a toddler transition into siblinghood. It helps our new big sister prepare for a new baby and also focuses on all of the things a big sister can do that a baby can't do.
It's a sweet and simple book perfect for little ones under 5.
There's a huge variety of big sister books to choose from so have a look. There are some great ones with diverse characters as well.

5. Balloon Big Sister Announcement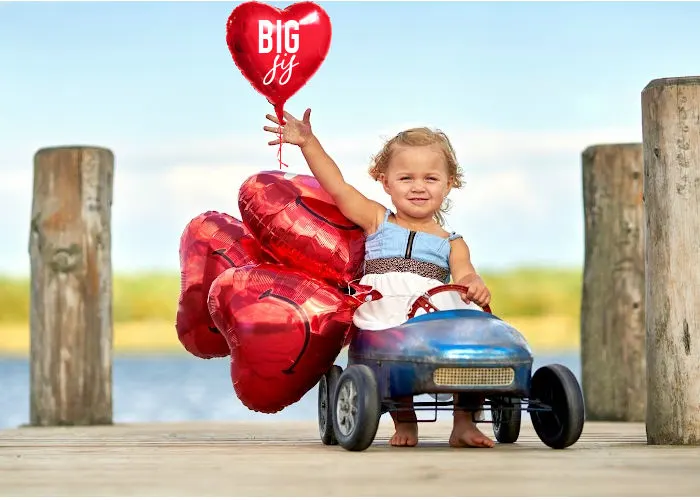 A simple yet wonderful way to share your pregnancy news while including older children is with some pretty balloons!
If fact, Amazon even has unique announcement balloons that say 'big sister' in gold font.
Or if you'd rather hang up individual letters that say 'big sis', they have those too.
What if you want a personalized big sister balloon with your due date? Well, Amazon doesn't have those but Etsy sure does!
So many options to choose from and at the end of the day, you get beautiful announcement photos that don't require too much work!
That's a win-win!
6. Recipe For A Big Sister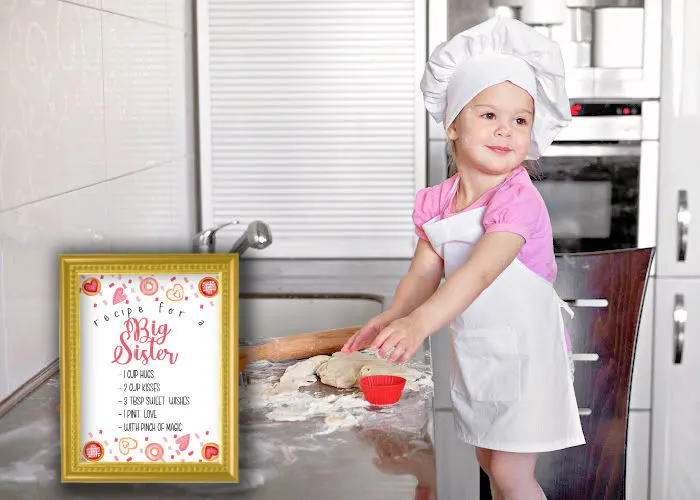 If you're a family that loves baking together, and are looking for cute ways to incorporate that into the perfect sibling pregnancy announcement with this fun 'recipe for a big sister' theme.
If you bake with you little one often, you probably have all the props you need for this cute and easy announcement photo.
Just take out your giant mixing bowls and a few of your cooking utensils to have around. Complete the look with an apron and chef's hat for your little chef.
Don't forget a little flour dust on the nose because how cute is that!
Just add a pretty frame and my big sister recipe printable and you're good to go!
(please note for this printable there isn't an editable date but you'll get a pdf download with 3 sizes 8 x 10, 11 x14, and 16 x20).
That's it! Take a few pictures with your cooking set up and you've got an easy-peasy pregnancy announcement that's pretty unique and super cute.

7. Promoted To Big Sister Pregnancy Announcement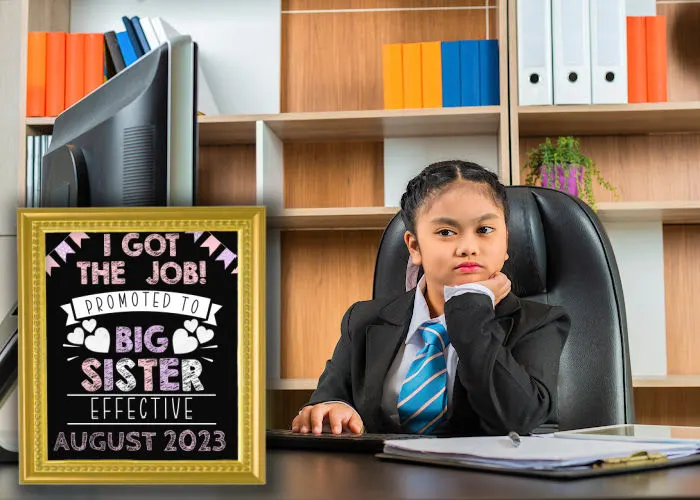 If you want to do this the classic way, you can go with a promoted to big sister style announcement.
If you want to make this traditional idea a little more fun and playful, you can dress up your little lady like a mini-boss babe with a cute little blazer/skirt combo or a dress shirt and a tie.
You can even throw in some fake glasses, maybe a cute purse or briefcase, and scatter some reports on her desk.
Finish the look with this cute printable promoted to big sister sign.
You can even customize the due date and then print it at home or at your local printing shop (if you want something bigger than an 8 x 10).

8. Eviction Notice Pregnancy Announcement Idea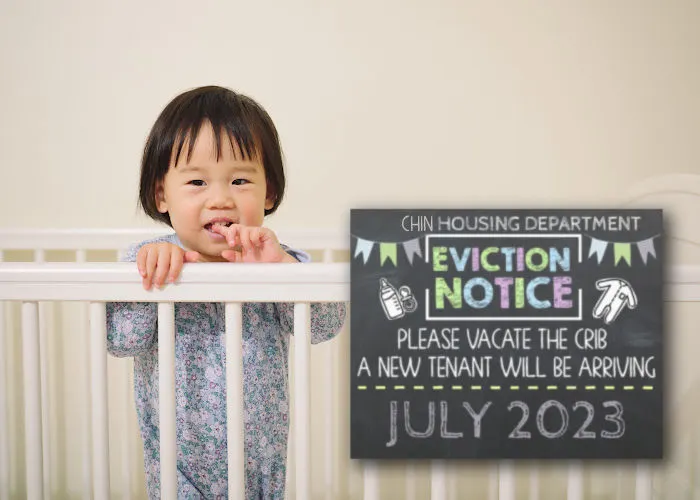 If you prefer a funny way to let the world know your firstborn is becoming a big sis, then you'll love this hilarious eviction notice pregnancy announcement.
I love how easy this idea is, it doesn't require much at all.
Just place your toddler in the crib and make a simple sign or grab my printable eviction notice sign (with editable due date + family name) and you're all set!
This photo looks all the more real if you've got a fussy toddler in the crib because it looks like they're actually upset about getting kicked out of their crib.

9. Ice Cream Big Sister Announcement
If you're planning on a summer announcement, or you just have a sweet tooth like me, you'll love this adorable ice cream-themed reveal idea!
This fun pregnancy announcement uses a play on words with ice cream and reads: 'I've got the scoop. Mama's due with baby #2″ followed by the due date.
I feel like this announcement would be perfect to do at the beach! But really, it works in any setting, indoors or outdoors.
It doesn't require many props, just a delicious ice cream cone, and a cute ice cream announcement sign. If you're taking pictures outside, you could even get your little mama a pair of fashionable shades because why not?
It just completes the look!
Another fun idea for beautiful photos is your local ice cream parlor! If you have any of those cute old-school-looking ones in your area, that would be perfect!
All the decor is already done for you, all you need to do is buy the cone and bring the sign.
There are just so many fun and easy options with this one, plus it's obviously kiddo approved because who doesn't love ice cream?!

10. Beach Second Pregnancy Announcement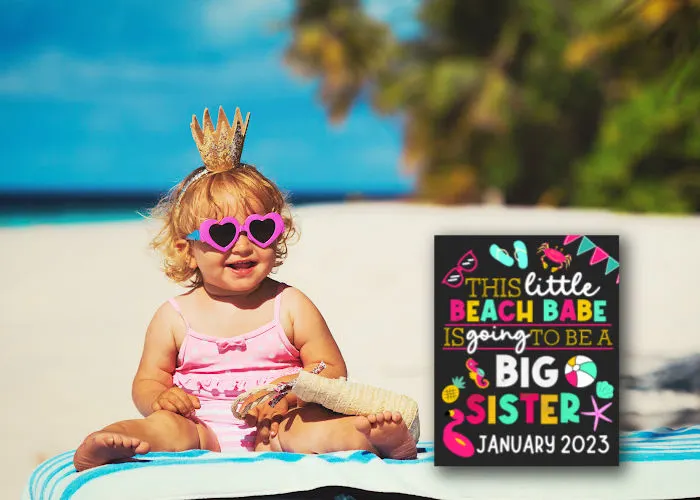 If you're a bunch of beach babes who love all things sun and sand, that could be a perfect location for your second pregnancy announcement.
The natural beauty of the beach makes a stunning backdrop for effortlessly gorgeous family photos. It really is the perfect place to take your announcement photos and just have a fun day with your little one.
All you need are some beach toys and this cute beach babe announcement sign.
Let your little one enjoy playing in the sand while building castles or whatever they like to do and simply prop up the sign next to her and snap away.
Another easy peasy idea for the beach is to simply write your due date in the sand and have your little one sit next to it.
Or you could all put your footprints under the due date and add a pair of baby shoes beside big sister's prints.
How cute would that be?

11. Watermelon Sibling Announcement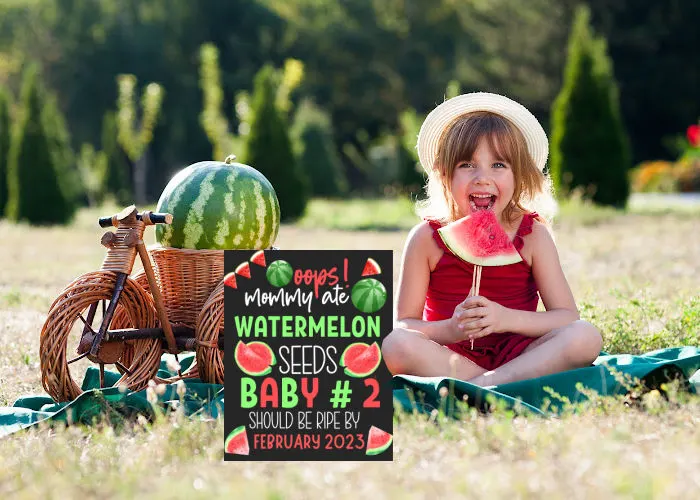 Another fun summer announcement idea involves the old myth people used to tell children about watermelon seeds. If you haven't heard it before, basically they say you shouldn't eat watermelon seeds because one will grow inside of you.
This cute announcement is a tribute to that silly myth and reads 'oops! Mommy ate watermelon seeds. Baby number 2 should be ripe by and then the due date.'
All you need to create this adorable photo is some yummy watermelon slices and this cute watermelon sibling announcement sign.
This idea is perfect for a summer photoshoot outdoors! You can head to the park or even just your own backyard.

12. Fall Camping S'more Love Announcement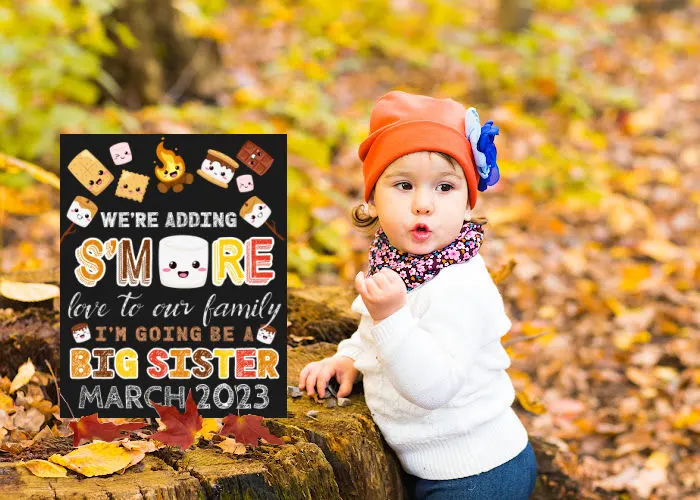 While we're on the topic of seasonal announcement ideas, I figured we could cover a few more.
How cute is this fall camping inspired new baby announcement?!
It reads 'We're Adding s'more love to our family. I'm going to be a big sister.'
This announcement is sweet and simple. It doesn't require much prep work at all. Just wait for a beautiful fall day once the leaves have turned colors and then head outside with your s'more love big sister announcement sign.
Dress your little diva in a fashionable cozy fall outfit and have her hold the sign or prop it up nearby.
If you want to go all out and incorporate more of the camping theme, you could also add a cute toddler teepee (this one even comes with a campfire and lights). The best part is she'll get tons of use out of it after this photo too!
Imagine all the living room camp outs!
Although I think this announcement would look stunning outdoors if you have the teepee tent you could easily do it indoors as well.

13. Fall Is In The Air Pregnancy Announcement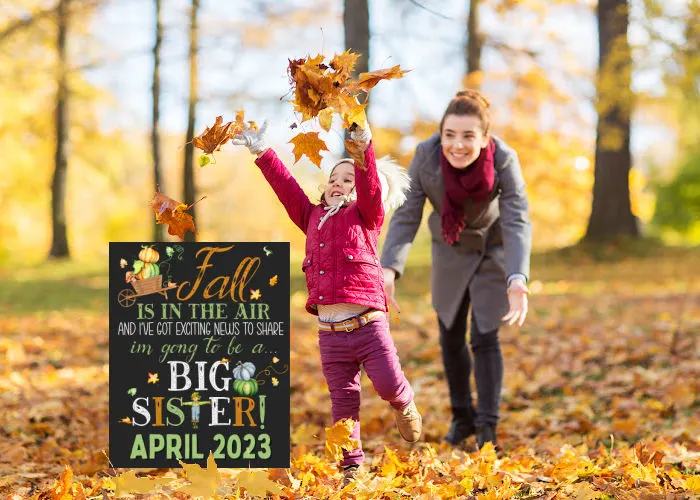 Here's another sweet and simple fall-themed sibling announcement that requires little to no extra effort to execute.
All you need is your little one dressed in their favorite fall outfit and a beautiful autumn day filled with colorful leaves.
This fall is in the air big sister sign pulls everything together for the perfect fall announcement photo shoot.
Have your little one throw some leaves in the air and get snapping. It'll make for some gorgeous announcement photos for sure.

14. Winter Big Sister Announcement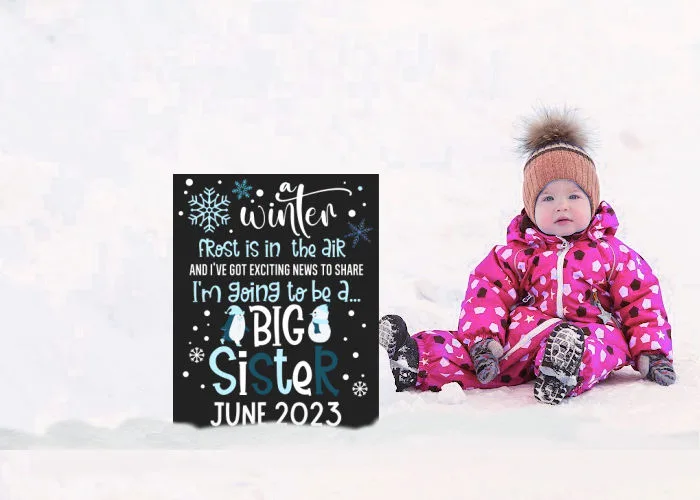 A winter pregnancy announcement is pretty straightforward. All you need is some freshly fallen snow and your little one bundled up in their cozy winter gear and you're set.
If you've got a toboggan or sled, I would definitely use that as a fun prop.
Add a little pop to your winter announcement photos with this cute editable winter big sister announcement sign.
Seasonal announcements are great because you really don't need anything extra (unless you want it). Nature provides the backdrop and gives you a no-fuss setup.
I think it's perfect for preggo moms who already have littles around and not a lot of time or energy for planning.

15. Spring Gardening Pregnancy Reveal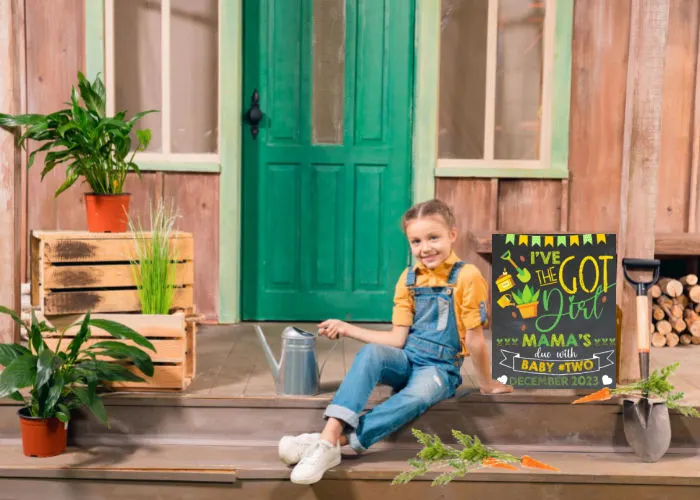 A creative idea for a spring announcement is to incorporate some gardening! It's right on theme for the season and it makes for some adorable photos.
You can totally do this in your own backyard or take a trip to your local park, community garden, botanical gardens, farmer's market and/or greenhouses.
If you don't have too many plants in your own backyard, you can simply grab some carrots with the leaves still attached as a prop. Have your little one hold a bunch and lay a few beside them.
Another easy idea is just to give your kiddo a watering can and let them play.
Add this cute 'I've got the dirt' sibling pregnancy announcement board to complete the look.

16. To Do List Sibling Pregnancy Reveal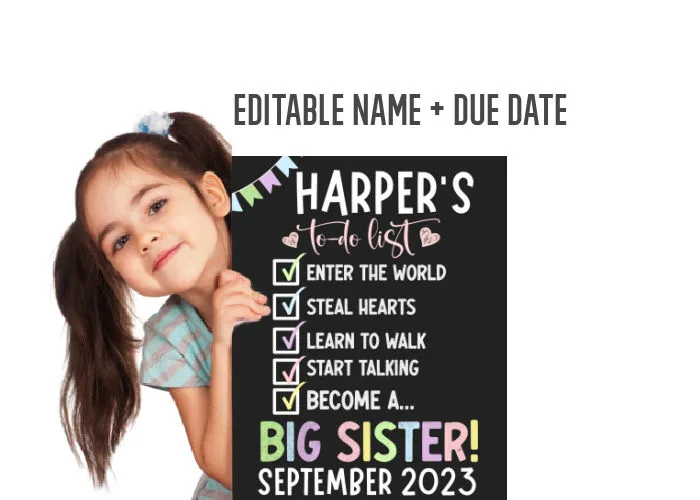 Another great way to announce your new addition with a big sibling is using a cute to-do list like this one!
It's such a fun idea!
You'll make a toddler-friendly bucket list or to-do list with items like: enter the world, learn to walk, learn to talk, steal hearts, and then as the last item on the list you'll put become a…BIG SISTER!
I love how easy this idea is to execute because all you need is your big sister and a colorful bucket list which you can easily DIY or grab my editable big sister to-do list.
You can edit big sister's name and your due date, then download and print.

17. New Best Friend Big Sister Announcement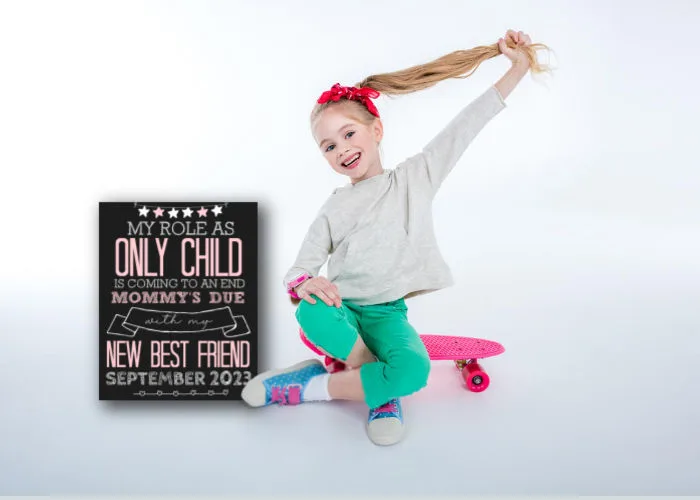 Here's another sweet way to announce the arrival of a sibling. This easy announcement has a sign that reads: 'my role as only child is coming to an end. Mommy's due with my new best friend.'
She's going to be the best big sister and this announcement shows just how excited she is about her new role.
I love that this announcement idea is simple and easy to do. You don't need any extra props but you could certainly add in your ultrasound picture and have your little one hold it proudly.
You can grab this cute best friend announcement sign or make your own.

18. I Made A Wish Big Sister Announcement Idea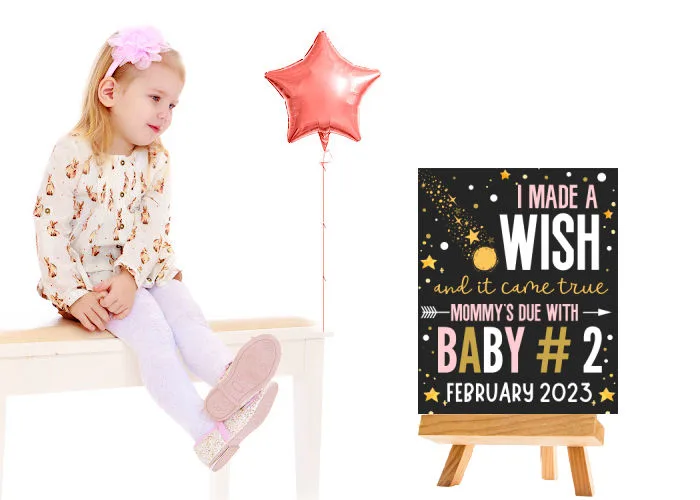 If you're looking for cute pregnancy announcement ideas, you'll love this one.
Who else remembers wishing on a star for a little sibling?
I think a lot of only children can relate to this one. I remember asking my parents constantly for a little sister and using my birthday wishes on this!
Eventually, I was lucky enough to get 2 wonderful little sisters. Best gift ever!
This cute wish announcement sign says ' I made a wish and it came true. Mommy's due with baby # 2'. It's such a great way to announce the new baby along with an enthusiastic big sister-to-be.

19. Princess Big Sister Pregnancy Announcement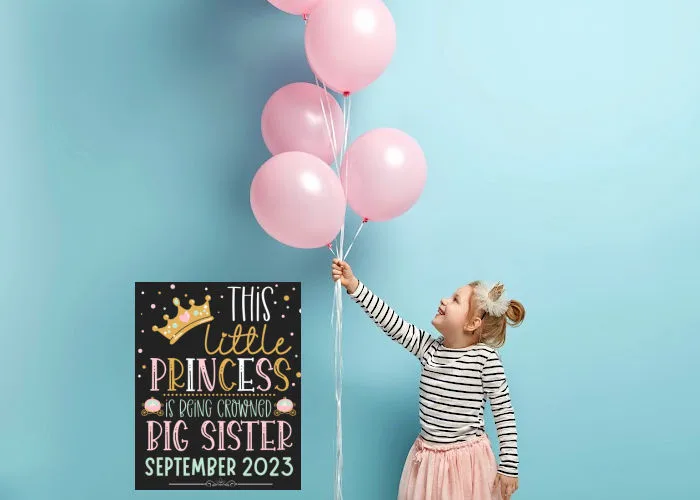 If your baby girl is all about princesses, she will absolutely adore this special pregnancy announcement!
This sweet princess-themed announcement reads, 'This little princess is being crowned big sister'. It's so cute and easy, plus it will make her feel like royalty.
She probably already has a princess dress and crown so her wardrobe is covered.
If you aren't super artsy, you can just grab my princess announcement sign, edit, and print.
Now, you're all set! You can easily do this announcement indoors or outdoors. Just grab your camera and start snapping.
If you happen to be visiting Disneyland or Disney World, that would make the most memorable announcement ever and give you the perfect backdrop but sweet and simple works just as well.

20. Only Child Expiring Pregnancy Announcement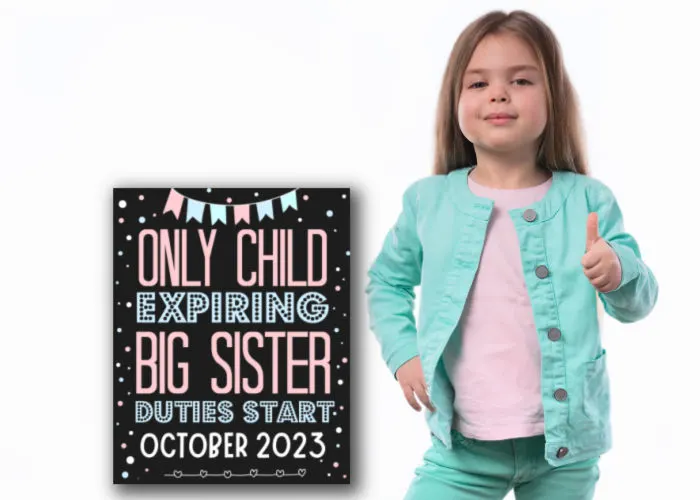 Another fun way to share your special news while letting your little girl serve that main character energy is with this fun only child expiring pregnancy announcement sign!
This easy-peasy announcement is cute and funny, plus it doesn't even require much prep work at all.
Your little one can wear whatever they like and you can take pictures indoors or outdoors.
If you want to incorporate any other theme, you can easily do it with this neutral sign.
Just grab your girl and this sign and take a sweet photo to share with family members and friends alike.

21. Partner In Crime Sibling Announcement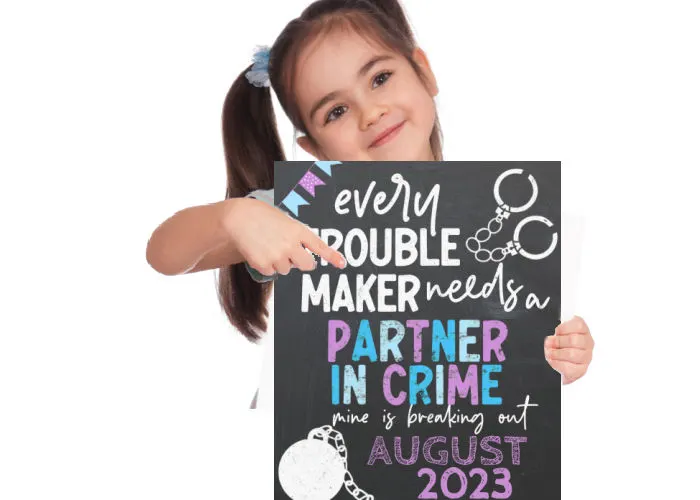 Okay, but how cute is this partner-in-crime sibling announcement idea? It's such an adorable and hilarious way to share your pregnancy news!
You can keep things easy by simply using a partner in crime announcement board, like in the picture, and leave it at that.
But if you love being a little extra, because why not?
You could get the whole uniform! Grab a cute classic black and white prisoner costume for your little one or go with an orange jumpsuit for your little inmate.

22. Spilling The Beans Announcement Idea
If you're a fan of creative pregnancy announcement ideas, check out this sweet and clever announcement featuring jellybeans!
How fun and easy is this 'spilling the beans' announcement idea?
All you need is a jar of jellybeans for your little one to spill (or just hold) and a fun jellybean-themed announcement board.
If you've got a sweet tooth, this announcement is perfect. I love how easy it is and it can be done inside or outside.

Holiday Big Sister Announcement Ideas
If you want to make this special occasion even more memorable, you can pair it with an upcoming holiday!
Who doesn't want more reasons to celebrate? Right?
That's such a great one because there are so many holidays to choose from and it'll make that occasion extra special forever.
Plus, it gives you an easy peasy built-in theme to build your announcement around and you probably already have holiday props or decorations lying around from previous years.
If you don't, the dollar store almost always has holiday decor for super cheap so just wait til you're closer to the date and grab some new stuff.
Let's check out some fun holiday-themed announcement ideas, shall we?
As always, I'll include links to all my fun big sister holiday announcement boards.

23. Christmas Big Sister Pregnancy Announcement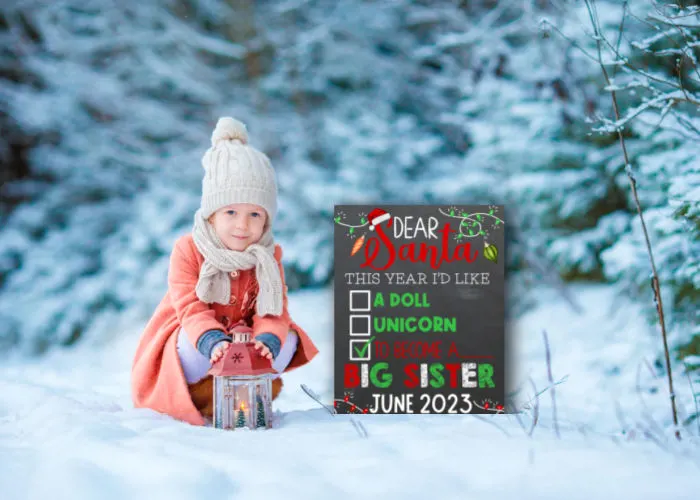 I just had to start with the biggest holiday of them all because who doesn't love Christmas?!
There are so many fun ways you could do a Christmas pregnancy announcement but here's a pretty easy one.
Grab this adorable Santa wish list announcement board and dress your girl in a festive holiday dress! Then you can take a cute picture in front of the Christmas tree or head outside on a snowy day and take a shot in nature.
This creative and fun announcement involves your firstborn making a Christmas wishlist with the last item being, becoming a big sister!
What a perfect gift 🙂
It's such a sweet and memorable way to share some Christmas joy this holiday season.
Another option, if you get photos with Santa every year at the mall, bring along your announcement board and have a cute picture taken at the North Pole!
The beautiful backdrop is already taken care of and you even get Santa. Score!
If you're looking for more Christmas announcement inspiration check out my Sibling Christmas Pregnancy Announcement Ideas!

24. New Years Big Sis Announcement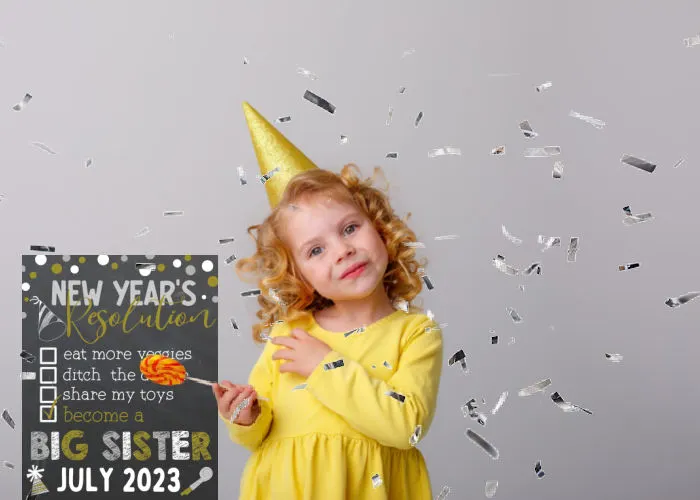 Since we're starting off in December, we might as well talk about New Years' themed announcement ideas too.
Ring in the new year with the whole family and have and shock them with an unforgettable surprise!
I love this cute New Year's Resolution pregnancy announcement board featuring funny toddler resolutions. The last resolution on the list is becoming a big sister!
If you want things to be a little festive, just add some new years decor and a party hat for your little one.
This is one resolution the whole family is going to love!

25. Thanksgiving Big Sister Reveal Idea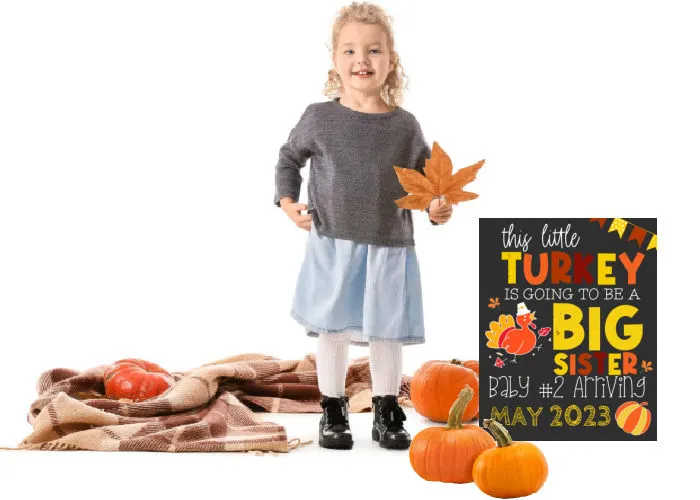 Let the whole family know what you're thankful for this year with this adorable Thanksgiving-themed big sister announcement idea.
This picture would be perfect to do at the pumpkin patch or farm! But you can easily do it in your backyard surrounded by colorful leaves as well.
Grab my Thanksgiving big sister announcement board and take some memorable photos!
This fun announcement says, 'this little turkey is going to be a big sister. Baby #2 arriving followed by the due date.

26. Halloween Sibling Pregnancy Announcement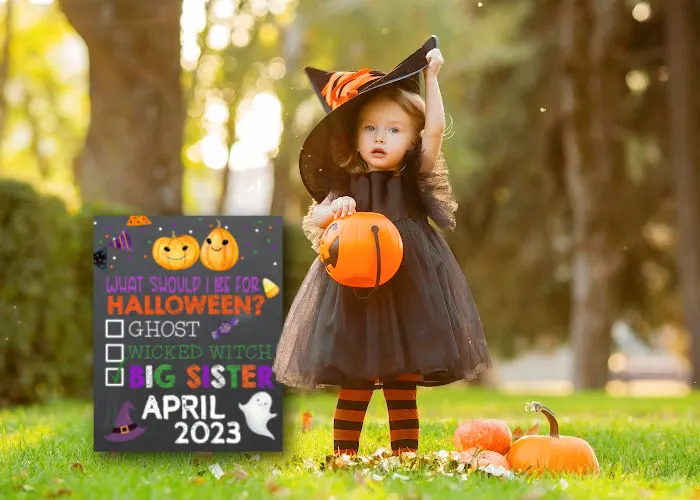 Why not try a spooktacular Halloween big sister announcement?
Let them know it isn't a trick! You're really expecting a special treat.
You can have your first baby dress up in whatever Halloween costume you like and just prop up this cute Halloween announcement sign next to them.
If you've already got Halloween decor lying around, you could add a few things for your photo or grab a few fun Halloween balloons.
Halloween is such a fun holiday for the kiddos and this announcement only adds to the excitement!
If you're a lover of all things Halloween, you could plan family costumes and get in the picture too. It'll make for an unforgettable announcement and I think you would just win Halloween at that point.
It's the perfect excuse for the whole family to play dress-up.

27. 4th of July Big Sister Pregnancy Announcement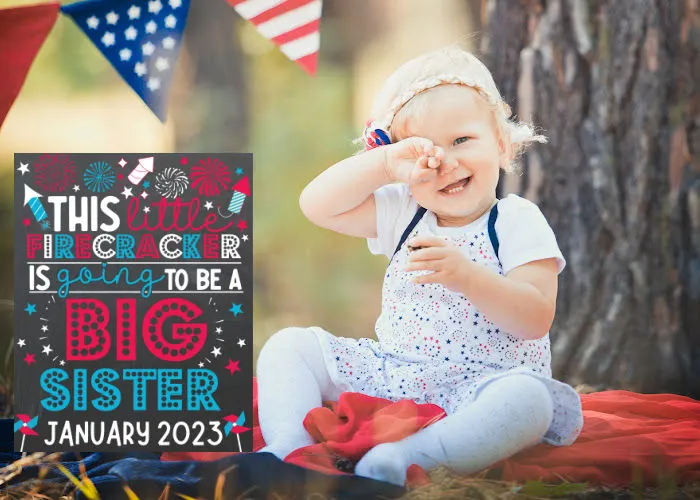 Kick off the summer with a fun surprise pregnancy announcement and tell everyone you're getting ready for stars, stripes, and sleepless nights with this adorable big sister announcement perfect for the 4th of July!
This cute independence day themed printable chalkboard sign is perfect on its own or pair it with a little flag or some 4th of July decorations! It'll make for some unforgettable photo ops, that's for sure.
This fun announcement declares that 'this little firecracker is going to be a big sister', followed by an editable due date.
It's the perfect festive sibling baby announcement to celebrate the beginning of summer vacation and the 4th of July!

28. Easter Sibling Pregnancy Announcement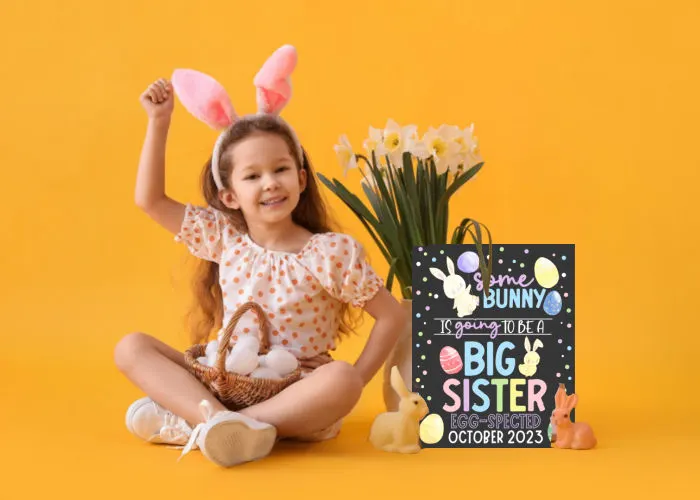 Easter is the perfect time to share your egg-citing baby news!
It's the time for new beginnings and the hatching of cute and furry friends so it's the perfect way to announce your own new arrival!
Just litter the floor with plastic easter eggs and toss in a stuffed bunny and you're good to go. But you can also do this announcement outdoors because spring provides the pefect backdrop with all those fresh blooms springing up.
You can add my cute chalkboard sign Easter big sister pregnancy announcement board for some extra oomph!
Your little one might even love these adorable bunny ears. It goes with the announcement board perfectly since our caption is 'some bunny is going to be a big sister.'

A fun way to reveal the big news to the big-sister -to be, or even the whole family is with an egg-citing Easter egg hunt pregnancy reveal!
29. St. Paddy's Day Big Sister Baby Announcement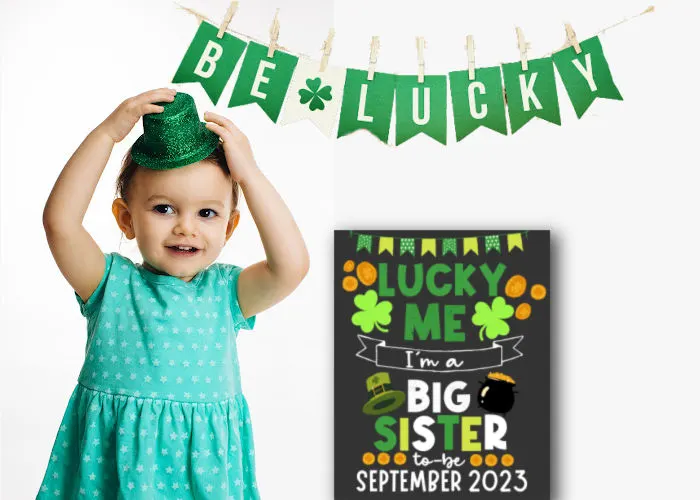 Share your good news on a day meant for good luck with this fun St. Patrick's Day pregnancy announcement idea.
Let everyone know that a new little lucky charm will be joining the gang soon with this fun St. Patrick's Day announcement board.
This is such an easy theme to create even if you don't have shamrocks or a pot of gold lying around.
Just wear green and you're photo-ready!
The green leprechaun hat is cute but totally optional.

30. Valentine's Day Sibling Announcement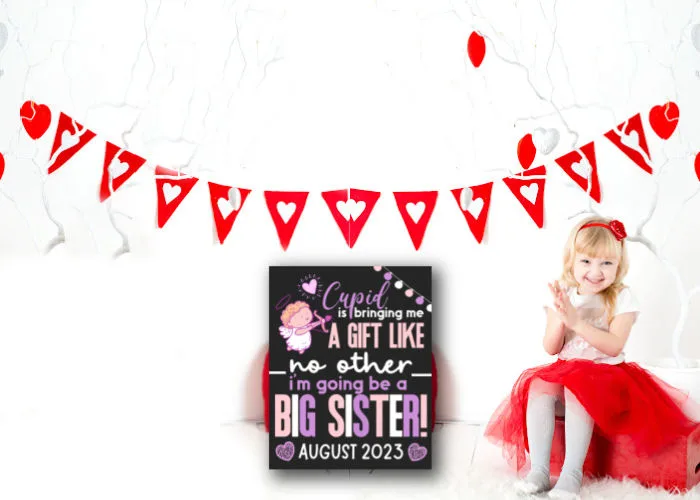 Celebrate love with an adorable sibling announcement this Valentine's Day! Your daughter could simply wear red or if you've got a young toddler you could even dress them up like cupid.
This sweet Valentine's themed announcement board reads: 'cupid is bringing me a gift like no other. I'm going to be a big brother!'
It's a fun opportunity for some priceless pictures and a perfect way to share the love!
Create a memorable Valentine's Day big sister announcement to share with your close family.
You could even print them out and share them like Valentine's Day cards, those nearest and dearest to you are in for a big surprise!

More Pregnancy Announcement Ideas
Big Brother Pregnancy Announcement Ideas Worth Stealing!
Creative Ways To Tell Your Husband You're Pregnant
Fun Ways To Announce Pregnancy To Parents
Creative Pregnancy Announcement Captions and Quotes For Social Media
Surprise Pregnancy Announcement Scavenger Hunt Reveal To Husband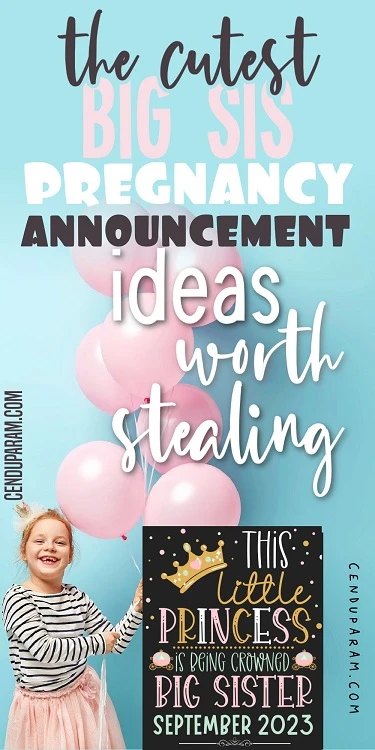 Wrapping Up Big Sister Announcement Ideas
I hope you enjoyed these fun and creative and adorable pregnancy announcement ideas! Hopefully, you've got some inspiration for your own pregnancy reveal now!
If there's a particular theme you were looking for and couldn't find here, leave me a message in the comments and I'll try to whip something up!
Enjoy the process and take some gorgeous announcement photos to share with your loved ones. You could even blow them up to display at your baby shower or sprinkle (if you're having one).
Or even use them on the invitations! There are so many great ways to enjoy them.
In case you've got a little boy but stumbled upon this post, be sure to check out the big brother announcement ideas listed above!
If you're ready to start looking for baby names, I've got 1000s to choose from and they're all sorted by different themes to make things easier!
Congratulations on your wonderful news! Wishing you a happy and safe pregnancy and delivery.