Very Merry Sibling Christmas Pregnancy Announcement Ideas For Second Baby and Beyond!
It's that time of year when things are merry and bright!
That's right, Christmas is just around the corner and if you're expecting baby number 2 (or beyond), it just makes it even more magical because this time around an older sibling gets to be involved in all the fun!
These cute sibling Christmas pregnancy announcement ideas will be just the thing to make this holiday season one you'll never forget.
The holiday season is the perfect time to share your exciting news with family members and friends because we could always use a little more Christmas cheer!
How you go about it is totally up to you. You can keep things sweet and simple or go all out!
I'll try to list some creative and cute ways to go about your holiday pregnancy announcement. For the most part, I'll try to keep it simple and easy peasy because I'm sure you've got your hands full with managing your pregnancy and a little one.
Planning an elaborate reveal may just add to the crazy instead of letting you enjoy it so let's check out some easy yet creative pregnancy announcement ideas you can do with siblings this holiday season.

Disclaimer: as an Amazon Associate I earn from qualifying purchases via my affiliate links. This comes at no extra cost to you.
Christmas Pregnancy Announcement With Siblings For Baby Number 2
How do you announce pregnancy with a sibling?
With lots of planning and probably some snacks or a favorite treat if they're little and hate taking pictures like my guy (make sure they aren't tired or cranky, so maybe after nap time).
Once you have the logistics of taking pictures with littles figured out, just pick the theme you love and you're all set!
Let's start off with some fun Christmas pregnancy announcements for a sibling who's about to become a big brother or big sister first.
Your little one will be so excited to be the one to announce the big reveal!
It gives them an important job as the bearer of big news and also lets them tell everybody about their new role as the big sibling.
These adorable Christmas pregnancy announcement ideas can be repurposed for your Christmas holiday cards or to be shared on social media as well.
Whichever one you choose, don't forget to throw in a Santa hat for extra cuteness points.
If you're also shopping around for some Christmas gifts for your toddler, also take a peek at my awesome list of non-toy gifts that are toddler approved!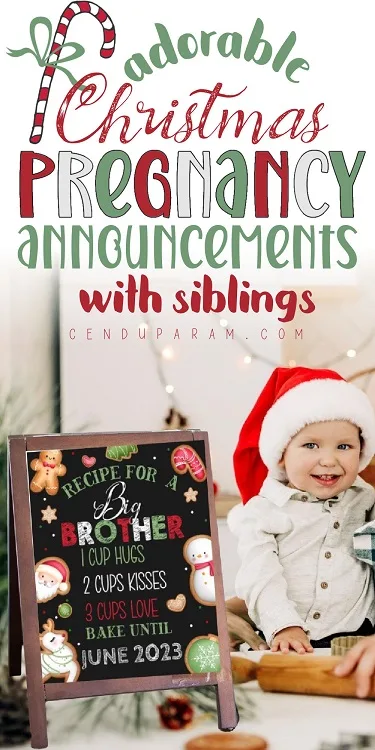 You'll notice some cute big brother and big sister announcement Chalkboards sprinkled throughout this post in a bunch of different themes.
If you'd like to buy one, just click the highlighted link.
You can print them yourself at home or get them professionally printed (like at Staples or Walgreens). There are 3 sizes to choose from: 8 x 10, 11 x 14 or 16 x 20.
You get to edit your due date as well and then download the image and print (or send to a printer).
It's all done with a free online program called Canva which you'll sign up for if you decide to buy.
It's super easy to do and I have a video with the purchase to walk you through it but if you decide you need some help, just drop me an email at [email protected] and I'd be happy to assist.
If you have some specific customizations in mind for your chalkboard, again, just drop me an email and I'll see what I can do.
Since they are digital files please note that all sales are final for the announcement boards but I'm happy to help if you're having any trouble with your purchase.
1. Pregnancy Announcement T-Shirt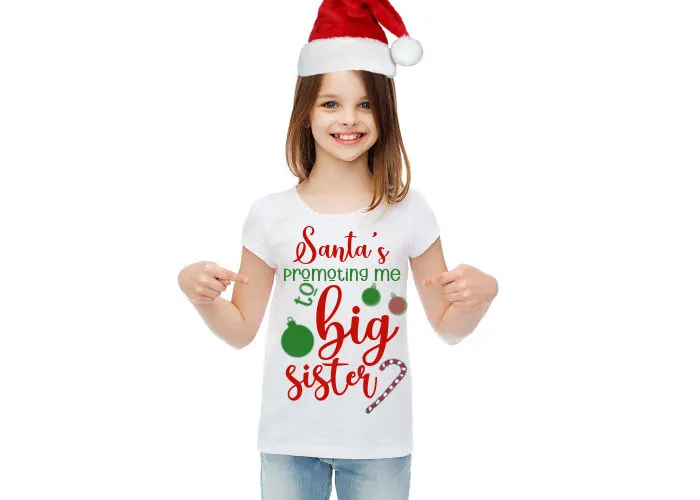 If you're looking for a cute and easy way to announce your pregnancy over the holidays, you'll love this one!
Just grab a cute t-shirt that announces your little one's role as a new big brother or sister and if you want it to be a little extra joyful, you could look for ones that are specifically Christmas-themed.
Otherwise, just get a simple big brother or big sister shirt and take some beautiful pictures in front of your Christmas tree and you're done.
Here are a few cute ones I found on amazon.
How cute is this Santa-themed Big Brother shirt?
Here's a cute Santa Big Sister shirt!

2. Christmas Pregnancy Announcement Ornament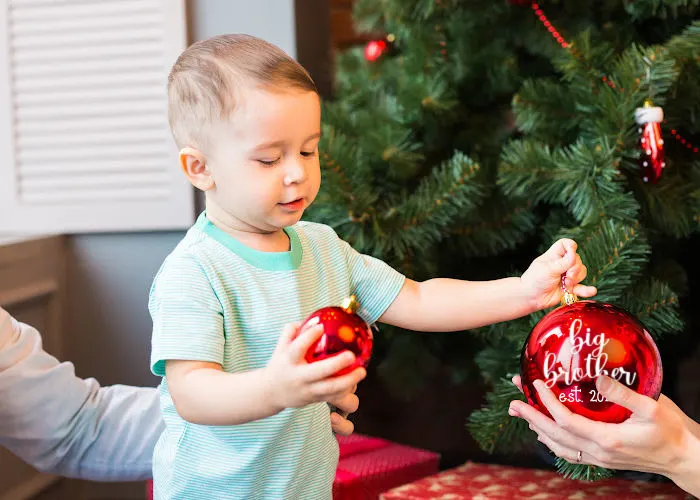 A special ornament for your Christmas tree is a wonderful way to celebrate becoming an older sibling. The great part is that you get a wonderful keepsake in the process.
If you love collecting special ornaments for milestones, this is a perfect idea.
You can go with a personalized big sister or big brother Christmas ornament. Or you could also go with a pregnancy announcement ornament that simply says coming soon 2023.
Or how about this cute picture frame ornament that lets you share your sonogram photo?
Either one works great for a pregnancy announcement photo shoot with an older sibling.
Take some fun photos of your little one helping trim the tree and some close-up shots of them hanging their special announcement ornament.
How cute would that be for a holiday card?
3. Snowman Family Sibling Announcement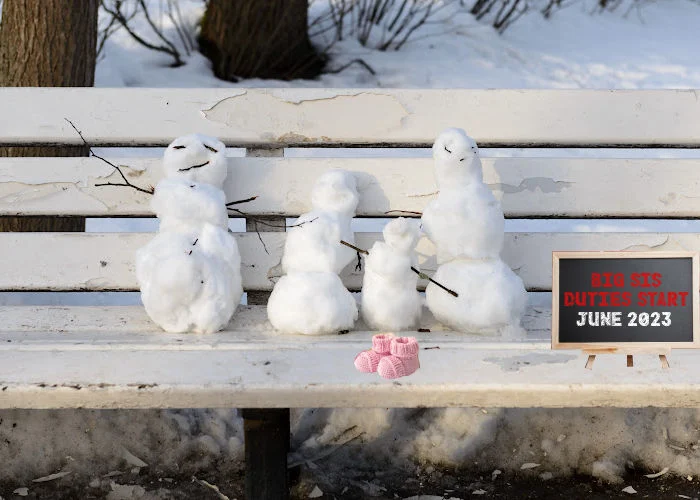 If you want an easy yet creative way to share your good news, try this snowman family announcement!
Your kiddo will love helping out with this one and enjoying the snow.
Simply build a whole snowman family with mom, dad, kiddo, and a new baby! You can even make the snowman mom pregnant if you want.
You can even add a chalkboard sign with the baby's due date and either put it by the baby snowman or let your older child hold it.
Add in a pair of baby shoes like these little winter booties or a cute pair of baby uggs for that extra something.
I love those little extra items that the baby can use when they get here. They make for cute future photos if you want to do a side-by-side of the before-baby announcement vs the after-baby announcement.
This is a memorable announcement you'll all remember forever and it makes for a cute holiday card too.

4. Mistletoe Kiss Pregnancy Announcement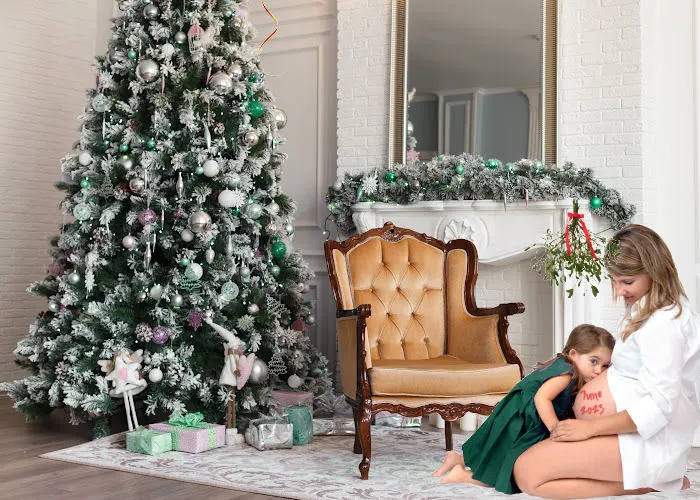 If you're looking for a sweet and simple way to announce baby number 2 with a big sister or brother why not go with the classic mistletoe?
This announcement is so cute and easy peasy!
Simply have mom hold some mistletoe over her belly and have the new sibling-to-be give her baby bump a big kiss.
What a sweet photo that'll be! I love that it's an easy announcement that doesn't take much planning or props.
5. Christmas Announcement Onesie
This easy baby announcement just needs this cute Christmas announcement baby onesie or a pair of Christmas sleepers.
Simply have your big kid holding up this personalized onesie that reads 'Santa isn't the only one coming to town.' Take some announcement photos in front of the Christmas tree and you've got yourself an easy announcement.
If you size up, your new addition can probably wear this on their first Christmas when they join the fun.
You can re-create the photo with your older sibling now holding their new baby brother or sister.
Talk about an adorable Christmas card!
6. Stocking Pregnancy Announcement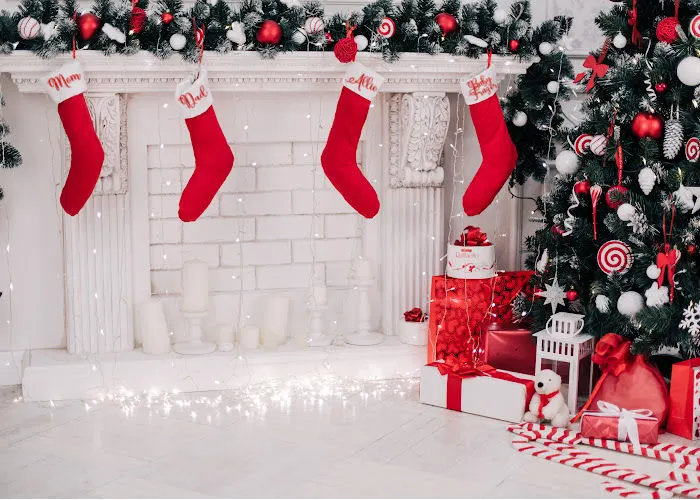 Another great idea for sharing your pregnancy news over the holidays is with the addition of a new stocking to the fireplace!
This announcement works great whether it's baby number 2, 3 or beyond.
You can get cute personalized stockings with everyone's names and either leave that last stocking blank or add baby #2, your last name like Baby Smith, or your due date.
You can even stick a pregnancy test in there! What an adorable way to share the news!
For this photo, I think it would look so cute if everyone sat under their stocking and you leave a pair of baby booties under the new baby's stocking.
Another fun idea is adding a cute hold-on to your stockings chalkboard Christmas big brother announcement or big sister sign.

7. Elf On A Shelf Ideas For A Holiday Pregnancy Announcement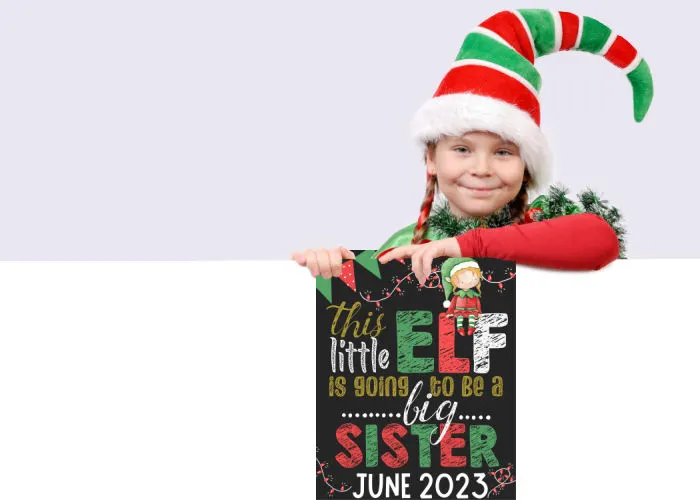 If your kiddos love the elf on a shelf Christmas tradition, why not incorporate that into a unique Christmas pregnancy announcement? If you aren't familiar with this cute Christmas tradition, let me explain.
This cute scout elf is sent to your house from Santa to monitor what's going on and report back to Santa daily. He's supposed to give Santa the low down on who's being naughty or nice.
Each day the elf is found in a new place in the house and disappears only at night.
For this announcement, you could have the elf holding an ultrasound photo and sitting next to a letter board saying something like :
Santa says you're being promoted to Big Brother/Sister
Mommy & Daddy have been naughty this year. Baby's last name arriving due date.
I'm not the only one late this Xmas!
or dress your little one like an elf and write this little elf is going to be a big brother/sister
Grab your Elf Big Sister Announcement sign or Elf Big Brother Sign by clicking the link.
8. Sled and Jingle Bells Baby Announcement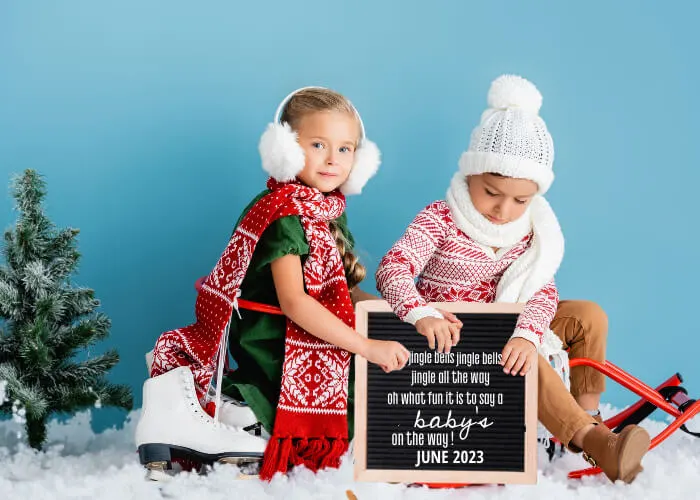 What's a more perfect Christmas pregnancy announcement than being on a sled with some sleigh bells ringing?
You could go about this announcement in a few different ways.
If you have any local horse-drawn carriages, you could go for a winter ride and simply ask to take a few pictures of the whole family in the carriage (maybe even holding an announcement sign).
Its picture perfect!
If not, why not just grab your kiddo's winter sled instead (add some jingle bells for good measure) then take a picture of mom and dad pulling the sled while the kiddo holds a letterboard that reads:
' jingle bells, jingle bells, jingle all the way! oh what fun it is to say, a baby's on the way!
You could include a framed sonogram photo too.
9. Tree Farm Pregnancy Announcement Big Brother or Sister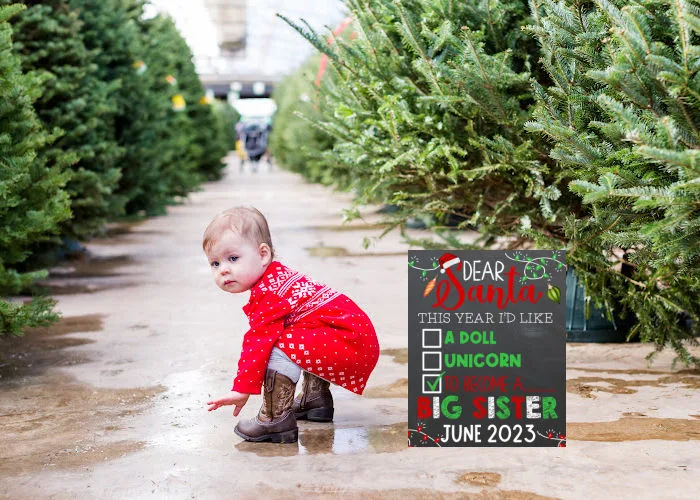 If you love the idea of an outdoor pregnancy announcement photoshoot, and want a simple yet unique way of sharing your big news, what could be more beautiful than a tree farm?
This simple and sweet Christmas pregnancy announcement doesn't require much at all because the beauty of all the pine trees is more than enough.
Just dress up in cute and cozy holiday outfits like sweaters and knits or throw in some buffalo plaid for that Christmas look.
You can add a fun holiday-themed announcement board for the big brother or sister-to-be or bring along an announcement ornament or holiday baby onesie and you're all set.
It'll be the perfect second baby Christmas announcement complete with beautiful photos.
10. Custom Cookies Pregnancy Announcement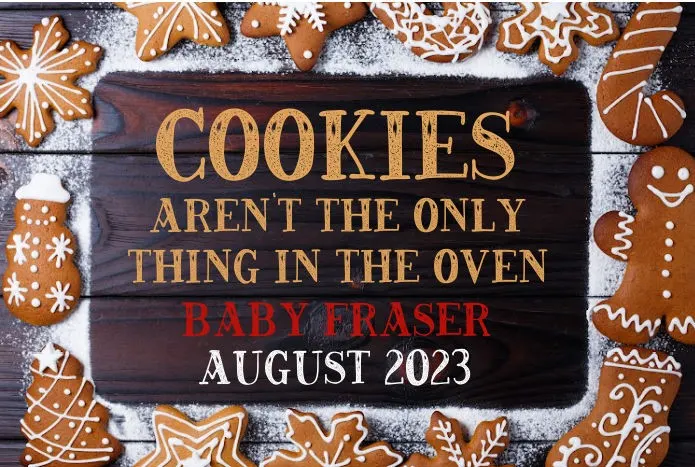 If you want a creative announcement you can eat, go with some custom Christmas announcement cookies!
You'll have to find a local bakery or a local baker (Facebook marketplace usually has a bunch) that could do a custom order for you in whatever theme you like.
You could have cookie ornaments that say baby's last name and due date or ornaments that say big brother or big sister established and the due date.
Have the older sibling hold up their cookies proudly for a photo before they gobble them up.
Or maybe try something fun and creative like a gingerbread man family with a new baby gingerbread man or a pregnant mommy gingerbread.
You could leave it at that or combine this announcement with the next one.
11. Recipe For A Big Sister Christmas Announcement (or Brother)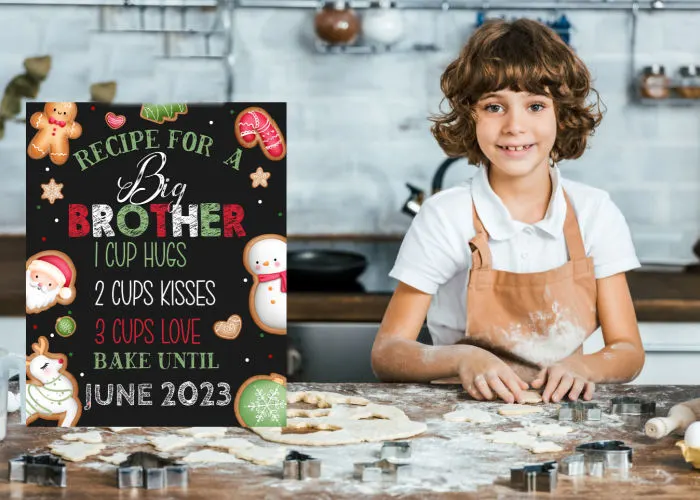 If Christmas baking is a treasured family tradition, why not incorporate it into a fun sibling announcement idea?
It's such a cute way to share your big news while doing something you all love (plus you get cookies when you're done so bonus points!).
Just sprinkle some flour around and grab your baking utensils.
If your little baker has a chef's hat and apron, that'll just add to the cuteness overload.
Either make your own or grab my recipe for a big brother or big sister announcement sign for your little guy or girl and you're all set.
Another fun idea is to bake and decorate Christmas cookies that spell out big bro or big sis with some letter cookie cutters.

12. Promoted To Big Brother or Sister By Santa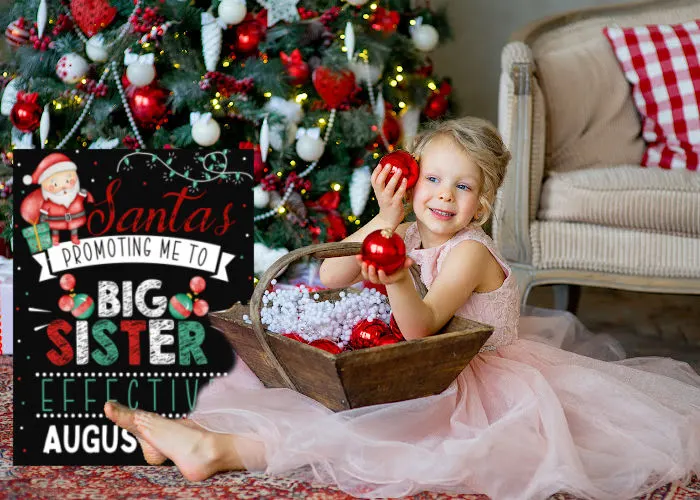 Let your little one share your exciting news in the cutest way with this promotion from Santa.
It's such a cute and fun Christmas pregnancy announcement with siblings that lets your little one take center stage.
All you need is this adorable promoted by Santa to big brother or sister announcement sign.
Your little one will feel super important as they get to announce their new role to all their family and friends.
You can take this cute photo in Christmas pajamas in front of the Christmas tree or take your sign with you
to Santa's workshop (at the mall) and take a unique Christmas photo with Santa.
13. New Best Friend Christmas Announcement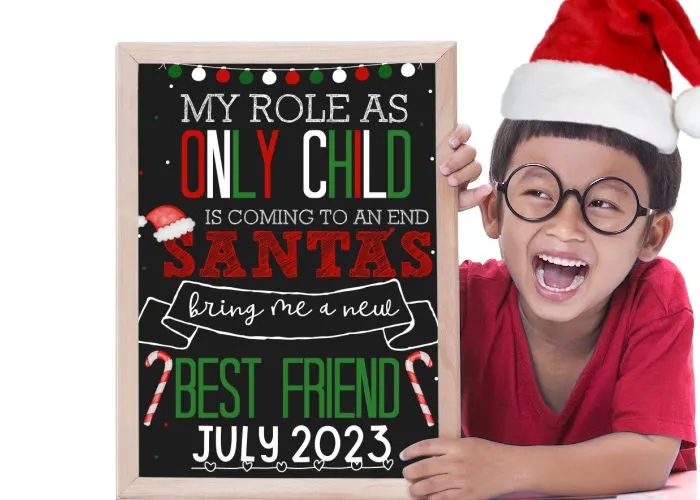 This fun announcement says that 'my role as only child is coming to an end. Santa's bring me a new best friend.
This is another easy idea that doesn't require much planning or preparation so it's a win in my books.
If you're planning to get in the photo with your kiddo, you could wear matching Christmas family pajamas for that something extra.
Just plant your child in the middle holding their Christmas New Best Friend Sign and get snapping.
You could also do this photo with Santa and have Santa whispering a secret in your kiddo's ear while they hold the sign with a shocked expression on their face.

14. Santa Wish List Sibling Pregnancy Announcement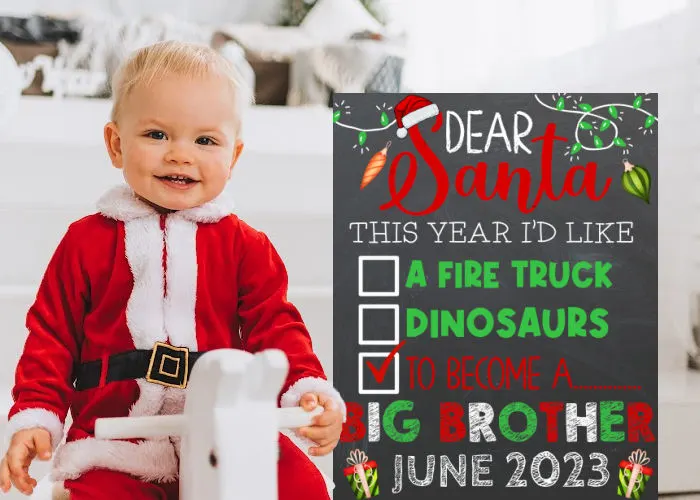 This adorable holiday pregnancy announcement uses a classic Christmas tradition: a letter to Santa! Remember sending Santa the yearly update about your life and then including your Christmas wish list?
This cute pregnancy announcement has the older sibling make a Christmas wishlist with all the typical toys but the last item on the list reads becoming a big brother or big sister!
It's such a sweet and fun way to announce becoming a sibling and image how cute of a holiday card it would make.
I think this announcement is extra cute in holiday pajamas. You can have your little one standing next to their Christmas tree or even sitting down near the tree enjoying some milk and cookies meant for Santa.
Make your own chalkboard wish list or grab mine: big brother Santa Christmas list or big sister Santa Christmas list.
15. Santa I O U Baby Announcement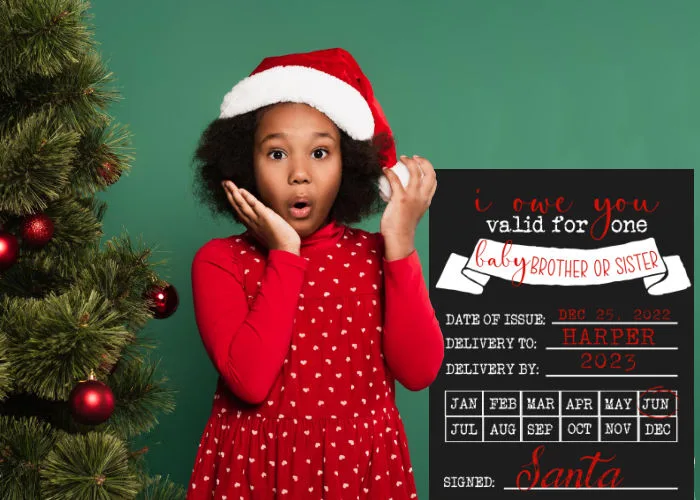 This cute announcement is a funny I O U from Santa for a little brother or sister because the best gift this Christmas is yet to arrive!
Grab my editable IOU Announcement board and mark your due date, add your little one's name and it works whether you're getting a little brother or sister since the sign includes both (but if you want one customized to say specifically brother or sister then drop me an email to customize your order [email protected]).
Then just have them hold their announcement board or some sonogram photos along with a big smile and snap away for an adorable announcement everyone will love.
16. Merry Christmas To Me Big Brother or Sister Announcement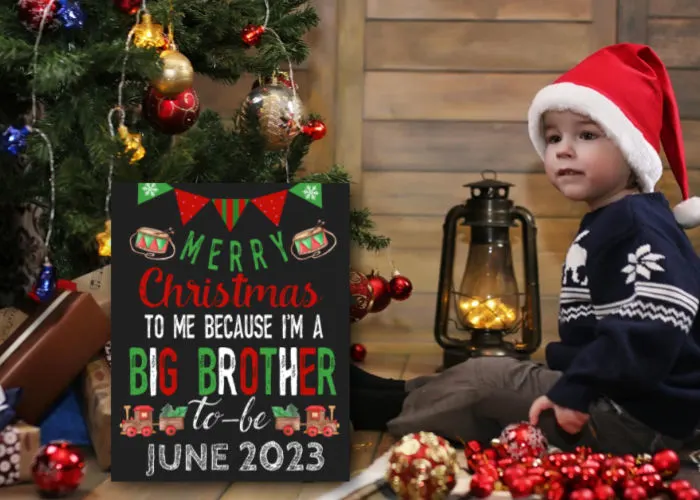 If you want a sweet and simple way to announce your second pregnancy, grab this Merry Christmas To Me Big Brother or Big Sister Announcement sign.
This announcement doesn't need anything more because the sign says it all:
Merry Christmas to me because I'm a big brother (or sister) to be. Followed by the due date.
You could keep things simple and take a picture by your Christmas tree or fireplace. Or if you prefer the outdoors, just wait for a snow day and head outside and take some cute pictures.

Sibling Christmas Pregnancy Announcement Baby #3
Maybe this isn't your first rodeo and you're looking for some creative pregnancy announcements for baby number 3 or beyond.
Many of the ideas for baby #2 could still be a great way to announce 3 or more babies as well like:
Snowman Family
Tree Farm
Announcement shirts
Announcement ornaments
Mistletoe belly kisses
Matching Christmas pajamas
Elf on a Sheft
I'll include a few specific Christmas announcement boards for baby #3 in case you want to keep things easy peasy and simply print out a sign and be done.
Don't forget to add your ultrasound picture for a little more personalization.
17. Sister or Brother?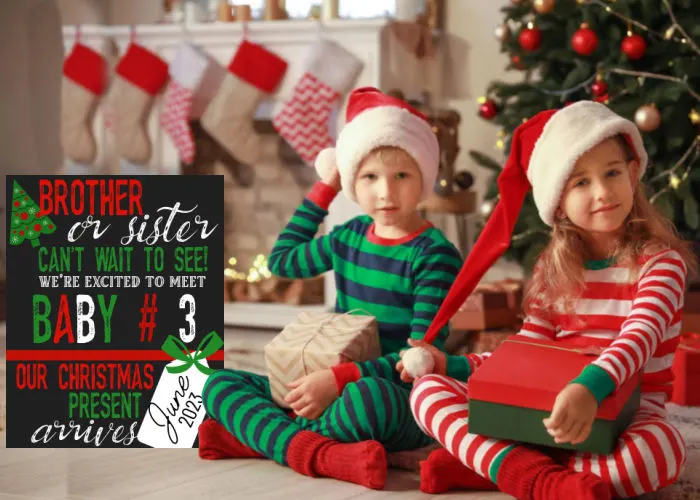 This cute Christmas pregnancy announcement for baby #3 reads: Sister or Brother? Can't wait to see. We're excited to meet baby #3. Our little Christmas present arrives, followed by the due date.
For this easy announcement just have your kiddos share the sign between them and take some cute pictures in front of the tree surrounded by presents while they wait for their extra special Christmas gift to arrive.
Grab this cute Christmas brother or sister baby announcement sign!
18. Tie Breaker Arriving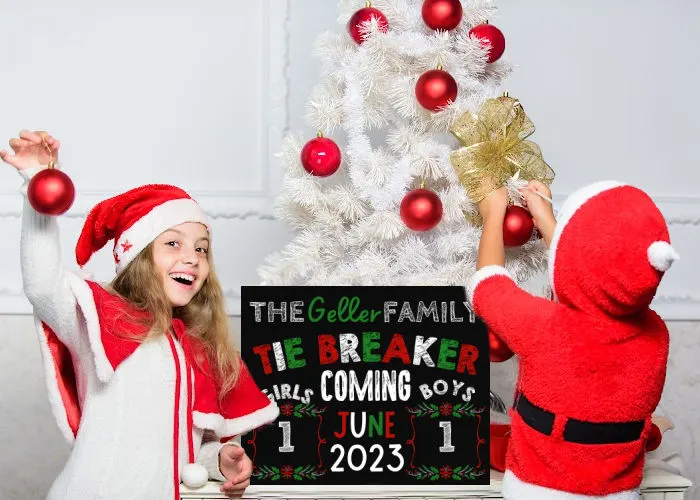 If your family has 1 of each (brother and sister), this funny pregnancy announcement reveal says the tie-breaker is coming followed by the due date.
You could have each child holding the sign on one side so the sign is between them and then have them do something silly like crossing their fingers or looking at each other like a fight is about to break out.
If you have either two boys or two girls, you could do the same board but instead of a tiebreaker, it would read finally tally coming and then followed by your due date.
If you'd like that customization, grab this board and then email me to customize it the way you like!
The template for this Christmas tiebreaker announcement board allows you to edit your family name and your due date.
19. The More The Merrier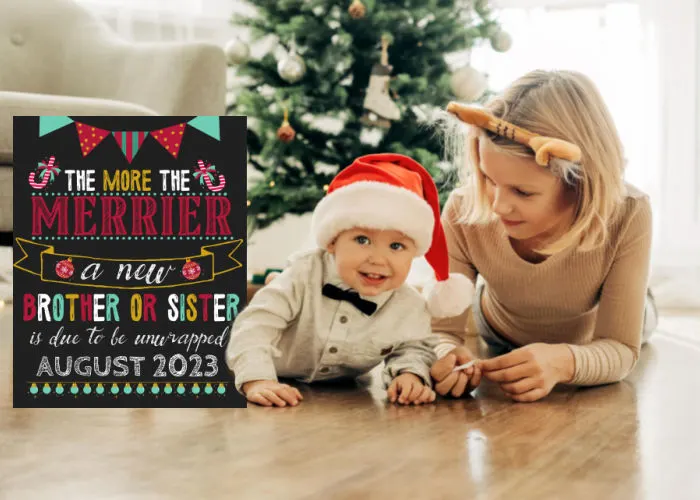 This announcement idea is perfect for 3 or more kiddos because it simply says the more the merrier. It's a simple and sweet way to share the news about the newest addition to the family.
All you need for this fun announcement is this cute editable The More the Merrier Announcement board.
You could have everybody dressed up in their holiday best or even in their pajamas.
For this announcement, mom and dad could join too since it does say the more the merrier.
I think this one would look adorable with everyone in bed in their pajamas with this sign and maybe a pair of baby booties or a holiday-themed onesie.
20. New Roles Sibling Announcement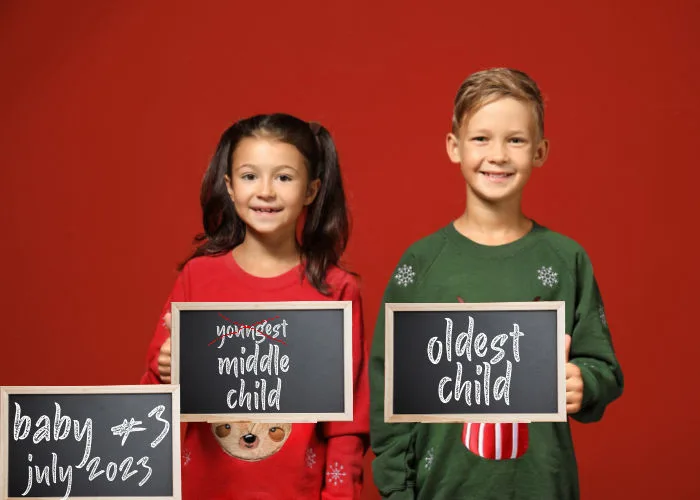 This is the perfect way to announce baby number 3 with older siblings involved! Since you have a new baby arriving, that means your second baby is no longer the baby of the family.
Have each child hold a sign announcing their new roles in the family.
Obviously, the oldest child is still the oldest so that won't change.
However, for the second child, have them hold a sign that has the youngest crossed out and replaced with middle child.
On the final sign, you would write baby # 3 arriving followed by your due date.
You can have them sit by your Christmas tree or on chairs or the sofa while they hold their respective signs.
As a fun alternative, you could do the same thing with helium balloons and have each child hold their respective balloons. I would attach the final baby balloon to a Christmas present.
What a memorable way to share your new baby news.
More Pregnancy Announcement Ideas
Adorable Big Brother Pregnancy Announcements
The Cutest Big Sister Pregnancy Announcement Ideas
Creative and Fun Ways To Tell Your Parents You're Pregnant
Memorable Ways To Surprise Hubby With Your Pregnancy News
Creative Pregnancy Announcement Quotes and Captions to Steal!
Cute Pregnancy Announcement Scavenger Hunt Riddles
Cute Easter Pregnancy Announcement Scavenger Hunt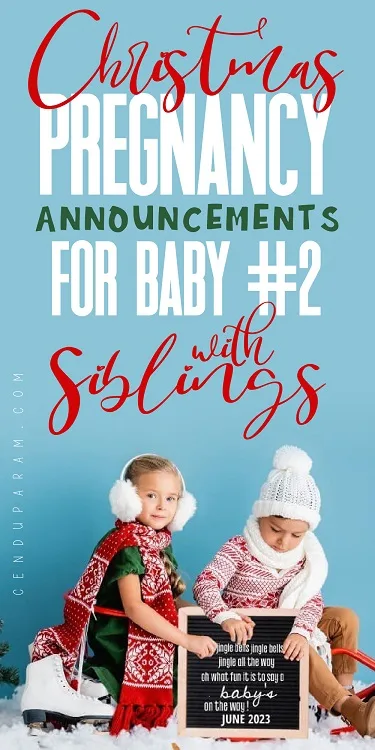 Wrapping Up Family Christmas Pregnancy Announcements
It's truly the most wonderful time of the year and mixing in some cute pregnancy announcement ideas just makes it all the more memorable!
I hope you loved these fun ideas for announcing your pregnancy this Christmas with siblings and the whole family. What could be a better time than the Christmas season to share news of the arrival of a new bundle of joy?
Take a sweet and simple photo (you don't even need a fancy camera, your phone will do. But grab a tripod if you plan to be in the photos with your little one).
If you're also on the hunt for beautiful baby name ideas, check out my many many many lists for inspiration!