Plan An Unforgettable Surprise Pregnancy Announcement Scavenger Hunt For Husband Easily
You're pregnant! Congratulations!
Now it's time to announce the big news to your partner and you want a memorable and creative way of doing it.
Why not try this fun pregnancy announcement scavenger hunt to surprise your husband?!
I don't know about you, but I loved scavenger hunts as a kid. It just added a touch of whimsy and magic to an ordinary day.
It's something you always remember and it's such a playful and perfect pregnancy announcement idea!
Planning your scavenger hunt and figuring out the clues can be the hard part but don't worry, I've taken care of that part for you.
You can make your own scavenger hunt clue cards using my clues or you can keep things easy peasy and buy my cute Pregnancy Scavenger Hunt Clues instead.
This fun idea can all be done from the comfort of your own home because who has the energy to be running all over town when you're pregnant?!
All these clues are for pretty generic places around the house that we all have.

Disclaimer: as an Amazon Associate I earn from qualifying purchases via my affiliate links. This comes at no extra cost to you.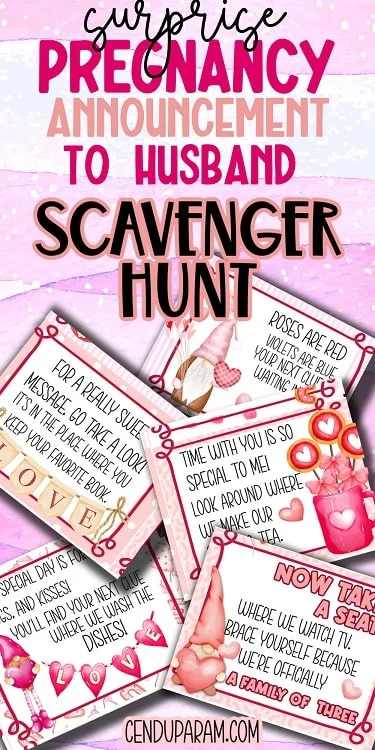 Tips For Setting Up Your Pregnancy Reveal Scavenger Hunt
You'll want to wait til your partner is away to set everything up so it can be a fun surprise.
Cut out squares (either 2 x 6 or 4 x 4) and write out each clue.
I've got 20 different clues you can choose from, you obviously don't need to use them all but I've used a variety to give you different options and figure out which ones work for you.
If you're purchasing my fun scavenger hunt clues, you'll simply have to print out the clues you want and then cut them.
They're designed 4 clues to a page. I personally love to print them on cardstock paper but regular paper will do just fine too.
To begin, you can either hand your first clue to your partner or tape it to the door so they'll see it as soon as they get home.
The final clue ends where you would watch tv so you could leave a little box with a positive pregnancy test inside and maybe a cute coming soon onesie or a pair of baby shoes.
There are so many options for what you could include inside the box so be sure to check out my surprise pregnancy announcement to husband ideas for more inspo.
You might want to keep a camera or your phone on hand to take some pictures or a video along the way and capture their face when they find the final surprise!
Once you're done with your scavenger hunt reveal, you could put your clues together and tie them with a pretty piece of ribbon and add them to your baby keepsake box.
It'll be a sweet story to tell your little one in the future.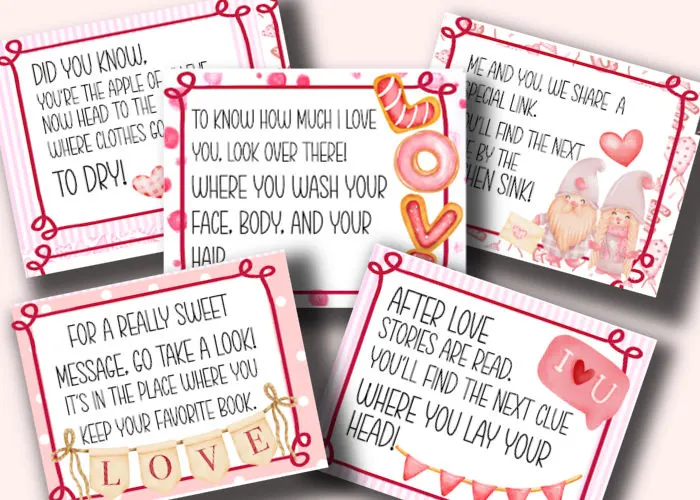 Pregnancy Announcement To Husband Scavenger Hunt Clues
Now let's check out all the baby announcement scavenger hunt riddles in case you're looking for free pregnancy announcement scavenger hunt clues and you're going to be writing out the clues yourself.
I'll include the clue and where you could hide it for each one. You can put clues in whatever order you choose (so long as the 1st and last are still the first and last).
I'll just list them in the order they're arranged to be printed.
If writing these clues out sounds like too much work, simply grab my printable pregnancy announcement scavenger hunt clues instead!
Who doesn't love fun pregnancy announcements?! Let's get started!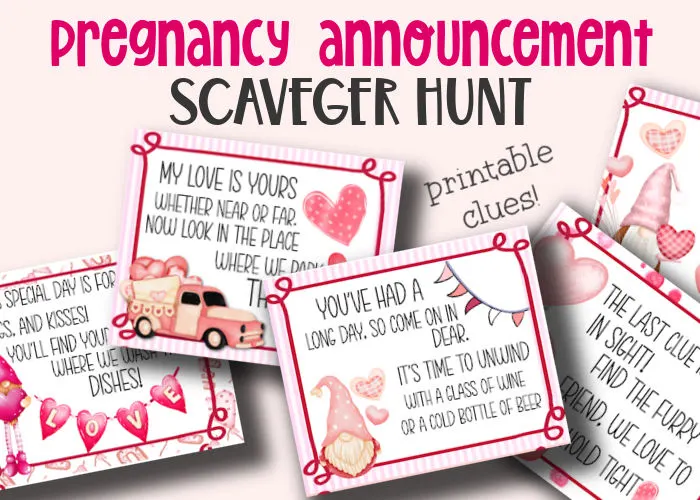 Clue #1 – Fridge
You've had a long day, so come on in dear. It's time to unwind with a glass of wine or a cold bottle of beer.
(Bonus points if you actually have his favorite beer in the fridge! You can either hand him this clue when he comes home or tape it somewhere he can't miss it like the door).
Clue # 2- Closet/Dresser
Before we get started you might want something else to wear. Because I've got special news to share.
Clue # 3 – Book Case
For a really sweet message, go take a look! It's in the place where you keep your favorite book.
Clue # 4 – Closet, Shelf or Hat Rack
You are so dear to me! No doubt about that. Now search in the place where you keep your hats!
Clue # 5 – Dryer/ Clothes Line
Did you know you're the apple of my eye? Now head to the place where clothes go to dry!
Clue # 6 – Kitchen Sink or Dishwasher
This special day is for love, hugs, and kisses! You'll find your next clue where we wash the dishes!
Clue # 7 – Bathroom Sink
How did I ever get so lucky to call you mine? Now run to where you brush your teeth, my sunshine!
Clue # 8 – Freezer or Deep Freezer
I love you to the moon and back! Now check in the place we keep frozen snacks!
Clue # 9 – Garage or Driveway
My love is yours whether near or far. Now look in the place where we park the car.
Clue # 10 – Bathtub or Shower
To know how much I love you, look over there! Where you wash your face, body, and your hair.
Clue # 11 – Mailbox
Sweetheart candies and chocolates too! Where we receive the mail, you'll find your next clue.
Clue # 12 – Kitchen, Coffee Maker, Teapot
Time with you is so special to me! Look around where we make our coffee and tea.
Clue # 13 – Shoes
Roses are red, violets are blue. Your next clue is waiting in your shoe!
Clue # 14 – Kitchen Sink
Me and you, we share a special link. You'll find the next clue by the kitchen sink.
Clue # 15 – Picture Frame/ Wall Hanging/ Photo
I hope you're loving this special game. Your next clue is hidden on a picture frame.
Clue # 16 – Oven
This hunt is almost finished, so give me your lovin! Then go take a peek at what's cooking in the oven.
Clue # 17 – Bed
After love stories are read, you'll find the next clue where you lay your head.
Clue # 18 – Attach To Family Pet
The last clue is nearly in sight! Find the furry friend, we love to hold tight.
Clue # 19 – Microwave
My love for you will never fade! Your next clue is hidden where popcorn is made.
Clue # 20 – Sofa/Couch
Now take a seat where we watch TV. Brace yourself because we're officially a family of three!
There you have it! All the cute pregnancy announcement scavenger hunt clues to surprise your spouse!
Once he knows the big news, the two of you can plan fun ways to tell your family members you're pregnant!

More Pregnancy Announcement Ideas
Unique and Creative Pregnancy Announcements for Social Media
Creative and Cute Promoted To Big Sister Pregnancy Announcements Worth Stealing!
Most Memorable Promoted To Big Brother Pregnancy Announcement Ideas
Very Merry Christmas Pregnancy Announcements With Siblings
Easter Egg Hunt Pregnancy Announcement Scavenger Hunt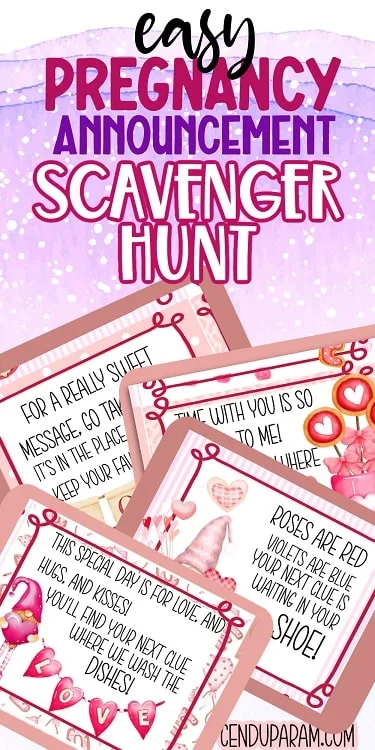 Wrapping Up Pregnancy Announcement To Husband Scavenger Hunt
A treasure hunt is such a cute pregnancy announcement idea! As you can see, it doesn't have to be too complicated.
With these easy clues, you can set up your own pregnancy scavenger hunt reveal in no time and make some beautiful memories you won't soon forget.
It's the best surprise announcement and a new baby deserves a grand reveal!
Wishing you a safe and happy pregnancy!
All the best mama!
If you need some customization with the clues you've purchased, drop me an email and I can help you customize them the way you like: [email protected]