Wondering what postpartum necessities you're going to need after giving birth?

I was too!

There's quite a few postpartum essentials you'll want to have stocked up before you deliver so you can get started on recovery as soon as you get home from the hospital.

I'll give you the entire list of the best postpartum products you're going to need. There were so many postpartum must haves I had absolutely NO IDEA I would need so hubby was constantly having to make last minute runs to the store.

Hopefully this postpartum checklist will help you (or your partner) avoid having to run out to the store 10 times a day.

To keep things easy breezy, I've found everything you need for postpartum recovery on Amazon so just click the links to check them out.


Disclaimer: as an Amazon Associate I earn from qualifying purchases. This comes at no extra cost to you.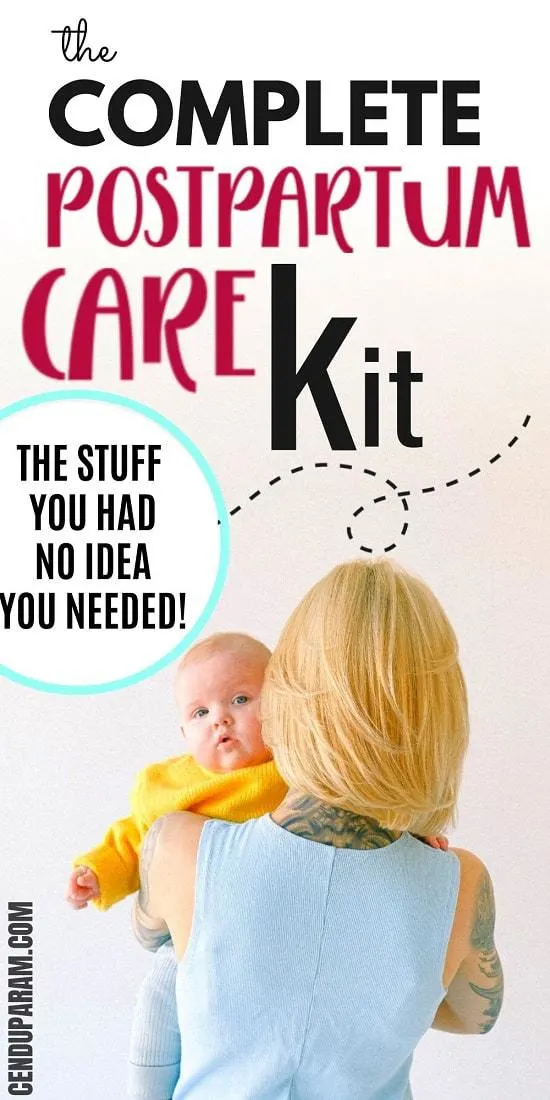 POSTPARTUM CARE KIT CHECKLIST

Yes, there's going to be a lot of unpleasantness postpartum (to put it lightly). Some parts feel even worse than the whole pregnancy and labor thing.

It's messy, it's tiring and just plain annoying.

The good news?

It won't last forever.

You got through those 9 months and you'll get through this too. Everyone's postpartum recovery process is different so everyone's essentials and must haves will vary but these are the things that myself and my mom friends agreed were MUST HAVE postpartum supplies.

Personally, I had fairly heavy bleeding for almost a month, I've heard from others it can be anywhere from 2 weeks to 6 weeks (sorry TMI but it's good to know what to expect).

Hopefully these postpartum recovery essentials will make the next 6 weeks a little more bearable.

RELATED POST : The Practical Hospital Bag Checklist + Free Printable

HOW TO MANAGE POSTPARTUM BLEEDING (LOCHIA)



Regular pads just aren't going to cut it. At least not for the first week or two. You'll have seriously heavy bleeding and you need the mother of all maxi pads like these ones they gave me in the hospital.

If you can't get these then look for the most absorbent ones you can find (usually overnight pads).

I loved those mesh underwear the hospital gave me too. It was so much easier to just use and toss those.

You can just use some old underwear you don't mind tossing out or grab some cheap high waisted granny panties.

It ins't cute but it does the job.

DISPOSABLE POSTPARTUM UNDERWEAR

This one isn't a must but it's certainly nice to have during that first week.

For overnight, I absolutely loved these disposable postpartum underwear. With the crazy amount of bleeding I had the first week I was always worried about the leaking overnight.

I really didn't want to have one more thing to clean up.

This disposable postpartum underwear was perfect!

It allowed me the freedom to move around in my sleep (actually sleep comfortably) without worrying about waking up to a huge mess.

If you're worried about the leaking but don't want to opt for these, you can also buy disposable underpads to place under you while you sleep.


PERI BOTTLE

A perineal irrigation bottle is going to be your BFF after giving birth. This one is a postpartum essential! It's like having a portable bidet.

You won't want to be rubbing toilet paper down there (especially if you have stitches from tearing) so you'll need an easy way to spray warm water instead.

Plus it just feels soothing when you're experiencing pain or discomfort and it comes in handy to keep things clean.

I was given one at the hospital which I took home afterwards. If you haven't bee given one than make sure you get one.

You can get something cheap and simple like this one (this was the one they gave me in the hospital).

Or you can go a little more fancy pants like the Frida Mom Upside Down Peri Bottle.
This one is pretty genius! It makes it much easier to 'ready, aim and fire' since it's upside down.

It can sometimes be messy trying to maneuver a regular peri bottle into the right angle. You pretty much have to stick your hand in the toilet to get the right angle.

There's a whole range of Frida Mom products to help with postpartum recovery and they're pretty great!

RELATED POSTS:
The Dad Push Present Gift Guide (Is That a Thing?!)
The Most Unique Baby Shower Gifts For Mom

HOW TO MANAGE POSTPARTUM PAIN AND SWELLING

POSTPARTUM MEDICATIONS
PAIN MEDICATION

Whether you have a vaginal birth or C-section, you'll be experiencing quite a bit of pain and discomfort afterwards.

You're doctor should prescribe you something to take to ease the pain. If they haven't mentioned anything, be sure to ask.

My doctor recommended recommended taking Acetaminophen (Tylenol) or Ibuprofen (Advil) for pain relief.

STOOL SOFTENER
That first bowel movement after giving birth is going to be a tough one. You'll be feeling very sore and sensitive and you might find yourself a little scared to strain or push.

You may even be dealing with hemorrhoids .

That's where stool softeners come in. This one is the most recommended by doctors for effective and comfortable relief without all the straining.

PAIN RELIEF/NUMBING SPRAYS


My doctor recommended getting this numbing pain relief spray to help with the pain after birth.

I ended up with a c-section so I didn't use it for my lady bits but I did use it on my C-section scar when I had itching or pain and it was the only thing that gave me relief that lasted longer than 5 minutes.

Plus, it's not just for postpartum care so you can use it for regular cuts, scraps or burns afterwards as well.

I know some mama's may be concerned about using medicated products after birth/while breastfeeding. There's also an all natural Herbal Perineal Spray by Earth Mama you can try.

I can't speak to it's effectiveness as I haven't tried this one but the Amazon reviews are 4.5 stars so it must be a good one.

Check out this skeptical mama's review.

PADSICLES
Is it a pad? Is it a nice pack? Actually, it's both! And you're gonna love it! Especially for the first few days after delivery. This bad boy will give you some comfort and relief for all that swelling, pain and discomfort.

They're easy enough to DIY or you can just buy ones like these Frida Mom Instant Ice Pack Maxi Pads.
Your perineum will thank you!


HEMORRHOID RELIEF


These Tucks Pads are the go to for immediate relief from burning, itching and discomfort caused by hemorrhoids. It has witch hazel which is known to help sooth and protect irritated areas.

You can even DIY your own witch hazel pads but these are a great cheap alternative if you don't have the time for that.

SITZ BATH
A sitz bath can provide comfort and relief for both hemorrhoids and relieve pain around the perineum and genital area.

You can take a sitz bath right in your tub or use a sitz bowl instead. You can read all the steps on how to take a sitz bath here.

If you find it difficult to lower yourself into the tub or don't have someone to help you, the toilet seat sitz bath is a great alternative.

You can add some epsom salt and witch hazel extract for added pain relief or grab a pre-made postpartum sitz bath soak treatment.


POSTPARTUM BELLY WRAP


If you're suffering from diastasis (a tear of an abdominal muscle) this can help.

Personally, I just loved the way the compression felt on my stomach. It provided immediate relief for me (post C-section) and also eased my back pain.

Many moms felt it helped them get their belly back to regular size quicker. I'm not 100% sure if that's true or not since this was my first baby (I'd have to compare recovery without one to really tell you the difference).

I saw my belly shrinking back to regular size by about 6-8 weeks so I'm not sure if this had something to do with it.

Of course, everyone's recovery is different so there is really no 'normal'.

POSTPARTUM NURSING ESSENTIALS

If you're planning to breastfeed or pump breast milk then also make sure you have these breastfeeding essentials ready to go as well.

I really wish I had prepped these things in advance because maybe I would've stuck it out with the whole breastfeeding thing a little longer.

We had the hardest time latching. There was so much pain, cracking and soreness which eventually led me to give up.

Instead, I ended up exclusively pumping with my Medela Pump In Style Advance which was an even bigger pain in the butt.


NIPPLE CREAM

If you find yourself with sore, cracking, bleeding and dry nipples, you're definitely going to want to stock up on some nipple cream like this one.

It's totally safe to use with baby (you don't have to take it off before breastfeeding) as its natural and hypoallergenic.

It'll give you some relief from the pain and sooth your cracked nipples.

Another DIY treatment I've heard of is applying some breast milk on the nipples and letting them air dry. This won't help much with the pain but can help them heal quicker.

Another pro tip: if you're reading this well before baby comes along, you can actually start toughening up your nipples now! Gently rubbing them with a wash cloth daily can help them get desensitized before breastfeeding begins.


NIPPLE SHIELDS


If you're experiencing excessive pain you may be latching incorrectly. You'll have to see someone to help you fix this issue as the pain won't go away until you're latching correctly.

Reach out to your doctor and they can often help you find a breastfeeding consultant. Your hospital may also have one available.

In the meantime, a nipple shield can help you continue breastfeeding without so much pain until you can get the issue sorted out.

You may also want to check out some breastfeeding courses.

I highly recommend this FREE Milkology Breastfeeding Course by Stacey (certified breastfeeding consultant) to get you started.

NURSING BRAS


I have an entire post dedicated to what to wear after giving birth so I won't go into too much detail here.

An essential item when breastfeeding is a nursing bra.

It just makes things so much easier to whip out a boob at a moments notice. You'll notice they don't have an underwire and this is on purpose.

You'll want the room when your milk comes in, you definitely don't want anything restrictive. Nursing bras offer gentle support and comfort .

You may want a comfortable maternity sleep bra as well. This one doesn't have any claps or hooks to fumble around with during those late night feedings.


NURSING TANKS/TOPS


You'll also need to grab a few nursing tops or nursing tanks as well. This is a great inexpensive set of 3.

This one has a super simple lift up nursing access on the front.

If you're curious how they look while wearing them, check out this mama's review.
You'll need uber comfy postpartum pajamas too but there's a lot that goes into that so I made an entire post to help you choose the right ones.

HAAKA SILICONE MANUAL BREAST PUMP

This thing is seriously genius!

The Haaka Manual Pump was one of my favorite newborn must haves.

You'll notice that when you're breastfeeding baby, you have leaking on the other boob. This is precious liquid gold just going to waste!

You just squeeze and attach this manual pump on that breast and it'll catch all the excess that would've gone to waste.

I can often fill up about a quarter to a half of that thing in one sitting so it's so worth it!


NURSING PADS

If you're breastfeeding, you'll also notice that you just leak randomly throughout the day. I don't know how many times I was accidentally sporting breast milk stains on the front of my shirt!

A box of disposable breast pads like these are you're breast friend to soak up leaks.

You can also get reusable kinds.

I actually have a coupon code for 5 FREE reusable breast pads:
Just use code cenzerelyyours50 at BREAST PADS!

BREASTFEEDING PILLOW


If you find that your arm gets tired and it's difficult to hold baby in the right position for extended periods of time while breastfeeding, a breastfeeding pillow could be the answer.

Both the My Breast Friend Pillow and the Boppy are favorites of many moms.

Lots of moms love the Boppy because it's multipurpose. You can also use it for baby's tummy time or as a support when they're sitting or lounging.

Or you can also grab a FREE nursing pillow here:

Just use code cenzerelyyours50 at Nursing Pillow

Want more baby freebies? I've got an entire post dedicated to freebies for new moms and babies!


POSTPARTUM NECESSITIES FOR LESS STRESS

This section is just a few postpartum necessities that make life with a newborn a little easier (sort of like tips and tricks from a mama who's been there).

The first few weeks with a newborn is such a special time but can also be overwhelming and stressful. Just remember, nobody is born just knowing how to do these things.

There's a huge learning curve and the good news is that it does get easier.

It's totally okay to mess things up along the way, you'll get this thing so give yourself some grace.

And I'm sure you're already tired of hearing this but do try to rest as much as you can when baby is resting. The dishes, laundry and whatever else needs attending can wait.


FREEZER MEALS & SNACKS

If you're, reading this before baby arrives an awesome tip is to meal prep ahead of time. Make and freeze meals (like lasagna) that you can easily throw in the oven at a moment's notice. I would say about 3-4 weeks worth should be plenty.

There won't be much time for cooking for the first little while.

If you have visitors stopping by and they ask what they can bring you, don't be shy! People generally want to help but don't know what you need. You can let them know you wouldn't mind dinner or a frozen meal for later.

Also, be sure to stock up on healthy snacks. You'll need to have a constant supply (especially if you're breastfeeding). You'll find yourself always hungry. It's better to have some healthy options in the cupboard ahead of time so you don't find yourself tempted by junk.

I loved these protein bars! I also stocked up on nuts, granola mix, fruits (I bought the pre-cut kind just to save time).

You'll also need to make sure you're staying hydrated. You need to be drinking a lot of water when you're breastfeeding so keeping a giant water bottle at your nursing station is so helpful.


PRENATAL / POSTNATAL VITAMINS

You'll want to continue taking your prenatal vitamin gummies (or grab some postnatal vitamins) after having a baby. You want to keep your body nourished with all the vitamins and minerals it needs for faster healing as well as breast milk production.

DISPOSABLE PLATES

The dishes tend to pile up pretty quickly when you've got a newborn to attend to. After about the first week with baby, I was done!

I sent hubby out to grab some disposable plates and it was a god send knowing that was one less thing to worry about.

ENTERTAINMENT

So, there isn't a ton of free time when you have a kiddo but there definitely are pockets of time like when you're breastfeeding or pumping.

I was binge watching Friends reruns on Netflix whenever I was pumping (or reading the odd blog about how to increase my milk supply).

It's great to have a few distractions for some me time for mom. This was one of the many things I needed as a new mom to get over mom burnout (check out this article for more tips).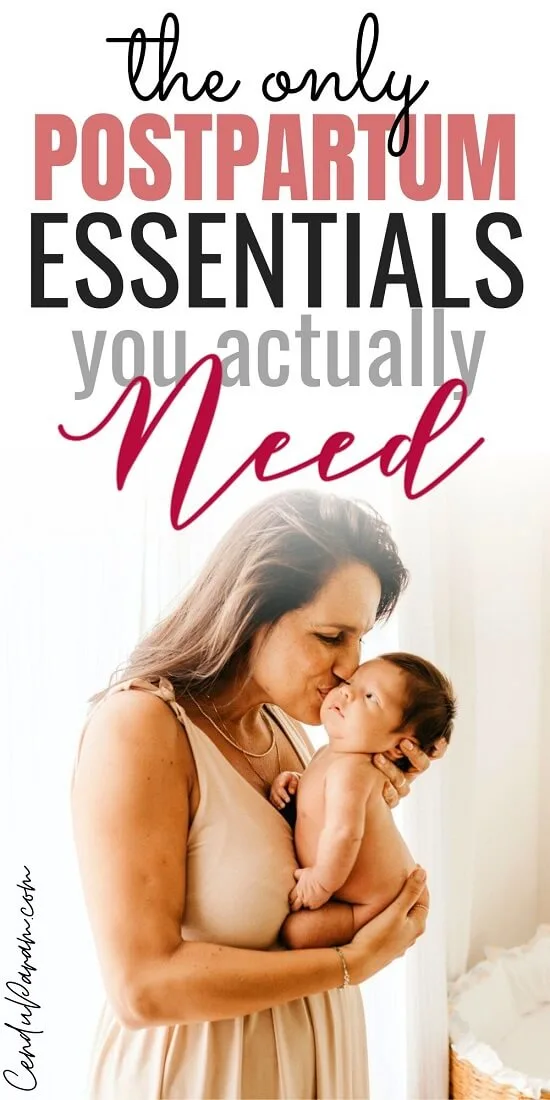 WRAPPING UP POSTPARTUM NECESSITIES FOR MOMS


Getting back to your pre-baby self is a lot of work and postpartum recovery can feel exhausting. Hopefully, these postpartum necessities for after birth will help make things a little easier.

Please, oh please, give yourself a break!

Ask for help!

I always felt like I needed to do it all myself and that's what leads to burnout as a mom. Instead, rely on your tribe and let them know what you need. There is no shame in that.

Focusing on your postpartum recovery will help you heal faster and actually enjoy the newborn stage. It goes by way too quickly (I know it doesn't feel like that now but it does).

Enjoy those sweet moments in your bubble where it's just you and baby. Focus on memorizing every little feature and inhaling that sweet baby scent.

Enjoy motherhood! It's a wild ride and I wouldn't have it any other way.

Get started on your postpartum care checklist ahead of time so you can sit back and relax (kinda).