WHAT TO WEAR AFTER GIVING BIRTH IN THE HOSPITAL
UPDATED MAY 10, 2022
Are you wondering what to wear in the hospital after giving birth? If you're packing your hospital bag, you'll need some postpartum outfits for the hospital.

I really didn't think this part through when I was packing and completely regretted it!

If you haven't adequately planned ahead, you'll be living in your hospital gown for at least a few days (speaking from experience here).

But don't worry, I have you covered!

Here's everything I wish I had packed to wear after giving birth in the hospital and beyond (because postpartum lasts a lot longer than your hospital stay).

When selecting your postpartum hospital outfits your mantra should be all the comfy cozy things and tight clothes are a no-go.
As a new mom, I didn't realize there was so much that goes into packing for labor and delivery.


Disclaimer: as an Amazon Associate I earn from qualifying purchases. This comes at no extra cost to you.

POSTPARTUM OUTFITS: WHAT TO WEAR IN THE HOSPITAL AFTER GIVING BIRTH



The first thing I regretted immediately was forgetting how cold they keep the temperature in the hospital room!

I was pretty much freezing the whole time and piled on like 5 blankets.

So step 1 is to think warm.

Also, keep in mind that there's a lot of discomfort in the postpartum period (you just pushed a watermelon out of yourself!) so comfortable clothes are key.

Sure, you can bring a cute set of matching PJs for that impromptu photo op but make sure to also pack comfortable, loose clothes for the rest of your stay.


1. THICK COZY SOCKS AND SLIPPERS

Bring a few warm and comfy pieces in case you get cold and also, don't forget your feet.
I had my regular socks but my feet were still cold.
Bring yourself thick cozy socks as well as some comfy slippers.

You want something easy that you can slip on and off without a lot of effort so skip anything with buckles or ties.


WOMEN'S SUPER THICK WOOL SOCKS



This set is super thick, very comfy, and oh so warm (like Canadian winter warm). They're tight around the ankles but not too tight which is perfect for preggo moms with swollen feet.

You can see an actual customer product photo here if you're curious about how they look when they arrive.
Here's a similar pair of grippy socks that are perfect for use at the hospital! I love the price point on this one.



Here's a two-in-one option! Slippers + Cozy Sock in one and I love that the bottoms have no-slip grips which come in super handy with those very slippery hospital floors.

Keep in mind, they are very much socks as well as slippers so they look small at first but you can easily pull them on.

These are perfect if you don't want to constantly put your slippers on and off every time you get up since they're meant to be worn like socks (but with better grip).

You can see the actual product photo here.
The main thing to keep in mind when it comes to your postpartum or labor socks is stretchy, warm, soft material with non-skid grips on the bottom.
But that doesn't mean you can't have some fun with your labor socks!
Check out these hilarious labor and delivery socks with fun messages on the sole (they act as non-slip grips so double win).



If you want to treat yourself then pick up a pair of these ultra-comfy Ugg slippers. It's perfect if you want something that you'll continue to use after your hospital stay.

I love that they have no slip grip on the soles to keep you safe. Definitely, a must when you're carrying a newborn around.

They recommend sizing down so be sure to review the sizing guide for the best fit. They do stretch with use so you definitely want to go smaller.

Here are some customer product photos giving you a closer look at different angles.

If that's a little pricey, these slippers look almost identical and have raving reviews!

NON SLIP FLIP FLOPS/SHOWER SHOES



You will most definitely want to bring a pair of flip-flops along!

You'll be feeling gross and in need of a shower and unless you want to use the public shower barefoot, I highly suggest bringing along a pair of nonslip flip-flops.

These ones here are specifically shower shoes so they have little holes throughout to let the water escape and they dry quick.


Comfortable Shoes
If you've already got a great pair of comfortable shoes (these cloudfoam shoes do feel like walking on clouds-love them!) then you're all set. If not, make sure you grab a pair for the postpartum days and beyond.
You'll want a good pair of runners or walking shoes. They'll come in handy in the hospital if you're going out of your mind with boredom and want to do a few laps around the hospital.
Plus, you'll need them for the postpartum days whenever you decide to go out for walks or run errands.
I had such swollen feet postpartum and really relied on compressions socks and comfortable runners to get me through.
RELATED POSTS:
Push Presents For Dads? Why You Should + Awesome Gift Ideas
The Best Baby Shower Gifts That No One Thinks Of
2. POSTPARTUM HOSPITAL OUTFIT: GOWN + ROBE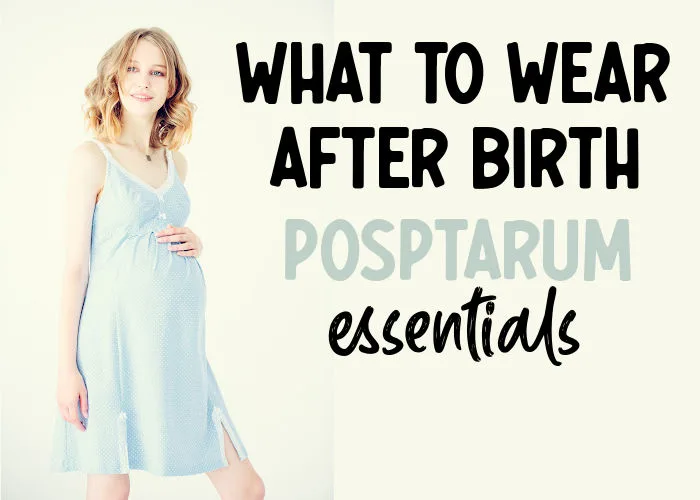 I don't usually use a robe or gown but I'm glad I bought one for this occasion.

You'll have hospital staff checking in on your lady parts constantly after giving birth so it's kind of impractical to be wearing maternity pajamas or sweat pants immediately after birth.
You'll need the right postpartum clothes.

A nursing nightgown (preferably not your hospital gown) is a much better option. Initially, I got the robe but not the gown so I was living in hospital gowns for a few days until my husband could go grab one.

I know I would've been much more comfortable in my own clothes and regret not getting one to pack in my hospital bag from the get-go.

The robe comes in handy when visitors drop in so I don't have to change, plus, as I mentioned earlier, I was cold all the time so I pretty much wore it constantly.
It also makes things easier for breastfeeding your newborn.
You want easy access for feeding. It's already hard enough trying to figure out breastfeeding. Add in a regular shirt that wasn't meant to be nursing friendly and it just adds to the frustrations.
That's why a nursing gown (or robe) has snaps or buttons in the right places to make this task so much easier. You can usually do it one-handed which comes in handy!
Plus, you might also be dealing with postpartum night sweats so wearing something loose and airy should help.

Here are a couple of super cute options for inspo!


CUTE MATERNITY LABOR DELIVERY NURSING ROBE



I love all the cute designs this line has. It's perfect for taking some pictures at the hospital and not looking like a complete mess.

I wish it was a set but the maternity nursing gowns come separately.

Although their logic makes sense, the sizing between the gowns and the robes can differ so they sell them as separates.
In terms of sizing, you'll likely want a nursing nightgown that's at least 1 size up from your pre-pregnancy size. Your body will take some time to get back to its previous state and you want clothes that are loose and comfortable.
Plus when your milk ducts fill up, the breasts get even bigger and you don't want an uncomfortable tight fit.

Check out this real-life mama's rocking her gorgeous robe in the hospital.

It really does photograph beautifully!


MATERNITY DRESS NURSING NIGHTGOWN



Here's a cute option for a comfortable gown that you can continue to use after your hospital stay. The material is super soft and stretchy and it features a button-down style and easy-to-remove straps for breastfeeding.
I also like that it has an empire waist so this one is a great maternity dress as well. Since it sits higher up on the waist, it can easily accommodate a growing baby bump.

Check out this mama's pictures of the gown in use.



EKOUAER WOMEN'S NURSING NIGHTDRESS
This Ekouaer Nursing Nightdress is a #1 bestseller on Amazon (and for good reason too!).
It's made of stretchy soft material and has a very flowy loose fit. It also features snap buttons all down the back and at the front for easy breastfeeding access.
This makes it a perfect delivery gown and postpartum nightgown.
I actually prefer wearing it with the snaps in the front for even easier nursing and skin-to-skin time with baby.

Maternity Dress or Nursing Dress
More often than not, if I didn't have to wear pants, I didn't.
After my c-section, I found myself gravitating towards loose comfy nursing dresses to give my incision a break from.
This was such an easy go-to outfit whenever we had guests coming to the house to see the baby. I'd throw this on and maybe a cardigan and voila, I felt much more put together.
It has a simple front layer that you just pull up for feedings. Since it's a nice long layer, you don't even need a nursing cover with this one.
I also really loved dresses with an elastized bodice because it just had way more stretch when the milk came in.
Here's another cute option (with so many colors to choose from) that would love fantastic for maternity photos that you could keep using postpartum.

MATERNITY LABOR DELIVERY MATCHING ROBE & SWADDLE BLANKET



If you're already planning your in-hospital first photos with your little bundle of joy, this could be a great option.

You get a matching gown and swaddle blanket plus you can either choose a matching hat or headband set for your newborn.

How cute!

Here's a customer photo for reference.

Plus here's a mommy rocking her robe!

If you want to include the new daddy in all the fun, this set has a t-shirt for dad too.

MATCHING DELIVERY ROBE & SWADDLE BLANKET SET



Here's another option with some more styles to choose from. This one includes a knotted hat for baby.

How stunning does this mama and her little babe look in their matching polka-dot set!

3. Hospital Delivery Gown
You can certainly stick to a traditional hospital gown that's provided by the hospital.
I would probably encourage you to do that for the actual labor and delivery part of your stay because who wants to take that home and try to wash out the blood and all the other fluids from the birth.
Not me!
However, if you aren't a fan of the itchy hospital gowns or you just want something cute to wear postpartum for hospital photos and to feel comfortable in general, you can bring your own delivery gown like one of these below.
MATERNITY HOSPITAL DELIVERY AND NURSING GOWNS

You'll have to check with your hospital but some allow you to bring your own hospital gown like this designer hospital gownie. If they don't let you use it for delivery, you can certainly use it after delivery to make all the check-ups down there less of a hassle.
It definitely made the c-section incision checks so much easier for me.

I love that this one is made with easy-open tabs in the front for nursing plus buttons all down the back so it stays secure but still allows for quick access if you need an epidural.

This fabric is also way softer than what they give you in the hospital.

Here's a product photo of a mommy wearing hers for her home birth.
Here's another cute and inexpensive option with nursing support that you won't feel bad throwing out if it ends up destroyed by labor.

RELATED POST: Creative Pregnancy Announcements + Captions For Social Media
3. POSTPARTUM PAJAMAS


Wondering what kind of pajamas to bring to the hospital after delivery?
You may want to bring along a cute pair of pajamas for some pretty photos with baby.

You'll want to keep it loose though. And make sure the fabric is soft and stretchy.

You do lose some of the baby weight right after delivery but certainly not all of it so tight pants aren't going to be comfortable.
Especially if you needed stitches down there!
If you end up with a c-section scar (like me) you'll also need to make sure your pajamas aren't bothering your incision! You'll want to opt for high-waisted pants with either an elastic or adjustable waist for optimum comfort.
If your nursing pajamas are made of organic cotton or other natural materials you get some bonus points!
Check out my ultimate guide to the best postpartum pajamas for the full run-down of what you need to consider.

Here are a few super cute options.



This is a great option that is also perfect for nursing.
The fabric is super soft and breathable and the pants have an elastic waist with an adjustable drawstring on the side to fit your changing body.

It's a great inexpensive option that will take you well into your fourth-trimester recovery phase.

#1 Bestseller Nursing Pajamas Set
This set is Amazon's best seller for nursing pajamas.
The thing I love best about this one is the adjustable waistband that makes it perfect for maternity pajamas and beyond.
This style has a discreet side open design for easy nursing access.
Here's a similar set that's made of organic cotton!

MATERNITY SATIN TRIM 3 PIECE NURSING SET



Here's another comfy cotton-poly blend set that also includes a robe!

Like the first one, this one is also a nursing set to give you easy boob access.
The cami offers easy clip-down nursing access and features a built-in shelf bra for light support so you could also add in nursing pads to avoid leaks (they happen ALOT).
Grab a free set of nursing pads with code CENZERELYYOURS50


WOMEN'S SOFT BAMBOO PAJAMA SET



This long-sleeve button-down set isn't specifically a maternity set but it's comfy, soft, and stretchy.
The button-down style makes it a good choice for breastfeeding and the pants have an adjustable drawstring so it works well for your postpartum body.

It comes in tons of different colors and patterns as well.

This pregnant mama totally loved this one, see her modeling it here.

My all-time favorite PJs are the Lake Pima Cotton ones or anything from the Hatch collection but they're on the pricey side.
If you want to treat yourself (or add it to your registry) you won't regret it!


4. NURSING TOPS

If you're planning on trying to breastfeed then make sure to grab a few nursing tops to make the process a bit easier.

It also provides a little extra support when your milk comes in as they often have a built-in bra made of soft elastic material.

They will usually have easy access buttons or snaps so you can whip out a boob like a stealth ninja and then quickly cover up at a moment's notice if you need to.
When you're at home you're probably fine just hanging out in nursing bras or taking your top off altogether but breastfeeding in public is a different story.
You will require some additions to your wardrobe like a top that can easily give you nursing access while keeping everything else covered up.

Here are a few maternity shirts you can check out.


MATERNITY NURSING TOPS SHORT SLEEVE


This comfy short-sleeve set is super reasonably priced and comes as a 3 pack and offers easy boob access for your nursing needs.
It has a double layer in the front that you can simply lift up for easy feeding access. I love that this one is long enough to cover even the biggest baby bump.
I also love that it doesn't stain as easily from breast milk like some of my other shirts.
Here, take a look for yourself.
Again, I would size up at least 1 size from your pre-baby size for a more relaxed fit and room in the chest for when your milk comes in.


LONG SLEEVES MATERNITY NURSING TOP SET
I love that this long sleeve maternity nursing top is made of 95% cotton and 5% spandex. Perfect soft and stretchy material that can comfortably fit your body.
These tops also have a double layer and easy opening for feeding access.
Here's a mama using the product if you want to see an actual product photo. Notice the v-neck under the layer for easy feeding.


These Nursing Tank Tops built-in Bra are perfect for breastfeeding and the built-in bra offers good enough support for you to sleep in as well if you're not a fan of wearing a bra to bed.
It makes those late-night feedings a little more manageable with the easy one-hand nursing claps.
Check out how stretchy this fabric is, it fits well over your pregnancy belly and doesn't feel uncomfortable.

SUIEK Women's Nursing Tank Top
If you aren't a fan of tight clothes postpartum, you're not alone. I hated that too.
This is why I preferred loose-fitting nursing tank tops like these.
Notice the empire waist that ends just below your bust. This design makes it more free-flowing around the stomach area, and more comfortable in my opinion.
They have easy-open claps to make feeding a breeze and you can definitely do it one-handed if needed.

RELATED POST: Finding My Post Baby Style With Kat Depner + Seven Styling
5. LOOSE STRETCHY PANTS OR JOGGERS


As I mentioned before, you'll probably notice your stomach shrink a bit post-delivery but it's nowhere near pre-baby bump days just yet.

You'll likely be feeling sore and bleeding like crazy and also wearing a gigantic maxi pad that looks more like an incontinence pad.

You'll need pants that aren't too tight to feel comfortable so be sure to bring some loose stretchy pants or joggers.
Nothing says comfort like a pair of cozy sweats but you can't just get regular sweats because that bump needs special accommodation so check out these must-have maternity sweat pants that transition perfectly into postpartum loungewear.


MATERNITY CASUAL STRETCHY PANTS



I love that these joggers are high-waisted and also have a wide super stretchy waistband to accommodate your growing pregnancy bump.
Check out this mama's product photo to see it in action here. They look super cute and they're soft and cozy.
I just wanted to mention, that if you don't need the convenience of Amazon, I highly suggest checking out H&M's Maternity Line as well!
They have such wonderful pieces (like these similar joggers or these MAMA Joggers) that are quite affordable (more often than not even cheaper than Amazon finds).
You just have to spend enough for the shipping but they do have free shipping days so keep an eye out.


KINDRED BRAVELY EVERYDAY MATERNITY JOGGER


These Kindred Bravely Everyday Joggers seem to be a fan favorite among pregnant mamas!
It's probably because of the buttery soft and stretchy fabric. It's a more lightweight fabric so it's also perfect for the summer months.
These joggers have a drawstring waist to fit you at every stage and also include pockets — score!
MATERNITY COMFY STRETCH PALAZZO PANTS


These comfy lounge pants have a snug waistband that can be folded over the hips or pulled up over the tummy, providing comfort and extra support (perfect for the postpartum period).
It's a nice loose fit and is made of a soft light jersey material. These are definitely a pair you can live in postpartum.
I think this is especially a great fit if you're tall. I'm super short (5 feet) and found it a bit long but it was so comfy I didn't really mind.
6. Maternity Leggings
Maternity leggings are a must-have in terms of maternity clothes and comfortable postpartum outfits.
If you've already grabbed a few maternity leggings they'll serve you well into the postpartum stage but if you haven't then take a look at these holy grail options in comfort.
You'll have to think about what style you like.
Do you prefer over-the-bump maternity leggings or under-the-bump maternity leggings?
If you go with the over-the-bump option, you'll notice that they usually have a wide stretchy panel that's big enough to cover your entire belly.
I personally loved the extra support during the last trimester and found it super comfortable for posstpartum.
You'll also want to consider fabric (something soft and breathable), and stretch (can it grow with your bump, does it have a seamless band that doesn't dig into the belly)

Motherhood Maternity Women's Essential Stretch Leggings

These Motherhood Maternity leggings have a whopping 4.5-star rating with over 11K reviews!
It's easy to see why.
It has that large stretchy panel in the front to accommodate a growing belly and sits comfortably over the bump (but can easily be folded down if you prefer).
It's a nice knit weave made of cotton and spandex so you get a comfortable, breathable fabric with enough stretch.
You can see how they look here.
Make sure you read the sizing info so you don't deal with any see-through issues.
I found them to be a bit long so if you're a short girl like me, you would probably like the cropped version.

POSHDIVAH Yoga Pants Maternity Leggings
If you prefer a yoga pants style legging then your new best friend is going to be this Poshdivah Maternity Yoga Leggings!
These babies are squat-proof and sweat-proof with their stretchy and breathable sweat-quick fabric. It also features a special U-shaped high waist design that can easily accommodate your growing belly and then your postpartum body.
If you're planning to work out or just get a little more physically active post-baby, these are great maternity leggings that can transition into your postpartum wardrobe. I enjoyed these so much that I actually picked up the maternity bike shorts too.
Here's a quick video if you want to see how they look in person. Check out that stretch!
They aren't as amazing as my lulus (surprisingly stretchy enough for my entire pregnancy + postpartum) but for the price, I think they're a pretty close second.

Postpartum Compression Leggings
If you rather have a pair of leggings geared specifically toward postpartum moms, you might want to try these compression postpartum leggings.
I love the seamless design and comfortable fabric of these leggings. It's good quality breathable fabric that's sqaut proof.
Perfect for working out too with its moisture wick technology.
You get good abdominal compression from the high waisted lycra fabric band around the top portion of the leggings.

7. MATERNITY UNDERWEAR TO WEAR AFTER DELIVERY IN HOSPITAL


We can't forget your intimates!
Hospital postpartum underwear, what do you need?

Even if you aren't breastfeeding, you'll love a maternity bra for the added support and stretch it offers when your milk first comes in.

If you are breastfeeding, then this is definitely essential.

You'll also be needing some maternity underwear (granny panties) that are supportive around your midsection and comfortable to wear.

You definitely don't want to size smaller on this one as you'll be sporting giant sanitary pads for at least a month or so.

Here are a few great options.


WOMEN'S HIGH-WAISTED COTTON UNDERWEAR BRIEFS



These are voted the comfiest postpartum underwear option. They feature a high waist design and a wide and long crotch area which is perfect for that enormous maxi pad.

It's made of breathable cotton and spandex mix to allow movement.

Make sure to pay attention to the sizing chart as they run small.


HIGH-WAISTED POSTPARTUM UNDERWEAR



This set is specifically advertised as postpartum underwear and features a high waist design (which is helpful even if you had a c-section) and is designed to be stylish (less granny panties look) and comfortable.

Absorbent Panty: Period Panties Maternity and Postpartum Underwear
If you want to forget about maternity pads altogether, you might prefer these postpartum Period Panties instead.
This comfortable underwear is made of bamboo fabric to keep things cool and breathable but also features a leak-proof absorbent layer panel that goes from front to back.
How perfect for all the post-partum bleeding that's going to continue for like a month (maybe more).
It's supposed to be as absorbent as 2 tampons!
That means you can even wear these overnight without worrying about having to throw out the sheets later.
One user commented: 'They absorbed better than a pad, were comfortable, and the top layer stayed dry.'
HIGH WAIST C-SECTION RECOVERY TUMMY CONTROL UNDERWEAR



If you're a c-section mama like myself, these c-section recovery maternity panties are a better option.

These are my favorites!

These were super comfortable without being too binding. They also hold up really well with washing/drying.

Also, I found that my incision site was far less painful when I had these on.


DISPOSABLE POSTPARTUM UNDERWEAR


Your other choice would be to get a package of disposable postpartum underwear that you can just toss when you're done with them.

These are a great no muss no fuss option that provides discreet coverage and they're way more comfortable than the mesh ones they give you at the hospital.

No need to worry about leaks like with a pad.

They're especially great for overnight use!

You can see some actual customer product photos here if you're curious.


Postpartum Mesh Underwear
Along the same lines as the disposable postpartum underwear is those mesh underwear like the ones you get in the hospital.
These Frida Mom Disposable Mesh Panties are just like those but way more comfortable, much thicker, and more supportive.
These are super stretchy underwear designed to keep any other recovery layers in place without compromising comfort.
They even make instant ice maxi pads you can insert if you need a little extra care for your lady bits. You'll want to make sure you've got an upside-down peri bottle to make cleaning up down there way easier.

8. MATERNITY NURSING BRAS


Up next on your postpartum outfit essentials are maternity bras or nursing bras. You're going to want this whether or not you decide to breastfeed.

The extra support and room that a nursing bra offers is a must when your milk comes in after having a baby. You want something that's comfortable and able to expand.

Nursing bras were made exactly for this purpose so even if you aren't breastfeeding I would grab one for comfort.

If you are breastfeeding, then these are a MUST HAVE! It makes it so much easier to get your breast out quickly and feed baby since the straps and front section easily detaches.

They often don't have an underwire to make them more comfortable for new moms.

Here are a few super comfy and functional breastfeeding bra options.

You can learn more about selecting the right nursing bra and things to keep in mind in this article by Motherly.



These are comfortable and stretchy so they're perfect for your changing and growing boobs.

The straps are easy to detach and don't dig into your shoulders.
Plus the price is great!

I also love that the customer service is so fantastic! Any client complaints get dealt with right away to keep everyone happy.

Here's a bunch of customer product photos showing the item in more detail.


Women's Maternity Bra Seamless Nursing Bra
These seamless wireless maternity nursing bras are a #1 best seller on Amazon!
I love the stretchy band that replaces the traditional underwire. It gives you good support and way more comfort for postpartum moms (this is another one that's comfy enough to sleep in).
The style is kind of like a sports bra and features both clips and a pull-away front so you have both options when nursing.
Milk supply can be an issue sometimes and one mom reported she's producing more milk when she wears these!
I say run, don't walk, and grab these asap!

FRENCH TERRY RACERBACK NURSING SLEEP BRA



This one is also wire-free and ultra-soft plus super easy to use. There aren't any claps or buttons to mess around with.

Simply pull it aside, which makes it the best choice if you find yourself one-handed (because you're holding baby).

It's considered the perfect bra for sleeping as well as for easy night feedings and it offers gentle support.



SEAMLESS CLIP DOWN BREASTFEEDING BRA 3 PACK



Here's one more option that's a steal for the price. They're a great quality option for being so inexpensive.

The claps aren't flimsy like some of the cheaper options. Plus they are crazy soft and comfy. The material doesn't feel cheap at all.

This one also has removable cups for added support.

Check out this satisfied mama's product shots for a closer look.



9. HAIRBANDS & HAIR TIES AND LIP BALM


I want you taken care of from head to toe and we're almost done. The last thing you don't want to forget as part of your postpartum outfit is some hairbands or hair elastics and lip balm.

I found it super annoying to have my hair falling in my face when I was trying to figure out the whole breastfeeding thing.

Usually, I have hair ties on hand but somehow I managed to forget to pack them. I had the one that I came to the hospital with, but that broke, great.

One of the nurses suggested grabbing one of the headbands from the gift shop and I'm so glad I listened because that was one less thing to worry about.

Make sure you don't forget your hair accessories!



This one is great because it's adjustable plus it's a sweatband style headband so you can totally use it during labor too, or even afterward when you're doing your daily face wash routine or applying makeup.


Here's another version that also has a slit in the back to put your hair through, no hair tie needed!



Here's another option that has sweat-wick technology. This one is actually a workout headband so you can continue to use these when you start your post-baby workouts.

One thing nobody mentioned about labor and delivery is that all that huffing and puffing would leave me with dry lips! All I wanted was a good lip balm but didn't think to pack that.
Luckily, I did have a tub of vaseline for baby so I ended up using some of that instead.
So make sure you don't forget a good moisturizing lip balm because you'll inevitably end up with dry lips by the end.

WHAT TO WEAR HOME FROM THE HOSPITAL AFTER GIVING BIRTH (GOING HOME OUTFIT)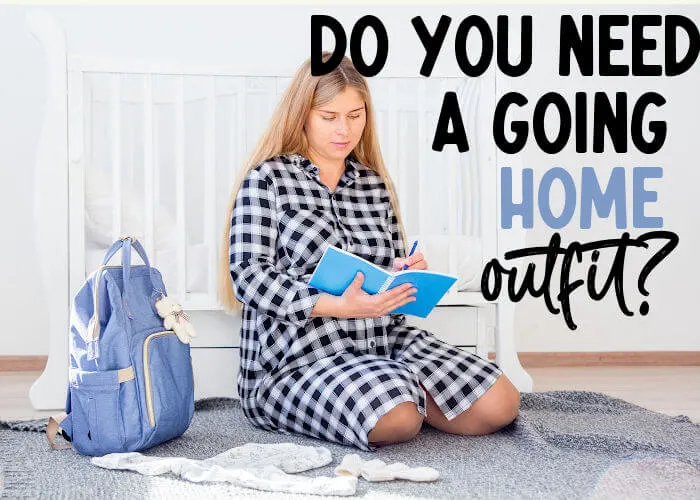 You really don't need a special going-home outfit unless you really want one.

Again, you aren't really going to be feeling like your glamorous self just yet and things are still sore so comfort is priority number one.

I just wore what I arrived at the hospital in which was a comfy maternity sweatsuit.

You can most definitely just grab a few items from the list and be done, like a nursing top and some comfy pants, or if you're feeling a little fancy maybe even a cute nursing dress.

If you are planning on some fun photos then you may want to look a little more put together but comfort is still key. You could opt for cute matching sweatshirts + onesie for mom, dad, and baby.

Personally, all I wanted to do was get home and relax. I didn't care what I was wearing.

I just wanted to be home.
What Baby Needs For Going Home From the Hospital
As long as you have all the essentials to take baby home from the hospital, you'll be just fine.
The most important thing is the car seat.
Make sure you've already installed the base in your car before you head to the hospital or you'll be doing it in the parking lot because they won't let you leave.
It's also a good idea to figure out how to put baby in the seat and buckle things up correctly. They'll check for that too.
You could get one of those adorable hello world outfits if you just need to add more cuteness to the world.
Don't forget a car seat canopy cover!
They create a cozy and quiet environment for baby and protect them from the elements so no need to worry about rain or snow.
Grab a FREE Car Seat Canopy with code cenzerelyyours50

FINAL THOUGHTS ON WHAT TO WEAR AFTER GIVING BIRTH IN THE HOSPITAL



That pretty much wraps up everything you need to bring to keep you comfortable at the hospital after giving birth.

These postpartum hospital outfits will come in handy over the next few weeks (more like months) at home because they're loose and comfortable.

Exactly what you need right now.

Make sure to get started on your hospital bag well before your due date because as much as we love planning, babies often have plans of their own and you just never know when they might decide to make their debut.

Grab a few of each item on the list and you'll be well prepared for what to wear in the hospital after giving birth and feeling as comfortable as you can (in a hospital).

You'll be ready for any visitors that might drop by as well as the ever-changing hospital temperatures.

Do you have any postpartum outfit essentials I forgot to mention?

Leave me a comment and help out other mommys-to-be, I'm always updating this list.