Looking for the best baby books about daddy to gift a new dad this Father's Day? I've rounded up my favorite board books for baby (or toddler) to give dad for Father's day as well as some for older kids to give dad.

It's a tradition in our house to gift books for holidays because we absolutely love to read together.

Father's day is no different.

Every year my toddler gives his dad a new dad-centric book that they can add to their bedtime reading collection.

Many, if not most baby books focus on the mom and child bond so I think it's equally important to seek out those daddy and me books so you're little one sees that dad is an important care giver as well.

Plus it makes for some special bonding time between dad and the kids. I notice my son almost always picks up at least one dad book to read whenever it's dad's turn for story time.

So let's jump right in and look at some of the best baby books gifts for new dads this Father's day (or any day).


Disclaimer: as an Amazon Associate I earn from qualifying purchases. This comes at no extra cost to you.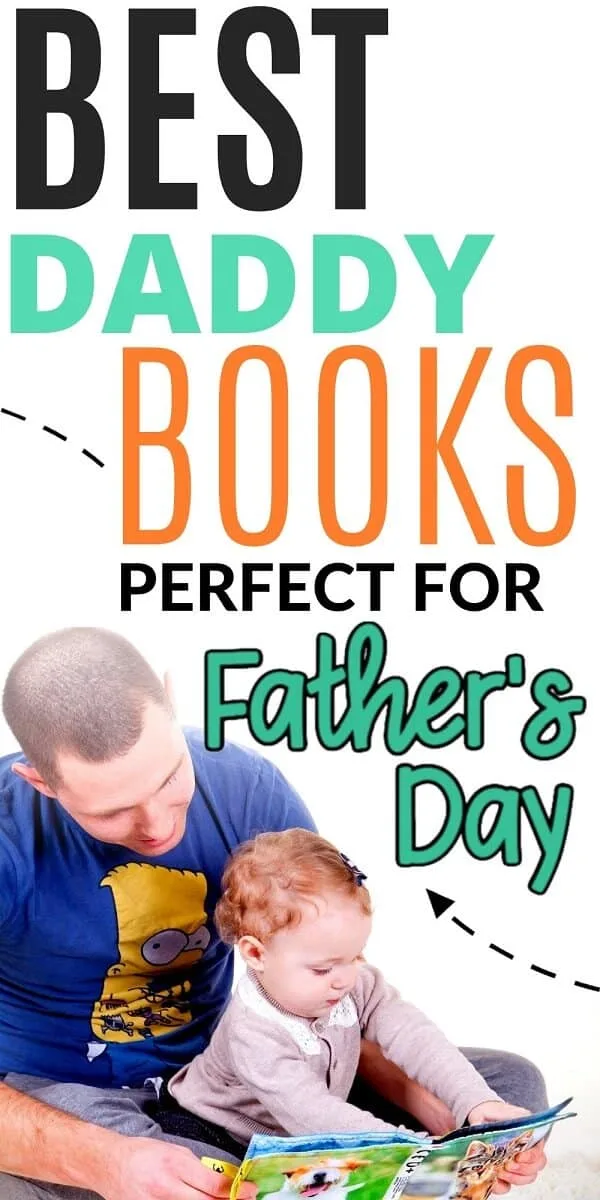 Best Dad Board Books For Father's Day


These fun board books about dads are perfect for babies and toddlers. They use easy, simple text and often rhyming as well.

This makes is so easy for a toddler to often 'read' on their own after they've heard it a few times.

They're usually fairly small, perfect for little hands. The thicker, harder board pages means it's easier for chubby hands to turn the pages and it makes them more durable (not easily ripped).

If you want to take a closer peek at any of the books you can click the title links or book cover images.

I've included a few that aren't specifically baby board books but they were just such awesome dad books (that totally made me cry) that are serious must haves.

Because, lets face it, baby board books don't always have a lot of substance – since they're made for babies. So a few of these are going to be books that dad loves and the kiddos will eventually love it too.

Many of these would be perfect for read-a-louds with dad!


I LOVE DAD WITH THE VERY HUNGRY CATERPILLAR BY ERIC CARLE



If you're a fan of the Very Hungry Caterpillar, you'll love this tribute to dad version that features Eric Carle's signature beautifully illustrated colorful animals saying all the things they love about their dads.

It's a perfect addition to any Father's Day gift or any day you want to show dad how much he means to you.

You can see this customer's product photos if you want a peek inside.


MY DAD IS AMAZING BY SABRINA MOYLE



This book is part of a series (My Mom is Magical) and features a mythical yeti – a beautiful and joyful tribute to how amazing parents and their kids are.

It's super sweet and fun with gorgeous eye-catching illustrations (take a look inside with these customer's photos) and silly sayings like "my dad is cooler than a million popsicles'.

My toddler loves the bright colors and picks this one to read pretty often.



DADDY HUGS BY KAREN KATZ



This is a cute daddy and me book that has counting, counting dad hugs – all the different kinds.

It's a simple book with beautiful illustrations and vivid colors that's sure to capture baby or toddler's attention.

Each page also has the pet cat hiding somewhere, now that my little guy is a toddler, he loves looking for the cat on each page.

You can take a peek inside with this customer's helpful photos.


DADA BY JIMMY FALLON



Here's a super popular one by NBC's The Tonight Show host Jimmy Fallon.
He was on a mission to make sure his baby's first word was dada and later wrote this cute book inspired by his mission.

In this book, a bunch of animal dads are trying to teach their babies how to say dada instead of their traditional animal sounds.

Spoiler alert! They all manage to say it (except the duck).



I LOVE POP! A CELEBRATION OF DADS BY DR.SEUSS



The perfect way to show dad some love on Father's Day (or any day) is with a whimsical magical Dr.Seuss book!

This super simple hard cover book celebrates dads and all the qualities we love about him.

You can take a peek inside the book with this video.

Another dad themed one you could choose from Dr. Seuss is Hop on Pop.




BECAUSE I'M YOUR DAD BY AHMET ZAPPA



In this sweet book, this monster dad lists all the things he will do for his son because he is his dad.

It's all about the fun and silly dad who will let his son eat pasta in the bathtub or how to burp like a champion.

Fair warning though- they wrap up by saying that monster dad will do all these things for his son because HIS dad did all those things for him.

So for dads who may not have a great relationship with their own fathers, this may not be an ideal book.

I love the beautiful artwork in this book! It's super cute, take a look!

I LOVE MY DADDY BY SEBASTIEN BRAUN



Follow a day in the life of this papa bear and his cub. It's a super sweet and touching look at the bond between father and child and all that daddy does.

"Sometimes daddies are loud and playful. Other times they are quiet and compassionate. And they are always loving."

It's simple text and uplifting message make this such a perfect choice for Father's day. This is one of those tear jerker books and I'm a sucker for a good heartwarming story so this is one of my favorites.


RELATED POST:
The Best Gift Ideas For New Dads and First Time Dads
Best Baby Shower Gifts For The Mom Who Has Everything
MADE FOR ME BY ZACK BUSH



This book just gives me all the feels.

I'm not crying, you're crying!

If I had to pick just one, this would be it. It's the perfect book for dads.

It's super sweet and it just knows all the right heart strings to pull if you're a parent (mom or dad).

"From a child's first uttered "Dada" to his or her first unsteady steps, nothing can adequately convey the joy and awe of watching the birth and growth of a new child."

I love that they say 'you are the one made just for me' – so fitting.



YOU MADE ME A DAD BY LAURENNE SALA



Here's one more that will have dad reaching for the tissues.

In this sweet celebration of fatherhood we follow this new dad's journey from pregnancy (and running out to buy mama rocky road ice cream), choosing names, and beyond.

Check out these beautiful trailer by Harper Kids for this book.

It is seriously the sweetest thing ever!

And I'm crying again!

Although it shows a dad and daughter, they don't specifically mention boys or girls so you can use it for either.

The You Made Me a Mother version is just as sweet! You'll love that one too!

These last two aren't baby board books but rather hardcover books that could be perfect for toddlers above 3 who love to listen to stories.

RELATED POST: Easy Peasy DIY Hand Print Gift That Kids Can Make For Father's Day

BEST DADDY DAUGHTER BOOKS



Now, let's look at that special father-daughter bond and some sweet books that highlight this beautiful relationship.

It's such an important and monumental first relationship for a little girl and these books showcase some of those very special moments shared between dad and daughter.

A dad is often a girl's first male role model so of course we want to show positive books and examples that highlight it.



DAD BY MY SIDE BY SHOOSH



" Whether they're playing make-believe, teaching you new things, or warding off monsters under the bed, dads are always there when you need them."

This sweet book celebrates the special connection between a dad and his daughter with a larger-than-life dad and his little one sharing sweet moments like brushing her hair.

The illustrations are so whimsical and heartwarming. It beautifully illustrates the daddy and daughter relationship (you can see inside the book here).

I love that it shows dad doesn't always have to masculine and strong (even if he looks like it).


WHY A DAUGHTER NEEDS A DAD BY GREGORY LANG



This is a super sweet and touching story that explores all the ways a father will help his daughter grow and reminds the reader of the one of a kind relationship they share.

Take a look at this sweet passage – all the feels guys!

"From the first time I held you, so perfect and new,
I promised to do everything that I could do
To help you become your most wonderful YOU,
My darling, my daughter, my girl.
It shows that dad will always be there and you can count on him for anything.

I adore the beautiful illustrations in this book. Take a look!

Keep in mind, this one isn't a board book but rather a hardcover book. It's also more wordy so a younger toddler may find it too long.



ALWAYS DADDY'S PRINCESS BY KAREN KINGSBURY



This beautiful little board book version of hardcover Always Daddy's Princess follows the growth of a father and daughter from the day she is born all the way to her own journey into motherhood.

It reminds the reader of the sweet bond and wonderful blessings of raising a child with lots of fun memories like tea parties, braces, soccer games and more.

The illustrations in the book are so captivating! Here's a page illustrating the daughter's wedding day. So cute!

The story is so so sweet and it's definitely going to make you want to cry.

I want to mention that this book also includes one line bible scriptures.

So if you prefer to keep things secular, this may not be the right one for you.



DADDY'S LITTLE GIRL BY MICHAEL GORDON



This is an adorable book for little girls and their super hero dads. I have Gordon's book about Super Mommy as well but I love this one even more!

The illustrations in this one are way cuter. They're so beautiful and expressive, you can totally feel the love.

They show dad can be strong and brave and protect you but also sweet and gentle (like when he dresses up with you, puts on a crown and sits down to enjoy a tea party).

This book is written in adorable rhyming phrases and reminds us parents just how much our little ones look up to us.

" He fixes what's broken and makes it like new. Her daddy is her hero and her best friend too"
My only complaint with this one is that it isn't a board or hardcover book. I adore the story but definitively want something more durable for little hands.




VADER'S LITTLE PRINCESS BY JEFFERY BROWN



If your dad is a Star Wars dad, he will absolutely love this one! It follows the life of the dark sith lord and leader of the Galactic Empire on a 'what if' journey through fatherhood with his princess Leia.

They deal with all the typical dad stuff you might come across as a father, from babyhood all the way to the teen years. Everything from remember to brush your teeth to dating and beyond.

It's the perfect way for dad and daughter to bond over Star Wars. It takes a lot of the scary away.

There's even a father and son version that I'll link later.

If you're curious about the images, take a peek here, they're super fun and cute comic book style art.

RELATED MORE BOOK LIST POSTS:
❤ The Best Baby Books For Raising Bookworms
❤ Awesome Books for Kids About Fall (Autumn)
❤ Super Fun Easter Books For Kids

BEST FATHER AND SON BOOKS



Surprisingly, there wasn't as many kids books that specifically focused on the dad and son bond like they do with the father-daughter bond. Here's a few books that feature a father and son (although some of them can still be used for girls too because it isn't too gender specific).


DADDY WILL ALWAYS LOVE AND PROTECT YOU BY LARRY HAGNER



This book was written by a dad who has trouble communicating just how much he loves and cares about his kiddos. He saw that there are tons of books about moms and babies but no so many that really describe how dad feels.

It's a perfect book for daddy to read with the kiddos. It features a father bear and his boy cub (not gender specific though) as he tells his cub just how much he loves him.

Like how dad is always thinking about you (even when he's at work) and constantly missing you. How he will always be there for you (even if you did something you weren't supposed to).

The reviews show that so many dads found this book truly relatable and it expressed exactly how they feel toward their children.



DADDY'S ARMS BY FABIAN FERGERSON



This was one of the few books I could find that was a father and son book.

It's a fun and imaginative story of a young boy's adventurous interactions with his dad, written from the wildly imaginative point of view of the child.

Whether it's bath time, play time or bed time, it's always an adventure with dad.

This book is so touching, creatively written and beautifully illustrated, a real treasure! I love the message that you're always safe in daddy's arms.



FOOTBALL WITH DAD BY FRANK BERRIOS



Does anybody remember these Little Golden Books from your childhood? I had a ton of these and they still don't disappoint.

In this cute story, a father and son share their love of football and watch the big game together every Sunday.

They have their daily rituals of getting ready for the game and making special memories in the process.

This one is perfect for a football dad or little football lovers.

I love how big and colorful the pictures in the books are, just like when I was little.




ME, G, AND THE LOCUST TREE (A FATHER AND SON STORY) BY CLAY ANDERSON



"In the spirit of The Giving Tree, this is a tale that rings true with every parent, as an old locust tree reminds us of the importance of making time to be together."
In this heartwarming story a father shares his memories of his favorite childhood tree with his son and helps his children make memories of their own as they spend time doing things that dad loved to do as a kid.

I just found this story so irresistibly sweet and nostalgic. I think we all have that one special tree.

It's a great generational book too, I bet dad and even grand-dad can relate because it really is one of those timeless stories that's sure to become a favorite classic.

The illustrations are also so whimsical and charming! I absolutely loved it

Take a look.



DRAGONS: FATHER AND SON BY ALEXANDRE LACROIX



This is such a fun and whimsical little story about a father dragon and his son Drake.

One day Drake's father tells his son that he must go to the village and burn down a house. Why? It's tradition.

Drake is nervous because he hasn't ever done it before and he doesn't want to disappoint dad.

It has a very sweet and endearing message about a dad's unwavering love.

What I found absolutely captivating about this book was the gorgeous watercolor art. The faces are so expressive and detailed!

Dad even has a 5 o'clock shadow.

It's beautifully done and the story is enjoyable for kiddos and us parents.



DARTH VADER AND SON BY JEFFERY BROWN



This one is just like the Darth Vader and his little princess book but the father and son version with the Sith Lord and little Luke.
"What if "Luke, I am your father" was just a stern admonishment from an annoyed dad?

In this hilarious and sweet Star Wars® comics reimagining, Darth Vader is a dad like any other—except with all the baggage of being the Dark Lord of the Sith."
Everything from take your child to work day (on the Death Star) to using 'the force' to raid the cookie jar.

Any Star Wars dad is sure to love this one!

I assumed this was more for dad but the kiddos seem to love this one too!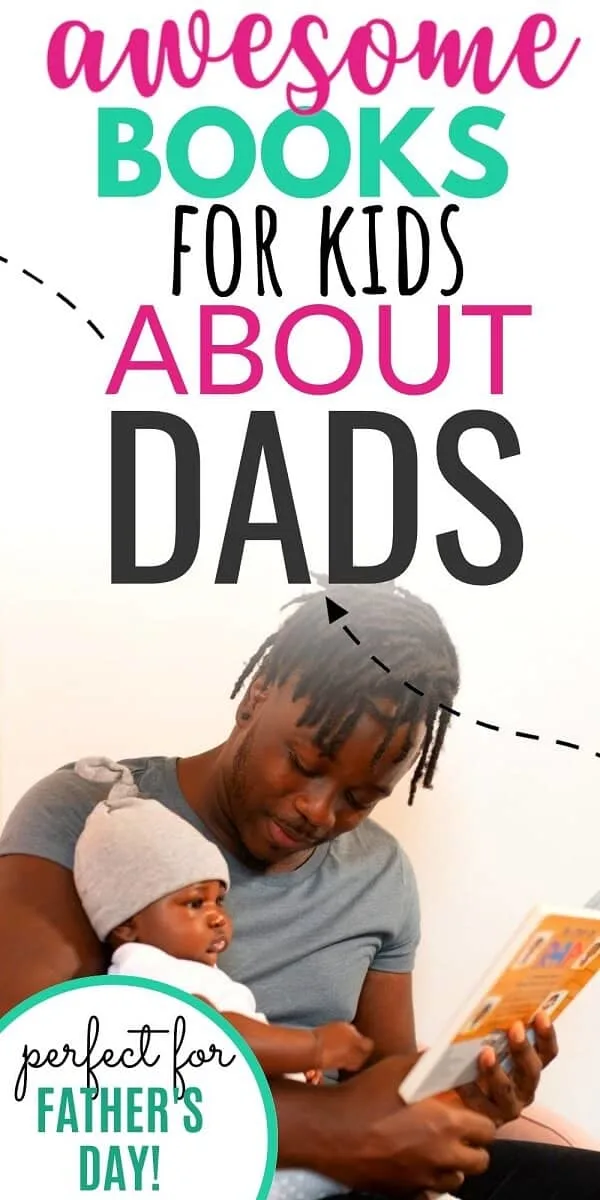 BEST CHILDREN'S BOOKS FOR FATHER'S DAY



I hope you enjoyed this list of wonderful baby books about dads. Yes, I know they aren't all baby books but what your little one enjoys is the time spent together making memories.

It's so special to spend some quality time reading together daily and it's important for your little one (and dad) to see fathers in books too.

A book about dads and everything they do makes a wonderful addition to any Father's Day gift.

It's surprising how limited the children's literature about dads is. I would have loved to see more books about all the different kinds of dads (not just the big and brawny dad) like the stay-at-home dad.

I think we need to show our kiddos that dads are very much a part of our every day lives, dad books should be a regular occurrence, not just for Father's day!


Do you have a favorite book about dads that isn't on the list?

Leave a comment!