The Ultimate Push Gift For Dad

Looking for the best push present for dad? I didn't even think about gifts for new dad at the hospital when I was expecting my first. I really wish I had thought ahead and planned something special.

I just assumed a push present was something for mom (since dad isn't actually pushing anything), but he's about to become a parent too! So I think, it's actually such a sweet idea to give dad a gift from mom to commemorate this special day.

After all, dad doesn't get a baby shower or any other thing that's just about him when it comes to new dad life (although I did do a co-ed baby shower so my guy would feel included in this journey).

If you want to find the best push gifts for dads, I've rounded up some of my favorite gifts for new dads – some sentimental gifts for new dads and some that are practical, and some that are just plain fun!

Disclaimer: as an Amazon Associate I earn from qualifying purchases. This comes at no extra cost to you.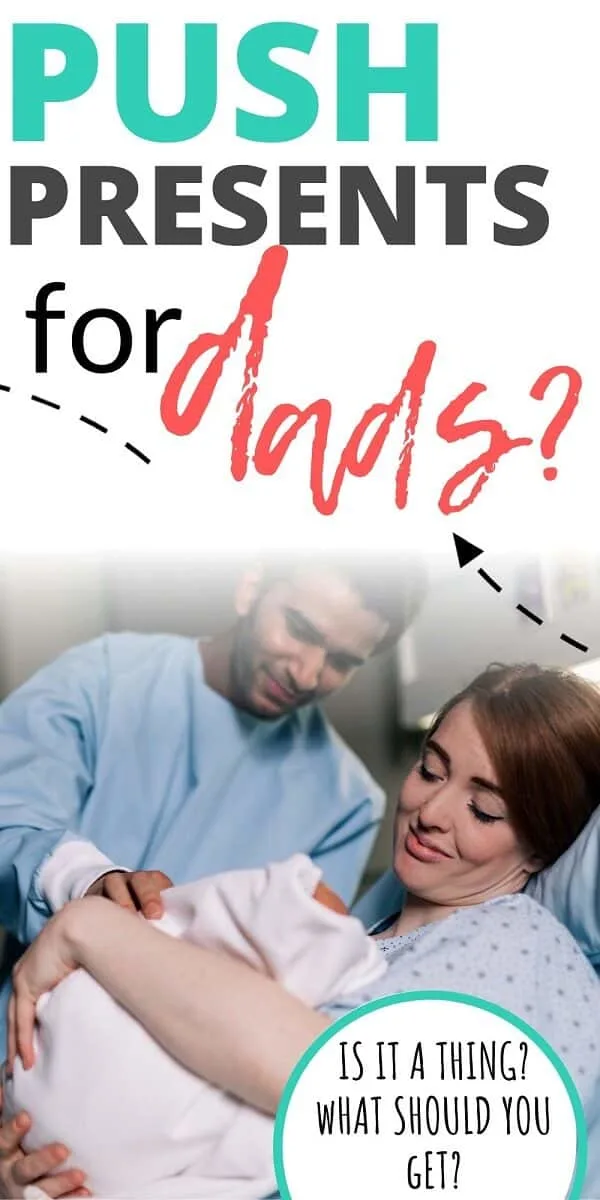 What Are Push Presents?

Push presents are a fairly new trend in the world of pregnancy and babies. It's basically a special gift from dad to a new mom for everything she's going through to bring this precious baby into the world – morning sickness, backaches, sleepless nights, and of course the big PUSH!

It's by no means a must but it's definitely a nice gesture.

I first came across the idea when I was watching Yummy Mummies on Netflix and one of the moms-to-be got a Range Rover as her push present!

It can be anything really.

Mine was a Kate Spade diaper bag (which I don't use anymore because it's actually so impractical).

You can see what I actually ended up using instead in this post on newborn and baby must-haves.

Do Dads Need a Push Present?

Although nobody actually NEEDS a push present, I think it's a super sweet sentiment. I think it's the word choice that makes it sound a little strange. Obviously, dad won't be doing any pushing but he's still totally part of this journey.

I think it's better to think of this as a 'firsts' milestone gift instead of a push present for dad.

It's another one of those 'firsts' you're embarking on together and it makes sense to commemorate this BIG first with a special gift to let your guy know you appreciate him putting up with your hormone-fueled rage or midnight craving runs to In-and-Out.
Push presents are generally given by the husband or wife but sometimes they're also given by close family members like grandparents or siblings to celebrate the new parents.

Speaking of presents, if you're reading this I'm assuming you're likely a parent-to-be so I just want to share a genius hack! You can save a ton on baby products with a few tricks. Read the post below to find out how!



BEST GIFTS FOR NEW DADS


A push present for dad can be anything really. Something sentimental and meaningful. Maybe even a gag gift if that's the kind of relationship you two share. Or even something useful or practical for new dads to help guide them along the way.

Some of these would even make great Father's Day gifts for new dads too!

Here are a few of the best push present ideas to get you started. If you want to check out more details on any of the products listed just click on the blue links.

Now let's check out some cool push gift ideas for dad.

Practical Push Presents For New Dads


Let's start off with some practical gifts you can give the new dad. These are useful items to help him with his new role as a father. Think about things that will make life with a new baby a little more manageable or provide tips and tricks to help with the learning curve for this new role.

It's ALOT! I know.

More than the gifts though, what's really appreciated is stepping back and letting dad find his own way of doing things.

Don't be a micro-manager helicopter parent already.

Instead, try a more subtle hint on how to do things 'the right way' with some great baby books for dad or some other helpful tools.



Baby's screaming and you don't know what to do! They aren't hungry and they haven't pooped.

I know! Get your baby shusher!

Moms are crazy for this baby shusher thing that helps soothe a newborn and get them to sleep.
It's a known fact that white noise helps babies feel calm and ready for sleep.

That's because it mimics the womb. It's not quite in there, they hear the rushing of blood and mom's heartbeat so it's comforting to have a familiar sound to fall asleep to for babies.

I think this is a practical push present any dad will appreciate (or moms too for that matter).



Another awesome practical gift for a new dad is this diaper duty tool belt style apron fully stocked with diapers and wipes, plastic tongs, safety glasses and travel-sized baby products, and a funny new dad poem.

It makes for a funny gag gift that's actually pretty useful!

You can see some customer product photos here if you want a closer look.


RELATED POST: Teach Baby To Sleep in the Crib Through The Night
BEST PARENTING BOOKS FOR NEW DADS (AWESOME PUSH PRESENT FOR DADS)
Books make a great gift idea for new dads!
They're useful, practical, and help you figure out all the things when it comes to pregnancy and life with a newborn. The great thing is, there are tons of awesome books geared towards dad and written in ways that they'll appreciate.
Many are written by dads, for dads which is awesome!
Here are a few of our favorites.


The dads seem to love this book!
What I hear from the guys is that it's quick and easy to read, informative (without being overwhelming), and gets to the point without all the fluff or filler material that traditional parenting books have.



This one seems very much written for guys by guys ( a father and son duo) in a style that men will appreciate including lots of step-by-step instructions and diagrams.

Reviews from the dads say this one is 'simple, useful and fun to read'. You know you can trust the advice as it comes from a veteran pediatrician but it's written in a way that's easy to read and very relatable.

Check out this review if you want to take a peek inside at some of the diagrams.



An indispensable survival manual for guys entering the trenches of fatherhood, Be Prepared is loaded with one-of-a-kind insights, MacGyver-esque tips and tricks, and no-nonsense advice for mastering the first year as a dad.

This one is funny, informative and an easy read.
You can get through it fairly quickly (it's about 240 pages). I actually found that a lot of the stuff written for women wasn't funny or enjoyable to read. I personally found this one a great read!
It doesn't come off as condescending or make you feel like you're being lectured which I think the guys will appreciate.


RELATED POSTS:
Epic Pregnancy Announcement Ideas For Social Media
How To Tell Your Husband You're Pregnant in a Fun Way
Creative Grandparents Announcement Ideas

This was both mine and my hubby's favorite! I can totally see why it was named one of Amazon's best humor books of 2017!

I would read this even if I didn't have a kid.

I found his insights hilarious, so truthful, and sprinkled with lots of helpful advice. It's just an enjoyable read so you can't go wrong with this one.

"This guide for first-time dads tackles funny but important questions, like how to be a good dad without becoming a BabyBjörn-wearing tool in the process, or what to do if your child loves your iPad more than they love you. "



I'm not crying! You're crying…Oh my goodness! All the feels.
This book is SO SWEET!
This lovely book highlights all those tender moments between a father and his child 'from a child's first uttered "Dada" to his or her first unsteady steps and beyond.

It's a perfect one for a daddy to read with his little one. Although, I think moms will love it too as it'll totally pull on your heartstrings as well and describes how any parent feels for their child.

Check out this review if you want to take a peek at some of the pages!

Personally, this one is a must-have on my list! I absolutely adore this book (as does daddy).



This one is a best seller so I had to include it in my list too. We don't have this one yet but I did check it out online. This one is perfect for newborns and babies.

It's a very simple book with one or 2-word texts on each page featuring animal dads and their babies with the focus on getting baby to say 'DADA' first as that was Jimmy's goal with his daughter.

I love the illustrations in the book, you can take a peek here.

SPOILER ALERT: all the baby animals say DADA in the end (except the duck).
This wasn't my favorite, it's cute and the illustrations are nice but it's a little too simple for my liking. I would prefer something with a little more substance like the first book I mentioned.

What do you think?



This one is another super sweet tear-jerker I love!
It's a warm look at the joys, fears, and responsibilities of being a dad over the years with beautiful watercolor illustrations. It's so relatable and makes the reader reminisce about the journey of parenthood.

It would also make an absolutely perfect gift for Father's Day.

This one is definitely a must-have (especially if you want to make dad cry).
That's why it's on my first-time dad gifts list as well.
Check out my full list of the best board books to gift a new dad.


10. 101 So Bad, They're Good Dad Jokes by Elias Hill



Every dad needs to be armed and ready with his arsenal of bad cringe-worthy dad jokes!
I think this dad joke book would make such a cute little gag gift to add to your dad push gift ideas or even as a Father's Day gift.

This is a #1 Best Seller that's sure to make any corny dad laugh and kids groan.

There are a bunch more like this and some that also comes as a 365 Days of dad jokes calendars as well.

11. Audible Subscription or Kindle Unlimited

You could even go one better and add a new kindle reader and try out KINDLE UNLIMITED to give him access to all the parenting books he could ever want!
If he's like, who's got time to read lady?
Opt for an Audible subscription and a pair of wireless earbuds so he can just sit back and listen to all the parenting knowledge while somebody else does the reading.
You can get started with the free 30-day trial.
RELATED POST: DIY Father's Day Canvas Hand Print Gift
12. MANLY DIAPER BAG FOR DAD


I'm pretty sure dad won't really want to carry around your over-the-shoulder diaper bag. There are bound to be daddy and kid dates in the future and he's going to need his own diaper bag.

I suggest going with a backpack-style diaper bag for its ease of use and practicality.

I actually ended up ditching my Kate Spade diaper bag for a backpack one because most of the time I need both hands free and a traditional diaper bag is actually so bulky and impractical.
I suggest you go this route too because it's such a perfect first time dad gift!



ActiveDoodie Dad Diaper Bag Backpack



Here's a diaper bag that dads will appreciate! It has some great features like:

♡ Large waterproof camo changing pad

♡ Insulated bottle holders

♡ Stroller straps

♡ 10 YEAR WARRENTY

What I love about this diaper bag is that it's meant to grow with dad as his duties change. It's meant to be an adventure gear bag when the kids get older and it's time to start getting more active.

You can see a video of all the features for a closer look.





HSD Diaper Bag Backpack for Dad



This is another great option (although a little pricier than the first).

It's got tons of storage space for all of baby's little knick-knacks and easily accessible separate pockets for storing baby wipes, and a diaper changing pad (included). It's comfortable to wear and has stroller straps as well.

However, I didn't notice insulated bottle pockets on this one. I think that's a handy feature to keep baby's milk at the right temperature when you're on the go.

You can see some pictures of it in action here, this dad of 3 packed enough stuff for everybody for a theme park trip!



Filberry Messenger DIAPER BAG for DADS



If your partner is more of a messenger bag person, try this one instead.
It's got lots of storage pockets and a built-in insulated bottle compartment to keep baby's milk warm.

I like that it has a zipper at the top that opens up to allow quick access so you don't have to fiddle around with the flap when you're in a rush.

A lot of dads continue to use this bag post-baby for their laptops and other gadgets as well.

I love a product with multi-use!

RELATED POSTS:
PREGNANCY FIRST TRIMESTER FAVORITES + ESSENTIALS
UNIQUE AND CREATIVE BABY SHOWER GIFTS FOR MOM TO BE
13. BABY CARRIERS FOR DADS
Babywearing isn't just for moms.
Dads can totally take part too! It's the perfect push gift for dad that'll give mom a much-needed break too.
You'll likely have to get dad his own carrier unless you two have similar builds as most of them come in different sizes and you need a snug fit.

Babywearing is such a great way to bond with your newborn and give them a sense of safety and comfort. Plus it leaves your hands free to get things done too.

My little guy pretty much lived in his baby carrier for the first 3 months.

You can either go with a carrier or sling/wrap. When choosing one, think about the fit, how easy it is to put on and take off, and whether or not it's a product that grows with your baby.

Here are a few of my favorites in both styles:


Ergobaby Carrier, Omni 360 All Carry Positions Baby Carrier



This is a fantastic baby carrier that grows with your newborn and can be used for babies between 7lb-45lbs!
It's very adaptable and allows you to position baby in many different ways (facing outward, inwards, on your back etc).
We have this one and my hubby says it's super comfortable to use.
He can wear our little guy for hours without back pain. I love that the straps are also padded so it doesn't feel like it's digging into your shoulders.

It's also easy to put on and adjust so you can do it yourself, no need to have 5 people strap you in. But I urge you to watch the videos first! It makes the process way easier when you know what you're doing.

It even has a detachable storage pouch just in case you need to store a few things.

The only downside I would say is the price. This one is on the pricer side but worth it in my opinion, since we used it all the time.

We also picked up a cheaper option (we actually got this one first because wanted something a little inexpensive to leave at the grandparent's house).
Take a look below.



Infantino Flip 4-in-1 Convertible Carrier



As I mentioned, this was the first baby carrier we picked up and you can't go wrong with the price. I think it performed very well for being so inexpensive.

This carrier also grows with baby and can be used with infants from 8lb-32lbs.

I preferred the Ergo baby because the padding is much thicker and more comfortable to use. I found this one was good to wear for short periods of time but I would get slightly uncomfortable after an hour or so of use.

The great thing about this one though is it's easily adjustable and fits me (I'm a tiny little 5-foot person) as well as my husband (over 6 feet tall).

I think this would be a great buy if you aren't sure if babywearing is right for you and you want to give it a try but maybe not invest a ton right away.



I was gifted a Baby K'Tan wrap-style carrier for my baby shower and used this a lot as well. Personally, I found this the most comfortable to wear as it's just fabric, no hard straps or buckles.

It's super easy to use (as long as you watch the video first) and doesn't need any complicated wrapping techniques.

This one is individually sized though so you won't be able to share with your partner unless you're both about the same size.

Definitely use their sizing guide to select the right one for you or your partner.

I love that I can wear this one for hours without pain and baby seemed super comfy in here too. My little guy would fall asleep in here all the time.

This Dadwear Bondaroo Kangaroo Shirt is the best thing ever for skin-to-skin with baby right after birth!
It's the perfect way to have some skin-to-skin while keeping baby warm and cocooned (without having to take your shirt off).
Check out this dad's review if you want to see some photos of it in action.
He mentioned he loved how soft and comfortable it was. Plus he preferred it to wear instead of hospital robes which are often small and fit awkwardly.
You'll notice this shirt is elongated so that it doesn't ride up when you place baby inside.
Your other option is Kangaroo T-shirts that act like a baby carrier but I haven't found any amazing quality ones from amazon, they all seem pretty average.

These LalaBu Dad Shirts are the gold standard but they always seem to be out of stock when I check. This is an amazing idea for guys who don't like the idea of having to fasten carriers but make sure to do your research and find a good quality one.
RELATED POSTS
NEWBORN BABY MUST HAVES YOU'LL ACTUALLY USE
The Best Gifts For Expectant Dads
15. New Camera
A first-time father definitely needs a new camera to capture all of baby's firsts and maybe even some cute maternity photos of mom. It's the best push present for him (and the whole family really).
This practical gift just keeps on giving.
You'll have memories to keep and cherish forever!
Sure, you could totally use your phone camera but if you're going to be blowing up any of these photos to hang up around the house then it'll get all pixel-y and who wants that.
We did a bunch of research before settling on the Sony A6000 mirrorless camera as our new family moment capturer.
I love that you get the quality of a DSLR but without the bulk and weight. This means you'll actually take it out and use it.
Another great option if you're on a budget is to go with a fun Polaroid-style camera that'll give you instant pictures! Because let's face it, how often do you actually print the photos?

16. Phone Docking Station Organizer Stand
All those sleepless nights are bound to leave both mom and dad feeling completely scatterbrained!
Where'd you leave your keys? Where's my phone?
We ask these questions pretty much on a daily basis.
So an excellent push present to help dad stay organized and a little saner is this genius phone docking station organizer.
This one is thoughtful and practical. It's something he'll actually use so why not?

17. Daddy Tool Kit
If dad isn't already the owner of a tool kit, or maybe he could use an upgrade, this is one of the best push present ideas!
He'll have to put a ton of baby stuff together or hang up all those new baby pictures around the house. He'll be baby-proofing the house soon enough too.
Treat dad to the ultimate Black and Decker Tool Kit with Drill.

18. Tile Mate for Keys
These tile mate for keys is such a good idea for everybody!
If you're constantly misplacing your keys (guilty!) or wallet, phone, or whatever else, just add this little tile mate gps tracker and you'll never have to waste time looking for them again!
Heck, I've even heard of some people who use this for their pets, genius!

19. UV Light Sanitizer Box
Guess what babies absolutely love to do?
Put everything and anything in their mouths.
So to combat those gross germs, this UV light sanitizer box would be an amazing gift that benefits the whole family.
This thing is a pretty good size so you can sanitize almost anything you want. Toys, keys, the tv remote, cellphones, even baby bottles!
You'll use this thing endlessly so it's well worth it!
This thing zaps away germs within seconds and leaves you with peace of mind. With a baby around, you'll be sanitizing all kinds of stuff (quite often) and this makes it way easier.

20. Portable Car Vacuum
With the addition of kids, your once clean car becomes a trash can on wheels. It's inevitable with all the snacking, take-out runs, and poop explosions.
That's why a portable car vacuum (like this #1 best seller on Amazon) is a great idea! Getting all that messed cleaned up doesn't have to be hard work with this powerful little tool that does all the heavy lifting for you.
The best new dad gifts are practical, useful, and thoughtful so I think this would be an awesome push present for husband.
This one checks all the boxes.

21. Smart Home Control
Once you have a baby, out goes control. There's just so much that's out of your hands now and you have to learn to roll with the punches.
So why not give him absolute control of his home with a brilliant smart home control device like the Echo Dot smart speaker.
Just use your voice to turn on lights, adjust thermostats, and lock doors with compatible devices. A tool that comes in super handy when you have your hands full with a newborn.
If you add a Fire TV, you can even control playback (pause, forward, rewind, etc) with just your voice. That's definitely something that comes in handy when you've got a newborn that falls asleep on you and you can't move because it just took an hour to get them to finally fall asleep.

22. Selfie Stick Tripod
I must have like 235485 photos of my baby boy from his first year.
Guess how many of them I'm in. Like 5.
This was one of my biggest new mom regrets.
Make sure you and the hubby get in those photos too because that's what you're little one is going to want to see when they're all grown up.
Document every special moment and get in the shot with this selfie stick tripod that also includes a wireless remote!

Thoughtful Push Presents For Dads (Sentimental Gift Ideas)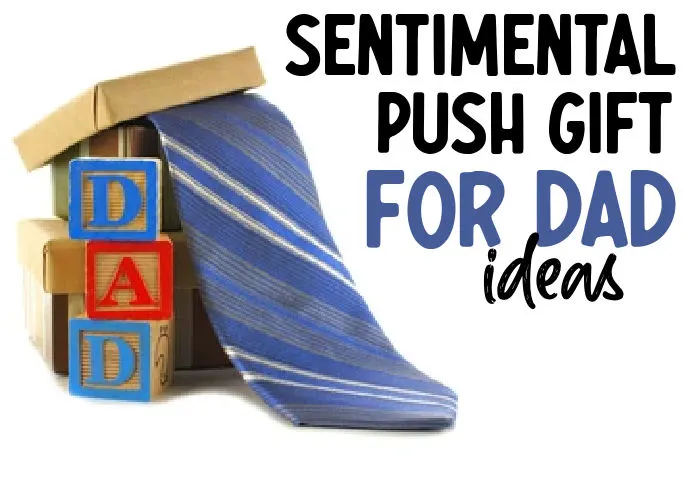 Now, on to some sentimental push presents for dads to commemorate becoming a father. These are the kinds of gifts a new dad will cherish for years to come and remind them of the most exciting adventure yet!

I love personalized or customizable gifts for this category, it just makes things a little extra special and is just the best push present idea.



How cute is this DAD beer mug?! I love that it allows you to customize the date as well!
If you're ordering this before baby arrives so you have a present to give dad in the hospital, just stick to the year instead of the full date.

This would make an awesome Father's Day gift too if you want to wait for the actual delivery date.

You can see a customer product photo here if you're curious about how it looks in person.

Or if you think your partner is going to need a stiffer drink to survive, go with a personalized whiskey glass instead.

You can even buy a special commemorative bottle of alcohol made the year baby was born! He can save it to share with his future drinking buddy or open it up for a special occasion.

You can use the whiskey exchange site to check for options made in varying years to give you an idea of what's available.

This one is definitely a popular push present idea for new dads.
24. Daddy's First Milestones Beer Bottle Labels
If you're getting dad a new beer mug you have to complete the gift with this customized 6-pack of beer. Just grab a 6-pack of your guy's favorite beer and add these daddy milestone labels.
They've got such cute and funny messages like 'dad's first time getting peed on', 'daddy's first guy's night out' and 'dad's first date night'.
What a fun way to honor dad, plus you're practically guaranteed it's a gift he'll use.

25. Mommy and Daddy est 2022 Mugs for Parents-To-Be


If dad is more of a coffee drinker, you can always go with a customizable coffee mug instead. I love that this set includes one for mom and dad!

The script font detailing is super cute!


If you want a funny one check out this DILF est mug! It also has a matching MILF mug.
If he loves trying new gourmet coffees you could even throw in a monthly coffee subscription.
What a perfect way to have your morning coffee!

26. Coffee Maker
If you're going the new coffee mug route, why not throw in a new coffee maker as well? He's going to need all the fuel he can get for those endless sleepless nights.
A fancy pants coffee maker will be a coffee lover dad's new best friend.
Imagine espressos, cappuccinos, and lattes at the push of a button!

A beautiful personalized watch like this would make a perfect push present for dad!

It's customizable so you could write whatever you wanted on the back which makes it great for any occasion. Perfect for a Father's Day gift or new dad gift or even a birthday gift.

This watch reminds me of the Daniel Wellington style ones which look so classic and stylish. I love that you can easily change out the wristbands as well for a completely new look.
If there's a specific watch that dad has been eyeing, you can always get it engraved after purchase at a jewelry store.


This hammer is such an amazing push present for the handy dad. I love the message on the handle, too funny!

It comes packaged in a nice box as well so it's ready to gift when you get it. Just add a ribbon or bow.



29. MATCHING DAD AND BABY APPAREL

The next cute thing on the list is some matching outfits for dad and baby. There are a ton of cute options for dad and mini-me to strut around in. I added this to my hubby's first Father's Day gift and it was a hit!

The set I got was a t-shirt saying king and a onesie for little man saying, prince.

They both looked so cute together! It makes for great photos so definitely add an outfit or two to dad's push gift.

It's also a wonderful keepsake we've added to our baby box now that little man has outgrown it.

Here are a few ideas to give you some inspo. The options are endless!
Whatever your guy is into, there's a matching outfit for that.



For the Gamer Dad – Player 1 & 2 Dad and Me Outfit



Here's another one if mom wants to get in on the action too with a player 1, 2, and 3 set.


For The Foodie Dad: Pizza Pie & Size Dad and Me Outfit



For the Beer Connoisseur Dad: Brew Dad & Micro Brew Infant Set



For The Star Wars Dad: Daddy and Jedi Matching Set

30. Dad Shirt
Part of the official dad uniform is a couple of shirts or sweatshirts with his new title.
Give dad a gift that will let him proudly show off his upgraded status as a new father.
Here are a couple of cute options I found!
How cute is this grunt-style dad hooded sweatshirt?

This papa bear one is super cute too and comes in a bunch of different colors.
Or keep things simple with this minimalist style DADA t-shirt.


31. Matching Sports Jerseys
If he's a sports guy he'll probably love matching jerseys for himself and his newest sports fan. I got my guys matching Toronto Raptors Jerseys and they absolutely loved wearing them out together.
The best part, mom can join in too!
It makes for some really cute photos and fun days out at the game.
32. Newspaper From Baby's Birth Date
This one is an oldie but a goodie and such a thoughtful gift for dad and baby.
It's always a beautiful gesture to save a newspaper from the day that baby was born. What a fun keepsake to look back on years later and see what made the headlines.
You could even frame the front page for a little more drama!
If you're doing this for his first father's day, birthday as a dad etc, you could even take out an ad in a paper and give a shout-out to dad.
Then add this paper along with baby's birth newspaper.

33. Baby's First Photo With Dad Framed
Another great push present for a first-time dad is a picture from baby's birth.
If you can find that first photo of dad and baby from the hospital (or whenever that first was taken) then be sure to frame it for him.
What a special keepsake he can put on his desk at work or his home office.
I loved this cute daddy and me photo frame!
Another fantastic option if you just want to display a bunch of pictures is to pre-load them all on a digital photo frame.
You could even start a sweet family photo album to document your adventures and all the years to come.

34. Dad-To-Be Gift Box
A nice daddy gift box could also be an excellent push present for dad. It's a nice gift that's filled with lots of useful products for dad at a fraction of the price.
This one includes:
Be Prepared Handbook For New Dads
I love My Daddy Baby Onesie
I love you Daddy Book
Buffalo Trace Bourbon Soap
#1 Dad Socks & Keychain
It's just a nice way to make daddy-to-be feel special and included on this journey.

35. Dad Grill Set
If he's a grill daddy then you have to get him an official dad grill set!
It's a fun and inexpensive gift that he'll get a lot of use out of too!
If you're going this route, I would also add this cute engraved cutting board that says Master of the Grill and Best Dad Ever!
Or this funny one that says The GrillFather: The Man, The Myth, The Legend.
If you want to add something super useful to your gift, get him these reusable grilling mats!
They were such a game-changer for our bbq parties. No more food stuck to the grill. Especially delicate stuff that tends to fall apart.
36. Dad Apron
I could've just added this to the bbq kit but it deserved its own spot because every chef dad needs an apron!
There are so many funny ones to choose from so take a look.
I love that this one has pockets to hold utensils and an adjustable neck strap so it fits everybody.
37. Baby Handprint & Footprint Kit
Here's a fun gift for an expectant dad that he can enjoy with baby!
Have some fun making memories and prints with this cute handprint and footprint kit that will leave with a special forever keepsake.
It's a nice first gift to dad from baby.

Best Daddy Push Gifts From Amazon



There you have it, we've rounded up the best push presents for new dads! I would put together a little push gift for dad by incorporating a few of these items and packing them in one of the diaper bags for dads.

This is a memorable time for dads to be and they definitely deserve to celebrate and be celebrated too!

Make your partner feel extra special with a thoughtful push present for dad.

It doesn't matter how much you spend, it's about the thought.

It's about making them feel more confident in this new chapter and letting them know you appreciate them.