Looking for the best push present for dad? I didn't even think about gifts for new dad at the hospital when I was expecting with my first. I really wish I had thought ahead and planned something special.

I just assumed a push present was something for mom (since dad isnt actually pushing anything), but he's about to become a parent too! So I think, it's actually such a sweet idea to give dad a gift from mom to commemorate this special day.

After all, dad doesn't get a baby shower or any other thing that's just about him when it comes to new dad life (although I did do a co-ed baby shower so my guy would feel included in this journey).

If you want to find the best push gifts for dads, I've rounded up some of my favorite gifts for new dads – some sentimental gifts for new dads and some that are practical and some that are just plain fun!

Disclaimer: as an Amazon Associate I earn from qualifying purchases. This comes at no extra cost to you.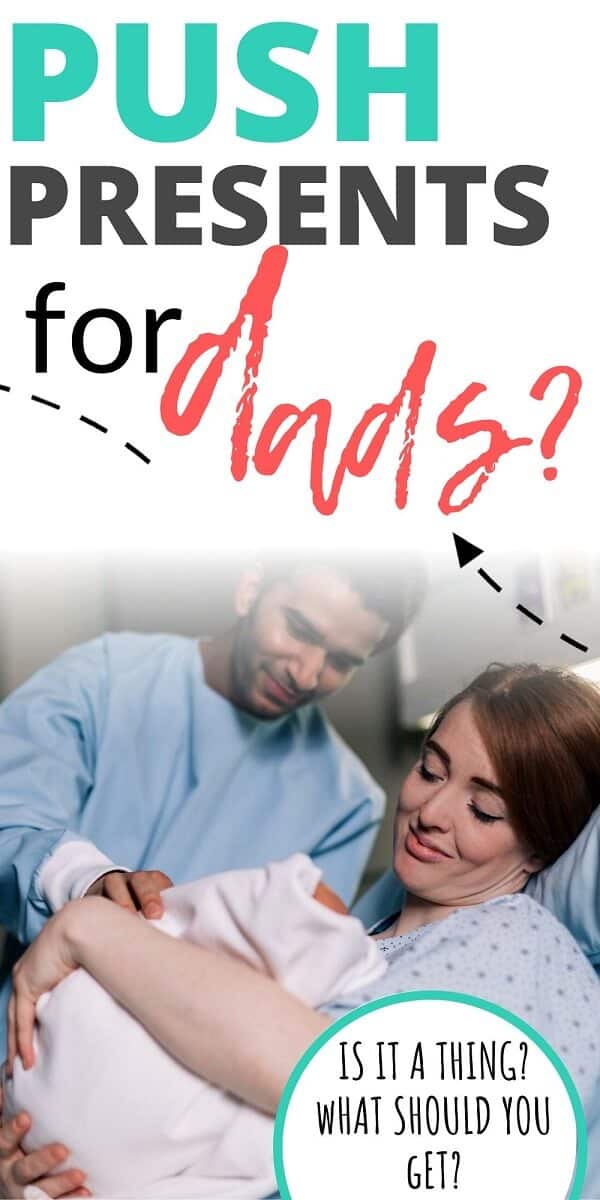 What Are Push Presents?

Push presents are a fairly new thing in the world of pregancy and babies. It's basically a special gift from dad to mom for everything she's going through to bring this precious baby into the world – morning sickness, back aches, no sleep, and of course the big PUSH!

It's by no means a must but it's definitely a nice gestrue.

I first came across the idea when I was watching Yummy Mummies on Netflix and one of the moms-to-be got a Range Rover as her push present!

It can be anything really.

Mine was a Kate Spade diaper bag (which I don't use anymore because it's actually so impractical).

You can see what I actually ended up using instead in this post on newborn and baby must haves.

Do Dads Need a Push Present?

Although nobody actually NEEDS a push present, I think it's a super sweet sentiment. I think it's the word choice that makes it a little strange. Obviously dad won't be doing any pushing but he's still totally part of this journey.

I think it's better to think of this as a 'firsts' milestone gift instead of a push present.

It's another one of those 'firsts' you're embarking on together and it makes sense to commerate this BIG first with a special gift to let your guy know you appreiate him putting up with your hormone fueled rage or midnight craving runs to In-and-Out.

Speaking of presents, if you're reading this I'm assuming you're likely a parent-to-be so I just want to share a genius hack! You can save a ton on baby products with a few tricks. Read the post below to find out how!



BEST GIFTS FOR NEW DADS


A push present for dad can be anything really. Something sentimental and meaningful. Maybe even a gag gift if that's the kind of relationship you two share. Or even something useful or practical for new dads to help guide them along the way.

Some of these would even make great Father's Day gifts for new dads too!

Here's a few ideas to get you started. If you want to check out more details on any of the products listed just click on the blue links.



Practical Push Presents For New Dads


Let's start off with some practical gifts you can give the new dad. These are useful items to help him with his new role as a father. Think about things that will make life with a new baby a little more manageable or provide tips and tricks to help with the learning curve for this new role.

It's ALOT! I know.

More than the gifts though, what's really appreciated is stepping back and letting dad find his own way of doing things.

Don't be a micro-manager helicopter parent already.

Instead, try a more subtle hint on how to do things 'the right way' with some great baby books for dads.



Baby Shusher Calm Down + Sleep Kit



Baby's screaming and you don't know what to do! They aren't hungry and they haven't pooped.

I know! Get your baby calm down kit!

Moms are crazy for this baby shusher thing that helps soothe a newborn and get them to sleep.
It's a known fact that white noise helps babies feel calm and ready for sleep.

That's because it mimics the womb. It's not quiet in there, they hear the rushing of blood and mom's heart beat so it's comforting to have a familiar sound to fall asleep to for babies.

I think this is a practical push present any dad will appreicate (or moms too for that matter).



Another awesome practical gift for a new dad is this diaper duty tool belt style apron fully stocked with diapers and wipes, plastic tongs, safety glasses and travel-sized baby products, and a funny new dad poem.

It makes for a funny gag gift that's actually pretty useful!

You can see some customer product photos here if you want a closer look.


RELATED POST: Teach Baby To Sleep in the Crib Through The Night

BEST PARENTING BOOKS FOR NEW DADS (AWESOME PUSH PRESENT FOR DADS)


We're Parents! The New Dad Book for Baby's First Year by Adrian Kulp



The dads seem to love this book! What I hear from the guys is that it's quick and easy to read, informative (without being overwhelming) and gets to the point without all the fluff or filler material that traditonal parenting books have.


The Baby Owner's Manual: Operating Instructions, Trouble-Shooting Tips, and Advice on First-Year Maintenance by Joe and Louis Borgenicht M.D.



This one seems very much written for guys by guys ( a father and son duo) in a style that men will appreciate including lots of step-by-step intructions and diagrams.

Reviews from the dads say this one is 'simple, useful and fun to read'. You know you can trust the advice as it comes from a veteran pediatrician but it's written in a way that's easy to read and very relateable.

Check out this review if you want to take a peek inside at some of the diagrams.


Be Prepared: Be Prepared by Gary Greenberg and Jeannie Hayden



An indispensable survival manual for guys entering the trenches of fatherhood, Be Prepared is loaded with one-of-a-kind insights, MacGyver-esque tips and tricks, and no-nonsense advice for mastering the first year as a dad.

This one is funny, informative and an easy read. You can get through it fairly quickly (it's about 240 pages). I actually found that a lot of the stuff written for women wasn't funny or enjoyable to read. I personally found this one a great read! It doesn't come off as condesending or make you feel like you're being lectured which I think the guys will appreciate.


RELATED POSTS:
Epic Pregnancy Announcement Ideas For Social Media
How To Tell Your Husband You're Pregnant in a Fun Way
Creative Grandparents Announcement Ideas
Man vs. Child: One Dad's Guide to the Weirdness of Parenting by Doug Moe



This was both mine and my hubby's favorite! I can totally see why it was named one of Amazon's best humor books of 2017!

I would read this even if I didn't have a kid.

I found his insights hilarious, so truthful and sprinkled with lots of helpful advice. It's just an enjoyable read so you can't go wrong with this one.

"This guide for first-time dads tackles funny but important questions, like how to be a good dad without becoming a BabyBjörn-wearing tool in the process, or what to do if your child loves your iPad more than they love you. "

Made for Me By Zack Bush




I'm not crying! You're crying…Oh my goodness! All the feels. This book is SO SWEET! This lovely book highlights all those tender moments between a father and his child 'from a child's first uttered "Dada" to his or her first unsteady steps' and beyond.

It's a perfect one for daddy to read with his little one. Although, I think moms will love it too as it'll totally pull on your heart strings as well and describes how any parent feels for their child.

Check out this review if you want to take a peek at some of the pages!

Personally, this one is a must-have on my list! I absolutely adore this book (as does daddy).


Your Baby's First Word Will Be DADA by Jimmy Fallon



This one is a best seller so I had to include it in my list too. We don't have this one yet but I did check it out online. This one is perfect for newborns and babies.

It's a very simple book with one or 2 word texts on each page featuring animal dads and their babies with the focus on getting baby to say 'DADA' first as that was Jimmy's goal with his daughter.

I love the illustrations in the book, you can take a peek here.

SPOILER ALERT: all the baby animals say DADA in the end (except the duck).
This wasn't my favorite, it's cute and the illustrations are nice but it's a little too simple for my liking. I would prefer something with a little more substance like the first book I mentioned.

What do you think?


You Made Me a Dad by Laurenne Sala



This one is another super sweet tear jerker I love! It's a a warm look at the joys, fears, and responsibilities of being a dad over the years with beautiful watercolor illustrations. It's so relatable and makes the reader reminince about the journey of parenthood.

It would also make an absoltuely perfect gift for Father's Day.

This one is definitely a must have (especially if you want to make dad cry).


101 So Bad, They're Good Dad Jokes by Elias Hill



Every dad needs to be armed and ready with his arsenal of bad cringe worthy dad jokes! I think this would make such a cute little gag gift to add to your dad push presents or even as a Father's Day gift.

This is a #1 Best Seller that's sure to make any corny dad laugh and kids groan.

There are a bunch more liek this and some that also come as a 365 Days of dad jokes calendars as well.


You could even go one better and add a new kindle reader and try out KINDLE UNLIMITED to give him access to all the parenting books he could ever want!

RELATED POST: DIY Father's Day Canvas Hand Print Gift

DIAPER BAGS FOR DADS


I'm pretty sure dad won't really want to carry around your over-the-shoulder diaper bag. There are bound to be daddy and kid dates in the future and he's going to need his own.

I suggest going with a backpack style diaper bag for its easy of use and practicality.

I actually ended up ditching my Kate Spade diaper bag for a backpack one because most of the time I need both hands free and a traditonal diaper bag is actually so bulky and impractical. I suggest you go this route too!



ActiveDoodie Dad Diaper Bag Backpack



Here's a diaper bag that dads will appreciate! It has some great features like:

♡ Large waterproof camo changing pad

♡ Insulated bottle holders

♡ Stroller straps

♡ 10 YEAR WARRENTY

What I love about this diaper bag is that it's meant to grow with dad as his duties change. It's meant to be an adventure gear bag when the kids get older and it's time to start getting more active.

You can see a video of all the featrues for a closer look.





HSD Diaper Bag Backpack for Dad



This is another great option (although a little pricier than the first).

It's got tons of storage space for all of baby's little knick knacks and easily accesible storage pockets for baby wipes, diaper changing pad (included). It's comfortable to wear and has stroller straps as well.

However I didn't notice insulated pockets on this one. I think that's a handy feature to keep baby's milk the right temperature when you're on the go.

You can see some pictures of it in action here, this dad of 3 packed enough stuff for everybody for a theme park trip!



Filberry Messenger DIAPER BAG for DADS



If you're partner is more of a messenger bag person, try this one instead.
It's got lots of storage pockets and a built in insulated bottle compartment to keep baby's milk warm.

I like that it has a zipper at the top that opens up to allow quick access so you don't have to fiddle around with the flap when you're in a rush.

A lot of dads continue to use this bag post baby for their laptops and other gadgets as well.

I love a product with multi use!

RELATED POSTS:
PREGNANCY FIRST TRIMESTER FAVORITES + ESSENTIALS
UNIQUE AND CREATIVE BABY SHOWER GIFTS FOR MOM TO BE

BABY CARRIERS FOR DADS

Baby wearing isn't just for moms. Dads can totally take part too! You'll likely have to get dad his own carrier unless you two have similar builds as most of them come in different sizes and you need a snug fit.

Baby wearing is such a great way to bond with your newborn and give them a sense of safety and comfort. Plus it leaves your hands free to get things done too.

My little guy pretty much lived in his baby carrier for the first 3 months.

You can either go with a carrier or sling/wrap. When chosing one, think about the fit, how easy it is to put on and take off and whether or not it's a product that grows with your baby.

Here's a few of my favorites in both styles:


Ergobaby Carrier, Omni 360 All Carry Positions Baby Carrier



This is a fantastic baby carrier that grows with your newborn and can be used for babies between 7lb-45lbs! It's very adapatable and allows you to position baby many different ways (facing outward, inwards, on your back etc).
We have this one and my hubby says it's super comfortable to use. He can wear our little guy for hours without backpain. I love that the straps are also padded so it doesn't feel like its digging into your shoulders.

It's also easy to put on and adjust so you can do it youself, no need to have 5 people strap you in. But I urge you to watch the videos first! It makes the process way easier when you know what you're doing.

It even has a detachable storage pouch just in case you need to store a few thigns.

The only downside I would say is the price. This one is on the pricer side but worth it in my opion since we used it all the time.

We also picked up a cheaper option (we actually got this one first but wanted something a little sturdier afterwards). Take a look below.



Infantino Flip 4-in-1 Convertible Carrier



As I mentioned, this was the first baby carrier we picked up and you can't go wrong with the price. I think it performed very well for being so inexpensive.

This carrier also grows with baby and can be used with infants from 8lb-32lbs.

I prefered the Ergo baby because the padding is much thicker and more comforable to use. I found this one was good to wear for short periods of time but I would get sligly uncomfortable after an hour or so of use.

The great thing about this one though is it's easily adjustable and fits me (I'm a tiny little 5 foot person) as well as my husband (over 6 feet tall).

I think this would be a great buy if you aren't sure if baby wearing is right for you and you want to give it a try but maybe not invest a ton right away.



I was gifted a Baby K'Tan wrap style carrier for my baby shower and used this a lot as well. Personally, I found this the most comfortable to wear as it's just fabric, no hard straps or buckles.

It's super easy to use (as long as you watch the video first) and doesn't need any complicated wrapping techniques.

This one is individually sized though so you won't be able to share with your partner unless you're both about the same size.

Definitely use their sizing guide to select the right one for you or your partner.

I love that I can wear this one for hours without pain and baby seemed super comfy in here too. My little guy would fall asleep in here all the time.


RELATED POST: NEWBORN BABY MUST HAVES YOU'LL ACTUALLY USE

Thoughtful Push Presents For Dads (Sentimental Gifts)




Now, on to some sentimental push presents for dads to commemrate becoming a father. These are the kinds of gifts a new dad will cherish for years to come and remind them of the most exciting adventure yet!

I love personalized or customizable gifts for this category, it just makes things a little extra special.



Dad Estabilished Date Beer Mug Personalized



How cute is this DAD beer mug?! I love that it allows you to customize the date as well! If you're ordering this before baby arrives so you have a present to give dad in the hospital, just stick to the year instead of the full date.

This would make an awesome Father's Day gift too if you want to wait for the actual delivery date.

You can see a customer product photo here if you're curious how it looks in person.

Or if you think you're partner is going to need a stiffer drink to survive, go with a personalized whiskey glass instead.


You can even buy a special commemorative bottle of alcohol made the year baby was born! He can save it to share with his future drinking buddy or open it up for a special occasion.

You can use the whiskey exchange site to check for options made in varying years to give you an idea of what's avaliable.


Mommy and Daddy est 2020 Mugs for Parents-To-Be



If dad isn't big on beer, you can always go with a customizable mug instead. I love that this set includes one for mom and dad!

The gold detailing is super cute!

Unlike the mugs though, this one can't be customized with an exact date.

This one has est. 2020 instead.

Check out how it looks in person here.



Welly Merck Custom Engraved Watches



A beautiful personalized watch like this would make an amazing push present for dad!

It's cutomizable so you could write whatever you wanted on the back which makes it great for any occasion. Perfect for a Father's Day gift or new dad gift or even a birthday gift.

You can choose an exisiting template or create one that's totally yours.

They come in tons of different styles as well so go ahead and choose one that suits your new dad.

Many of their watches remind me of the Daniel Wellington style ones which look so classic and stylish. I love that you can easily change out the wrist bands as well for a completely new look.


Engraved Hammer For The Handy Dad



This is such a fun gift for the handy dad. I love the message on the handle, too funny!

It comes packaged in a nice box as well so it's ready to gift when you get it. Just add a ribbon or bow.



MATCHING DAD AND BABY APPAREL



The last cute thing on the list is some matching outfits for dad and baby. There are a ton of cute options for dad and mini me to strut around in. I added this to my hubby's first Father's Day gift and it was a hit!

The set I got was a t-shirt saying king and a onesie for little man saying prince.

They both looked so cute togetehr! It makes for great photos so definitely add an outfit or two to dad's push gift.

It's also a wonderful keepsake we've added to our baby box now that little man has outgrown it.

Here's a few ideas to give you some inspo. The options are endless! Whatever you're guy is into, there's a matching outfit for that.



For the Gamer Dad – Player 1 & 2 Dad and Me Outfit



Here's another one if mom wants to get in on the action too with a player 1, 2 and 3 set.


For The Foodie Dad: Pizza Pie & Size Dad and Me Outfit



For the Beer Connoisseur Dad: Brew Dad & Micro Brew Infant Set



For The Star Wars Dad: Daddy and Jedi Matching Set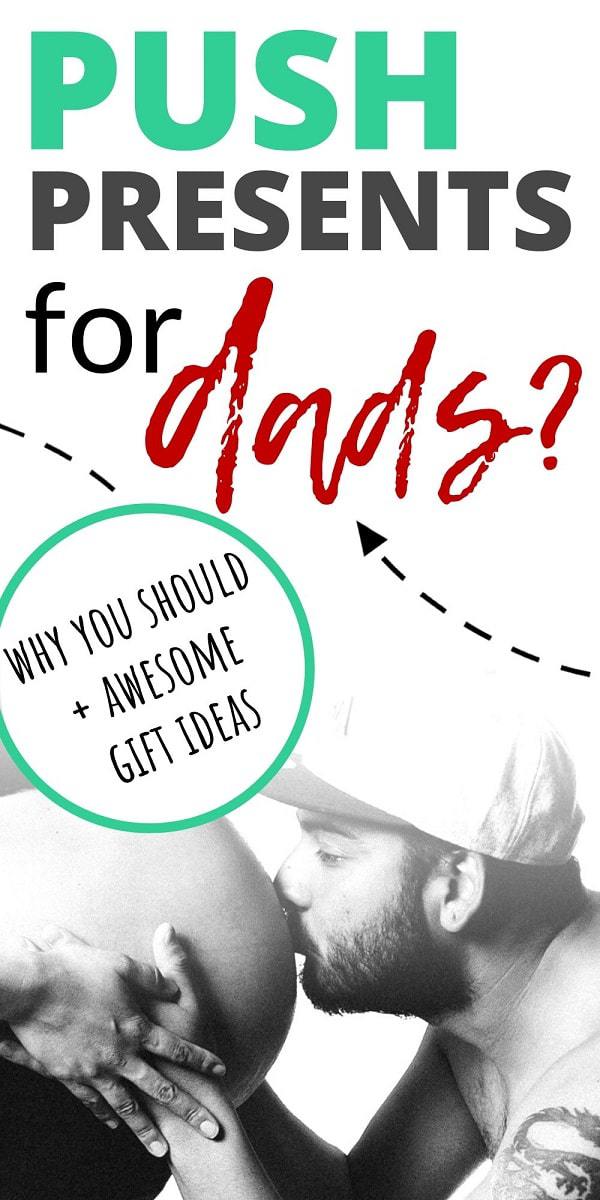 Best Daddy Push Gifts From Amazon



There you have it, we've rounded up the best push presents for dads! I would put together a little push gift for dad by incorporating a few of these items and packing them in one of the diaper bags for dads.

This is a memorable time for dads to be and they definitely deserve to celebrate and be celebrated too!

Make your partner feel extra special with a thoughtful push present for dad.

It doesn't matter how much you spend, it's about the thought.

It's about making them feel more confident in this new chapter and letting them know you appreciate them.