Looking for a special something for an expecting dad? This list of expectant father gifts has something for everybody from funny gifts to useful and practical gifts as well as some sweet and sentimental keepsake type stuff. Whether you're shopping for a gift for Father's Day, something to give a new dad at a baby shower, or even at the hospital, I bet you can find the perfect gift on this list.

There's often so much stuff for expecting moms and baby but dad gifts tend to be pretty limited. We celebrate mom and baby with a shower then when the visitors arrive they bring even more stuff for the stars of the show. But we can't forget about the man behind the bump, can we?

Let's celebrate dad and make him feel a part of this incredible journey into parenthood with some thoughtful and useful soon-to-be dad gift ideas. Think of cool gifts for dad to be that'll help him get into his new role and help him build confidence as a caregiver as he learns how to bond with his new bundle of joy.
Do Expectant Fathers Celebrate Fathers Day?
There's no reason to wait. If your partner is soon to be a daddy, why not start the celebration asap? There aren't very many ways for him to be really involved in the pregnancy part (aside from helping mom of course) so I think it's super sweet to start celebrating while you wait for the baby so he can start getting into dad mode. It just adds to the excitement and anticipation and helps him feel more involved.

There's no reason your unborn baby can't give dad a special Father's Day gift before their big arrival.

Any of these ideas would make a great gift for an expectant father for any of his special milestones whether it's a birthday, Christmas, Father's Day, or baby shower.

What Do You Buy An Expecting Dad?
The best gifts for an expectant father are practical and useful gifts that he can use to help bond with and take care of his newborn baby. That doesn't mean you can't have some fun though.

Who doesn't love some fun gag gifts? Or something sweet and sentimental?

There's a whole host of things you can buy for an expecting dad to help him with his new role like books, toys, baby carriers and more.

Let's jump in and check out the full list below!


Disclaimer: As an Amazon Associate I earn from qualifying purchases but this comes at no additional cost to you.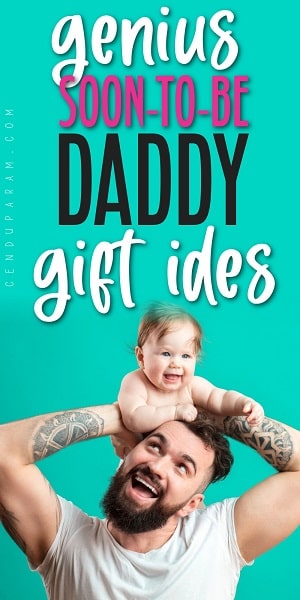 COOL GIFTS FOR DAD TO BE
1. FUNNY DAD SHIRTS
The new dad to be is so proud of his new role so why not help him declare it to the world with a cute dad t-shirt.

There are so many fun ones to choose from!

You could go with a funny dad t-shirt or something like the best dad ever t-shirt. There's a lot of cool ones based on themes too.

My guy loves Star Wars so I'm going with this hilarious Dadalorian T-Shirt and mug.

Think about what your partner loves and see if there's a dad t-shirt for that, it makes such a cute gift!

I'll list a few for inspo below.

2. MATCHING DADDY AND BABY OUTFITS
Another great option for a soon-to-be dad is cute matching outfits! Get dad a fun t-shirt and baby a matching onesie so they can rock their looks together in style. They make for great photos and memorable keepsakes.

If you really want, you could get matching outfits for the whole family ( because the more the merrier, am I right?)
Here's a couple of cute options to inspire your search.

3. Daddy and Baby Matching Kicks

What outfit is complete without the perfect pair of shoes?
Dad and baby definitely need some matching kicks and you can't go wrong with a classic pair of Converse Sneakers for baby and dad. And they make such a cute little keepsake too.

Who doesn't love teeny tiny shoes?

4. BOOKS FOR EXPECTANT DADS

Now is a great time to brush up on some reading before baby comes. There's a bunch of great parenting books to help get dad ready, and it's even written in 'guy lingo'.
That's great because I've heard a lot of expecting dads say that the regular stuff their partners are reading just isn't designed for them and it can be hard to finish from sheer boredom (LOL I have to agree, there is a lot of boring stuff out there).
Don't forget to add a sweet baby book or two about dads too. It's never too early to start reading bedtime stories together.

Here are a few of my favorite parenting books for dads as well as some baby books sure to melt your hearts.


We're Pregnant by Adrian Kulp is perfect for first time dads who don't really know what to expect with pregnancy. This short and informative book is written by a dad for new dads and most dads said they found it helpful and to the point. It helps first-time dads learn what to expect during pregnancy and how best they can help their pregnant partner.
It doesn't come off as condescending or stereotypical like some, it's simply helpful, direct, and informative. It's actually quite smart and witty. There's also a companion book called We're Parents, for the next chapter too.
"Featuring must-ask questions for the doctor, milestone trackers, and more, this funny and friendly standout among pregnancy books also takes you beyond the due date, offering a helping hand on how to plan and perfect your own style of childcare."
If you want something that's fun, a little more light-hearted as well as humorous and informative, you and your partner may enjoy, The Expectant Father's Activity Book.
The Expectant Father's Activity Book, has pictures, games, jokes, puzzles, fun facts, and just a lot of great advice to prepare those soon-to-be newly-initiated dads. If you require a much-needed remedy from stress and anxiety leading up to becoming a father – allow this book to be your manual.
This is a great one to do as a couple and a fun break from the more completely informational kind of books.
The Expectant Father By Armin Brott is a New York Times bestseller and trusted by millions of new dads so I figured I'd include this one too.

We haven't tried this one yet but it's on my list for baby number 2!.

This book offers the reader a:
"month-by-month overview of your partner's pregnancy gives you the tools you need to support your partner, prepare for the baby's arrival, and take care of yourself during this exciting time. Each chapter covers:
What's going on with your partner, emotionally and physically
What's going on with the baby, every step of the way from fertilized egg to newborn
What's going on with you, as you adjust to the new life stage of fatherhood
How to stay involved: specific ways you can help (and feel included), from attending birthing classes with your partner to starting a college fund".
Now, we can't forget about baby books. Dad is going to need some baby-friendly books for storytime too. There are so so many mommy books but not as many daddy ones to choose from.


Here are a few of my favorite books about dads that your partner will love reading with baby.

Made for me is one of my absolute favorite dad books! It's super sweet and it just knows all the right heartstrings to pull if you're a parent (mom or dad). It has beautiful illustrations and a sweet, simple message – 'you are the only one made just for me'.
Dada by Jimmy Fallon has become one of the go-to daddy books on the market. It's fairly simple and funny with different animal dads trying to teach their animal babes to say 'dada' first. It's a perfect one to read with babies with its simple illustrations and text.
I Love My Daddy is a new favorite of mine.
It follows this adorable father and son squirrel duo as they frolic through the woods and do all the things that squirrels do.
The little squirrel is quite excited to show his dad all the new things he can do and dad is there with love, support and encouragement when his little one has some troubles along the way. It's super sweet and has beautiful and fun illustrations.
If you're still looking for some more inspiration I have another post dedicated to daddy books for kids.
5. Daddy Mugs + Beer & Wine Glasses

Whether your partner is a wine guy, beer guy, coffee guy or a scotch man, there's a daddy beverage mug or glass for that! There's lots of them to choose from with different quotes and sayings. Some of them super funny and some of them more simple and sweet.

Here's a few options to get you started on your search.

DADDY TRAVEL MUG
6. FUNNY EXPECTANT DAD GIFT

Help dad get prepared for diaper duty with this hilarious daddy diaper duty apron. It's a funny gag gift but it's actually useful as well so win-win (it also comes in black)!

It includes : high-quality cotton beautifully designed apron, a pair of rubber gloves, a face mask, a ¨This Guy is Going To Be A Daddy¨ pin, wooden clothespins (stay green), one diaper, and as a PLUS, a brand new stuffed animal plush toy to keep the little one distracted.
It's such a great fun and unique gift if you think the other stuff is 'blah'.

Another option along the same lines is the Daddy's Diaper Duty Device which dad can wear like a tool belt. This one comes with : diapers and wipes, plastic tongs, safety glasses and travel-sized baby products, all tucked into a fun apron tool belt and accented with a funny new dad poem. You can check out what it looks like in person here, this customer shared lots of photos with their review.

DADDY DIAPER DUTY APRON
7. Daddy Keychain
If you're looking for something sweet and simple, there's tons of cute daddy keychains that make for a lovely little gift and keepsake that dad can always carry around.
Some have cute messages, others have a spot for adding a picture (you could put a sonogram photo in there) and others are customizable.

Take a look at these for inspo!
PRACTICAL GIFTS FOR EXPECTING DADS
If you rather give an expecting father something useful and practical, that's great too. Here are some gifts for the new dad that he'll use all the time.
8. Daddy Kangaroo Care Shirts
There's a whole line of daddy kangaroo shirts and daddy carrier shirts that are super popular with new parents.
The Bondaroo Skin to Skin shirt for instance is perfect for expecting dads to use right after baby is born for some much-needed skin-to-skin bonding and then at home too for baby's first weeks.

It's the perfect way to have some skin-to-skin while keeping baby warm and cocooned. Check out this dad's review if you want to see some photos of it in action. He said he loved how soft and comfortable it was. Plus he preferred it to wear hospital robes which are often small and fit awkwardly. skin to skin time with my son without trying to fit into hospital robes that are too small and awkward.
Your other option is Kangaroo T-shirts that act like a baby carrier but I haven't found any amazing quality ones from amazon, they all seem pretty average.

These LalaBu Dad Shirts are the gold standard but they always seem to be out of stock when I check. This is an amazing idea for guys who don't like the idea of having to fasten carriers but make sure to do your research and find a good quality one.

9. Daddy Baby Carrier

Babywearing was just about my favorite thing ever and hubby really enjoyed it too. I was using the Baby K'tan with my newborn and absolutely loved it. Unfortunately, you can't share it with your partner unless they're a similar size to you. If you choose this one for your partner, make sure to review the sizing chart.

That's why we ended up getting my hubby his own baby carrier so he could enjoy babywearing too. These things are awesome because the baby feels safe and secure and falls asleep in there and I have my hands free to attend to other things that need doing.
We wanted an inexpensive option because I was doing the majority of the babywearing and my partner would use it mainly when we went for walks. That's why we went with the Infantino 4-in-1 carrier that can grow with a baby.

This one is adjustable so I was also using it when my little guy grew out of the baby wrap.

If you don't mind spending a little more, one of my favorites (tried a friend's quite a few times) is the ErgoBaby 360 Carrier because of the cool mesh and better support when you wear baby for a long time (like an hour or two). I'm definitely planning to purchase one when baby #2 is on the way.


Infantino 4-in-1 Baby Carrrier

10. Camera For New Dads

This one is a perfect gift that just keeps on giving. Now's the perfect time to invest in a good quality camera to capture all those firsts for the parents as well as baby.

You'll start using it right away for those weekly baby bump photos, to the hospital room, and then take about 122548622611 pictures of baby's first year. I used my phone for all those pictures and now I wish I had invested in a good camera from the start.

A phone is fine but when you decide you want to blow up some of those baby pictures to hang up around the house, it just doesn't cut it.

We went with the Sony A6000 Mirrorless Camera because it delivers DSLR quality photos but doesn't weigh a ton, so I actually didn't despise taking it out with us.

Make sure to get a tripod too so you can actually take family photos together. That was another great feature of this camera, you can sync it with your phone and use your phone to take the snaps when everybody's actually looking instead of just setting timers.
If that's a little out of your price range, another super fun option is a polaroid camera. How fun would it be to document weekly bump photos with one of these?

Let's face it, most of us never actually print those thousands of photos we take. This means you'll instantly have printed pics to add to baby's first year book.


Sony A6000 Mirrorless Digital Camera
11. Daddy Milestones Beer Labels
This is the perfect gift for dads who love their beer. Buy these pre-made baby milestone beer labels and stick them on dad's favorite brew so he can celebrate each of the baby's firsts in style by popping open a cold one.

This set includes 6 labels as well as well as a 6-pack carrier to give you a complete look. It's such a cute and fun gift idea that's pretty unique and dad-approved!

Check out real customer photos here if you want a closer look.


12. New Daddy Subscription Box

Another thoughtful and practical gift ideas for an expectant dad is a monthly dad starter kit, like this Rad Dad Box, filled with fun yet useful things to welcome him into fatherhood. These beautifully curated boxes contain a little something for dad as well as items for baby to help daddy bond with his new bundle of joy and make memories.

If you want to treat dad to another kind of subscription box, take a look at this list of top 100 subscription boxes for men!

13. Daddy Diaper Bag

Trust me, dad needs his own diaper bag. My partner was less than thrilled about carrying around my Kate Spade diaper bag when he would have his daddy-son dates.

Eventually, I wasn't actually happy with that bag either, it was heavy and inefficient (but cute). We both switched to backpack style diaper bags and we are never going back!

It's just way easier to deal with a backpack because you've actually got your hands free (which you always need with bebe) and it's not as heavy as having one of those giant ones on one shoulder.

I love that they have these awesome insulated pockets to keep baby bottles warm.

Plus the dads don't mind the backpacks, they're pretty happy to carry this around instead of a traditional diaper bag.

14. Car Vacuum
Once the kiddos arrive, your car becomes a trash can on wheels. My kid thinks his cracker crumbs are fairy dust and sprinkles that stuff everywhere!

This is why a car vacuum is a practical gift that gets a lot of use and keeps those dirty crumbs from being picked out and eaten later (ugh, it happens).

If dad is a car guy, you could even gift an entire car wash and detailing kit.

One other awesome must-have for dads who love their cars (like mine) are these car seat protectors to preserve the seats from indentations caused by baby's car seat.

That's the one we have and it works great (totally saved our leather seats), plus I love those little pouches on the bottom to keep baby stuff in the car when we're on the go!


15. Ultimate Soon-To-Be Daddy Tool Kit


If the expecting dad doesn't have a state-of-the-art tool kit yet, there's no time like the present to get one. It's a must-have for any new dad because there's a ton of new baby stuff to put together, like cribs, strollers, and everything that goes into the baby's nursery and the endless toys too.

Every dad needs one!

Personally, we love this Black and Decker one because it includes an electric drill which makes hanging all those baby and family photos so much easier. It's small and compact but powerful.



BLACK AND DECKER TOOL KIT W/ DRILL



16. Dad Self-Care Gift

One of the first things to go when you have a baby is self-care. Those first few weeks can be a blur and you're lucky to fit a shower in on a good day.

Try to help the dad-to-be out by making self-care a little easier with a fun kit of goodies he can leave in the bathroom.
This can be a beard kit, body wash, shaving set, or anything else to help dad get a little me-time between diaper changes.

If you've got a dad who loves his beard, this beard kit will help make upkeep a lot easier because it has pretty much everything you need from shampoos to beard oils and everything in between.

I would also add this genius beard bib that catches the fall out so it's not all over your sink! You might have seen it on Shark Tank.

The last thing you need is more messes to clean up.

This one is great whether they have a beard or not, either way, dad will have to shave at some point.
Don't forget about a good skin care! A great face wash kit and body wash set make great gifts too.

17. New Dad Security System

One of the first things my partner started doing to get the house ready for little man was setting up a simple security system that we could manage ourselves from our smartphones (it also works with the Alexa Echo Dot).

We went with the Ring Alarm Security System because it offers do-it-yourself options as well as super inexpensive 24/7 professional monitoring (like $10/month).

This system was super easy to install and set up.

If you don't need an entire system, I would at least opt for the Ring Video Door Bell. It lets you see who's outside the door and even lets you talk to them, all without opening the door. It's also a great way to keep an eye on the house when you're away.

What an awesome gift!

It also comes in super handy when you have a sleeping newborn and you don't need people ringing that doorbell to wake them up.

This doormat should help!



Ring Alarm Home Security System

18. Best Dad Gift Wireless Charger and UV Phone Sanitizer

You know what babies love to do? Put everything in their mouths. Yup.
That includes your cell phone.

Mashable reports that the average cell phone has approximately 25,127 Bacteria per Square Inch. That's more than your average doorknob or toilet seat! Yuck!
But fear not. There's a solution for that. This PhoneSoap UV Smartphone Sanitizer & Universal Charger!
This thoughtful gift will annihilate germs killing 99.99% of all bacteria and germs living on the surface of your phone, keeping daddy and baby safe.

It was designed to clean your phone but you can sanitize pretty much anything that'll fit inside like pacifiers, headphones, or keys.


PhoneSoap UV Smartphone Sanitizer & Universal Charger
19. Push Presents For Dad
Do dads get a push present?

I don't see why not. I mean, technically he isn't pushing but he's been a part of this journey too and there's no reason he can't get a special gift to spoil him before baby comes.

Let's face it. You won't be doing much more splurging so if there's something he's been wanting forever, this may be the last chance (for a while) to get it.

The post I've linked above has some ideas but it all depends on your partner.

Think about his hobbies and interests and what you can give him to help him enjoy those hobbies a little bit longer.
I've got a gamer dad so my go-to would be the latest gaming systems like Xbox Series X , Play Station 5 or Nintendo Switch.

He swears it's the perfect gift for late nights with a baby who won't sleep.

Maybe he's a golfer? How about a new set of clubs? Or a mega-sports fan? How about tickets to see his favorite team in some fantastic seats or a signed jersey.

Is he a car guy? I've seen a ton of groupons that let you drive the exotic car of your dreams.

Is he a tech guy? How about the latest laptop, smartphone or smart TV?

MORE PREGNANCY & BABY POSTS
Unexpected Baby Shower Gifts That Are a Slam Dunk!
The Only Hospital Bag Checklist You Need For Mom, Dad & Baby
Must Have Newborn Essentials For the First 3 Months
How To Score FREE Baby Products Worth Hundreds!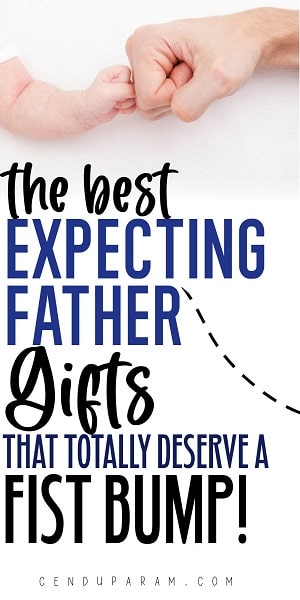 Wrapping Up Soon To Be Daddy Gifts

I hope this post has given you some direction on your search for the perfect gift for a soon to be daddy! Whatever you decide will be just perfect.

Any of these awesome gift ideas will help dad on his newest adventure with his tiny human. I love that these gift ideas are practical and useful, even the more funny gag gift type of stuff. His role as an equal partner and parent should be validated.

Too often, dads get written off as bumbling incompetents when it comes to baby care but that just isn't the case. Just like anybody else, they need support and encouragement in their new roles to be the best they can.

Focusing some of the attention on dad with a special gift will help him feel more included and help him develop a more active role, so go ahead and spoil dad!

Whether its Father's Day, his birthday, or just because, every new dad should be celebrated and a little gift never hurts.