Almost ready to pop? It's time to start packing so grab this hospital bag printable checklist for moms and let's get to work!

If this is your first time giving birth at the hospital, it can be confusing to know what you actually need to pack in your maternity hospital bag and what you don't.

Lucky for you, I've been there too and here's my list of hospital bag essentials for labor and delivery that I actually ended up using.

You'll need to think about what to pack in your pregnancy hospital bag for mom, baby and dad (or partner). I'll break down each category so you don't miss a thing.

Let's hop right in and check out our printable maternity hospital bag checklist (PDF will be included at the bottom of the post)!



Disclaimer: as an Amazon Associate I earn from qualifying purchases. This comes at no extra cost to you.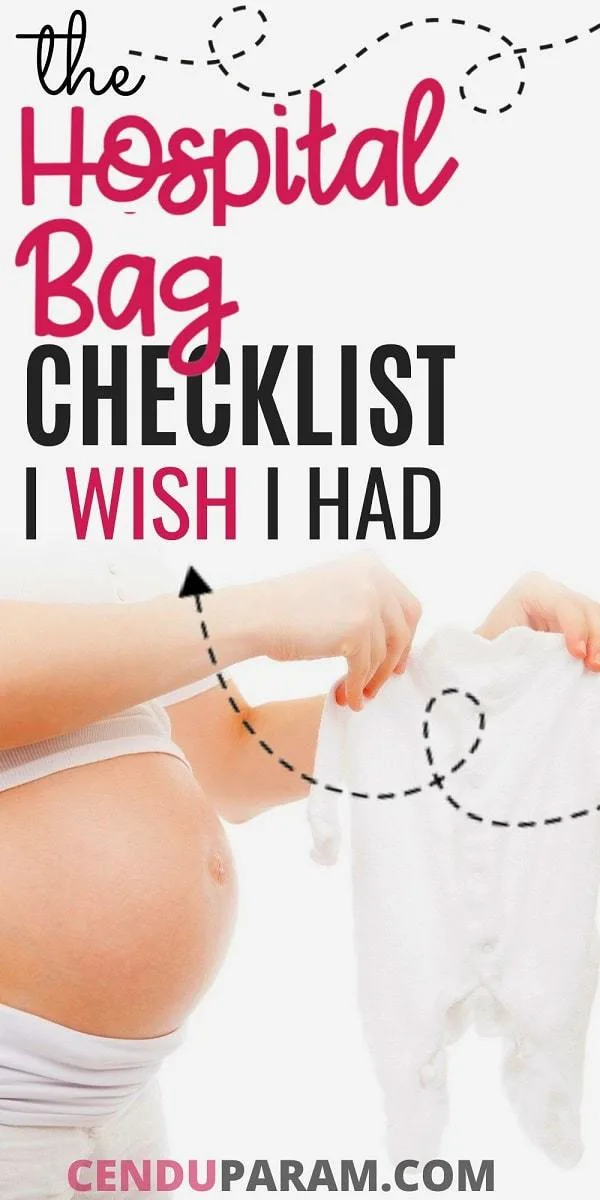 WHEN TO PACK YOUR HOSPITAL BAG


Usually I'm pretty organized and proactive with most things.

Unfortunately, packing isn't one of those things.

I HATE packing!

I figured I still had time so I hadn't started when I was about 2 weeks away from my due date. I was planning on getting to it sometime that week.

Well, babies have plans of their own and when I went to my last appointment that day, they told me it's time!

I had gestational diabetes throughout the end of my pregnancy and it ended up deteriorating my placenta too early (sorry TMI ) so it turned out I would have to be induced that day!

I literally had to rush back home and throw a bunch of stuff in my bag before running out the door again.

I missed so many hospital bag must haves.

So don't be like me!

Plan ahead. Pack well ahead of your due date. 3 weeks to a month ahead is plenty of time but at the very least try 2 weeks ahead (if you aren't having a high risk pregnancy).

I ended up missing a bunch of important stuff and bringing stuff I didn't even end up using so I had to send hubby back home (a few times) to pick up some hospital essentials.



WHAT DOES THE HOSPITAL PROVIDE FOR LABOR AND DELIVERY?


Before you get to packing, it's helpful to check what your hospital provides and what they don't so you're not bringing along a bunch of extra stuff you're just gonna have to lug back home.

Some hospitals do provide some stuff but may make you pay which was what happened to me. They offered some baby welcome pack which I thought was complimentary only to have a bill arrive a month later (all overpriced by the way).

Make sure to call ahead and check what they recommend bringing and what they provide so you can create a more realistic hospital bag checklist for yourself.

Here's what my hospital provided during my stay:



FOR MOM


♥ Mesh Underwear (you might want to grab some of your own for home, these things are awesome postpartum!)

♥ Hospital Gown – (check this link if you want to get your own instead)

♥ Perineal Irrigation Bottle – if your hospital doesn't provide one then make sure to grab it- it's a postpartum MUST HAVE!

♥ Maternity Maxi Pads – not your regular ones, these are HUGE

♥ Birthing Ball – if you are planning to bring your birthing ball, call ahead and see if the hospital has one for you to use instead so you don't need to lug that along too
♥ Necessary medications (ex. stool softener and painkillers)
Check out everything you need for your postpartum care kit for a speedy after birth recovery and make sure to put it together before baby arrives!



FOR BABY


♥ Baby Wipes

♥ Vaseline

♥ Swaddle Blankets (to use in hospital)

♥ Formula (if needed)

♥ Baby Hat + Booties

RELATED POST
Must Haves for Surviving The Third Trimester of Pregnancy

REALISTIC HOSPITAL BAG CHECKLIST FOR MOM


Let's start with all the things that mama is going to need at the hospital. It really depends on what kinda person you are and what you need to feel comfortable.

If you're a minimalist mama who doesn't require all the creature comforts then maybe you'll be just fine wearing a hospital gown throughout your stay.

This was so not me though.

I feel most comfortable in my own stuff so I did bring a few things to make me feel more at home.

Although, I did spend the first 2 days in my gown because I was recovering from my c-section and couldn't move around much, let alone get up and change.

But that shower on the 3rd day, oh wow! I felt like a whole new mama and so didn't want to get back into that awful hospital gown.

I'll give you a quick breakdown of what you're gonna need during labor and afterwards but I've actually got an entire post dedicated to what to wear in the hospital after you give birth so definitely give that a read if you want all the deets.


DURING LABOR

♥ Make sure you've got your ID, insurance information and birth plan if you're using one + money/coins/credit cards for vending machines/coffee/parking etc

♥ Don't forget your phone + charger

♥ Camera if you're bringing one for those first photos

♥ Hair ties or sweat wick headbands – yup there's a lot of sweating going on

♥ Lip balm or Vaseline – you're breathing through your mouth a lot so your lips feel so dry and chapped. Make sure you've got something to moisturize with + I loved these dry mouth lozenges we picked up in the hospital as well

♥ Robe or cardigan – in case you want to roam around a bit during labor+ super quick to throw on in case you get visitors

♥ Pillow – not a must but you can bring your own if that makes you feel more comfortable

♥ Slippers

♥ Snacks + drinks – most women are able to have food/drink during labor but if you're expecting a c-section you probably won't be allowed to eat – check with your hospital and see what they recommend

♥ Portable mini fan – I wanted this so much but didn't think to pack one and my mom ended up buying one on the way to the hospital

♥ Distractions – bring a few distractions to keep yourself preoccupied – maybe music, a few magazines, puzzles/games, or an iPad pre-loaded with your fav Friends episodes (that's what I had going on- Friends makes everything better)

RELATED POST: Seriously Awesome Push Presents For DADS!

WHAT YOU NEED IN THE HOSPITAL AFTER GIVING BIRTH

Now let's check out some of the items you might need for your hospital stay after giving birth. The length of your hospital stay will depend on whether you had a c-section or delivered vaginally. As well as whether or not you and baby had any complications that need monitoring.

Typically with a vaginal birth, you could be discharged within a day or two but with a c-section, you could be there for up to 4 or 5 days even.

As I mentioned earlier, I had a c-section and ended up staying for about 5 days.

COMFY CLOTHES
♥ Nursing Tanks / Nursing Tops
♥ Comfy Loose Pants / Jogging Pants
♥ Cute PJs or nursing nightgown (this could come in handy if you're planning on taking pics in the hospital – they even have matching sets for mom and baby)
I've got the full rundown on the best postpartum maternity pajamas so you can find exactly what you need.

♥ Shower Shoes – if you're planning on showering at the hospital I suggest bringing along some sort of nonslip slippers or shower shoes unless you want to use the public shower barefoot


TOILETRIES

That first shower after the birth (like 2 days later) was LIFE! It made all the difference for me. It's up to you though whether or not you want to shower at the hospital or simply wait till you get home.

Since I was gonna be there for more than a day or two I definitely needed that shower. If you won't be then you can skip the soaps/shampoos etc and opt for some dry shampoo instead to freshen up that hair.

♥ Toothbrush
♥ Toothpaste
♥ Soap / Body Wash mini / lotion
♥ Mini shampoo/conditioner/ or dry shampoo
♥ Bath towel (if you don't want to use the hospital one)
♥ Deodorant
♥ Hair dryer (if you care about how those hospital photos turn out, I didn't LOL)
♥ Make up (again if you care to freshen up a bit before photos – I skipped this as I just couldn't be bothered)
♥ If you plan to breastfeed you may also want to bring along some nipple cream – I didn't think I would need nipple cream right away so I didn't bother to bring it and my nipples were already cracking by about day 2-3 so hubby had to head back home (again)

♥ Breast pads – when you're milk comes in you may also need some breast pads to deal with the leaking

You can get 5 FREE REUSABLE Breast Pads with code cenzerelyyours50

♥ Breastfeeding Pillow – I didn't bring mine to the hospital because I figured I probably wouldn't need it but honestly, I wish I did because I was so exhausted that any added support with breastfeeding would have been great. I used regular pillows for support but didn't find them as helpful.

You can grab a free nursing pillow with code cenzerelyyours50

While we're on the topic of breastfeeding, I also wanted to show you this awesome FREE Milkology Breastfeeding Course to check out!

I wish I had enrolled before having my little guy because we had such a hard time of it.

Want even more baby freebies? I've got a post for that:


How To Score Baby Stuff For Free or Cheap: The Frugal Mom Trick

Prenatal Course Online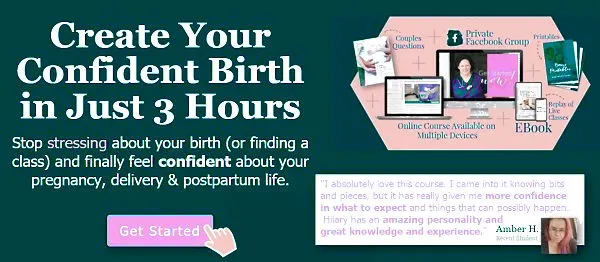 While you're busy prepping that hospital bag, I thought I'd ask.
Have you done a prenatal course to prep for labor and delivery yet?
If the thought of physically going to one of those classes and sitting there for hours gives you false labor (just so you can escape the boredom), I have a better option for you!
Just FYI , I ran out during break and never looked back!
Try this kick-butt online prenatal course instead!
I was SO HAPPY I found this!
Me and my hubby got to do our course from the comfort of my sofa (and in my sweats, thank you very much). It was a way better option that worked on my timeline.
I was so not in the mood for 2 to 3-hour lectures after a long workday.
This awesome course is taught by labor and delivery nurse Hillary, whose got over 20 years of experience!
She'll walk you through everything you need to know about labor, delivery, and even some after-birth care for you and baby.
I highly recommend checking it out!

HOSPITAL BAG CHECKLIST FOR DAD (PARTNER)


Dad often gets forgotten in all the chaos that is birth and labor so make sure you're partner also has a bag packed and ready to go as well.

I asked my hubby what stuff he brought + what stuff he wished he brought for this hospital bag checklist for dad and here's his top picks:

♥ Change of Clothes
♥ Toiletries (toothbrush/paste/ shaving kit/deodorant etc)
♥ Phone + Charger + Camera
♥ LOTS of Snacks + Drinks + a reusable water bottle
♥ Pillow + Blanket (or sleeping bag) – the stuff at the hospital was so thin and he was freezing the whole time that he ended up going back to grab one (lucky for us we live like 10 minutes away)

♥ A sweater or sweatshirt – it gets super cold in there!

♥ A nicer shirt for pictures

♥ Entertainment – it's going to be a loooong day (or +2) so bring along some distractions like a book or e-reader or if he's anything like my guy – some sort of handheld video game thingy


If you're partner wants to be extra prepared, send him over this dad's guide to labor room delivery do's and don'ts from dads who've been there.

A fun read with lots of practical advice and tips.

RELATED POST : Creative Pregnancy Announcements + Captions For Your Socials

HOSPITAL BAG CHECKLIST FOR BABY


Now, onto the newest addition!

Our hospital bag checklist for baby is best kept short and sweet.

You really don't need to carry around a bunch of stuff just yet. The hospital pretty much has you covered for all your baby needs throughout your stay.

Ours even sent us home with some extra diapers, formula, wipes and Vaseline.

If you're worried just keep 1 bag of newborn diapers in the car just in case.

There's really only a few things you actually have to have.



CAR SEAT (INSTALLED)

First and foremost don't forget the car seat!

Most (if not all) hospitals won't let you take baby home without a properly installed car seat (maybe bring along the manual too if you aren't super confident how to work it just yet).

You may also need a car seat cover to protect your newborn from the elements. They really do come in handy.


Grab a FREE car seat cover from Canopy Couture with code cenzerelyyours50


GOING HOME OUTFIT


This doesn't even need to be anything fancy pants.

That's totally up to you.

If you want to go the practical route which was what I did, then bring along a few sleepers for baby to wear. Make sure they're the zipper kind- I hated fussing around with buttons and a screaming infant.

These are the easiest things for diaper changes (and there's going to be A LOT of diaper changing going on).

Something like these sleepers will do just fine.

My little guy pretty much lived in sleepers for the first 3 months.

The only other thing to keep in mind with the outfit is to bring along a hat.

Baby's aren't too good at regulating their body temperatures yet and tend to lose a lot of heat through their head if it's uncovered.

Our hospital provided a hat and booties so we ended up just using that one but we did bring an extra along just in case.



If you want a special going home outfit than by all means, you can do that too.


Here are a few cute ones I was contemplating but never got around to ordering.

If you're going with an outfit like one of the ones below, also bring along some baby booties or socks since their feet won't be covered like with the sleepers (see why sleepers are so awesome!).


Here's one for a baby girl!


SWADDLE BLANKET


The other thing you'll need is a swaddle blanket to keep your newborn wrapped up all snug as a bug in a rug.

Most (if not all) newborns love to be swaddled because it gives them a sense of comfort and calm. Swaddling a newborn makes them feel like they're in the womb again.

Plus, it'll stop your baby from throwing their arms out in their sleep and startling themselves.

I absolutely LOVED the swaddle blankets they used in the hospital. They were exactly the perfect size and made the process so much easier.

When I got home I was scouring the internet for something similar and actually found the same company most hospitals use but it's out of stock at the moment (they're super popular so keep checking).

Here's a similar option you can get:


3 PACK HOSPITAL RECEIVING BLANKET COTTON


Another great option is muslin blankets.

They're a mix of bamboo and cotton which makes them super soft, and cozy yet breathable and stretchy which can help prevent baby from overheating.

Wanna learn more about swaddle blankets and receiving blankets and exactly what you need + what it's for then read this post!

RECEIVING BLANKET

In addition to your swaddle blanket (or wearable blanket) your newborn will also need a receiving blanket for their ride home in the car seat.

It's essentially just an added cozy blanket to keep them warm that you can tuck over them during car rides.

We used a beautiful custom-made one my sisters gifted little man for our baby shower. It was something like this one.


BURP CLOTHS


The only other thing I was using for baby in the hospital was burp cloths to clean up the spit up so you may want to bring a few of those as well if you don't want to be wiping spit up with your baby blanket.



One more must-have item I want to mention, a nail cutter!

You don't necessarily HAVE TO bring this to the hospital but make sure you have a set ready for when you get home.

My little guy had claws from day 1!

Every time he would startle awake he would somehow end up scratching his face and screaming so we ended up putting socks on his hands while we were at the hospital.

I don't know about you but using a nail cutter on teeny tiny infant hands was seriously terrifying and I couldn't do it.

I ended up getting this electric baby nail file and it was a life saver!

I still use it today.


ELECTRIC BABY NAIL FILE TRIMMER SET


This one is such an awesome reasonably priced alternative to the more expensive Zo-li Buzz B Nail Trimmer that all the insta moms raving about.

If that awesome product piqued your interest, then check out my newborn essentials that totally saved my sanity!
There's also a lot of things to do at home to get organized before baby arrives and Marissa from Just Simply Mom has an awesome post to get all your essentials in order.

BEST HOSPITAL BAGS (FOR MOM)


As you can see, you're gonna have to pack quite a few things for your labor and delivery hospital stay. Make sure you bring a bag with plenty of extra space in there.

You'll likely be bringing home more stuff than you actually brought. Make sure to bring a roomy travel-sized bag along like one of these below.



This one is awesome! It's lightweight and folds up easily. It has plenty of room and I love that it has its own little side pocket to store shoes.

This one is amazing quality for the price.


FOLDABLE TRAVEL DUFFEL W/ MINI POUCH



Here's another inexpensive option with lots of space inside and tons of little compartments.

I love that it also includes a smaller bag for your toiletries so you're not rustling around and digging through your bag just to find one little chapstick.

I would use that and make sure to pack it right on top.


If you're dreading having to carry your bag, then something like this roomy duffel with wheels could be just the right one.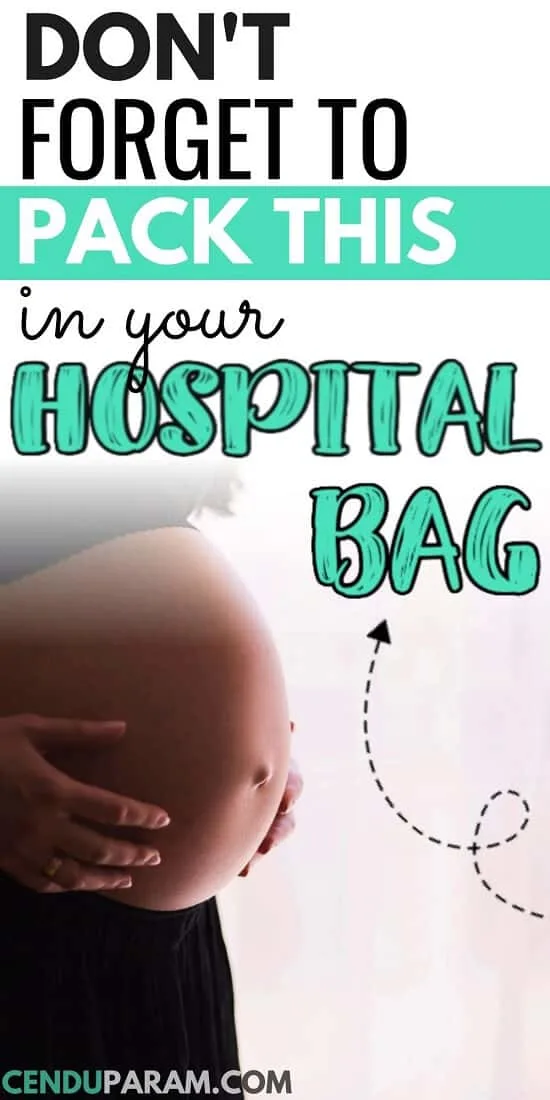 PRINTABLE MATERNITY HOSPITAL BAG CHECKLIST PDF


That pretty much sums up everything you will actually use at the hospital during labor and delivery.

Make sure to print your free hospital bag checklist pdf so you don't miss any hospital bag essentials for a comfortable postpartum stay.

This way you'll have everything you need to pack for mom, dad and baby without all the stress of packing.

This is the hospital bag checklist I wish I had during my pregnancy.

Are there any must have items I missed? What were some of yours? I'd love to know!

Leave me a comment below!