Were you wondering what are receiving blankets vs swaddle blankets? I had this and many other questions when I was first expecting. There's just so much baby stuff out there, it's hard to tell what you really need.

Are receiving blankets the same thing as swaddle blankets you ask? Well, we'll get into that shortly but basically, they're both baby blankets but there are a few differences in their purpose and construction.

You've probably also come across muslin blankets, is that the same thing? So many blankets! How many receiving blankets do I need I wondered.

Let's hop in and take a look at just what they are, what's different about them and what' they're used for, shall we?

Disclaimer: as an Amazon Associate I earn from qualifying purchases. This comes at no extra cost to you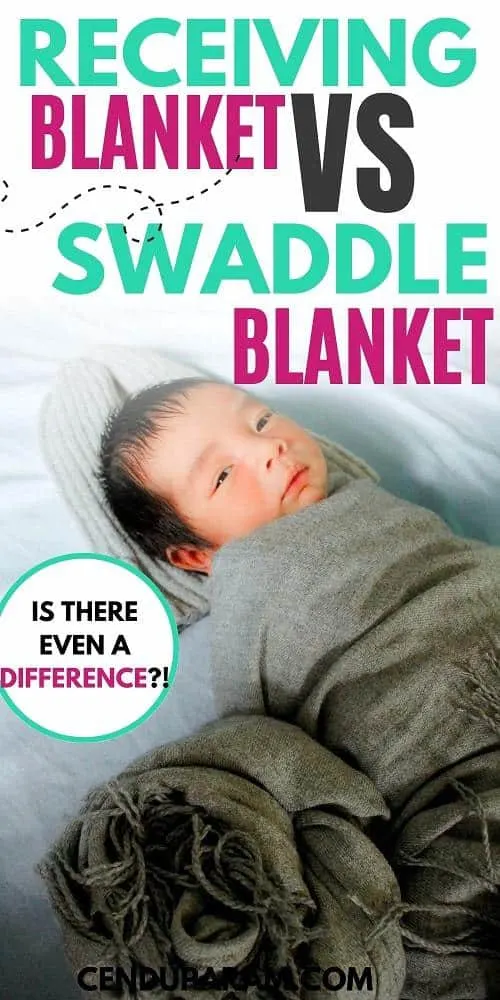 WHAT IS A RECEIVING BLANKET?


What are receiving blankets?

The term receiving blankets and swaddle blankets are often used interchangeably and although they're similar, they aren't exactly the same thing.

A receiving blanket is basically a thin square or rectangle-shaped blanket used for multiple purposes for a baby. They often come in different types of fabric but the most common are cotton, flannel, and plush blankets. They're usually packaged as a set of 2-4 blankets.

A receiving blanket can be used for swaddling but that's not its only use.


WHY IS IT CALLED A RECEIVING BLANKET?


Think about every 'first photo' you see of babies in the hospital. What are they wearing? Or should I say, what are they wrapped in?

Remember those iconic pink and blue striped blankets you see pretty much every single time? (Ever wonder WHY every hospital uses the same one?) That's a receiving blanket.

Right after delivery, when you first 'receive' your baby, they're wrapped in this blanket and thus it has come to be called a receiving blanket.

The name is kinda limited though because it's used for so many other things. The receiving is just the very first part of it's job.


WHAT SIZE ARE RECEIVING BLANKETS?


As I mentioned above, receiving blankets are typically a square or rectangle shape. They're often smaller than swaddle blankets and range in size from about 30 to 40 inches.

A typical receiving blanket square is usually 30 x 30 inches and a rectangle receiving blanket size is usually 30 x 40 inches.

Take a look at the examples below.

The first one is like the Kuddle Up receiving blankets they use in practically ALL the hospitals. I did find the original maker (Medline) but they're currently out of stock on Amazon so here's a dupe.




BEST RECEIVING BLANKETS


FLANNEL UNISEX HOSPITAL RECEIVING BLANKET 30 X 40 4 PACK


UNISEX BABY COTTON RECEIVING BLANKET 30 X 30


PERSONALIZED RECEIVING BLANKET 36′ X 36′



One of my most treasured baby gifts I received was a personalized baby blanket from my sisters. They were so sweet and thoughtful and had bubs name put on his blanket.

It's one of those special keepsakes that I'll eventually add to his baby box but right now, it's become his favorite security blanket and he won't go anywhere without it.


WHAT DO PEOPLE USE RECEIVING BLANKETS FOR?


Receiving blankets are great because you can use them for a bunch of different things. I think initially they were meant to be a swaddle blanket but I find them a tad on the small side for a really tight and secure swaddle.

Although, I did find it useful for swaddling in the first few weeks when baby was super teeny tiny.

After that, they became a multipurpose cloth for pretty much everything else baby related.

Here's just a couple of ways you can use swaddle blankets:


RECEIVING BLANKET USES
♡ Use them as a burp cloth or spit up rag
♡ Use them as a play mat for baby's tummy time
♡ Use them on as a changing pad
♡ They make a great breastfeeding cover
♡ Use them as a changing table cover
♡ Use it as a stroller or carseat cover
♡ You can use it as a bib or to clean up those milk spills
♡ You can make a keepsake baby quilt out of the blankets when you're done – check out that link for a great tutorial if you're interested in making one

HOW DO YOU SWADDLE WITH A RECEIVING BLANKET?


Your postpartum nurse will definitely show you the ropes on how to swaddle your baby with a receiving blanket but if you want a head start on mastering the baby burrito, check out this helpful video by the UPMC hospital!


WHAT ARE SWADDLE BLANKETS?

Swaddling is a method of basically wrapping up your baby like a burrito. It's recommended in the early stages with your newborn because it helps them sleep better and longer. It mimics the cozy feeling of being in the womb which baby loves.

If you want to learn how to swaddle, check out this baby hacks post.

So, a swaddling blanket is a baby blanket used for the purpose of tightly and securely swaddling your newborn.

Swaddle blankets are usually bigger than receiving blanket and often have a bit more stretch to them which allows you to swaddle more easily.

You'll notice they're made of thinner more breathable material like muslin which is better for baby because they can't quite regulate their temperature yet so this kind of swaddle blanket will prevent over heating.

Take a look at these examples:


BEST SWADDLE BLANKETS



ADEN + ANIS MUSLIN SWADDLE BLANKETS – 4 PACK 47′ X 47′


BABY SWADDLE BLANKET BAMBOO MUSLIN 2 PACK 47′ X 47′


SWADDLE BLANKET MUSLIN ORGANIC BAMBOO 3 PACK 47′ X 47′


RELATED POST: How I Get Baby Products for Free or Cheap!

Nowadays, swaddle blankets have really evolved. If you can't quite get that swaddle down, don't fret. We're covered now!

You can opt for a swaddle sleep sack instead. It's like a swaddle blanket in the form of a baby sleeping bag so there's no loose blankets to fuss around with.

They usually use zippers and velcro straps to keep things nice and snug.

We used them religiously for about the first 3 or 4 months.

Our favorites were the Halo Sleep Sacks! We actually loved them so much we ended up getting toddler sleep sacks when my little guy outgrew the baby ones.


This one is fantastic if your baby is a face scratcher. It'll keep those claws away from their face and also stop them from throwing their arms out in their sleep and startling themselves awake.


SWADDLE ME ORIGINAL SWADDLE 3 PACK


RELATED POST: Must Have Baby Products For Life With a Newborn
WHAT'S THE DIFFERENCE BETWEEN RECEIVING BLANKETS AND SWADDLE BLANKETS?


So now, we should be able to tell the difference between the two blankets. Technically, they can both be used for swaddling a baby but the receiving blanket works best to swaddle newborns in the first few weeks because it's much smaller.

As we mentioned, they're either 30 x 30 or 30 x 40.

Swaddle blankets are specifically made to swaddle your baby. They're much larger than receiving blankets. They're usually around 47′ x 47′. That means you can use them throughout baby's first year and beyond.

The other main difference we noticed was fabrics.

Receiving blankets are usually thicker, warmer fabrics like cotton, flannel or fleece. Making them quite versatile for all kinds of baby jobs.

Swaddle blankets are usually much thinner and lighter materials like muslin, and bamboo cotton because they're meant to be more breathable to prevent overheating.


HOW MANY RECEIVING BLANKETS DO I NEED?


Since receiving blankets are so versatile, it's helpful to have a least a few on hand. We bought 2 packs of 6 and that was more than enough for us.

We usually had to do laundry every 2 or 3 days with a newborn because of all the spit up and poop explosions (sorry TMI, I know). So we like having at least a few to rotate between laundry cycles.



HOW MANY RECEIVING BLANKETS DO I NEED FOR THE HOSPITAL?


The hospital is going to give you unlimited access to their receiving blankets while you're there. So unless you don't want to use theirs, you really don't need to bring too many.

You really only need to bring 1 or 2 to take baby home (a pair and a spare in case one gets spit up).

If you don't want to use the hospital's blankets, I would bring at least one or two for each day you're there (approx 5-6).


HOW MANY SWADDLE BLANKETS DO I NEED?


This one, I wouldn't buy a ton of them to begin with because we don't know how well baby is going to like being swaddled and how well you'll be able to make a nice tight swaddle. Maybe your little one prefers a sleep sack.

I just bought 1 pack of 3 and that was enough for us because my little guy preferred he sleep sacks (which we had like 6 of ). He's some kinda baby ninja. He would somehow always manage to get an arm free from the swaddle and wake up.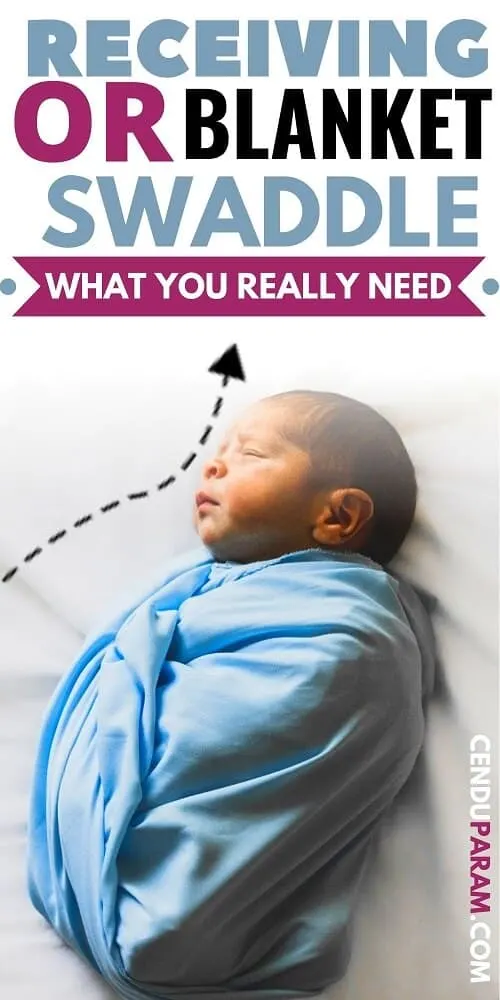 DO YOU REALLY NEED RECEIVING BLANKETS?


Honestly, I don't think it hurts to have a few of each since they have so many other uses beyond swaddling. So even after your baby outgrows their swaddle, these blankets still come in handy.

I would always keep a few backups in my diaper bag and even just around the house because you never know when a poop explosion or spit up is going to occur. It's just handy to have something that's reusable to quickly grab on the go.

In all likelihood, you'll receive plenty of each at your baby shower. Hold on to at least a few and you can always grab more later if you love them.