So you've survived pregnancy and now you're thinking about what you need for the fourth trimester. Well, definitely start with the best postpartum pajamas that money can buy!
I pretty much lived in my postpartum pajamas exclusively for about the first 3 or 4 months after my new baby was born.
It became my mom uniform and outfit of choice in the early weeks for so many reasons but mostly because they are comfy as heck and give you easy boob access if you're planning on breastfeeding.
If you get the right one, they feel soft and familiar like a warm hug. It's like your own little cocoon sheltering your postpartum body and making you feel comfortable (without all the pressure to bounce back so quickly).
After all that hard work you've done growing a whole human, you deserve to treat yourself to some quality creature comforts so go all out on this one!
You'll probably be living in them a lot over the next few months.
This doesn't mean all postpartum PJs are made equal.
I tried quite a few over the first couple of months to figure out which ones I liked and which ones were thrown to the back of the closet, never to be seen again.
If you're shopping for a baby shower, pajamas are a perfect gift for a mom-to-be!
I loved some of them so much that I went on to gift those to my future mama friends who returned with raving reviews as well!
Disclaimer: as an Amazon Associate I earn from qualifying purchases via my affiliate links. This comes at no extra cost to you.
What To Look For When Choosing The BEST Postpartum Pajamas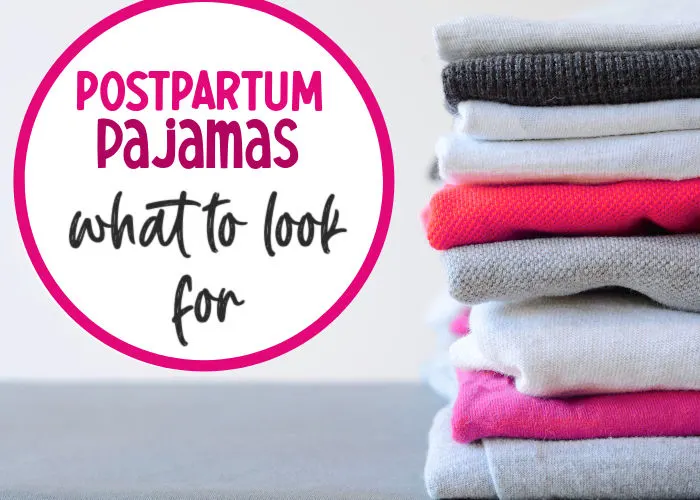 You don't just want to shop willy-nilly when it comes to choosing your postpartum pajamas. If this is your first baby, you may not know what you're looking for or what you'll need.
What's the most important thing to consider when you're shopping for maternity sleepwear?
There are actually quite a few things to consider, let's take a look.
Postpartum Pajama Fit and Style
Let's consider the style of pajamas you're after first. There are so many to choose from and I'm not just talking about colors and patterns, but rather the type of PJs you want and why.
If you'll be breastfeeding, you will want to think about ease of access for breastfeeding. This is especially true when you're fumbling around at night for a nighttime feeding, half-asleep, trying to pull your breast out of a top that just wasn't meant to do that.
Even if you aren't breastfeeding, you may want easy access to your chest for other reasons, like some quality mom and baby bonding with skin-to-skin contact.
My little guy could be calmed almost instantly (as long as he wasn't hungry) as soon as I laid him on my chest and just cuddled.
The smell of your skin, the warmth of your touch, and the soothing sound of your heartbeat is an intoxicating combination for a wailing infant.
In that case, you'll probably want a style with an elastic neckline that can stretch as you need it to.
Or you could go with a deeper neckline like a U-neck or V-neck that provides easy access while still giving you decent coverage (you know, in case you get unexpected visitors).
You could always throw on a robe too!
Now, let's take a look at your two main style options for comfy maternity pajamas.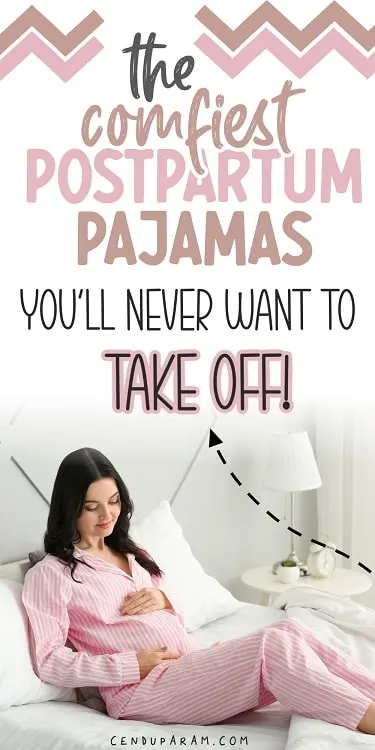 Postpartum Pajama Set
Who doesn't love a good postpartum pajama set? They look super cute and are pretty comfy and make you look at least a little put together so this will work out well for most mamas.
However, if you end up needing a c-section, like me, you may not be comfortable wearing pants right away. One of the sets I initially took to the hospital was a no-go because I figured out too late that the waistband wasn't postpartum-friendly.
That particular set was just a cute pair of pajamas, not specifically a postpartum one. It just wasn't doing me and my c-section scar any favors.
I should've chosen something with a higher waist that wouldn't bother the scar and something with a little more give in the waistband.
Pro Tip: Learn from my mistake and make sure you get a pair with pajama pants that have either an adjustable waistband like a simple drawstring waist or an elastic waistband.
Your size can change pretty quickly during the postpartum period and who wants to spend more money sizing up and down?
I generally tried to size up at least 1 size from my pre-pregnancy size just to be on the safe side.
If you do end up with a c-section incision, I just wanted to shout out these seamless mesh postpartum underwear that's designed without an elastic waistband so it doesn't put pressure on your incision line.
Plus it comes up higher on your waist than the mesh underwear the hospital gives you and is way better quality.
Shirts or Button-Ups
In terms of the style, you can get a t-shirt and pants style pjs, t-shirt, and shorts or button-up shirt and pants or shorts.
Make sure anything with a button-up is easy enough to open. Sometimes, you may have to do this with one hand so ease of use is everything when looking for comfortable pajamas.
If you don't want to deal with undoing buttons constantly, there are plenty of pajamas with easy-open snaps and layered designs that allow you access quickly and easily.
Postpartum Nightgown
Your other option is some kind of postpartum or nursing nightgown.
C-section mamas like me will really enjoy these because most pants were just too bothersome with the scar, whereas a nice nightgown can be loose fit and free-flowing without any added pressure on your stomach.
If you're dealing with those postpartum night sweats and generally feelings of overheating or hot flashes, then a nursing gown might just become your new best friend since they're so light and breezy. This is also great if your baby is born in warmer months.
In terms of the fit, I preferred a more loose or relaxed fit that makes it easy to go to the bathroom a hundred times a day.
I would also suggest something that is high enough that it doesn't press on or around your postpartum belly, like an a-line or empire waist that's fitted to just below the bust.
If you'll be breastfeeding, make sure you get something with enough stretch or some sort of front open clasp to make things easier. This is why regular pajamas or nightgowns may not always work well.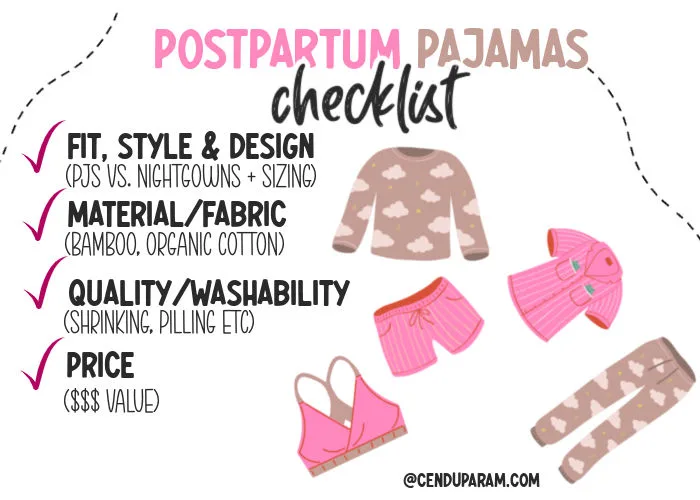 Postpartum Pajama Material and Fabric
One of the big things to consider for a pair of comfortable postpartum pajamas is the material or fabric itself.
If you're anything like me and end up living in your PJs, you'll want something made of super soft material that doesn't irritate your skin (not just something that looks pretty).
I get eczema flair-ups pretty often too, so the type of fabric I choose is also important. Even if you don't have eczema, keep in mind that your baby's skin is also very sensitive.
Baby will be lying on you a lot and as you hold them close for snuggles and rocking, their skin will have a lot of contact with your PJs too.
I learned this the hard way when my 3-month-old's face began developing eczema that wouldn't go away without the use of steroid creams.
For this reason alone, I wanted a stretchy fabric that was soft, light, breathable material.
Whenever possible I opted for natural hypoallergenic materials like organic cotton, bamboo fabric, silk, or hemp.
I feel good buying organic cotton knowing there is no use of pesticides or other harmful chemicals used in the growing or manufacturing process.
Washability, Quality, and Price Point
Make sure you pay attention to how to care for your clothes. You won't have time to run to the dry cleaners all the time so you probably won't be using those luxurious silk pajamas as baby's new spit-up cloth.
Try to find materials that are easy to wash in the laundry and of good enough quality to last through multiple washes (because remember the spit-ups, they happen a lot!).
For this reason, you'll want to find a price point you're comfortable with. You'll want to spend enough to find good quality products but not so much that you'll cry if they get ruined by regular baby stuff like poop explosions and the works.

Best Postpartum Pajamas For New Moms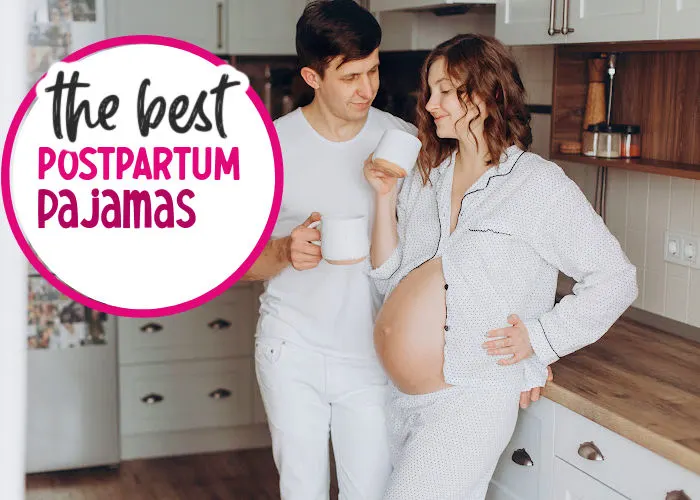 Alright, that was a lot of things to consider for clothes you essentially sleep in. If you're still with me, let's dive in and take a look at some of the best postpartum pajamas at different price points and for different functions and styles.
I'll try to list a lot of postpartum pajamas from Amazon since it's inexpensive and easy to access.
Here are some of my top picks for the best postpartum pajamas that are made to fit your postpartum body comfortably while being functional.
The Best Nursing Pajamas
Let's start off with some of the best nursing pajamas if what you're looking for is a classic 2 piece set that's made of comfortable material and provides easy access for discreet breastfeeding.
If you're not sure about the ins and outs of breastfeeding but think you want to give it a go, I would highly suggest this Milkology Breastfeeding Course .
I struggled so much with breastfeeding and just wish I found this course sooner! It's the hand-holding I really needed and it's taught by a certified lactation consultant and breastfeeding mama who knows all the things.

Ekouaer Women's Maternity Nursing Pajama Two Piece Set
There's a good reason why this classic style Ekouaer Nursing Pajama set is a #1 Best Seller on Amazon!
The thing I love best about this set is the adjustable waistband, it's perfect for your everchanging postpartum body. This makes it perfect to use as a maternity pajama set for your entire pregnancy as well as for after birth.
Since this one is easy to adjust, I would suggest sizing up because I rather it be a little loose than too tight (especially if you needed stitches down there after birth).
It's also super easy for nursing and the style of this shirt makes it very discrete. Unlike a lot of nursing tops, the hidden panel is located on the sides instead of underneath the bust.
But keep in mind this set wears like a normal top, it doesn't have a shelf bra built in so you will need to wear a nursing bra or tank underneath if you want the extra support or in case just want to add a nursing pad to contain leaks.
I highly recommend getting a comfortable nursing sleep bra for added support and comfort.
This pair has also stood up to many washes so I can't beat the price and the durability on this one (plus it comes in a bunch of cute colors).
Plus it feels super soft, lightweight, and comfy to boot.
Did I mention, that it has pockets too! Bonus points!
I loved these so much that I actually purchased a few colors!
The only thing I wasn't completely sold on with this pair is that it's made of rayon and spandex.
The short sleeves are perfect for warmer weather but if you prefer shorts instead of long pants, they have those too.
If you rather have something with a long sleeve then you might like this amazing nursing pajama with long sleeve top PJ set.
This set from Mothera Maternity gets bonus points for having the most comfortable cozy set that's also 100% bamboo fabric that feels and its deep pockets!
I think another fantastic option is this gorgeous set with an ultra comfortable wide waistband is this Maternity Sunday Sleep 4 piece set from Old Navy!
Ekouaer Pajamas Set Long Sleeve Button-Down
If you prefer a button-down style pajama set, your best choice is this long sleeve Ekouaer Pajamas.
This style lends itself easily to breastfeeding, even tandem feeding twins! It also features an adjustable elastic waistband which makes it perfect to use as maternity PJs or for postpartum.
It's made of a soft modal fabric consisting of rayon and spandex making it a very stretchy material and light weight.
It also washes really well without shrinking or pilling.
Make sure to check out the sizing chart before you buy because if you get one that's too small it could be tight around your postpartum belly and feel itchy and annoying!
If you do find it too tight, you could always leave it open and throw on a nursing top underneath.
I would've liked pockets and wish it were cotton but other than that I think this is another winner!
By the way, check out these Kindred Bravely Jane Nursing Pajama Set if you're looking for something more fitted (like a long john style or tights) if that's your thing.
Ppersonally, I found them unflattering on myself and preferred something loose-fitting but if you love tights then you may want these.

Luxury Maternity Pajamas
If you're looking for the best pajamas and don't mind spending a bit more then my all-time favorite is this Pima Maternity Short-Long Weekend Set made from 100% Pima Cotton (the best material in my option) from Lake Pajamas.
You'll be obsessed with this one if you love soft breathable fabrics! I love the soft waistband as well, it feels super comfortable.
The only downside to this set is the price point but look out for sales because they do have some great offers from time to time.
For the perfect fit, make sure you size up because you know how cotton shrinks in the dryer (or opt to air dry instead).
Another fantastic place to look if you don't mind spending a bit more is the Hatch Collection!
I was gifted a set from here for my baby shower and they were so pretty, functional and the softest ever (organic cotton—score!).
This was the one I wore for my first pictures with the baby at home because they were so cute and my dream postpartum pajamas! They're absolutely perfect for those hot summer months.
If you aren't breastfeeding and simply looking for some cute and comfy postpartum pajamas, H&M has lots of cute inexpensive options made of cotton.
The only annoying thing here is that stuff sells out so quickly! I have to check back constantly for my size/stock.
The Gap's Maternity line is another fantastic place to look for comfy pajamas that have sales ALL the time!
Best Postpartum Nightgowns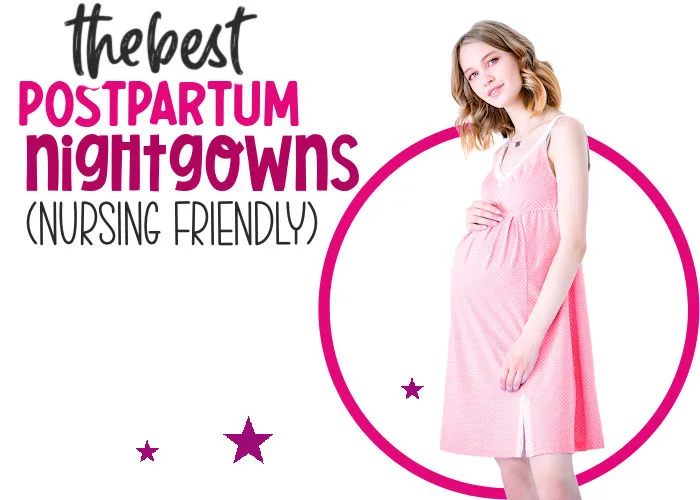 If you're not about the pants or dealing with a c-section recovery you might find postpartum nursing nightgowns a great choice instead.
They're especially great in the warmer months when it's just too hot to deal with pants.
Let's take a look at some of the best nursing nightgowns out there!

Ekouaer Women's Nursing Nightgown
I love how loose and flowy this nightgown is! It's a stretchy soft fabric and features snaps down the back as well as shoulder snaps in the front for breastfeeding access.
This makes it perfect to double as a delivery gown too if you want that. You can easily unsnap from the back to get that epidural if you need it.
Personally, I preferred wearing it with the snaps in the front for quick access for nursing plus skin-to-skin time with baby.

Here are some more similar soft nightgowns with easy breastfeeding access.

Baby Be Mine Maternity Nightgown
This 2-in-1 Maternity Nightdress is designed for easy nursing access with an elastic neckline that you can pull down for easy middle of the night feedings (no clips or snaps to deal with).
No wonder it's a hit with postpartum moms!
I love the soft breathable fabric, this one is 95% cotton and 5% spandex so it's got a nice bit of stretch that's perfect for your growing belly.
If you're expecting lots of visitors, this gown comes in lots of different colors and styles and will have you feeling more put together.
If you want to see how it looks in person, check out this new mama rocking hers in her review post! It looks so cute!

Here are a few more inexpensive and cute maternity nightwear options from Amazon:
Comfy Baseball T-Shirt Style Nursing Moms Nightgown
Cute Thin Strap Button Down Maternity Nightdress
Long Sleeves Nursing Nightgown
So this strapless Maxi dress isn't really a maternity nightgown but that's what I used it as and it worked out really well! Lounge dresses are perfect to throw on when I had guests dropping by and wanted to look presentable but still comfortable.
It's got an empire waist so it's nice and flowy. The actual bust area is super stretchy and comfortable so you don't really need to size up with this one.
If you prefer something shorter, this Kindred Bravely Eleanora Ultra Soft Bamboo Maternity Lounge Dress is the perfect style!

Best Postpartum Pajamas For Hospital Stay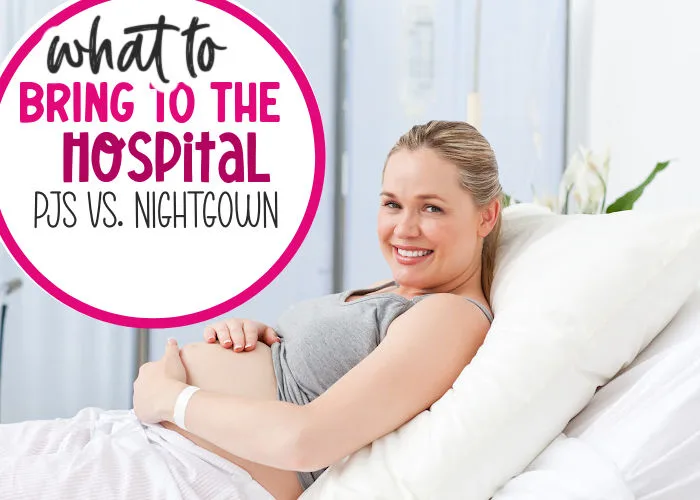 You might be wondering, should I pack postpartum pajamas in my hospital bag?
Initially, when you're in the hospital for the labor and delivery portion of your stay, the hospital will most likely have you wear a hospital gown.
They aren't the most comfortable, that's for sure. I found mine super itchy and stiff and got out of them as soon as I could.
That being said, they're actually a pretty good idea for labor and at least you don't have to deal with the mess afterward.
If you do want your own gown for labor make sure to get one that's specifically made for labor and delivery (not just postpartum/nursing) like these gownies.
It should have a back opening.
In terms of the best postpartum pajamas for the hospital, bringing at least one postpartum nightgown is a great option because for at least the first day or two after labor you'll have doctors and nurses checking you down there to make sure things are healing up properly.
You don't want to have to remove pants every time they come in to check.
You will probably love having a good maternity robe on hand too if you'll have visitors dropping in or just want some cute hospital photos. It's nice to have something to throw over top to help you feel a bit more put together.
This set has a maternity robe and matching swaddle blanket set with a wide range of colors and prints to choose from.
If you're wondering what to wear in the hospital after birth, I have an entire post dedicated to the best postpartum clothes!
You might also want to check out my hospital bag essentials for labor and delivery as well.
If you haven't already signed up for prenatal classes, I highly recommend doing that too! It's super helpful and I LOVED this online prenatal class taught by Hilary, a labor and delivery nurse with almost 20 years of experience!
She knows her stuff!
She even offers a free prenatal class to get you started and see if it's a good fit for you.

More Pregnancy and New Mom Posts
How To Get Tons of Pregnancy and Baby Stuff For FREE!
The Ultimate List of Baby Names For Boys and Girls (+2000 Names)
Third Trimester Essentials I Couldn't Live Without
Must-Have Postpartum Essentials To Add To Your Fourth Trimester Survival Kit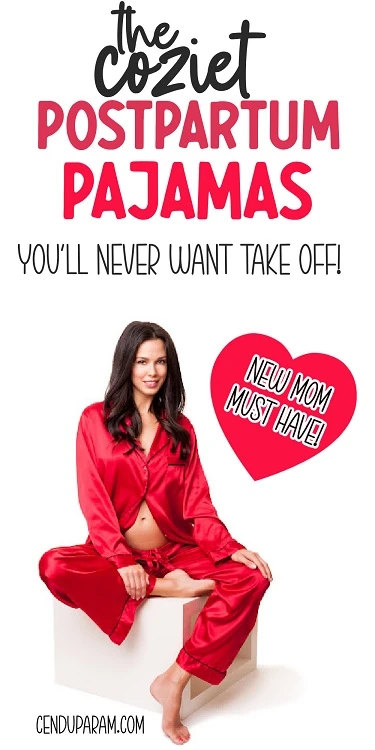 Wrapping Up The Best Postpartum Pajamas
The best postpartum nightgown or pajama is obviously pretty subjective so I tried to include a bunch of different styles to help you choose what works best for your body type.
Keep your own comfort and needs in mind.
If you aren't going to be breastfeeding, then you can choose the best maternity pajamas and continue using them into the postpartum stages.
If you do plan to give nursing a go, then be sure to get one of the nursing-friendly pajamas or nightgowns that's made specifically for those needs.
Your other option is to go with a pair of maternity button-down pajamas that could also give you easy access for nursing.
If you've got your eye on some of the luxury brands, sign up for their mailing list so you can get ahead of the sales!
The postpartum period can be tough to navigate but this too shall pass. In the meantime, treat yourself to some comfort because you totally deserve it!
Happy shopping!
I hope you find your dream postpartum pajamas to make the postpartum days a little more bearable.