Wondering what must haves you'll need to survive the third trimester of pregnancy?
Let's break it down! But first, congratulations mama! You're in the home stretch! It's almost time.

By now, you're probably waddling everywhere, can't sleep, and everything hurts.

The good news?

It's almost over and then you get to take home a teeny tiny cutie patootie.

Alright, let's see if we can make these last few months a little easier with the help of some must-have pregnancy essentials for the third trimester survival kit.


Disclaimer: as an Amazon Associate I earn from qualifying purchases. This comes at no extra cost to you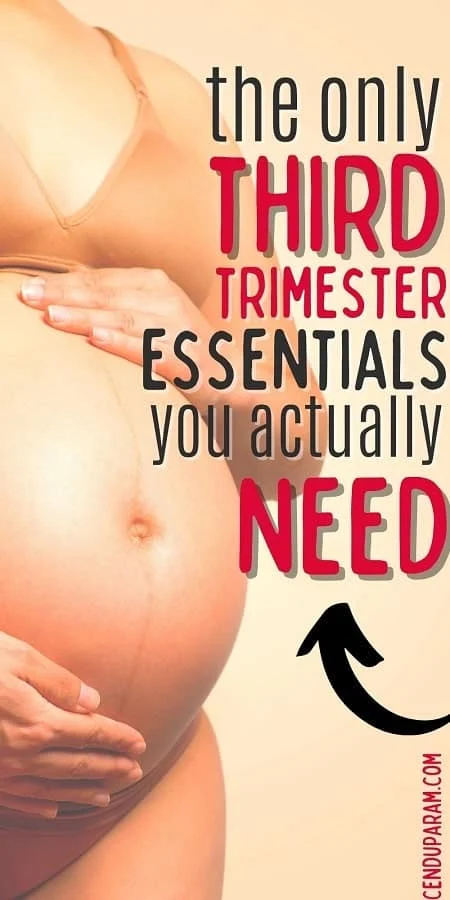 THIRD TRIMESTER PREGNANCY PAINS, ACHES, HEARTBURN, AND DISCOMFORT


I figured we'll try to tackle this by each of the third trimester symptoms you'll be dealing with in the third trimester.

I remember constantly thinking when will this torture end.

I jokingly told my co-workers that if I dropped something at work, it was pretty much dead to me.

There's no way I would be attempting to pick it up ever. So, as a gag gift, they got me this reacher grabber tool thing.

It actually came in handy a few times because I'm so short -ha!

Whether or not you need that, you probably will need the awesome third-trimester essentials below!

THIRD TRIMESTER SYMPTOM: HEARTBURN


Heartburn was coming in fast and furious during the end of my second trimester and well into my third. I tried to make things easier on my body by eating smaller meals more often which did help a bit but it certainly didn't end the heartburn.

So whenever I felt like I was about to blow I would reach for antacids like the ones below.


For dealing with heartburn, my third trimester must have was TUMS ANTACIDS because I found it to taste less chalky than some of the other brands and they work so fast! I usually felt better in less than 15 minutes with these.


Tylenol was the only pain medication my doctor recommended throughout my pregnancy so if you really need some relief you could check with your own doctor and see if they approve.

Even though my doctor said it was fine, I wanted to do my best to avoid medications as much as possible during pregnancy so I opted for non-medicated pain relief like the stuff below.


HOT WATER BOTTLE + EPSOM SALTS

Oh the pains! Back pain. Neck pain. Swollen feet and legs. You name it, I had it.

After a long day of work, I would come home completely exhausted and aching. All I wanted to do was sleep. But alas, sleeping was impossible with that giant belly.
If you've got a partner waiting at home to give you the full after work rub down, well lucky you lady! Take advantage! I loved the daily foot rubs 🙂

I was using a hot water bottle for my back and leg pains pretty much daily. It really helped me unwind and relax before bed so I definitely considered it a third trimester essential.

You could also try taking a soak with some epsom salts to ease muscle aches and pains. I did that a lot too and it also helped with sleep. The lavender scent of this one is soothing and relaxing. Perfect before bed.

RELATED POSTS
The Ultimate Hospital Bag Checklist Printable PDF (FREE)
Must-Have Baby Products For Surviving Life with A Newborn (From Amazon)
Creative and Fun Pregnancy Announcement Quotes + Photos for Social Media

BELLY BAND MATERNITY SUPPORT BELT


If you're finding that you need extra support with your growing belly and increasing back pain, then a maternity support band could be the answer.

It's designed to distribute the weight more evenly and ease the pressure off your hips, pelvis, and back (giving you some much-needed relief).

If nothing else works for you, I highly recommend trying this. There's a reason it's rated so highly and is an Amazon bestseller, it works!

If you want to take a peek, this mom shares some pictures along with her glowing review.

If you think this would be too bulky or uncomfortable (I didn't think so but some do), you could also try pregnancy tape for belly support.


MATERNITY COMPRESSION STOCKINGS


Why didn't anybody tell me about the wonders of maternity compression stockings? Seriously?! These things are awesome!

If you're at a job where you're on your feet a lot, you'll know all too well the leg and feet pains that come with pregnancy. It's no wonder with all the extra belly weight you're carrying.

These stockings are a lifesaver! They're medical-grade compression stockings that are GUARANTEED to reduce or eliminate swelling, pain, varicose veins, and edema. So no risk. Don't like it? Get your money back.

They work by promoting blood flow and circulation to prevent and reduce the pain and swelling in your legs and feet.

Even with a baby bump, these maternity leggings are drop dead easy to slide on and off and are designed to stay put without slipping or sliding down your legs.


COMFORTABLE WALKING SHOES


The third trimester isn't the best time for your cute heels. They don't do anything to help that back pain or achy legs and feet so ditch them for now and opt for something more comfortable.

Personally, I loved these Adidas Cloudfoam Runners. They were easy to slip on which is a huge win with that giant belly. Plus, they were cute and crazy comfy.

Comfortable shoes are definitely a third-trimester survival kit essential.

Having to stand at work all day can be hard on the legs and feet so it's a good idea to invest in the most comfortable shoes possible. Plus, these were perfect for use after baby too when I wanted to get back out for runs.


MATERNITY LEGGINGS & JOGGERS


While we're talking creature comforts, I also want to mention maternity leggings and joggers!

I exclusively lived in maternity leggings and dresses during the 3rd trimester because who can even deal with anything else?! I just wanted to be comfortable and this is about as comfortable as it gets.

If you haven't picked up a pair of maternity leggings yet, I think this is the time folks. They're great for postpartum as well while you're working on getting back to your pre-pregnancy size.


I absolutely LOVE these stretchy maternity jogger pants! They feel super soft and stretchy which makes them the perfect pair of comfortable maternity pants.

Personally, I HAVE to see how things look IRL before I buy it. So if you're like me and you want to see how this thing is going to look on a real person, check out these customer photos from some happy mamas!




Here's the BEST pair of inexpensive maternity leggings on Amazon. These ones are super soft and the stomach panel is super stretch and expands with your growing belly. They don't have the waistband bump that's so annoying with other leggings.

They're thick enough that it isn't see-through but not too thick that they make you feel hot and uncomfortable.
Want to see how they look in person? Check out this mom's mirror selfies.


STRETCH MARKS AND SCARS CREAM


As your belly continues to grow at warp speed you'll probably notice it's getting itchier by the day. Make sure to use a super thick belly butter or moisturizer to soothe itching and help your stretching skin.

I love combining this body butter and body oil after showers. It really helps soothe the itching and I love that it absorbs super quickly without leaving any greasy residue. You don't have to worry about getting oil stains on your clothes.

Many of these products claim to be able to prevent stretch marks but I'm not sure if that's true. Stretch marks are very much hereditary but you can certainly try to minimize them by gaining weight at a steady pace and continuing to keep hydrated and moisturized.



THIRD TRIMESTER ESSENTIALS TO HELP WITH TROUBLE SLEEPING


I think it's safe to say you probably feel like you'll never get a good night's sleep again- ever.

I know it's tough, but get all the sleep you can NOW. Once that baby comes, sleep is a luxury you won't have for at least a few months.

Trying to find a comfortable position to sleep when you feel like a whale is tough. I know.

PREGNANCY BODY PILLOW


But one thing that can really help is a pregnancy body pillow.

Before I got this I was gathering every pillow in the house to sleep with and trying to find some way to arrange it that actually helped. Sorry hubby.

A pregnancy pillow was the answer I was looking for.

I loved it for the full-body support. It's weird candy cane-like shape was actually perfect for finding just the right spot to fall asleep and giving my belly a little extra support. You feel cocooned and snug as a bug.

If you're a side sleeper like me, this thing is going to be your best friend.

I would just hang out in this thing during the evenings when I would watch TV or do some reading. It was pretty much the only way to get comfortable with an ever-increasing belly.

If you're not looking to shell out a lot of money for a product you won't use for too long, you may want to take advantage of this deal. If you use my code at Pregnancy Pillow, you'll get $50 off your purchase!

GET $50 OFF A PREGNANCY PILLOW WITH CODE CENZERELYYOURS50

COMFORTABLE NURSING PAJAMAS


If you haven't already, invest in a good pair of maternity or nursing PJs. If you're planning on breastfeeding, I would just skip maternity PJs and go straight to the nursing kind since you'll be using that for the foreseeable future.
I have an entire post dedicated to the best postpartum nursing pajamas (these are awesome whether or not you decide to nurse) to help you find the perfect ones for your needs.


Personally, I loved nursing nightgowns while I was pregnant because I would have all kinds of night sweats and overheating.



If you prefer a 2 piece, you could go with something like this.
I've got even more options you can check out in my post on what to wear postpartum.


NURSING BRA


Whether you decide to nurse or not, I would still grab a couple of inexpensive nursing bras for your third trimester.

You've probably noticed 'the ladies' are getting huge! And they're only going to get bigger. If you're feeling uncomfortably tight in your current bra, a nursing bra could be the answer.

They usually don't have an underwire to provide you more comfort and they're made of stretchy, breathable material so they can grow with you.

These actually helped a ton during pregnancy with comfort and when baby arrived as well with making breastfeeding a little easier.


This was the comfiest bra ever for sleeping in. It doesn't have an underwire and it's made of super soft and stretchy material.

If you plan to breastfeed, this thing is ah-mazing because there aren't any annoying claps to fuss around with in the middle of the night. Just pull out a boob as needed.


This 3 pack nursing bra set was perfect for everyday use. It offered a bit more support for day time use but was still stretchy and comfortable. The price was right too so I can't complain.


UNDER THE BUMP UNDERWEAR


While we're on the topic of intimates, you may want to grab some under-the-bump panties for the third trimester.

We all go through that phase of pregnancy where we think we can actually make our regular underwear work until the end. Then somewhere between 20-30 weeks we hit that wall of surrender and realize we need new underwear…NOW! Like yesterday.

I was hoping to find this style in-store since you can't really send back underwear you buy online right? But alas, nobody in-store actually had something similar so I bit the bullet and just grabbed these.

I'm SO GLAD I did. These are a must! They're actually cute to wear and insanely comfortable. They don't add any pressure to an already exploding belly.

If you want to see what they look like in person, check out this preggo mommy modeling her pair over her pants. There's great coverage in the back and it dips really low in the front – exactly what I wanted.


THIRD TRIMESTER ESSENTIALS FOR BIRTH AND LABOR PREP


It's time to get your body and mind ready for birth and labor! So, let's also go over some of the things you'll need in order to get ready for the big day!

We'll look at your physical health stuff as well as some books and classes that could help you mentally and emotionally prepare.

I know it can seem scary but I promise you can do this.

You were made for this!

You got this!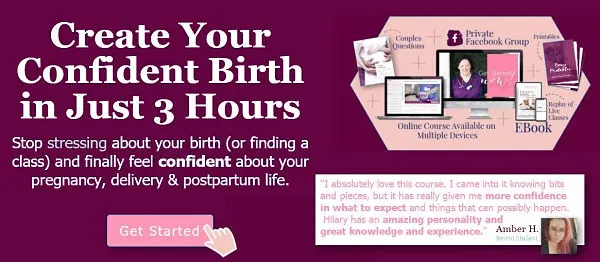 Your prenatal course is likely one of the few things left on your pregnancy to-do list and let me tell you, this one is a must!
If you've been stressed out thinking about how in the world you're going to survive labor, you NEED to take that prenatal course.

They'll teach you what signs to look for when labor is starting, how to work through contractions, your pain management options, birthing techniques, birthing positions, and more.
It's packed with tons of value!

Initially, I had tried an in-person course but I couldn't even sit through the first hour. You have to go at the pace of the instructor and other students and it was feeling super long and drawn out.
I just wanted to go home and get back into my sweat pants.

We left and break and never looked back.
The last thing I wanted to do every Tuesday evening was drive out there to this class (after a long day of work). Ugh.
I wish I would've found this amazing online prenatal course sooner!
It's taught by Hillary, a labor and delivery nurse with over 20 years of experience on the job!
She truly knows her stuff and helps you feel confident about this whole labor thing by the end of the course. She covers everything you need to know to have an empowering birth experience!
She even offers access to live classes and an exclusive FB group to answer your questions!
No more fears, no more worry.
You can do this!

Now, more than ever, it's super important to keep yourself hydrated. It's important for you and baby because you want an ideal level of amniotic fluid to help prevent early labor.

I found it helpful to keep a water bottle like this one at my table at work so I could just keep sipping all day long. If you're bad at remembering to drink throughout the day, then definitely take a water bottle along.

The little motivational marks are kinda fun too.


A birthing ball is great before labor, during, and after. I love a product that's multi-purpose.
They're fantastic for helping prepare your body for birth by opening up your hips and pelvis to ease baby's transition.

It's also fantastic for alleviating discomfort in your spine, hips, and lower back.

If you're wondering if birthing balls are the same as exercise balls, well they're similar but not the same. Birthing balls are larger and have an anti-slip material which isn't always the case with exercise balls so make sure to check that when buying.


BOOKS ON BIRTH, LABOR, AND BABIES


If you're nervous about birth and labor, it can be helpful to get informed so you know just what to expect (at least for me anyway). If you don't know what kind of birth you want, reading some books about birth and labor can help you explore your options and envision the type of birth you want.

Plus, they're often packed full of great tips to help you along the way.

Here are a few that I've read and loved:



Ina May Gaskin is the nation's leading midwife (with 30+ years of experience I might add) who shares the benefits and joys of natural childbirth by showing women how to trust in the ancient wisdom of their bodies for a healthy and fulfilling birthing experience

If this is your first baby, you may love this one because the first half of the book shares birth stories from many former clients and gives you an idea of what you can expect.

Ina does a great job of encouraging mothers to embrace the wonder of this natural process instead of dreading it for months. She provides great insight into various natural birth techniques, both mental and physical, that will be great to have in my back pocket when the times comes.

This one is really heavily focused on natural birth (some readers thought it was heavily biased in favor of natural ways) so just to balance things out, I would include some reading from the doctor's side of things too, like the next book below.


This informative book prepares the reader for a safe and joyful birth-with the help of America's foremost baby and childcare experts, husband and wife duo (doctor and a registered nurse).

Since women enjoy more birthing options today than ever before, the path toward a safe and satisfying birth can be fraught with important decisions. Planning and understanding the resources available to you, and developing your own birthing philosophy can make all the difference.

The book is broken up into 3 sections: preparing for birth, easing pain in labor, and experiencing birth.

The information is presented in an easy to digest (and nonjudgy) way, allowing the parents-to-be to make an informed decision.


THE HAPPIEST BABY ON THE BLOCK
BY DR. HARVEY KARP


In addition to reading up on birthing, you might want to read up on the first few months with a newborn as well.
This is going to be the biggest adjustment you've ever made. It's helpful to have all the tips, tricks, and advice you can get beforehand.

Dr. Karp's highly successful method is based on four revolutionary concepts:

1. The Fourth Trimester: Why babies still yearn for a womblike atmosphere . . . even after birth
2. The Calming Reflex: An "off switch" all babies are born with
3. The 5 S's: Five easy steps to turn on your baby's amazing calming reflex
4. The Cuddle Cure: How to combine the 5 S's to calm even colicky babies

I used all his tips for teaching my little man to be a good sleeper and learned how to quickly calm the baby using the 5's. This was by far one of my favorites.

RELATED POSTS
How to Score FREE Baby Products and Pregnancy Essentials For Expectant Moms
First Trimester Essentials For Your Survival Kit
Postpartum Necessities For A Speedy Recovery After Birth

BREASTFEEDING COURSE



MILKOLOGY FREE BREASTFEEDING CLASS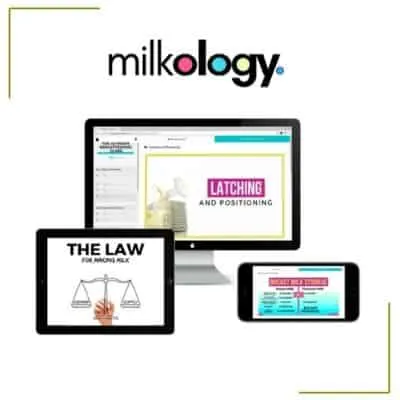 So, I thought I'd have this baby and he would magically know what to do and we'd breastfeed.

Unfortunately, that's not what happened.

We struggled like crazy! I had pain, cracking, bleeding nipples (sorry TMI, I know) and bubs was barely getting enough milk to keep his vitals up.

Initially they said I couldn't wait any longer so he was formula fed in the hospital.

I wish I had taken a course or read some material about the breastfeeding part. Although its a completely natural process, it doesn't mean your instincts always kick in on autopilot.

There is most definitely a learning curve with this so equip yourself ahead of time if this is something that's important to you.

This FREE Milkology Breastfeeding Course is a great place to start!

It becomes overwhelming and easy to give up when you don't know what you're doing so set yourself up for success right from the start.

I actually loved the course so much I took the full breastfeeding and pumping course as well!
I had no idea why my milk supply was SO LOW when I was pumping until I took the course and learned a few important things I was missing.
They're actually priced RIDICULOUSLY LOW so it's a steal!
As if all this wasn't enough, Milkology's course creator, Stacey, also offers a ton of freebies to help you along the way in her FREE LACTATION LIBRARY! So be sure to check that out too!


WRAPPING UP THIRD TRIMESTER SURVIVAL KIT


These are pretty much all the third trimester products that made the last few months a bit more bearable.

A lot of times, the third trimester can feel like the hardest because you're just so close and can barely wait anymore.

As if that wasn't enough, you seem to be growing faster and faster making you feel like a giant blimp. Everything hurts and it feels like you can't get comfortable no matter what you do.

Hopefully, some of these products will help you feel a little more in control.

You're almost there!

You got this, mama!

Is there anything I missed that you absolutely HAD to have?

I'd love to hear about it! Leave me a comment and help another mama out.