The winter holidays are quickly approaching! I love having a few easy, fun and creative crafts to do with the kids over the holidays. I know, not everyone is super crafty but they may still enjoy doing some easy and fun crafts like this snowflake ornament craft. It requires little to no actual artistic skills to complete which I love! It's easy enough for young children and can be modified in difficulty for older kids as well. Plus, this craft doubles as a Christmas tree ornament! Try this super easy DIY pipe cleaner snowflake craft with your kids this holiday season!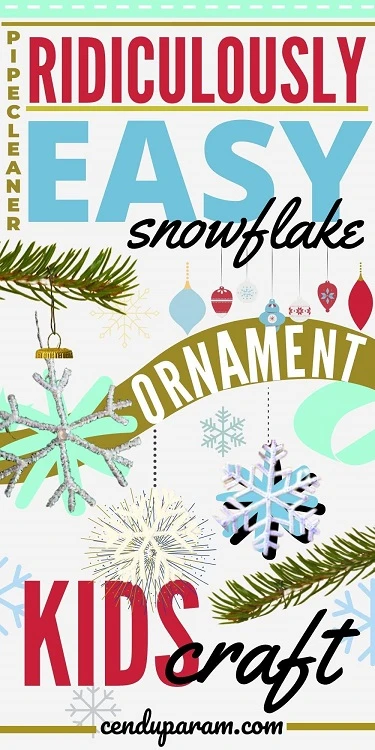 Disclaimer: As an Amazon Associate I earn from qualifying purchases but this comes at no additional cost to you.
Pre-Activity Reading about Snowflakes
The teacher in me can almost never do a craft without a story first. I always find a craft more meaningful as an end of reading extension activity. It gives our little ones a chance to learn new things and make connections as well as create beautiful art. Here are a few awesome books about the life cycle of a snowflakes, how they are unique and how they are formed as well as some stories about friendship and how we are the same and different just like a snowflake.
Snowflakes By Jennifer Chushcoff
Snowflakes Fall by Patricia Maclachlan
Snowflakes by Carrie Burnell
Little Snowflake by Igloo Books
Materials (What You Need To Make a Snowflake Ornament)
I love that this Christmas craft is super easy but customizable for skill level. The other thing I love is that it doesn't require a lot of materials to make. You are of course free to add fun, sparkly little embellishments if you like but the basics just require pipe cleaners. I would advise getting long pipe cleaners since you can cut them to size. You can find all kinds of different pipe cleaners that are sparkly and glittery as well. These will just add to the beauty of the snowflakes. Here's what I used to make mine:
Pipe Cleaners
Scissors
Ribbon
glitter (optional)
beads (optional)
sequins (optional)
Glue/hot Glue (optional)
What Are the Directions For Making a Snowflake Ornament?

As is my way, I never really have any hard and fast rules. Here's my general guideline for how I crafted these.

You can vary the sizes as you wish.

I find, generally cutting the long pipe cleaners in half is a good size but play around and see what you like.

After all, the beauty of the snowflake is that no two are exactly alike.


1. Cut long pipe cleaners into various sizes (half and thirds worked well for me).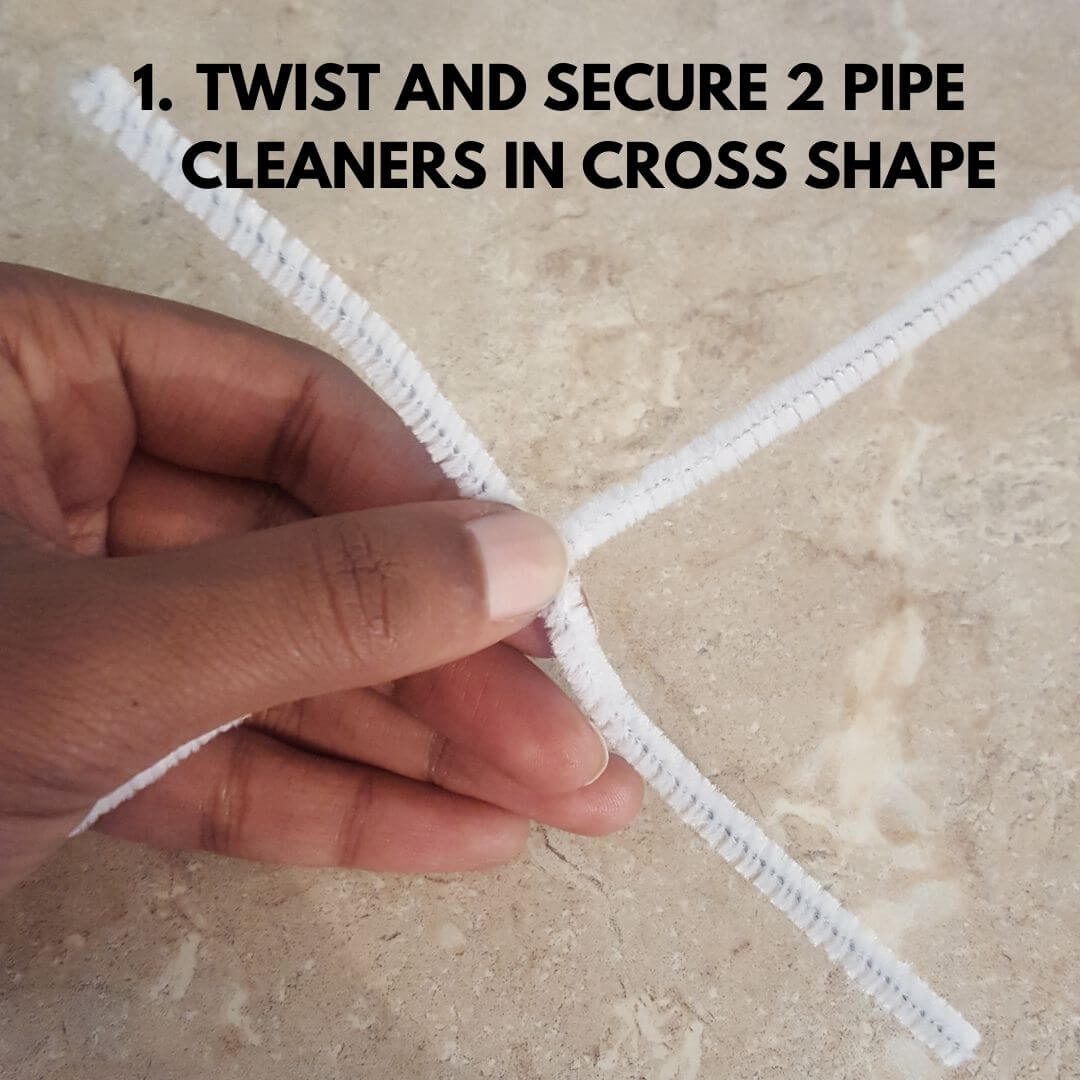 2. Begin by placing two pipe cleaners in a t shape and twist them around until they are secure.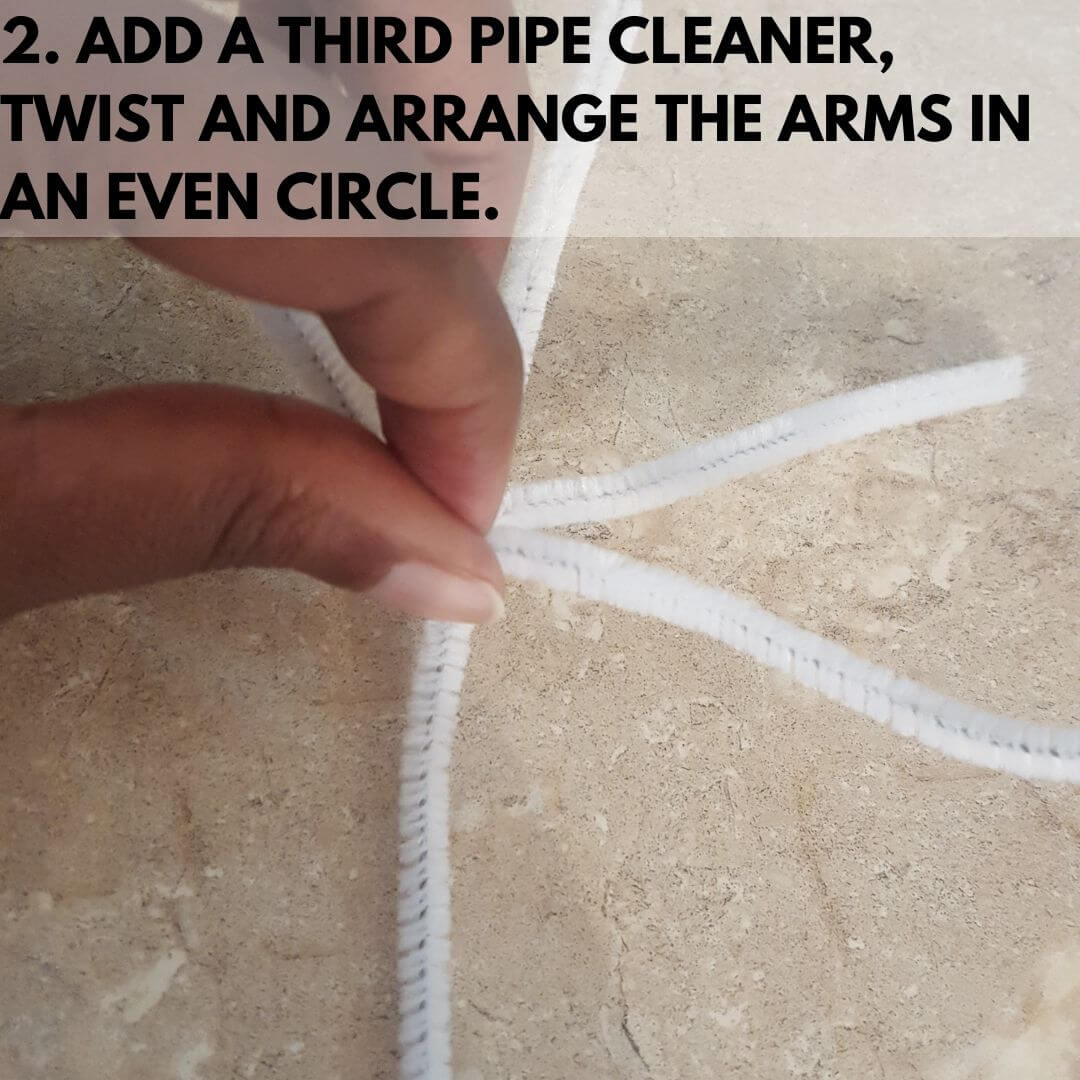 3. Add a third pipe cleaner and twist around. Arrange the pipe cleaner's arms in an even circle.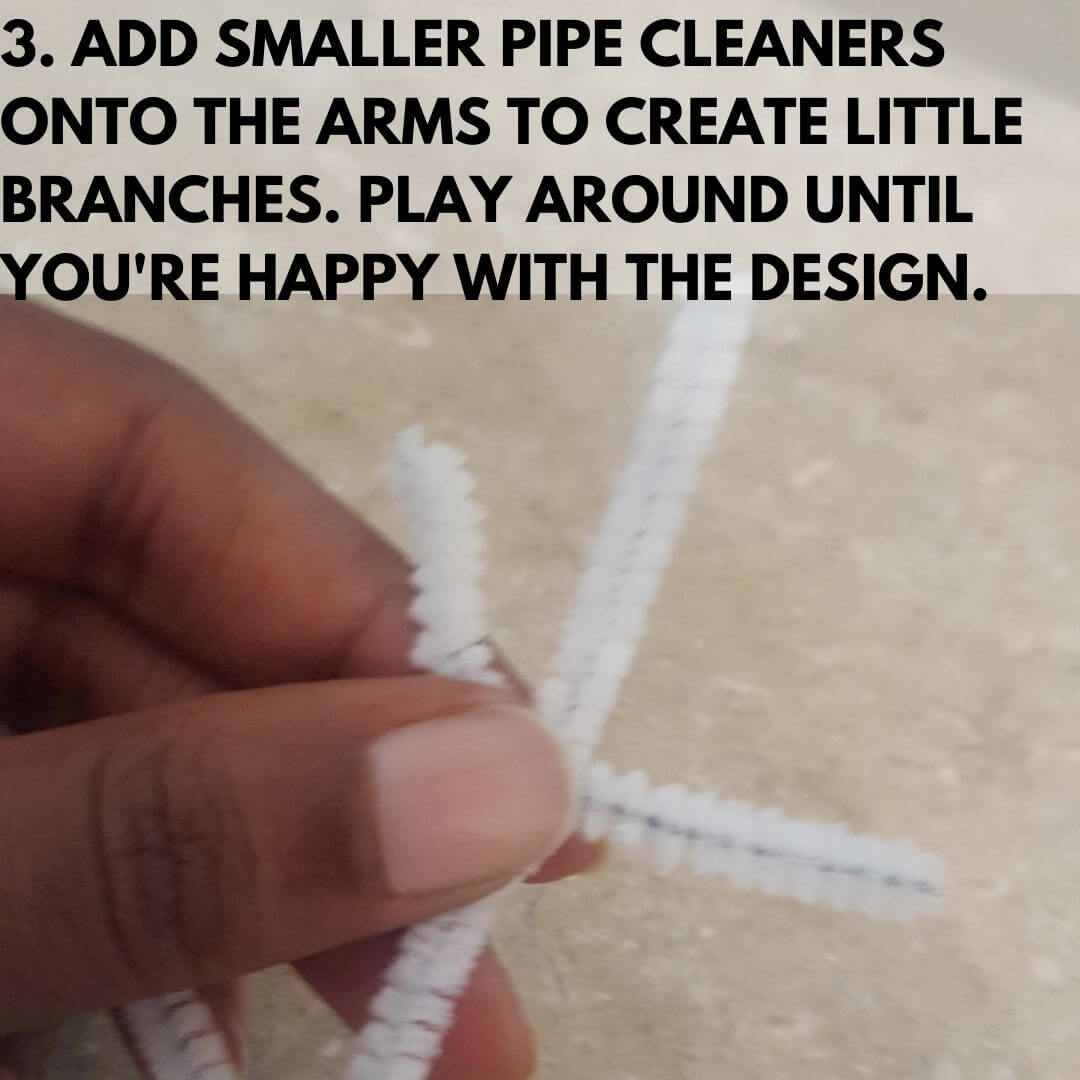 4. Now, use your smaller pipe cleaner pieces to add little "branches" onto each of the longer branches.

Play around with different shapes, sizes, and arrangements to create different designs.


5. Glue on your favorite embellishments like sparkles and sequins for some added flair.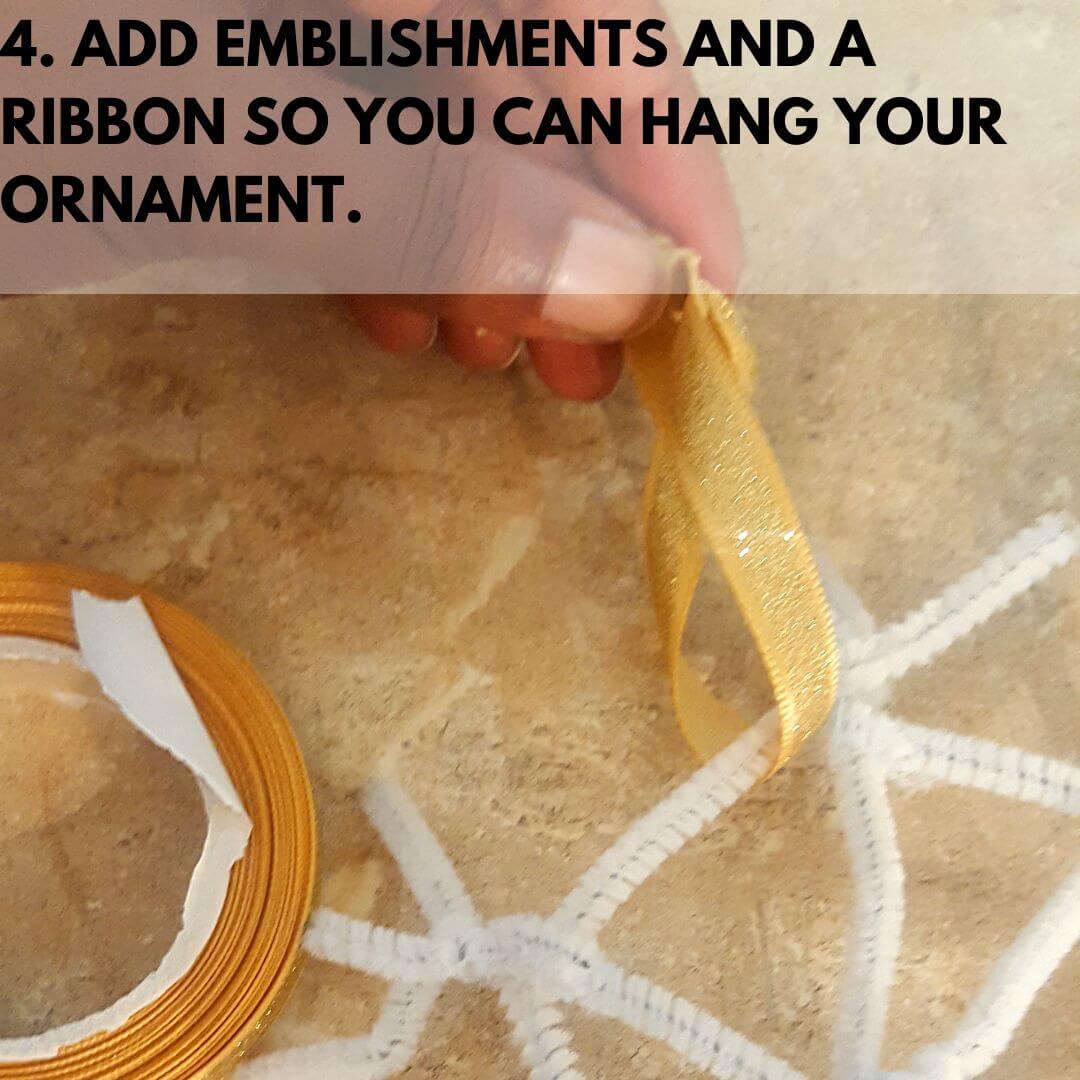 6. Tie a ribbon on one of the stems and make a loop.



7. Hang on your Christmas tree or around the house and admire 🙂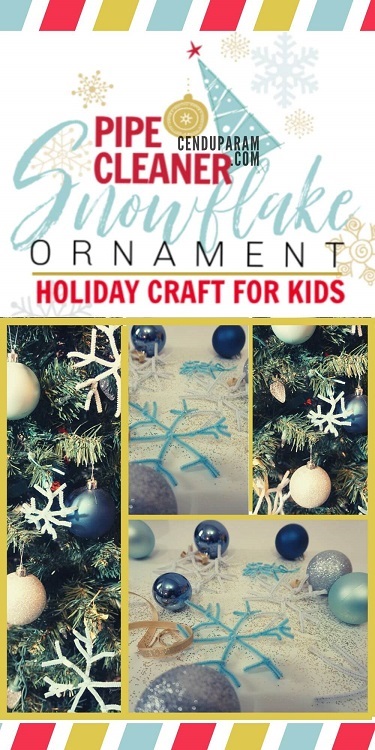 Snowflake Ornament Craft Variations
This is our standard craft but you can make it more difficult or intricate for older children as well. A few things I've seen and loved are:
adding beads to the pipe cleaners
using a hot glue gun and sparkles to add designs
using Popsicle sticks instead of pipe cleaners
create a STEM activity by providing snowflake designs to re-create
Try a 3D version of a snowflake instead of the flat one we made
Make paper snowflake designs
Make differing sizes and hand them on a string to make a garland decoration
Happy Crafting!
I hope you enjoyed this quick and easy snowflake craft that also makes a wonderful DIY Christmas gift. Holiday crafts are such a fun tradition to share with the whole family. I love creating traditions together so much I've got a post on some of our favorite Christmas traditions. If you create your own snowflake ornament, I'd love to see it! Leave me a comment or tag me in your photos 🙂