It's almost time for the holiday season! Yay! I can't wait for all the twinkly lights, holiday decor and tree trimming to start. The snow, however, that can wait. One of my favorite holiday traditions is decorating the Christmas tree as a family. I've been working on making this tradition extra special by DIY-ing our own Christmas ornaments to add to the tree. It's such a fun way to commemorate each year. You can make one new tree ornament each year and even make some more to give away as gifts. This ribbon star tree ornament diy is so simple that even kids can do it (with a teeny tiny bit of help).
Disclaimer: As an Amazon Associate I earn from qualifying purchases but this comes at no additional cost to you.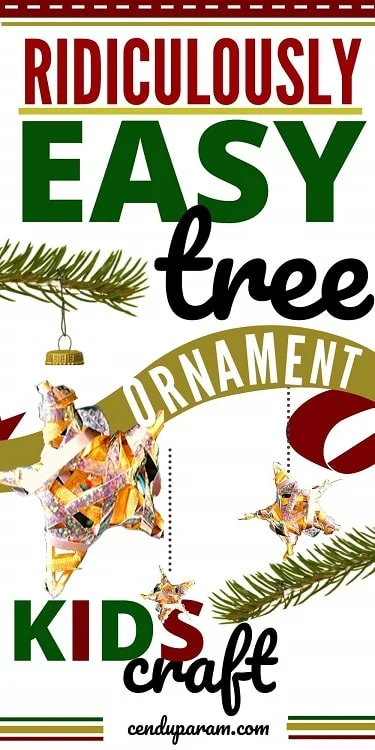 Books About Stars and Christmas
If you've read any of my posts before, you'll remember I love to share a story with my kiddos before we get on to crafting. I can't help it, that's the teacher in me. I"m always looking to add a little learning along the way. This craft lends itself perfectly to talking about why stars and Christmas go hand in hand. Here's a few books that talk about stars and Christmas, both religious and non-religious.The non-religious books focus more on the star being something we make a wish on. As well as, some that just give me the warm and fuzzies with all those wonderful values about family, togetherness, community and giving. If you're looking for more holiday books, I've got an awesome post of some of our favorites.
What Materials Do You Need To Make a Ribbon Star Ornament?
I love that this craft only needed a few things that I had lying around the house. I'm not the most organized person and I have so little patience for crafting so any DIY ornaments have to be quick, easy, and require ordinary things. This craft ticks all those boxes-SCORE! Here's what you'll need to get started :
Crafting sticks or twigs (I didn't have this so I used BBQ skewers I had left over from the summer and cut them to size)
Hot Glue/ Super Glue/ Carpenters Glue/ regular old white glue
Scissors (if you need to cut the sticks to size)
ribbon/string/yarn/twine/curling ribbon
Like I said, you can just improvise with whatever you have on hand. I initially wanted to make a rustic star ornament using sticks and twine but then I realized I didn't have twine so I used curling ribbon and satin ribbons like you would for wrapping gifts. This worked well enough. The curling ribbon can be a little trickier to work with because its more slippery than yarn or string but it looks lovely.
Instructions For DIY Star Tree Ornament
1. Cut sticks to size. You will need 5 sticks of equal length. I used sticks that were 4 inches long. You can vary the length depending how large or small you'd like your star to be. I would't recommend less than 3 inches though as its a bit hard to wrap.
2. Using hot glue, stick the sticks together in the following pattern to create a star and let dry.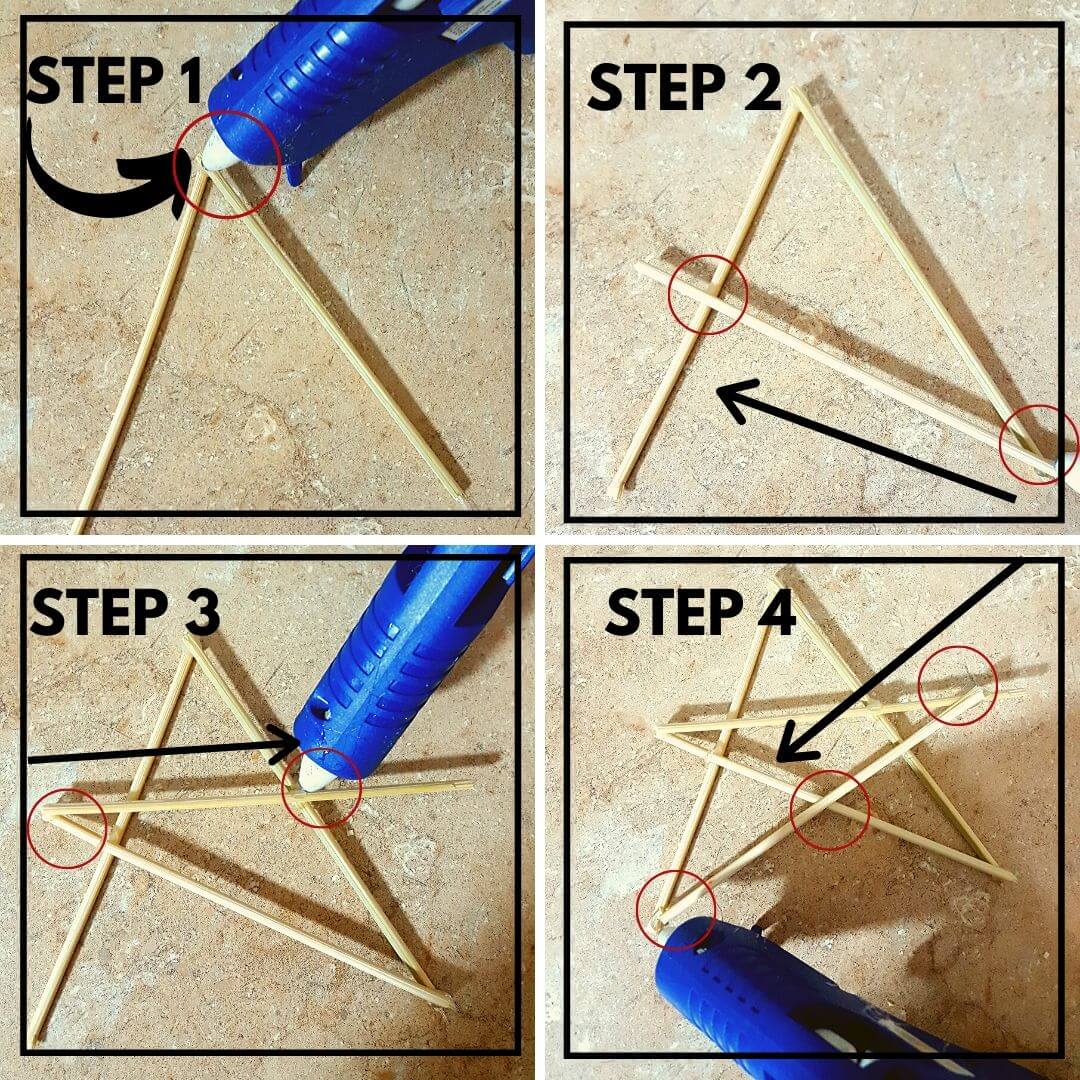 3.Begin by tying a knot to any point on the star (I double knot).
4. Begin to randomly wrap the string around the star in criss-cross and zig-zag like patterns until you are satisfied with the look of your star.
5. Finish wrapping by either tying the string to another point on the star or secure using hot glue.
6. Add a loop with your string/ribbon to hand your ornament.
7. Hang on your tree or around the house and stare in awe 🙂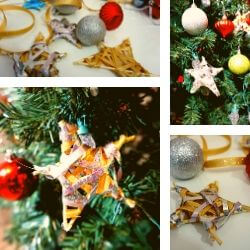 Ribbon Star Variations
You can try different variations of this craft and see what you come up with. You can try using different kinds of string to see what the effect will be. As I mentioned I used curling ribbon because that's all I had on hand but it turned out quite well. You can create a rustic star with twine or a more festive star with colorful yarn. If you're using string/yarn, I suggest dipping them in a mixture of glue and water so that it sets well and doesn't come apart. Try using metallic string or even wire for a cool look. Or, you can also use Popsicle sticks or branches and twigs you find outside.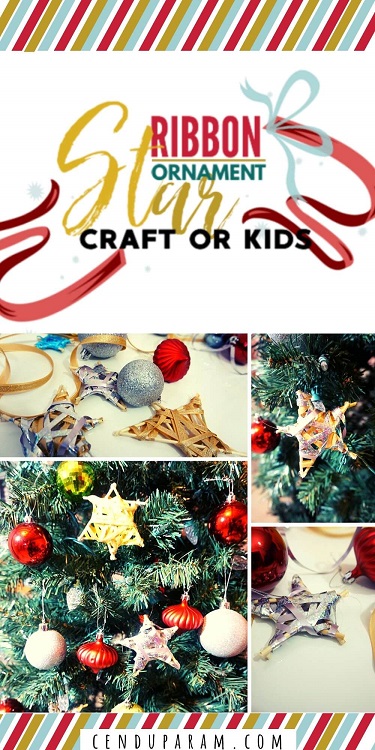 Happy Crafting!
That's all there is to it, a kiddie could do it. So, this is a great craft to do with your kids. If they have no patience at all (like me) I suggest you pre-make the star yourself so they don't have to handle scissors and hot glue guns. If they don't mind waiting, you can have them do all the steps using regular glue or carpenters glue and let the craft dry over-night before returning to it. Looking for more kid friendly crafts? Check out this super easy pipe-cleaner snowflake ornament. If you try this or one of my other crafts, leave me a comment!